I spent most of the afternoon attempting to get my Windows PC running again. I finally just had to re-install the Windows OS... again... which is always an ass-load of fun. Now everything is working, but it's put me in a really bad mood. It was made even worse when I found out that Blogography doesn't render properly in Explorer anymore. I have no idea what's going on there, but I suppose I shouldn't be surprised. Windows sucks ass.
Which is why I've been playing with the Ubuntu Linux OS...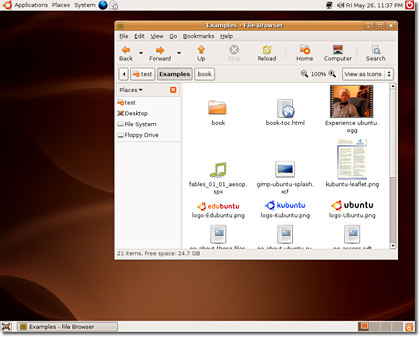 I must say, I'm impressed. It installs like a dream, works beautifully, feels snappy, and is totally FREE! So far I've got it installed on both an old PowerPC Mac and an old Wintel box, and it runs great. If all I needed was to surf the web, write email, and create an occasional word processing document, or spreadsheet or whatever, I could totally switch no problem. But too much of what I do can't be done on Ubuntu (yet) so it's going to have to remain an interesting diversion for the time being.
I can easily see Ubuntu making wide deployment into office environments though, because you just can't beat the price. You've got pretty much everything you need (including Open Office, the MS Office clone), and other nifty open-source apps like Scribus (for page layout) and Quantus Plus (for web site creation) are only going to push things further as they mature. In another couple of years, Ubuntu is going to be on equal footing with Macs and PCs which has got to be making some people very nervous.
"I'm a leaf on the wind... watch how I soar..."