I've done quite a bit of traveling over the years and find, for the most part, that people are pretty much the same wherever you go. Sure they may speak a different language or have different customs... but everybody everywhere breathes, eats, drinks, loves, hates, sleeps, and poops. Despite any differences you can call out, humans will always be more similar than they are different. The more places I go, the more I find this to be true. But still, it's the diversity that makes this world such an interesting place, and all those little differences keep traveling the globe so I can seek them out and experience them (see my map).
But every once in a while you come across a difference so baffling that you find it hard to wrap your head around.
I was flipping through television channels and landed on some kind of concert on BBC America. It was an extravagant affair with thousands of people packed in an arena. At first I thought it was a Madonna show, but I didn't recognize the song she was singing. Then they zoomed in for a close-up, and I had no idea who it was...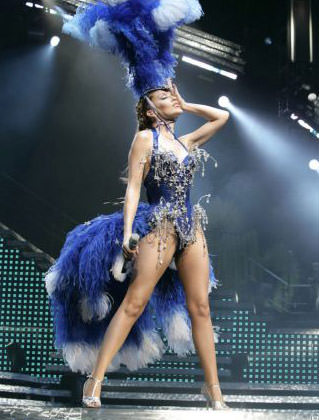 TiVo tells me it's Kylie Minogue.
And so I'm sitting there thinking "WTF? THE 'LOCO-MOTION GIRL' IS SELLING OUT ARENA SHOWS IN THE U.K.?!?"
I barely remember who she is, and go scrambling to her Wikipedia entry so I can find out what exactly I've been missing. Turns out that Kylie is a massive, massive pop star everywhere except in the US. After postponing this "Showgirl Tour" I'm watching for breast cancer treatment last year, she is resuming the tour this year in November. It's an admirable story, but the real shocker was to come...
Kylie sold out her two January 2007 shows at London's Wembley Arena in six minutes.
SIX MINUTES? They kept adding dates until they had six in London and six in Manchester... all of which sold out immediately. In her native Australia, I'm guessing it's just as impressive. And yet here in The States, people barely know who she is. For some reason, I find this more shocking than even the wildest cultural differences I've encountered in foreign lands. I guess I've always assumed that pop trends like this were kind of universal. But Kylie, like soccer, has somehow escaped US attention.
I wish that were true for half the crap they play on the radio.
But still, Kylie's got some pretty good dance beats, is entertaining in concert, and actually seems to have some talent... kind of a shame that Kevin Federline and Paris Hilton can sell records here but she can't.