Lately it seems that I am entirely out of the loop on just about everything. I don't know if it's because I'm just so incredibly busy, or I've just become indifferent to the world around me. Probably a little of both.
Never was this more vividly clear than when I got an email telling me that the fourth season of Scrubs is due to be released on October 10th... and I didn't even know that season three had been released. This may seem like a petty thing to be upset about, except I have been waiting for the third season to drop for YEARS now. All because it has one of the best episodes of comedy/drama ever seen on television. The episode is called "My Screw-Up" and features a return of guest-star Brendan Fraser as Dr. Cox's best friend and ex-brother-in-law...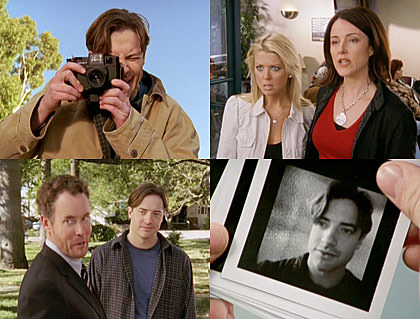 Don't let the fact that Tara Reid also guest stars, fool you. That this show did not win an Emmy for best writing is what finally confirmed that the Emmy Awards are a complete sham, and I've never trusted them since. Soooooo... I know this is late, but if you have not seen My Screw-Up, you owe it to yourself to hunt it down and do so. Buy Scrubs the Complete Third Season set (it's all good), or rent Disc 2 from Netflix or Blockbuster or whatever... just see it.
In other news... let this serve as fair warning that I will be guest-posting over at Hilly's blog this weekend. Do I know what I am going to write about yet? No. I don't write my entries ahead of time, so what happens is your guess as well as mine. All I do know is that the thought of Lil' Dave meeting up with Lil' Snackie is a very, very dangerous idea that is begging to be explored...
Heaven help us. Heaven help us all.