My last day in Chicago was spent working, which is such a bummer given the beautiful weather and all the nifty things to do in the city. As I type this, fireworks are being shot off of Navy Pier just down the road from my hotel. I don't think that it's a holiday, so I'm not sure what's going on. Perhaps the fact that it's another glorious day in The Windy City is reason enough to celebrate?
I'm too tired to write comprehensive sentences, so it's time for bullet points!
BAD: The internet at my hotel is terrible. Many sites (including several blogs I read) are unreachable, and I have no idea why. At first I thought it was some kind of censorship deal, but a quick Google search for porn shows that this isn't the case. WORSE: They don't have wireless so I can't surf in bed, but instead am chained to a desk whenever I want internet access. TRAGIC: I am paying $11.95 +tax PER DAY for this crap. How is it that a prestigious hotel at $279 a night gets you this shabby treatment, and yet a cheap-o $79 a night hotel usually comes with free wireless?
I saw a woman crying outside of Walgreen's this afternoon. She had just finished talking on her mobile phone and seemed very upset. After thinking about it for a second, I realized that I seem to see a lot of people crying on their mobile phones lately. Remember the good old days when bad news couldn't find you everywhere you went?
I just tried a jug of Hershey's Milkshake for the first time (the "Cookies 'n' Cream" version). I don't know how they do it, but the stuff really does taste like an ice cream milkshake... well, probably more like "thick milk", but it sure is tasty (it had better be for 22% of my daily allotment of saturated fat).
Chicago has a city-wide 10:30pm curfew for anybody under 18 years old. This isn't anything earth-shattering but they seem very serious about enforcing it, which is kind of surprising. Even more shocking? Parents are being held responsible, and can be fined up to $500 if their kids are caught out. I don't know whether to be happy that parents are being forced to keep track of their kids... or sad that it takes a threat of a $500 fine to make them do it.
Oh yeah... on the way back from lunch I finally remembered to take a photo of this cool mural that's a 3-D image of Michelangelo's sculpture masterpiece "Moses"...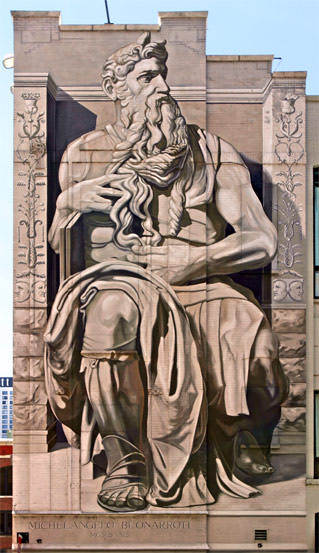 A brilliant likeness of the original, which is located in "San Pietro in Vincoli" basilica in Rome.
Argh. Time to pack my suitcase so I don't have to worry about it in the morning.
Goodbye Chicago.