When asked to describe Blogography, the words most people tend to use are "strange" or "weird". A typical quote I run across is much like this one from Nikki: "kind of odd, but very entertaining". Basically, people find Blogography to be crazy-insane, and often-times don't know what to make of it (even though they may visit regularly). So, despite the fact that I said I would never change my blog to make others happy, it seems kind of rude considering how many people leave nice comments and write me nifty emails.
With that in mind, I've decided to make my blog more like other blogs. That way, maybe visitors will be more comfortable when they visit and won't be all weirded out. But where to start? Perhaps I should cruise random blogs and pick five areas of improvement I can work on? Let's give that a try.
PART ONE: RENTERS!
It seems like most blogs I visit now-a-days have something called "renters". And it doesn't end there... blogs that have renters are forever begging people to click on them.... "Please click on my renter" they say. "Go visit my renter" they plead. "You should click on my renter" they demand. Alrighty then, I'll get me a renter: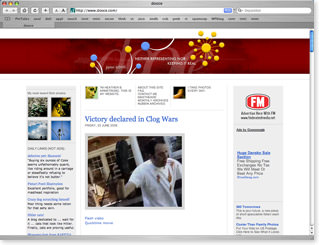 My renter is DOOCE because heaven only knows she needs some of my sweet traffic numbers. And she's probably one of the few bloggers that could afford my outrageous rental fees. So please click on my renter. Click it now. Go ahead, just click that little picture. Why are you still reading this when you should be visiting my renter? Hey! Seriously, CLICK MY RENTER! DO IT! DO IT! CLICK IT NOW, BITCH!! CLIIIIIICK MYYYYYYY RENTERRRR!
In the interest of full disclosure, I must admit that Dooce isn't really renting anything here. But I like to think that she is. And here's how I fantasize the conversation would go...
DOOCE: (picking up phone) Hello?

DAVE: Hello Heather, this is Dave...

DOOCE: Wait a second... THE Dave? BLOGOGRAPHY DAVE?!?

DAVE: Yep, that's me. I'm going to start renting space on my blog and...

DOOCE: (squeels) OMG! You mean I won't have to entice my child into doing crazy shit so I can attract new readers? I can just pay money to get traffic from Blogography?

DAVE: Sure! And it's bargain-priced at only $10,000 a month!

DOOCE: Sign me up! (covering phone mouthpiece with her hand) JON! JON!! PUT THE BABY DOWN, JON! YOU DON'T NEED TO TELL LETA HOW MUCH FUN IT IS TO STICK PAPERCLIPS IN ELECTRICAL OUTLETS NOW! WE'RE JUST GOING TO RENT SPACE AT BLOGOGRAPHY TO GET MORE TRAFFIC!!
PART TWO: ADS!
I must be one of the last people in the entire blogiverse who has yet to put Google Ads on their site. Much to my surprise, whoring yourself out for Google payola is a quick and painless process which took me all of twenty minutes to apply and be approved for...
Now I can beg for readers to click my renters AND my ads! This is actually good news, because if my bandwidth bills keep going through the roof, I may just have to start putting ads on my blog. It's something I've never wanted, but the monthly shuffle between four different hosting servers to ensure the site keeps running is getting a little old.
PART THREE: TIP JAR!
Speaking of begging, it seems quite a few blogs have tip jars. Though why anybody would want to pay for the crap I write here is completely beyond my ability to comprehend...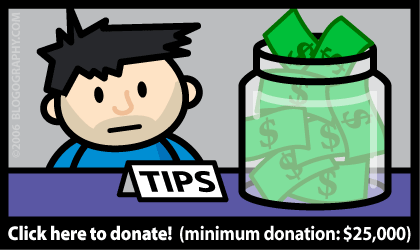 What I really love are those sites who beg for cash when they are lucky to write once a week. Or how about people who ask for cash and totally suck? I am a bit surprised at why some sites have tip jars at all, and have to wonder if they honestly think that people will want to give them money for posting pictures of their hamster and writing about some boring conversation they had with their tax attorney. I dunno... maybe people do pay money for that. All I know is that unless it's a blog that's better than other paid entertainment (or contains gratuitous breast nudity), I can't imagine tip jars being worth the effort.
PART FOUR: QUIT!
I haven't threatened to quit blogging in quite a while now. I've seriously considered it a few times, yet there was only once that I was confident it was going to happen. But a random run through the blogosphere shows a shocking number of blogs that haven't been updated in months... some haven't been updated in years. So it would seem one of the most popular ways to make my blog more like other blogs is to quit writing in it. And then, after a long hiatus, bloggers always start out their next entry with "I haven't written here in a while——" which I find hysterical, because it sounds as if they think their visitors are incapable of reading the date. Oh well. In many ways I actually envy people who quit blogging... they obviously have much cooler stuff going on in their life than I do, and much better things to occupy their time.
PART FIVE: SONG LYRICS!
It seems that I am never lacking for some crazy crap to write here and, for better or worse, I try my best not to copy content from other blogs, the news, or whatever. The furthest I've gone has been movie quotes and memes. But if a bunch of song lyrics is what it takes to be more like other blogs, then I'll go ahead and put some in an extended entry.
"MERCY IN YOU" by DEPECHE MODE

You know what I need - When my heart bleeds
I suffer from greed - A longing to feed
On the mercy in you

I can't conceal - The way I'm healed
The pleasure I feel - When I have to deal
With the mercy in you

I would do it all again
Lose my way and fall again
Just so I could call again
On the mercy in you

When here in my mind - I feel inclined
To wrongly treat you unkind - I have faith I will find
The mercy in you

I would lose my way again
Be led hopelessly astray again
Just so I could pray again
For the mercy in you

When here in my mind - I have been blind
Emotionally behind - I have faith I will find
The mercy in you
There! Now that my blog is like all the other blogs, do you feel more comfortable?
Really?!? Cool. Hey, whatever I can do to make YOU happy...