How is it that you can spend an entire evening with complete strangers, yet be chatting away as if you were old friends immediately after sitting to the table? A meet-up with your fellow bloggers, that's how!
Truth to tell, there's really no way of knowing how something like this is going to go down. Blogs can only tell you so much about a person, and there's no way of knowing what they are like in "real-life" until you meet face-to-face. And then you run the risk that the bloggers you meet will be totally psychotic, and everybody will end up fighting and screaming. Fortunately, I was the only psychotic person there, and nobody seemed to notice.
As it ends up, everybody had a really good time. At least I know I did. A nicer bunch of people you'll never meet, and now I have some new blogging friends to read (not to mention an awesome new pizza to look for: MASHED POTATO PIZZA!). All in all, it was a great night, and has me wishing I could meet up with my readers and fellow-bloggers more often.
Super-Best-Friend Bloggers Roll Call...
The evening started out with really good pizza at Piece...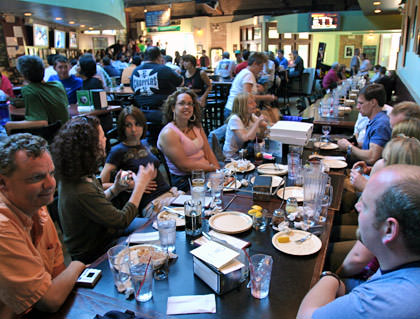 And ended with mango mojitos at a tequila bar called Salud...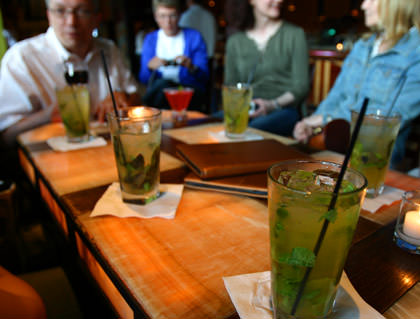 Though I think Bob is contemplating the "world's worst wine" there, and I have no idea what lethal red concoction Jen is drinking. Out of all of us, Gary is the only one who actually had one of Salud's famous margaritas. Probably because "Mango Mojito" just sounds too tempting (and is fun to say).
Thanks to everybody who attended for a terrific night out!