Flying Horizon Airlines with their myriad of "mechanical difficulties" has me thinking quite a lot about my death.
Not so much about how I will be ascending to a higher plane of existence from which I shall continue to bless my loyal readers... but more about where my earthly remains shall be interned. Something befitting a man of my stature and brilliance. Something with eternal flames... and a gift shop.
After thinking about it during the bumpy ride into Seattle, I finally came up with a rough concept...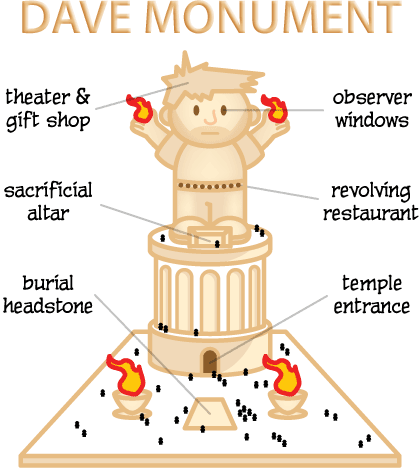 I think perhaps a statue monument made out of Italian marble that's around fifty stories tall should do the trick. And it would be hollowed out just like the Statue of Liberty so visitors could climb into my head and observe the surrounding 200,000 acres of pristine wild-lands which surround my eternal resting place (formerly known as Mt. Rainier National Park).
DAVE TEMPLE: Inside the monument pedestal will be a twenty-story amphitheater where people can gather to sing my praises.
ETERNAL FLAMES: Four eternal flames will burn 24/7 to pay tribute to my enduring legacy.
BURIAL HEADSTONE: This massive slab of marble will be engraved with my many achievements for all to pause and reflect over my contributions to all mankind.
SACRIFICIAL ALTAR: Here is where those who offend me may be offered up for sacrifice... spammers... dumbasses... bad drivers... ABC network television executives...
DAVE MUSEUM: Located in my pants, this comprehensive museum will contain a complete collection of Dave artifacts and memorabilia.
REVOLVING RESTAURANT: Located in my belt, a delicious variety of my most favorite foods will be served in a fun and exciting setting that makes a full revolution every hour.
DAVE-COASTER: Within my chest is a sweet roller coaster ride where visitors can be whisked from arm-to-arm at break-neck speeds!
OBSERVATION DECK: From out of my eyes, visitors can look out over the landscape and meditate over all that was and will forever be "Dave".
IMAX THEATER: In the top of my head is an IMAX dome theater where visitors can enjoy Elizabeth Hurley films or watch documentaries of my fascinating life and numerous successes.
GIFT SHOP: Here you can buy all kinds of Dave merchandise including books, souvenirs, T-shirts, post cards, and even Bad Monkey plush toys!
I'll be setting up a tip jar here so that everybody can do their part to immortalize me in this nifty monument. I am pretty sure that something like this will cost at least a couple of billion dollars, so dig deep... DIG WAAAAAYYY DOWN DEEP... into those pockets for your tax-deductable* contribution.
* At least any donation should be tax-deductable. Write your legislators today!