You know... just when you think things can't get any shittier, that's usually when they do.
Thanks to a lot of hard work and the kindness of one incredibly generous person, I am very close to climbing out of the nightmare of getting my blog re-hosted. It has been a totally crappy four days, but it's almost over. Then BLAM! I get f#@%ed by PayPal!
This lovely piece of email lands in my inbox...
PayPal is committed to maintaining a safe environment for its community of buyers and sellers. Our team employs the most advanced systems in the world to protect the security of your account.
During a recent review of our system, we determined that you received funds from an account that reportedly has been associated with possible unauthorized use. In accordance with PayPal's Seller Protection Policy, the following transaction has been reversed...
WTF?!?
THEY accepted the charge, and yet it's MY problem?
And what kind of bullshit is "POSSIBLE unauthorized use"??
It's POSSIBLE that aliens have replaced world leaders with pod people. It's POSSIBLE that Elvis is still alive. It's POSSIBLE that PayPal is a giant scam. It's POSSIBLE that diamonds might shoot out of my ass...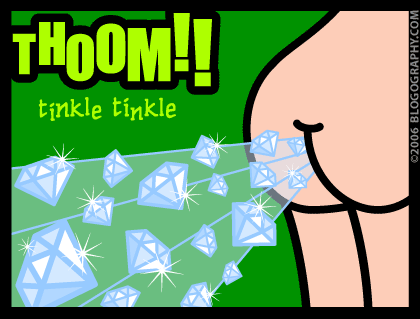 So PayPal steals MY F#@&ING MONEY because of a "possible" problem. No proof is offered. I'm just supposed to take their word for it. No mention on whether they will reinstate my money if the charge is proved to be valid. No mention on me getting any evidence whatsoever as to this ALLEGED claim of "unauthorized use".
This is bullshit.
I wrote and asked for the evidence that this is, IN FACT, an unauthorized charge. Who knows if I will ever see it. I'm probably just f#@%ed, which is fantastic. Not only am I going to be out $12.90... I'm also out $4.05 in shipping... and $7.95 in shirt and materials.
I just had to pay hundreds of dollars to host my blog, and now T-shirts that I sell at near-cost out of the goodness of my heart, have just screwed me out of $25.
What's coming next?
UPDATE: I got an email from somebody saying: "If somebody stole YOUR credit card and bought a shirt don't you think that you should get your money back? Being ripped off by credit card thieves is part of owning a business and you need to grow up". First of all... the person who bought the shirt has no idea why the transaction was flagged as "possible unauthorized use" - NEITHER OF US DO! Even better, the buyer didn't even know that there was a problem until I wrote and told them! PayPal never bothered to contact them! So basically, PayPal says there is a "possible problem" but there is NO evidence provided to either buyer OR seller, and THAT is what I am upset about. And this is not an email scam, because the reversal of the money credit is showing up in my PayPal account. Second of all... Even if there IS fraud, "my business" WAS NOT THE ONE WHO TOOK THE CREDIT CARD! PayPal accepted the credit card! And they aren't doing it for FREE, I get billed fees every time. I mean, seriously... if I was the one who took the card and the charge was bogus... is it fair that I turn around and bill the company who printed the shirts for my loss?? No. In any event PayPal needs to provide evidence that there is wrong-doing OR GIVE ME MY MONEY BACK!!