LINK OF THE YEAR: I keep forgetting to mention THE TRUTH. This is where I get all my news... Ze does the thinking, so I don't have to. Somebody give him a correspondent gig on The Daily Show ASAP.
If you hadn't already guessed, I am a very self-centered person. The entire world revolves around me, and if something doesn't affect me, I really don't care about it. In order to understand the New World Order, I have made these helpful illustrations to explain it to you...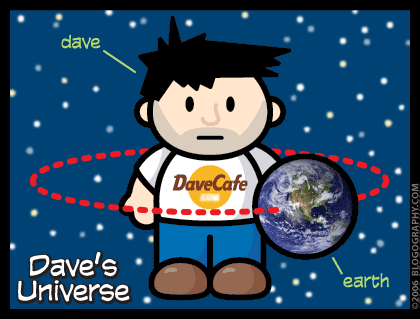 It's quite simple, really. Some people might call me a narcissist, but I prefer to think of it as "reality". Unfortunately, not everybody understands how reality is supposed to work.
Here's an example...
I am terrible at remembering dates. I can barely remember when my own birthday is, let alone somebody else's birthday. This can be quite embarrassing with my friends, and so I've come up with a way to fix it. What I do is go to the Hallmark Card Shop at the beginning of every year and buy about thirty "Happy Belated Birthday" cards. I fill them all out for my friends and stick them in my sock drawer. Then, when I find out that it's my birthday, I realize that other people have birthdays too, and so I go to my sock drawer and mail the belated birthday wished to all my friends.
It's not a perfect system, but I've been doing it for years and it works for me.
Except this year I even forgot about the cards, so they didn't get mailed until a week ago.
Then this morning I get a phone call...
Mobile Phone: Ring! Ring! Ring!

Dave: Hello.

Meagan: YOU ASSHOLE! IT'S BAD ENOUGH THAT YOU FORGET MY BIRTHDAY EVERY YEAR AND SEND ME THIS BELATED SHIT... BUT NOW YOU ARE SENDING BELATED-BELATED BIRTHDAY CARDS?!? WHAT IN THE HELL IS WRONG WITH YOU? DON'T YOU KNOW HOW TO WORK THE CALENDAR IN YOUR COMPUTER?!? IS IT TOO MUCH TO ASK THAT YOU TYPE MY F#@%ING NAME IN SO THAT I ACTUALLY GET A BIRTHDAY CARD ON MY BIRTHDAY? WHAT THE F#@%?!?!

Dave: Uhhhh. Okay. When is your birthday again?

Meagan: AGAIN?! WHAT DO YOU MEAN "AGAIN"?? YOU NEVER KNEW IT IN THE FIRST PLACE! MY BIRTHDAY IS TOMORROW ASSHOLE!! EVERY YEAR YOU SEND ME A BELATED CARD 330 DAYS LATE, BUT THIS YEAR YOU ACTUALLY SENT IT ON TIME, BUT YOU DIDN'T KNOW THAT, AND SO HERE I AM GETTING THIS BELATED SHIT!!

Dave: Yes. I can see how you might be upset about that...

Meagan: UPSET?!? UPSET?!?! DO I EVER F#@%ING FORGET YOUR F#@%ING BIRTHDAY? NO! AND DO YOU KNOW WHY?!? BECAUSE I KNOW HOW TO USE A F#@%ING CALENDAR!!

Dave: That is pretty bad. Hey, did you watch Veronica Mars last night?

Meagan: Oh yeah... can you believe that XXXX totally XXXX to XXXX and got him XXXX in that stadium? How cool was that?*
(* mad-libbed to prevent spoilerage)
I think I'm safe.
Until next year, anyway.
But here's the problem. That card was actually for last year's birthday. And so now I am confused as to what to do. Since her birthday is tomorrow, I could send a new card for this year's birthday, but it would have to be another belated card because it won't get there tomorrow. But if I send a belated card, then that means I have to remember not to send another belated card next year for this year. But if I do that, then forget to send the card the next year, then this year's card should have been for next year's birthday, but it says "belated" when it really isn't.
Crap. Maybe this actually would be a lot easier if I learned how to work my calendar.
Hopefully Veronica Mars will get a third season, because then I can worry about this in 2008 and focus on more important things. Like me.