And so I'm moving.
Again.
Changing hosting companies is a huge mess that I never really wanted to experience. But, lucky me, this is the third time I've had to do it in three days. I am documenting my pain in an extended entry, so feel free to read it if you are interested (or ignore it if you aren't).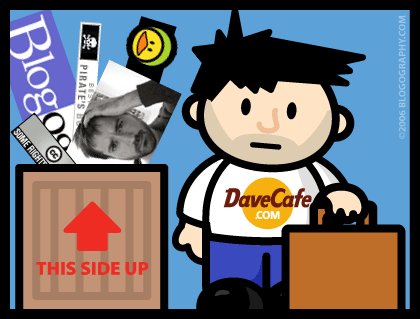 With luck, everything will be sorted out in a day or two. Until then, I am screaming a lot.
There's a summary at the bottom if you want to skip all this.
We Begin with Lunarpages... This entire fiasco started when I received an email from my hosting company telling me that I was using too much "CPU time", and they were forced to move me into quarantine until I got it all figured out. Apparently my blogging system (Movable Type) is an incredible resource pig, and eats CPU cycles like candy for even the simplest of things. Naturally, I have no idea how to fix this, but tried every scrap of advice I could find from Google to see if something works. But nothing does. I've done absolutely everything to minimize the work that Movable Type is doing to maintain my blog, but it was all for naught. Even worse, I'm losing data while in quarantine, so I made a snap decision to just find another host for Blogography.
Yahoo! or BooHoo?... I immediately head over to the Six Apart web site to see who they recommend for hosting. Since they make Movable Type, they should know, right? While I'm there, I see a huge "spotlight ad" that tells me Yahoo! is their preferred hosting partner, so I sign up immediately. Unfortunately, what they DON'T tell you is that Yahoo! is in beta with blogging, and a bunch of crap doesn't work. They also DON'T tell you that your license is invalid if you move to Yahoo!, and you'll have to pay $50 a year to get support. They also DON'T tell you that Yahoo! sucks ass for hosting. But here I am at Yahoo!, so I try to make the best of it.
It's BooHoo alright... Yahoo! not only sucks ass at hosting Movable Type blogs, they also suck major ass for support. I emailed them to ask how I can prevent people from hotlinking to my images since "htaccess" files don't seem to be supported. I am told I will get a response 4-6 hours later, but it's the next day before I get a response. And it's SOOOOO helpful... "I am sorry to inform you that Yahoo! does not support .htaccess file at this moment." WELL NO SHIT YOU IDIOT! I didn't ask about making an htaccess file... I asked how to prevent hotlinking since htaccess files are not supported! I write back and explain, AGAIN, what I am wanting, but I haven't heard back yet. I don't expect to. But hotlinking is the least of my worries, because things aren't working right at all (and, despite using "FastCGI" everything at Yahoo! is SLOW, SLOW, SLOW!). It's time to switch hosting companies. Again.
Back to Lunarpages... My experience with Yahoo! has me really, really missing Lunarpages. In a desperate attempt to salvage my blog there, I move back and start making drastic changes. Category Archives are gone. Search is gone. Date archives are slashed, and no longer rebuilt automatically. My legacy web feeds are gone. I cut and I cut and I cut... hoping that if I cut enough, the CPU usage will be minimized and I can finally go back to normal. But it all comes back to the fact that I have 1300 entries and 6800 comments to work with, and the numbers are increasing daily. I am told the problem is compounded because I "have a popular blog," which mystifies me. My traffic is NOTHING compared to hot blogs like Boing Boing, Wonkette, Dooce, and thousands of others... I'm not even a blip on the internet radar. Yet Movable Type is such a pig that my little blog is going to require dedicated hosting at $99 a month. No matter what I do, I can't escape the CPU restrictions at Lunarpages, and dedicating hosting is priced out of reach. I start checking other hosting companies... but everybody has similar restrictions for the "shared plans" I can afford. DreamHost, which offers obscene amounts of bandwidth and storage, comes highly recommended so I write to them. I get an almost-immediate reply: "Movable Type is a notorious resource hog, and DreamHost is probably not the hosting company for you." So much for dreams.
The End... Defeated, I decide to give up. I will leave my static pages at Lunarpages, and delete everything else. There will be no new Blogography for the foreseeable future. Game over. So ironic that I am approaching my 3-year blogiversary. But that night something happens to make me look at things from a different perspective. A boy and his shoe change my mind.
Enter Media Temple... The rock star of hosting companies is Media Temple. It's a company built for designers, and is run quite differently from other hosting companies. They are slick, polished, and elite... people I know host their sites there just so that they can proudly display the "Hosted by Media Temple" badge on their site. They do not offer tons of bandwidth. They do not offer vast storage space. They do not come cheap. But there is something they claim to do well: host Movable Type blogs. When I go to investigate, I see that the bare minimum package I can get away with is $14.95 a month (if you pay for two years in advance). This would deplete my meager savings, but is it worth it? That's when I notice they have a "Movable Type Add-On" available for $5.95 a month. This seems really stupid. I decide to just stick with the package and install Movable Type myself... I don't need their precious add-on. And that's when it hits me. They must be charging extra for Movable Type because of the resources it uses. So I decide to sign up. And since I am paying extra every month specifically for Movable Type, I'm guessing they'll cut me some slack on CPU hits. At least they had better. Obviously they KNOW what they are getting into, so I remain optimistic.
Lunarpages comes through... Throughout this entire process, the support I've gotten from Lunarpages has been really surprising. They may not offer much help with Movable Type, but they've been exceptional in every other respect. Since it hasn't been 30 days since I renewed my annual contract, they're going to refund my money. They've helped with with my DNS issues. They've even given me an extra day to make sure I've got everything off my old site. I've been a good customer, and they treat me that way... even though I have to leave. I can't speak for anybody else, but Lunarpages has been very good to me. In the end, I can't fault them for my problems because they don't claim to be Movable Type experts, and shouldn't really have to concern themselves with making Six Apart's pig of a program work on their servers properly.
And we're moving... And so now I am maintaining four blogs while I try to move. One at Lunarpages. One at Lunarpages Quarantine. One at Yahoo! And the "real" one at Media Temple. It's a bit tricky to try and figure out which server has the most recent stuff. and try to remember which data I want to keep and which needs to be trashed. On top of that, it takes a while for DNS entries to point "blogography.com" to the proper place, so I've got comments appearing all over that I have to manually re-enter at my Media Temple site. It's a major challenge, and I'm sure there are going to be problems. But I am confident that it will all work out in the end so I'm trying not to worry about it.
And in summary...
Lunarpages GOOD: Despite having started all this, they have been more helpful than anybody. They may not be right for me, but I have no problem recommending them for non-Movable Type hosting.
Yahoo! Hosting BAD BAD BAD: Shitty hosting. Shitty support. Shitty tools. Shitty control over your site. Shitty Movable Type bugs everywhere. There has been NO good experience with Yahoo! at all, and I don't recommend them for hosting (though, I do like other things they do well, so I guess I shouldn't hold this against them?).
Movable Type BAD: I like this blogging package, I really do. but heaven help you if you get a lot of entries or become the least bit popular, because then the CPU usage makes the product unusable for anything except expensive dedicated hosting. On top of all that, they have no problem recommending shitty, buggy, slow, blog hosting at Yahoo! - and then have the balls to ask you to pay $50 additional dollars ANNUALLY to get support! If I didn't have 1600 entries and tons of work invested in this program, I would switch to something else in a heartbeat. I can no longer recommend Movable Type, at least until they figure out how to curb the resources it uses to maintain STATIC web pages. This sucks ass. I wish I could go back in time and warn myself not to ever get started with Movable Type.
Media Temple OKAY: My experience with the holy Media Temple has been mixed so far. Within hours of signing up, I got my information packet and was ready to get to work. Except I couldn't access my site via FTP. I send off a support ticket and am rapidly informed that it isn't just me, it's ALL Media Temple customers that are having the problem. To make matters worse, the Movable Type install I requested (and pay $5.95 a month for) was botched. I had to spend an hour going through all the setting and configuration files to get the program to work. This didn't make me particularly happy, but I'm dealing with it. The cons are that it is slower than Lunarpages (but not nearly as bad as Yahoo!), and is an expensive, expensive place to be. For two years of hosting with a Movable Type add-on, you'll be paying $500. I fully expect it to be worth every penny. It had better be. As an up-side, once I'm all set up (again), I'll be able to add a cool "Hosted by Media Temple" badge to my site.
And there you have it. The whole horrifying story of running a Movable Type blog and trying to get hosting for it.
I sure hope this isn't a "to be continued" thing...