Maybe it's because I've just gone through a terrible and traumatic event in my life... but I feel the need to be more active in world events. I have an urge to fight injustice and make this earth a better place for all mankind and the creatures who inhabit her. Kidney stones will do that to you.
And it is with this new-found strength that I have been given the courage to stand up for my beliefs and confront people who I feel are doing something wrong. Even people who I consider friends.
People like Karla.
For quite a while now I've been enjoying her daily exploits as a Texan living in Norway via her witty and entertaining blog called Tales of a Textpatriate. She always has a way of taking the chaos out of my day. A way of bringing order to a universe gone mad. A comforting voice of reason amongst the horrors of my existence. But today all that changed. Today she wrote about something so disturbing that I feel compelled to act.
Karla admitted that she wears fur.
And not just any fur, but the fur of the rare and beautiful faux.
Karla is a faux fur wearer.
At first I thought that she didn't know any better. I sought to educate her as to the cruel nature of the faux fur industry. But she shows no remorse. She told me to "faux off" and when I told her I would be blogging about her reprehensible faux fur wearing lifestyle... she replied in the comments: "you faux right ahead... I faux dare you... faux bitch!!"
And how can I not?
So today. Right here. Right now. I am starting a campaign to save the fauxs from their tragic fate...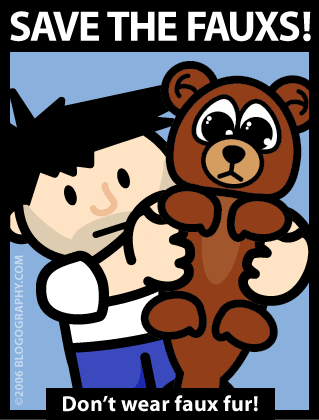 It's just not right in this day and age that people are still wearing faux fur. I feel it is my duty to spread the word and help bring an end to this barbaric practice. To argue my case, I've done a little research...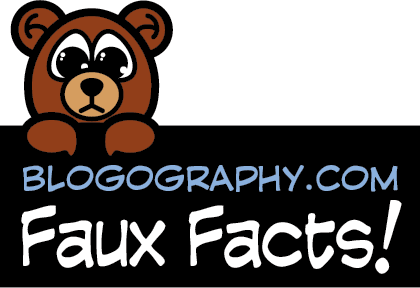 The average faux is 14-inches (36cm) long and weighs 11-ounces (312g). They reach sexual maturity in 9 months. They mate just once a year in July-August, and have a litter size of 1 to 5 pups (based on diet and health factors). Wild faux live to be 3-4 years old, or 5-7 in captivity (assuming they are not slaughtered first!).
At their population height in the early 70's faux could be found on all continents, including the rare White Arctic Faux of Antarctica.
Since the faux-fur fad of the late 80's the faux has been hunting nearly to the brink of extinction. Where the world faux population once ranged in the millions, only a few thousand survive in the wild. Europe alone has shown a 92% decline in their faux population since 1984. Three faux species are known to be extinct: Frisky Siberian Faux, Mandarin Forest Faux, and American Southwest Rattler Faux.
The "American Great Plains Faux" (the largest specimen of the faux species in existence) once roamed freely on the plains of North America in great herds that numbered in the thousands, but is now found only in the Faux Animal Reserve in Oklahoma.
With the decline of wild faux, farm-bred faux "factories" have risen up to meet faux fur demand. Fauxs are forced to live out their lives in tiny, dirty cages and fed steroids to keep their coats as shiny as possible. Little fauxs often develop heart and liver damage which make their existence a miserable one.
Exotic faux fur has become even more popular as their populations dwindle... the Spotted Faux and the Leopard Faux being the most desirable. To keep up with demand, common faux breeds are exposed to painful genetic mutations in order to produce more interesting variation in their coats. This barbaric practice has resulted in fluorescents, pastels, stripes, and even variation in length and texture.
Faux were revered as a gift from the gods by ancient cultures because of their gentle and inoffensive nature.
And there you have it. Faux furriers spend millions to hide the true nature of their savagery by advertising that "faux fur is a cruelty-free alternative to other furs". I say ENOUGH! It's time that people learn the TRUTH about faux fur and the entire faux fur industry. I hope you will join me in boycotting faux fur products as a truly inhumane fashion accessory. I can only hope that Karla has a change of heart, and can see that faux fur is nothing more than a life of pain and suffering for innocent creatures who deserve better at our hands.
How is it that we can put a man on the moon, but can't find a way to manufacture fake faux fur??