My work necessitates that I drive between my hotel and the job site every 2 or 3 hours, which doesn't leave me much time for things like eating and sleeping. But that's the job, and I'm used to it, so I try not to worry about what my freaky schedule required of me. Of course, doing that for eighteen hours straight on only 3 hours of sleep is not the best way to spend an evening, but I do my best not to let the hallucinations and voices in my head get the best of me.
This time, the situation was made all the stranger by the weather here. Wisconsin is flat and on a big lake, so the environment can be really freaky and changes quickly...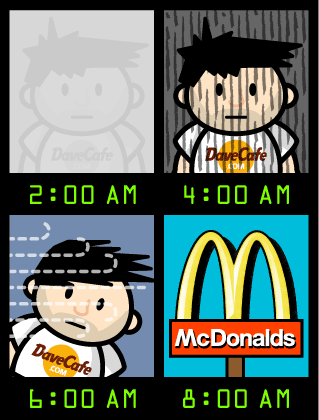 After relatively calm weather all day, I was surprised when I left my hotel at 2am and couldn't see anything. The fog was so thick that I could barely see the front of my car, and the headlights were reflected back as if they were hitting a wall. Two hours later, it was mostly clear, but pouring rain. The two-minute walk from my car was enough to soak me to the bone. Two hours after that, it had stopped raining... but there was a nasty haze and winds so strong that I was very nearly blown off the road.
Two hours after that, blue skies were starting to peek through the clouds, and it was time for breakfast at McDonalds.
So there I am eating my Egg & Cheese Biscuit when I hear this "CLICK! CLICK! CLICK!" - the dreaded and unmistakable sound of some COMPLETE F#@%ING IDIOT CLIPPING THEIR F#@%ING FINGERNAILS IN A F#@%ING RESTAURANT!!! AAAARRRRRGGGHHH!! How gross to be trying to eat your breakfast only to have some UNBELIEVABLY RUDE AND TOTALLY DISGUSTING WHITE TRASH BITCH performing her personal grooming two tables back with fingernails flying all over the place. I mean, holy shit! How big of a f#@%ing moron do you have to be to realize that this is not appropriate behavior in a restaurant?
But that's not the worst of it.
SHE WAS A F#@%ING McDONALDS EMPLOYEE ON HER BREAK!!!
Yet no manager told her she was a DISGUSTING BITCH or instructed her to STOP DOING THAT GROSS SHIT WHILE PEOPLE ARE TRYING TO EAT AND SHOVE THOSE F#@%ING FINGERNAIL CLIPPERS UP HER ASS. Oh no. They just merrily let this REVOLTING, REPELLANT, ABHORRENT, SICKENING, NAUSEATING, FOUL, NASTY, DETESTABLE PIECE OF SHIT keep clipping away!!
I left before this REPUGNANT VOMITOUS DUMBASS CRAP-BAG BITCH had a chance to start on her toenails.
And yet, if I had pulled out a gun and shot her, I WOULD BE THE CRIMINAL HERE!! That's just wrong. How will these IGNORANT HALFWITTED RUDE IDIOTIC SHIT-HEAD WHITE-TRASH ASS-LICKERS ever learn proper manners if nobody pops a cap in their ass from time to time?
I wonder if she shaves her legs and gives herself enemas in public too? I wouldn't doubt it.
My nightmares are going to be particularly nasty tonight.