With nothing to do today, I decided to take the Blue Line into Chicago proper to have a delicious Giordano's pizza for lunch and see what's new at the Apple Store. I've been to Chicago many times, which makes it easy for me, since I already know where everything is and how to get there.
The pizza was bitchin' (as usual), though I ate too much (also as usual). There are several Giordano's locations in the city, but I like the one on Rush St. best, and was not disappointed. Around the corner on Michigan Ave. was the beautiful Chicago Apple Store, where I proceeded to immediately fall in love with the new iPod that can play video. When it was first released, I decided the screen was too small... but, after holding one in person, I see that it is perfectly watchable and totally sweet. Damn you Apple! I want one bad. So bad I nearly dropped the FOUR HUNDRED FREAKIN' DOLLARS to take one with me. Ultimately, I decided it might be nice to eat for the month of December and... very reluctantly... decided against it.
I did buy a copy of Bejeweled 2, which is the sequel to one of my favorite time-wasters. The new version is really beautiful, and they've added some cool new toys that make it even more fun than the original...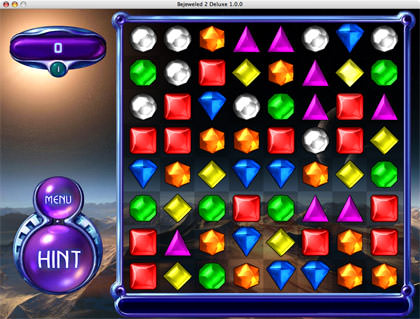 After drooling over everything in the Apple Store, I decided to head to the Art Institute Museum since I missed it the last time I was in the city. The guardian lions at the entrance have been dressed for the holidays, which is kind of cool...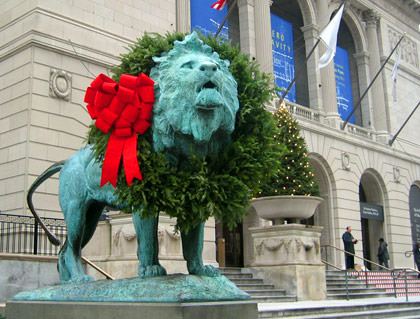 This truly sweet museum holds numerous well-known works, including American Gothic which, oddly enough, is out on loan to a museum in Rapid City Cedar Rapids, Iowa. Most children of the 80's (such as myself) will best know the museum for Seurat's A Sunday on La Grande Jatte from the movie Ferris Bueller's Day Off...
And Mary Cassatt's beautifully rendered painting The Bath...
And Edward Hopper's much-imitated work Nighthawks...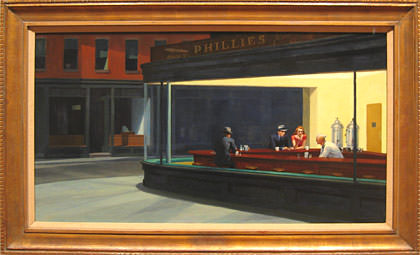 But my favorite is the nifty collection of Monet's, which includes an entire series of Stacks of Wheat, painted in different seasons and different times of day, along with this haunting Waterloo Bridge painting...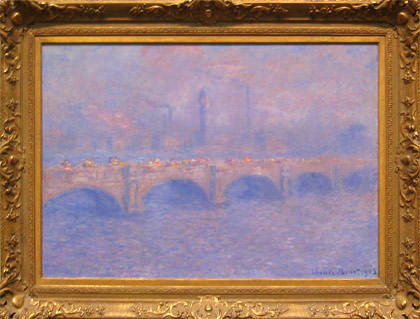 Two hours is much-too-brief a time to spend at a museum this fine but, since I had been here a few times before, I decided it would be best to be getting back to my hotel before rush hour came.
And just like that, my Chicago adventure comes to a close... but not really...