Why did the rat cross the road?
I don't know, and apparently neither did he.
On the way home from work today, I had to slam on the brakes because a rat ran out in front of my car from the opposite side of the road. He got all the way across, took a look around, then turned around and ran right back to where he started. Perhaps he thought that things would be better over on the other side, and finally worked up the courage to run across... then found out that the other side of the street wasn't all he had hoped it would be.
I'm sure there's a lesson in there somewhere. Hopefully it involves looking both ways before crossing the street, because that rat very nearly became road kill.
Speaking of rats, I am fearing that the guest list may be slightly altered for Dave's Bad-Ass Blogography Show (whenever I get around to working on it again)...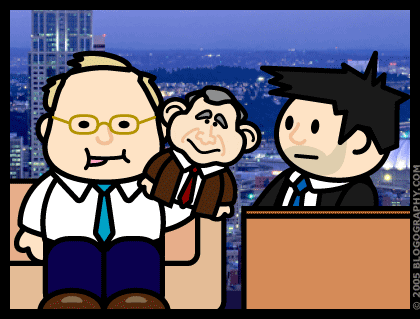 I'll keep you posted.
Elsewhere in the blogosphere, SJ is forever coming up with cool list ideas for "Chronic Listaholic," but her current list idea is so cool that I'm going to steal it:
Ten Phrases I Hope To Say Someday...
"Why yes, I'd love to go out with you Elizabeth Hurley!"
"Why yes, I'd be happy to make love to you again Elizabeth Hurley!"
"Why yes, I'd be thrilled to move in with you Elizabeth Hurley!"
"Why yes, I'd be overjoyed to marry you Elizabeth Hurley!"
"Why yes, I'd be delighted to let you iron my shirts Elizabeth Hurley!"
"No, I hadn't heard that I'd won 500 million dollars in the lottery. So that's my check then?"
"Really? BOTH Judge Judy AND Jared Fogel were decapitated by ninjas? You don't say!"
"I never thought I'd see world peace in my lifetime, yet here it is."
"I am tickled pink to announce that Jeremy Piven and Paula Marshall are reprising their roles for a contracted ten new seasons of Cupid! Oh, and Dead Link Me, Wonderfalls, and Oh Grow Up! are also coming back to television."
"I humbly accept the title of 'Overlord of the Universe' as a lifetime appointment."
Hmmm... I had a rant ready for today, but I want a slice of chocolate cake now. Maybe tomorrow.
Movie Quotable of the Day:
"When this kind of fire starts... it is very hard to put out. The tender boughs of innocence burn first, the wind rises, and then all goodness is in jeopardy."
Yesterday's Answer:
X-Files: Fight the Future
(1998) with David Duchovny and Gillian Anderson.