I really try to be a nice guy. I don't always succeed, but I do try.
Which is why when I see two idiot kids picking on another kid because he doesn't have a nice bike and expensive clothes... well, I don't understand it at all. It isn't you, so why do you care? You've GOT the pricey bicycle and sweet threads, so what does it really matter that some other guy isn't as fortunate? Is your life really so pathetic that you feel the need to belittle somebody over what they don't have and can't change? Bizarre. But they are just stupid kids, so what are you gonna do?
Though it kind of makes me wonder if things really change once we've grown up.
Probably not, but the dynamics do. When you're a kid, you rely on your parents for the things you have, so it's really out of your hands. As an adult, it's all you. I can't decide which is the least desirable situation to be in.
Since people probably make fun of what I choose to wear, I think I'd rather go back to being a kid again.
At least way back then, my biggest problem from Microsoft would be DOS instead of the whole Windows fiasco.
Today I was forced to test a document to be sure it would work on a WindowsXP PC. The problem is that my Windows machine died with the last "Critical Update" and I don't feel like blowing two hours of my life doing a complete reinstall. So I borrowed another machine, only to find that it was begging for a round of "Critical Updates" too... which I ignored (not wanting to repeat the demise of my own machine on somebody else's). It was all downhill from there...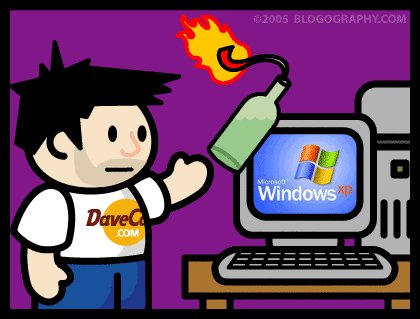 At this point, I quite honestly don't know what to do. I am forced to use Windows on occasion, and I accept that... but HOLY CRAP!! HOW DO YOU WINDOWS USERS GET ANYTHING DONE?!?? I am constantly fighting the OS in order to make things work (e.g., on the Mac, the menu bar is always at the top of the screen, so you can never "over-shoot" it... with Windows, there's such a tiny area to hit that menu bar within the window, that I end up working with windows "full-screen" to save my sanity). And that's just the beginning... there are dozens of things so stupidly unintuitive and ridiculous, that I just marvel at the absurdity of it all.
My real problem is that I'm so used to having everything so easy on my Mac, that Windows is very much like torture for anything past surfing the web or checking email. To do actual work requires hopeless periods of lost productivity that I just can't afford. I have to wonder how many man-hours Microsoft is responsible for pissing away on a daily basis... and I'm not even including down-time from corrupted system files, viruses, spyware, and everything else you have to deal with. Sheer insanity
Is it all my fault? Am I using it wrong? Would it help if I were to go buy a Windows for Dummies book? Something tells me the answer is "no," but I figure it's only diplomatic to look for an alternative to making fun of Windows because it's wearing a ripped-out pair of 70's bell-bottom jeans and riding a busted-ass tricycle that was rescued from the dump.
Movie Quotable of the Day:
"Maybe we should call in a bomb threat to Houston... I think it's free beer night at the Astrodome."
Yesterday's Answer:
Tarzan
(1999) with Tony Goldwyn and Minnie Driver.