COOKIES!
Who doesn't love cookies? My favorite cookies are freshly-baked oatmeal-raisin cookies. Which is a pity, because I so rarely have the time to bake and they don't make any oatmeal-raisin cookies you can buy in the store that I will eat. So what cookies that you can buy in the store do I like? Glad you asked...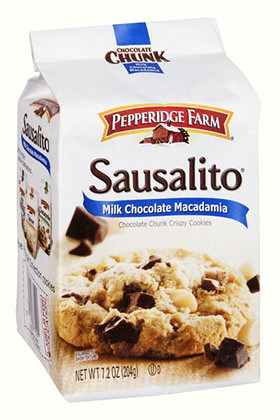 Pepperidge Farms Sausalito.
The best cookies you can buy. Period. I am not a fan of coconut, but... the tiny shavings they add to these milk-chocolate chunk and macadamia miracles is amazing. As if the flavor profile wasn't sublimely delicious, they have a crisp, crumbly texture that somehow doesn't come off as dry. I could eat a bag of these a day for the rest of my life and never get tired of them. A pity they're so expensive.
Girl Scout Caramel deLites (Samoas).
I am not a fan of coconut, but... these have it all. A buttery vanilla cookie base topped with creamy caramel and coconut shreds... THEN they put chocolate on top of that. There's so much delicious going on in each bite that your brain doesn't quite know how to process it. Keebler has the same cookie they brand as "Caramel Dreams," so you can eat them outside of Girl Scout Cookie Season.
Keebler Pecan Sandies.
Shortbread is a highly subjective topic because everybody has an opinion as to what makes the best cookie. Some like a dense shortbread like Lorna Doone... others prefer a more traditional buttery shortbread like Walker's. I prefer a lighter shortbread (if you can call it that?) which is why I buy Sandies. My favorite version is the ones with pecans... though there never seems to be enough pecans in them.
Tim Tams Original.
"Australia's Favorite Cookie" has two chocolate biscuits with a layer of yummeh chocolate cream between them... all drenched in milk chocolate. Doesn't sound like much, but the textures of the three components work together to give you an unforgettable cookie experience.
Girl Scout Thin Mints.
The fact that these are vegan would usually make me run away screaming... but the Girl Scouts somehow make it work. A chocolate-mint wafer is coated in a chocolate compound to create a simple cookie treat which has enough mint flavor to satisfy... but not so much that it overwhelms. It's this flawless balance that makes it one of my favorites.
And that's cookies for you.