Or, probably more like "Bullet Monday" since I refuse to pay the outrageous fees that some airports charge for internet access so I can post this on time.

• Why I love Avitaween: Reason #87. It may sound insane to fly across the country for a Halloween Party, but if you've ever experienced Halloween with The Avitables, you'd know it's actually one of the easiest decisions I can make. It's more of an event than a party, and the work that goes into making it so special is positively mind-boggling. My camera battery died, so I don't have any photos myself, but there are plenty showing up on the Avitaween Flickr Group. Thanks so much to Adam & Amy for yet another fantastic evening, and I'm already looking forward to next year!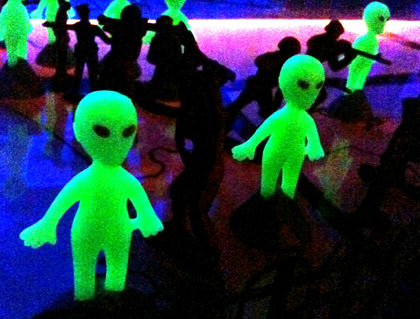 • Why I love pussy: Reason #1240 This past week staying at Casa de Hilly, I had grown accustomed to her cat being anywhere and everywhere I go. Brushing my teeth? Pussy in the sink. Going to bed? Pussy on the pillow. Writing in my blog? Pussy on my laptop. Any time we were home, Jinkies was a constant presence...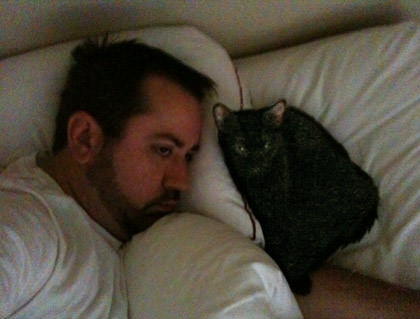 Pussy in the Bed...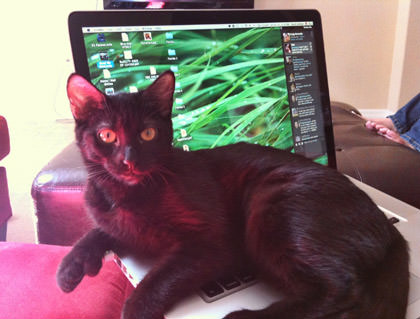 Pussy on the Computer...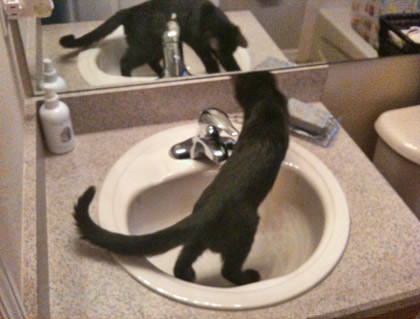 Pussy in the Sink...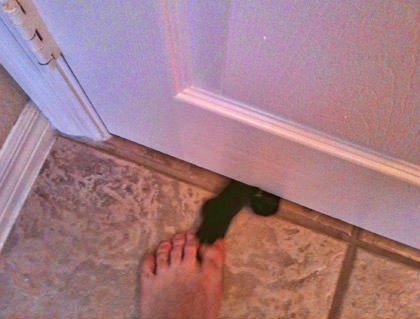 Pussy Attacking Under the Door...
Now that I'm home and pussy-free, I admit that it's a little bit depressing to not have that kind of constant attention. One of these days I guess I need to get a pussy of my own.

• Why I loathe John McCain: Reason #2368. It is no secret that I despise John McCain on every possible level. Most of it has to do with his betrayal of POW/MIAs (as I documented in a previous entry), but there is a laundry list of other reasons I wish he would disappear off the face of the earth... not one of them having to do with his political affiliation (as I've said before, I did vote for some Republicans in the last election, mostly on local races). Every single day I'm eternally grateful such a raging asshole never became President of The United States of America. Any disappointments I've had over President Obama's broken promises and meandering around on the issues that got him elected are immediately offset when I think of how fucked this country would be if McCain got elected. And now there's yet another reason... he is so busy suckling from the teat of the Telecom Lobby that even National Security falls by the wayside. I will be the first to admit this conclusion is a bit of a stretch, but it does make a valid point of showing how McCain is more than happy to speak out on issues he knows absolutely nothing about... so long as the money is right. Just politics as usual in the USA, I guess.

• Why I am nearing a breakdown: Reason #642346 After three flights and a car-drive home, I'll have just over eight hours to work, sleep, eat, and re-pack before heading back to the airport for a flight returning me to the East Coast. It sounds bad, but I've had much worse. The problem is that the weather is starting to change, which makes flying a hit-and-miss game of "will they or won't they cancel my flight?" The weather forecast is calling for SNOW back home starting next week, which is an added level of travel horror I'm not really ready to deal with just yet. It seems like only yesterday that a quick 3-day trip turned into an 8-day adventure when snow caused the airports to shut down (but it was actually last December). Fun. Fun. Fun.

And thus ends another travel edition of Bullet Sunday, this time written from somewhere over North Dakota (I think).