Posted on March 7th, 2010

Blergh. Muh head is assploding on Buwett Swunday! Sinus infections suck.

• Oscar. Look, I liked The Hurt Locker as much as anybody (I saw it twice in theaters and bought the Blu-Ray), but winning Best Original Screenplay over Quentin Tarantino's Inglourious Basterds? What the hell? I can see The Hurt Locker taking Best Picture over Basterds, I'm right there with that... but Screenplay?? Seriously? It's things like this that makes me want to swear off ever watching the Academy Awards each year.

• Can't. I have had at least a dozen people tell me that I need to see The Cove which just won Best Documentary. I love films of all kinds and am a huge fan of documentaries, but I cannot watch anything where dolphins are slaughtered. That's a weakness I'm perfectly willing to live with...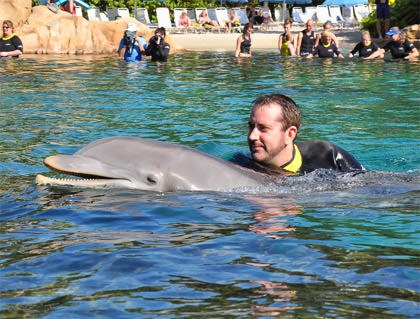 • Strange. Katheryn Bigelow was well-known to me long before she directed The Hurt Locker. Mostly because of this poster which has hung on my bedroom wall for the past 13 years...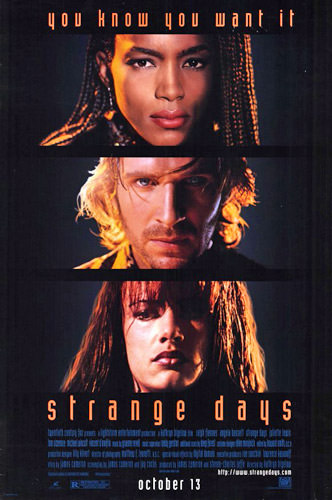 Her movie Strange Days is one of my all-time favorite films. Written by (her then husband?) James Cameron, it's just cool entertainment. It has a great cast (I fell hopelessly in love with Angela Bassett after this performance), a really good story, an intriguing premise, and most everything else I love about the movies. The fact that it was so beautifully directed was just icing on the cake. All I can do is hope that the Oscar win for Kathryn Bigelow will mean we finally get a release of Strange Days on Blu-Ray.
As an added bonus, Kathryn Bigelow also directed a movie in 2000 called The Weight of Water starring the incomparable Elizabeth Hurley... TOPLESS!! I owe Kathryn Bigelow a massive debt for that astounding moment of brilliance in cinematic history, so congratulations on your Academy Awards!

• Teaser. The stupid-ass "teasers" that television news shows do during commercial breaks are getting more and more asinine. Shows like "Entertainment Tonight" always waste time before taking a break telling you what's coming up after the break. It's stupid, but nobody cares because it's not like you'll die if you miss anything on "Entertainment Tonight." You can, however, die from missing something on the news...
"And this just in... another big auto-maker launching a recall. We'll show you what cars pose a risk for your safety this time! It's eleven minutes of uninterrupted news at 11:00 on KIRO 7... tonight!"
Yes, let's not just come out and say which cars might kill you as a public service in the name of safety... instead let's keep it a secret so we can whore out our shitty local news program. Whatever.

And now my sinuses are smooshing into my brain, so I should probably go to bed.
Posted on March 6th, 2010

My head-cold only lasted 24 hours, but the resulting sinus infection is ongoing. Yesterday the pain was so bad that I had to leave work early, which meant that my planned half-day of work today turned into a full-day of work. I wouldn't have minded so much, except the weather outside was so beautiful. It makes me miss my motorcycle.
Of course, right now what I really miss is having the energy to stay out of bed all day. The antibiotics really wipe me out, so pretty much all I can do is work and sleep. This is a darn shame, because I've got a to-do list a mile long before I start traveling again in two weeks.
Hopefully I'll have the energy to make it through The Oscars tomorrow night...
In general, I find The Oscars to be a load of crap, but it still makes for an interesting evening of television.
My "best movie" last year was Star Trek. For sheer entertainment value, I just can't seem to get enough of it. But it wasn't nominated for Best Picture, so I'd probably have to go with Inglourious Basterds, followed closely by District 9 and The Hurt Locker which were all amazing films. So was Moon but it wasn't nominated either. The odds of Inglourious Basterds winning Best Picture are slim, but I think it's a lock for Best Original Screenplay (and deservedly so).
As far as Best Director, I think that Kathryn Bigelow nailed it with Hurt Locker, but I wouldn't be unhappy if James Cameron got it, because his fingerprints are on every frame of Avatar, which is a magnificient achievement in filmmaking. And, of course, I'm not going to have any complaints if Quentin Tarantino wins. Ever.
I don't care about any of the actor categories except Best Supporting Actor for Christoph Waltz. His incredible performance in Inglourious Basterds is about as Oscar-worthy a role as you will ever see.
Speaking of Inglourious Basterds, it's my pick for Best Editing. Quentin's films are always paced impeccably, and the way the various storylines are so perfectly woven together in the editing room is a testament to Tarantino's vision.
The Best Animated Feature Film I saw last year was probably Up, which had a really good story behind it (though I thought the actual "traditional" animation on either Ponyo or The Secret of Kells was the best of the lot). That being said, I also enjoyed Fantastic Mr. Fox, Coraline, and Princess and the Frog so I'd be happy with any of them winning. As for Best Animated Short, that clearly has to go to Nick Park for his Wallace & Gromit short A Matter of Loaf and Death.
Art Direction and Visual Effects are clearly Avatar's to win. This is the future of filmmaking, and has opened entirely new worlds in movies.
I'd give Best Sound Mixing, Best Sound Editing, and Best Makeup to Star Trek on principle.
The other categories I don't have enough information to make an opinion on.
Of course, this is The Oscars, so I'll be lucky if even one of my picks is actually a winner. But there you have it.
Posted on August 22nd, 2009

My day wasn't spent wandering around Denver as planned... but working.
I did get out for a quick walk down the 16th Street Mall in the afternoon, but the heat eventually drove me back to my air-conditioned hotel for still more work. And though I didn't finish nearly enough of what I needed to get done, I finally threw in the towel around 4:30.
Because it was time to meet up with Tug, Hot Doctor's Wife, and Howard at the Hard Rock Cafe for Daveorado!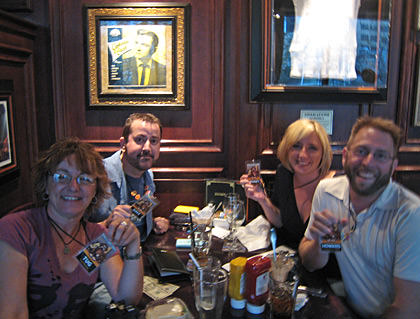 As usual, good conversation and good times ensued. That I get to continuously meet amazing people like this in my travels is a gift for which I'm wholly inadequate at expressing my gratitude. All I can say is thanks to the three of you for taking valuable time out of your Saturday to let me hang out with you. Hopefully it won't be another six years before I am able to come back!
After dinner, Howard and I decided to get our Tarantino on and see Inglourious Basterds. The film was total genius, and I loved every minute of it. Particularly shocking to me was how amazing Brad Pitt is in the flick... this is easily his best performance since 12 Monkeys. But the hands-down standout, scene-stealing role in the film belonged to Christoph Waltz's brilliant portrayal of Col. Hans Landa. The guy had to walk a very fine line to get just the right balance of humor and terror, and did it so admirably that the film was elevated to an entirely new level of greatness...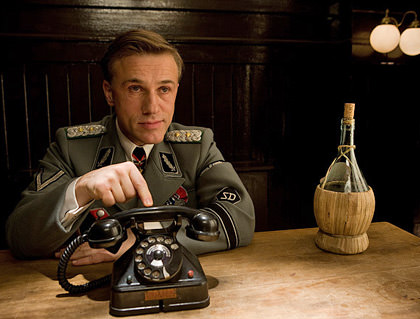 I have no idea how Quentin Tarantino does it. He always manages to write exactly the right dialogue, then cast exactly the right actors to speak it, then direct the entire film flawlessly, then pick precisely the right music to drive it all home. I don't think "visionary" manages to adequately express how astounding a talent he is when it comes to crafting a film, but it's the best word I can think of to describe what it is he does.
Which, in this case, is to create a film that has many levels, yet blends them all so subtly that they disappear into a singular brute-force narrative. By the time we get to the film-within-a-film theater scenes (which seem to be a thinly-veiled commentary on all the killing that the audience has been manipulated into rooting for thus far), all I can do is shake my head in disbelief that any one man can possess such talent...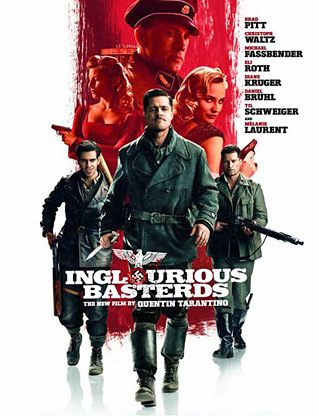 I can hardly way to see what Quentin comes up with next.