My day wasn't spent wandering around Denver as planned... but working.
I did get out for a quick walk down the 16th Street Mall in the afternoon, but the heat eventually drove me back to my air-conditioned hotel for still more work. And though I didn't finish nearly enough of what I needed to get done, I finally threw in the towel around 4:30.
Because it was time to meet up with Tug, Hot Doctor's Wife, and Howard at the Hard Rock Cafe for Daveorado!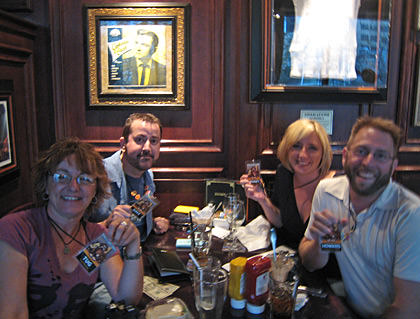 As usual, good conversation and good times ensued. That I get to continuously meet amazing people like this in my travels is a gift for which I'm wholly inadequate at expressing my gratitude. All I can say is thanks to the three of you for taking valuable time out of your Saturday to let me hang out with you. Hopefully it won't be another six years before I am able to come back!
After dinner, Howard and I decided to get our Tarantino on and see Inglourious Basterds. The film was total genius, and I loved every minute of it. Particularly shocking to me was how amazing Brad Pitt is in the flick... this is easily his best performance since 12 Monkeys. But the hands-down standout, scene-stealing role in the film belonged to Christoph Waltz's brilliant portrayal of Col. Hans Landa. The guy had to walk a very fine line to get just the right balance of humor and terror, and did it so admirably that the film was elevated to an entirely new level of greatness...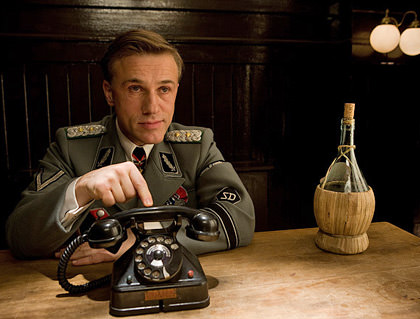 I have no idea how Quentin Tarantino does it. He always manages to write exactly the right dialogue, then cast exactly the right actors to speak it, then direct the entire film flawlessly, then pick precisely the right music to drive it all home. I don't think "visionary" manages to adequately express how astounding a talent he is when it comes to crafting a film, but it's the best word I can think of to describe what it is he does.
Which, in this case, is to create a film that has many levels, yet blends them all so subtly that they disappear into a singular brute-force narrative. By the time we get to the film-within-a-film theater scenes (which seem to be a thinly-veiled commentary on all the killing that the audience has been manipulated into rooting for thus far), all I can do is shake my head in disbelief that any one man can possess such talent...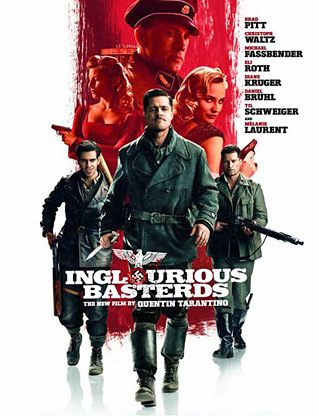 I can hardly way to see what Quentin comes up with next.