Alrighty then.
My Memorial Day was spent taking the Alaska Railroad from Anchorage to Whittier so I could take a glacier cruise. Something I've already done before in Glacier Bay, but that was on a cruise ship. This time I'd be on a smaller boat which can get closer to the action.
The train ride was fairly uneventful... except there were loads of noisy, obnoxious people on it, so it wasn't quite the experience I was hoping for...
My cruise included a vegetarian option lunch, but I've gone down this road too many times to think it's going to be something I actually want to eat. Fortunately, the train had a really good cheese pizza onboard, so I went for it as a precaution...
In order to not lose my sanity from having to endure screaming kids and people in general, I mostly hung out in the gap between cars where I could take photos without any glass to obscure the scenery.
And it's some pretty nice scenery. Mud flats, forests, mountain views... it's all going on...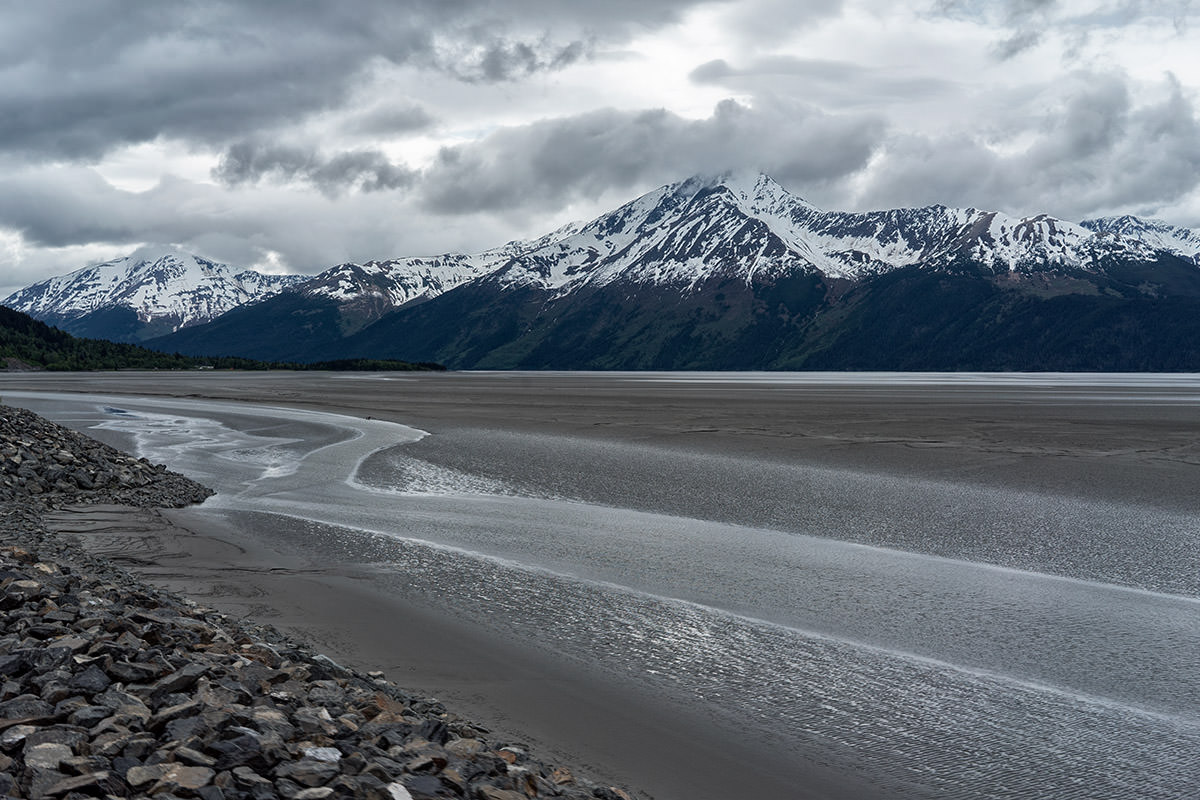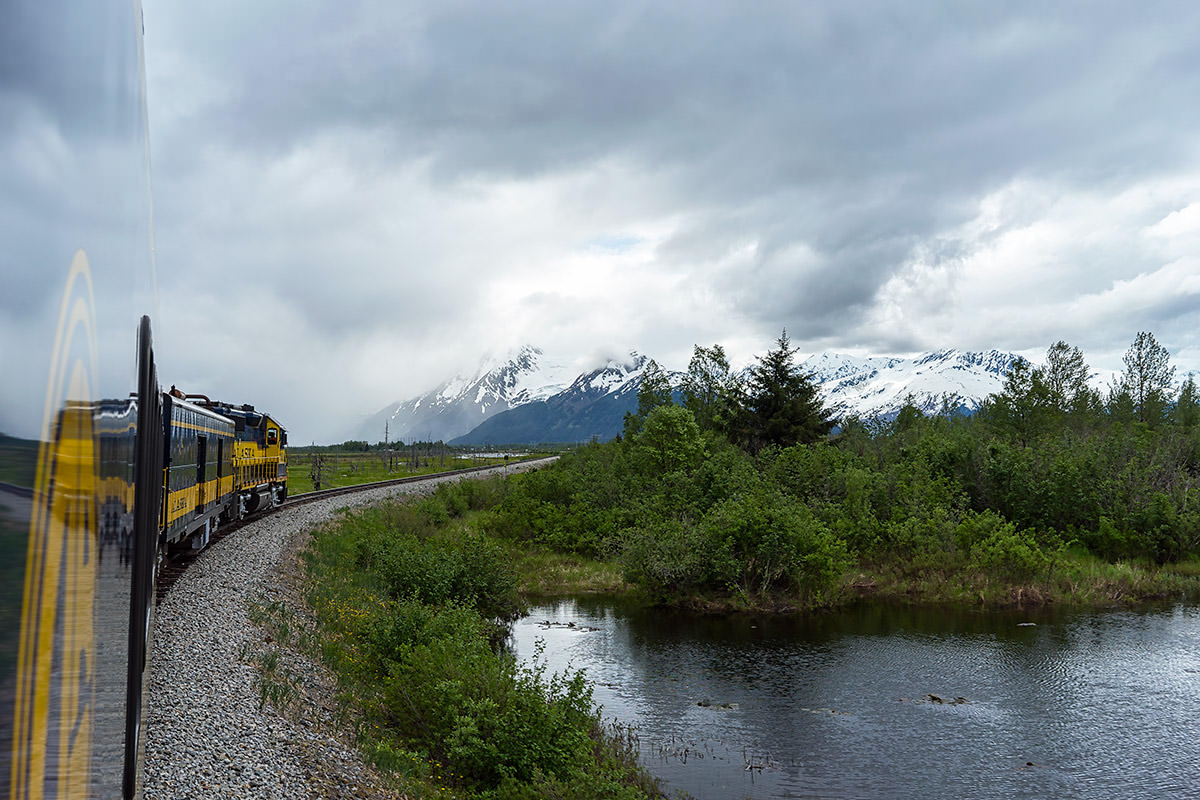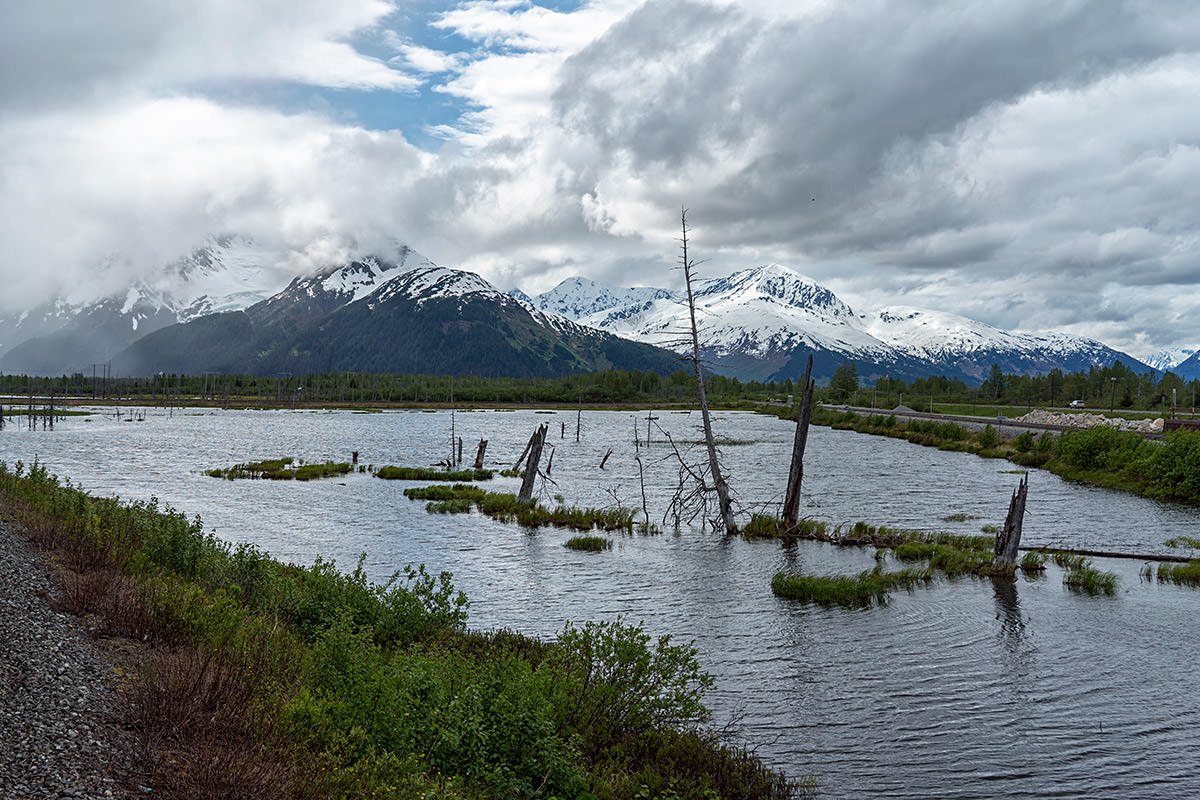 Just before you arrive in Whittier, you go through a couple of tunnels, the second of which is the longest railroad tunnel in North America. It has a set schedule for train and car traffic that switched direction every half-hour. The second tunnel is so long that takes about 5 minutes to get through... but when you look out the side of the train it seems much shorter because you can always see the light at the end of the tunnel. That's because it's dug so straight that there's never any obstruction...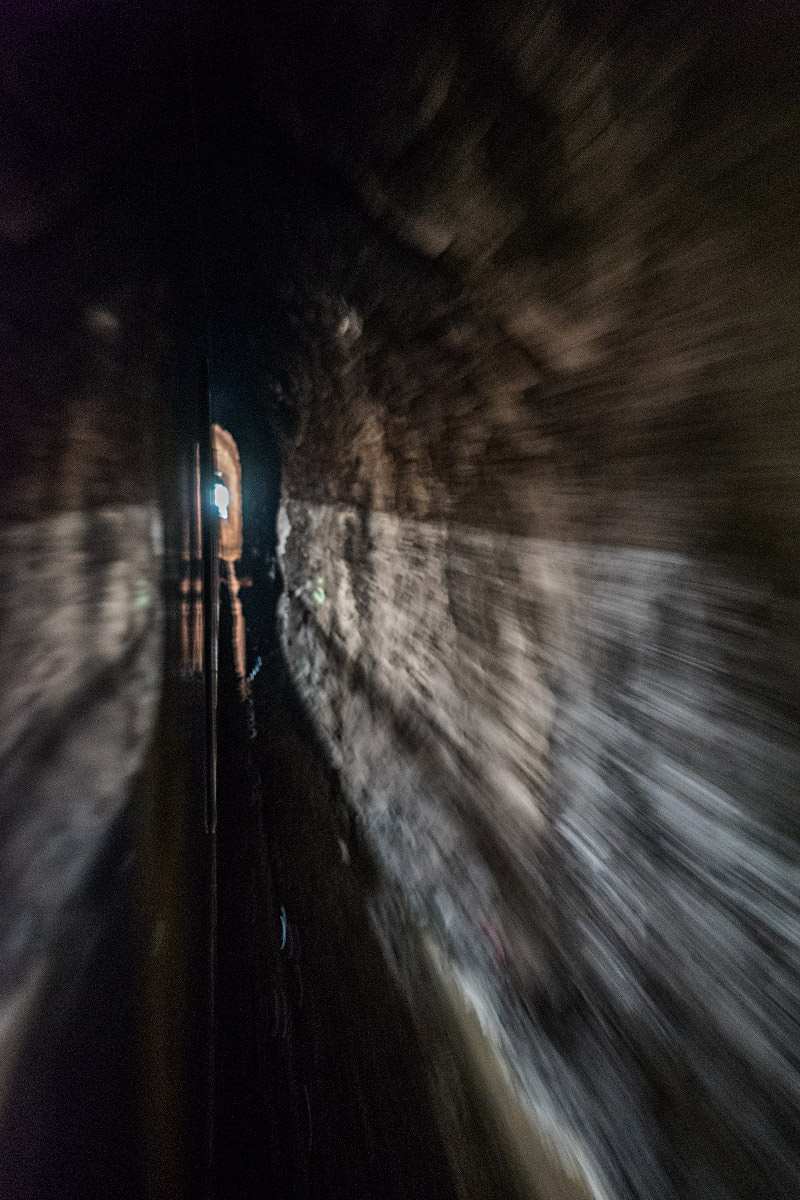 Arriving in the city of Whittier, there was no time to waste. The boat was already mostly loaded by people who drove a car instead of taking the train (which is slower)...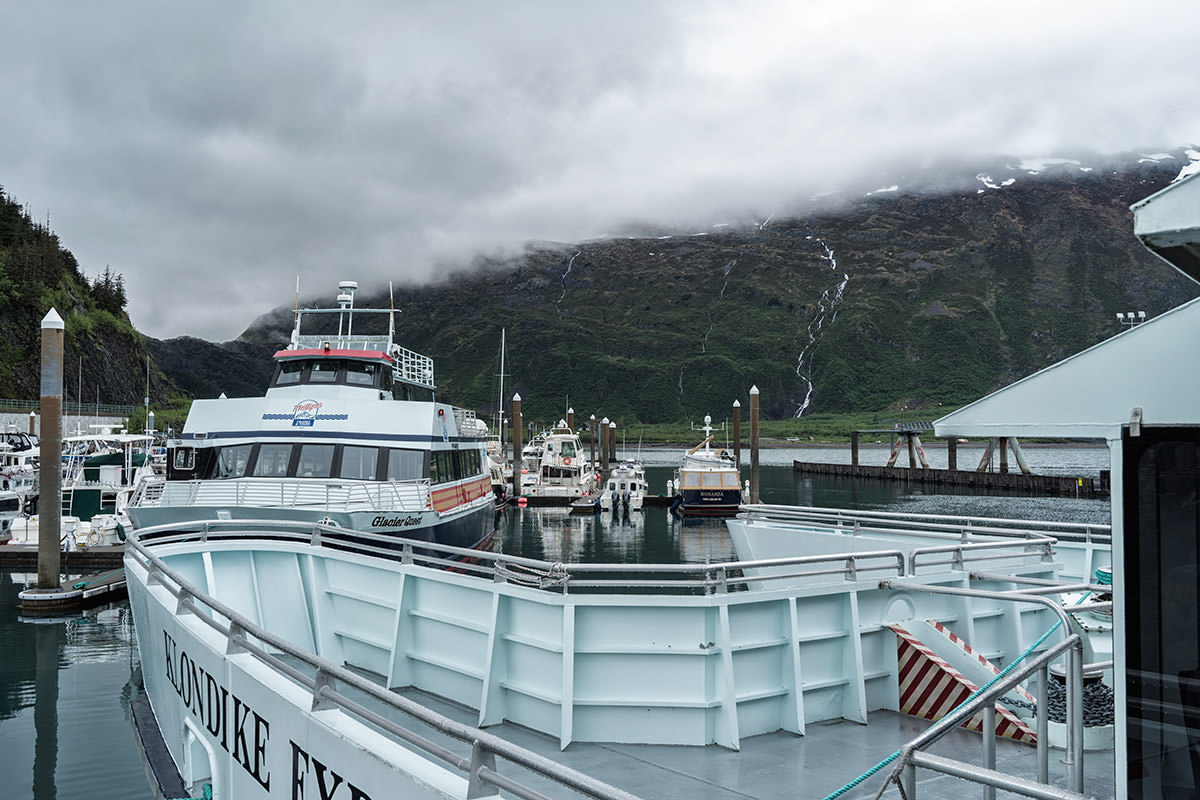 We were definitely not the biggest boat on the water. Princess Cruises has spent millions creating a port in Whittier from which their ships can explore Alaska...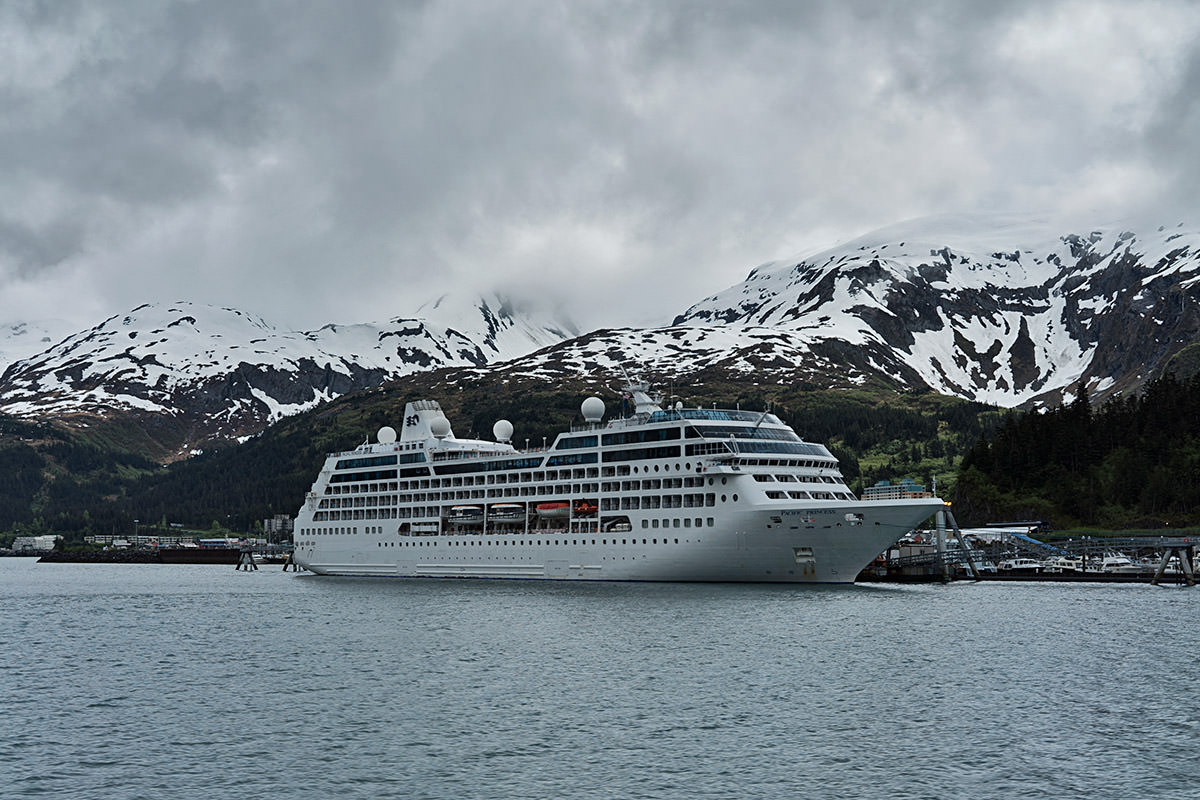 As expected, the lunch was not my cup of tea. For one thing, it had mushrooms on it, of which I am allergic. And since I'm not a coleslaw person, that was also off the menu. The pudding wasn't chocolate, as one would hope, but instead some kind of runny rice pudding...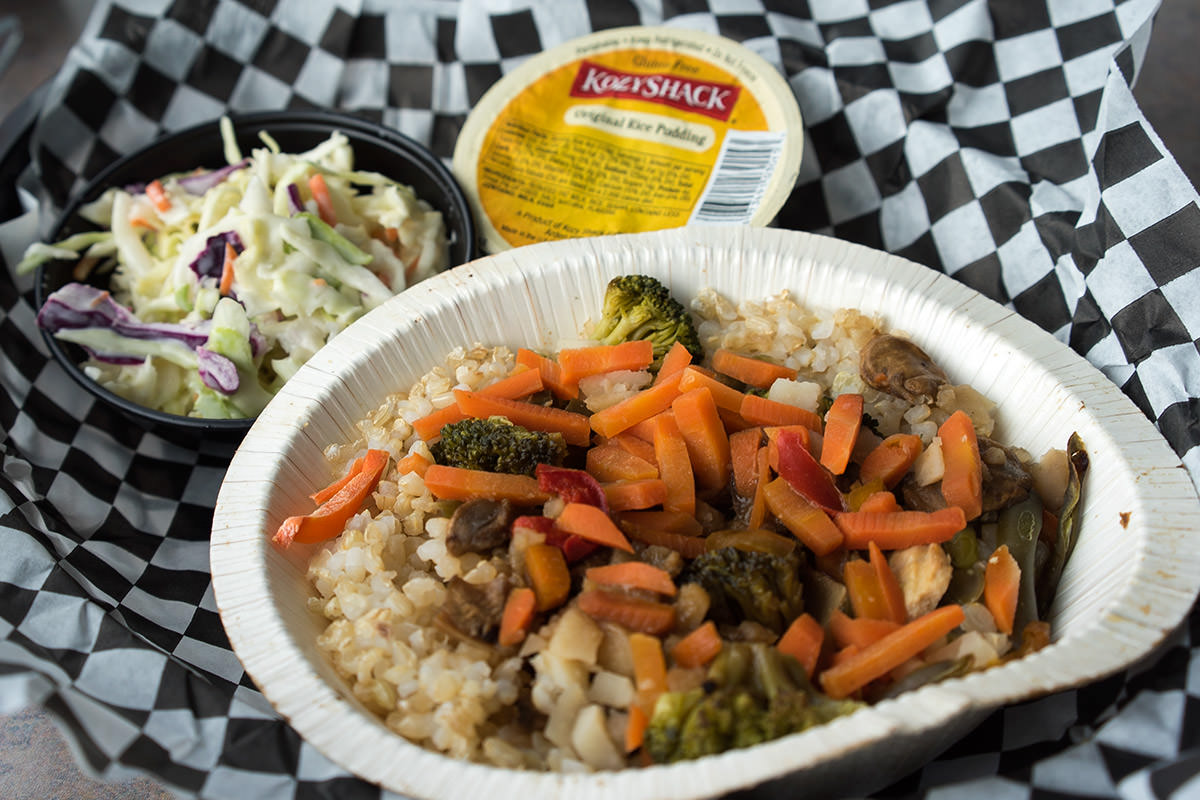 Fairly quickly we ran across some porpoises (or dolphins, I'm not sure which) swimming at the bow...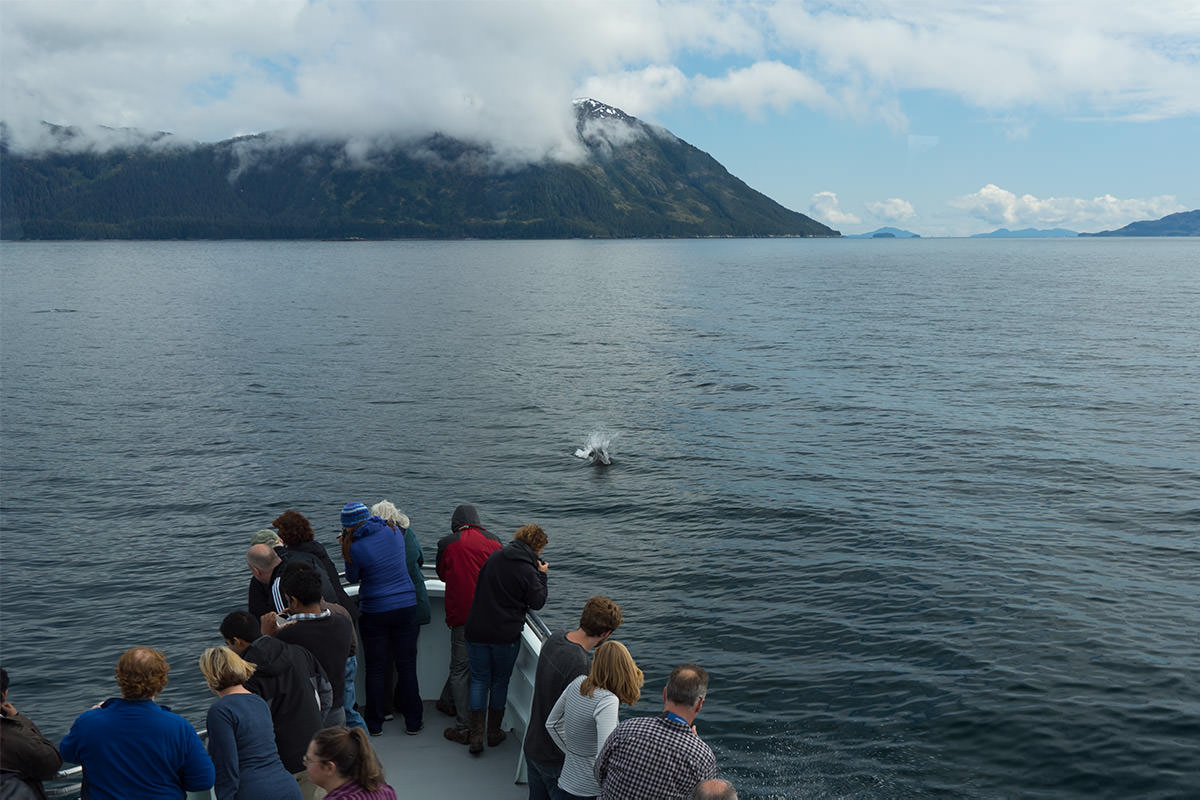 Not quite as exciting as my dolphin experience in Fiji, but pretty cool just the same.
Next up was a whale playing around on the shore line...
And just when you think you've seen the last of cool wildlife for the day, some bumps in the water appear...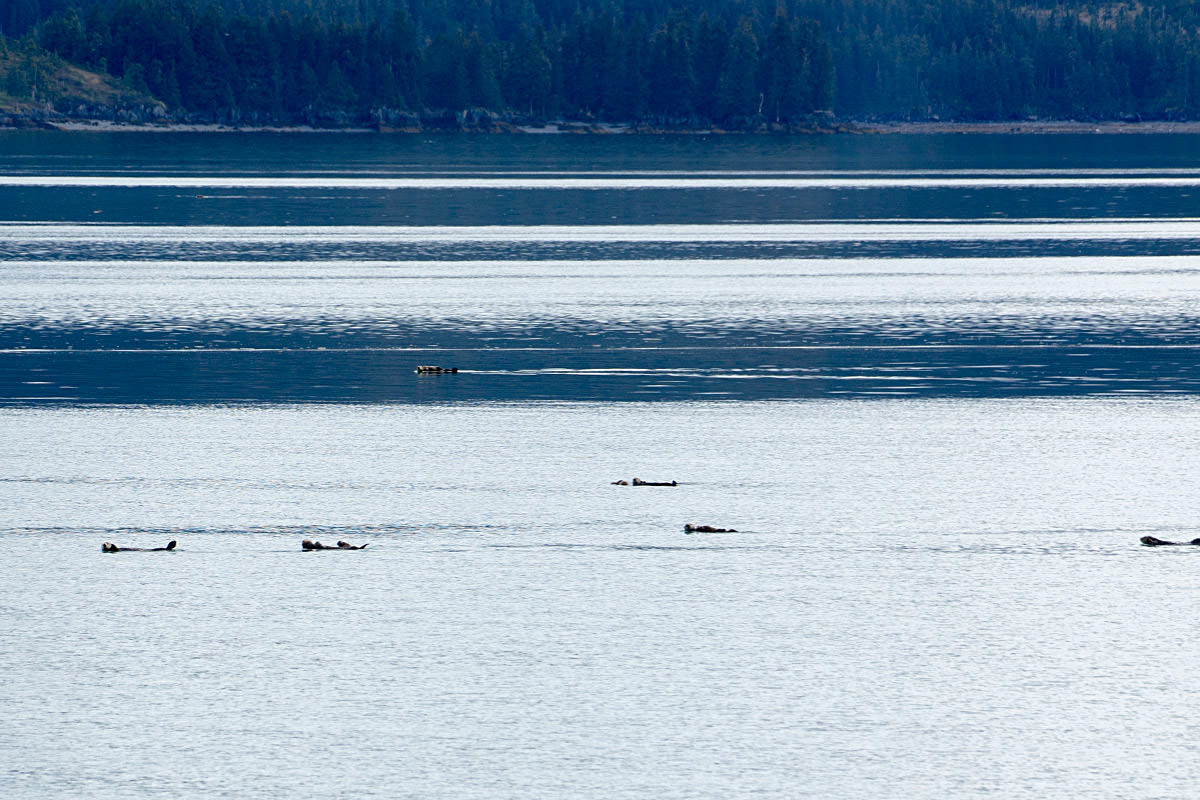 OTTERS!!!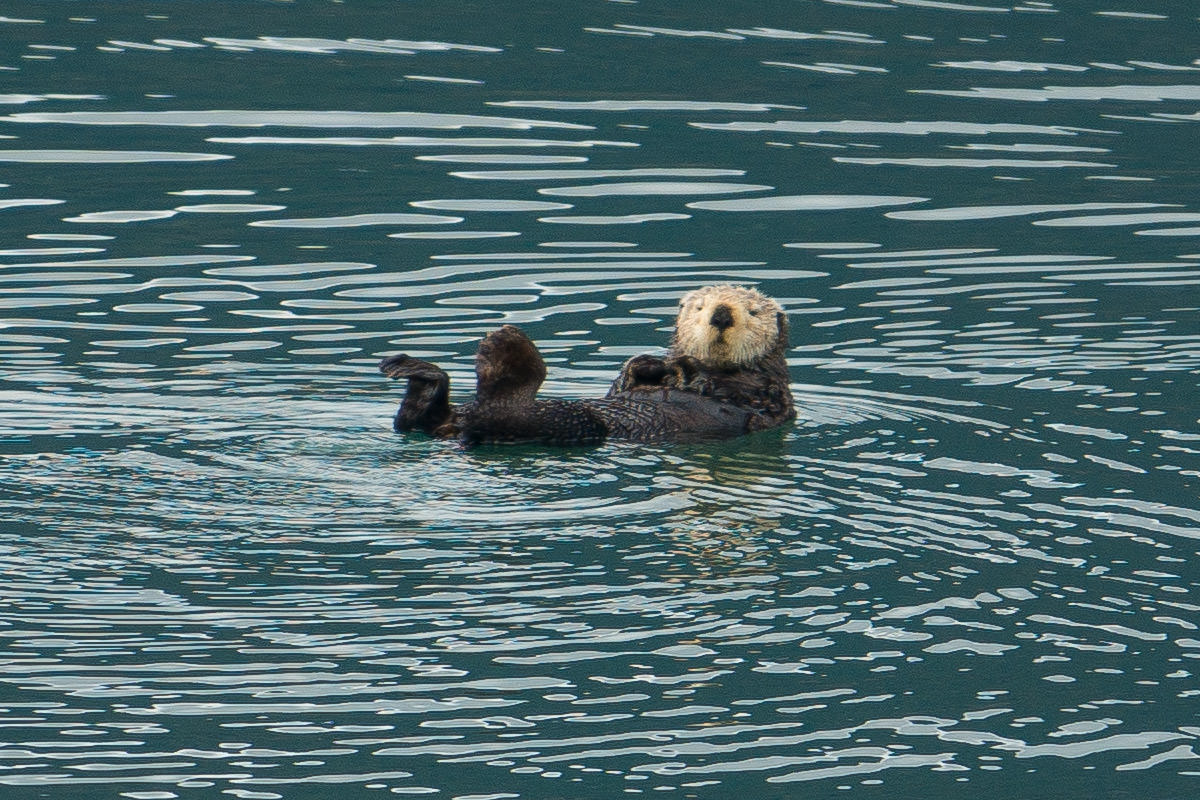 But what we're really here for is the glaciers, so Captain Carl wasted no time rolling right up to one...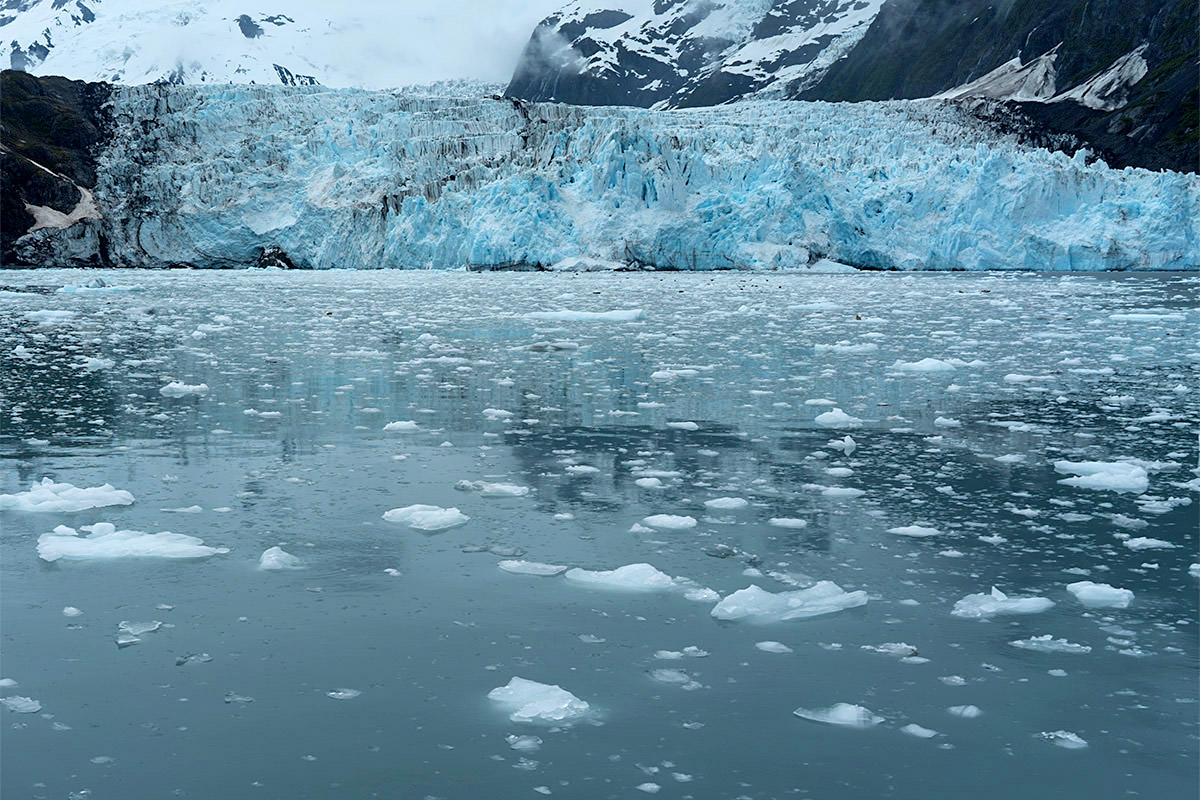 Being Memorial Day, the boat was at capacity, but it was never a problem. People were pretty good about taking turns getting their photos, and Captain Carl made slow sweeping turns at all the stops so everybody on both sides of the boat could take a look...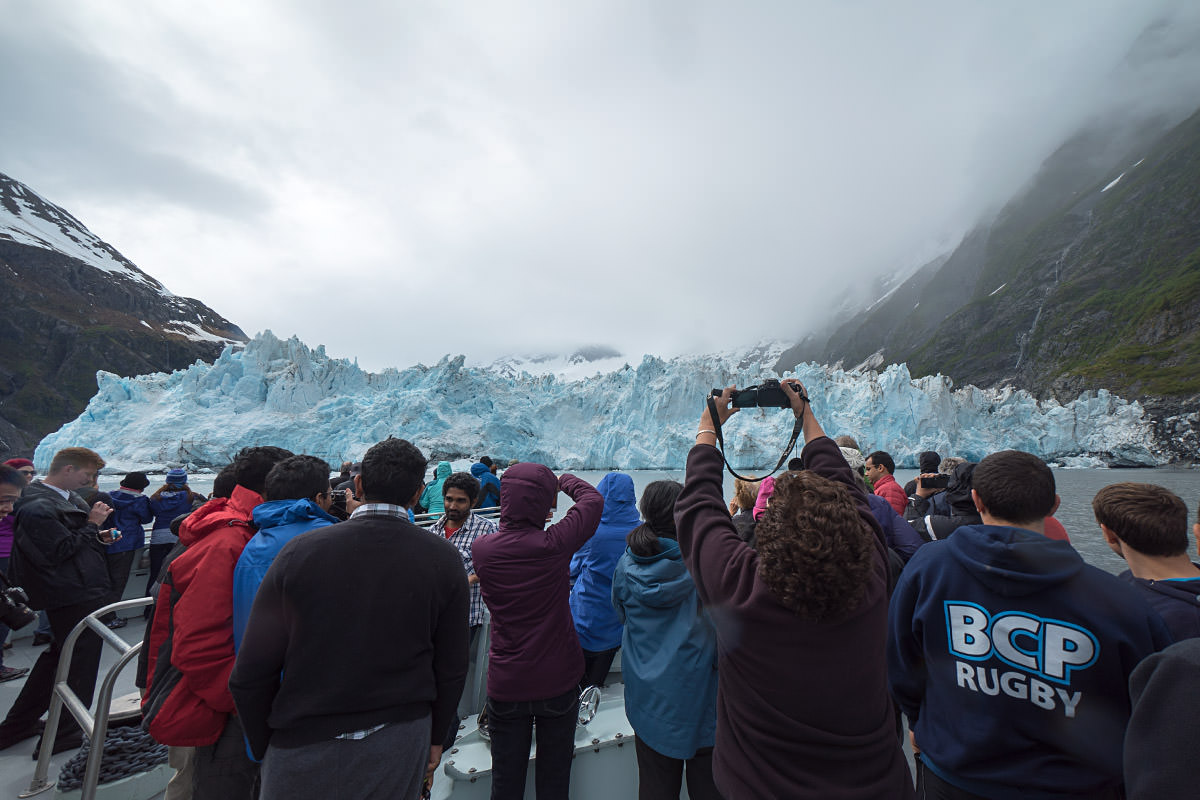 I never once had trouble getting to the rail to get some terrific glacier photos, which was nice...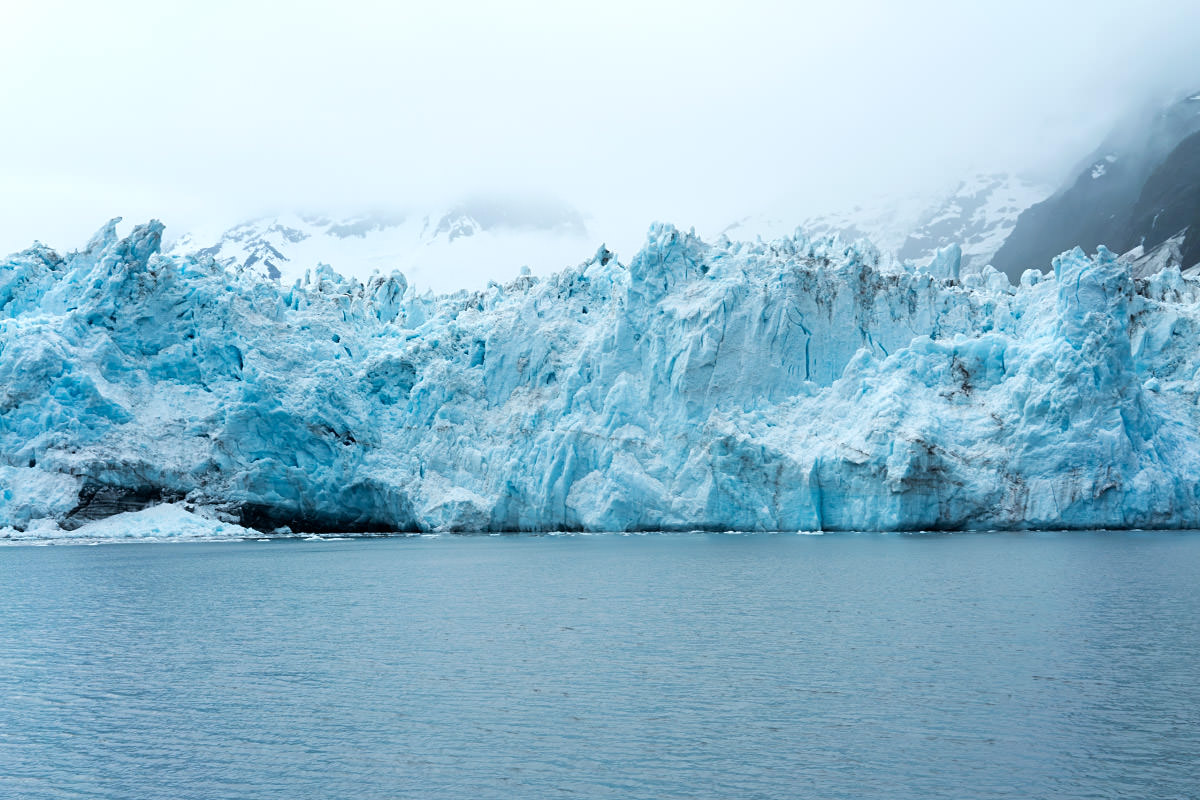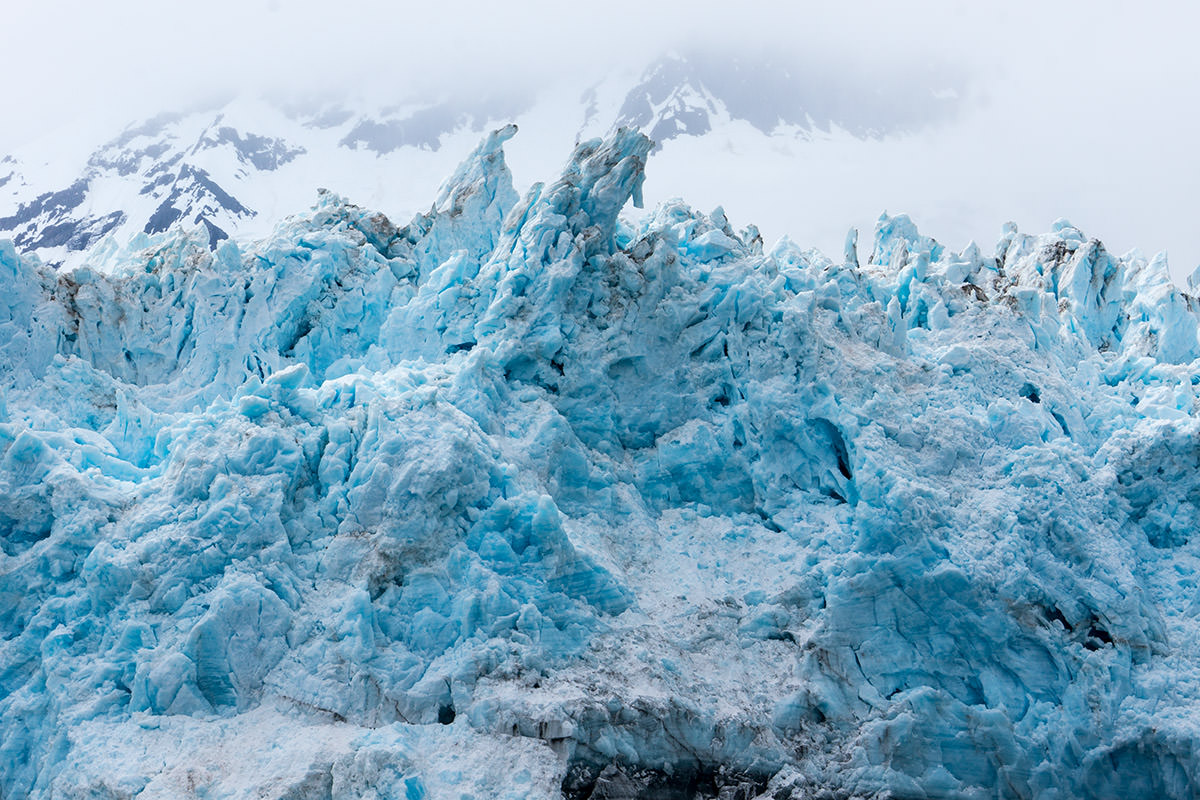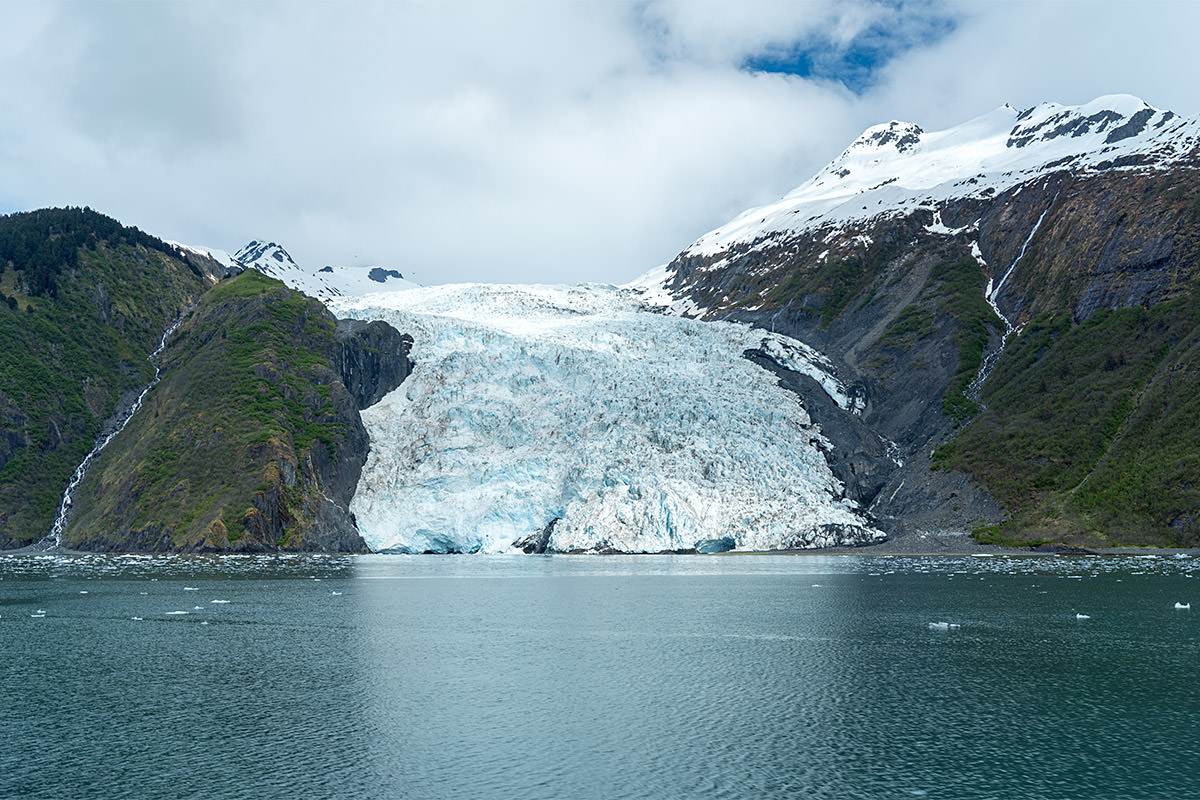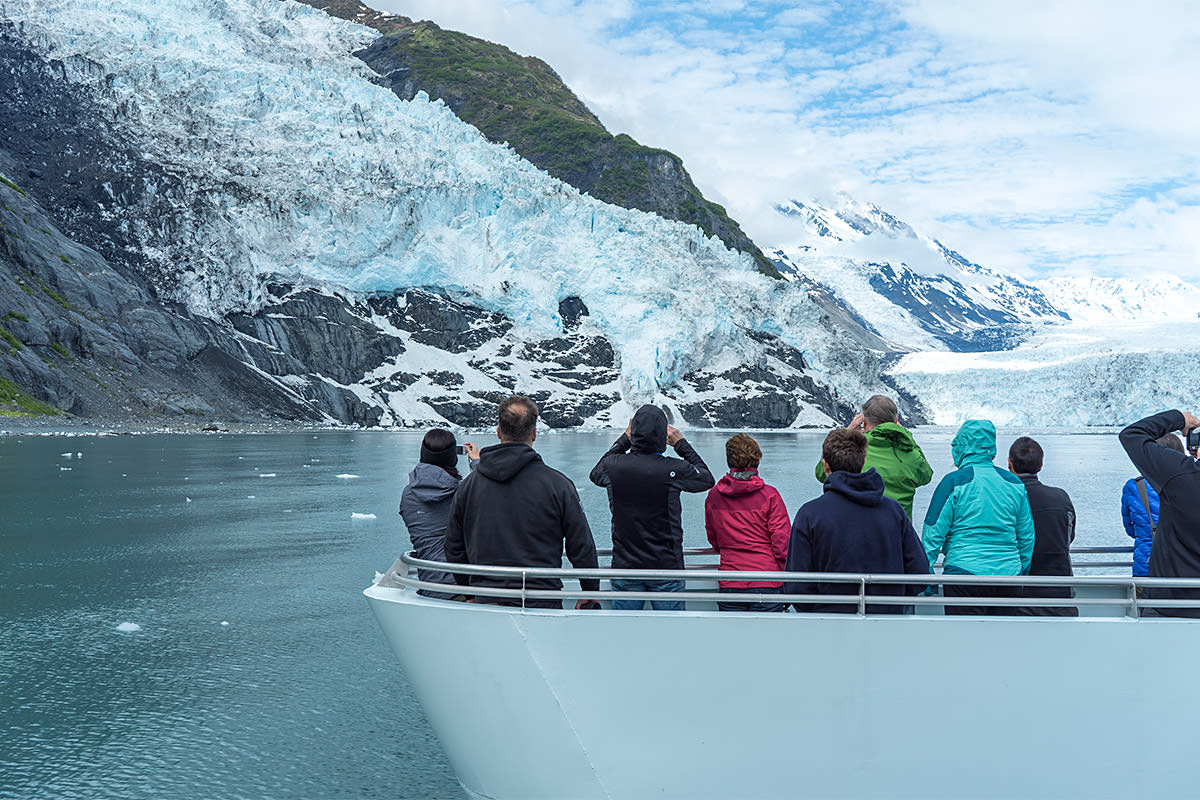 All in all, the cruise I took advertised "26 glaciers in one day"... but most of them must have been off in the distance, because I only recall seeing about a dozen of them.
I could bore you with the hundreds of glacier shots I got, but they all start to look the same after a while so I'll spare you. Suffice to say I had a great time getting lots of beautiful photos.
You end the glacial tour with a stop at a trio of glaciers in one shot...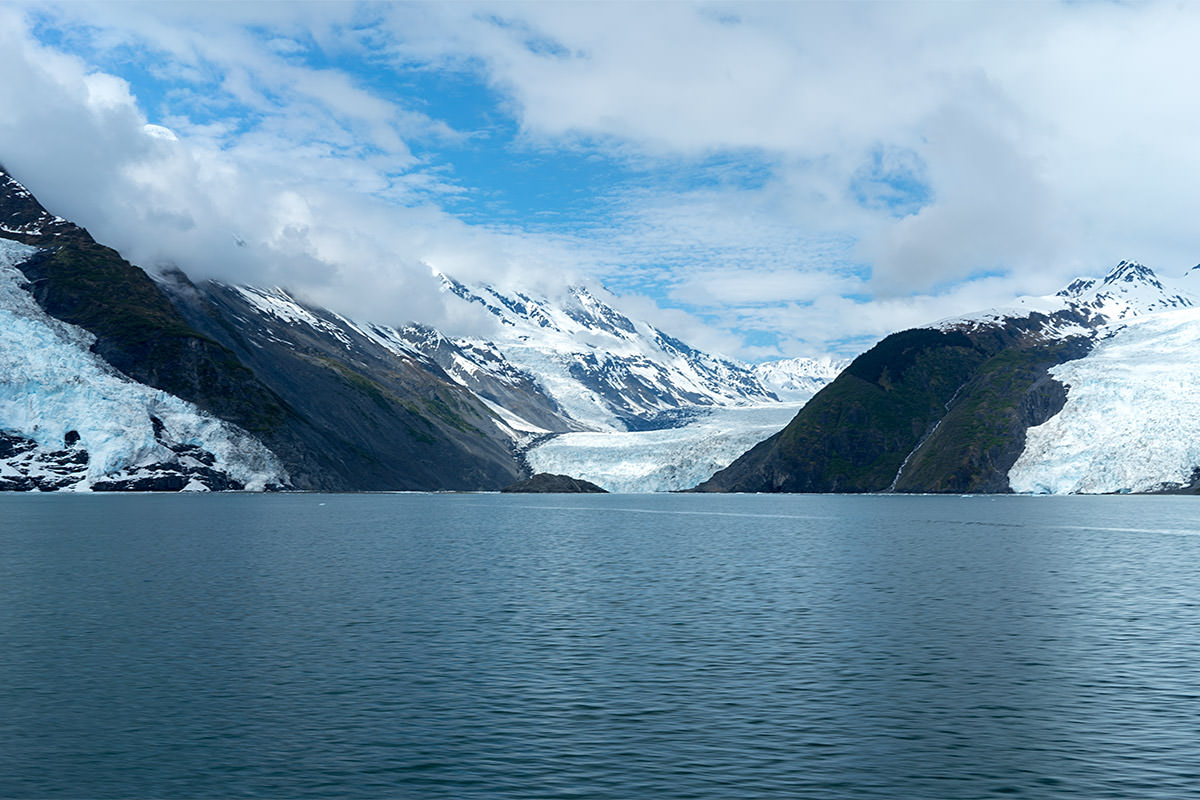 The trip back was pretty good too, because the scenery is so great. Waterfalls are everywhere...
And, if you look at the bottom of that photo, you'll see I got more than just a waterfall in the shot...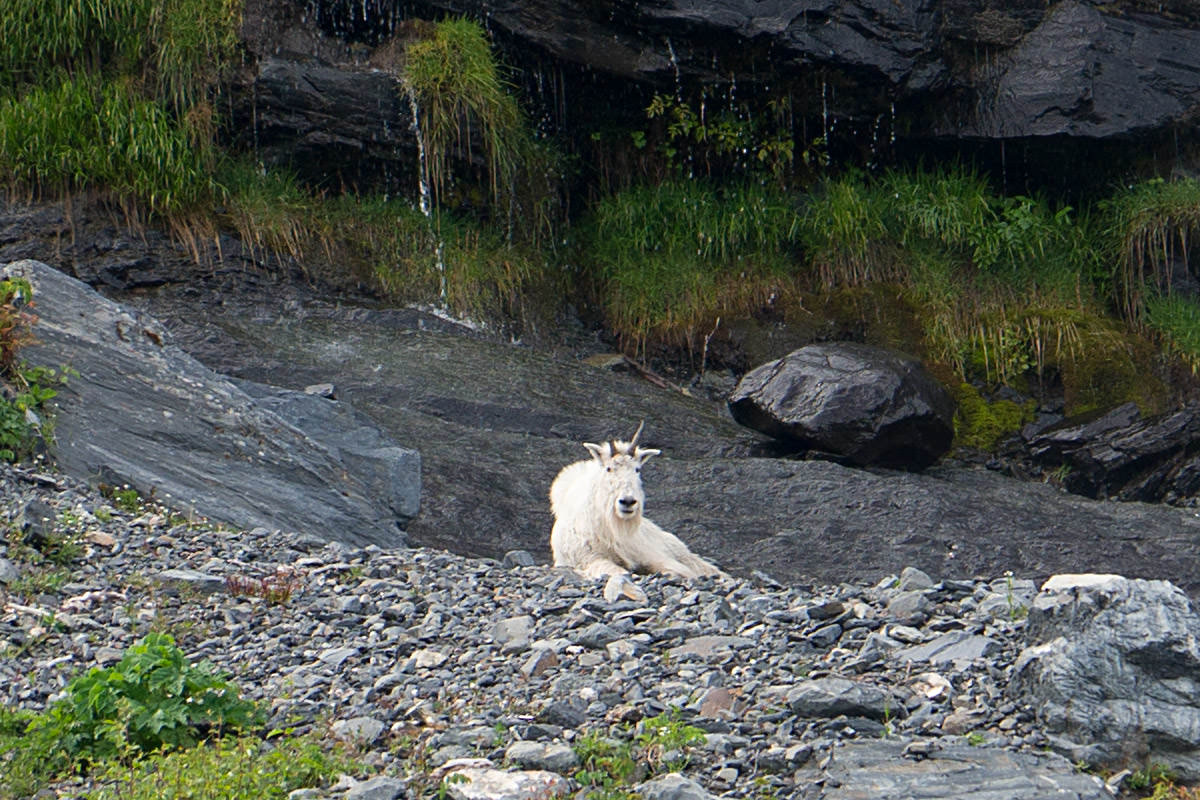 Just chillin' for a bit. Thank heavens I bought my massively expensive zoom lens!
The weird thing about Prince William Sound is how the weather changes -literally- minute to minute. You can go from overcast and dreary to sunshine and vivd in the blink of an eye...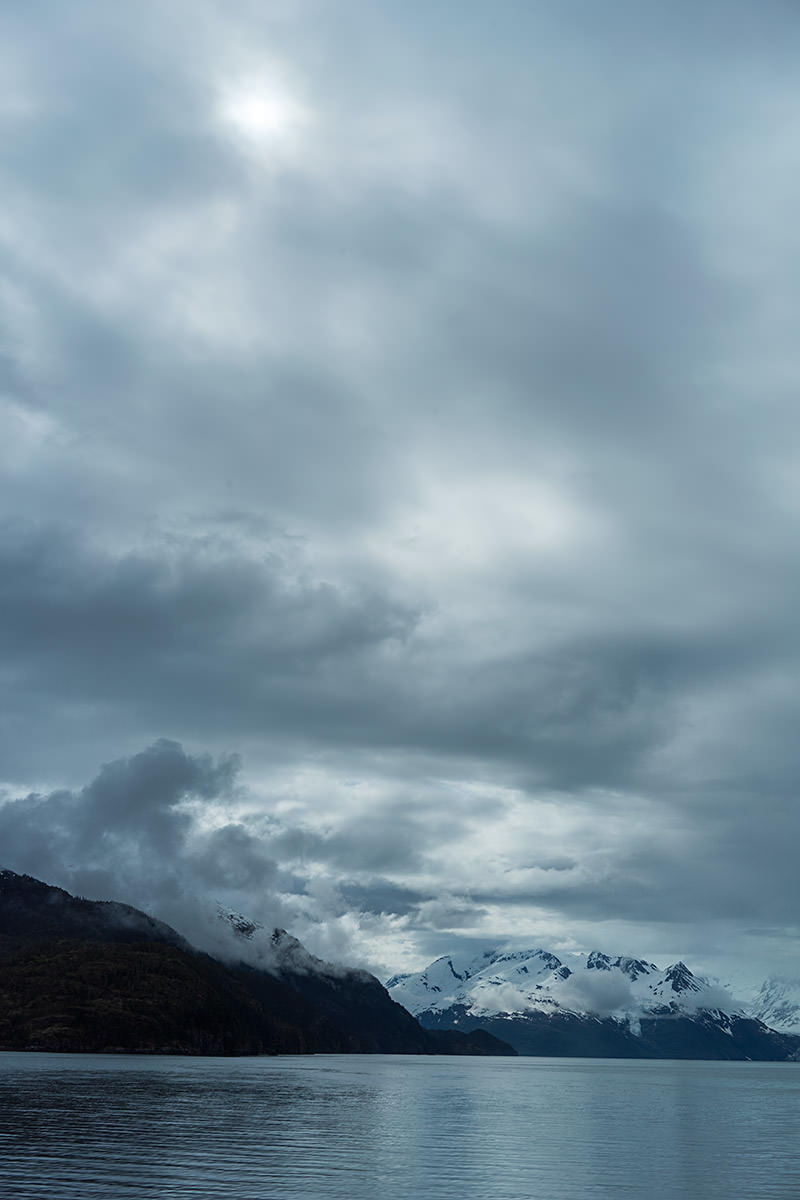 Captain Carl had one last surprise before pulling back into Whittier...
Is that spotty rocks, or...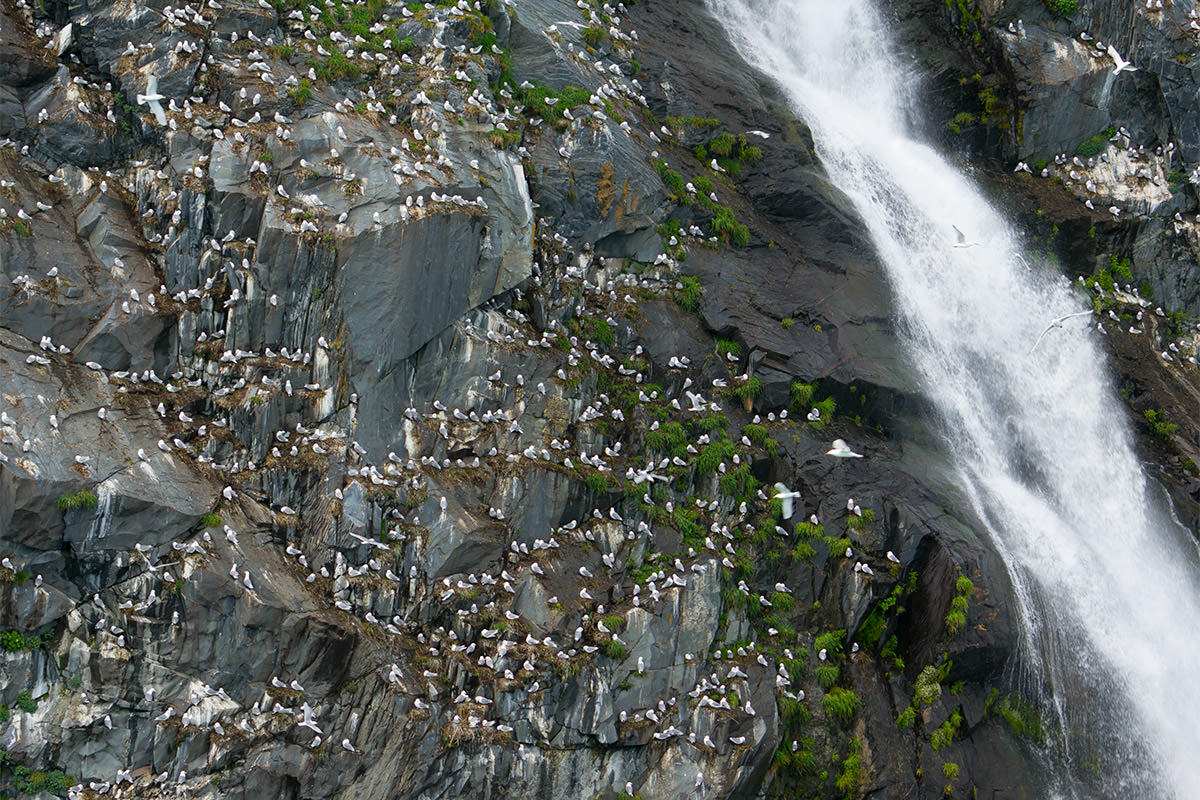 BIRDS!!!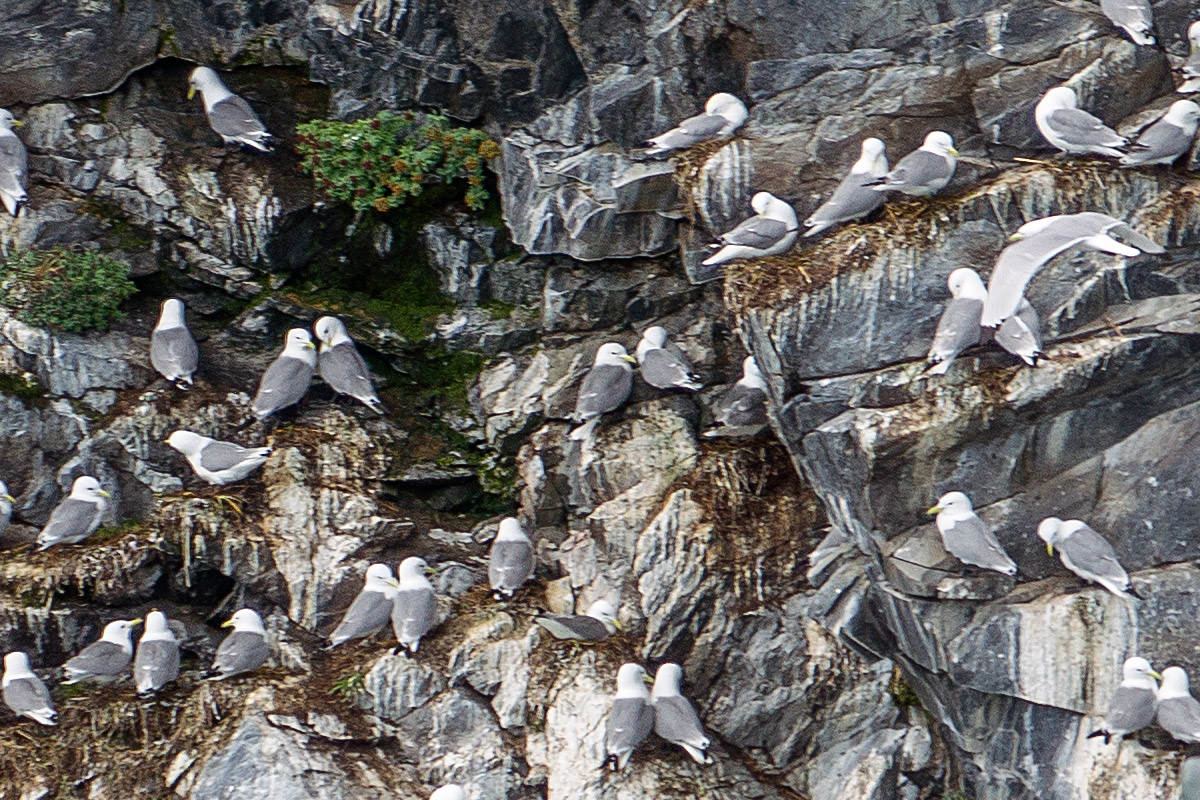 Thousands of them.
And that was that. The boat docked at Whittier and my cruise was over. I had a few minutes before I had to board the return-train, so I walked through the town for a bit. Not a lot to see, but it's a beautiful place...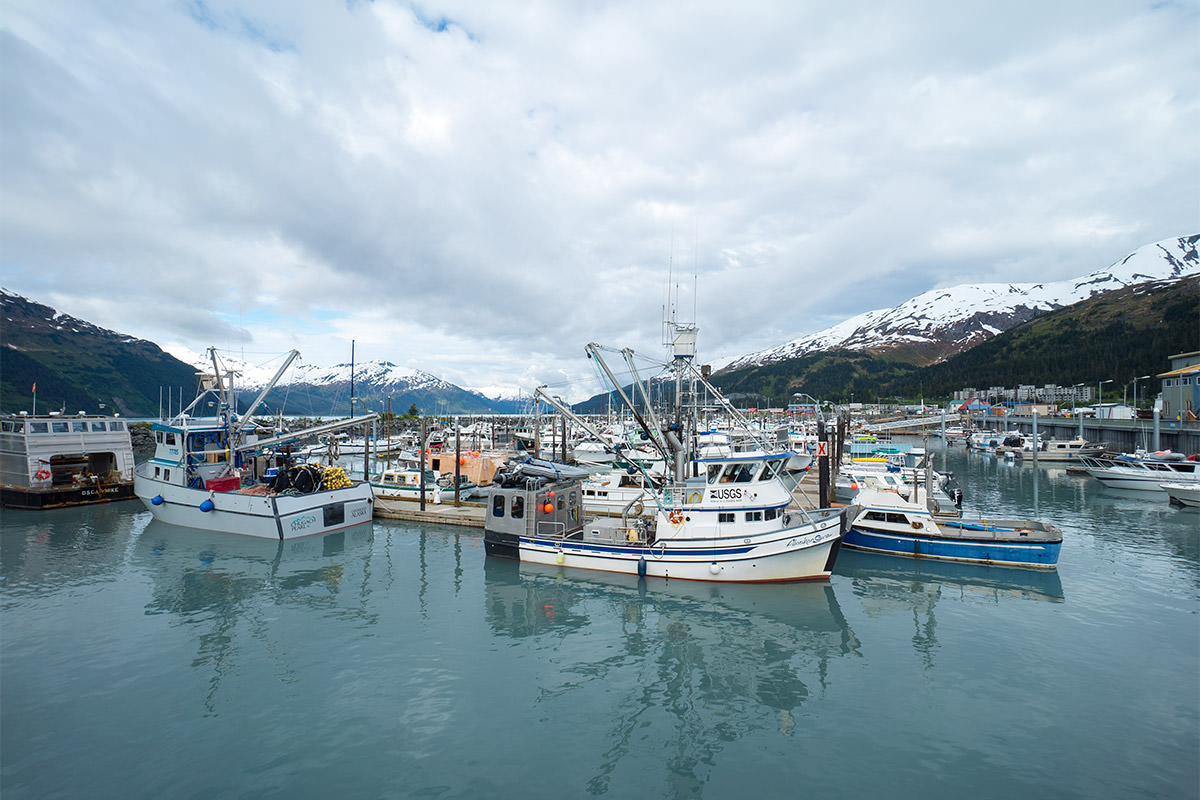 For the train ride home, the less expensive "B Car" was almost completely empty, so I gladly gave up my pricey dome car seat for some peace and quiet in the cheap seats. Usually, I would expect beautiful sunset views this time of day. But since the sun doesn't start setting here until 11:30, I had the same trip back that I had coming...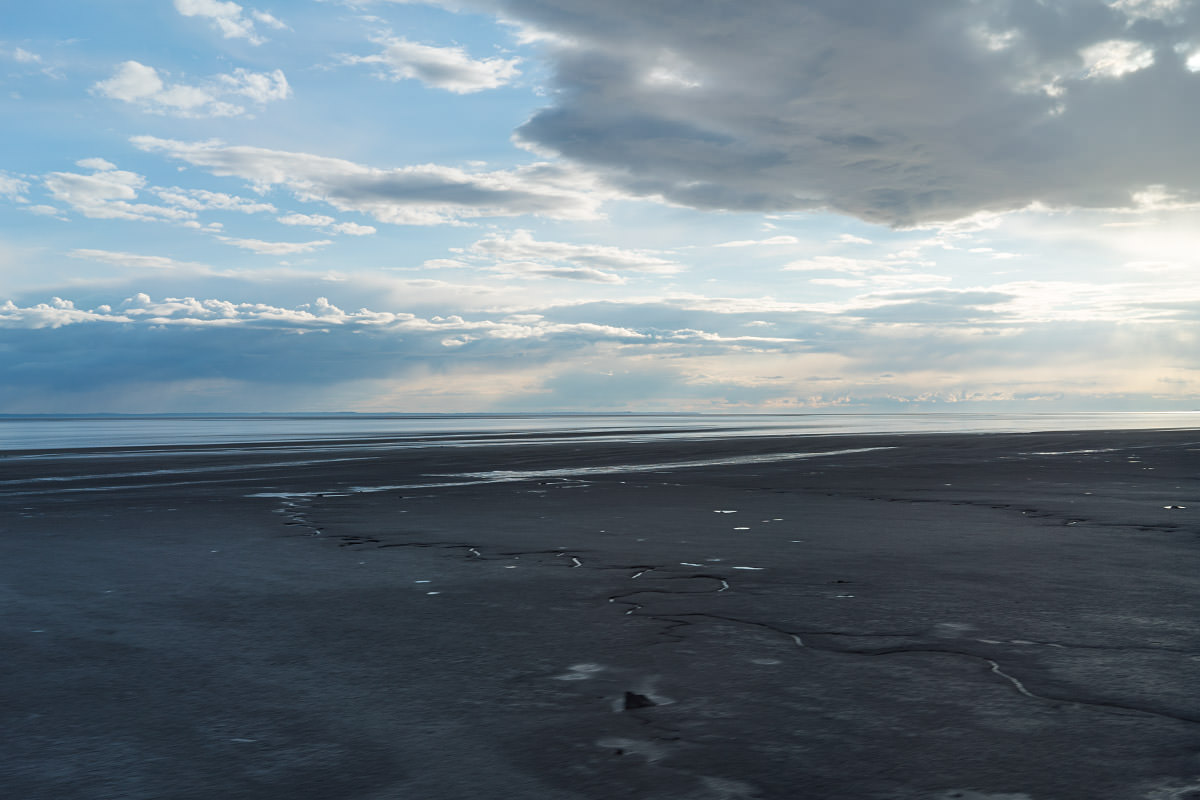 And that's a wrap.
Not a bad way to spend Memorial Day, I must say.
Hats off to Captain Carl and the crew of Klondike Express for a great five-hour tour! If you'd like to take your own "26 Glacier Tour" from Phillips Cruises, you can get more information here.

After disembarking in Juneau, it was time to take a helicopter ride over the Tongass Forest up to the Mendenhall Glacier for a walkabout. Definitely one of the more amazing experiences in my life! It was not at all cold, there was no rain, and visibility was fantastic. I took a couple hundred photos, but am too knackered to go sorting through them tonight. I'll just post a few that caught my eye.
NOTE: I know it may look as though I've done some Photoshop trickery to get that brilliant deep blue color on the glacier... but I didn't. That's all real, exactly as my camera recorded it! If anything, it's less vibrant in the photos, because it's all flattened out.
Flying above the freaky ice formations of the Mendenhall Glacier...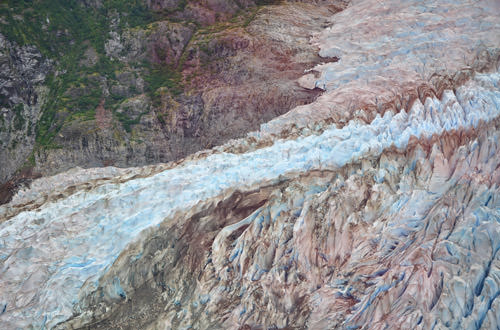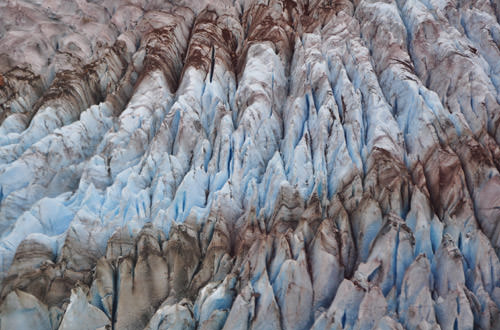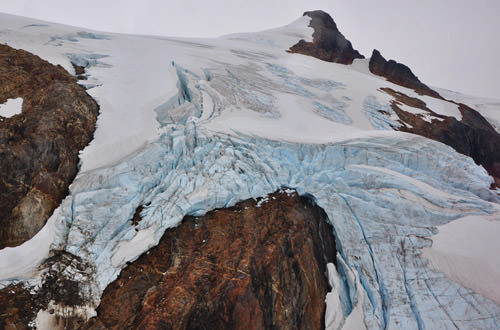 Landing on the glacier...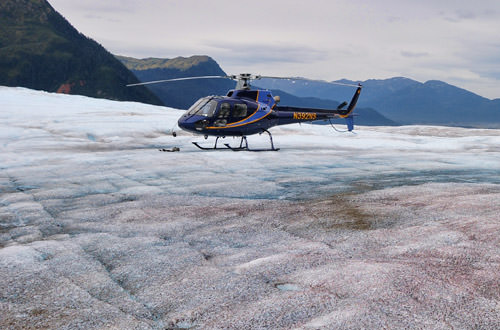 Trekking around in search of glacier ice...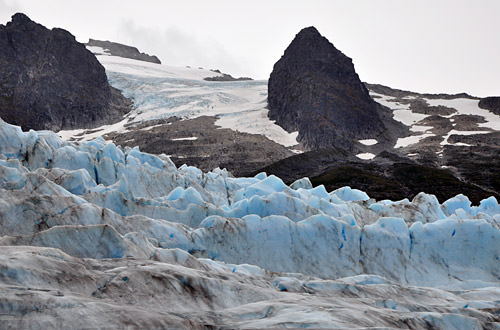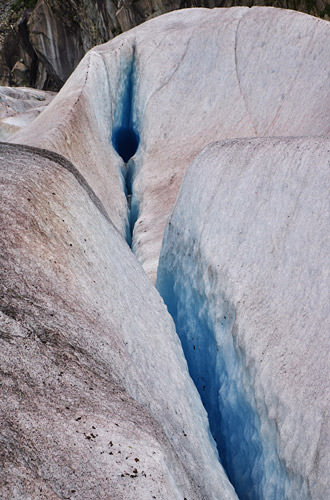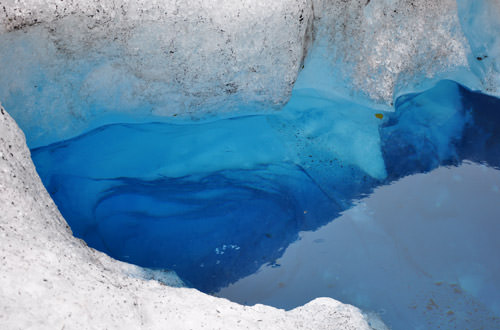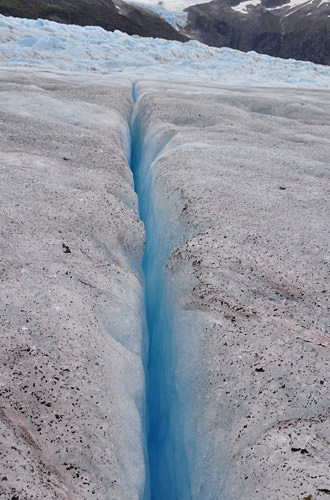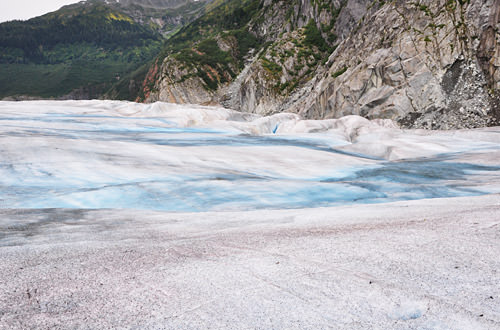 The helicopters return to pick us up...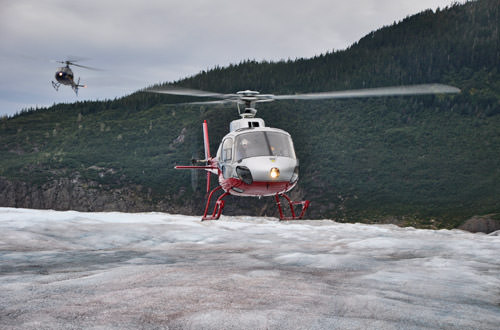 Walking around the nifty State Capitol of Juneau, Alaska...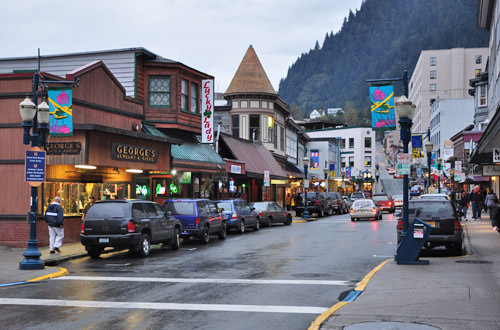 Returning to the ship at night...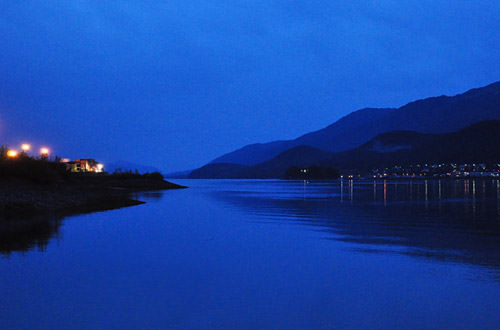 All in all... a pretty darn good day!