Posted on August 15th, 2020

Jenny has been irritable lately and I am fairly certain it's because of the kitchen remodel I've got going on. She doesn't like change, and having everything ripped apart certainly qualifies. Most of her irritability is reserved for her brother. Usually she's able to ignore Jake's shenanigans, but now? Not so much.
Earlier in the week her brother wanted to lick her head for some reason. Instead of just walking away like she usually does, Jenny kept pushing him away until he got the message...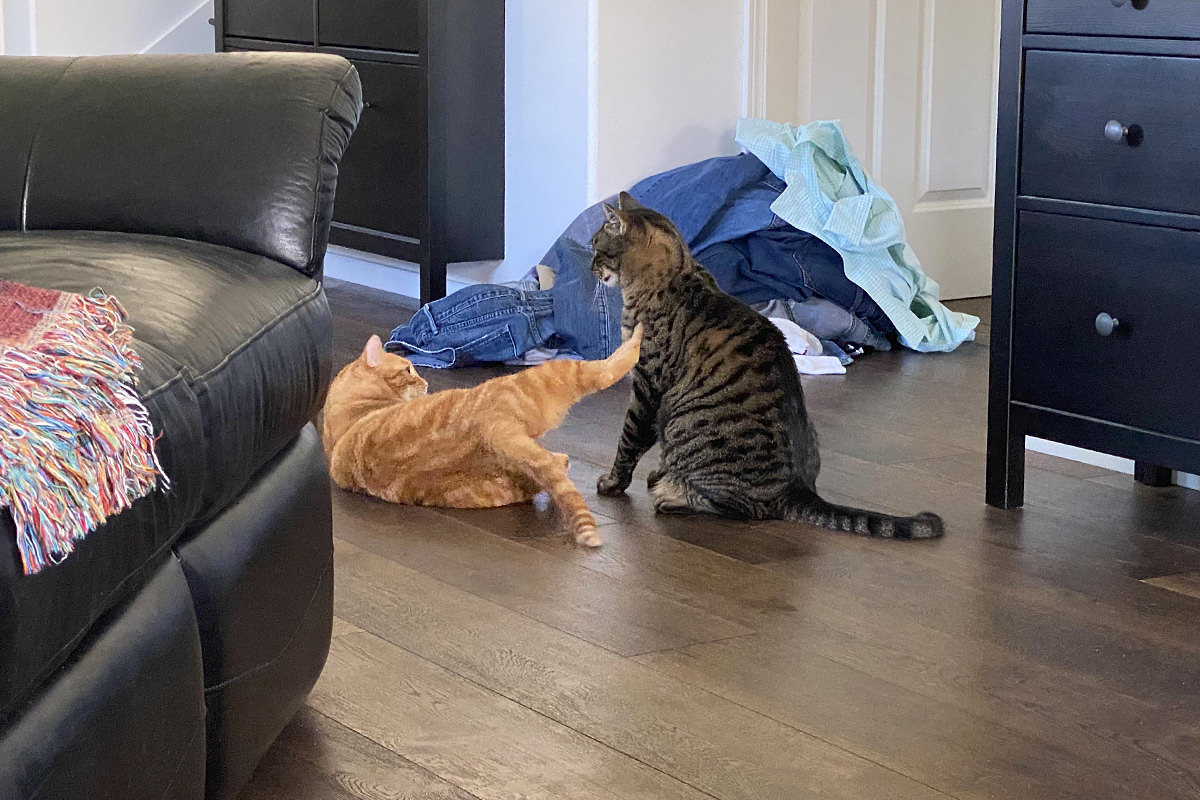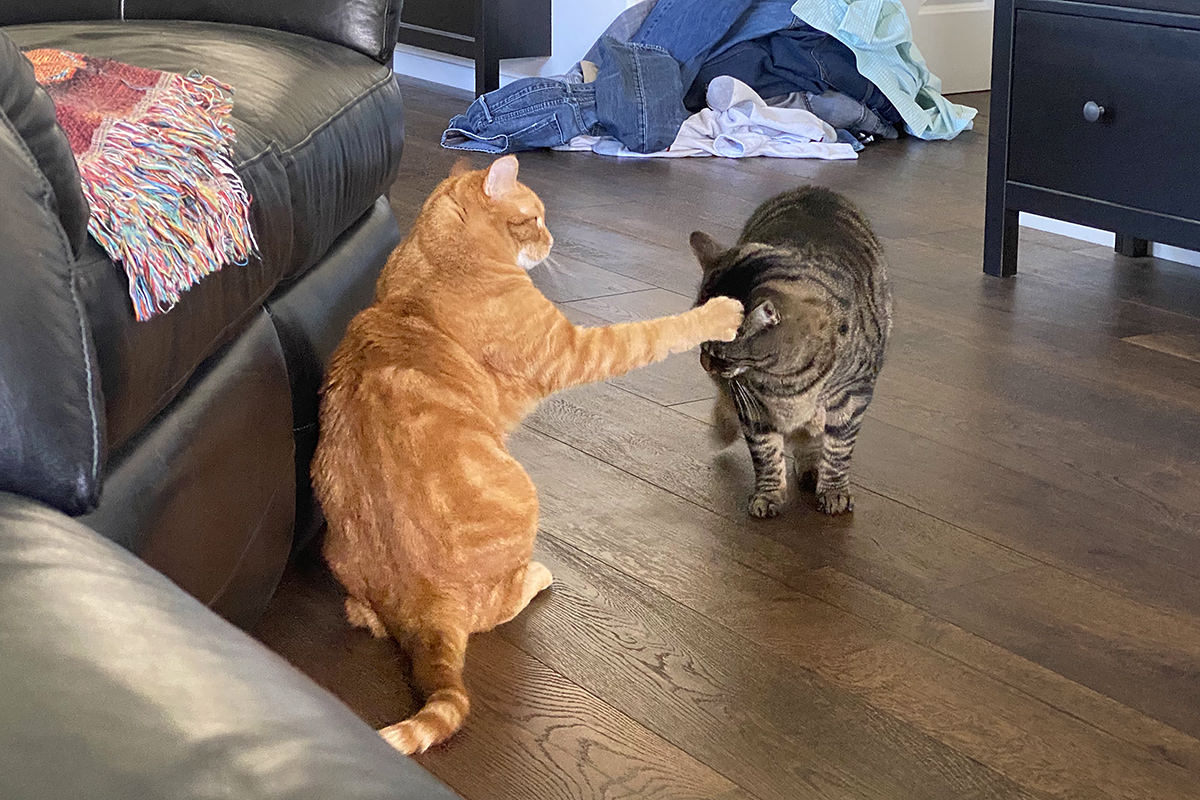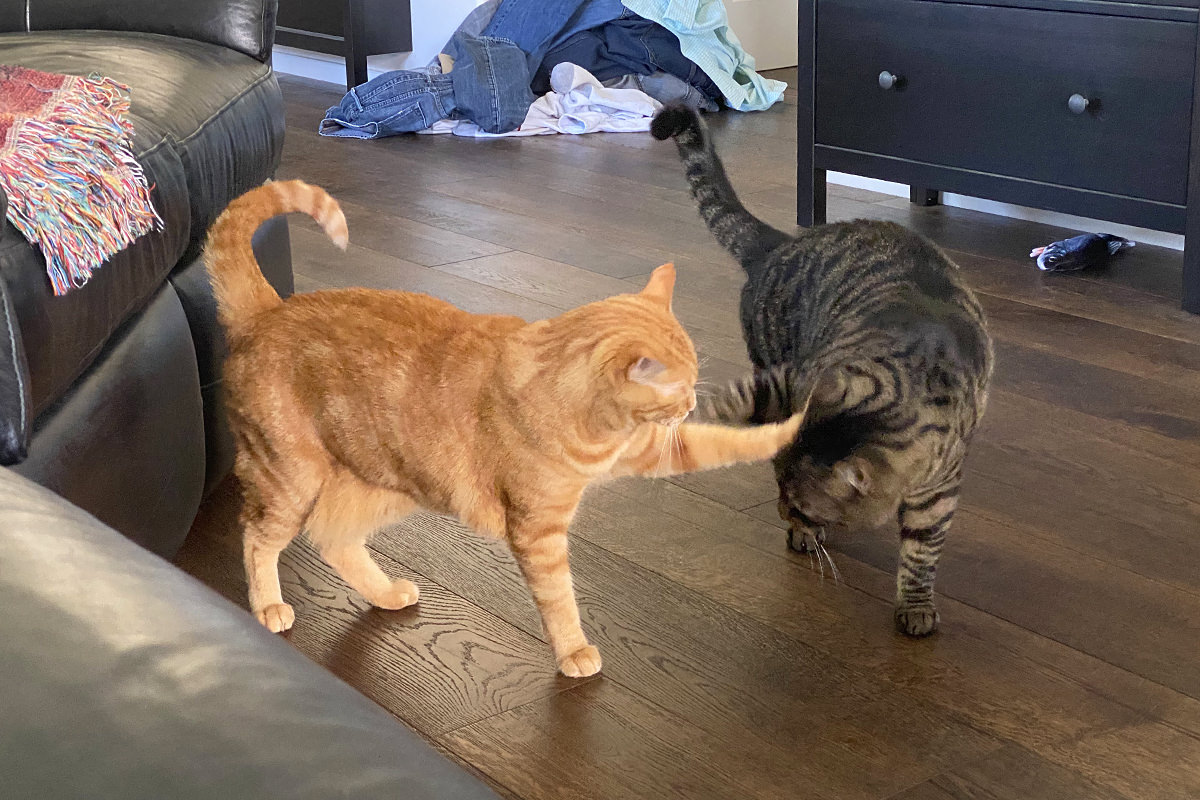 If Jake's upset by the remodel, he doesn't show it. His favorite place to seep now is on top of the dishwasher after it's been run because it's toasty warm up there without a counter carrying it up...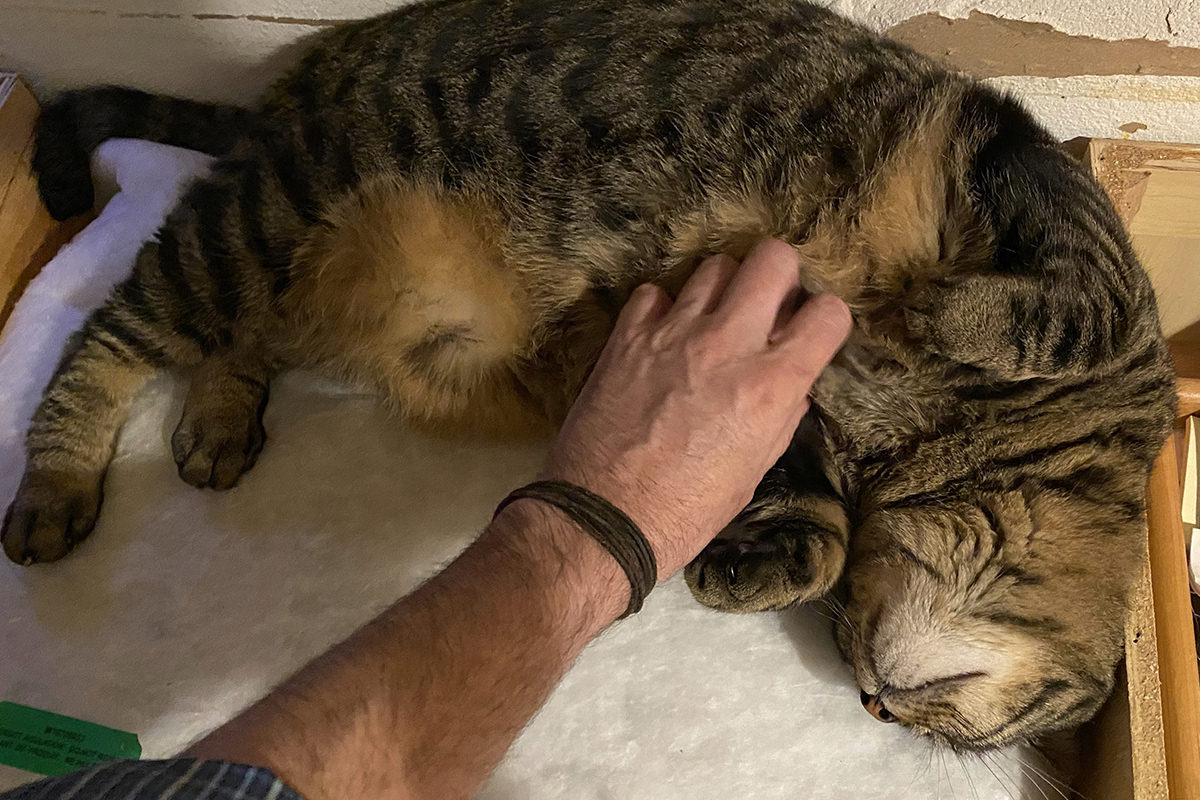 When the dishwasher isn't running, I guess I'm the next best thing...
The rest of the time Jake is chewing on my tools...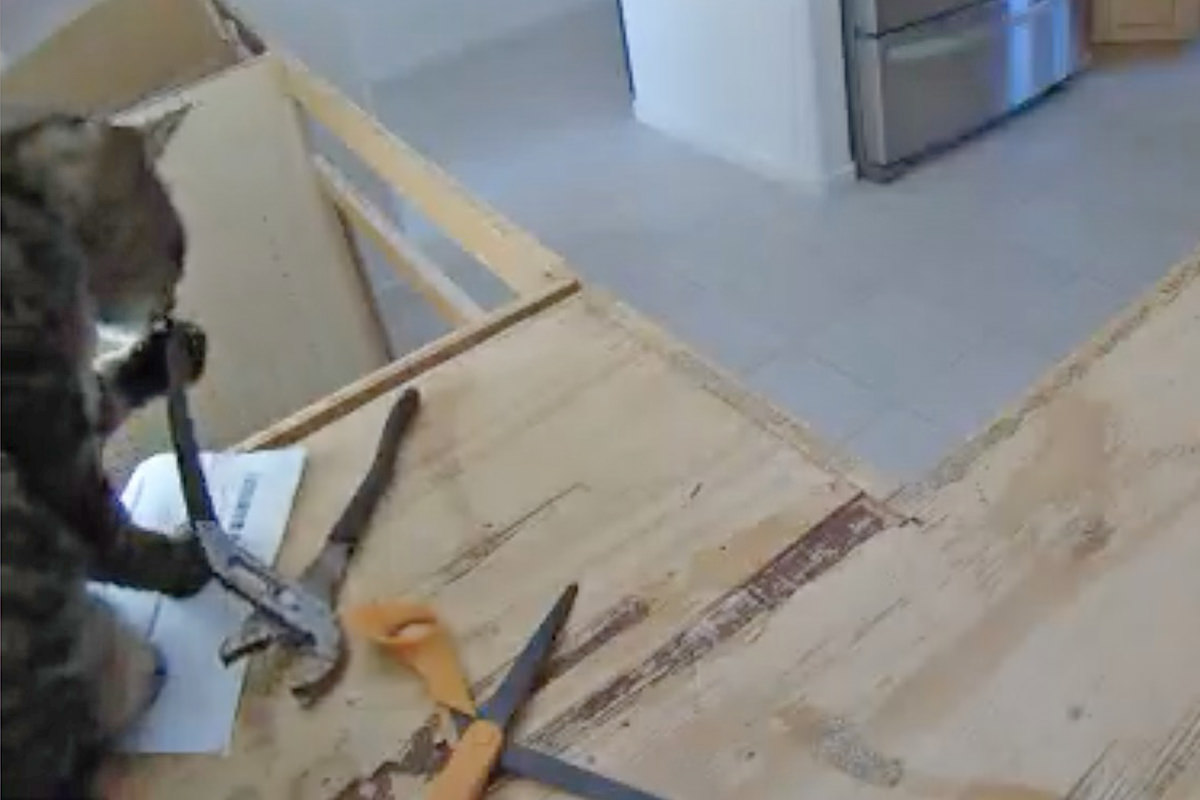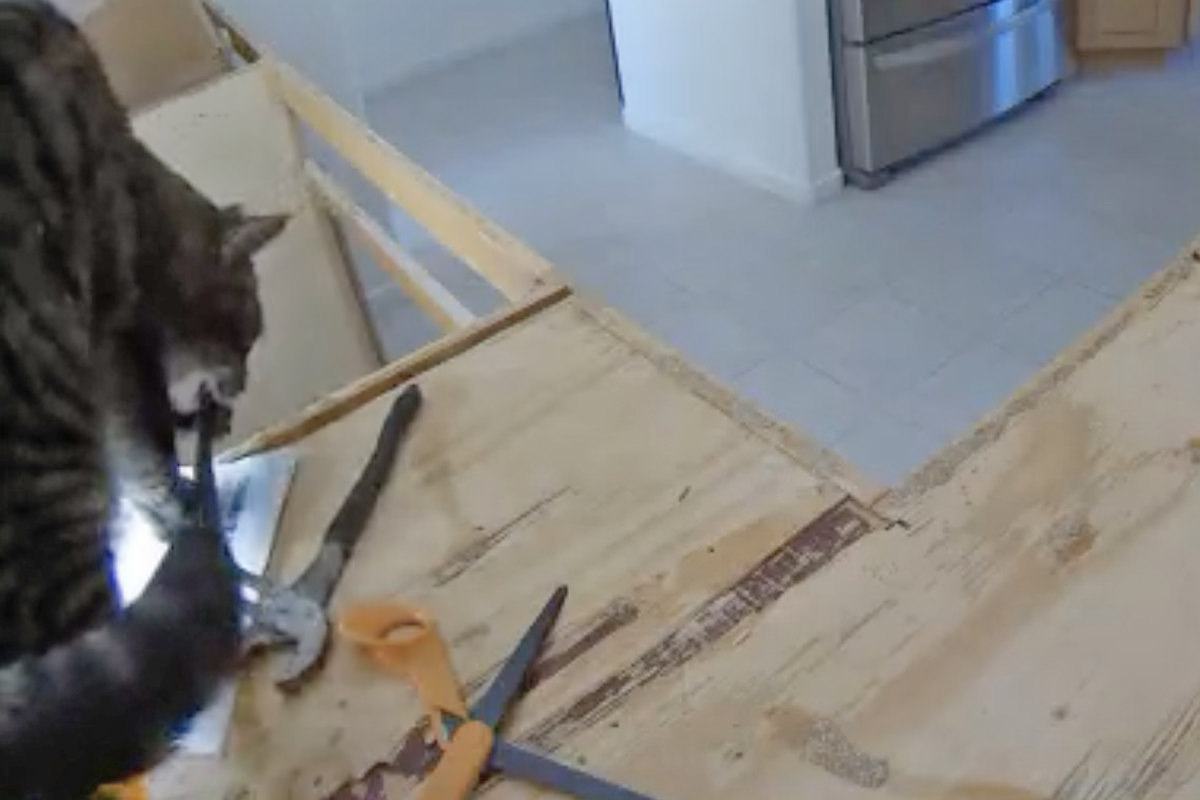 Mmmm... tasty pliers.
Three more weeks. Fingers crossed.
Posted on August 8th, 2020

Happy International Cat Day, everybody! Though when it comes to my cats, EVERY DAY IS INTERNATIONAL CAT DAY so it's nothing special in my house.
I spent my early morning of the day hanging out with Jake, who wasn't feeling well for some reason. Eventually he snapped back to normal and went running upstairs for bed as if he hadn't just spent the early, early hours of the morning howling and upset.
And speaking of bedtime...
As I've mentioned a few times now, Jake sleeps at my feet every night. He's there when I fall asleep. He's there when I wake up. But here's the thing... I toss and turn constantly during sleep. I sleep on my back. I sleep on my front. I sleep on my side. I sleep on my other side. And for the past couple mornings I've woken up with a kink in my neck, so I decided to put a security camera in my room to try and figure out what I've been doing to cause it.
Nothing on the camera explains it.
But I did get an explanation as to how Jake manages to get through the night at my feet with all my tossing and turning. He wakes up. He repositions himself. He falls immediately back to sleep...
What's amazing to me is how I manage to stay asleep when he's crawling all over me all night long.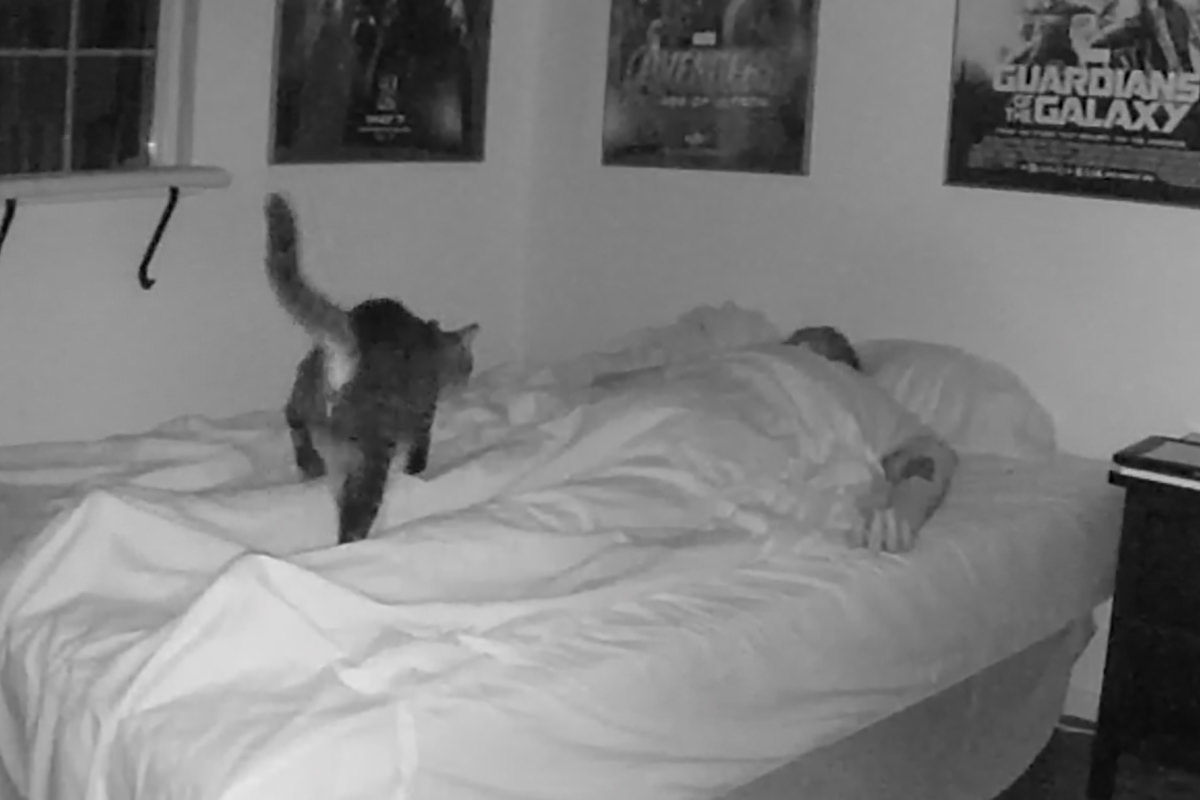 And as it gets closer to breakfast, he gets a little more aggressive... poking me to wake up and feed him...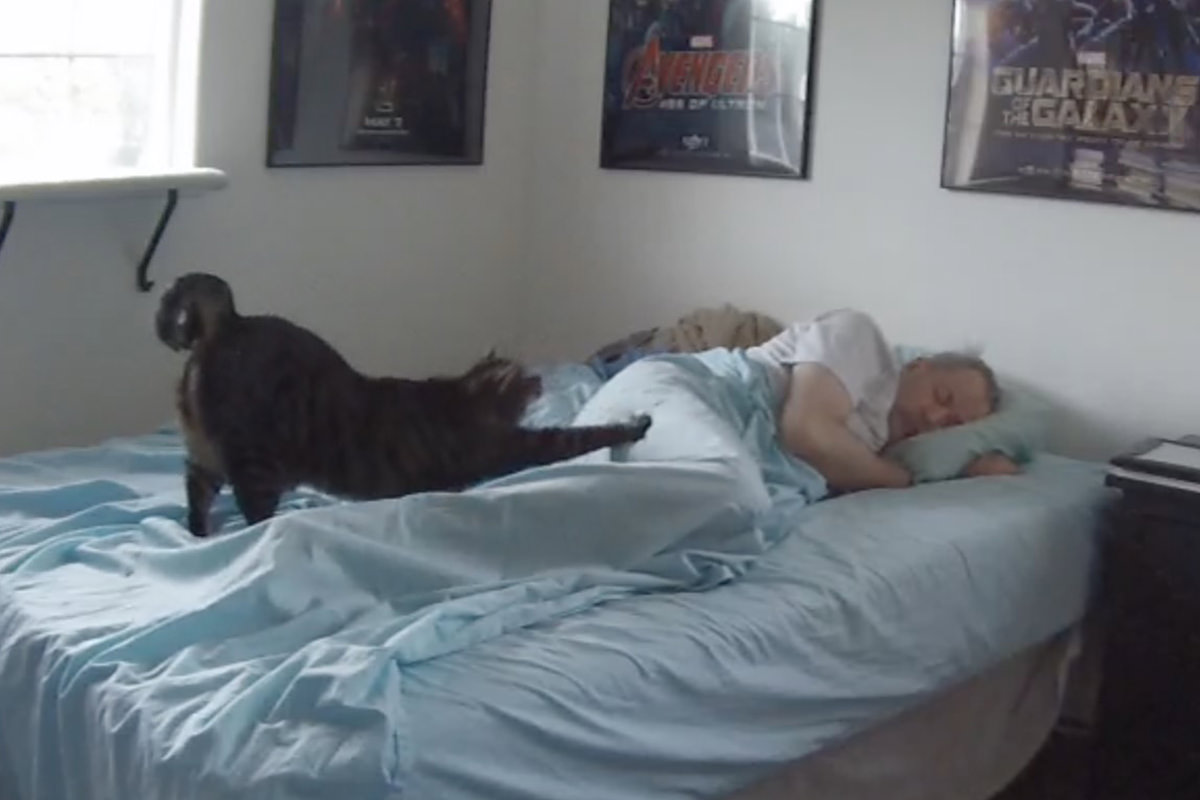 I've been subscribed to Dr. Uri's Vancouver Vet YouTube channel for a couple years now, ever since I watched a video on how to pick up cats since mine don't like to be picked up AT ALL. The first thing you notice about this video is that Dr. Uri has two of the most chill cats ever...
A video I missed was the story of how he got his first cat, Mr. Pirate...
A very good cat indeed.
Posted on August 1st, 2020

As I've mentioned, I don't discipline my cats. There's no reason for it because they just don't do bad things. On the rare occasion they do something that I'd rather they not do, it's not because they're bad, it's because they're cats doing cat stuff and I failed to provide a more desirable alternative. And that's on me.
Then today something happened.
I was doing laundry while Jenny was watching. I apparently didn't give her the attention she was wanting, because next thing I know she's clawing on the chair in the guest room.
"Jenny? What are you doing? Why can't you sit in the chair like a good girl?"
Which, of course, she did the minute I caught her...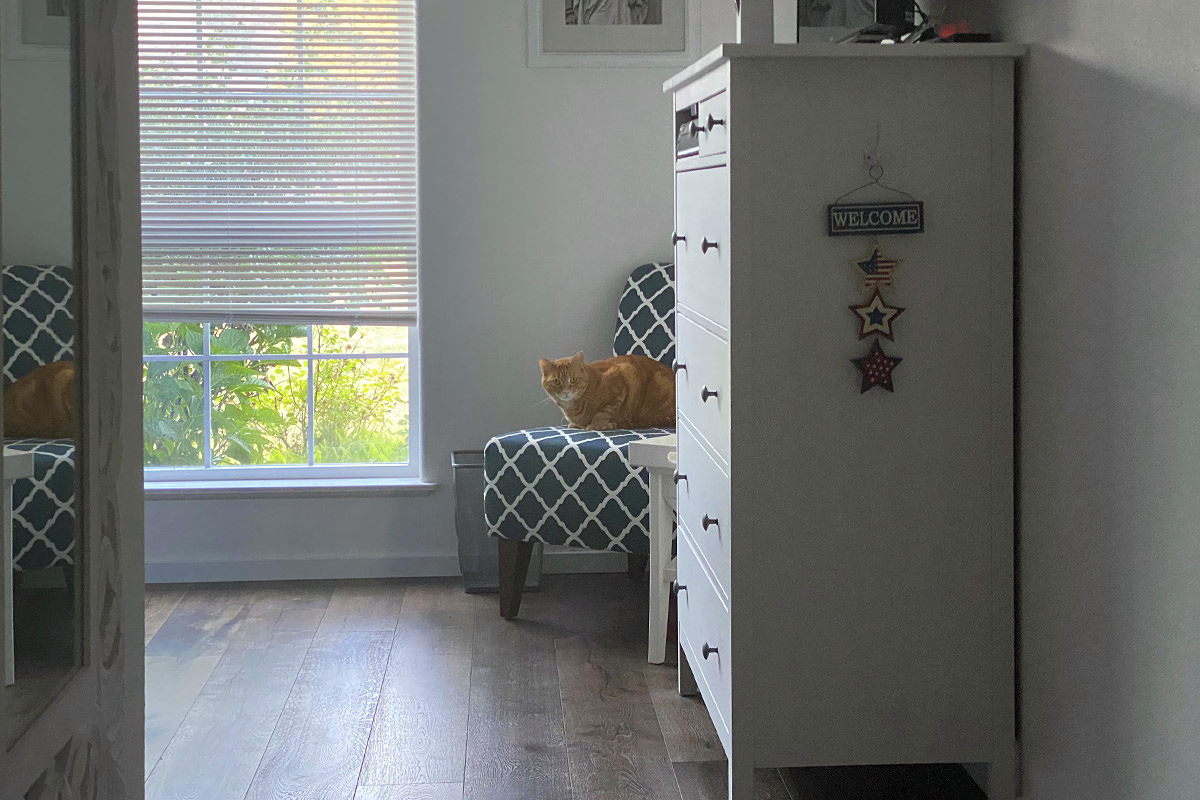 Because she actually is a good girl.
When she's getting the attention she demands, of course.
Posted on July 25th, 2020

If it weren't for my cats, I probably wouldn't have survived my mother's death. Waking up each morning to feed them was my reason for getting out of bed each day. And now that I've been stuck at home in isolation for six months, they're my reason for getting out of bed each morning... again.
Except after breakfast Jake comes right back upstairs and would probably like nothing better than hanging out in bed with me each morning. Especially if it means he can get belly rubs...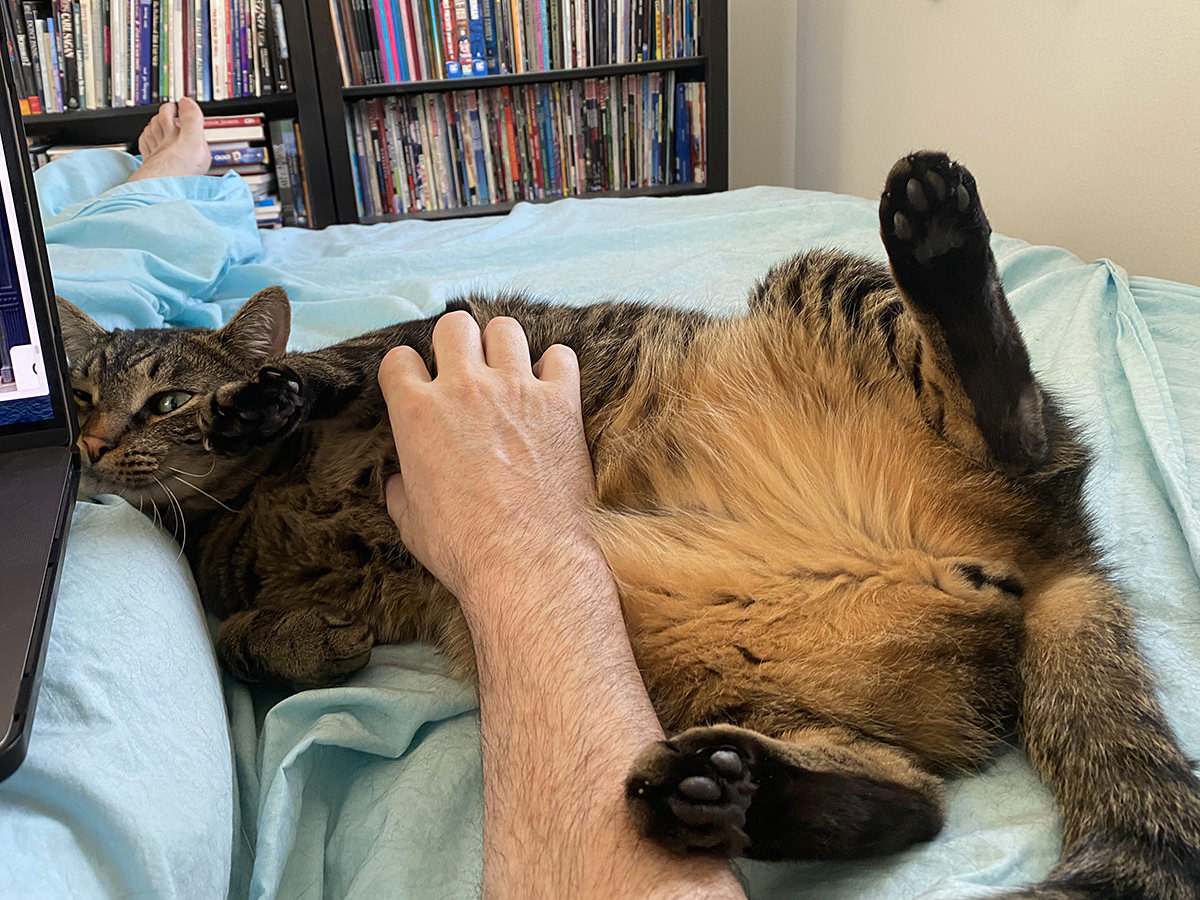 Though sometimes you have to wonder if what he wants is belly rubs... or to tempt you into attempting to give him belly rubs so he can spring a trap...
99% of the time, it's just belly rubs though...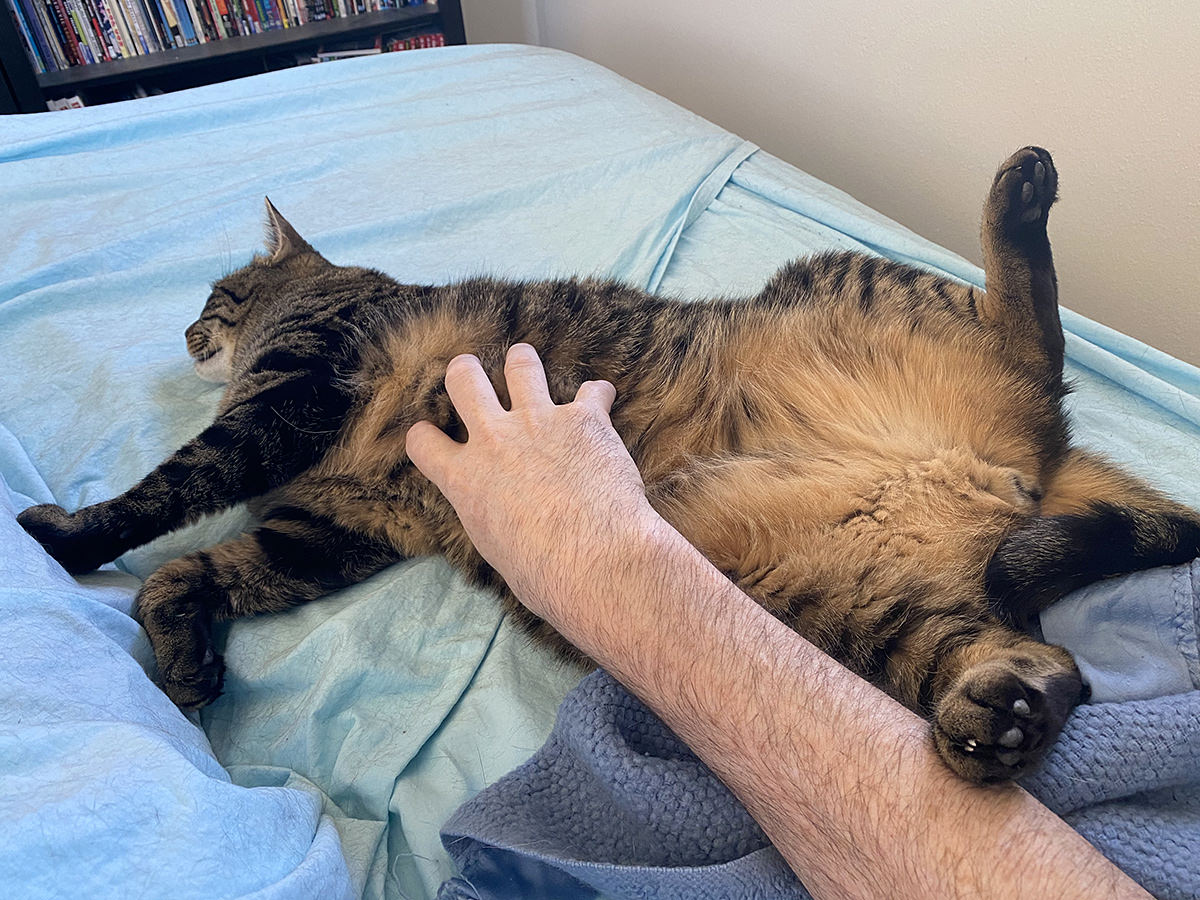 And sometimes all he wants is an audience while he gives himself a bath...
Jenny still likes to hang out in bed with me if Jake isn't already there. Otherwise she's happy to sit with me on the couch...
Doesn't get much better than that.
Posted on July 18th, 2020

Something has been making Jake one unhappy camper for a few days now, and tonight when Alexa chimed for the cats' dinner I found out just how cranky he actually is. I told Alexa to stop, then went to throw clothes in the dryer before dishing up the cat food. Jake stood at the doorway to the laundry room and squawked and squawked and squawked until I threw down my wet clothes and ran to fix his meal.
He. Was. Pissed.
Which is strange considering how he just seems to adore hanging around me. Still sleeping at the foot of my bed each morning...
He also seems to be making friends with Fake Jake, because they'll hang out together sometimes now...
Remember how they used to throw themselves at each other whenever they saw each other through the catio fencing like this?
Jenny, of course, wants nothing of it. This is how she prefers to interact with Fake Jake when he's hanging around the catio...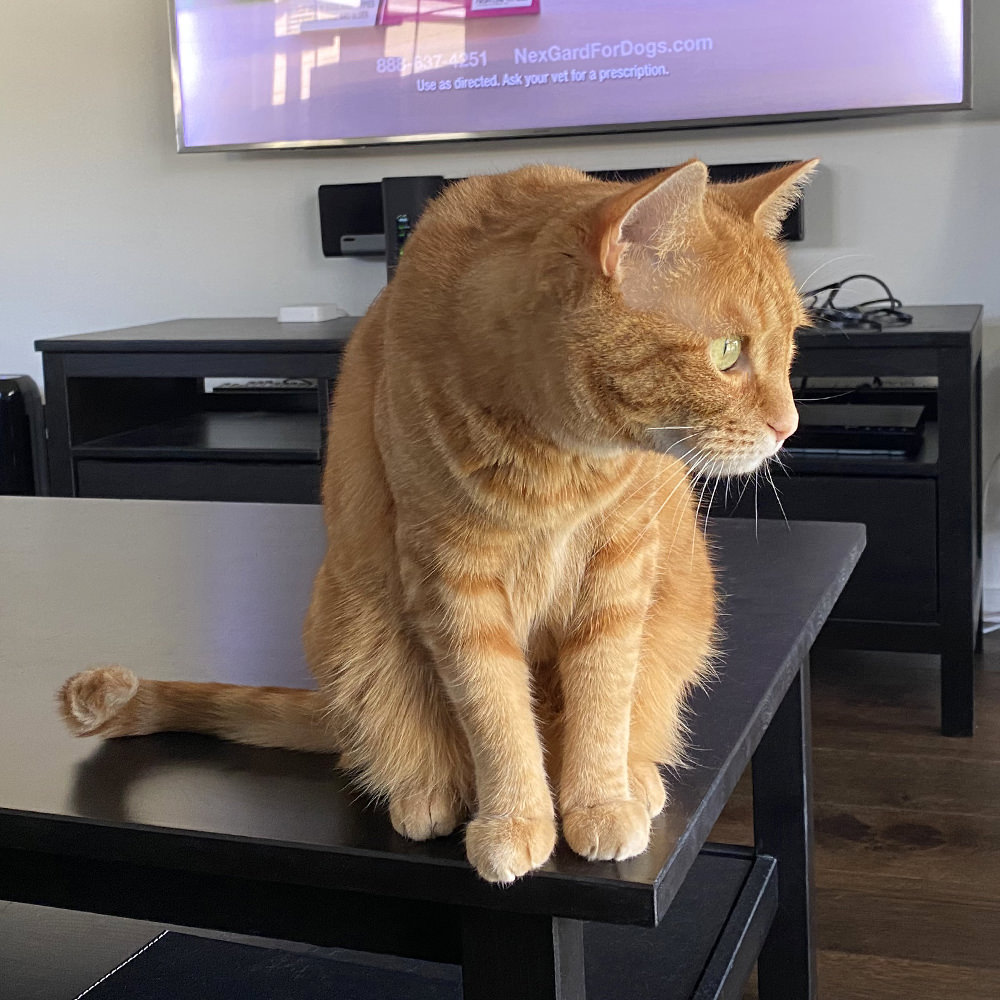 Adorable, isn't she?
Helps when she's managed to get her beauty sleep in and doesn't get interrupted like she was here...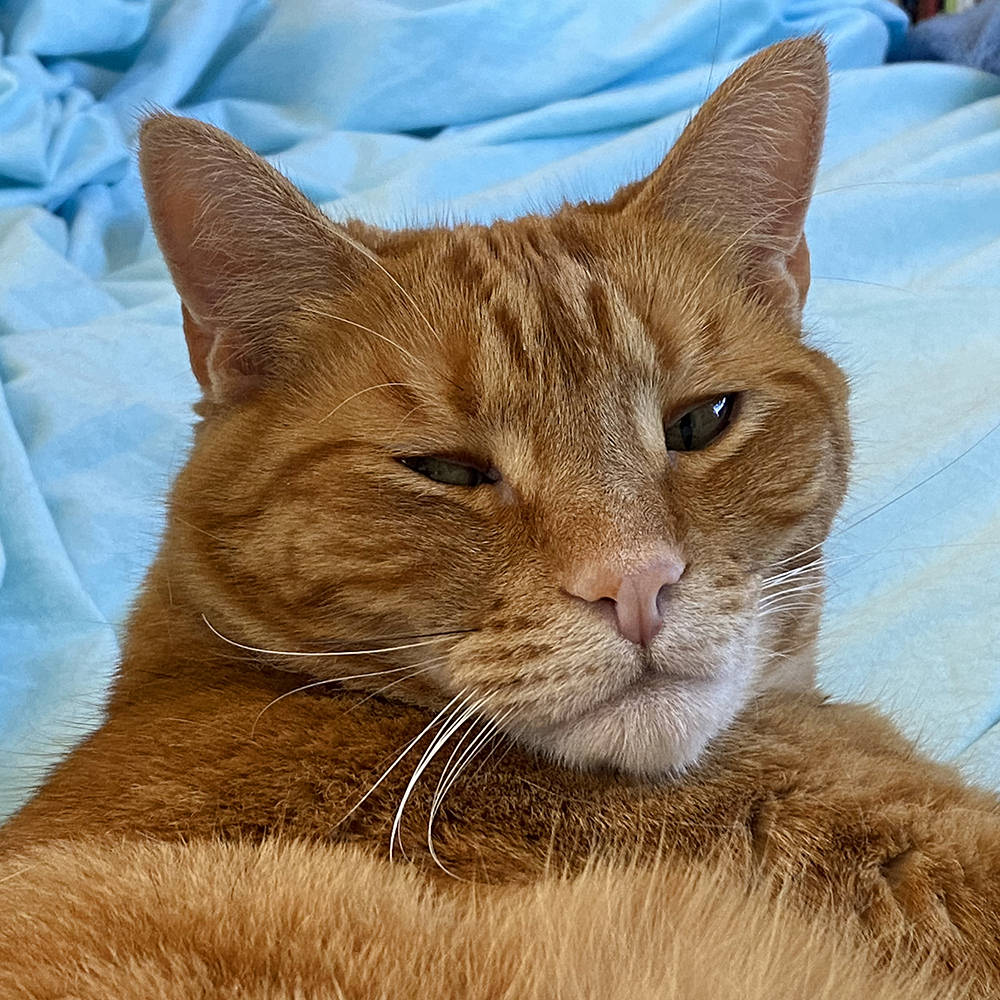 Until next Caturday, fellow humans.
Posted on July 11th, 2020

As I've mentioned a couple times, Jenny refuses to bite wet food... she will only lick it. So for the past several months I've been puréeing her wet food so she can lick it up. Then this past week something interesting happened. Jenny started sitting in front of where Jake eats so she could see what food he was getting before going to her bowl... and then not eat. This was both disheartening and amusing.
In order to get things back on track so Jake wouldn't end up eating two dinners, I decided to start mixing in a little water with a fork in hopes that it would be easy enough for her to lick but not be so radically different that she'd refuse to eat it. And... it seems to be working. So crisis diverted.
In other news, Jake is back to being clingy again. He seems to be running in cycles. The minute I sit down he's right there...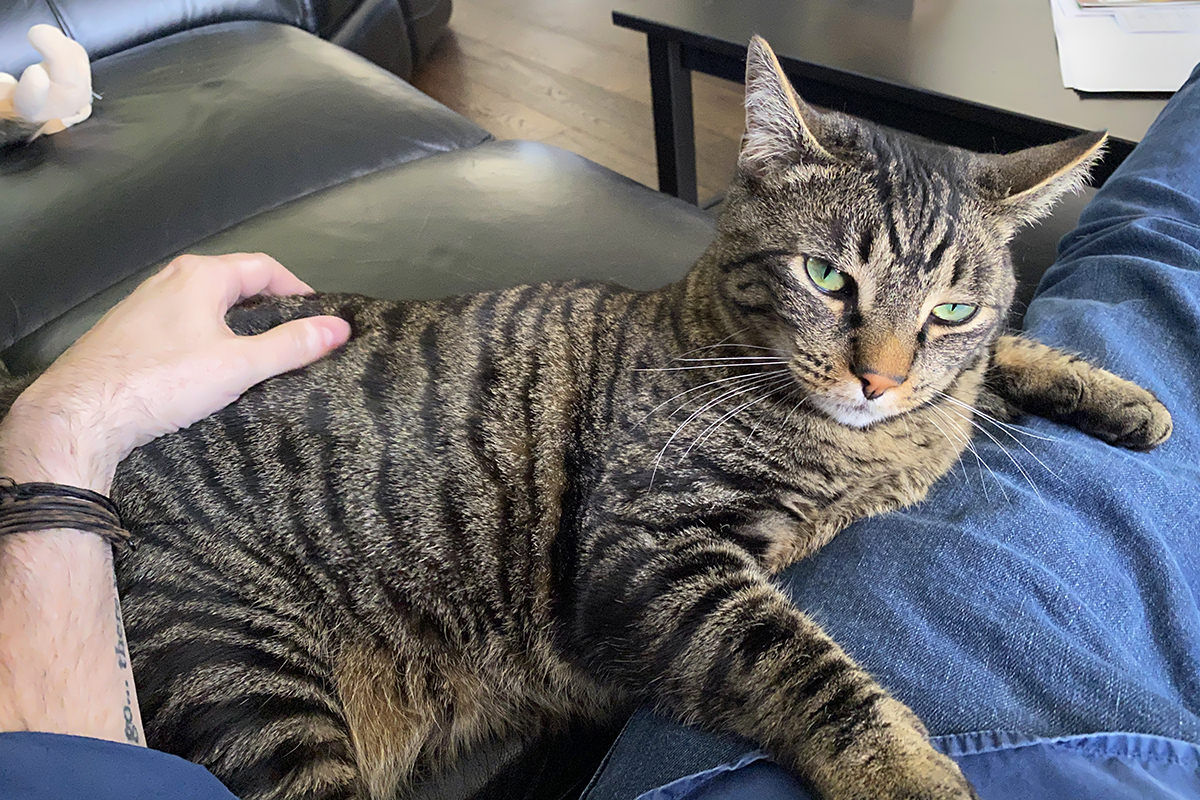 And if I spread out on the couch?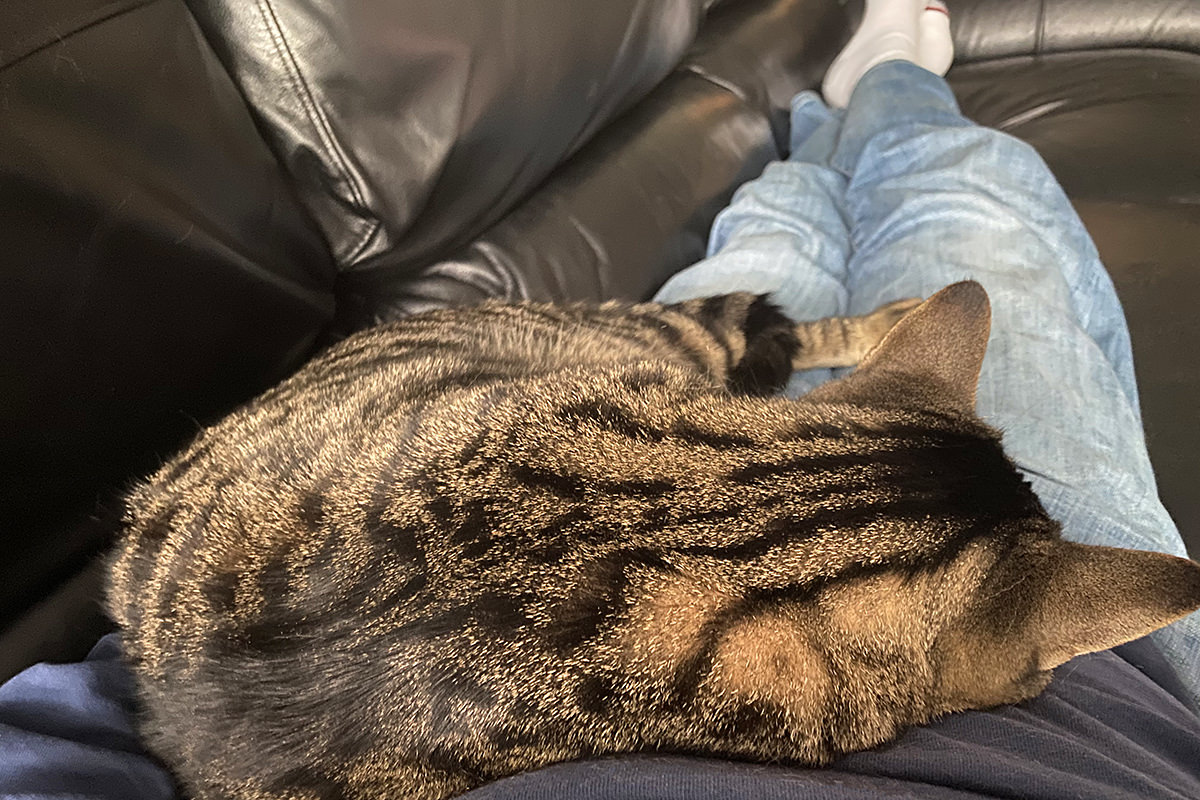 I think the only thing he loves more than me is the sun...
And Mufasa, of course...
Though a couple nights ago something weird happened. I heard him wailing at the bottom of the stairs, which usually means he can't find Mufasa... but when I checked the security cameras he had Mufasa right there with him...
Jenny, on the other hand, is the same as she always is. She either wants a treat or wants belly rubs...
She may have simple needs, but at least she's consistent.
Posted on July 4th, 2020

This has been a tough week. On top of having to cancel plans I've been looking forward to all year, I haven't been feeling well lately. Nothing coronavirus-related (at least I hope not), just tired and bummed.
But at least I have my cats, right?
Though I think Jenny is tired of all this quarantine shit...
Jake, however, seems okay with it...
And now I guess all three of us will be getting back to the same old grind.
Posted on June 27th, 2020

Social distancing comes home.
So there I was, giving Jenny belly rubs because she absolutely insists on it every morning when I'm trying to get some work done when the unthinkable happens in the day-and-age of COVID-19.
I sneezed.
Jenny hops up like she heard a shot, then jumps to the end of the bed.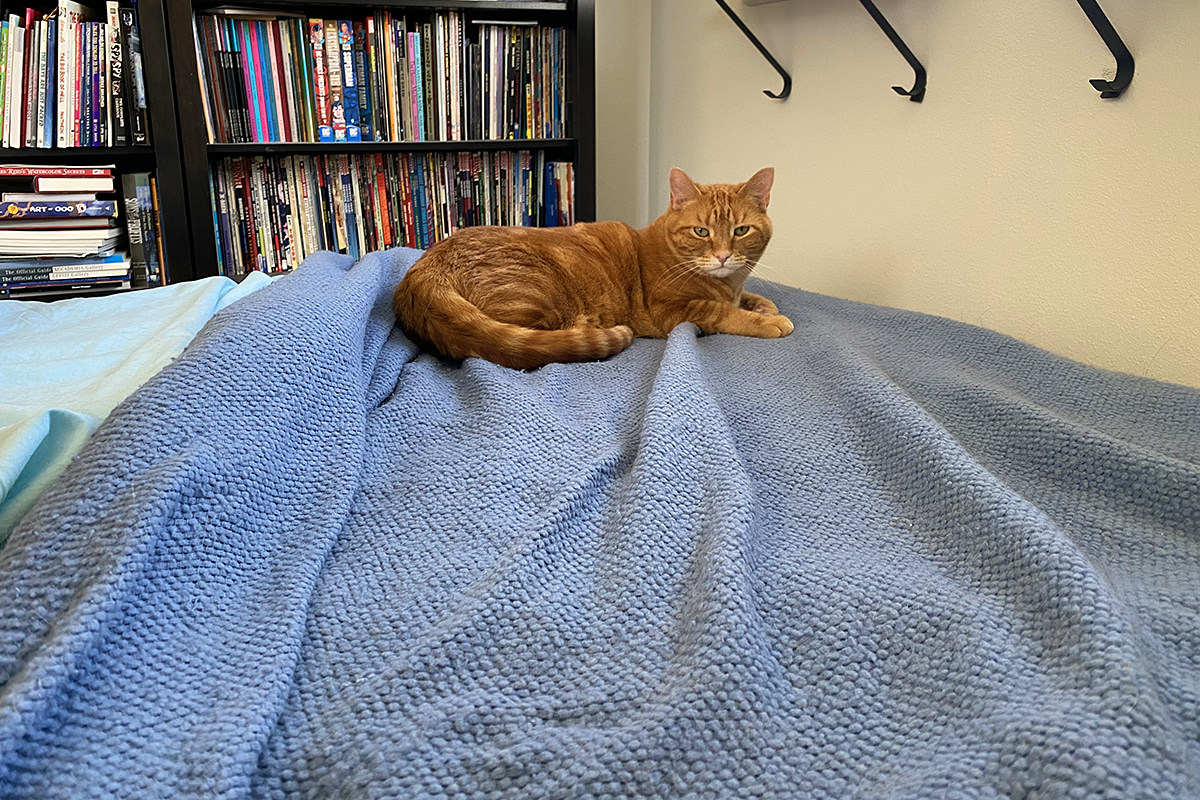 Where she glared at me for ten solid minutes...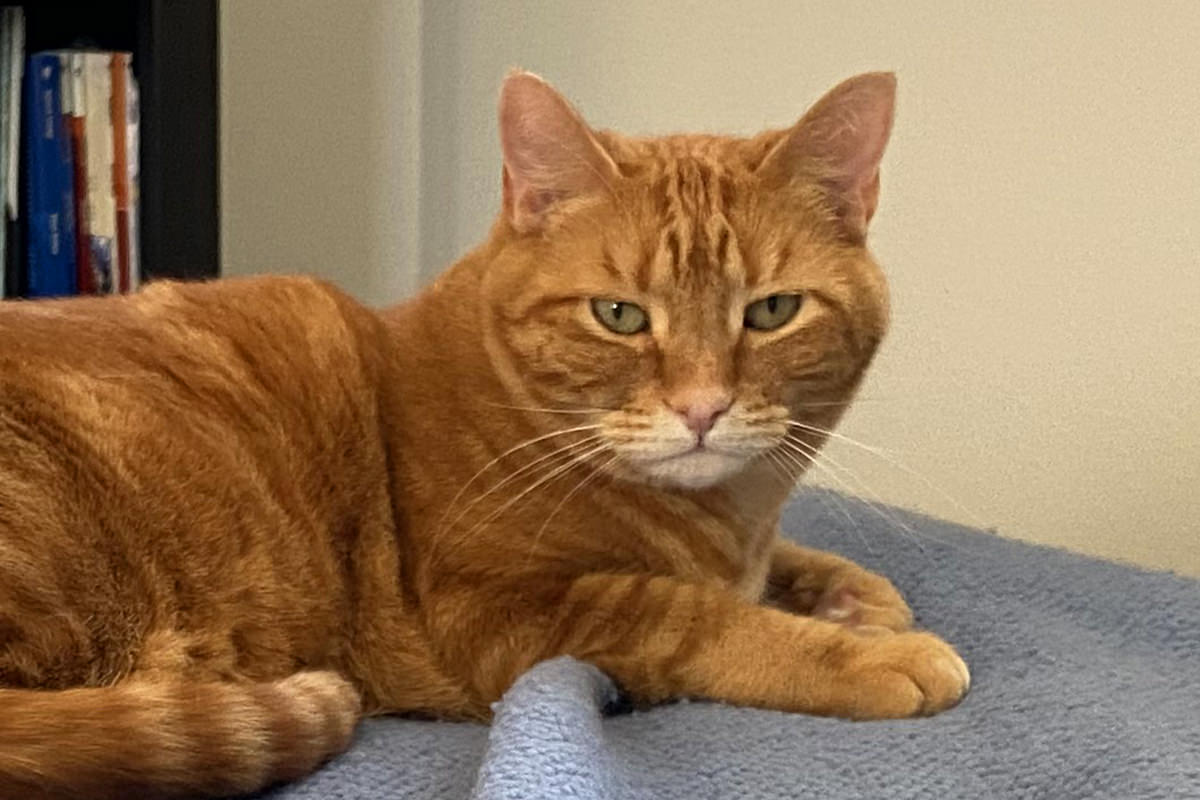 I swear... she may have a cranky face, but she is the sweetest kitty ever. She just believes in social distancing when she suspects you are coronavirus-symptomatic.
Posted on June 20th, 2020

It's Caturday... and I'm sick! Sick of barfing my guts out all day long. Ugh.
If y'all remember, I added a massive sisal pole to the catio two years ago this month. I was happy to see that Jake and Jenny took to it right away. They are regularly scratching on it from all four levels that it's accessible, and they both enjoy climbing it as well. This is something that my catio-cam rarely captures because they climb the side opposite the camera, as it's the side without the hinges that attach it. Then, just a couple days ago, Jenny climbed up the side next to the camera for some reason! I finally had it on video...
My efforts to find a new toy for Jake continue, but he only has eyes for Mufasa. He is still dragging him everywhere and still licking and chewing him every chance he gets. Yesterday morning he was laying on my bed whining for Mufasa... which was laying right behind him... here he is after I handed it over...
As you can see, Mufasa ain't going to last long with that kind of treatment, which is why I am trying to find a replacement. Nothing has worked so far. I finally moved on from stuffed lions and tried a battery-powered floppy fish. Jake is completely unimpressed...
Jenny won't even get near it until it stops moving...
And so... I guess it's back to Mufasa for Jake...
Enjoy it while it lasts, buddy.
Posted on June 13th, 2020

Strangely enough, my cats aren't sick of me spending every minute I'm not at work here at home. They still love having me here and following me around for attention.
Jake is still snuggling up to my feet whenever I'm working or sleeping in bed. I'll nod off, wake up, and there he is. Sometimes in the morning when I wake up he's there too...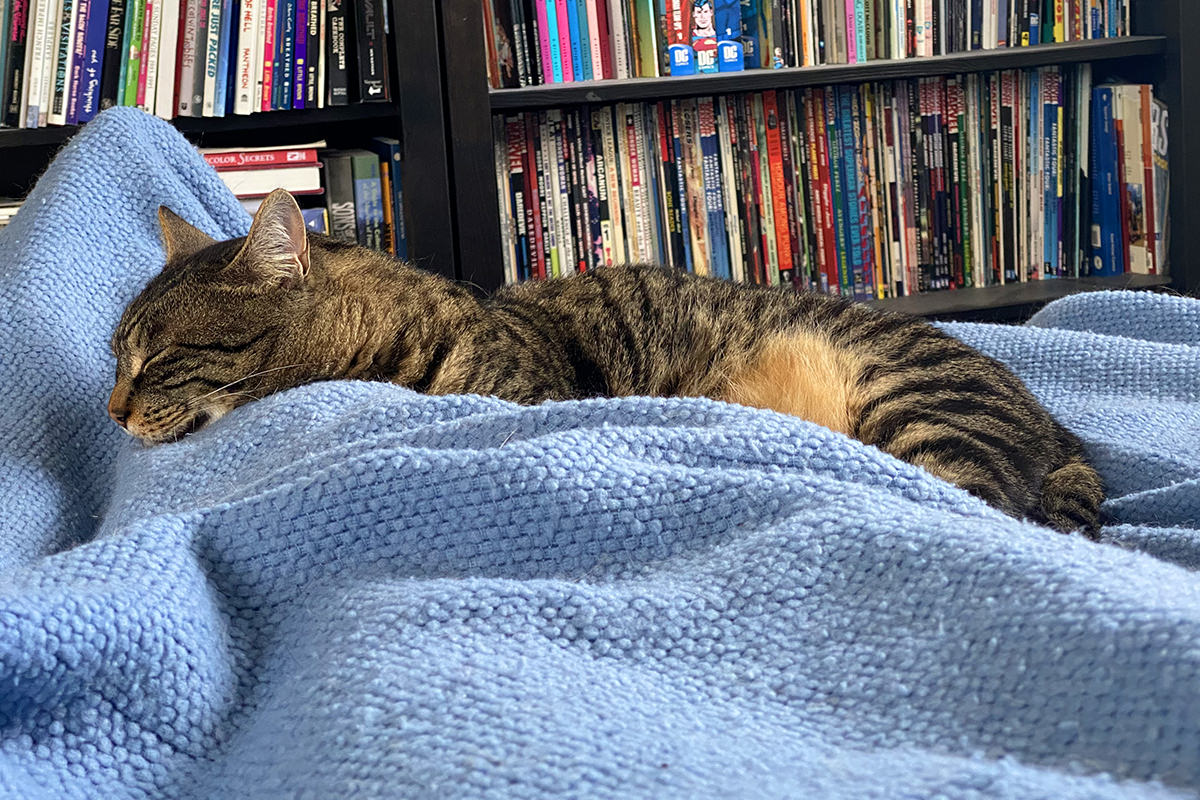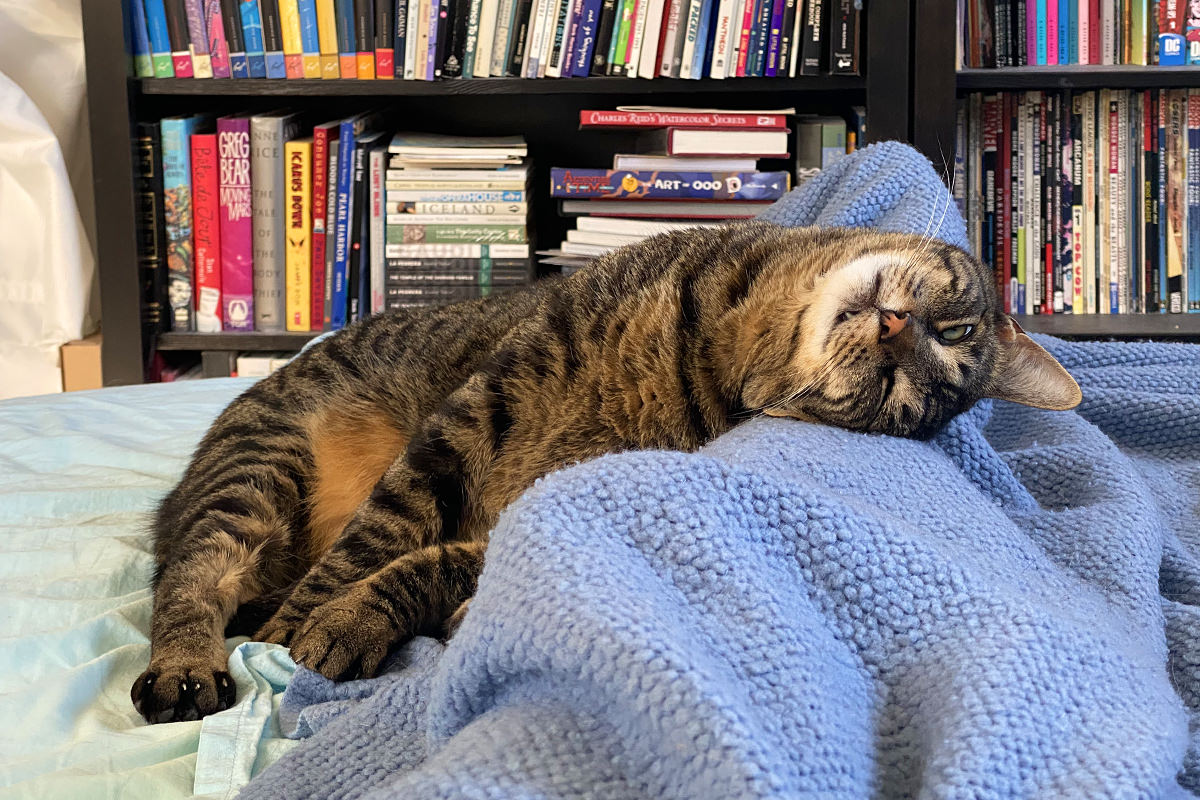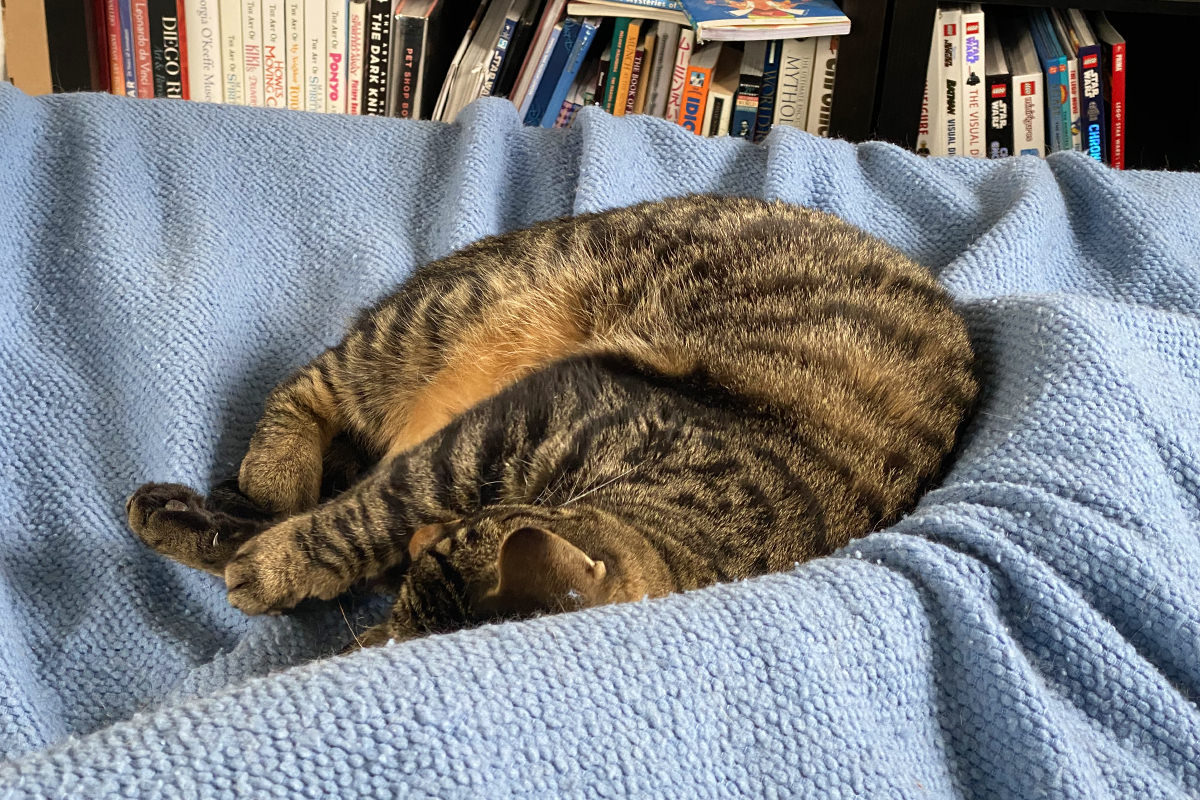 It's his favorite new thing. Jenny's favorite new thing? Sitting in a box, apparently...
Every morning when I walk down the stairs she's sitting there waiting for her breakfast.
A couple days ago I mentioned that I was having to dig through an insane number of cables in an attempt to find a way to connect my photo archive to my NAS drive. I had cables sorted into piles all over the kitchen counters. At the end of the counter I had a small pile of short cables I had thought would be good for travel. When I woke up yesterday morning, some of them were on my bedroom floor (along with Mufasa) and one of them was left on the stairs...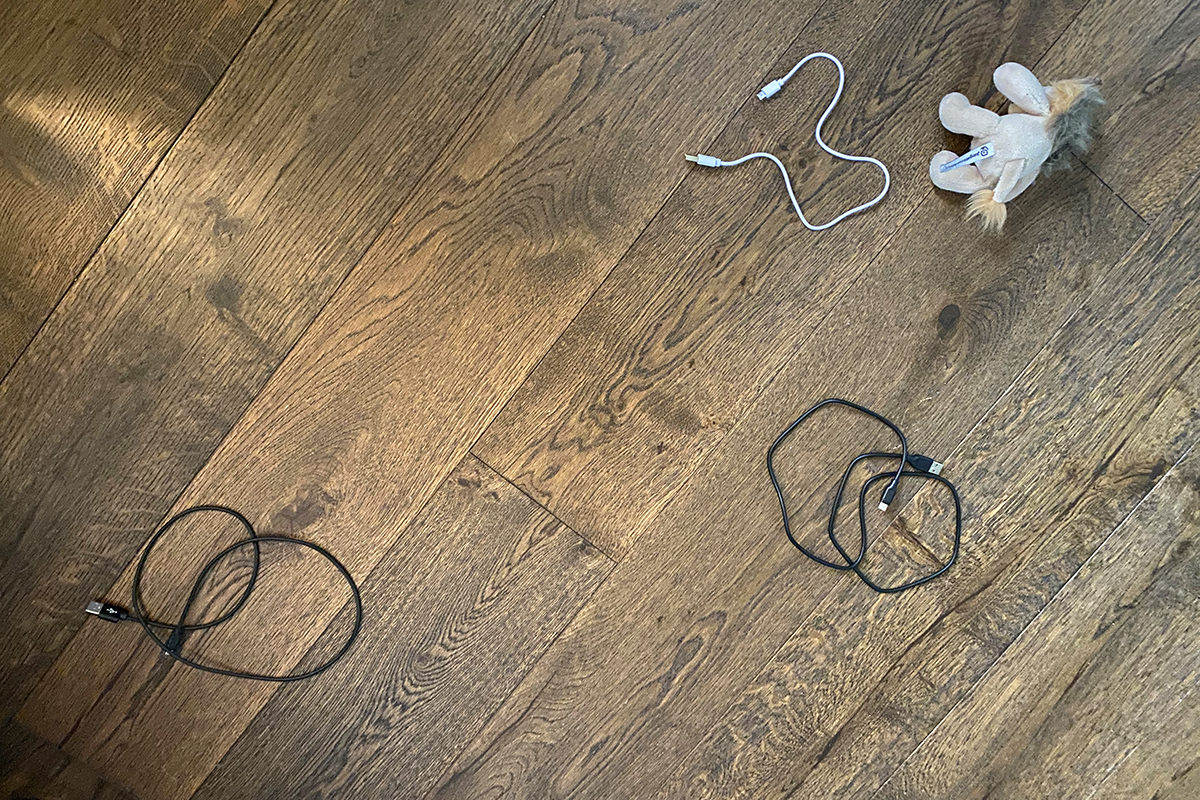 I didn't really need to look at the camera footage to know who did it, but I pulled it up just the same...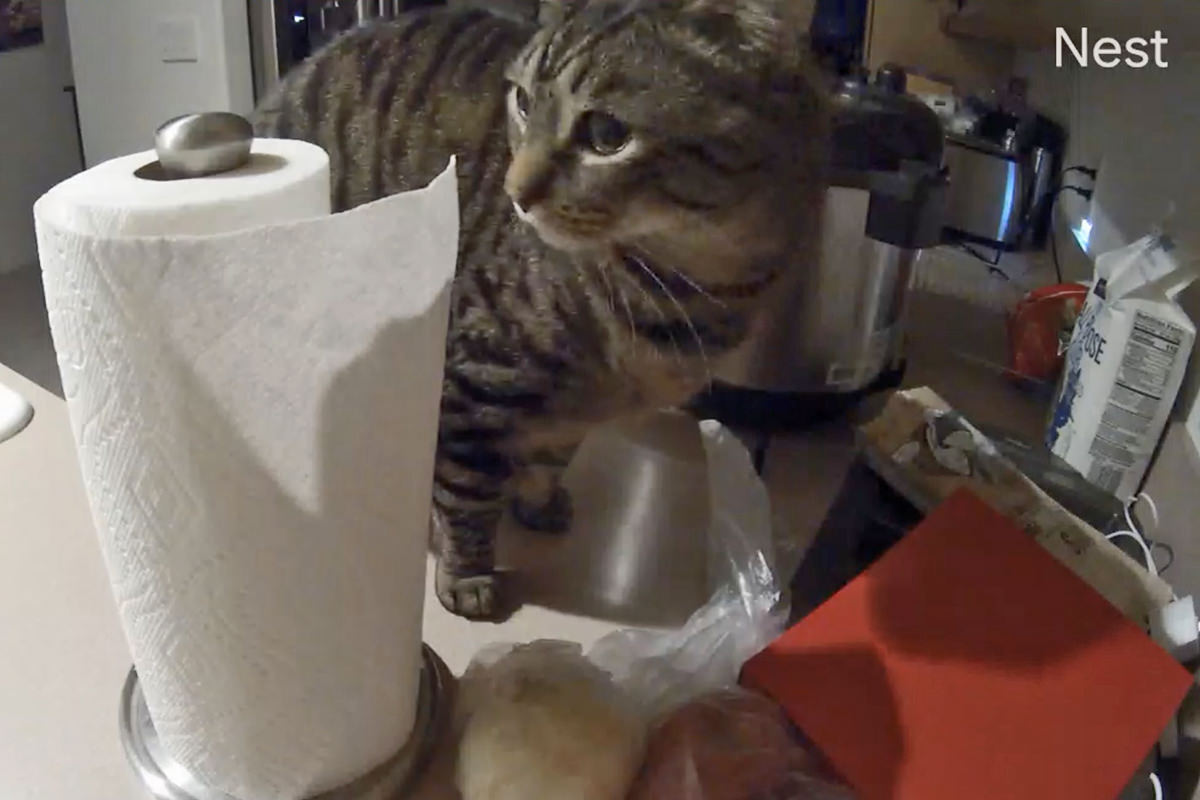 Time to disinfect the countertops again.
And now, before we go... I give you this...
Jake and Jenny were feral rescues, but they were gotten to when they were babies. Some cats aren't so lucky, but all of them deserve a chance.