Posted on July 8th, 2023

With Summer reaching temperatures of 90° or more here, the cats have started to abandon the catio around the lunch hour. The evenings are kinda random, but can go quite late depending on the temperature out there. The mornings have become a post-breakfast ritual, and you can count on them being out there from 7am to 9pm...
This can backfire on occasion. Jenny was out there one morning when I had workers over to investigate the leak from my upstairs bathroom. She's terrified of strangers, and ended up being essentially trapped for 20 minutes...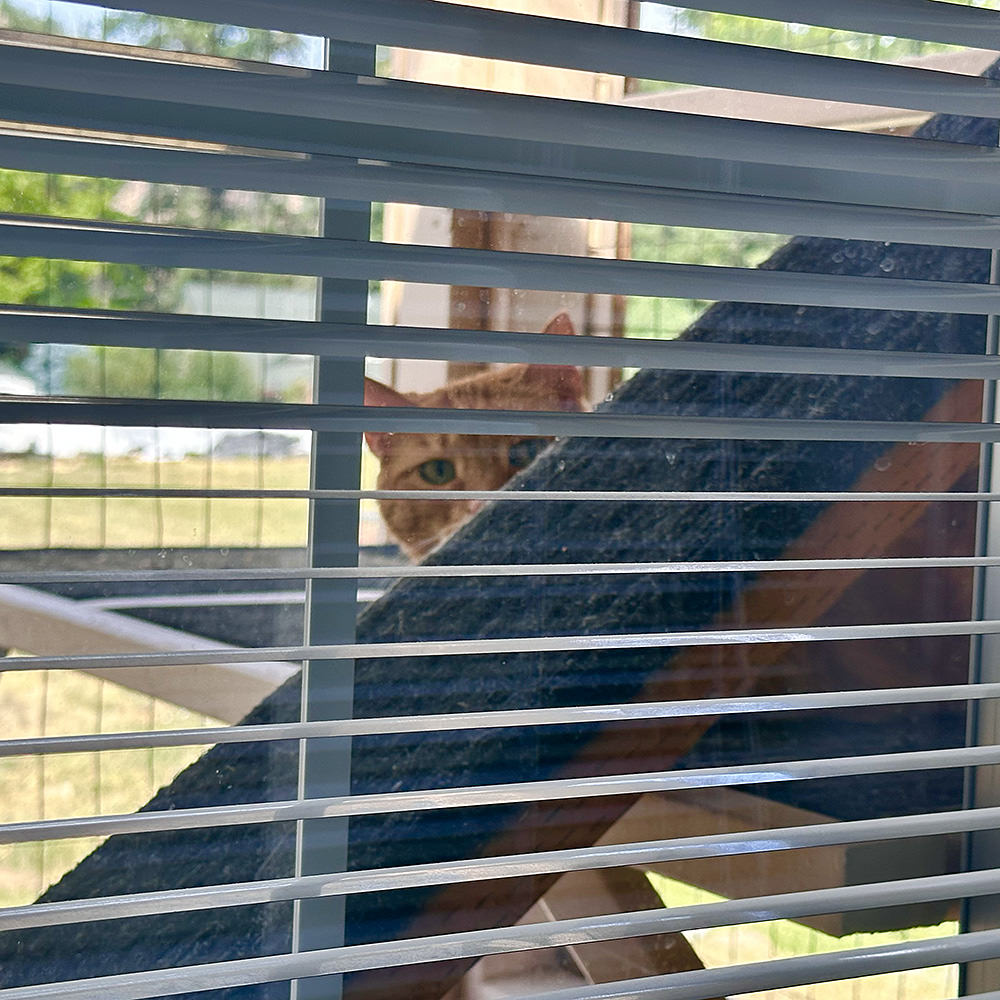 Reminds me of Jake thinking he could hide behind a speaker and not be seen when my living room was under construction...
Oh well. Jenny still feels like hanging with me a lot still...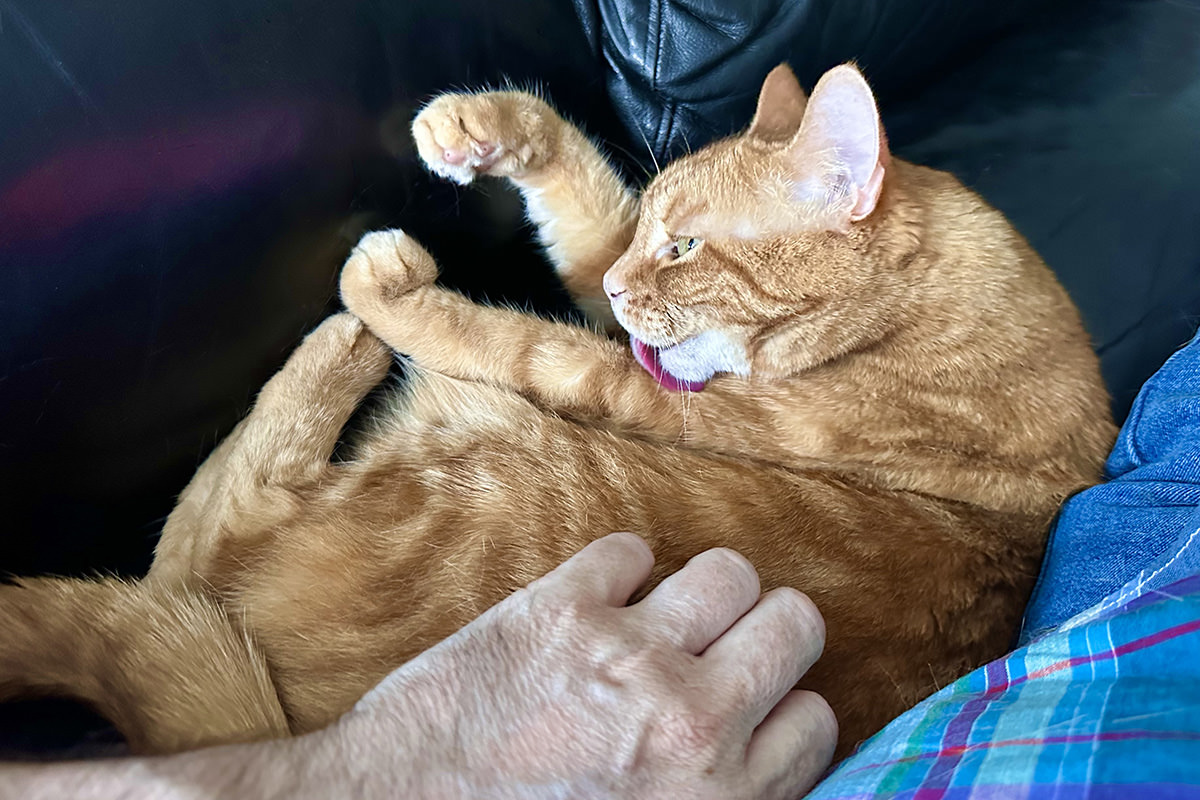 Good kitty.
Posted on July 1st, 2023

This past week saw my living room completely torn apart while I was having the massive hole in my wall repaired. My drywall guy did a superb job. I mean seriously good. I know where the hole was and I still cannot tell. Amazing the skill of some artists at their job. Even more amazing is that I lucked out so hard in finding somebody who does this great of a job!
But anyway...
My cats do not like it when things change. They like it even less when the change means that they can't go somewhere they are used to going.
And a big corner of my living room has been sectioned off like this...
Jenny was not happy. She was constantly looking over the plastic hanging from the ceiling like it made no sense to her...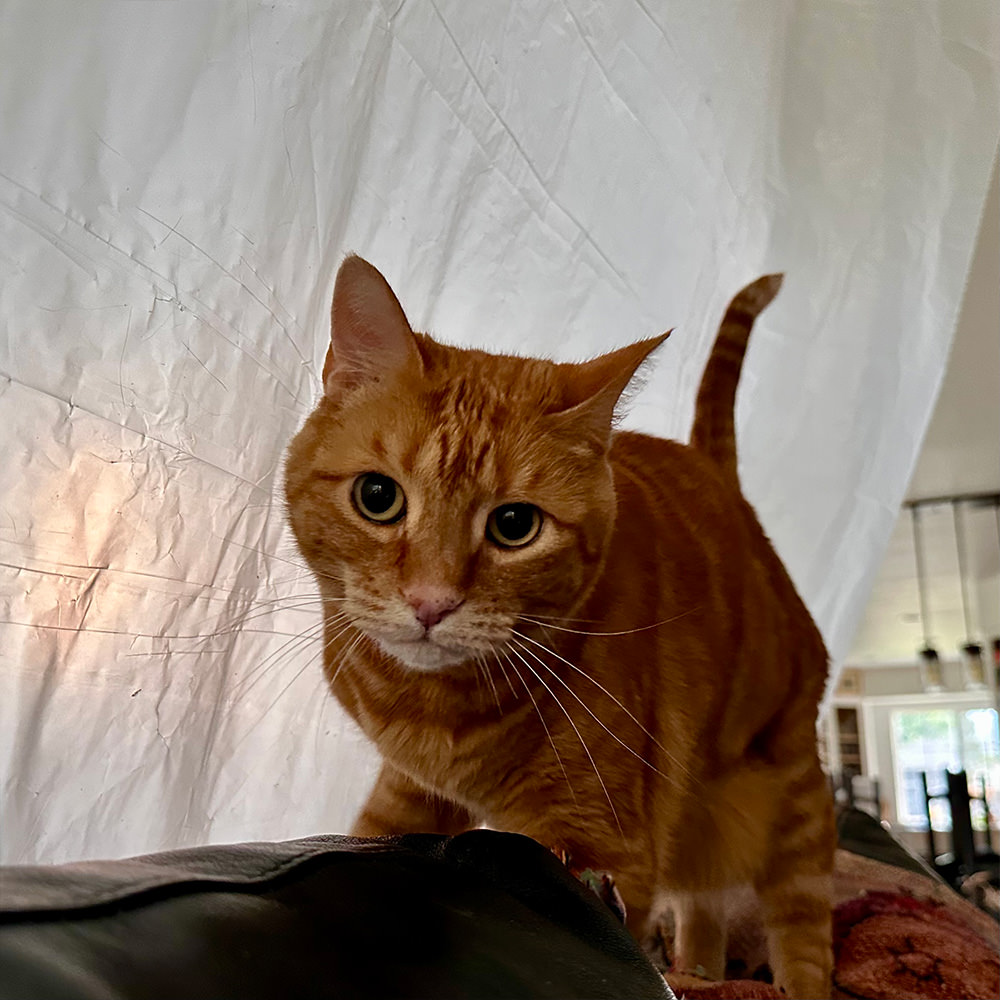 It also caused weird cat behavior. I looked over and saw my cats fighting. Which is fine because it was just play...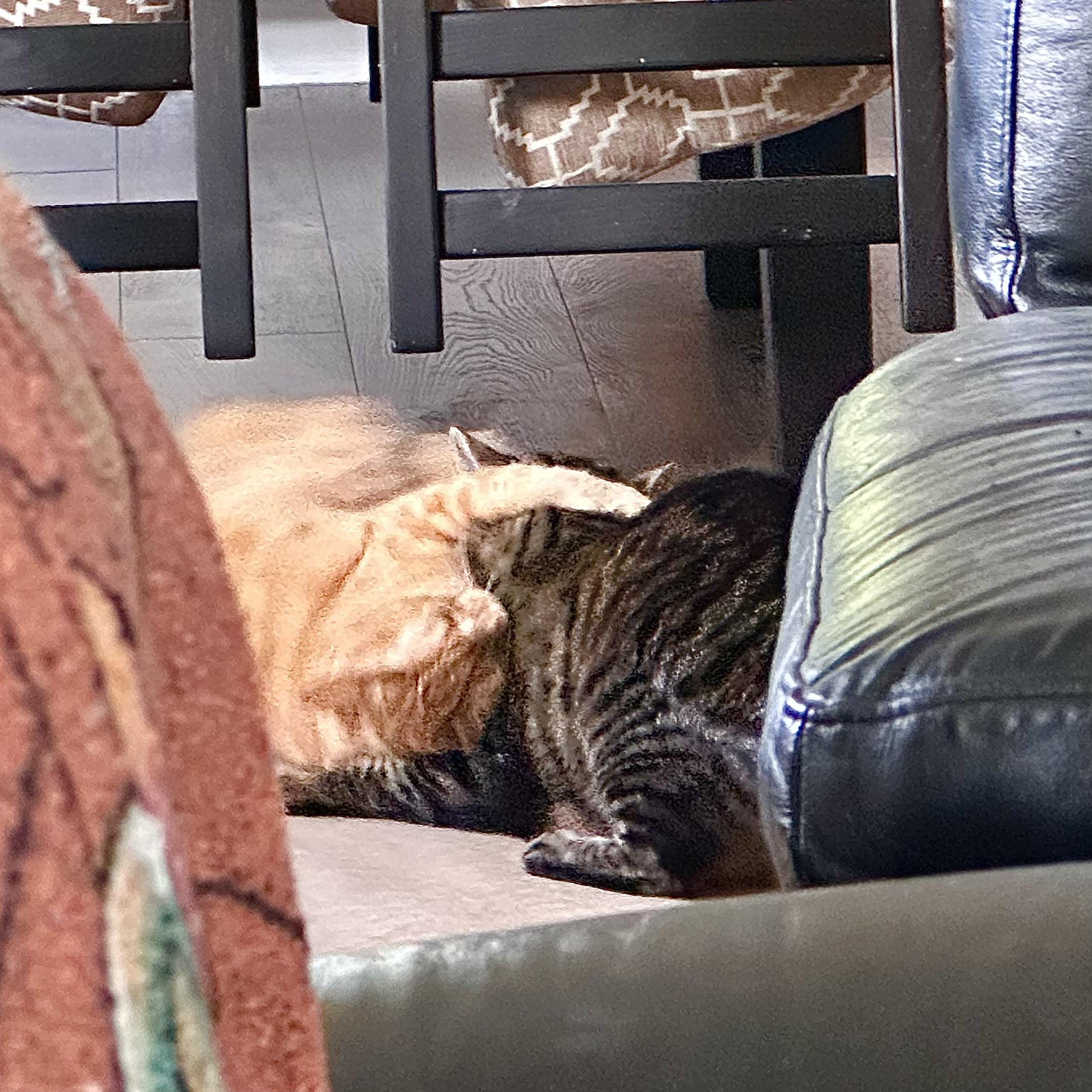 But then they disappeared around the plastic wall and were rolling all around it. I worried that they were going to tear it down, so I said "OKAY! YOU NEED TO STOP NOW!" and then walked around the corner... only to see this...
Chasing each other around the house was just a bonus...
And now back to the usual, construction-free cat drama.
Posted on June 17th, 2023

As I mentioned a while back, it's prime catio season right now. The cats just love the heat, and are happy to spend their time lazing around out there.
Somebody asked me if the cats use the massive scratching post pole I made for them. And the answer is definitely yes. Jake mostly just claws on it so he can sharpen his murder mittens or stretch out. But Jenny is a climber. She loves climbing up the thing (which makes me glad that she's not an outdoor cat, because she would 100% be getting stuck in trees...
When I designed my catio, I made it so that birds who manage to get into the catio have perches next to holes where they can get out. But once or twice a year I get a bird that is too frightened to make their way out, so I have to run and let them out before my cats go running out and make things worse for the poor things...
But at least the squirrels are safe...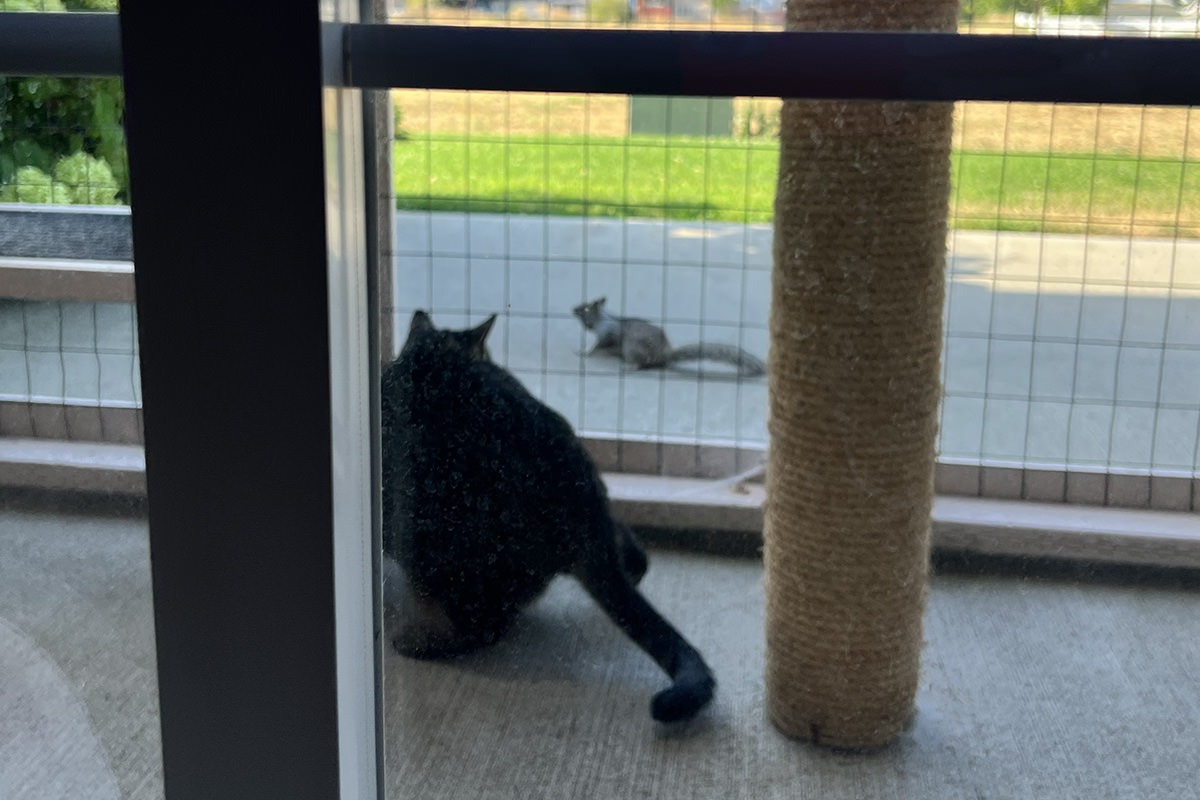 If I get time, I'd really like to expand the catio and make it more interesting for them. Maybe make a cat run to the back of the house so they can see more? I dunno. A project for another day.
Posted on June 10th, 2023

My cats are out in the catio most of the time.
They love it out there now that the sun is out most of the time.
ANd yet... Jenny still makes time to squeeze me off the couch...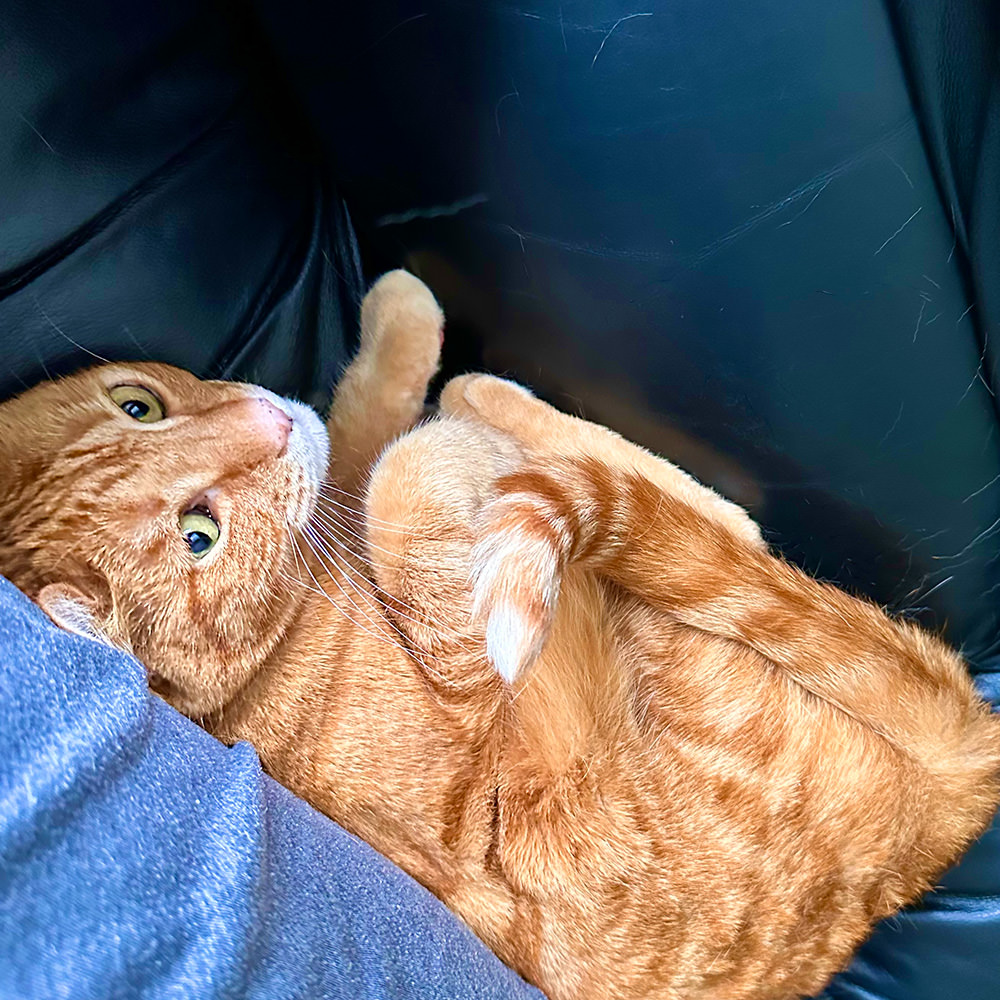 And once she succeeds? She gets upset and starts crying because I'm not there to pet her...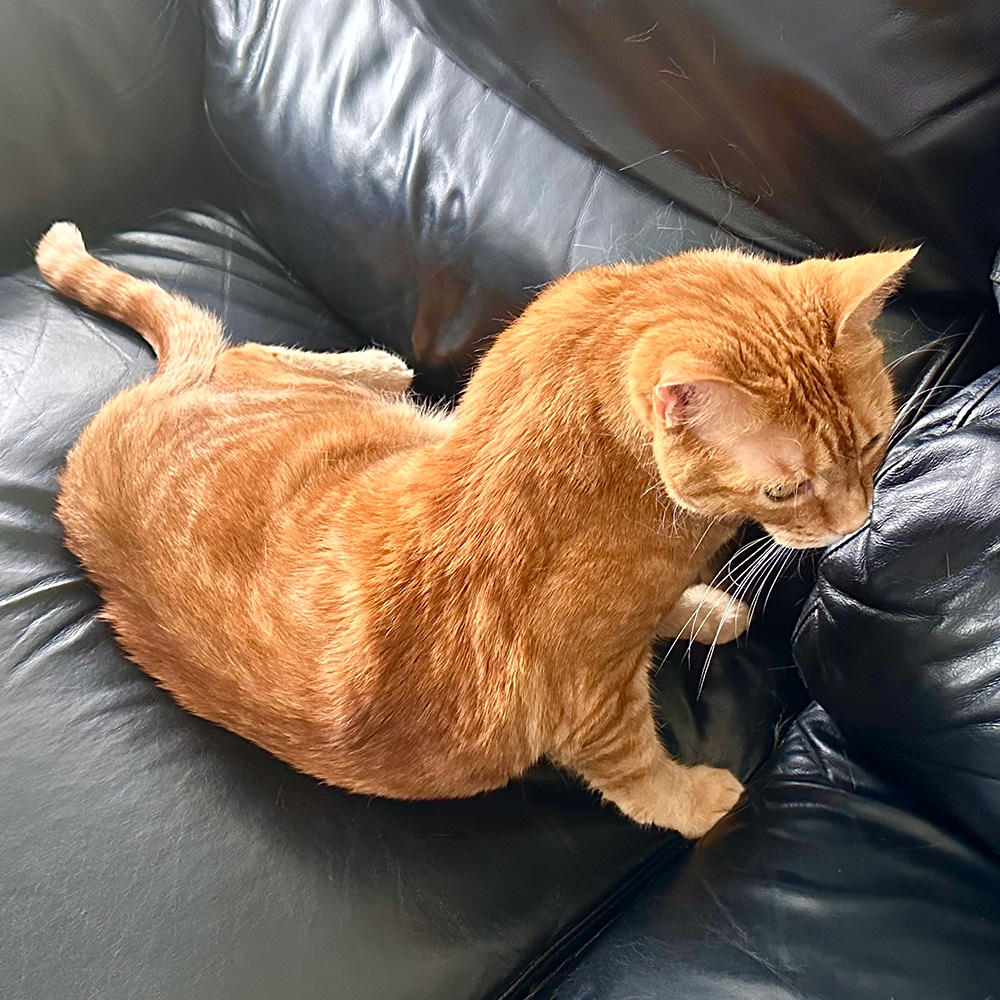 Apparently she wants her cake and to eat it too.
Posted on June 3rd, 2023

The time of year has come where the cats spend half their day out in the catio. It's warm, there's awesome smells and sights... and far more interesting than it is inside. Many times I come home from work and see them out there sleeping.
Jenny sometimes doesn't even hear the dinner alarm...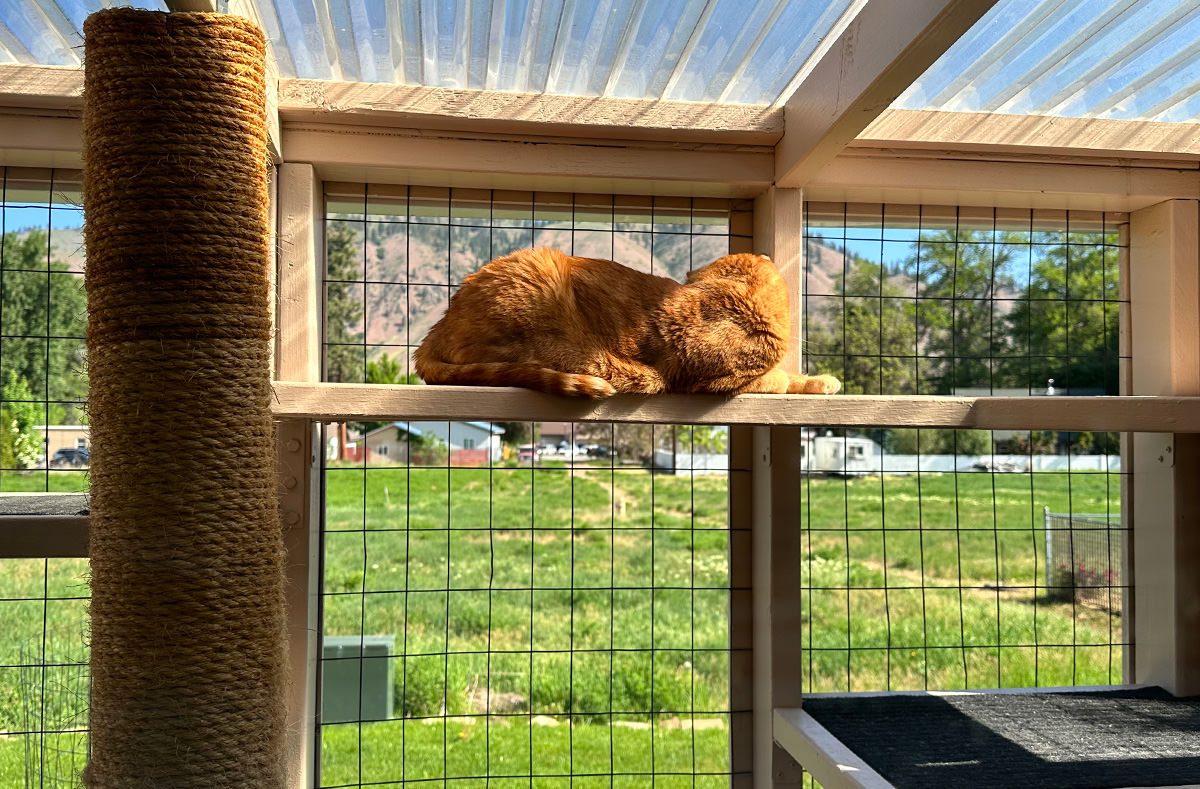 When they are inside they get restless and have taken to attacking each other at random. Here's Jake about to pounce while I'm saying "No. Nooooooo."...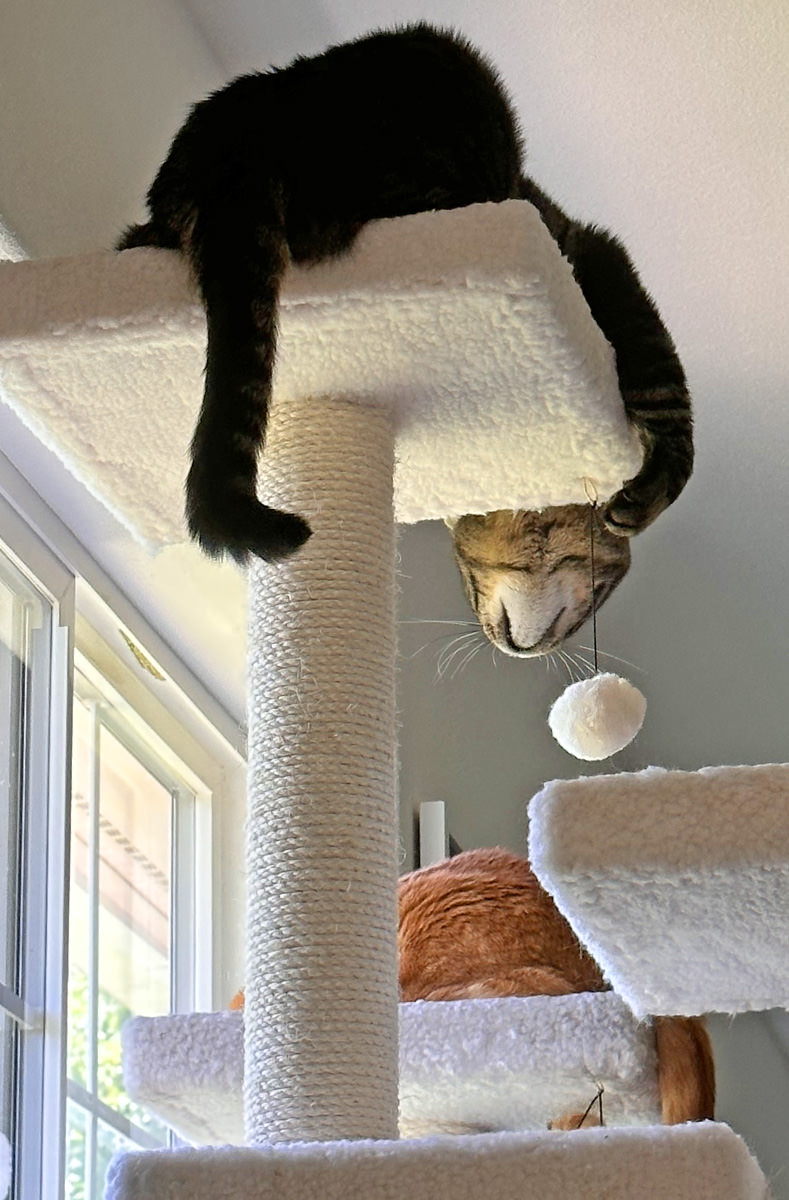 Fortunately, it's just something to do and not their normal...
On Friday when I got home I had a raging headache. I took some pills then fell asleep on the couch. When I woke up I had a nap buddy...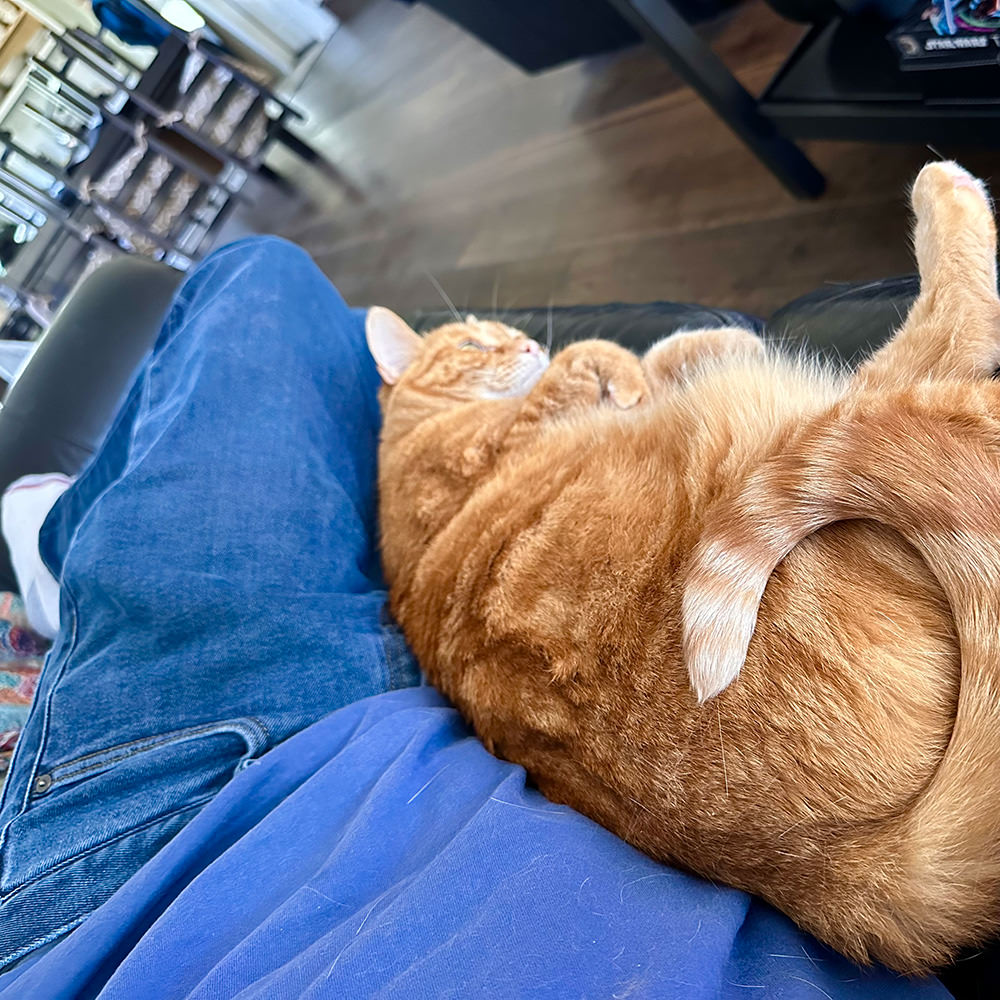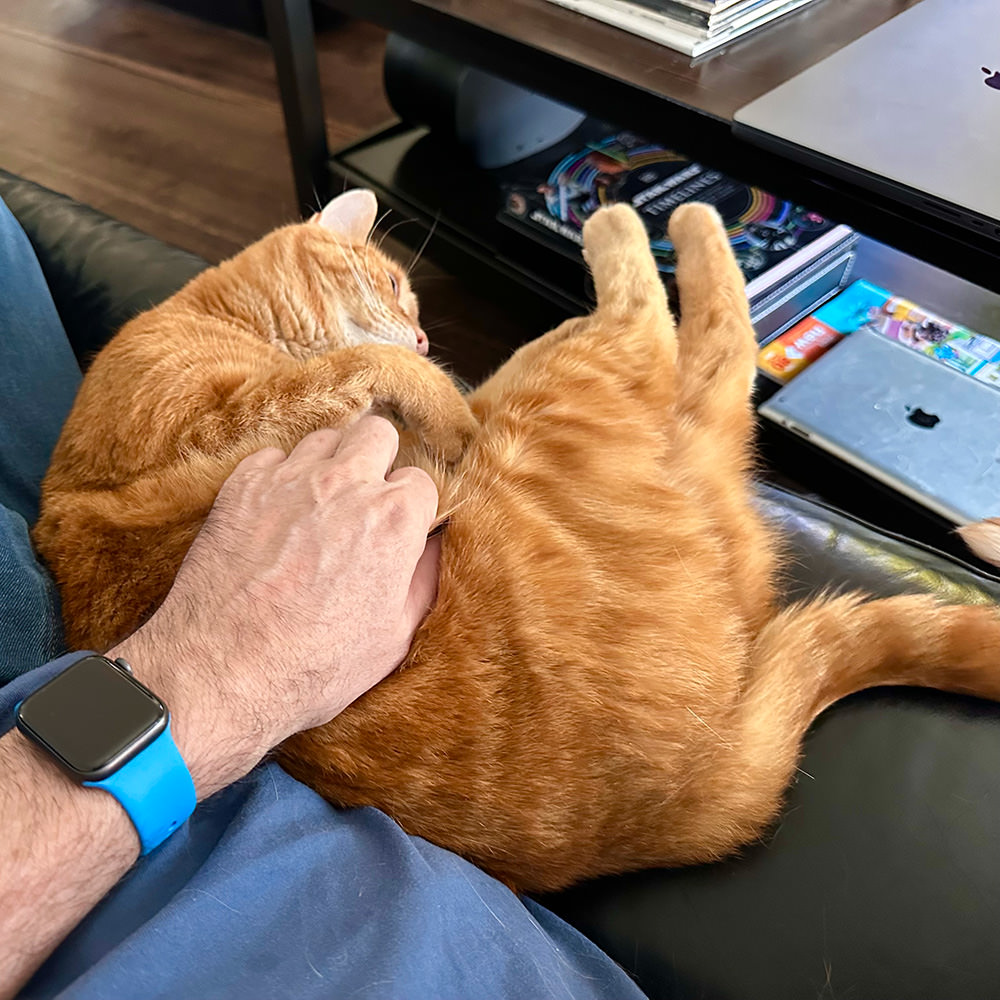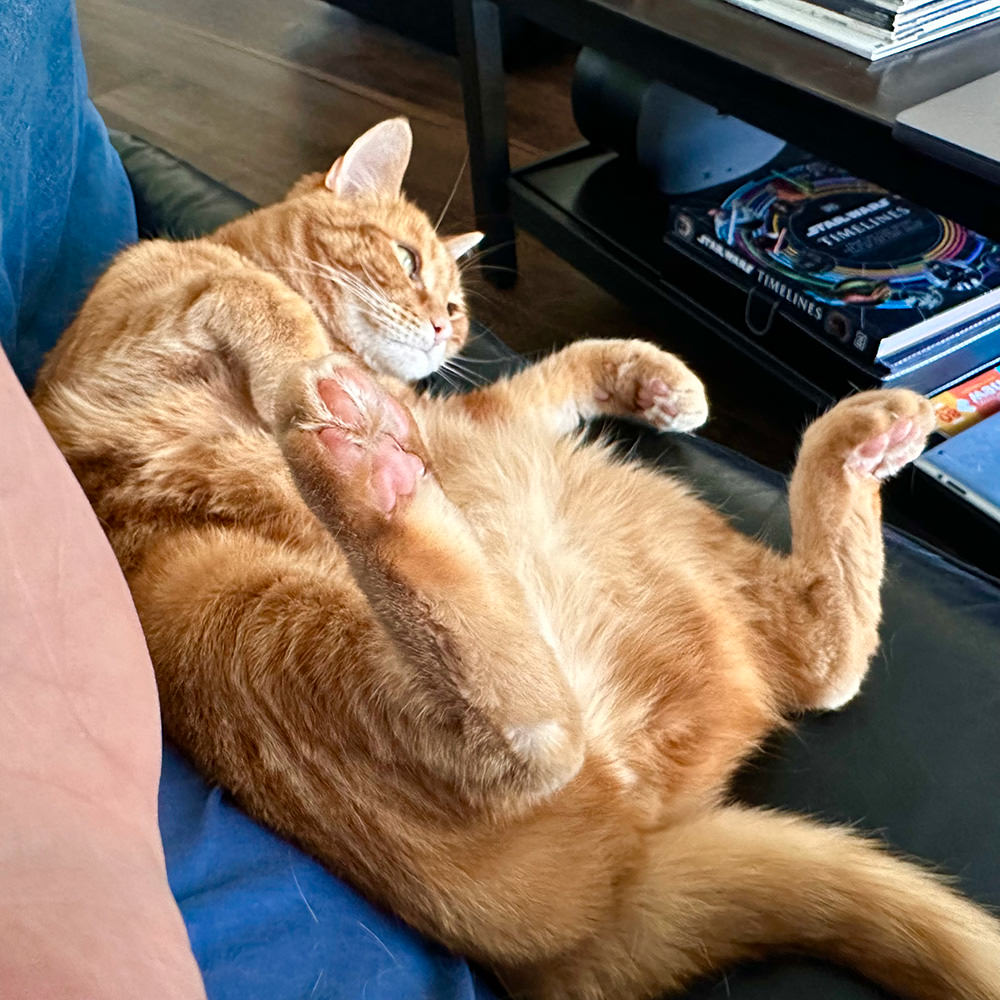 Meanwhile Jake is asking if you have accepted Bast as you personal Lord and Savior...
I don't have the heart to tell him that this is actually Zen Buddha Cat.
Posted on May 27th, 2023

Jenny gets what she wants. Always.
And what she wants most of the time if to get petted on command. But I've been incredibly busy, so I've started sitting sideways on the couch so there's no room for her to demand it. Not that this stops her. She's been squeezing next to me like this...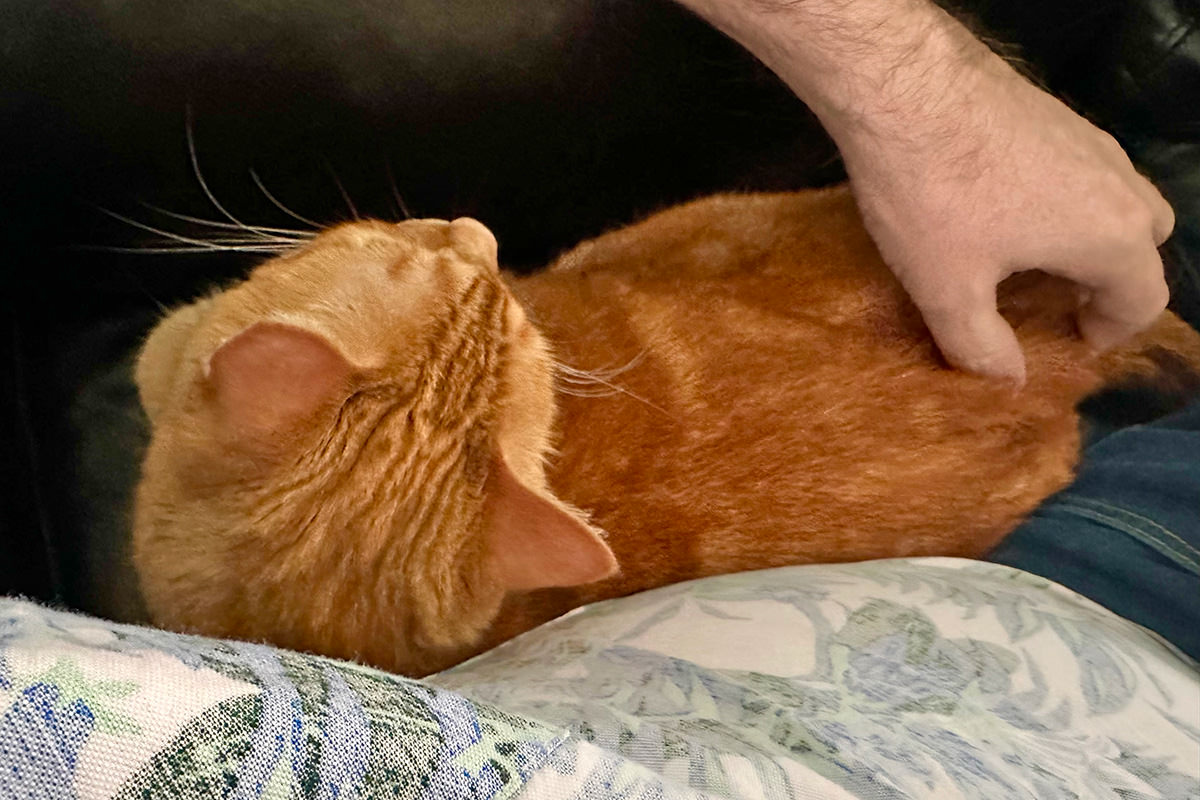 Then she keeps pushing and pushing with her little feets...
Until she has the room she wants...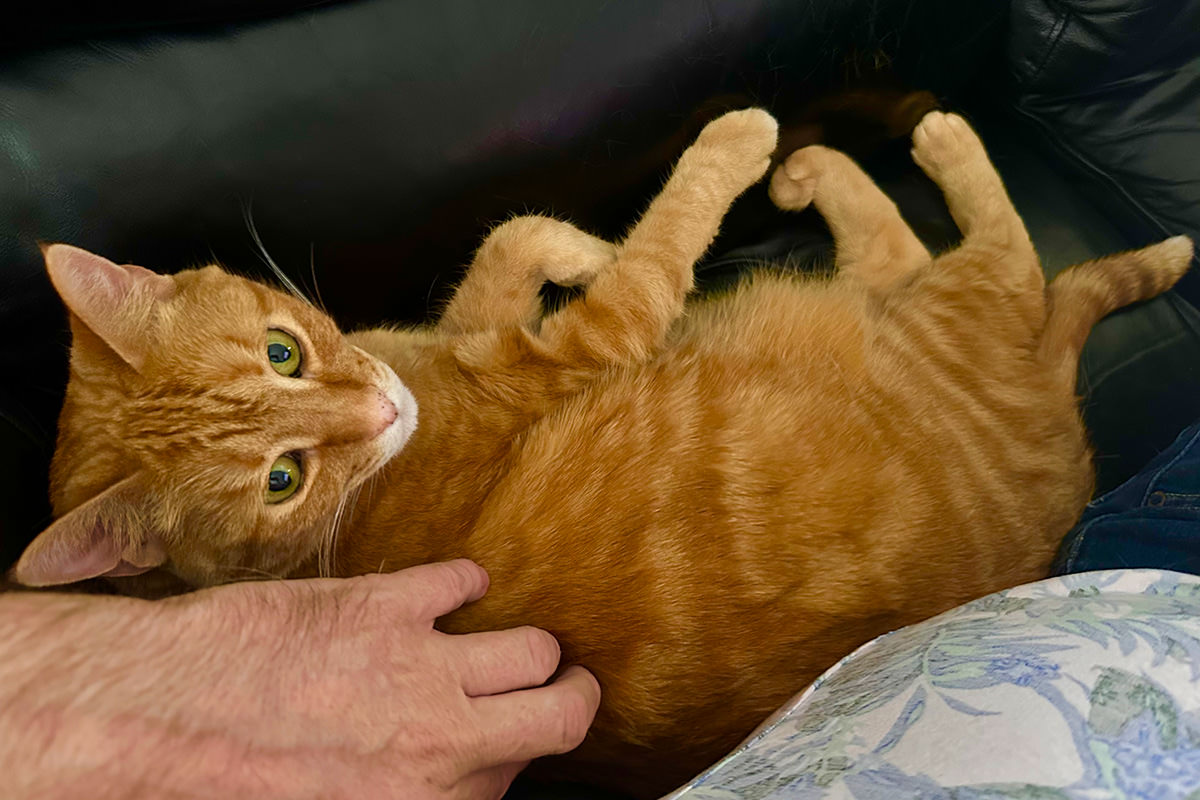 At this point I had one ass-cheek off the couch.
Jake has been obssessing over Mufasa again, dragging the poor thing everywhere. This reulted in my having to repair his favorite toy again. But this time I used carpet thread in hopes that it will hold together longer. If Jake was upset by the repair job, he never complained. He showed up with his lion just as he always does...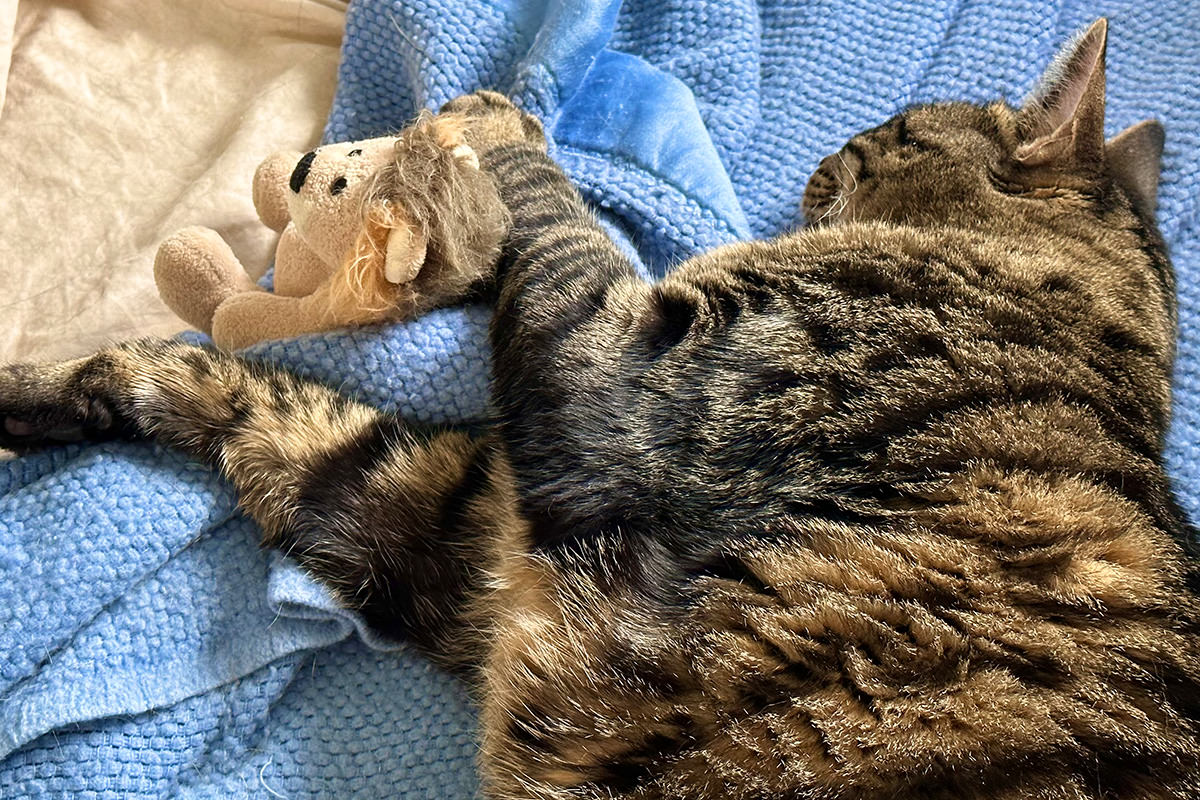 And immediately went to sleep...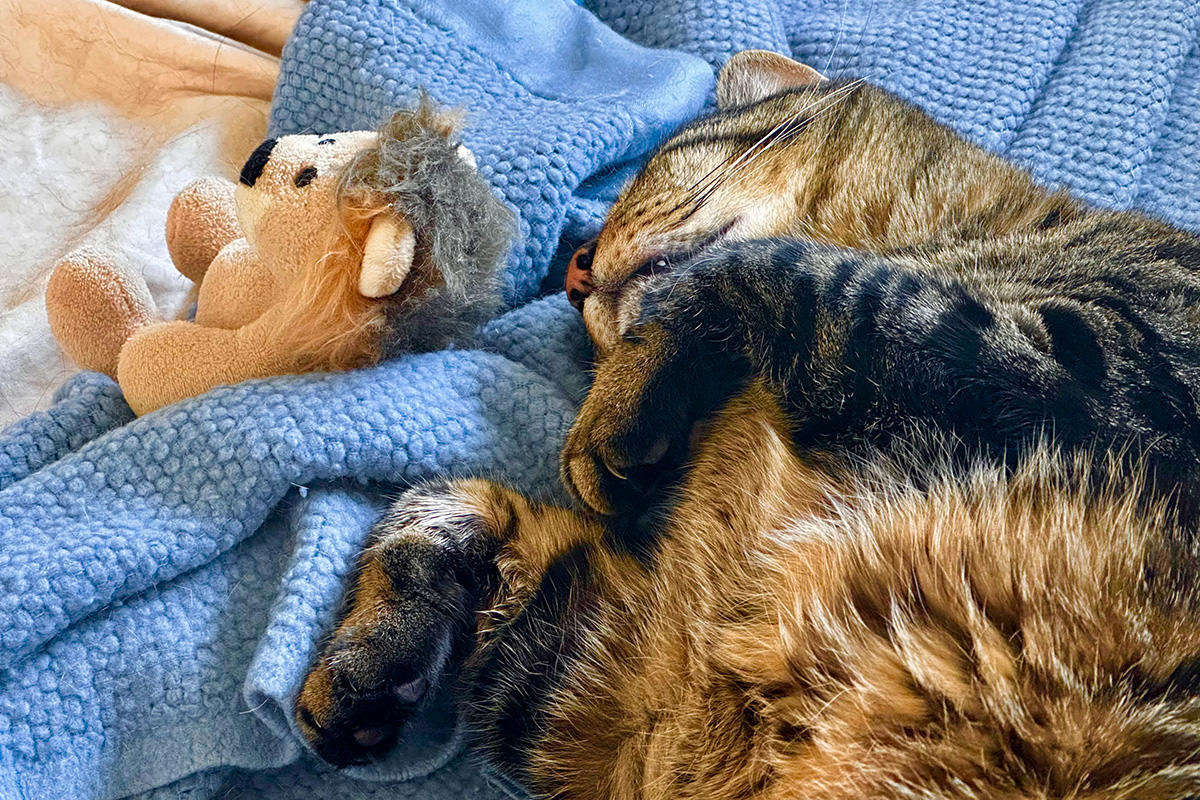 Which is fine. Because another thing he's been doing lately? Dropping Mufasa off with me, then going to nap. Leaving me to babysit, I guess...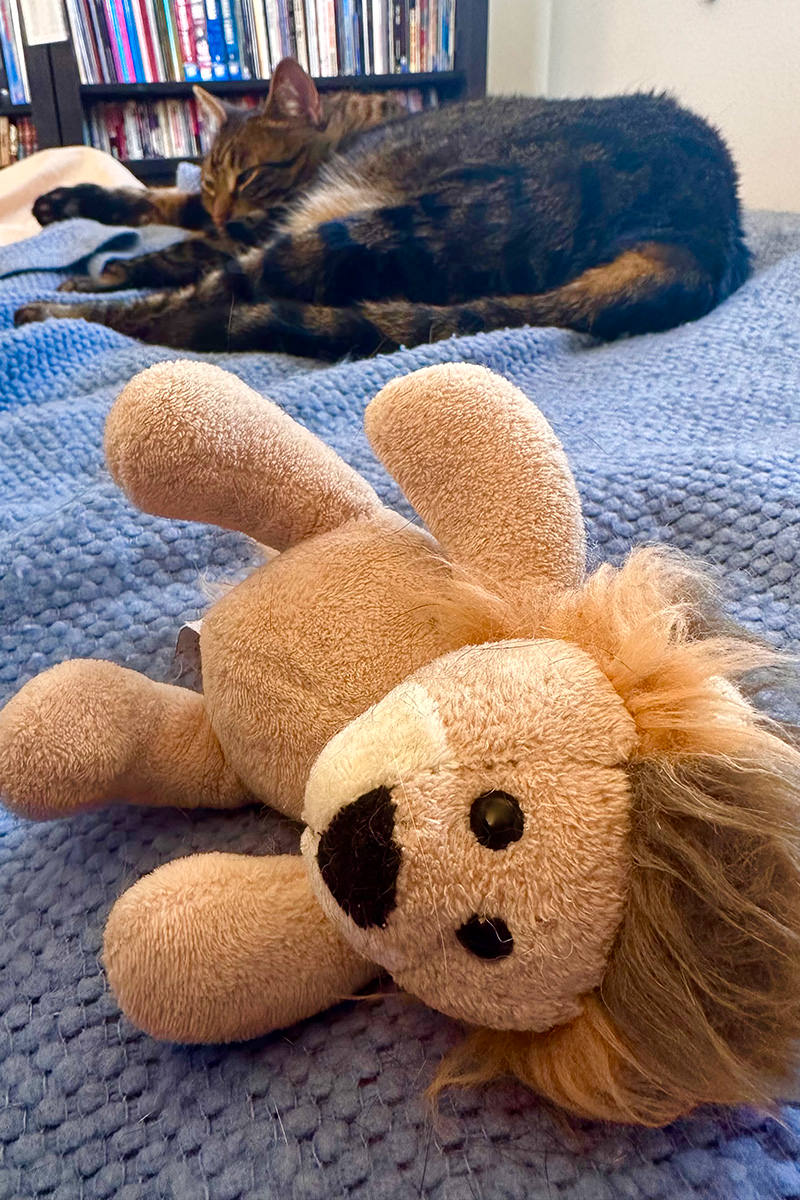 Somehow I thought that having cats would preclude me from being a grandpa, but I guess I thought wrong.
Posted on May 13th, 2023

I hit the cat jackpot lottery. Both Jake and Jenny are so ridiculously entertaining.
Jake brought Mufasa into my bedroom for his morning pets yesterday. When I got back from taking a shower, this was going on...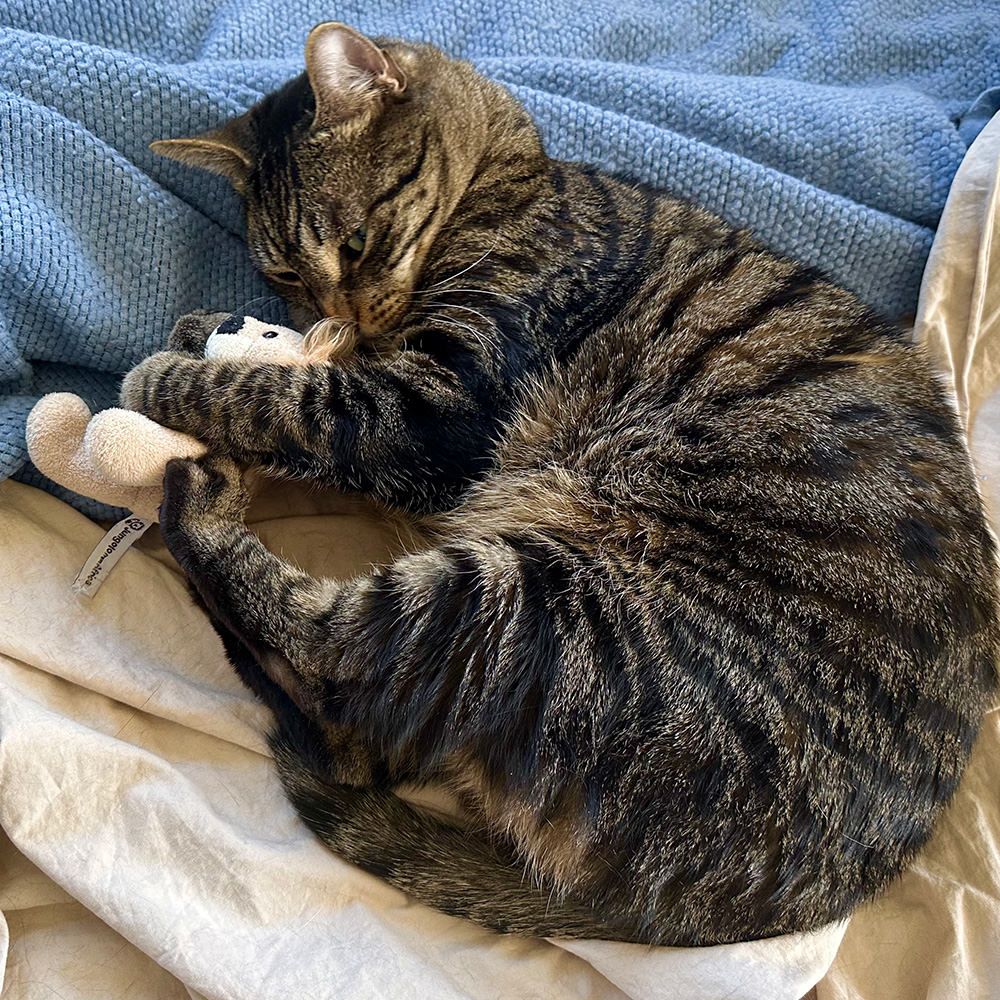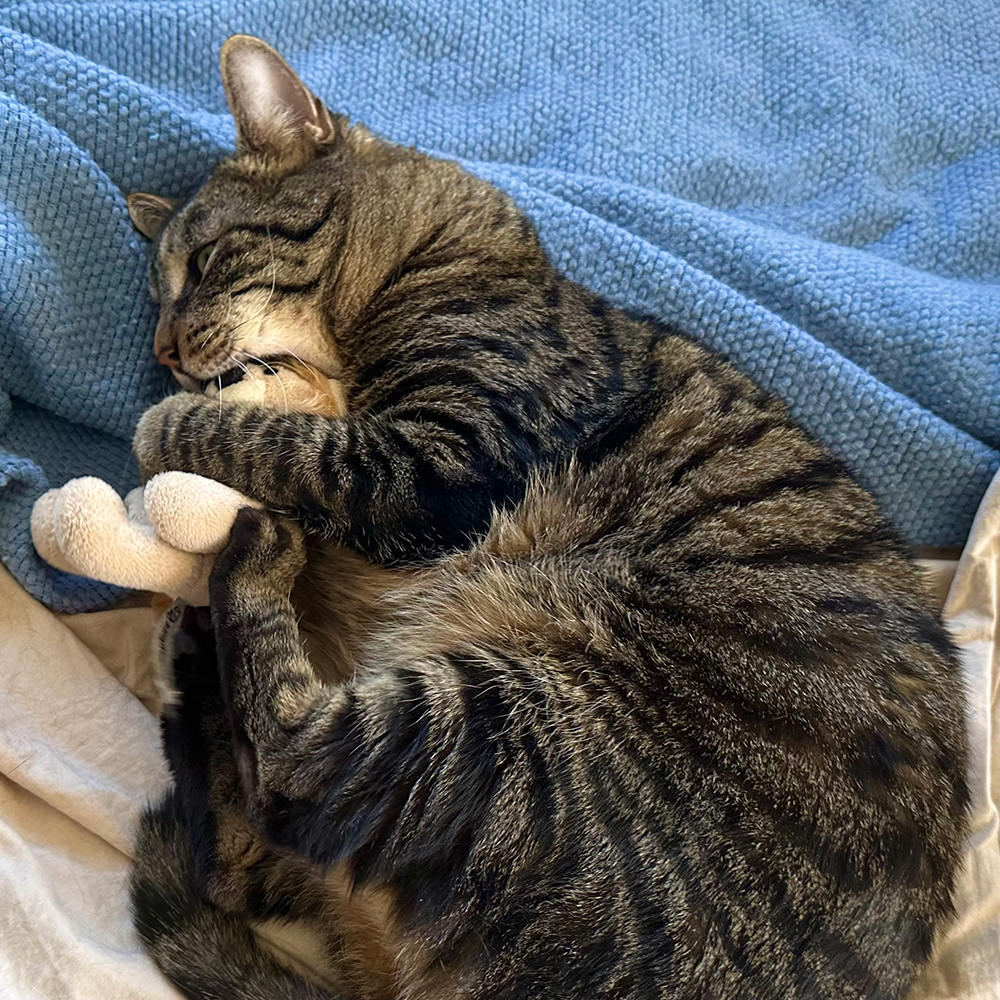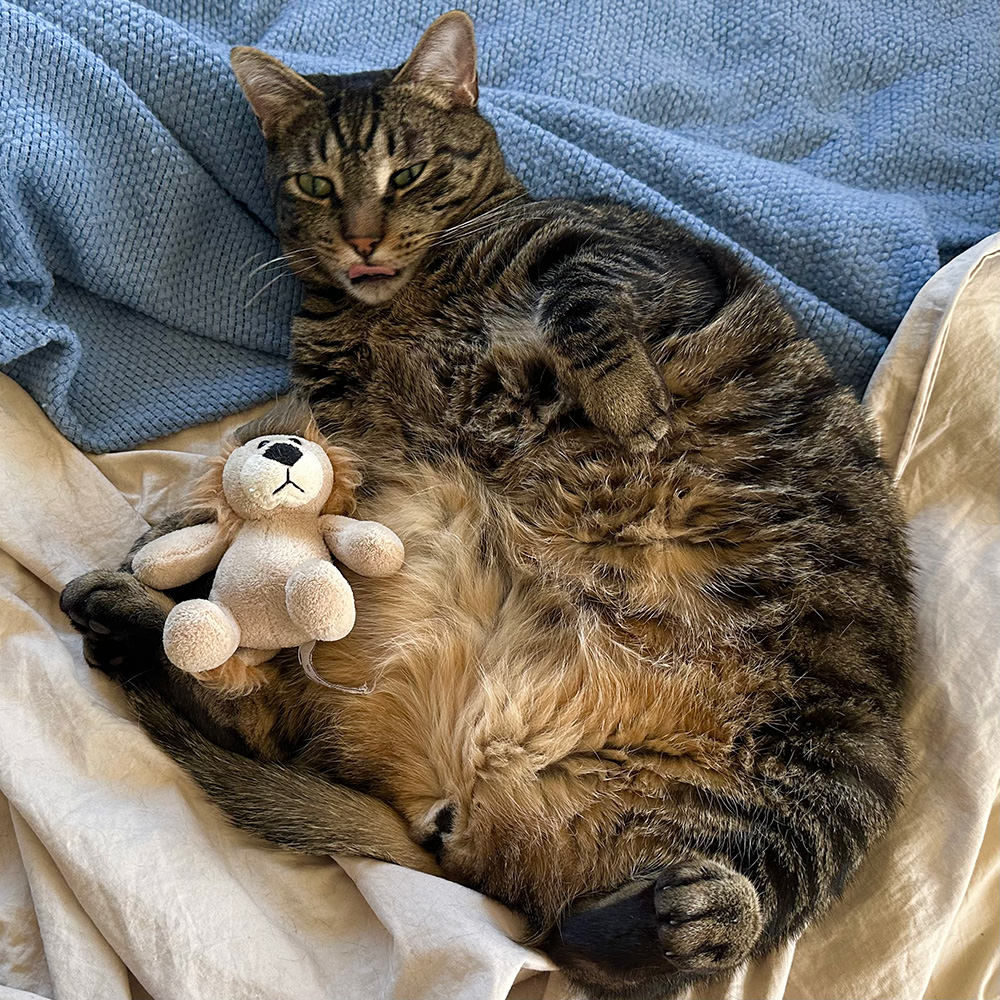 I have no idea if Jake loves Mufasa or hates Mufasa. It's a mixed bag every time.
Posted on May 6th, 2023

Let's see... what's happening in the world of cats this week?
First of all, Jenny continues to get more and more demanding. If I happen to be playing video games when she wants to be petted? TOUGH SHIT! You will pause your game and you will pet me because I demand it!
Earlier this week I was eating sliced apples with caramel dip. The last thing I needed was to have cat hair stuck to my apples, so I told her to wait a minute. She did not like this! Jumped up behind me on the couch and started meowing at my head...
And of course she gets what she wants...
In other news, Jake is starting to climb on me when he wants attention. He hasn't done that in months...
How can I resist that? I can't. He's been bringing Mufasa to me lately too. Something he also hasn't done in months...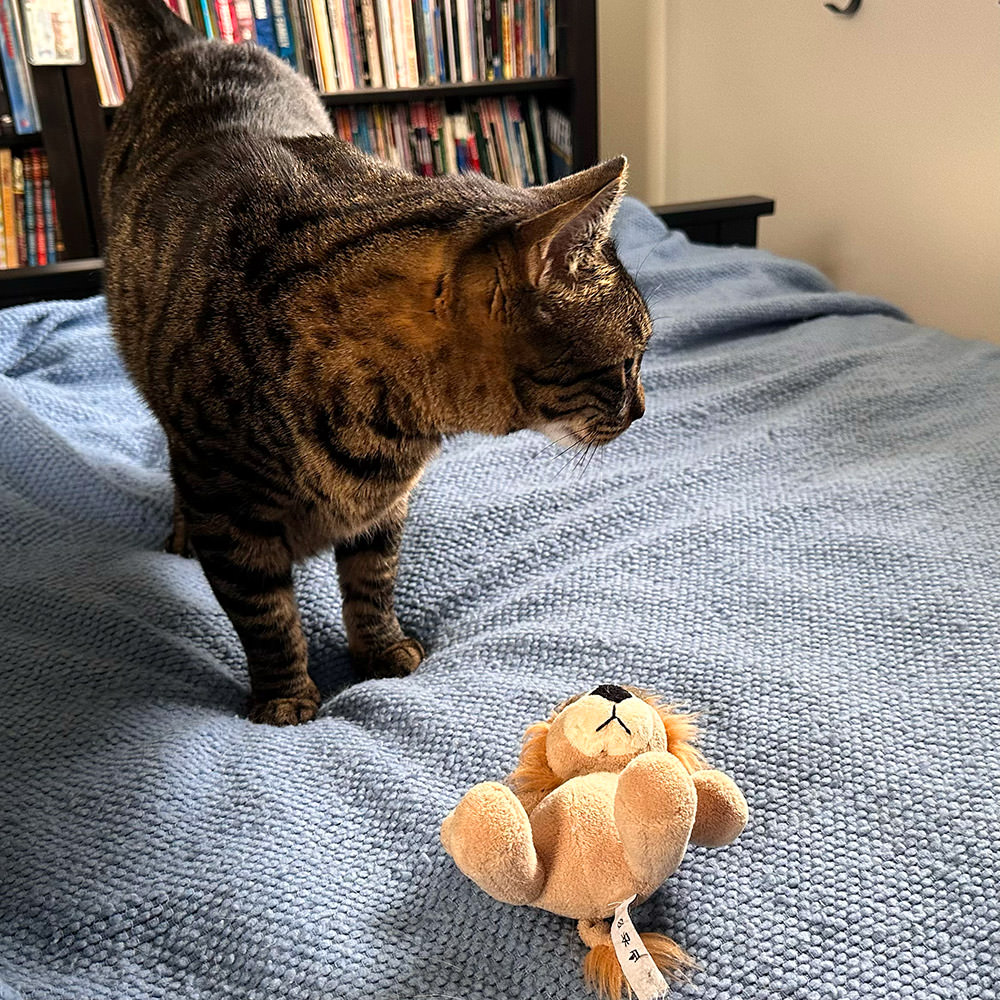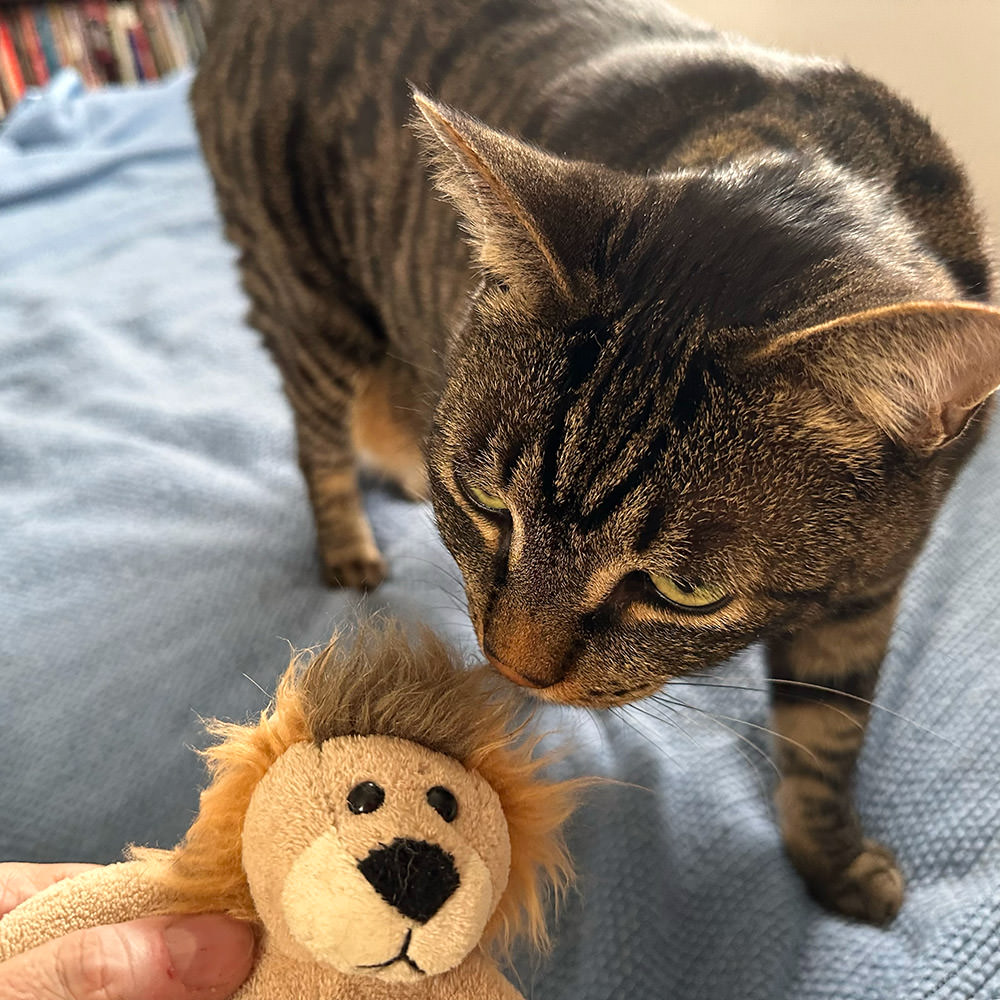 Which is to say that I am on-call at all times, because Jenny still demands pets before sleep...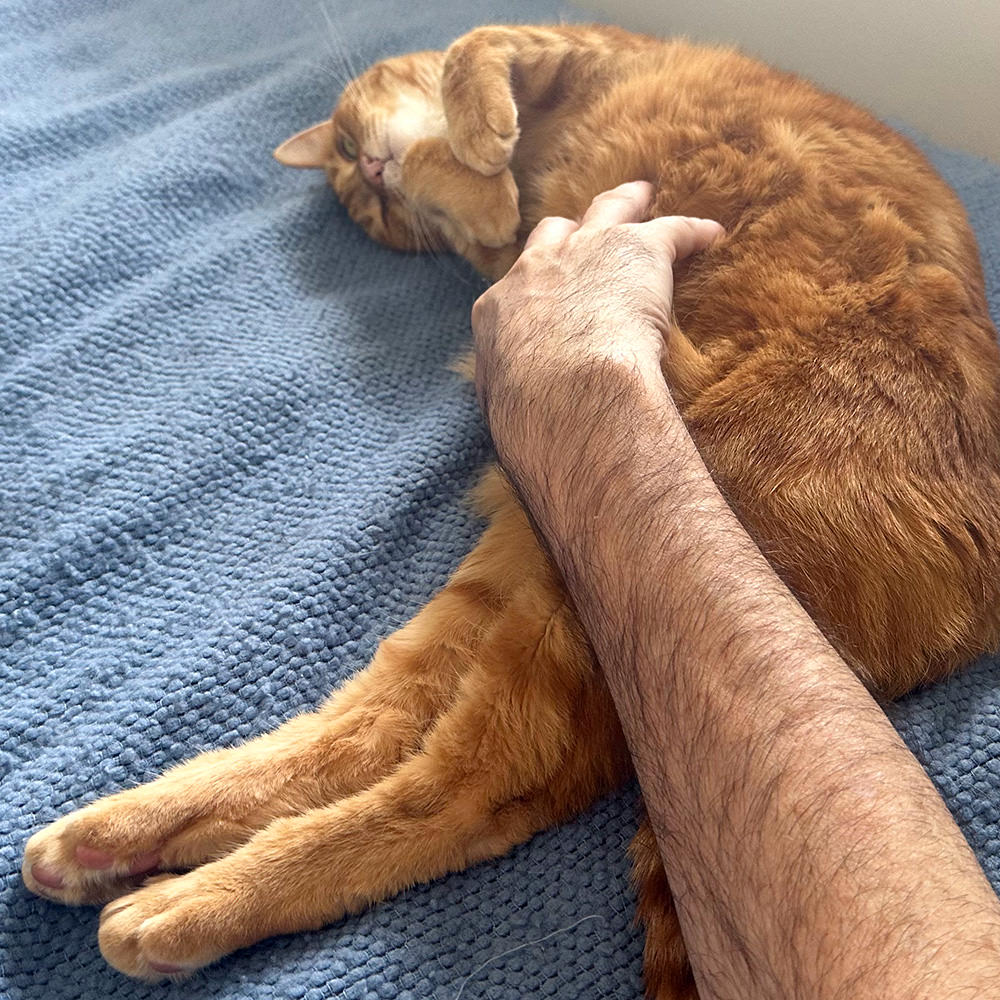 And I know it's normal cat behavior, but I still marvel at the way that Jake will be scared to death and run away from me one minute... then just decide to plop down in front of me while I'm following him downstairs for breakfast. If I'm not careful, I can easily step on him, because he will not move. I have to figure out a way around him....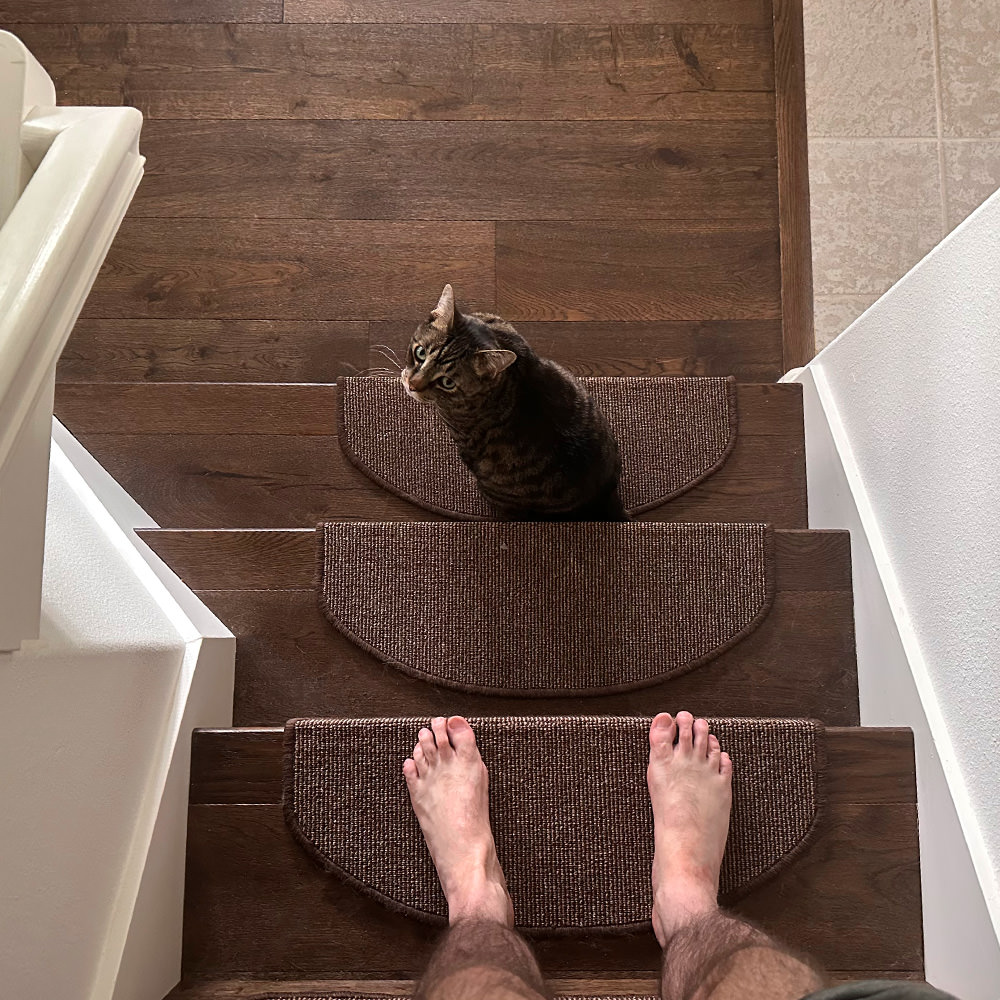 And that's enough cats for today. Have a good Saturday!
Posted on April 29th, 2023

Jake's obsession with his stuffed lion, Mufasa, started when we was a kitten. It was a toy that my mom and I initially brought back from Africa for Spanky the Cat. He latched onto it and never stopped. Many, many, many toys have come and gone over the years, but Mufasa has never stopped being his favorite.
Lately, I've begun to think that he's not so much lugging it around for himself... but for me. Because there are times in the middle of the night that he's dragging Mufasa around and crying his guts out trying to get my attention.
Earlier this week I was on a Zoom call and Jake came wandering in with Mufasa crying. Because of course he did. Then... something surprising happened. Because I ignored him, he dropped Mufasa down the stairwell...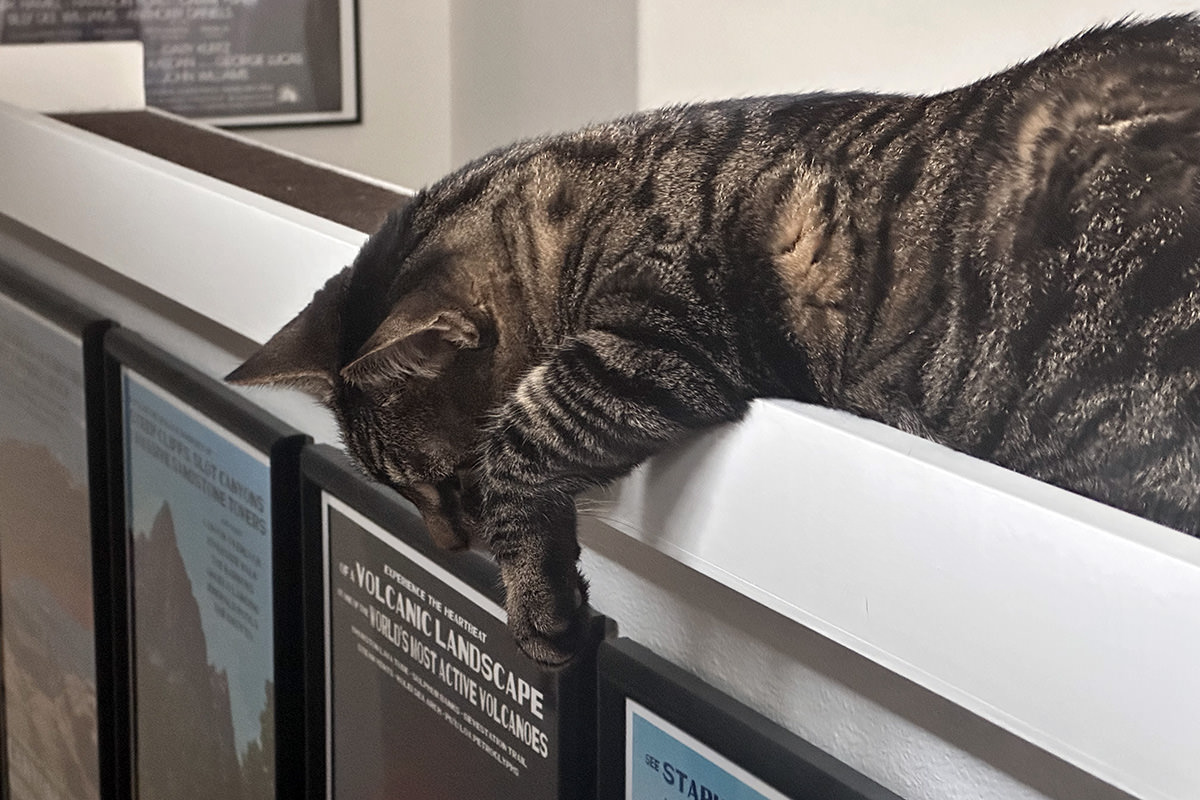 When I didn't pay attention to his drama, Jake started wailing. The people on the other end of my Zoom called me "heartless" and insisted I go get his toy for him. So I did...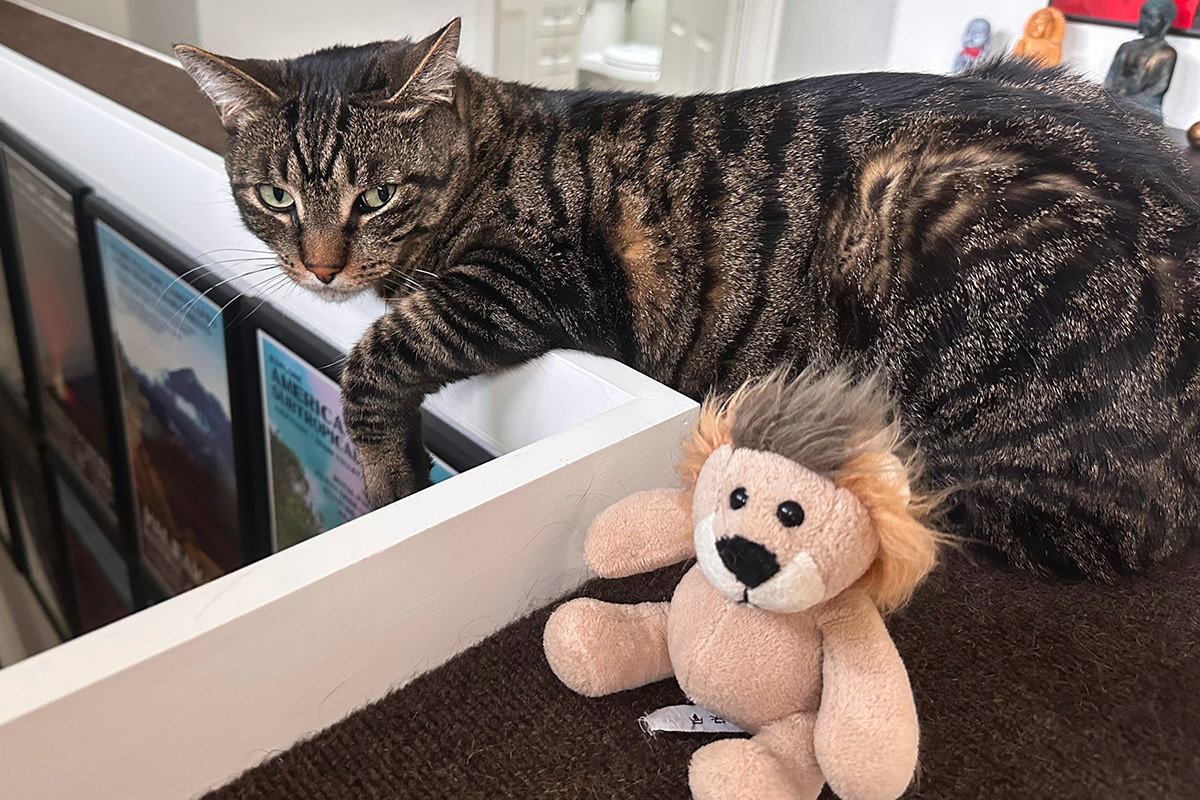 He was not thrilled that I set it next to me instead of him, but I wanted to let my Zoom callers see that I actually ran down and got it.
Disgusted, he jumped down and went into my bedroom to sulk.
But then, a few minutes later he wandered back in, jumped up on my keyboard, then hopped on the banister to... I dunno... have a staring contest with Mufasa...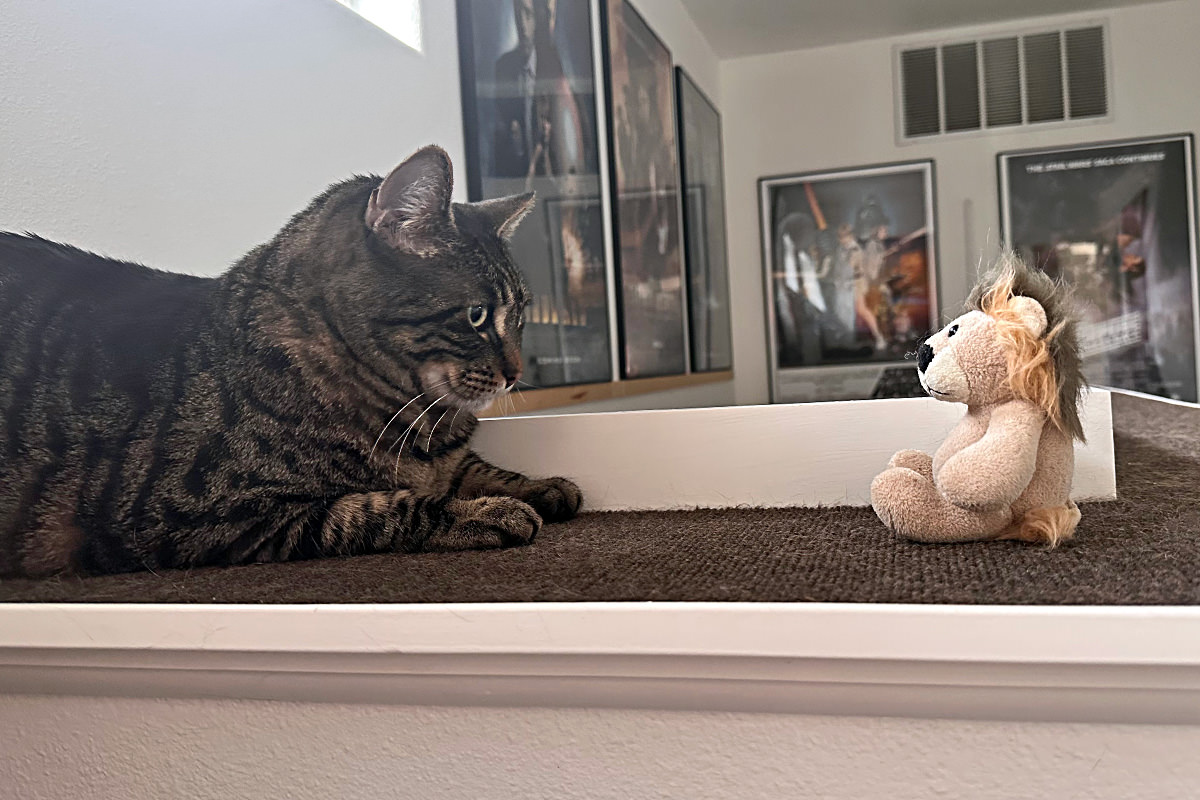 Eventually he grabbed Mufasa and wandered downstairs to wait for treats.
As I type this, Mufasa has been sitting on the coffee table for two days. Who knows when Jake will want to hang with him again.
Posted on April 22nd, 2023

Quick-take updates!
There are two warming pads sitting on my sofa and loveseat for my cats to lounge on. I put them out before/after the Summer months because my cats just love to lay on them. Even when it's not cold. And this is how it usually goes. Jenny will pick one. Usually the one on the sofa closest to me, but not always. Regardless of which one she picks, that's the one Jake decides he wants. He'll literally crawl over her and plop down beside and fall asleep. Jenny is not thrilled...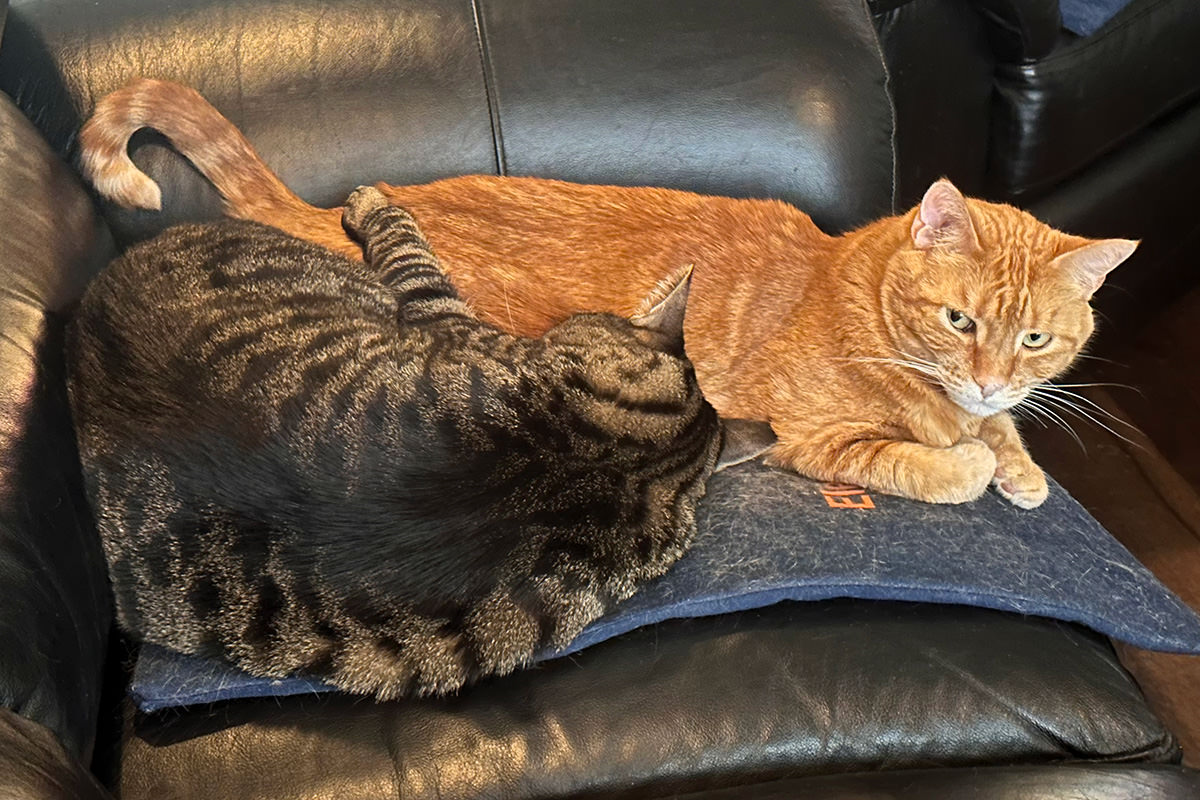 Though sometimes he wants to have his head lick first...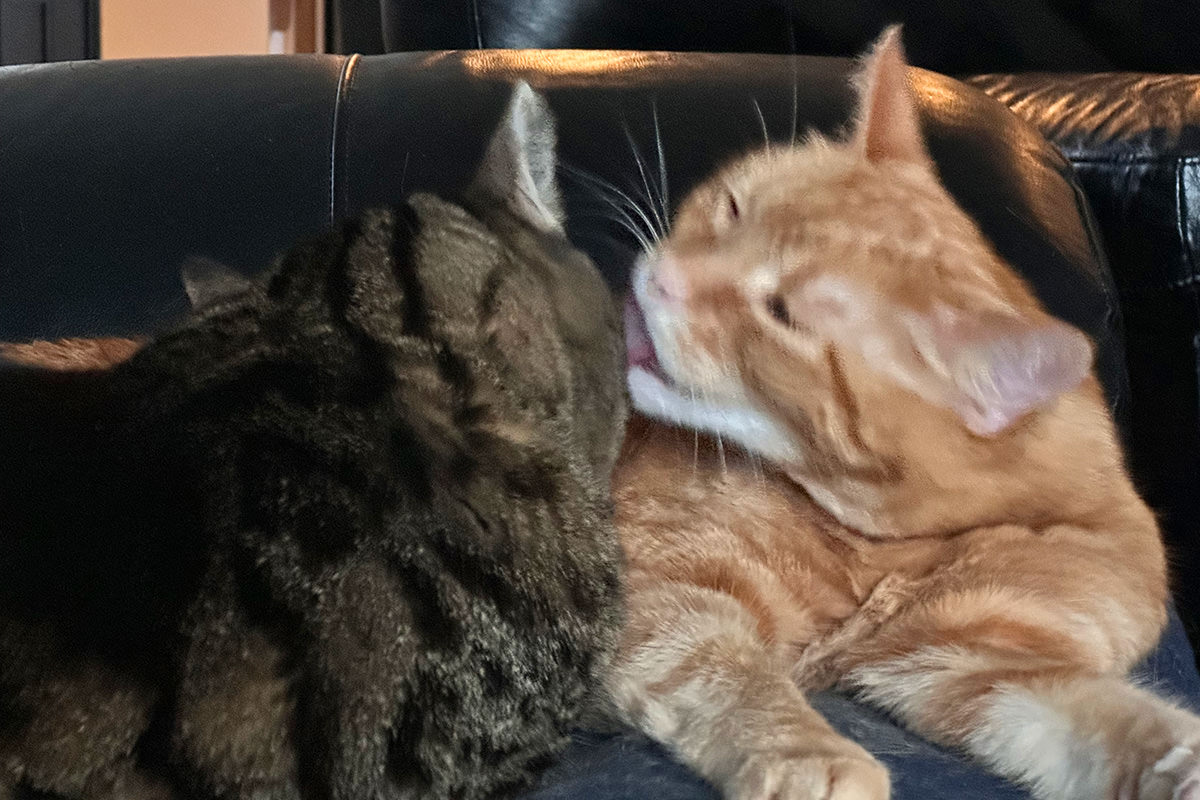 When Jenny gets some alone-time, she spends it sleeping in the weirdest positions possible. Like with her foot in her face...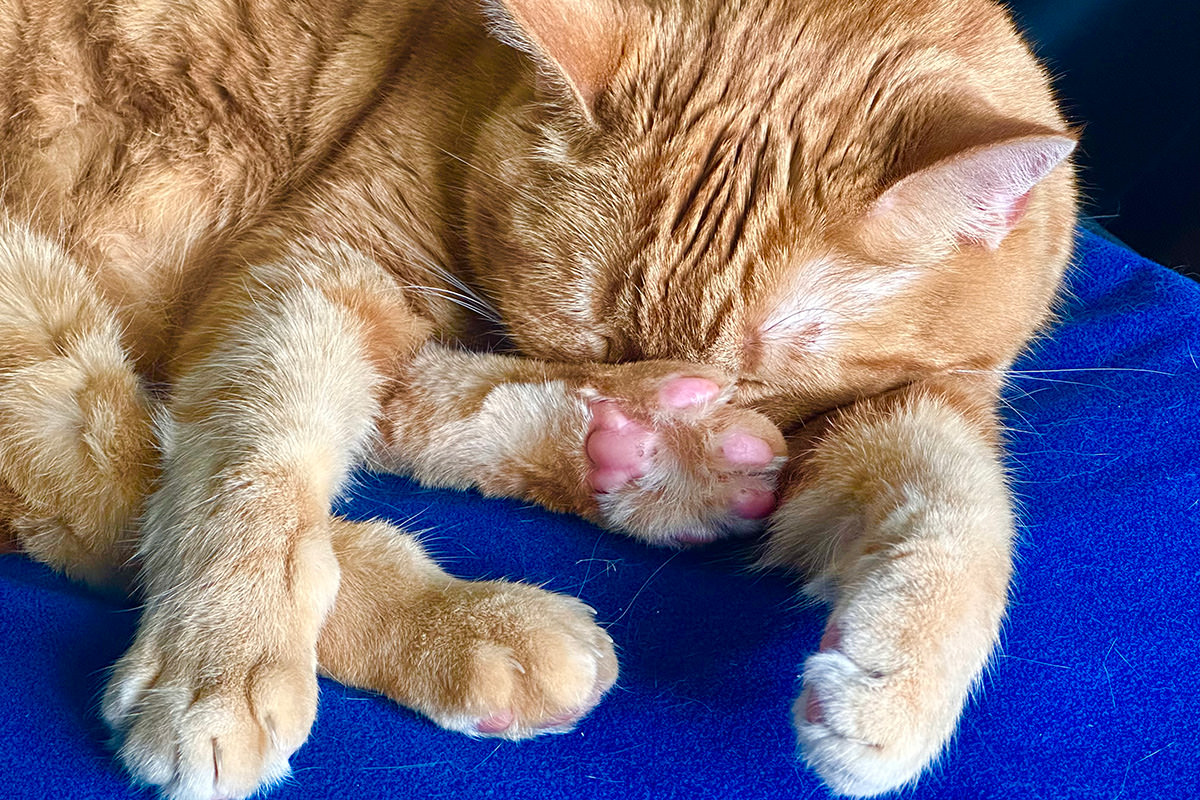 Speaking of Jenny... I finally found something that SHE will eat, but JAKE will not. It's these "squeeze-tubes" of treat goo. Neither will eat them from the tube. But squeeze it in a dish and Jenny is all over it. Jake, who will normally eat absolutely anything won't touch it. So Jenny will eat his as well. Except with her half-paralyzed tongue, she makes her usual mess...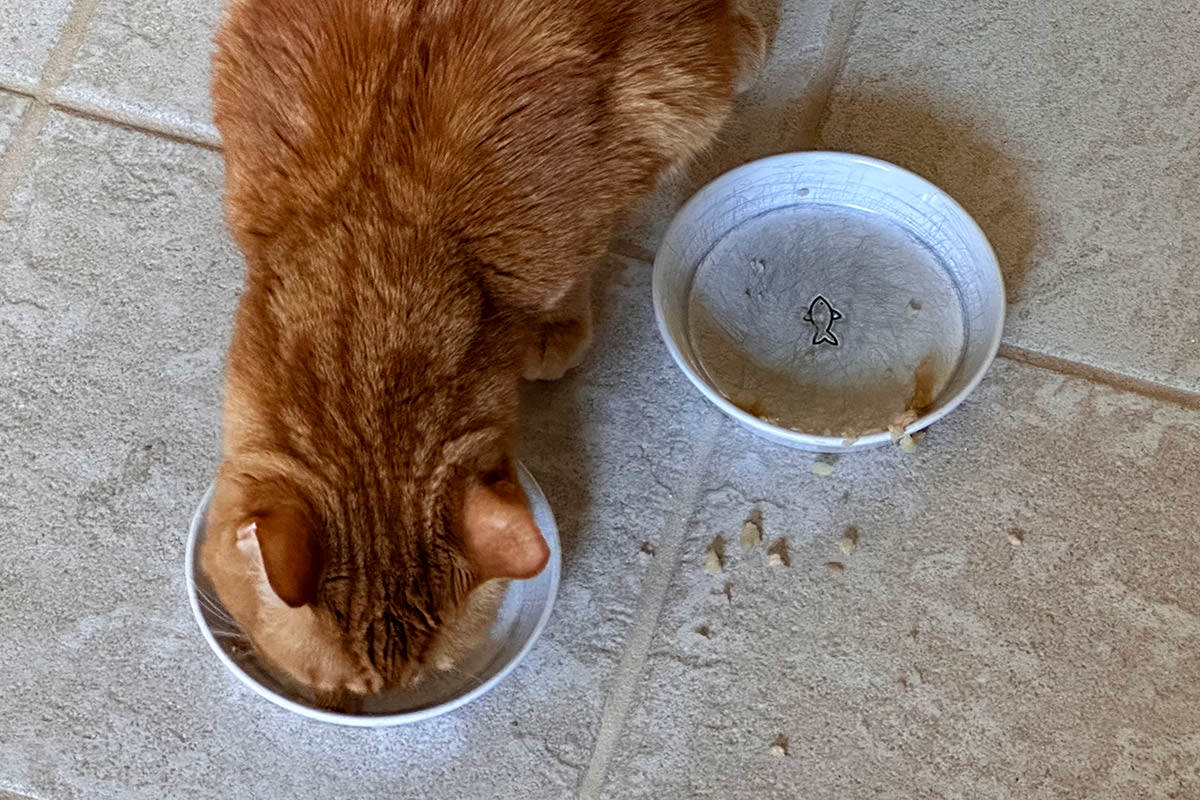 Jake, meanwhile, has decided to critique my television choices by trying to change the channel from my programming choices...
Hope you're having a happy Caturday.