Posted on December 12th, 2020

For whatever reason, my cats have started getting all anxious and agitated when the Alexa alarm goes off for their feeding. This morning Jake was wandering around in circles... Jenny was fretting and pacing... then Jake started squawking as I was dishing up breakfast which encouraged Jenny to start making those nervous meows she makes when she's frustrated.
Other than that? The cats have been pretty chill. Mostly because they have warming pads to sleep on...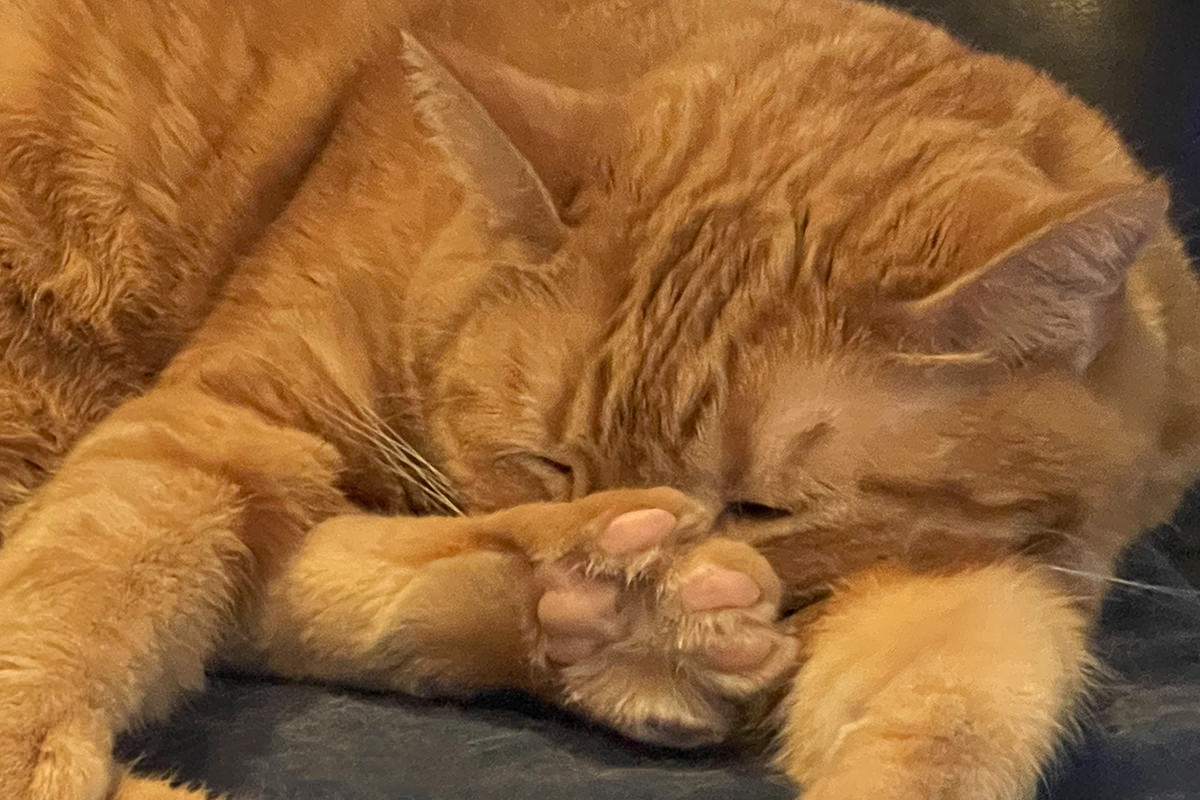 Or stealing my heating pad...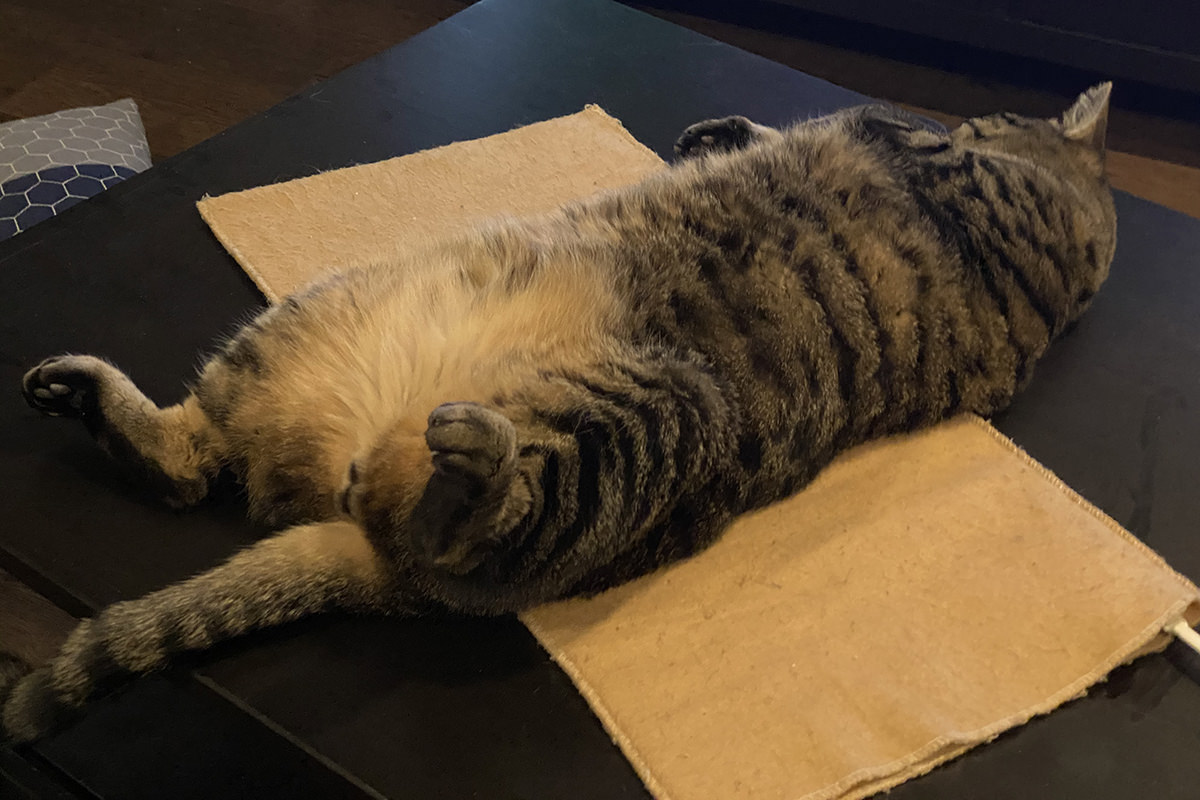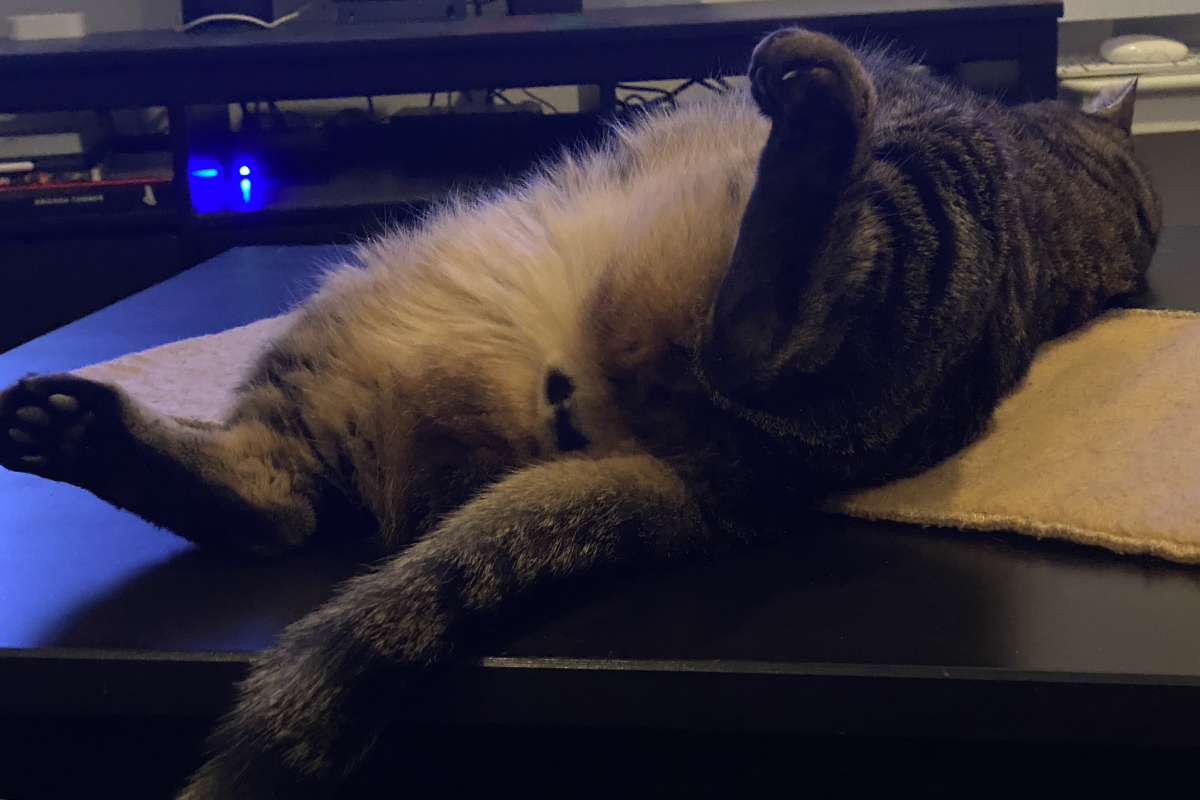 How cats manage to sleep in the positions they get into is a mystery.
I was wrapping up some presents last night so I can get them sent out, only to have Jake drag Mufasa onto the table and lay across the wrapping paper box. I can only guess he was trying to help, but all he did was put off the task fifteen minutes while I waited for him to get out of the way...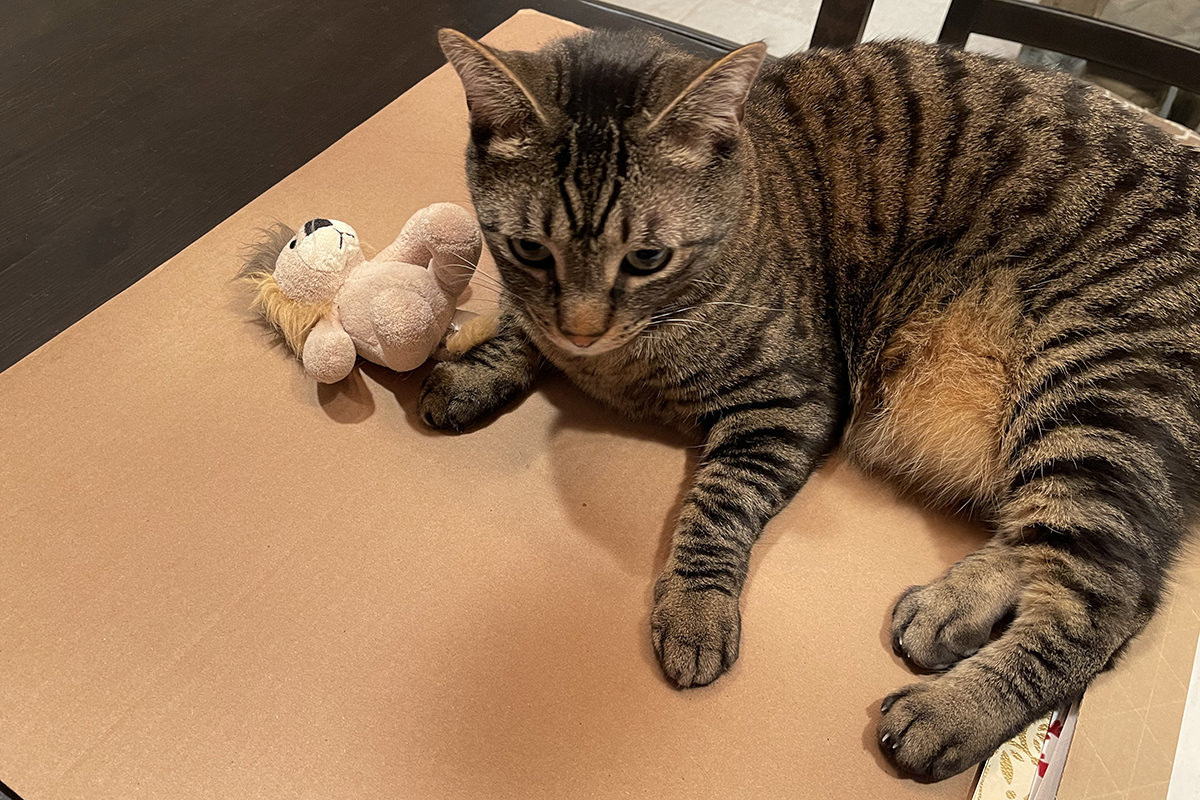 Which he did... when he joined Jenny on the cat tree to watch television...
Mufasa was left behind. Which means Jake will be walking around crying while looking for his favorite toy because he always forgets where he had it last.
Posted on December 5th, 2020

Jake and Jenny have been spending more and more of their day sleeping. I guess Winter isn't very exciting time for a cat, so this is their coping mechanism. Not that I can blame them. Thanks to COVID lockdown, all I want to do is sleep the days away as well.
On Thursday I had the plumber come and rip open the kitchen ceiling to repair a pipe leak. The cats hid upstairs in my storage closet, as they always do when strangers invade the house. Once the repairs were complete, I called up to let them know that they could come back downstairs. It's amazing how they are able to understand me and immediately come running downstairs every time...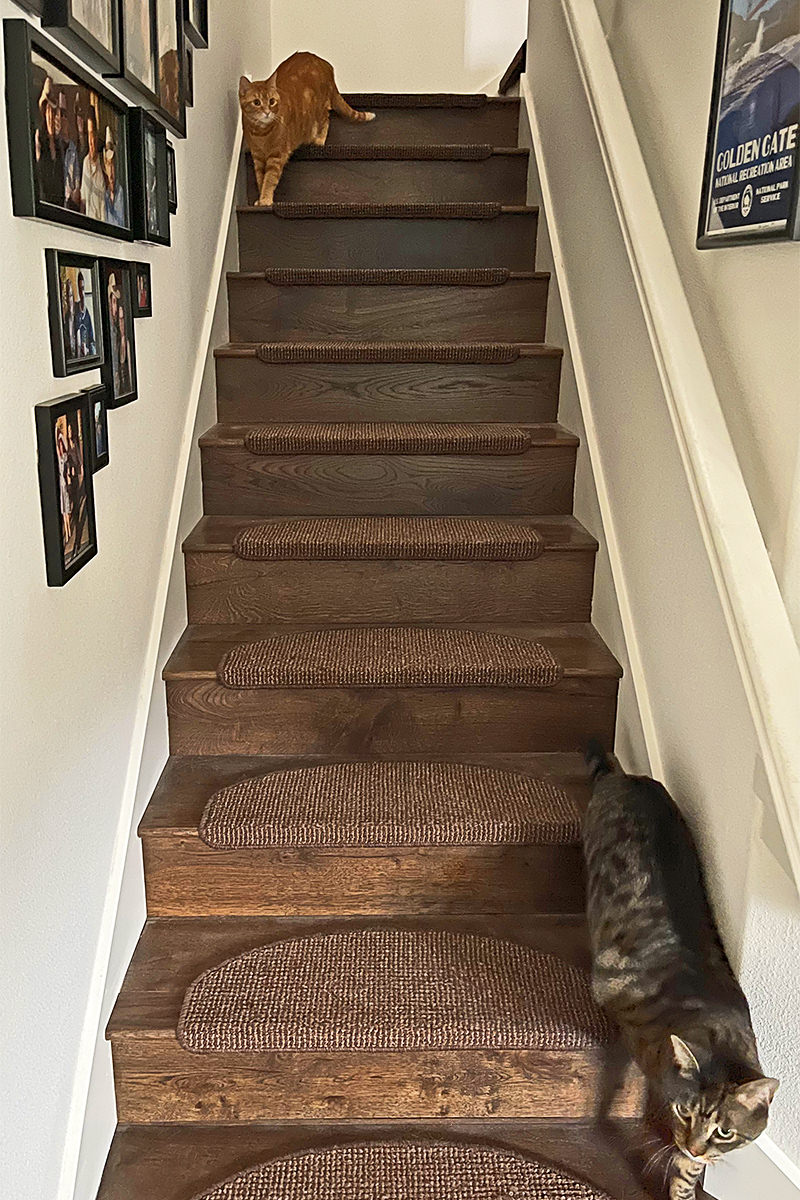 Not that they 100% trusted me. They had to go sniffing around everywhere to make sure the intruder was really gone.
Early in the week I was startled when BOTH cats ran out to the catio after one of them was in the Litter-Robot. I knew that the impending smell must be extraordinarily bad. But once it reached me and I was gagging and feeling my eyes tear up, I had to go to the video feed so I could find out which one of them was responsible so I could check to make sure that they hadn't blown their asshole out. Turns out it was BOTH of them! They BOTH took a dump at the same time!
I don't know that this has ever happened before! I was worried that my home would probably have to be fumigated... or possibly burned down... because it was just that bad. Fortunately the Litter-Robots cycled and got things under control.
And then...
There I was... working away at the office... when I get a PERSON ALERT! on my iPhone. I ignore it because sometimes my cats register as a person to the security system. Then, ten minutes later, PERSON ALERT! — Now I'm really freaking out because I've been convinced that there is, in fact, a person in my home. NOPE!
I guess it was my fault for leaving the kitchen blinds open and having a stepladder staircase left out for them. And I had JUST disinfected the countertops the night before! I had to steam them and scrub them clean AGAIN that night. Blergh. I wonder how come Jake and Jenny never seem to realize that I don't have time for these shenanigans?
And now I guess I had better get back to work. But quietly so I don't interrupt my cats' busy day of sleeping.
Posted on November 28th, 2020

Jenny has now 100% embraced her power over me, and she's getting better at manipulating me every day. She knows that all she has to do is meow and I'm going to do whatever she is wants. Give you a treat? Okay. Get your ball from under the couch? Okay. Rub your belly? Okay.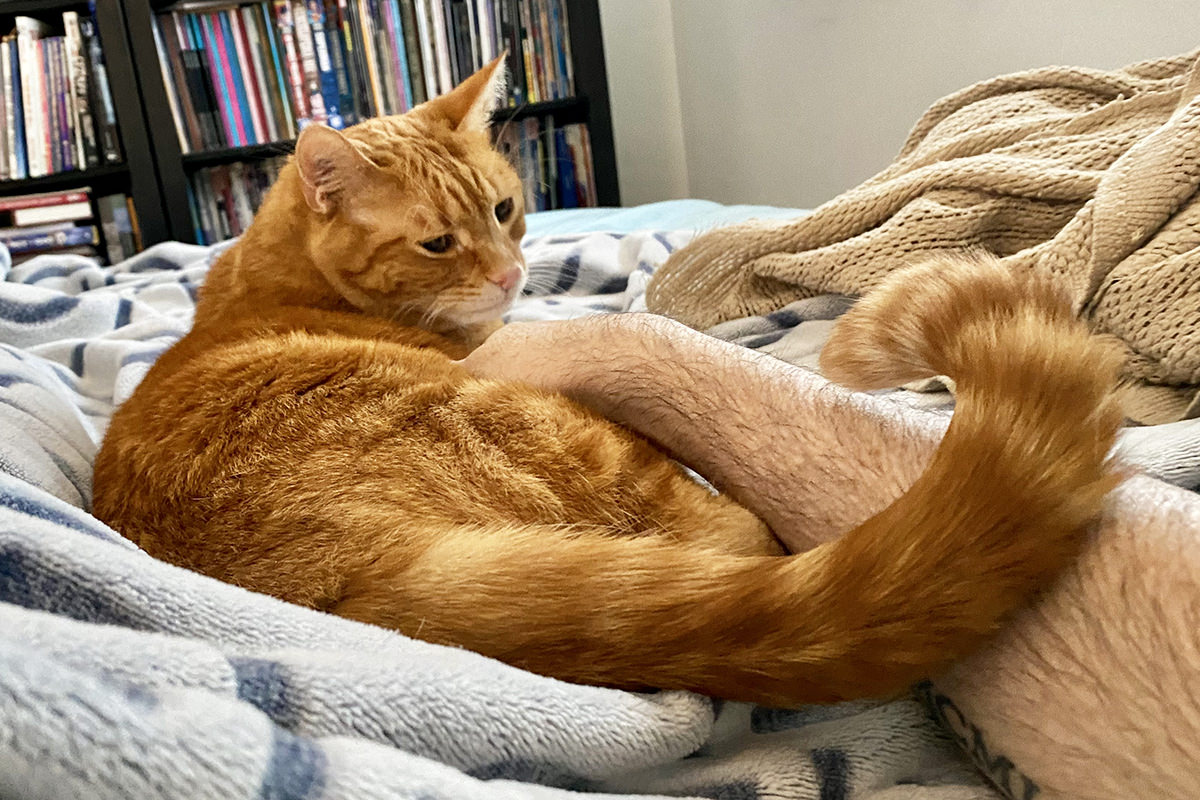 Here she is after she meowed at me to come fix her bed. The pad inside was flipped up and she wanted it put back down...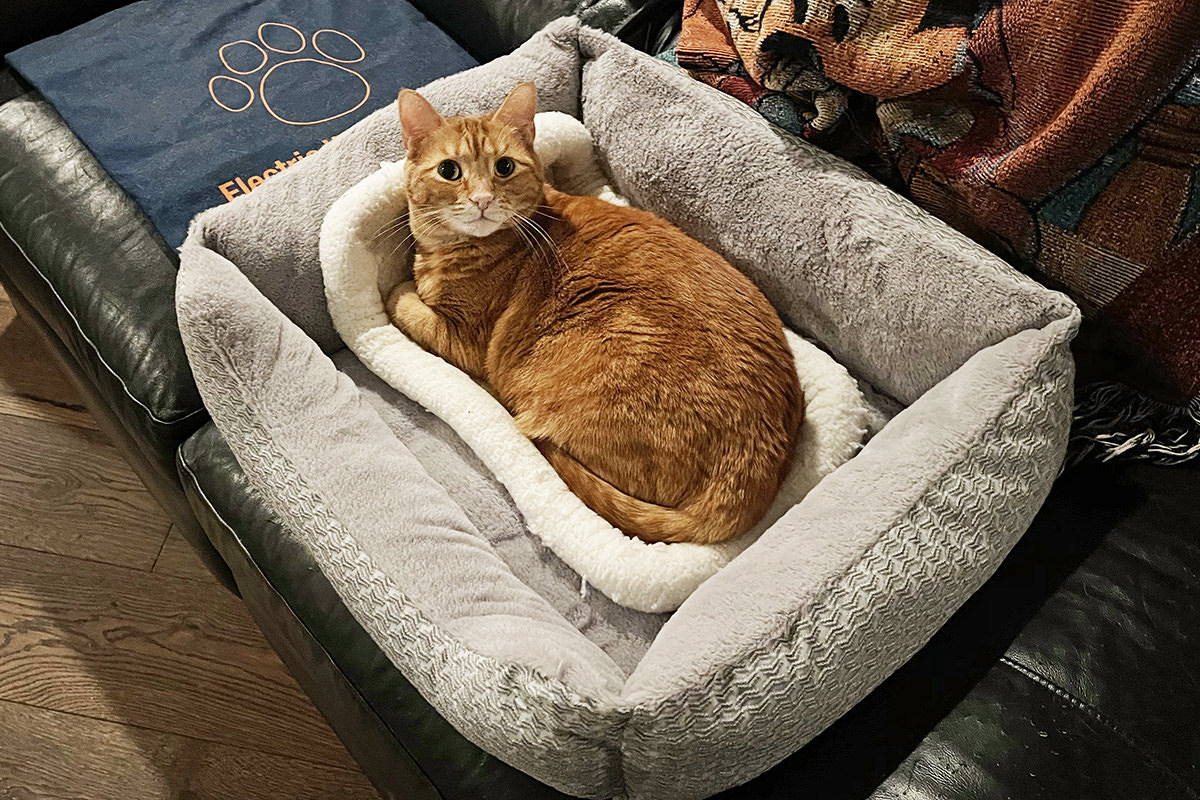 As I think I've mentioned, I don't trim my cats' claws. They don't really scratch anything up and are perfectly capable of maintaining their claws themselves...
Though every once in a while Jake really gets aggressive about it, and that makes me wonder if maybe I should face certain death by attempting to use clippers on them...
As the weather gets colder and colder I am more and more happy that I bought some warming pads to keep Jake and Jenny comfy. They sure do love them.
"You know, there are two of them, guys. You don't have to share."
"I SAID THAT YOU EACH HAVE ONE SO YOU DON'T HAVE TO SHARE!"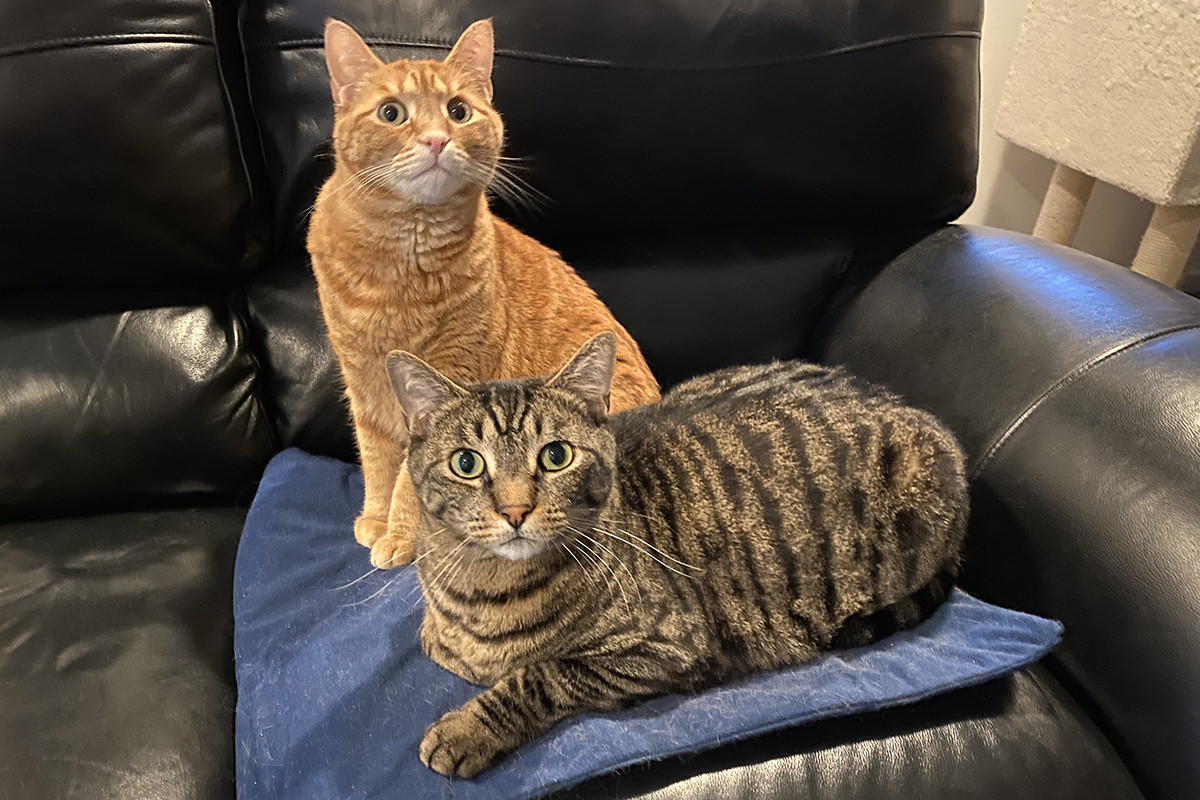 They've spent ten minutes waiting for the other one to move. Eventually the dinner alarm rang and they left at the same time.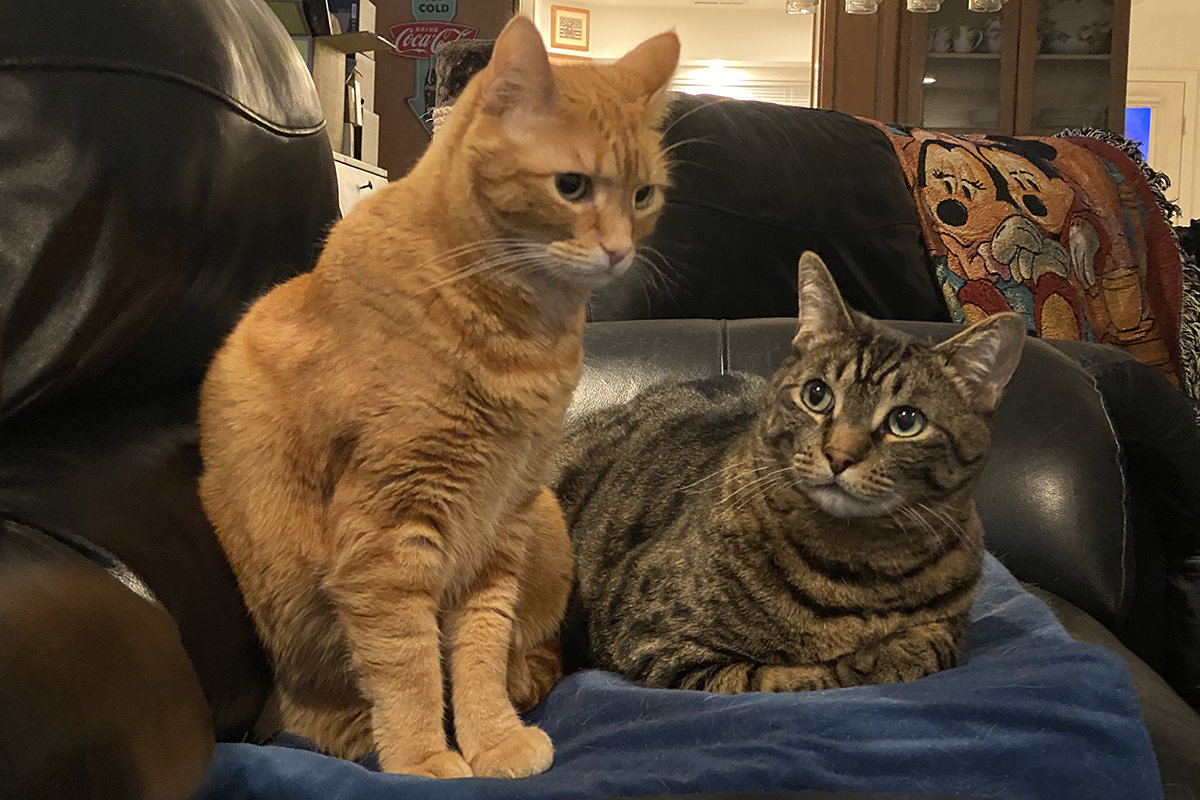 I guess that the only thing cats love more than warmth is food.
Posted on November 21st, 2020

Lockdown isn't boring when you have cats!
This morning while I was getting out of the shower I heard a "whomp! whomp! whomp!" I was pretty sure that it wasn't ghosts, so the only explanation was that Jake or Jenny had found something new to entertain themselves. As I was getting dressed, I heard it again... "whomp! whomp! whomp!" When I ran out into the hallway and didn't see anything, I looked down the stairwell and saw this...
Well, obvious that innocent little face wasn't capable of getting into any trouble, so I was at a loss to explain what happened. Until I was walking downstairs and noticed this...
Apparently Jenny is back to redecorating.
And speaking of Jenny...
If you've ever wondered the look you get when you administer butt scratches wrong, this would be it...
Fortunately I seemed to be able to do belly rubs correctly...
That's better!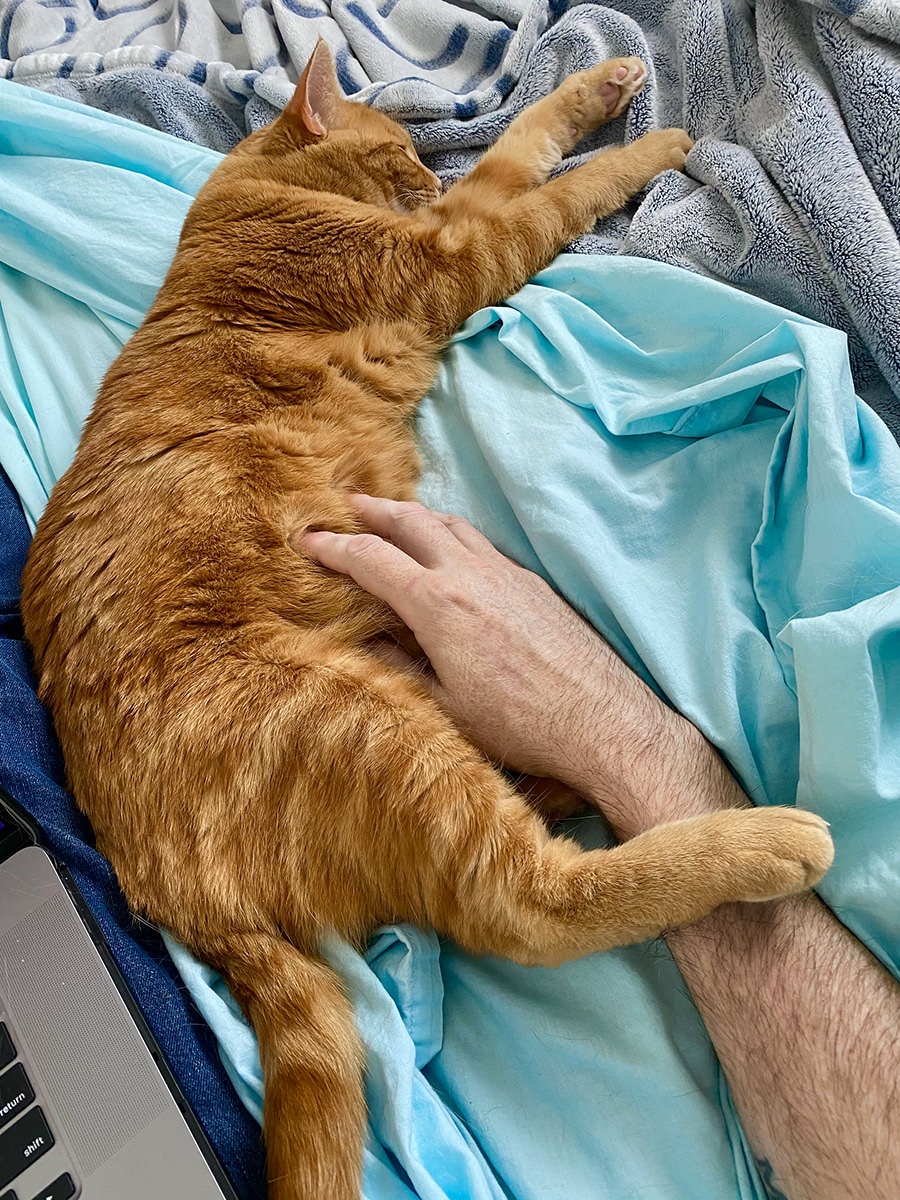 Now I guess I should go straighten all the posters in my stairwell and see how long they stay that way.
Posted on November 14th, 2020

What a day, right?
This evening at 5:10pm, Jenny came running in like she heard the Alexa alarm go off for dinner. I was forced to explain that no, Jenny, you're just being silly... there's 50 minutes until it's dinner time. This was her reaction...
And then I got this for the next 15 minutes until she got bored and took a before-dinner nap...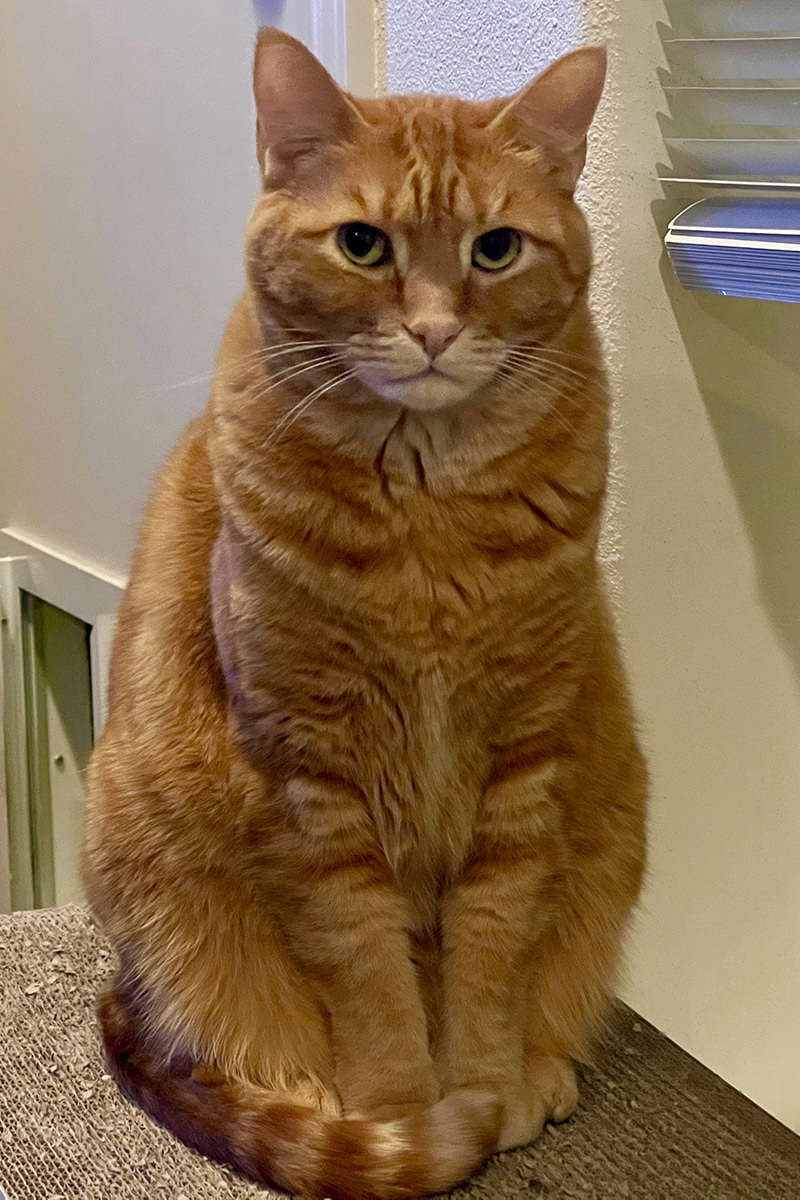 Not that Jake gets a pass. This was him on Friday morning waiting impatiently for breakfast...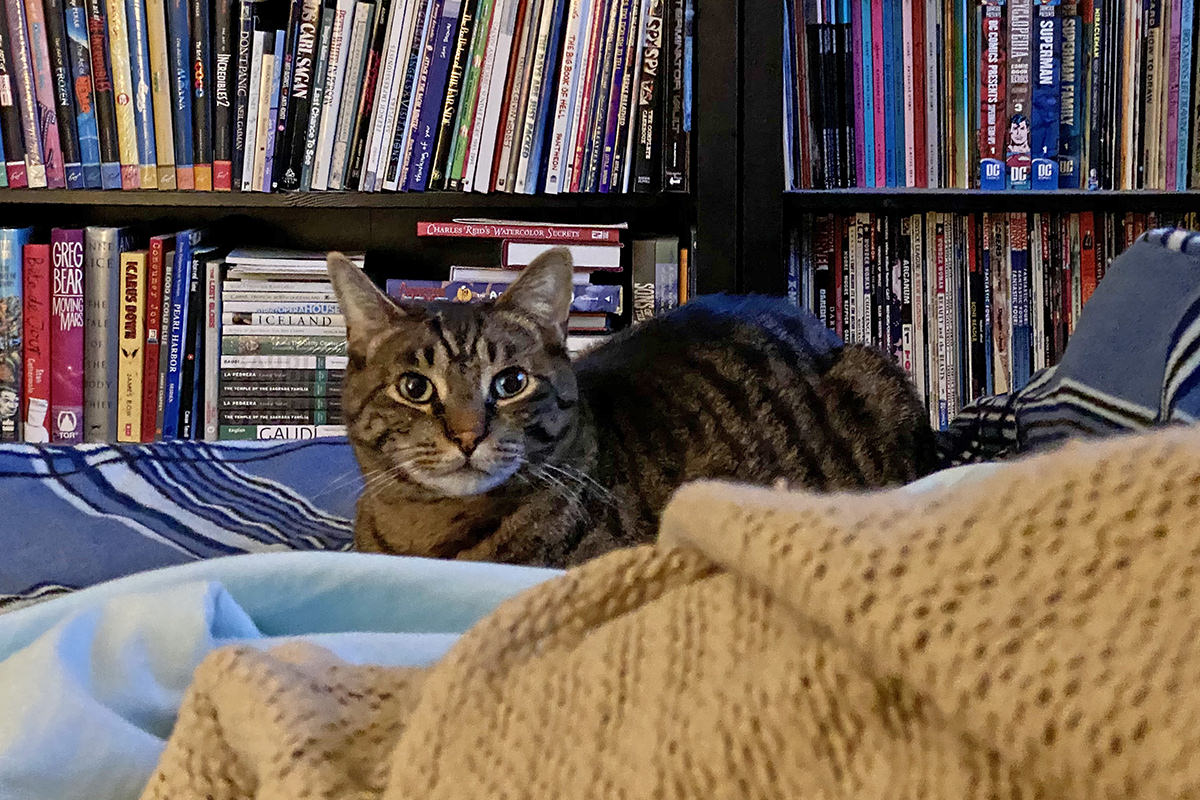 Eventually Jake ran out of the room... but don't worry, he was waiting in his box downstairs for me as usual...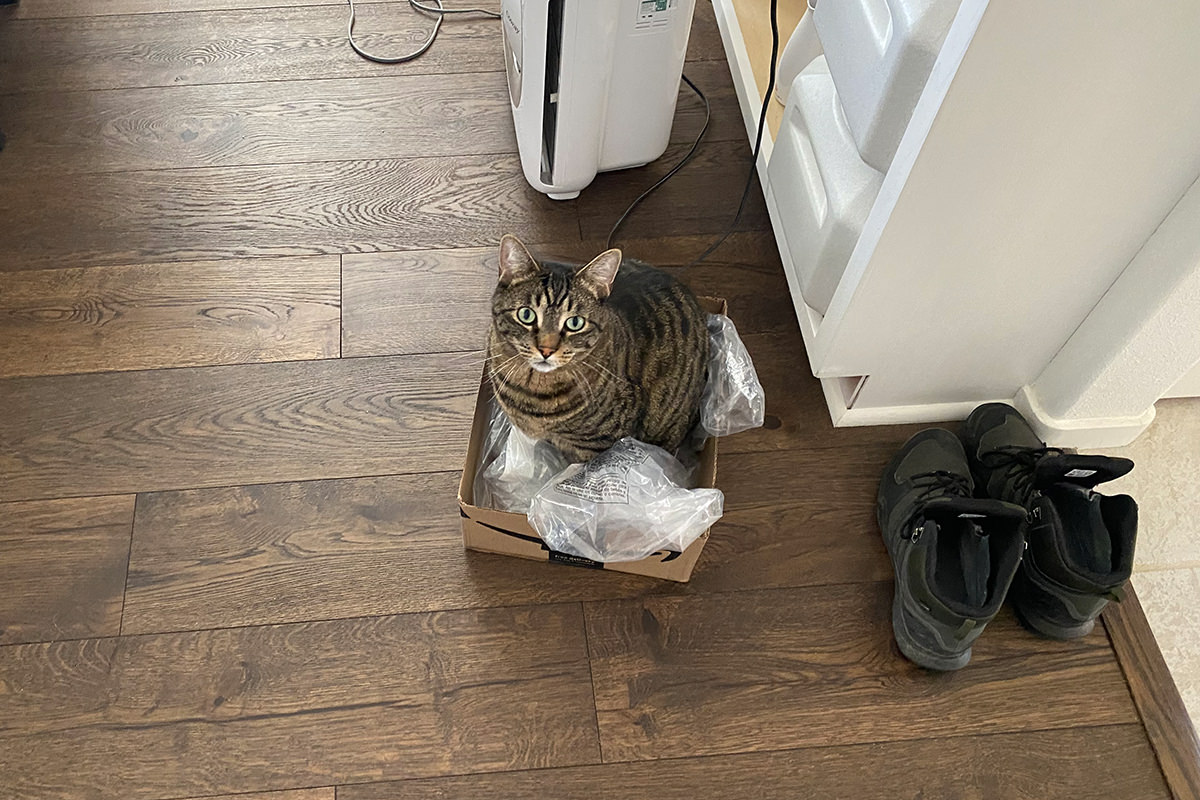 And right now? I just want to put my feet up. But alas...
Such is my life with cats.
Posted on November 7th, 2020

Every Caturday I set aside time to make sure my cats are being well cared for by cleaning everything they come into contact with. I steam-clean their feeding station... take apart and clean their water fountain... make sure their Litter-Robot litter boxes are clean... inspect all their favorite sleeping spots and clean anything that needs it... take a quick look at their toys to make sure that they are all safe and not falling apart... that kind of thing. I'm pretty religious about it all because I know if I depended on somebody for all that stuff that I'd want a clean place to eat, go to the bathroom, sleep, and play.
The one thing I have not yet found a way to clean is the covers on their heated pads. They both love the things and are on them all the time. I've tried washing them in the washing machine, but cat hair and stuff stick to them like glue. I guess at some point I'm going to have to sew replacements that are easier to maintain.
In other heating pad news... they both seem to want to have their rear foot in their face while sleeping on them. I noticed this early in the week and keep seeing it...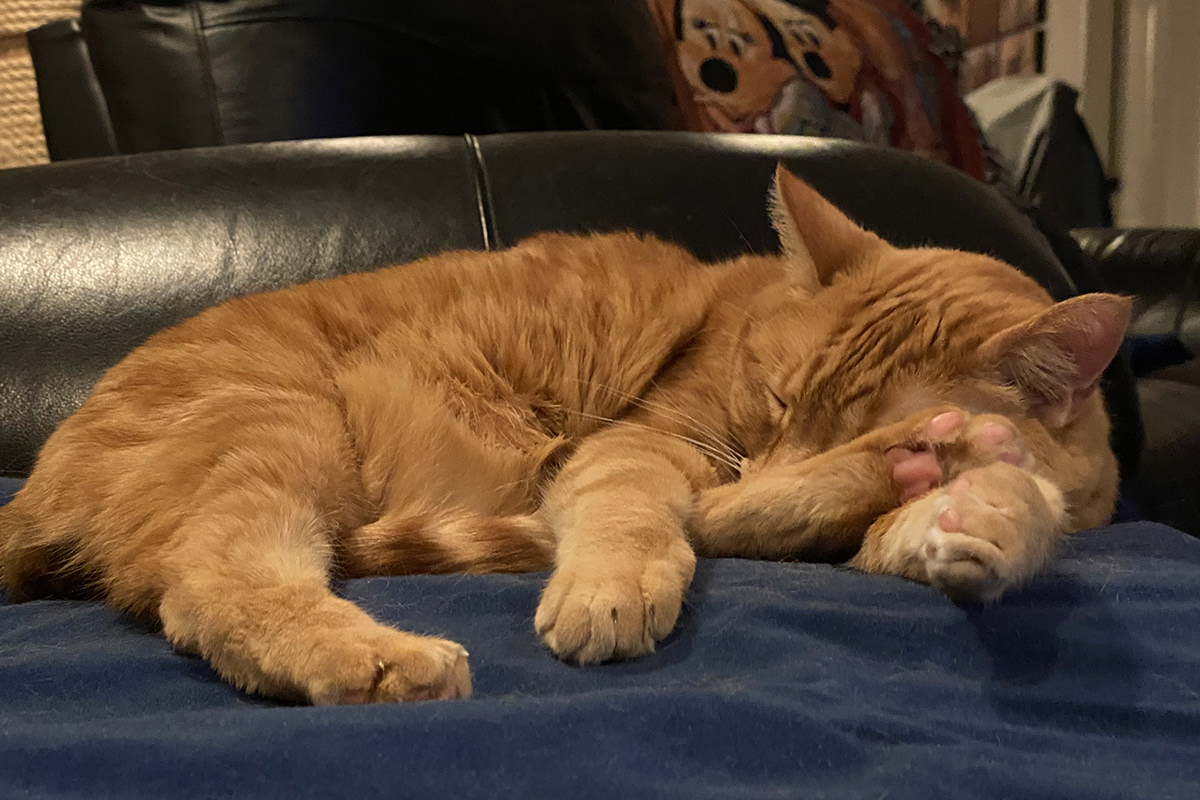 Oh well. Whatever keeps them happy.
I've been keeping a close eye on Fake Jake every night to make sure he's made it to the warming pad in the shelter I set up for him. But sometimes he keeps an eye on me. Or at least comes over for a playdate with Real Jake...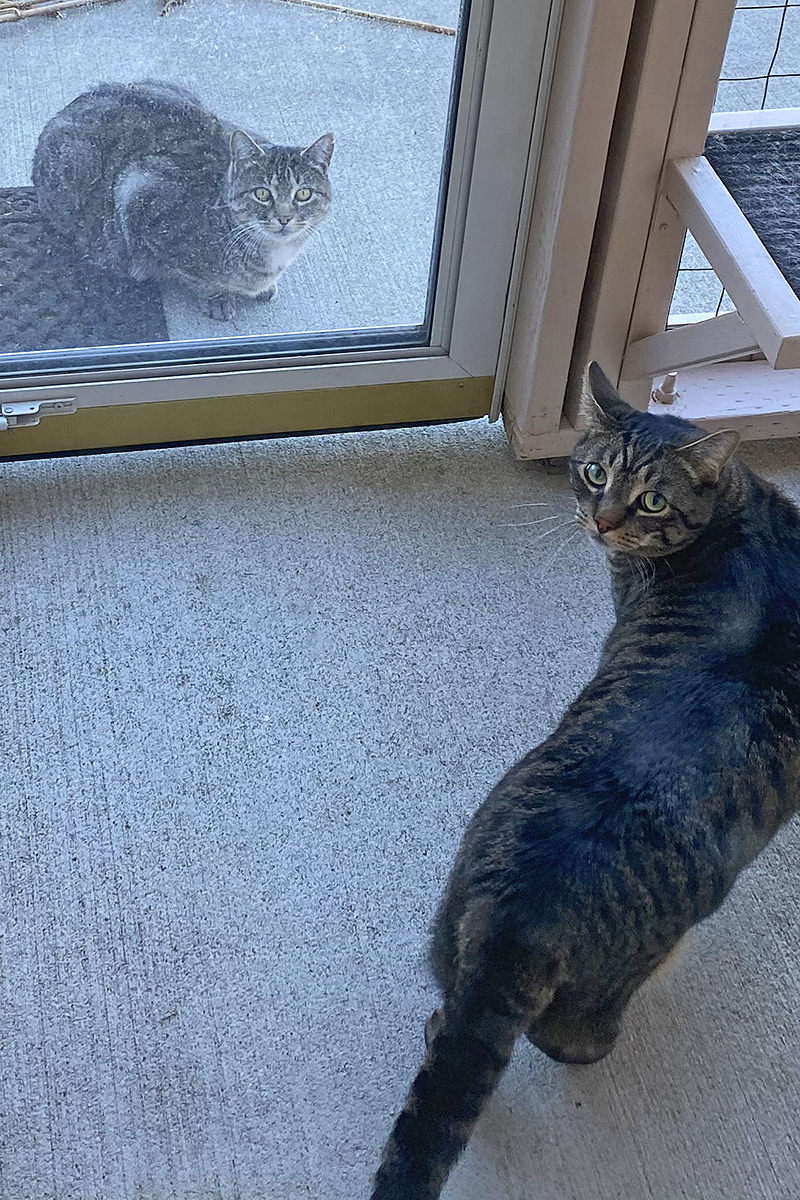 Jake has kinda-sorta adapted to the end of Daylight Saving Time. Or, even if he hasn't, he at least stopped complaining. Jenny on the other hand? Holy crap. Not even a little bit. When 5:00pm rolls around she is ready to eat because to her it's 6:00pm and dinner time, even though I've been easing them into the time change 15 minutes at a time. And when the alarm doesn't sound for food? SO SALTY! She is mad, mad, mad. She just scrunches up into a little anger ball on her heating pad and glares at me...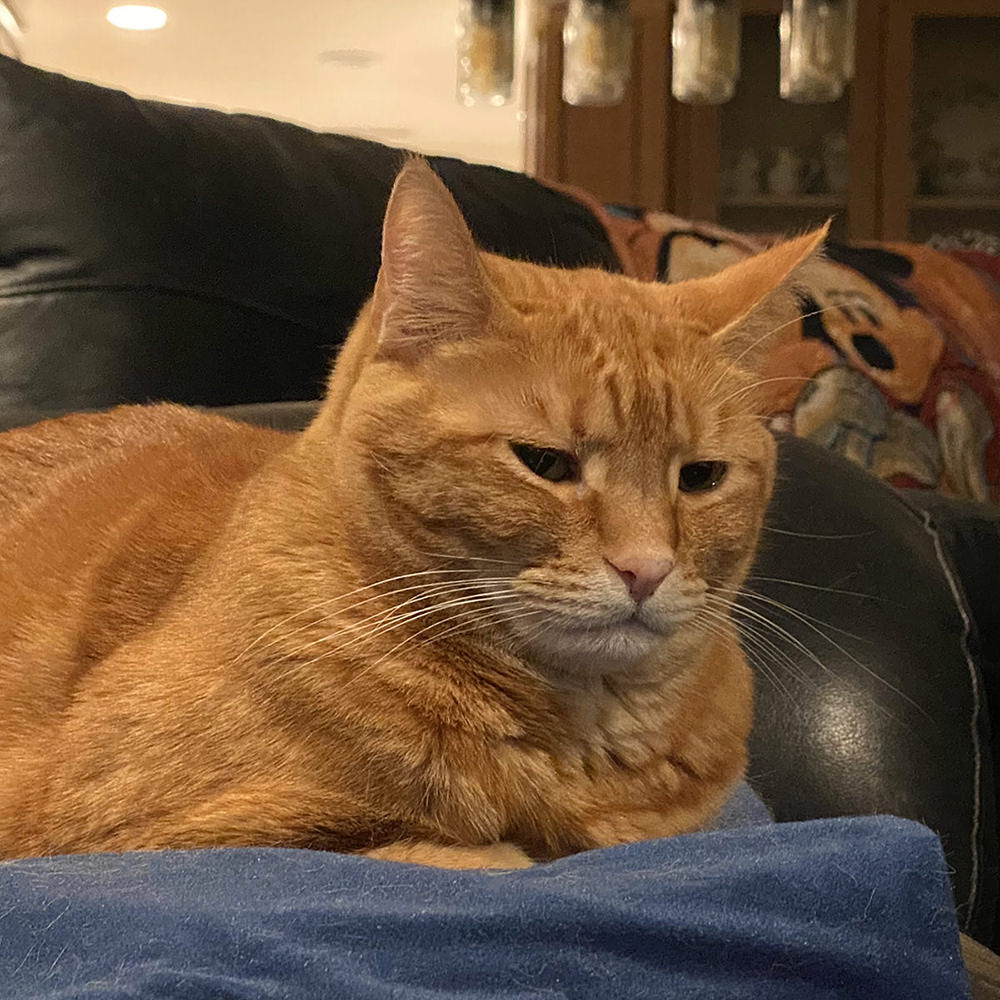 Make no mistake... she is the sweetest cat ever... but she hates the whole dicking-with-the-clocks thing more than even I do, and I didn't think that was even possible.
I sure wish that belly rubs would distract her from things as easily as it does Jake...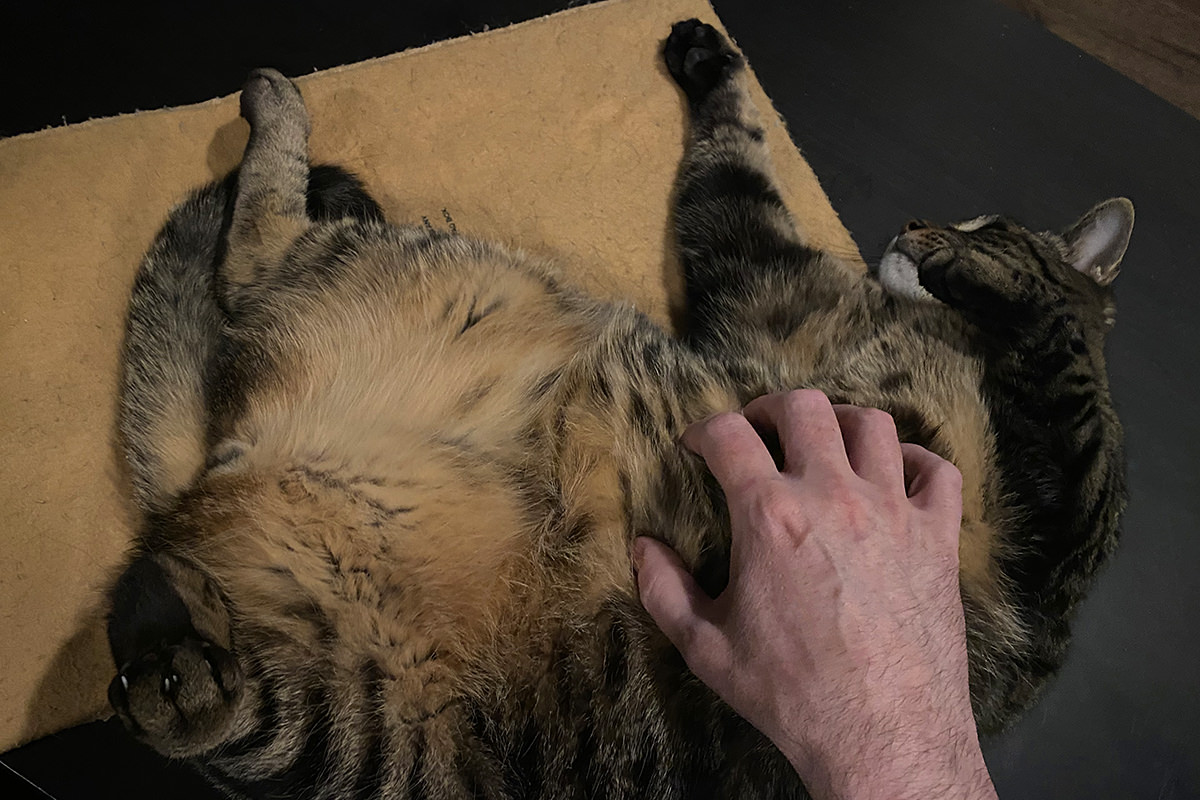 Oh well. So thrilled to think that I get to do it all over again in six months.
Posted on October 31st, 2020

Happy Halloween!
Such as it is.
I bought Halloween candy thinking that I might devise some way of passing it out without the possibility of coming into contact with The COVID. But nope. In the nearly-five-years I've been living in my home, I've never drawn the blinds. I didn't even know if they would work...
On top of that, I had removed the blinds in the cat-tree window so the kitties wouldn't get tangled up in it, so I had to board it up. It's like living in a cave now. Doorbell disconnected. Porch lights off. My cats are not happy...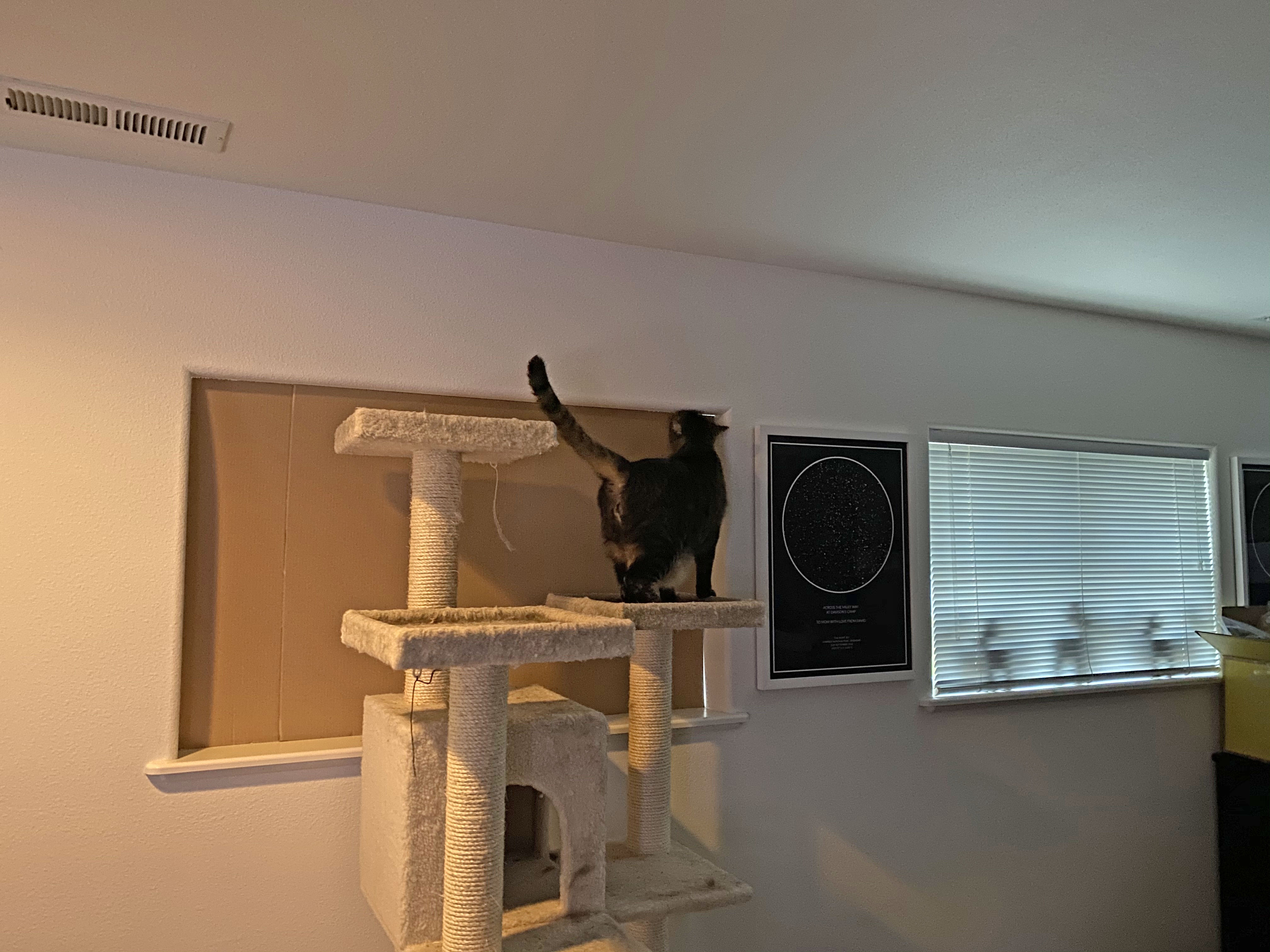 Though they would probably have been even more unhappy with the doorbell ringing and kids screaming "TRICK-OR-TREAT!, so I guess it's one of those six of one, half a dozen of the other situations.
Last week the movie version of Cats landed on HBO Max. It's just as horrific as I was lead to believe and there was just no way I could deal with it all. But then, jussssssst as I was grabbing the remote control, Jenny was suddenly invested...
Luckly, she only lasted about ten minutes, but still... that's something that will haunt my nightmares.
The good news is that I won't be having nightmares all alone. My cats are still all over my electric blanket from the minute I go to bed to the minute I wake up...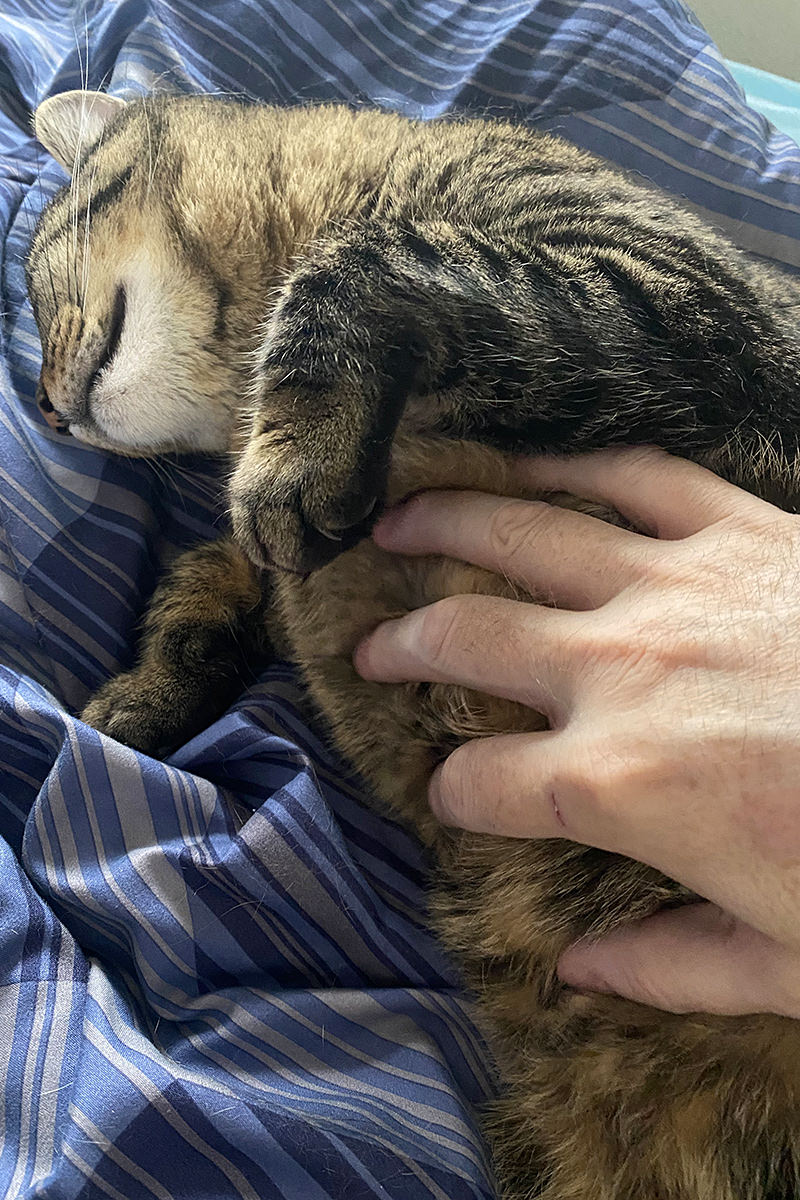 And now I suppose I'll have to deal with two rather upset cats. I explained that they could go out to the catio if they wanted to see outside, but they don't seem to be listening to me. What else is new?
Posted on October 24th, 2020

Thanks to a combination of quarantine and cold weather, I'm spending a lot of time with my cats. They mostly sleep, which is fine. The problem is that they want to sleep on the heating pad that I use for my feet.
I'll get up to take a load of clothes out of the dryer or grab a snack, and they're all over it, which I talked about last Caturday...
In order to get my heating pad back, I bought Jake and Jenny pads of their own. I was even nice enough to spend extra for a large-sized model made specifically for pets. It took them all of two seconds to completely own them. Jenny claimed the one next to me, mostly, and Jake took the one in the loveseat...
They sleep there almost all the time now...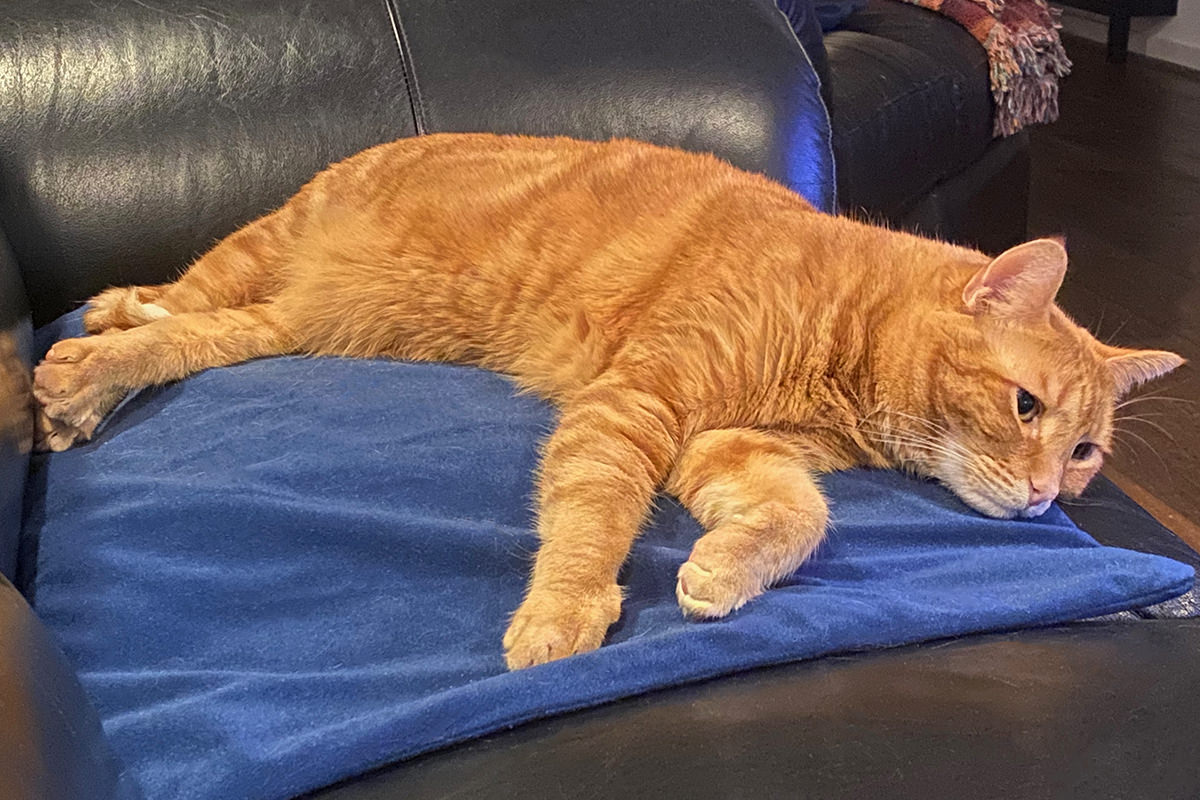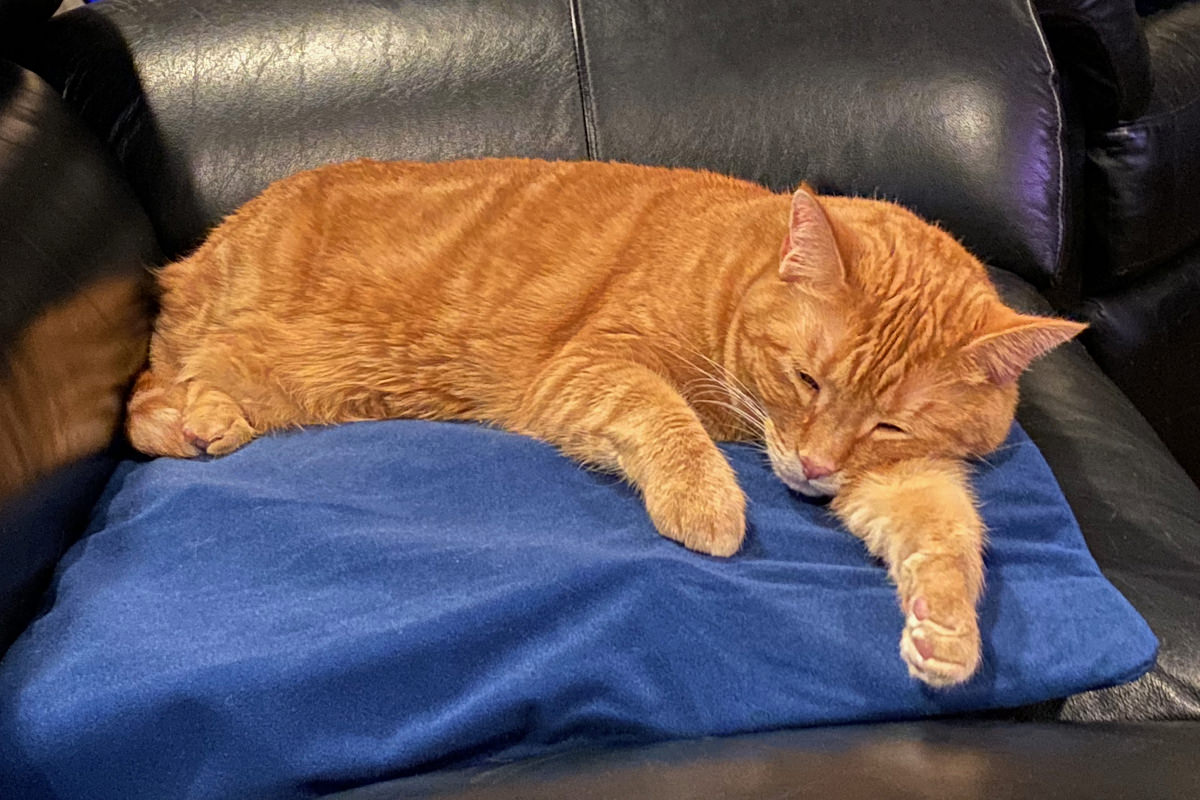 Except... they still want my heating pad too! Here's Jake being all irritated that my feet are in the way of my heating pad...
After he keeps nudging and pushing, I eventually give in...
So I switch to Jenny's heating pad, and... you guessed it...
My feet were trapped for nearly 3 hours.
About the only thing which gets my cats off their heating pads is when a fly that's looking for warmth manages to get inside the house. That gets their attention real quick...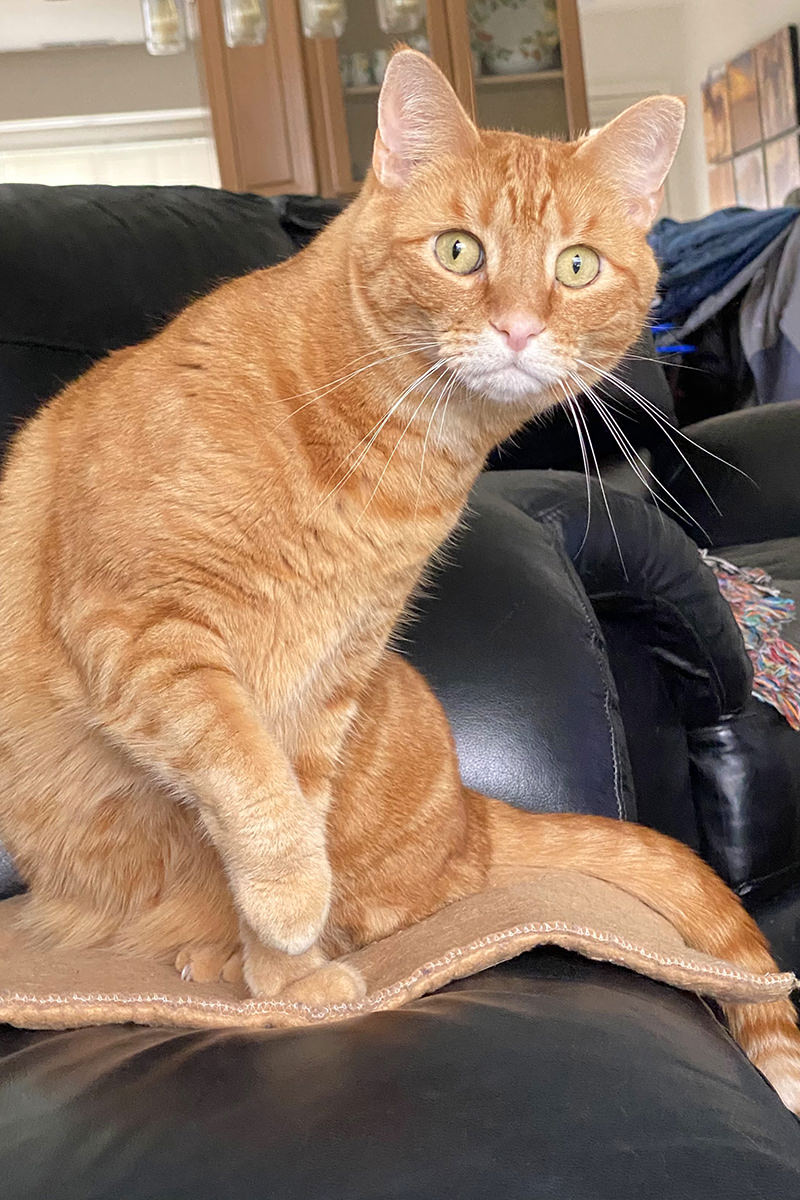 Flies remain the best cat toy ever.
If it wouldn't freak me out more than it ever would my cats, I'd just leave the door open and let the flies in so my cats would be entertained.
Posted on October 17th, 2020

Each year I try to hold off turning on the heat for as long as possible. Most years I get a couple weeks to a month. This year I got a day. But I have the heat low enough that it's still a bit chilly in the mornings when walking on the floors. To combat my feet getting cold, I wear socks and put them under a heating pad while I work or watch television.
When I can, that is.
If I get up to get a load of clothes out of the washer... or go grab a snack... or any reason at all... my cats will spring into action. And most of the time they immediately fall asleep so that they're too cute to kick off of the heating pad...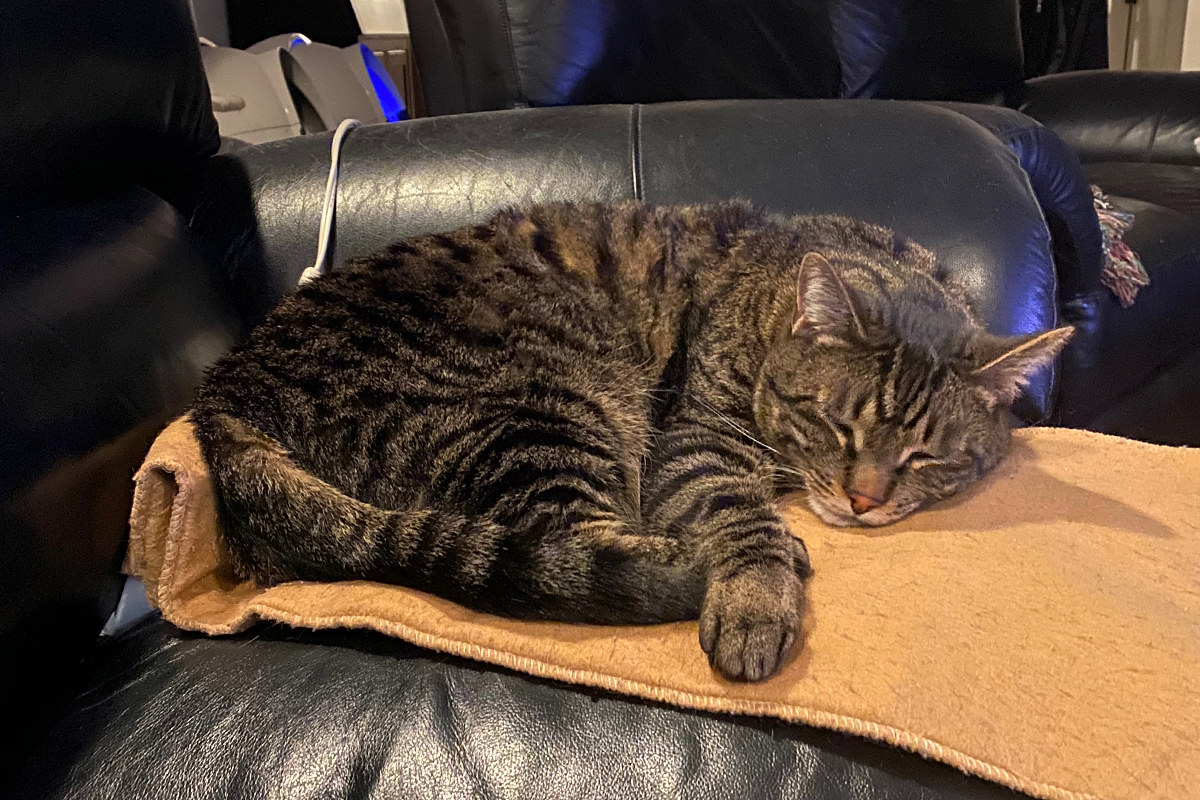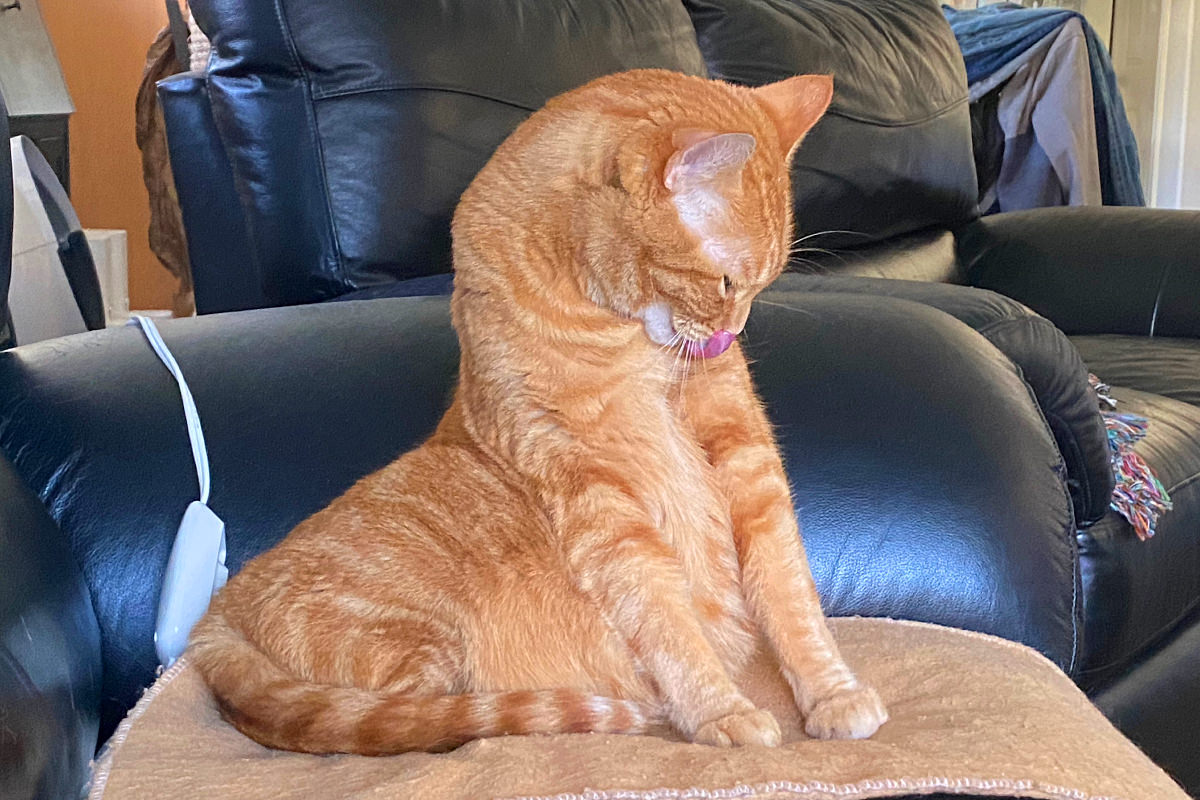 In other news...
After spilling crumbs all over the floor, Jake got his head stuck in a Cheetos bag. Again. First he was shocked and just kinda sat there being all "Well. This isn't all I had hoped for"...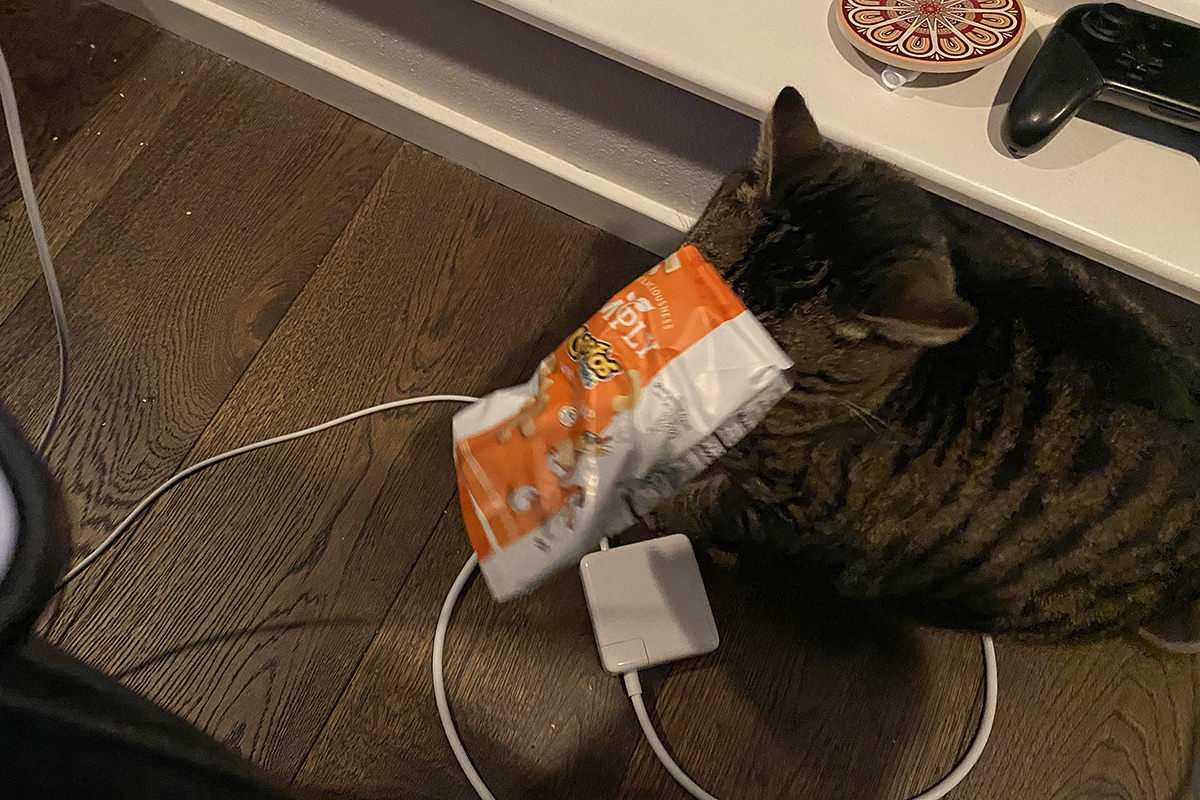 After taking this photo I went to take it off his head. Just as my hand touched it... BEDLAM. I then had to chase him around the living room as he crashed into everything. After the bag was finally off, he was just pissed... AT ME!
I'm having better luck with Fake Jake. I started dropping food down when he's around so as to distract him from running in my house while taking out the trash and stuff. Problem is that now he comes running every single time he hears my door open so he can extort food from me. Except when he came running this last time, he was too distracted to eat because he spotted a grey cat across the street...
This resulted in a fight. Not a real fight, but a play fight...
After which the grey cat came back to eat while Fake Jake stood guard...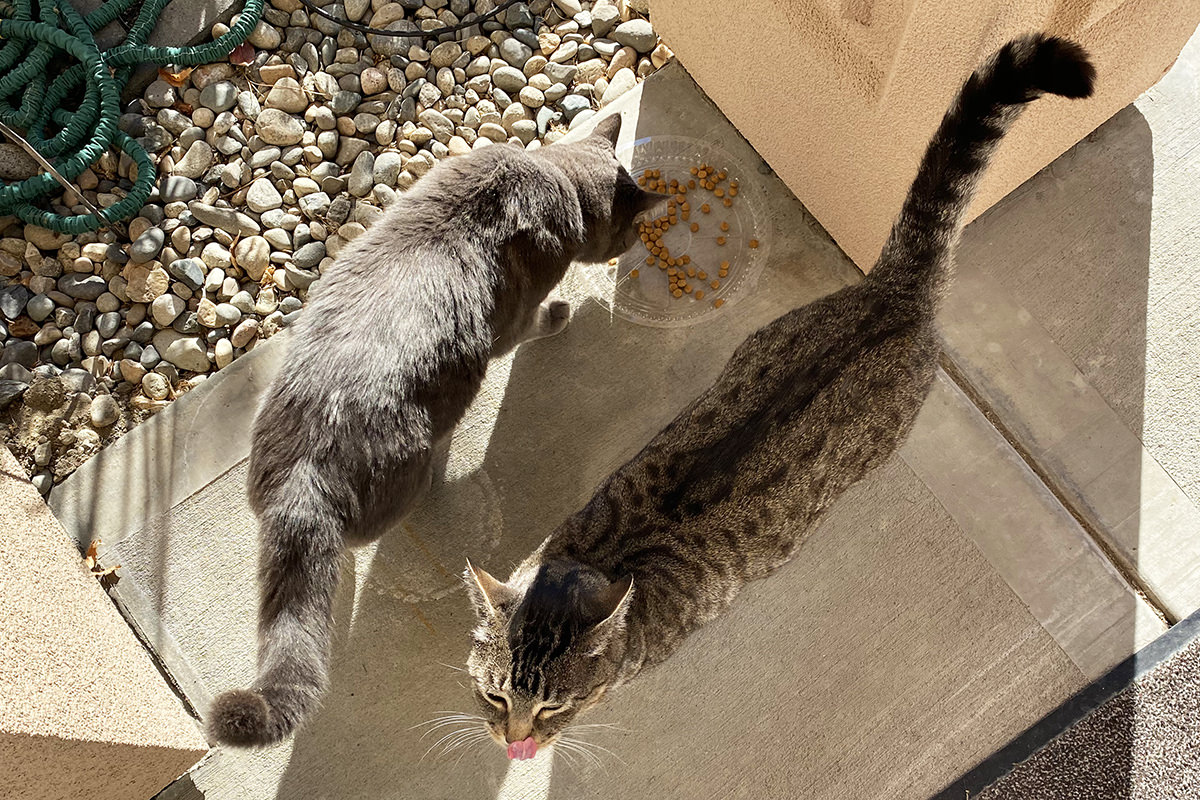 When I mentioned this to a neighbor, she told me that she thought that they were related somehow. Brothers maybe.
I wouldn't know.
All I do know is that now I'll likely have two cats extorting food out of me instead of just one.
Posted on October 10th, 2020

As Summer turns into Fall and bugs start trying to find a way inside to escape the cold, Jake and Jenny are going full-out bonkers. Bugs are like Pokémon to them, and they are compelled to Gotta Catch 'Em All.
The madness was on full display when Jenny started chasing a fly that found its way inside. She was happily batting it in the window... chasing it to another window... and generally having a good ol' time.
But then Jake came running in and things escalated to 11 in a real hurry. He was in Beast Mode and Jenny was having none of it. She ended up hiding from his mad dashes inside the cat scratcher lounger...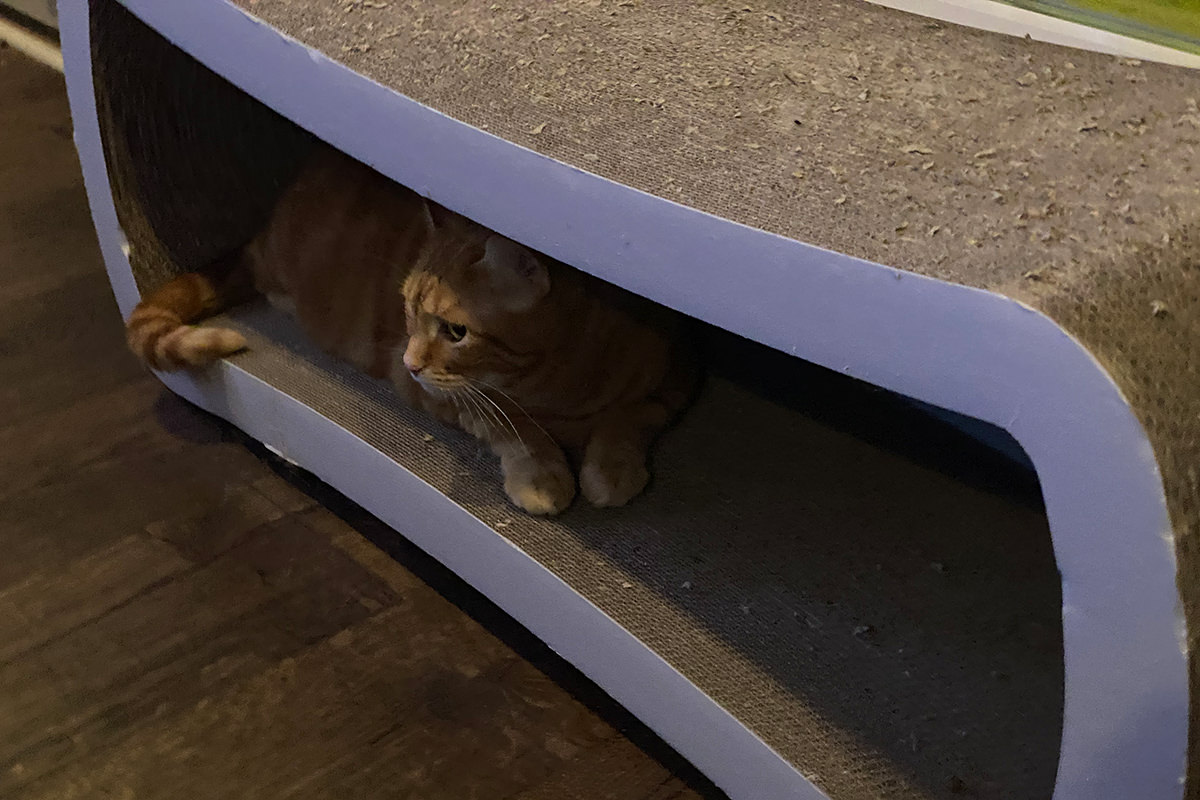 Poor thing. It was her fly first!
Speaking of Jake...
Used to be that Jenny was the one who would come up meowing when she was demanding to be petted. Now Jake is getting in on the action. He can't meow, but he can squawk. Earlier this week he hopped up on the bed, flopped on his back, then squawked until he got belly scratches...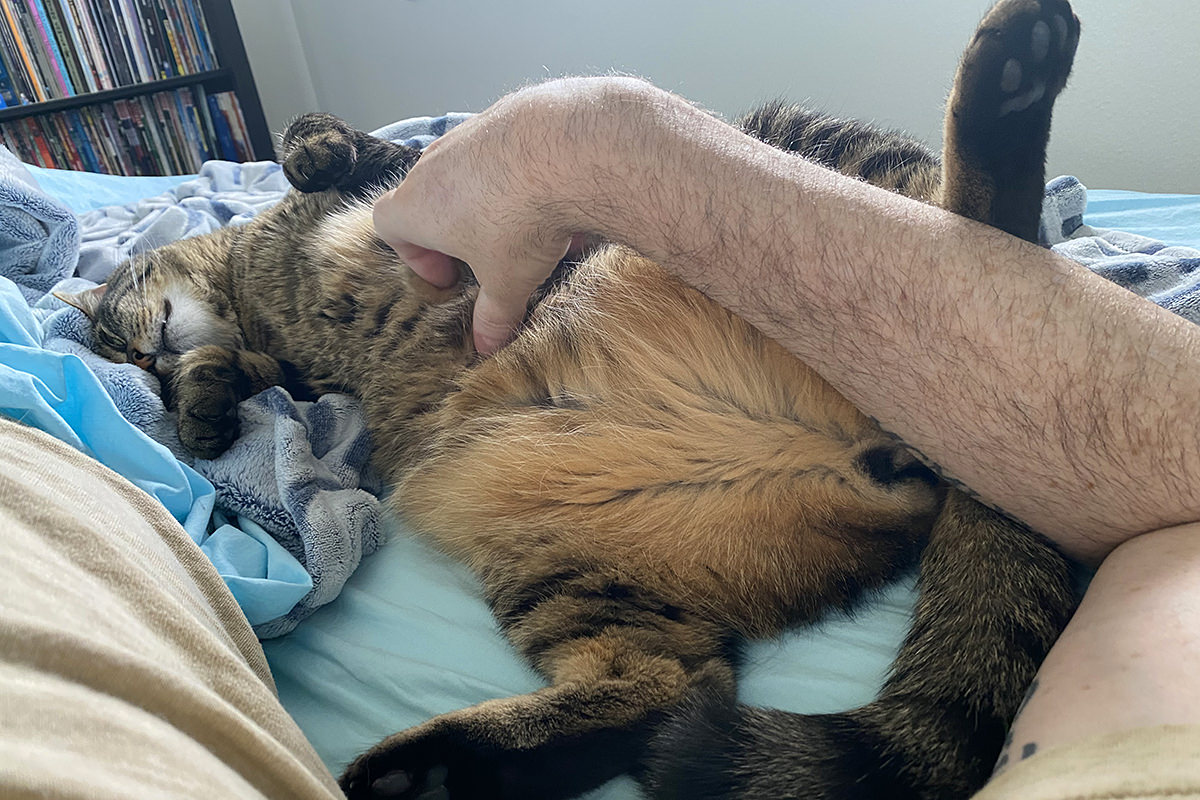 Ahhhh... that's the stuff.
After he was done, he wandered off content.
FOR ABOUT TEN MINUTES!
Then he was back to take a nap...
And, yes, this is his default sleeping position now.
If only I could lay around in bed all day like this. Must be nice.