Posted on July 24th, 2021

My cats may not be able to speak, but they definitely know how to communicate.
Jenny manipulates me with growing ease. She knows exactly how to meow to get me to give her belly rubs...
But also knows exactly how to tell me that I'm petting her the wrong way...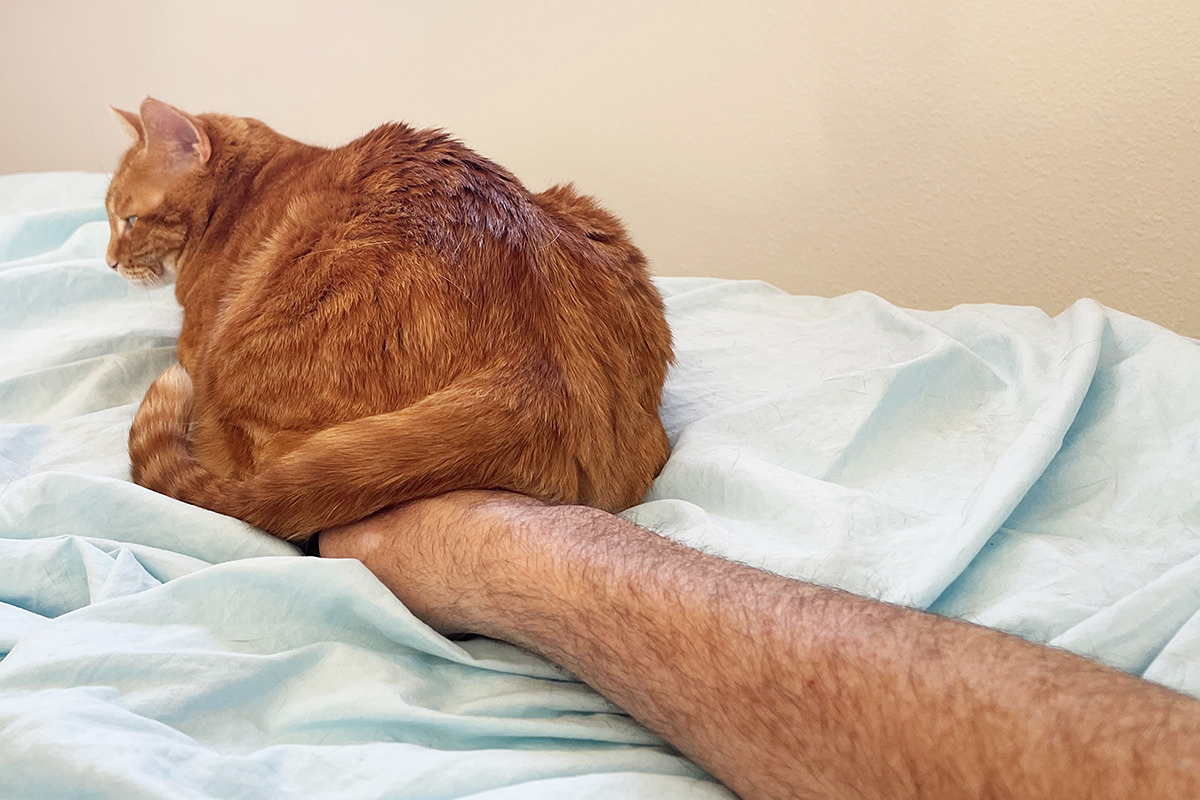 Jake isn't interested in telling me anything. He's more concerned with looking cute...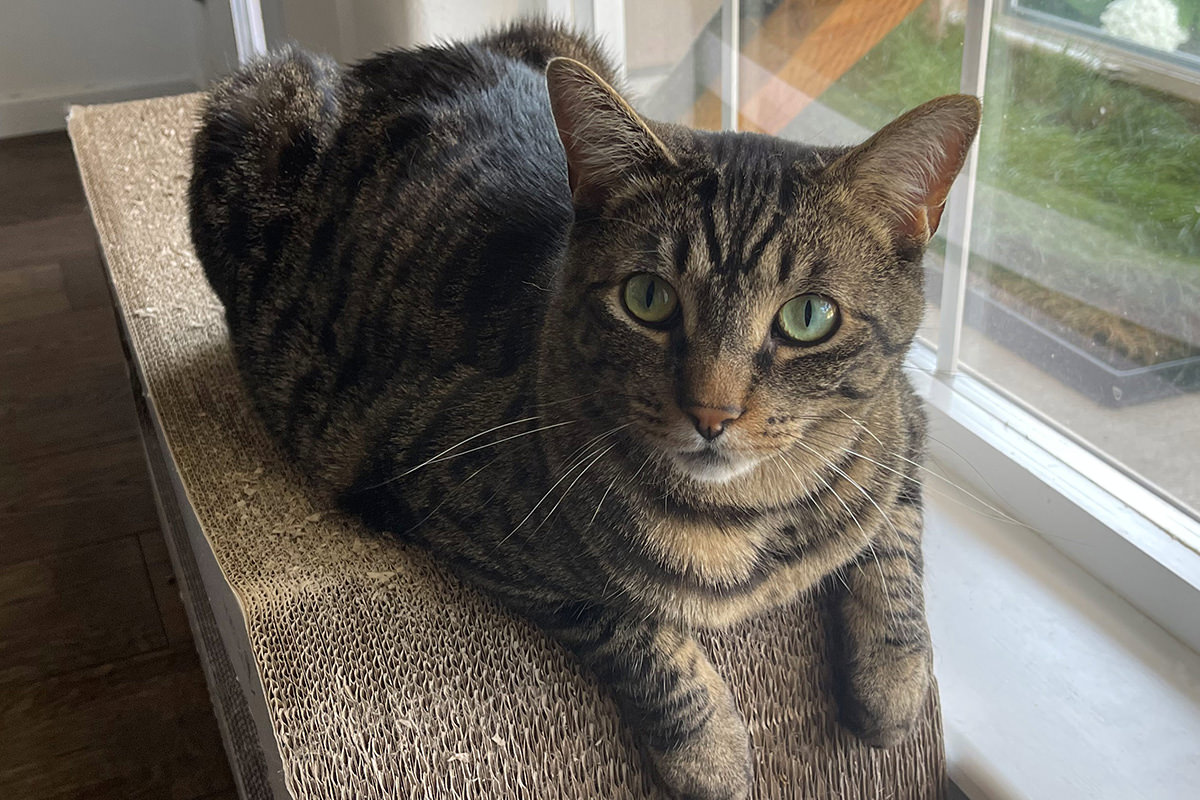 And just being cute...
Which is to say that they don't need to say anything at all.
Posted on July 17th, 2021

THUMP. BUDDA BUDDA BUDDA BUDDA. THUMP THUMP THUMP. THUMP. CLOP CLOP CLOP CLOP CLOP CLOP CLOP CLOP CLOP CLOP CLOP CLOP.
This is what I hear each time I come from work. It's Jake jumping off the upstairs cat tower... running across my room. running down the hall... then running down the stairs. It's nice that he comes running to greet me each day for scratches, and it's something I look forward to.
Jenny is more cautious. She'll wait and make sure that Jake doesn't get eaten before she cautiously slinks downstairs. The difference being that she's completely silent.
The other day I came home and heard nothing.
It happens from time to time. Jake is having a particularly good sleep and doesn't feel like being interrupted. Or he's busy chewing away on Mufasa and that's more important than welcoming be back home.
How disappointing.
And then I heard him squawking. Worried that he might be sick or hurt, I went running to find him. Only to see this...
Not sick or hurt... lazy. He didn't want to run to me, he wanted me to run to him...
Eventually he tore himself away from Mufasa and came running after me when I plopped down on the couch. Say goodbye to my spleen...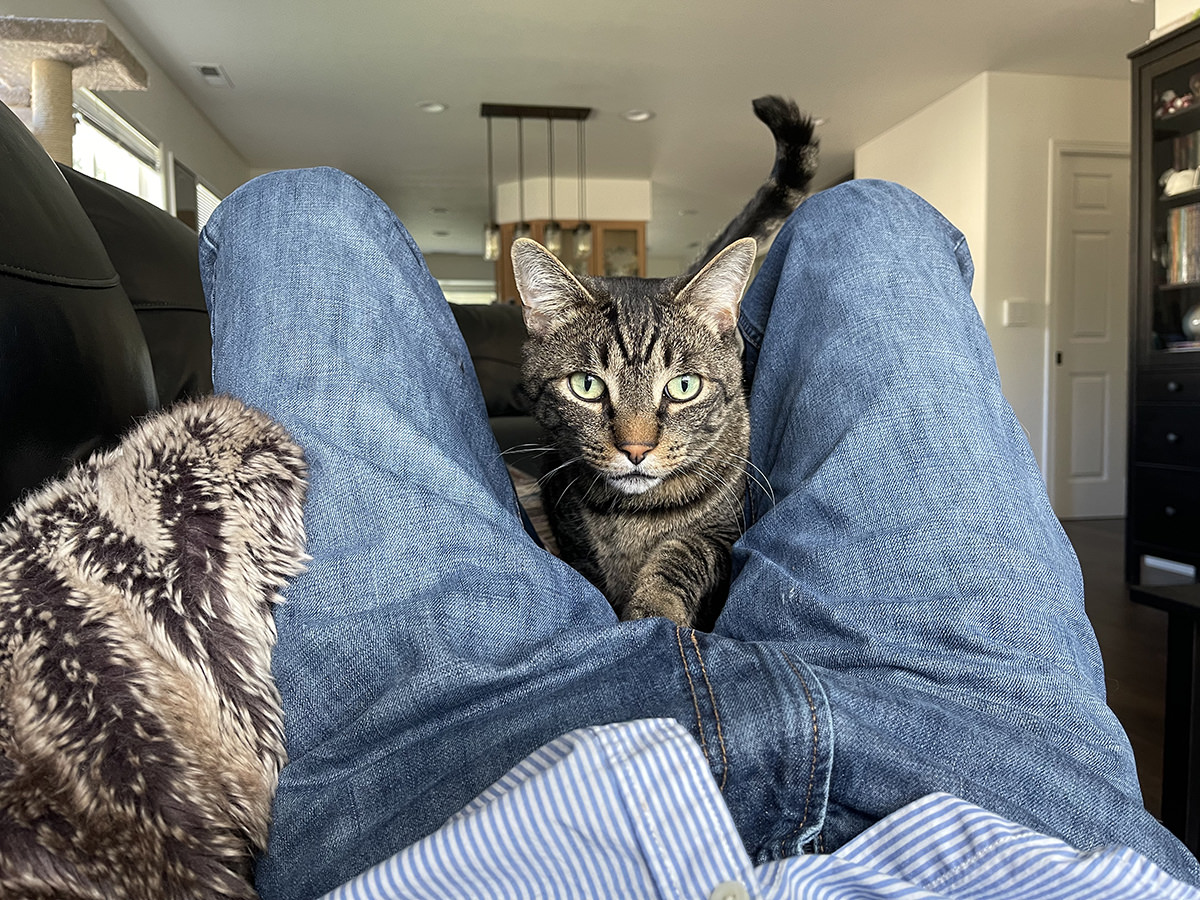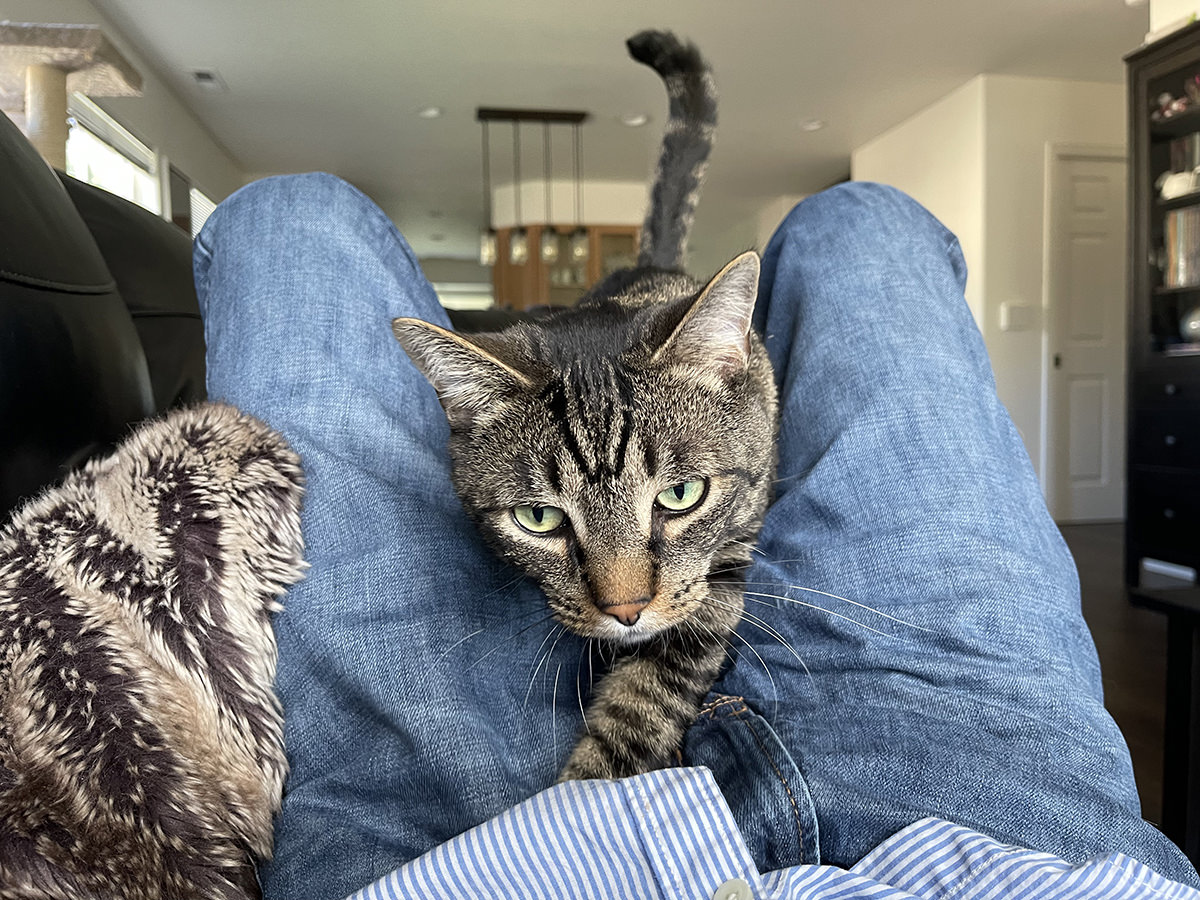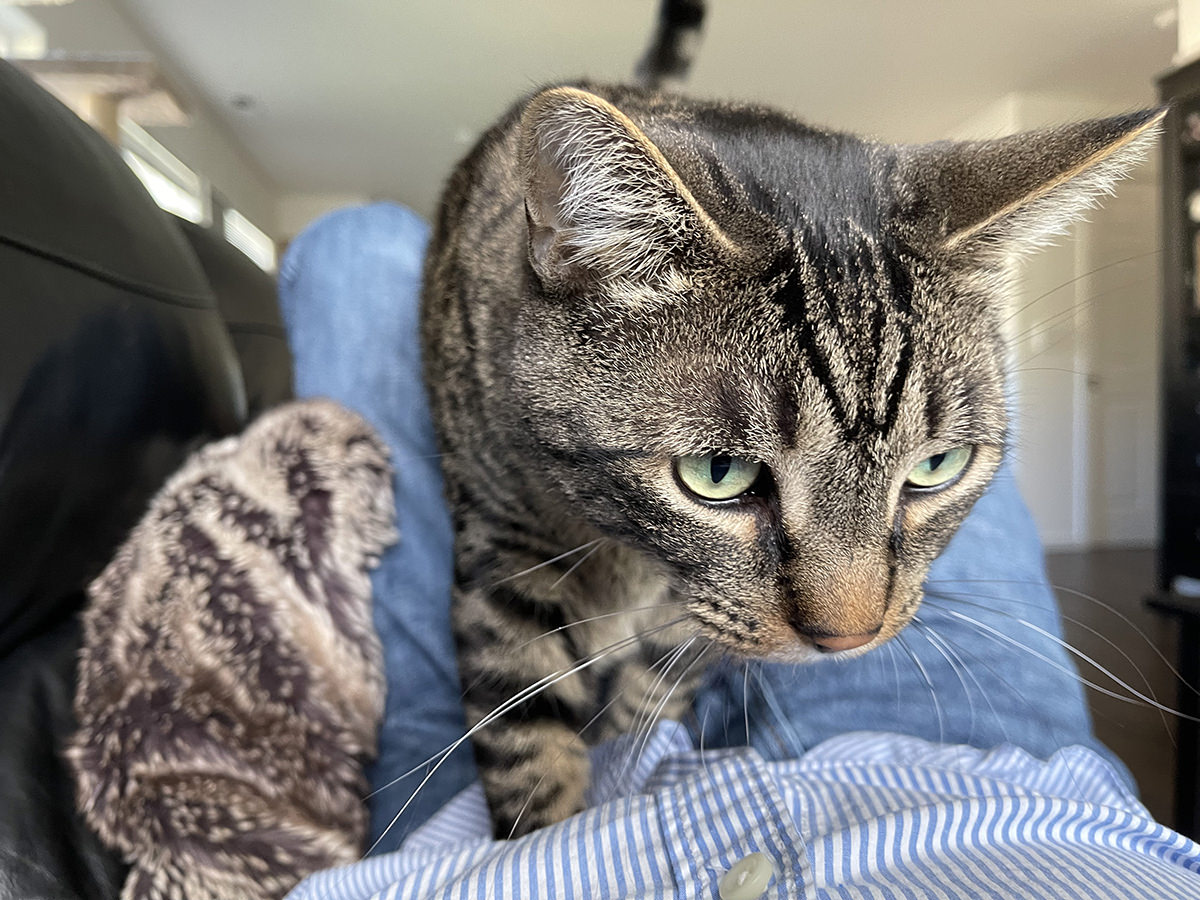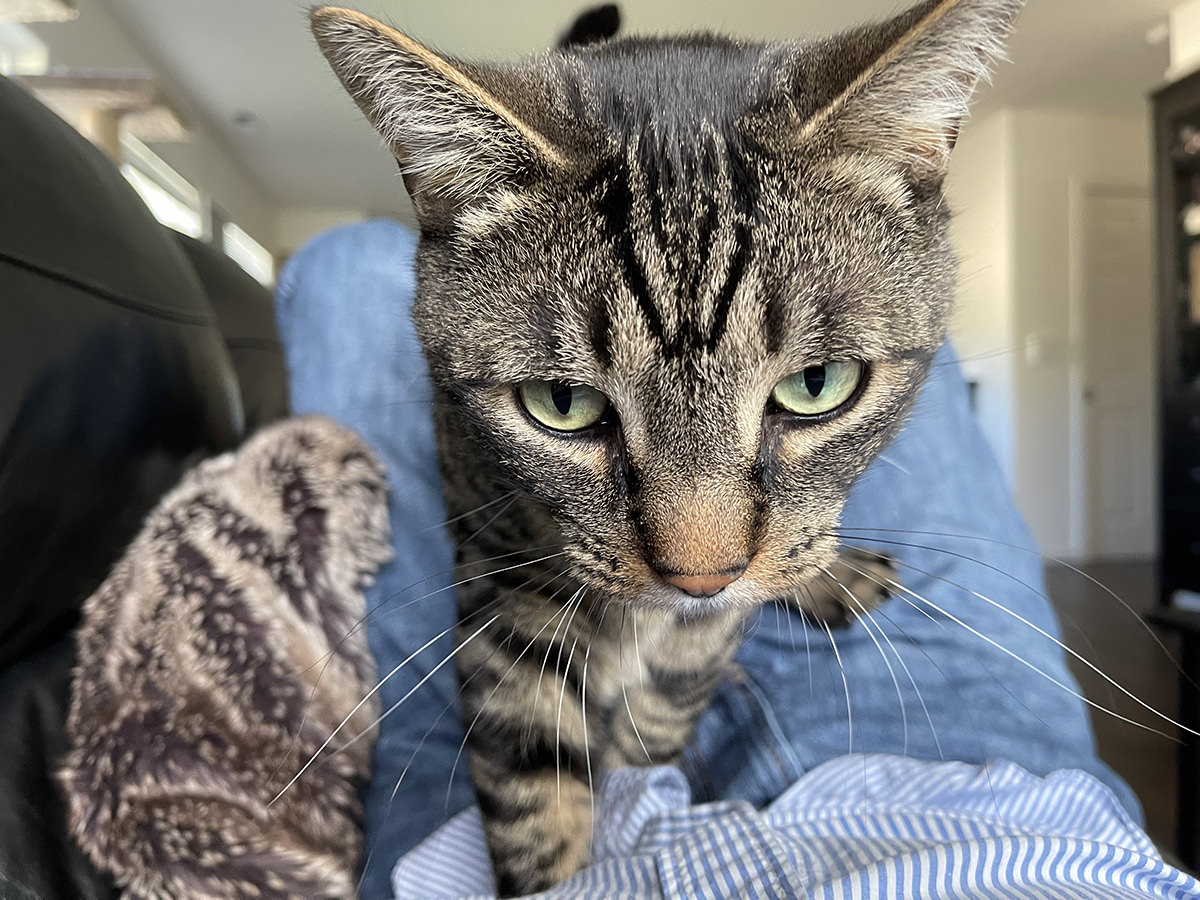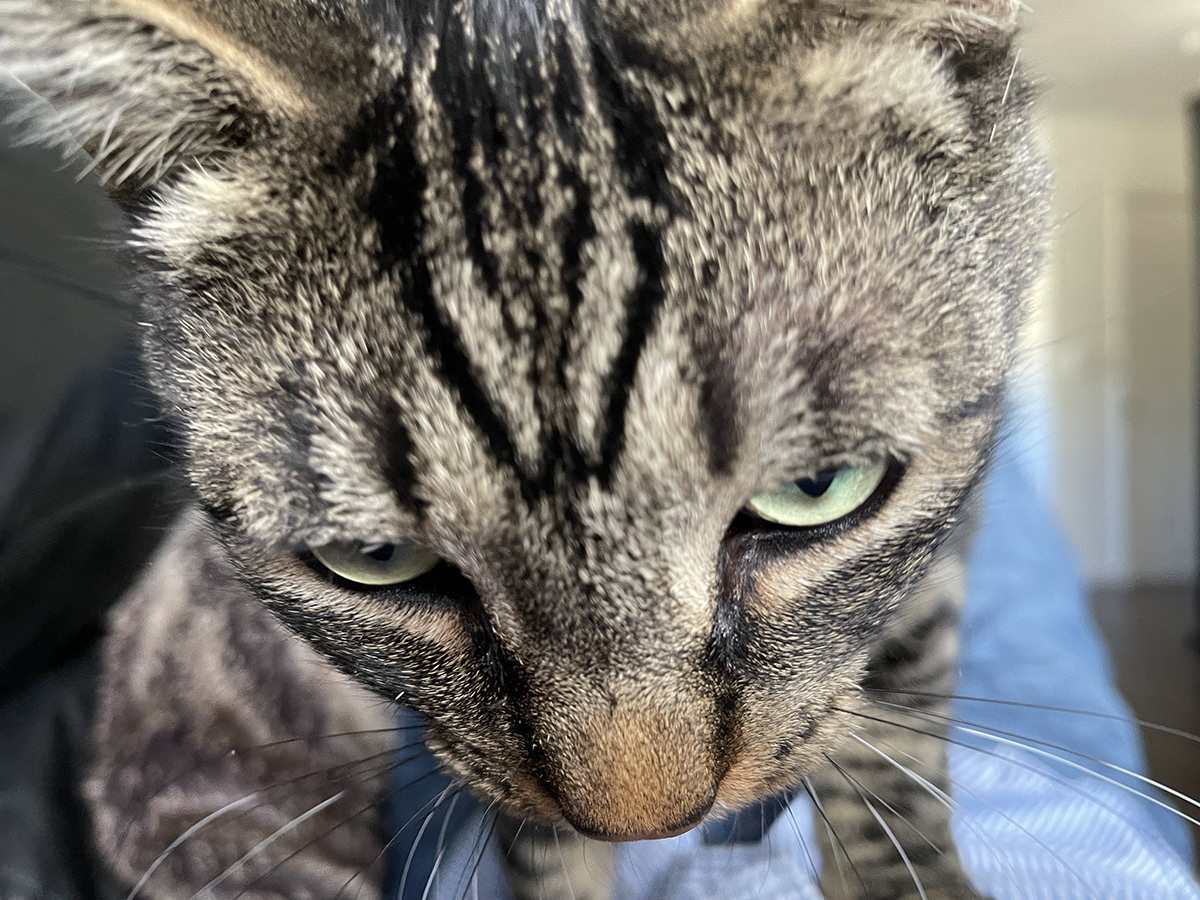 Though he was nice enough to step over my balls, so that was nice.
Speaking of Mufasa...
Earlier this week Jake piled up two of his toys... then put Mufasa on top. Then sat there squawking (turn the volume up to hear it). I guess he wanted me to come look at it? I was working, so I yelled down for him to come to bed, which he did. But then I felt bad because he was obviously proud of what he accomplished and wanted to share it.
The next morning as I went downstairs to feed the cats their breakfast I was sure to tell Jake how proud I was. He didn't care. He was over it and just wanted to be fed. Oh well. I tried.
Posted on July 10th, 2021

I am too tired to blog.
But it's not like I have a choice, do I? Fortunately, it's Caturday.
That look you get when you cough while your cat was napping...
The reason your video game controller is always covered in cat hair might have something to do with your cat's addiction to video games...
My owners are so disappointed in me.
Posted on July 3rd, 2021

When I first bought my cat grass, it started turning brown almost immediately. So instead of spraying it with a little water as instructed, I started dumping water on it by the gallons. That stopped the brown from getting worse... but had the side-effect of causing the grass to grow quite long. The cats didn't seem to mind. They'd happily lay in it and roll around in it. Which is exactly what I bought it for in the first place...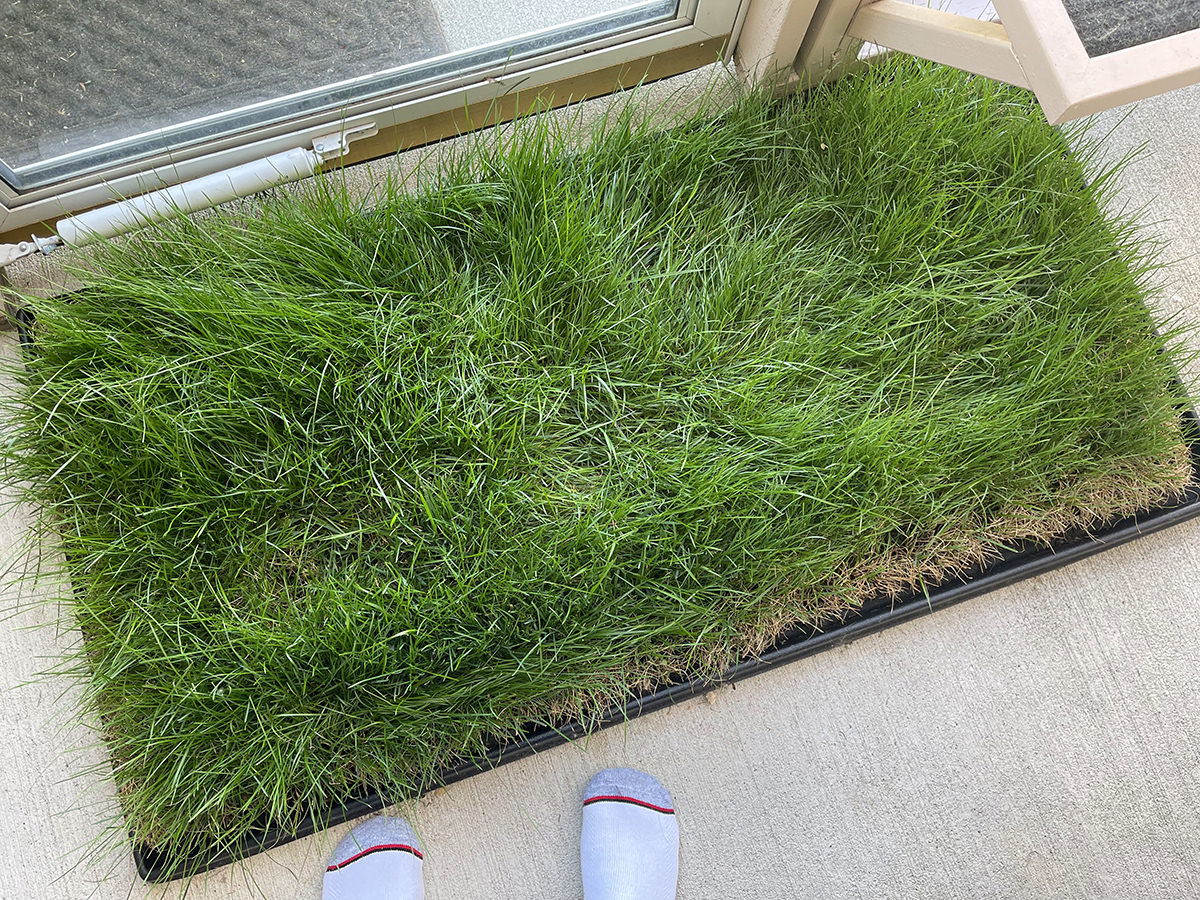 Now that it's too hot out and the cats don't like to go out, I should probably just let the grass die... but I'm genuinely curious to know how long I can keep it alive. Then, when it starts getting cooler at the end of August maybe I can order more and better know how to take care of it this time around?
Worth a shot.
Posted on June 26th, 2021

I should really know better.
And yet I never learn, because I keep ordering stuff through Kickstarter. I've only been really burned once where the people took the money and ran, but I was dubious at the start and "only" ended up losing $25 (which is still too much to lose, in my humble opinion, because I'm no Elon Musk). Out of all the projects I've backed, I've only been truly thrilled with about 10% of them. Another 20% were less than stellar. And the remaining 70% were scams or absolute garbage.
But, when it comes to taking care of my cats, I'm a total sucker, and ended up backing the "Kitty Spring" cat fountain an eternity ago. The idea of having multiple fountains around the house while I travel appealed to me, and I thought it was smart to find different approaches to the challenge of keeping my cats hydrated when I'm gone.
Turns out, I should have just stuck with a big bowl of water.
Or bought another ceramic fountain, because both my cats absolutely love that thing.
The first problem I encountered when I finally received my Kitty Spring was the size of the thing. For whatever reason I thought I'd be filling a 2-liter bottle... but it ended up being 1/4 that size. This thing is tiny.
The next problem is that it's just not that great of a design. If you don't have it on a perfectly level surface, then the water won't flow out of it like it's supposed to.
The other problem is that the dish with water in it is SO small and shallow that there's barely enough water in it to let the cats know they should drink from there.
And it's this last problem that ended up being so entertaining that it's almost worth the money I paid for a failed product! Jake was the first to drink from it. As he was drinking for that first time, the bottle made a GLUG! GLUG! GLUG! sound as water refilled the bowl that scared him.
So what did he do?
Jake attacked the thing. And even though it comes with a rubber base to hold it to the ground, the fountain is so small and light that it pops right out and spills water everywhere...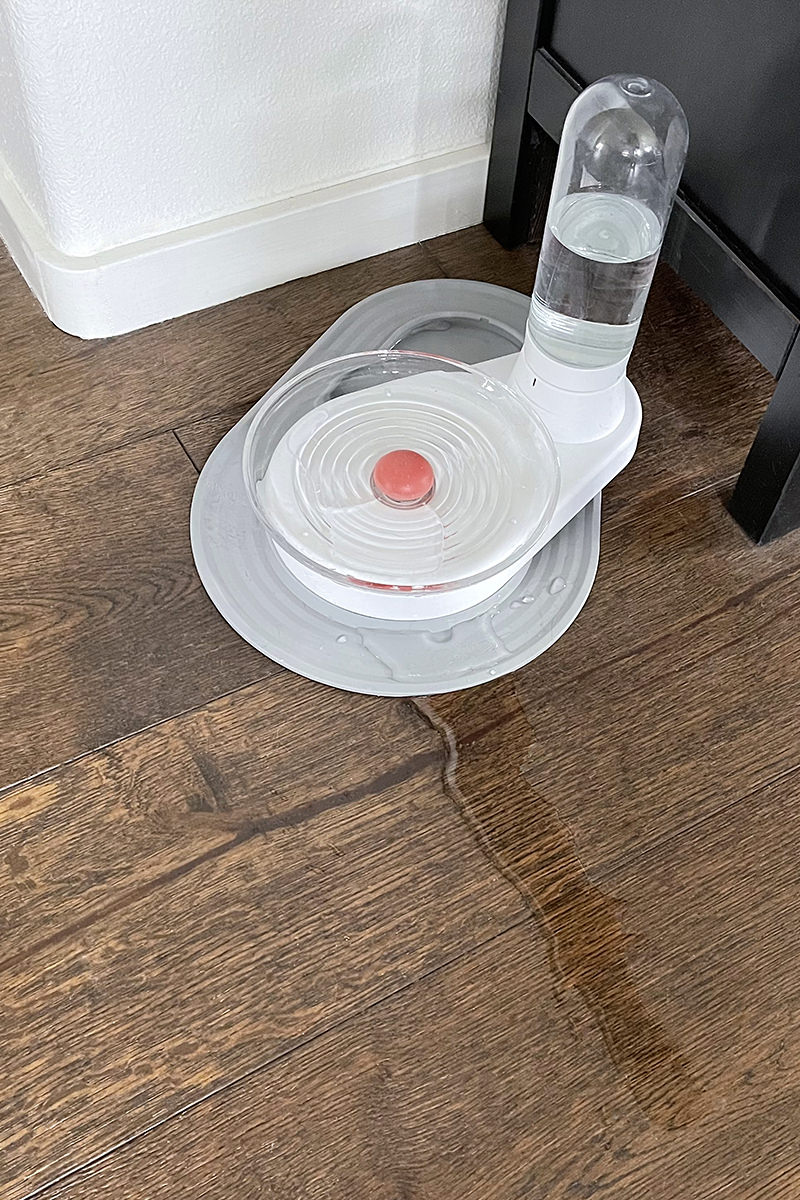 Jenny has taken a few drinks from it, but not enough to make it a source of water for her since she mostly ignores it.
Jake will drink from it sometimes, but also not enough to justify the $44 it cost me (seriously not worth it). He is no longer startled by the GLUG! GLUG! GLUG! sound... but he still beats up on it just for fun, spilling water everywhere.
AT LEAST I THOUGHT THAT'S WHAT WAS HAPPENING!
I was wrong.
The reason he smacks it around is because he's learned that doing so causes more water to come out! And I know this because I actually saw him demonstrate twice this past week. First he'll walk up to it. Then he'll start smacking the bottle around. Then he'll drink from the full dish instead of the meager amount of water that was there.
It's really genius when you stop to think about it.
There are two geniuses in my house. I'm growing increasingly aware that one of them is not me.
Posted on June 19th, 2021

I am not home for today's Caturday... I'm at the airport!
It is very, very strange to be at the SeaTac International after so long. Pre-pandemic I was here twenty times a year... then there was nothing since November 2019! I'm not here to travel, alas, but to go to my TSA interview for renewing my Global Entry card. Really wish I could have done that via Zoom, but every effort to make a Zoom appointment failed. So I had to take a 2-1/2 hour drive over the mountains instead.
In other news... Jake has suddenly realized that the alarm that sounds for breakfast and dinner comes from the Alexa speakers.
I know this because now when he's hungry in the morning and wants his breakfast, he no longer bugs me... he is wanting to bug the magical box where the alarm sounds. Apparently so he can convince Alexa to chime earlier or something...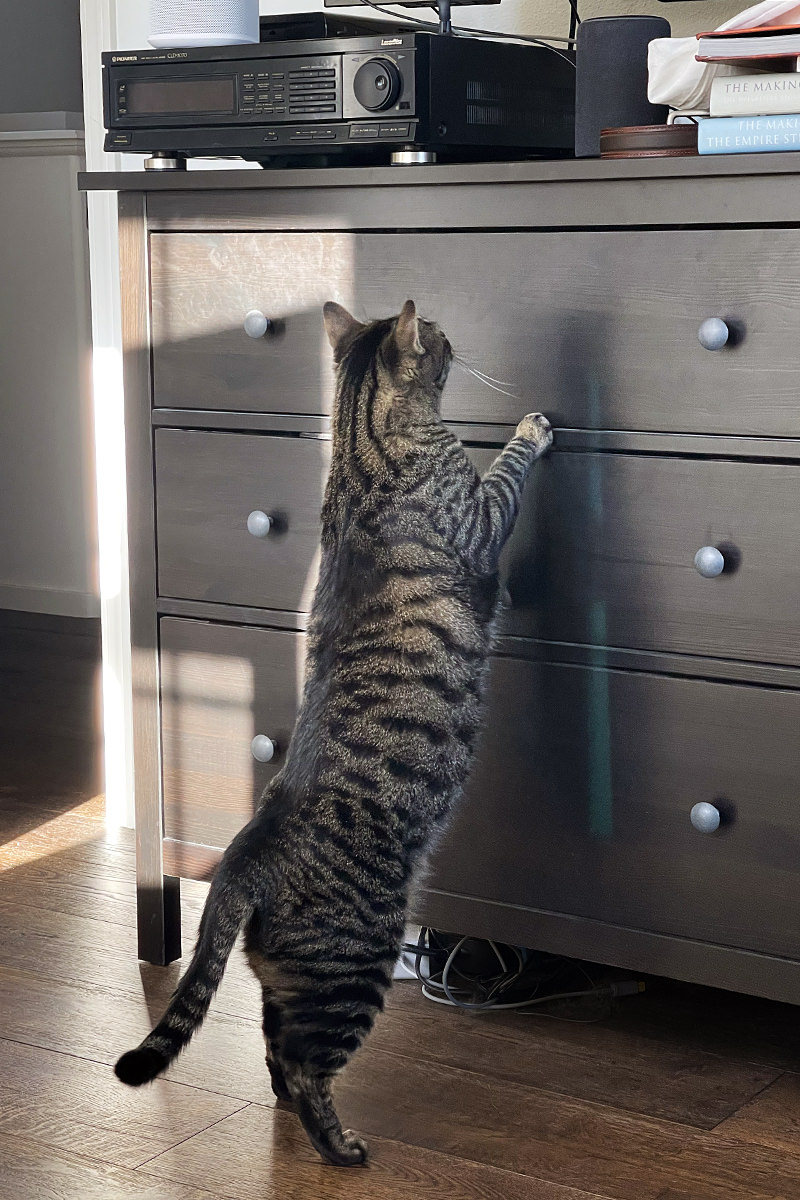 He's done this three times this past week. Patience is apparently not something Jake feels like dealing with when food is on the line.
In other, other news... bring cats...
Here's hoping that my cats are having fun without me back home.
Posted on June 12th, 2021

Still no sign of the kitten I'm trying to rescue. I should probably just accept the fact that he's move on and try to do the same. It's tough though.
Now that Summer is (mostly) here, the cats can't seem to tear themselves away from the catio. More often than not when I come home from work they'll be out there sleeping or keeping watch over their kingdom. Oh... and another thing they do? Chatter at bugs and birds running around on the roof. Usually one of them will run up when they see something interesting to chatter at whatever's going on... then the other one will get FOMO and have to run up and see what's going on...
Sometimes I'll get an alert on the catio security camera only see my cats taking serious chances trying to catch bugs or swat at birds. It's heart-stopping given that I can't really afford a vet bill right now if they fall and hurt themselves...
And speaking of the catio... It really is the gift that keeps on giving. I finally got a good video of one of my cats climbing my massive pole where they're at a good enough angle that you can actually see them...
Go, Jenny! Usually they are climing on the far side of the pole so all you can see is their little paws moving up the pole, but every once in a while they climb up the side. Fortunately I actually though to save it this time!
And now it's time to go change the food in the trap so that assuming the kitten does come back, he's not eating old, crusty junk. Fingers crossed.
Tags:
Cats
,
Caturday
Categories:
Uncategorized —
Click To It:
Permalink
—
0 Comments: Click To Add Yours!
Posted on June 5th, 2021

Still hacked.
I honestly don't understand how this stuff happens. Apprently there was a vulnerability somewhere that my protection plugin didn't catch. It only alerted me to the fact that files had changed, and when I look at the source code, I see it there... I just don't know where it's being injected yet.
Reeeeealy hope I don't have to restore from backup.
This will be the look on my face if I have to do a restore from backup...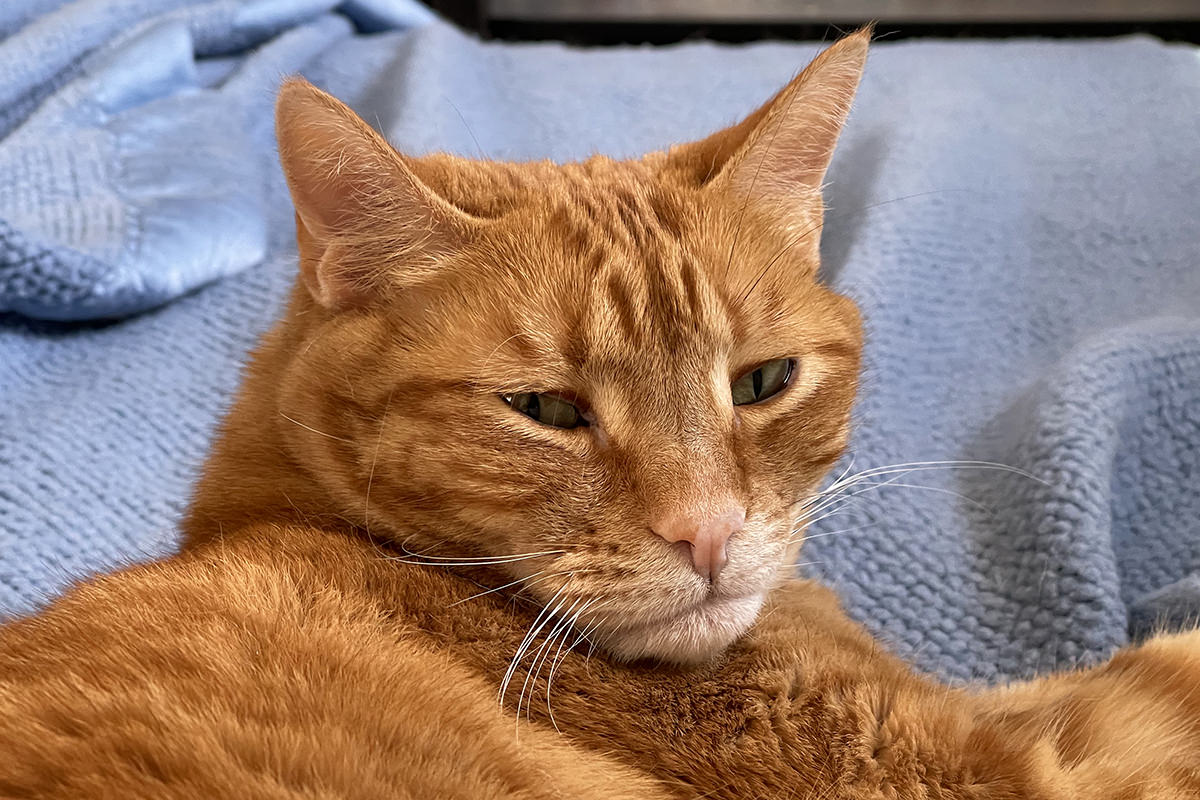 It's Caturday, after all.
Posted on May 29th, 2021

I have loads of photos of my cats. But photo after photo gets boring, so I was looking for something different. I didn't know exactly what that was going to be until I saw one of my long-time blogging friends was painting rocks that she hides for people to find. She paints a lot of cats, so I thought I'd ask about hiring her for a commissioned set for Jake and Jenny. Lucky for me, she accepted. And today they arrived!
There's Kitten Jenny, Adult Jenny, Kitten Jake, and Adult Jake hugging Mufasa. Kim also gave me two Taco Cat rocks to hide.
The only thing I told her is that Jenny needs to have her trademark frowny-face. Everything else... including Mufasa... she came up with entirely on her own! How awesome is that? She captured them perfectly, and I couldn't be happier.
Now I need to build a shadow box to display them.
You can find Kim's Instagram by clicking here.
You can also find her on her Facebook page right here.
Posted on May 22nd, 2021

Whenever I see another cat exploring the great outdoors of my back yard while Jake and Jenny gaze out at them from the catio, I can't help but feel a little bad about it. They're such scaredy-cats that roaming free would probably be traumatic for them (it certainly was for Jake when he escaped!) and even more traumatic for any birds in the area, so I try not to let it bother me too much though.
In an effort to take the guilt away, I bought a "Fresh Patch Cat XL" to drop in the catio so they could at least have some nature to walk on or roll around in or whatever. The stuff is available in different sizes, but I opted for the largest 2' × 4' size to make it more lawn-like. What fun is a miniscule patch? It's grown without dirt and only requires a daily spritzing with water to stay fresh. It's supposed to last three to four weeks, but I'm hoping that it last longer since Jake and Jenny won't be peeing on it and taking dumps on it like a dog would.
The smaller patches come in a waxed-back box. The largest patches do not, so I ordered a tray to go with it. I thought it would be a flimsy thing and was prepared to build a frame for it, but the thing was really tough! The grass itself is okay... though it had sludgey spots and was yellowed already along one side.
After flopping the tray down, all I had to do was roll out the grass and it was ready.
At first, Jake wanted nothing to do with it. But Jenny? she was very curious...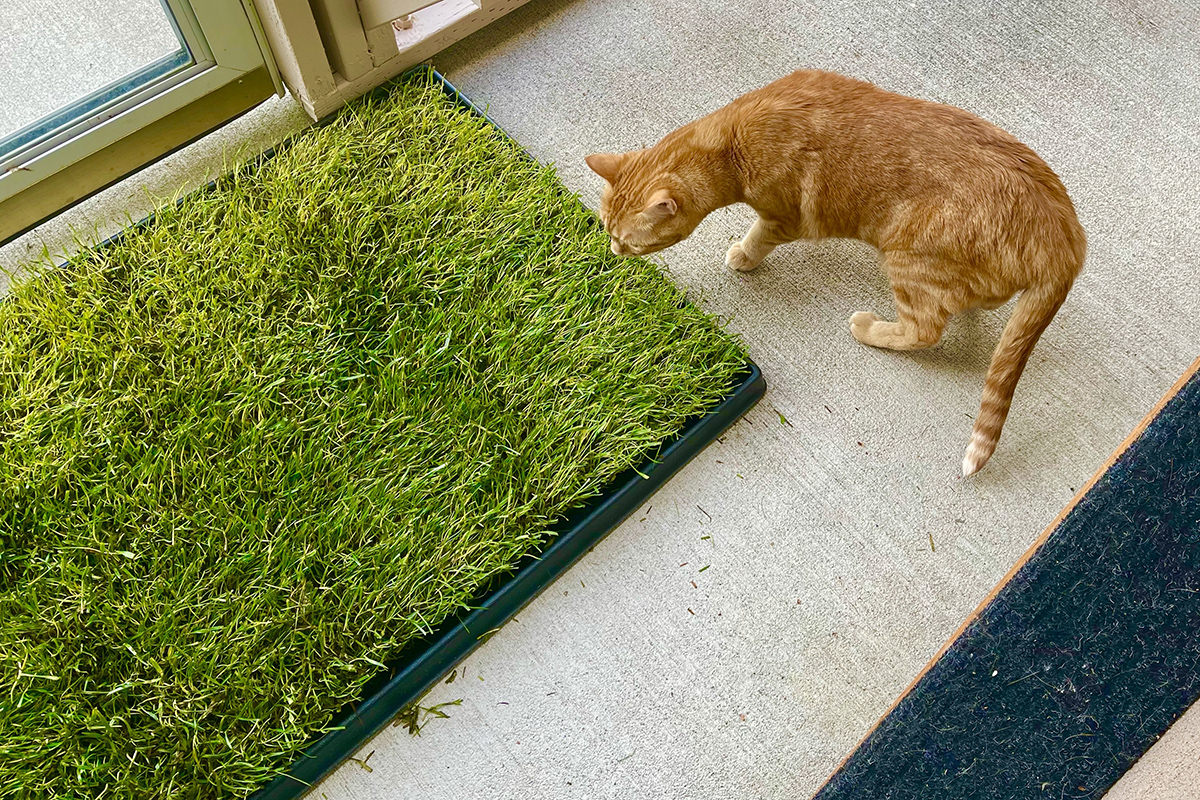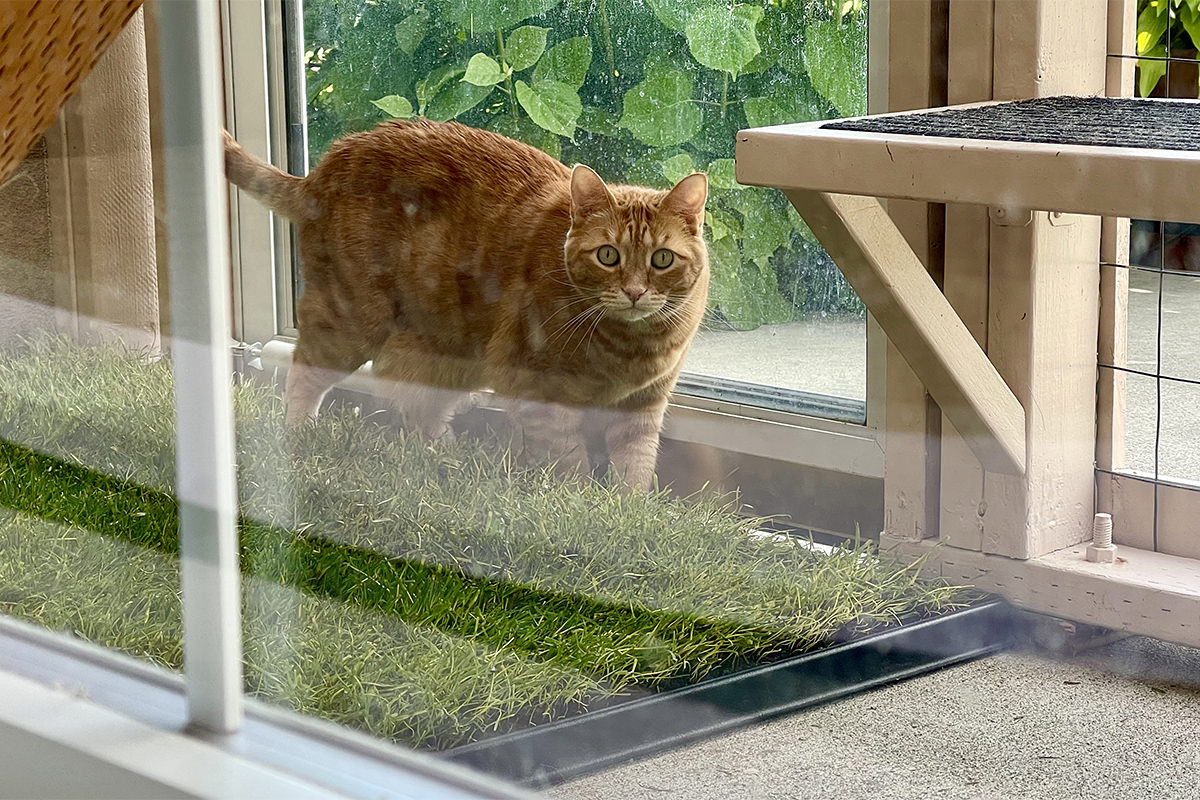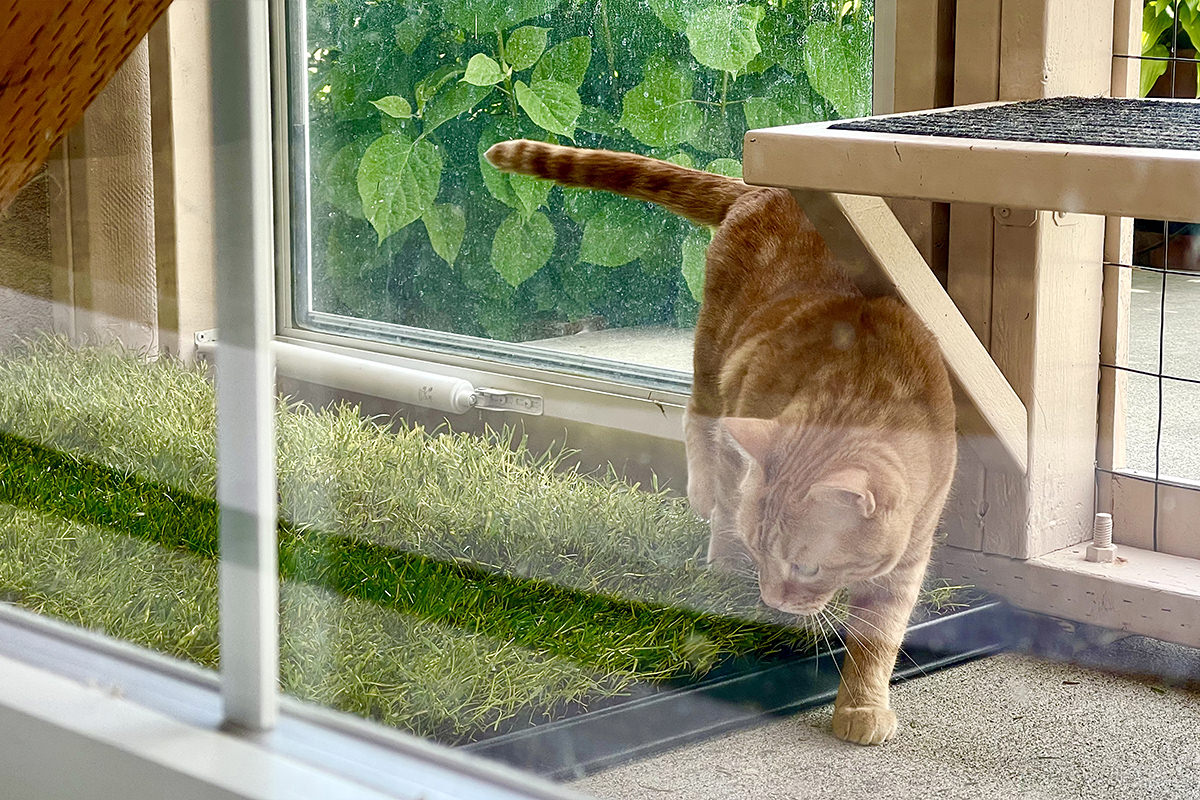 Eventually Jake was onboard though...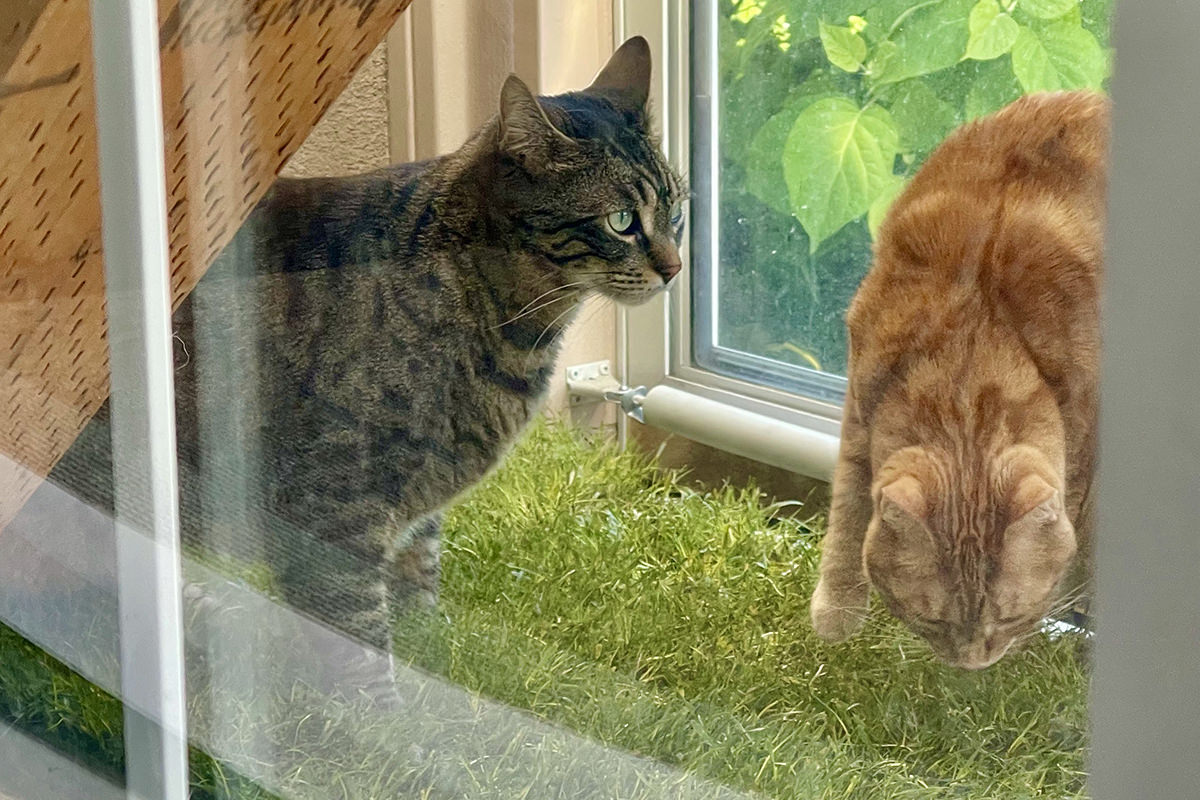 I'm not sure if this will be a passing phase like just about every toy they've ever owned... or if they're in it for the long-haul. I'll have to see how things pan out before having to re-order in three or four weeks.