Posted on April 25th, 2020

The more I stay at home... the more clingy my cats get.
Especially Jake, who is spending all night, every night on my bed. He comes in, flops down, then snuggles up next to me. He's there when I fall asleep, then still there when I wake up in the morning. Sometimes he gives himself a bath first...
And then.. flop...
Sometimes Jake doesn't bother with a bath. He just goes right to sleep... covering his face because I had the lights on...
When he's out-out and has stopped purring, I always go in for a belly rub...
You'd think that he'd wake right up. But nope! He was like this for over a half-hour. Like he's stuck..
Last night I went to bed early and was watching television. Jenny loves watching television with me, so here she came...
After a few minutes she was totally invested in whatever was on the TV...
The fun and games were over when Jake showed up for bed and decided to give her a facial...
Then, because Jake feels that the bed belongs to him at night, so he chased Jenny off, the little shit-head...
But don't worry. Jenny has her revenge. Usually when she runs across Mufasa and hides it somewhere. Earlier this week I went to take my morning shower and there was Mufasa...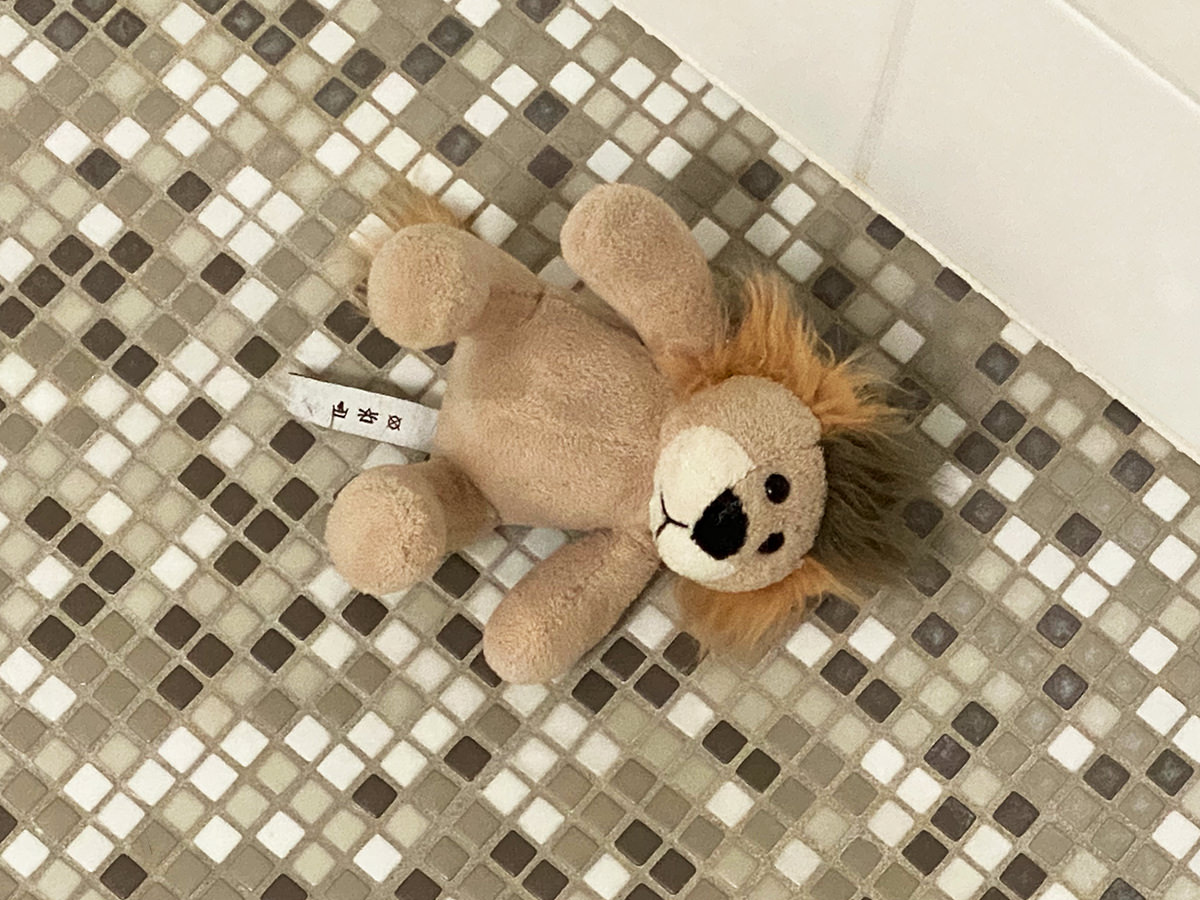 I always feel bad for Jake... no matter what he's done to deserve it... so whenever I find Mufasa I will usually go find Jake so he can have his toy back.
Have a great Caturday, everybody.
Posted on April 18th, 2020

I know from my security camera systems that my cats spend most of the time when I'm away sleeping. Within a half hour of me leaving the house, they are off napping somewhere. On a regular office work day for me this means that they are sleeping from 8:30 to 4:00. If I'm gone traveling, they sleep all day and all night, waking up only to eat, drink, or go to the bathroom. Occasionally they'll saunter out to the catio or look out the window, but it's mostly sleeping.
And now that I'm home a lot more than usual?
They are awake a lot more than usual. Sure, they still sleep for hours at a time... but they want to sleep near me while I work or play video games or watch television. This can cause a problem for Jake, because he tends to blend into the background. Especially the fuzzy blanket I got at a Christmas gift exchange which I leave on the couch...
He loves that thing. But, as you can imagine, I've come close to sitting on him more than once. I've have to really remember to make sure he's not dozing away if I'm going to sit on that blanket.
See where his head is? Take your time, because it's not where you think it would be. That's how he sleeps. I have no idea how or why, but that's how he does it.
As you can imagine, spending more time awake is more opportunity for conflict... even if it's play conflict. The other day I was watching Jenny giving herself a sun-bath out in the catio. Jake decided he wanted to sit where she was sitting, and took a swat at her. Now, most times, Jenny will decide it's not worth the trouble and wander away so Jake can have his way. But lately? She is not having it...
Jenny may only be 2/3 the size of Jake, but she can and does hold her own when she feels like it.
Lately for me, "holding her own" means demanding belly rubs whenever it occurs to her that she wants one...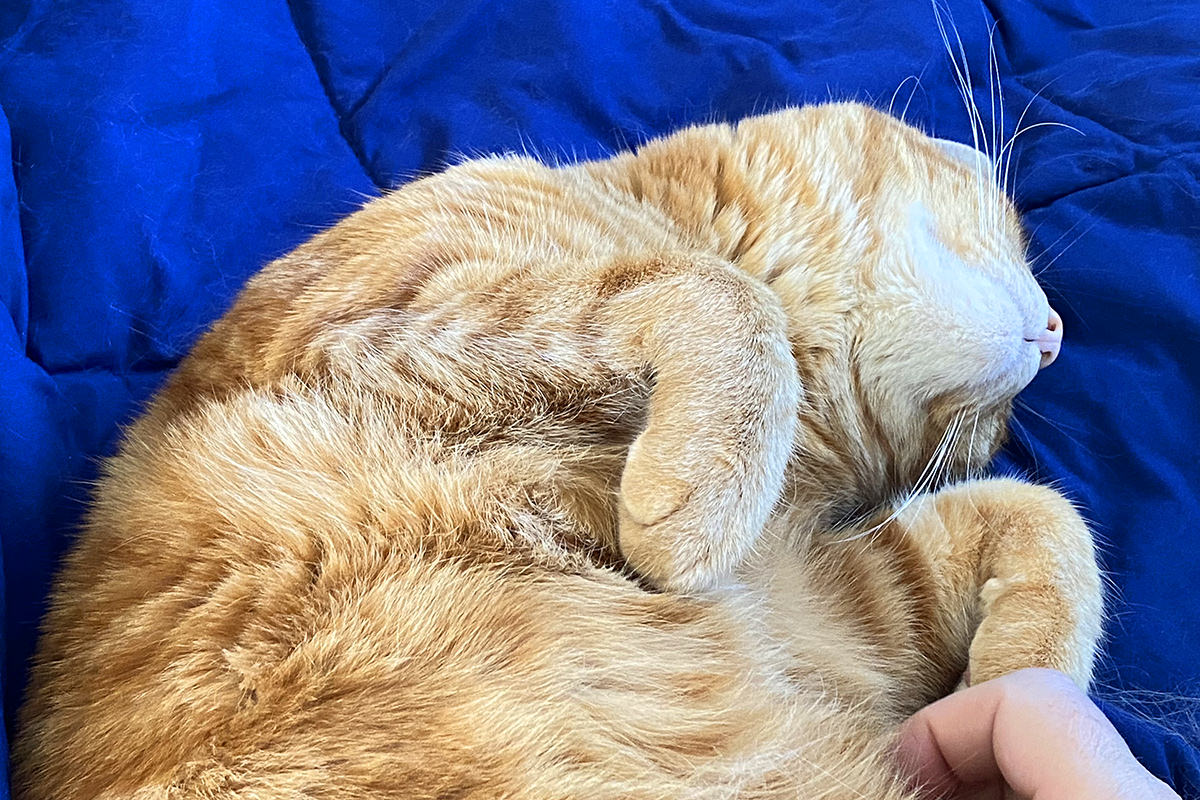 Seriously, she will meow and fret until you give in.
I always give in.
Posted on April 11th, 2020

Jake and Jenny are mostly happy to have me home so much.
They like hanging around me, so now they get to do that a lot more. They also like interrupting me when I'm working, so now they get to do that a lot more too. The begging for treats was unbearable at first, but now they're understanding "no," so there's that.
Times like this I'm grateful that they have a catio. The weather has been really nice lately, so they spend hours out there playing and sleeping in the sun.
In other news, my Facebook feed has been filled with videos of cats avoiding obstacles and it's my new rabbit-hole to fall through on YouTube...
And now, since there's not much else going on with my cats and because you may be needing a break from the horrors of the world... here's Baby Jenny having big fun with Baby Jake's tail...
Aw, kittens. I miss that. Makes me wish I had two more.
But not really. I can't imagine being quarantined with four cats.
Posted on April 4th, 2020

I had somebody read about the cat feeding station I built (I needed a way to clean the cats' eating area easily), then email me to ask just how messy Jenny could be when eating. The answer is... very. She loves loves love wet food, but she won't bite it. She always licks it. Problem is that she barely gets any in her mouth that way, so I bought a small blender so I can liquify her half of the wet food for every meal. That way she can lick it all up and be happy as a clam.
After she's done eating it looks like a murder scene or something...
That was after last night's dinner. This was after this morning's breakfast...
I always clean it after breakfast, though in the summer I usually clean it after breakfast and dinner because I don't want to attract bugs.
Is it a lot of trouble? Yes. Would my life be easier if I fed my cats only dry food instead of dry and wet? Sure. But I love my cats entirely too much, and this is what you do to keep them happy.
They're totally worth any amount of trouble...
Last night I watched my two Quarantino movies after I had blogged for the day, so I'm going to plop them right here. My double feature was Django Unchained and The Hateful Eight...
Django Unchained is one of my all-time favorite movies. Period. It's a really cool flick filled with terrific characters and fantastic performances by everybody involved. Easily my favorite movie each from Jamie Foxx and Leonardo DiCaprio, the biggest surprise was Samuel L. Jackson playing one of the most loathsome characters in cinematic history. He is vile. Christoph Waltz didn't have the exceptional material that rocketed him to stardom in Inglourious Bastereds, but he makes the most of his every scene.
My least favorite Tarantino film is Death Proof... not because I don't like it (on the contrary, I love it), but because the rest of his films are just so amazing. The Hateful Eight is in the same boat, coming in just ahead of Death Proof. I love it... and if it were in any other list it would come out near the top... but in a list for Tarantino is comes out near bottom just because some movie has to. This movie is more subtle all the way around, giving us a closed-door mystery with some decent intrigue and stellar performances. It's also one of the most beautifully-shot Tarantino film with the second best red herring in "The Lincoln Letter" (#1 would be "The Briefcase" from Pulp Fiction).
And now all that's left is Once Upon a Time in Hollywood, which I will be watching tonight.
After which I will have to resist the urge to watch all of Tarantino's movies all over again.
Posted on March 28th, 2020

If people could see me talking to my cats, they would think me insane.
Jake likes me to talk to him though, and actually talks back. He can't meow, so he kinda squawks, but I know what he means.
Jenny just stares at me for a minute... then looks away like she's embarrassed for the both of us.
As you can imagine, in the day-and-age of Washington State's "Stay-At-Home" order, I am awfully glad to have my cats around. More and more every day. They keep me company... and definitely keep me entertained... which is something I'm happy to have while in self-imposed exile.
Even if my cats sometimes tire of me bothering them during their down-time...
You will note that there's a toy in there with her. Jenny has been going through a toy renaissance lately, dragging them around and sleeping with them...
The other night Jake was wailing downstairs again after I went to bed. I have tried to just let him yowl so he doesn't get trained into thinking that he can beckon me on command... especially when I'm trying to sleep... but I just don't have the heart. What if something is actually wrong this time? So I head to the stairs and immediately know what's got him stressed this time...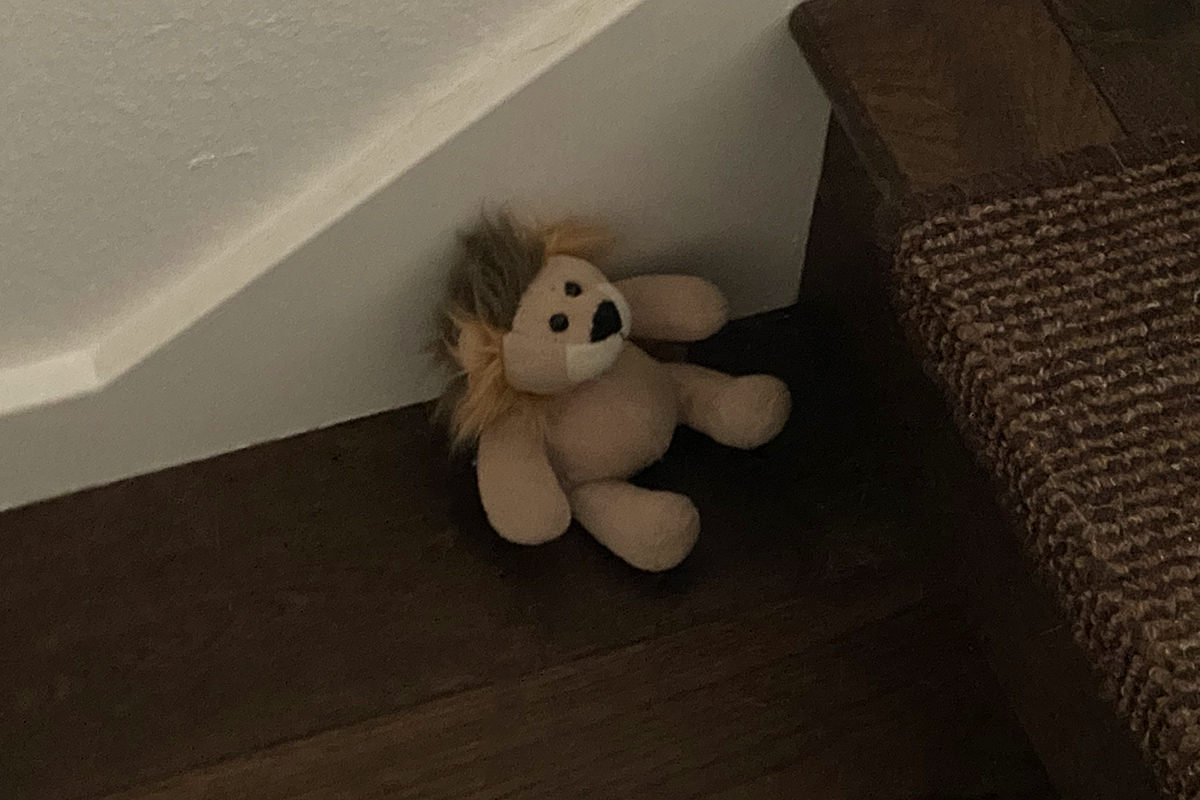 Apparently Jenny grabbed Mufasa from Jake and ran away with him. And if Jake can't find his favorite toy, he's understandably upset. So I took Mufasa to him downstairs, he grabbed it and sauntered off, and that was that.
This past week I got a security alert on my phone while I was at work. When I looked to see what had happened, I saw Jake and Jenny running from the kitchen at top speed. Curious to know what had happened, I checked the kitchen-cam only to see this...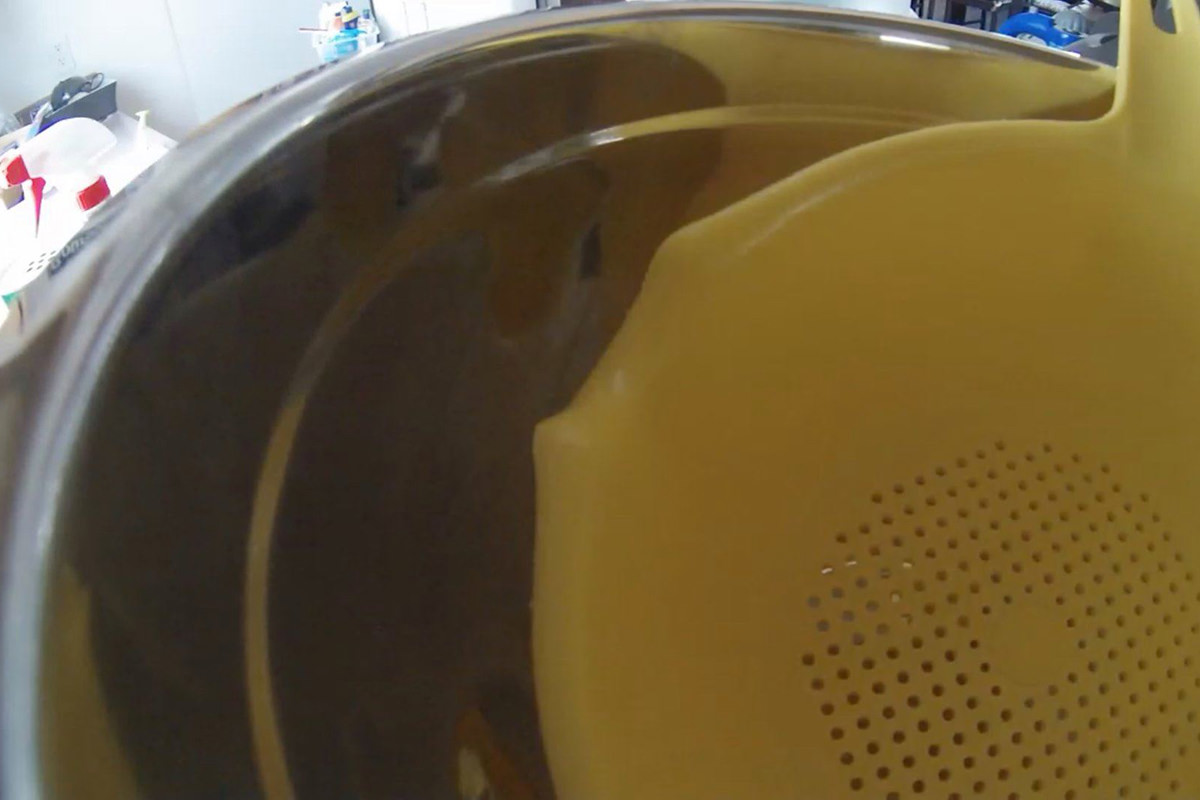 I've been tearing apart my house and disinfecting everything, and should have put the dirty dishes in the washer after I finished cleaning out the sink. Naturally I was curious as to what had happened, but my cats were safe so I didn't rush home.
And when I did get home I found this...
My cats still hate Carl the RoboVac. And since I have no idea how that bath towel got in the kitchen, I'm guessing they are still working together to murder him. This time by choking him with the towel.
Psychotic nut-balls.
And speaking of psychotic nut-balls, HAVE YOU BEEN WATCHING THE TIGER KING ON NETFLIX?!? This was me and Jake watching earlier this week...
The show is just bananas. Seriously. You have NO idea...
If you want to see some seriously messed-up television, there's your show.
Posted on March 21st, 2020

This morning Jake came running into my room and attempted to convince me to feed him breakfast early. Instead I gave him a full-body massage with both hands as a distraction. He was in such ecstasy that I thought I was going to have to find him a cigarette. Then the breakfast alarm went off, Jenny came running in all excited, and the spell was broken.
Since it's Saturday, I decided to work in bed for a couple hours. Jake never came back, but Jenny did. No idea why she kept staring me down with contempt and disapproval, but that's what she was serving up all morning...
I don't know that my cats understand that a plague has descended upon us, but they definitely know something is wrong with the world. At night they are irritable and restless. After I go to bed, Jenny just hides in the closet. For the past two nights Jake will sit on the stairs and howl until I come down. After I talk to him for a minute and pet him, he'll follow me upstairs and fall asleep on the foot of my bed as usual. Not really sure what it's all about. It's like he's forgotten where I am or something?
Despite not having a handle on the COVID-19 situation, I am proud to say that both my cats have been practicing social distancing. When Fake Jake pops by for a visit, Jake hides around the corner even though there's a glass door between them...
As things drag on... and seem to be getting worse... I am oddly calm. Whatever happens I'll find a way to survive somehow. Regardless of what that may mean in an uncertain future. The only thing I worry about are my cats and how any drastic change to my life might affect them. That worries me a great deal.
Fortunately there are loads of cat videos on the internet to take my mind off things. Like this one...
Take care of yourself... and any furry friends you might be living with.
Posted on March 14th, 2020

Jake and Jenny have been bonkers crazy this past week. Perhaps they are sensitive to the shit sandwich which we're all dealing with now? I dunno. Cats are smart, but I don't think that they are reading the news while I'm asleep. But maybe they are.
It all started on Monday when I nearly crapped my pants because I thought there was a snake under my bed...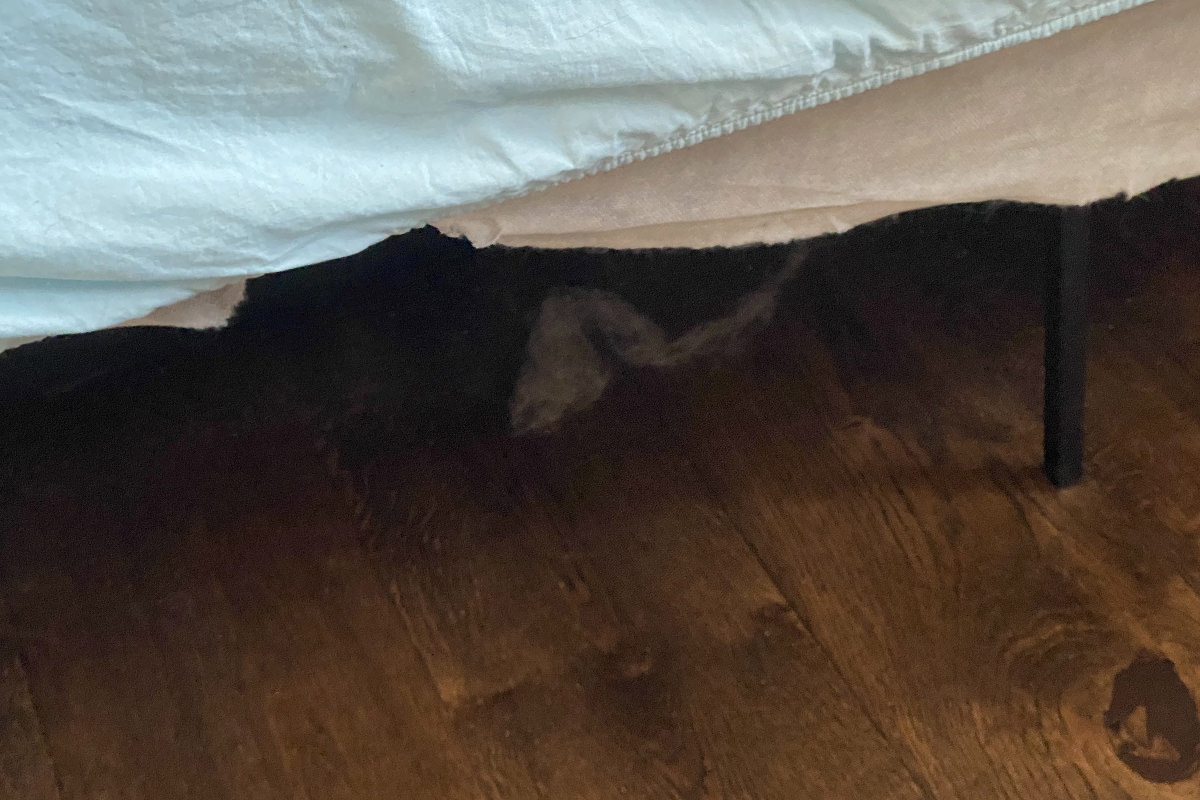 It was cat fur, of course. Which is why I exclaimed "I JUST VACUUMED TWO DAYS AGO!" after I figured it out. But now that the weather is warming up, the fur is practically falling off the cats in handfuls.
Jenny has taken to being particularly savage in teasing her brother. Sneaking under the scratcher lounge so she can swipe at Jake when he jumps off. Eating his snack when he's out in the catio. And, oh yeah, walking by with Mufasa while he's next to me getting petted...
About two seconds after this photo was taken Jake scampered after her at top speed so he could retrieve his prized toy.
Jake has been even more clingy than usual lately. He wants attention all the time...
And then there's Jake squawking for me while I'm in the kitchen. Usually he only does this when he's in distress or needs help finding Mufasa. After dropping everything and running in to find out what was wrong... I found out he wanted emergency belly rubs...
Earlier in the week I walked in the door, greeted the cats when they came running. Checked their food and water. Pet them for a while. Then went to work. But Jake was not satisfied with the level of attention, and decided to hop on me in a way to get my full attention...
More than once I've woken up in the morning only to find Jake curled up at my feet. I try to stay still so I don't disturb him...
But he's easily disturbed...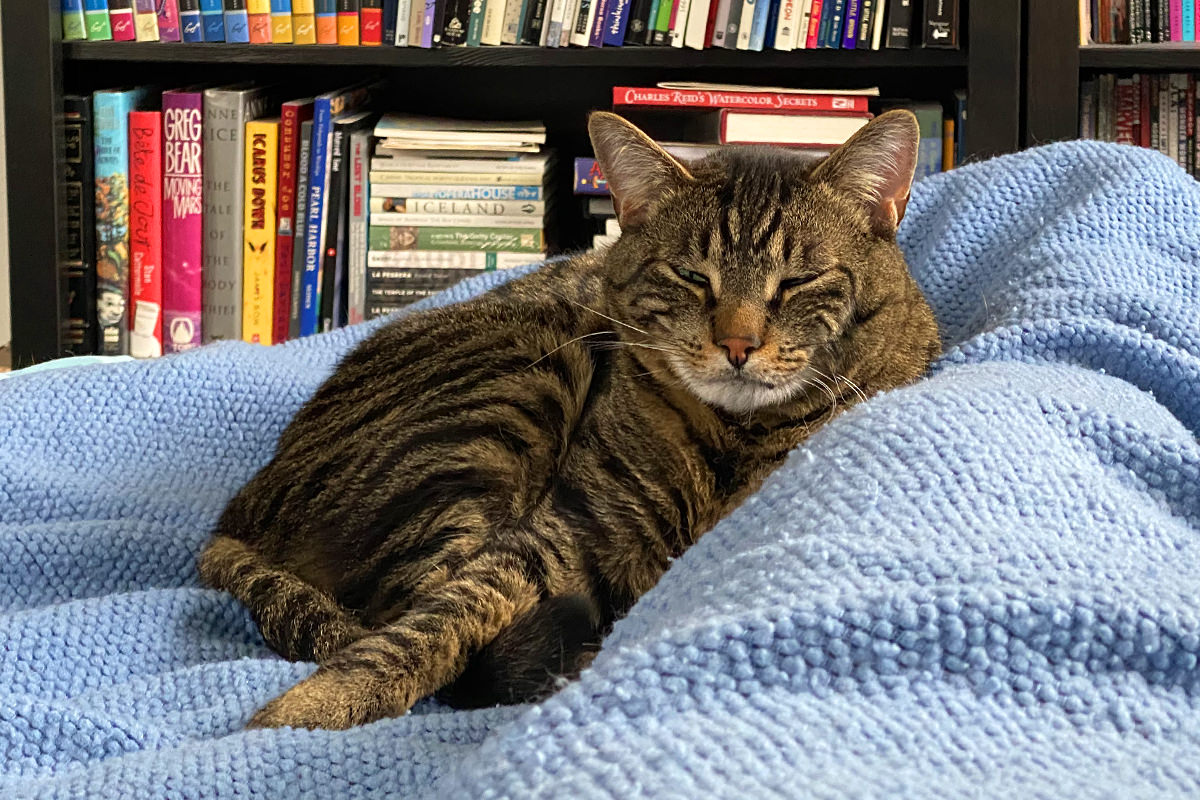 Jake is one cranky boy when you wake him up from sleep.
I don't have the coronavirus. At least not that I know of. But I'm acting as if I do in the hopes that I won't catch it and, if I do, I'm hoping I won't pass it along to my cats. I'm washing my hands before I touch them. I've ordered an extra bag of Jake's prescription food in case I'm quarantined. That kind of thing.
And, oh yeah, I'm also treating my bodily fluids as if they are toxic and keeping the bathroom doors closed so the cats can't go in. They don't normally go into the bathrooms unless they follow me in, but better safe than sorry, right?
Naturally they are furious that there's a place in the house that they can't go... even though they don't really want to go there. They felt the same way about the laundry room until Jenny figured out how to slide open the pocket door that leads there. Alas they can't open a door with a latch, and so they sit and meow at the door (Jenny) or squawk at the door (Jake) in an attempt to open it that way.
It doesn't work, but it does give them something new to do.
Posted on March 7th, 2020

The reason I keep checking in on the coronavirus has nothing to do with me... it's my cats. Right now it is believed that pets can be carriers but they won't be affected by it like humans are. Which is great, because I am mortified at the thought of having two cats with no way of explaining to them why they're hurting, sick, and confused.
Even so, I've been washing my hands a lot more than usual.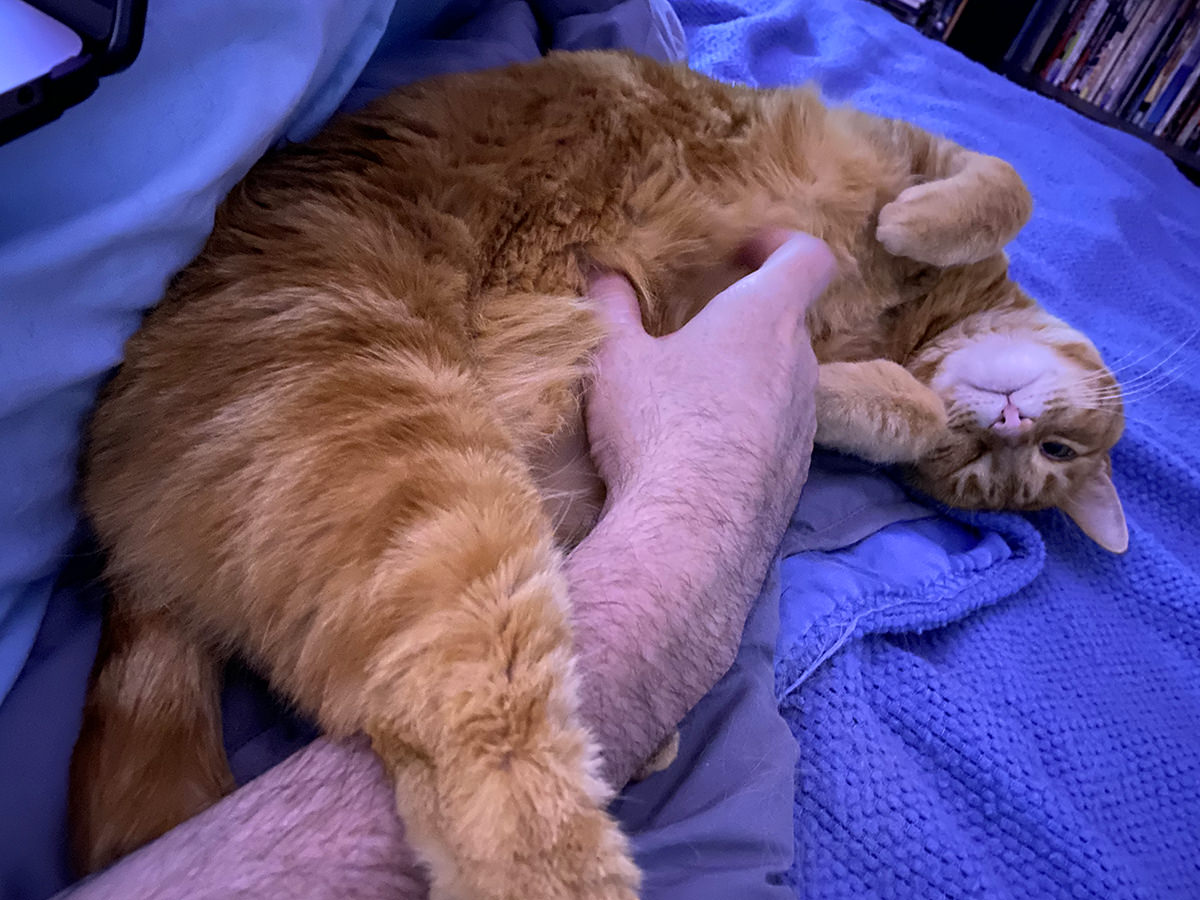 With a face like that, how can I not?
Posted on February 29th, 2020

Another Saturday... another Caturday.
Jake has been acting pretty weird lately, which is to say that he's acting more like a cat. I thought his skittish and erratic behavior was due to the Feliway diffuser running out, but it's still half-full. Which means he's being totally weird all on his own.
For whatever reason, he will run around the house... climb the cat tree... run around the house... climb the cat tree... run around the house... climb up the cat tree...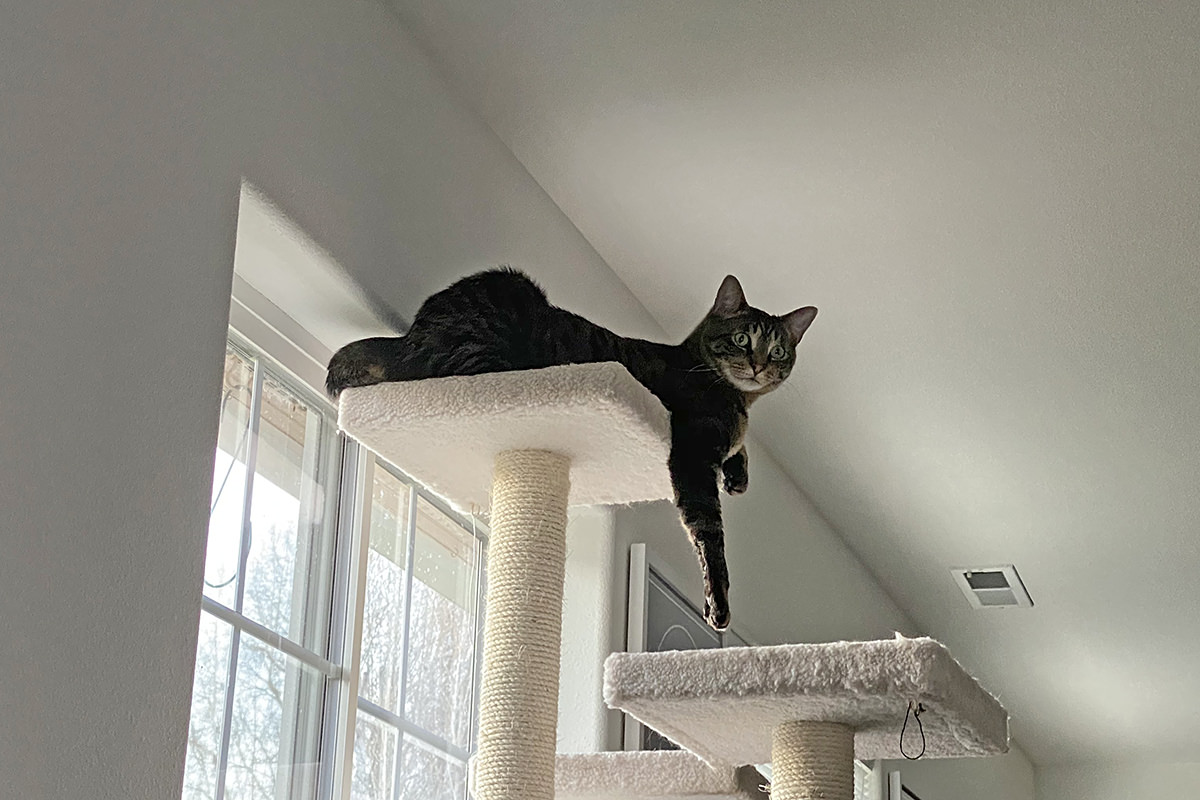 And this goes on from the minute I get home until dinner time. He used to just sleep.
Still makes time for chin scratches though...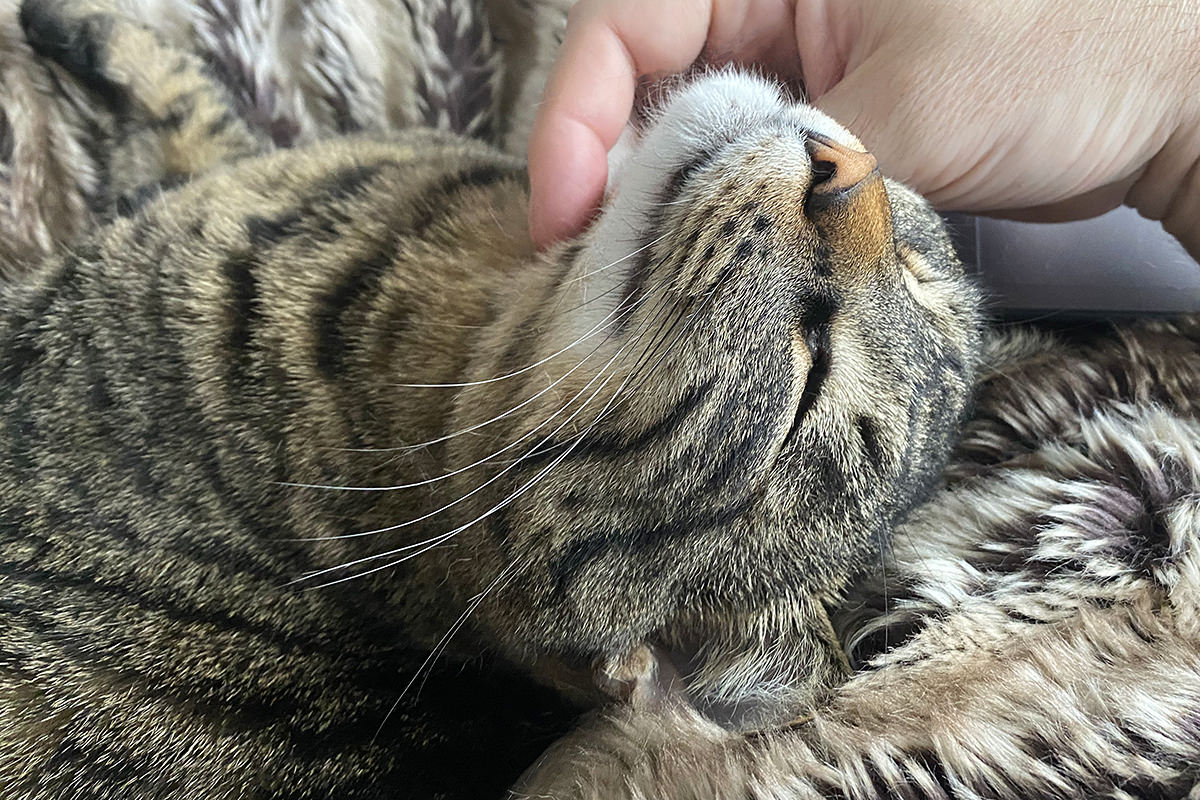 And butt scratches, of course...
I don't know what has him all riled up, but it's bound to be good exercise, so I'm not complaining.
I wish I could find motivation like that.
Posted on February 22nd, 2020

Jenny has become a crotchety old gal and, heaven help me, it just makes me love her even more. Never mind that she only just turned four last December, she is wasting no time in reclaiming her time right now.
For the longest time, neither of my cats would meow. Jake doesn't meow because he can't... he just kind of silently mouths his meow or kinda does a dry squawk. The only time he gets vocal is for his trips to the vet which, holy cow, has to happen very soon now.
Jenny always could meow, but chooses not to.
Until now.
Not that she's annoying about it. She's still mostly silent. But when she wants attention or wants to let you know that she's not at all pleased with a situation, she definitely lets me know it. Last night I was working a while before bed when she hopped up next to me and was all "Meow! Meow! Meow! Meow!" Until I started petting her. Okay then, maybe she has an itch. So I start petting her with one hand while I continue to compose emails with the other.
"Meow! Meow! Meow! Meow!"
"What the heck, Jenny, I'm petting you... SEE?!?
And she's fine.
"Meow! Meow! Meow! Meow!"
What is going on with you?!?"
And then, after a bit, I figure it out.
It's not enough that I'm petting her like she wants to be petted... SHE IS MAD BECAUSE I'M NOT LOOKING AT HER WHILE I'M PETTING HER!
I swear... I am not making this up! I'll start petting her until she kinda drifts off like this...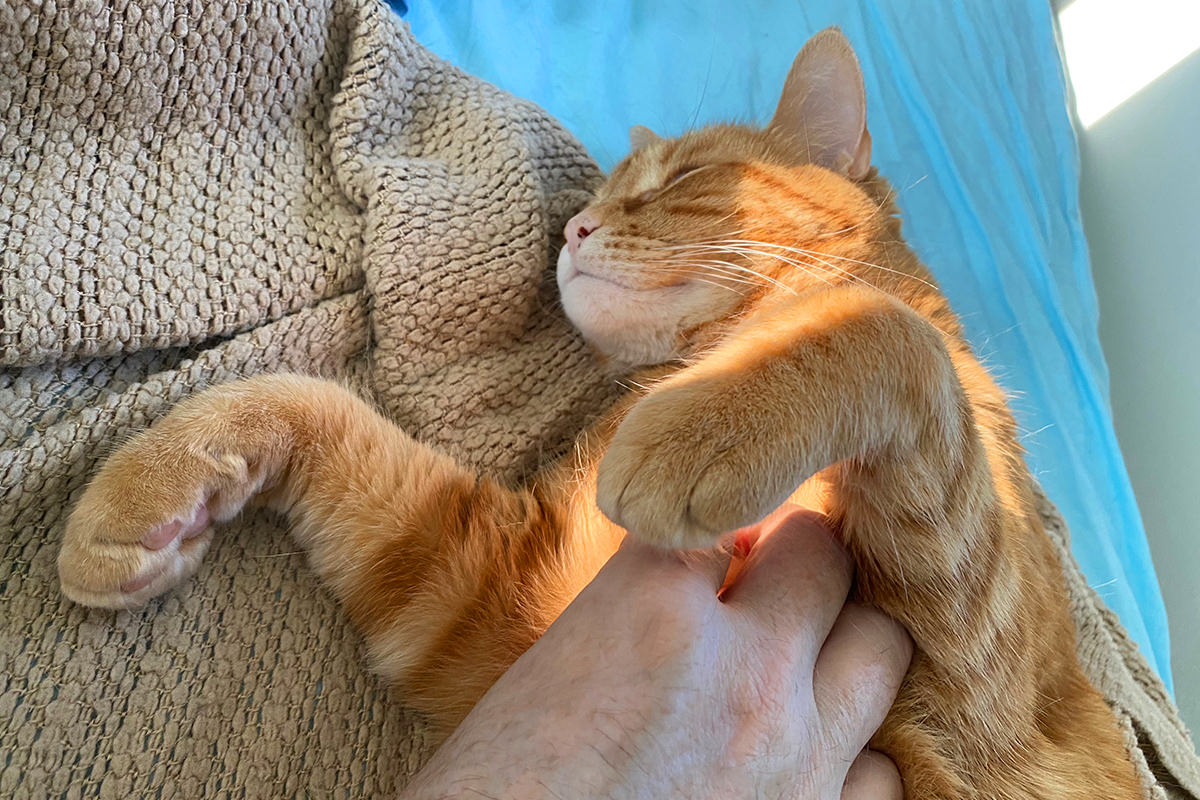 Then, every once in a while she will raise her head and squint to check and make sure I'm looking at her while petting. If I am, she'll drift back off. But if I'm not? "Meow! Meow! Meow! Meow!"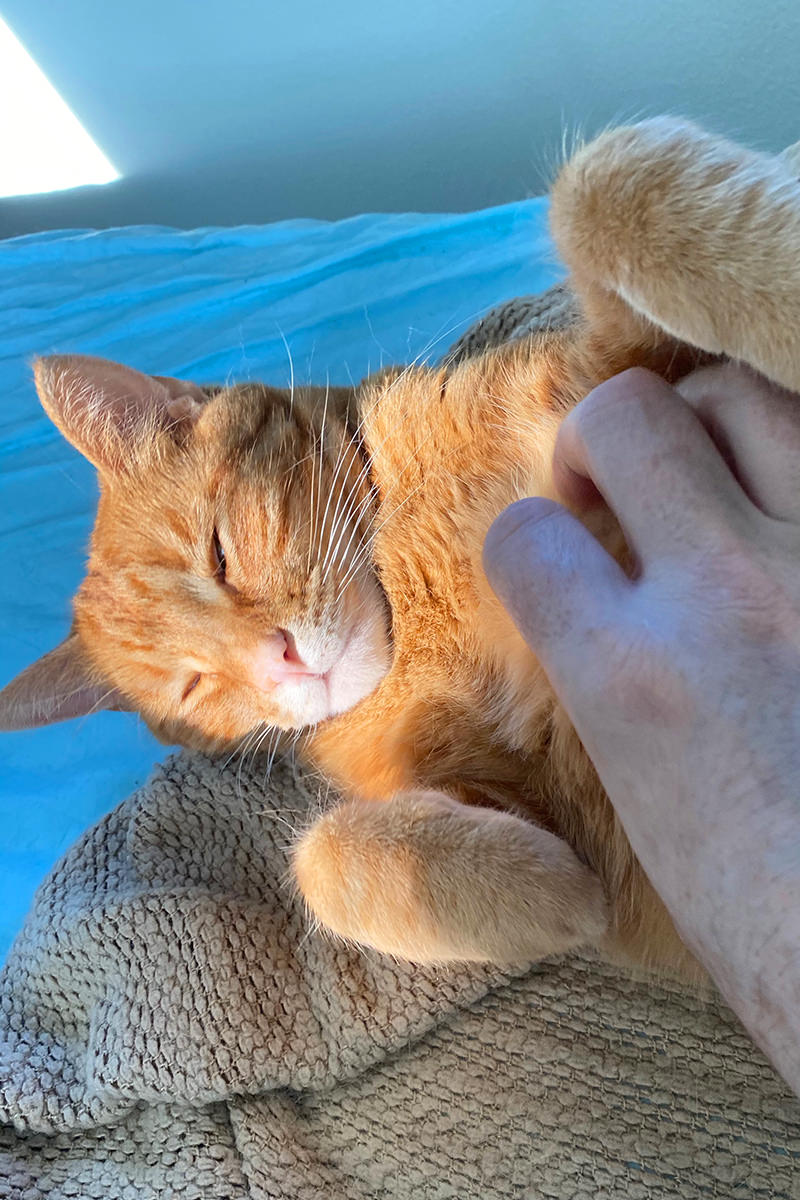 Now... I've given up trying to understand why cats do anything. They're cats. That's why. But this is entirely new and has come completely out of the blue. Why is it that now she demands my complete attention? Do I do a better job petting her when I'm not half-occupied doing something else?
And then there's her wanting to play SuperCat. Still...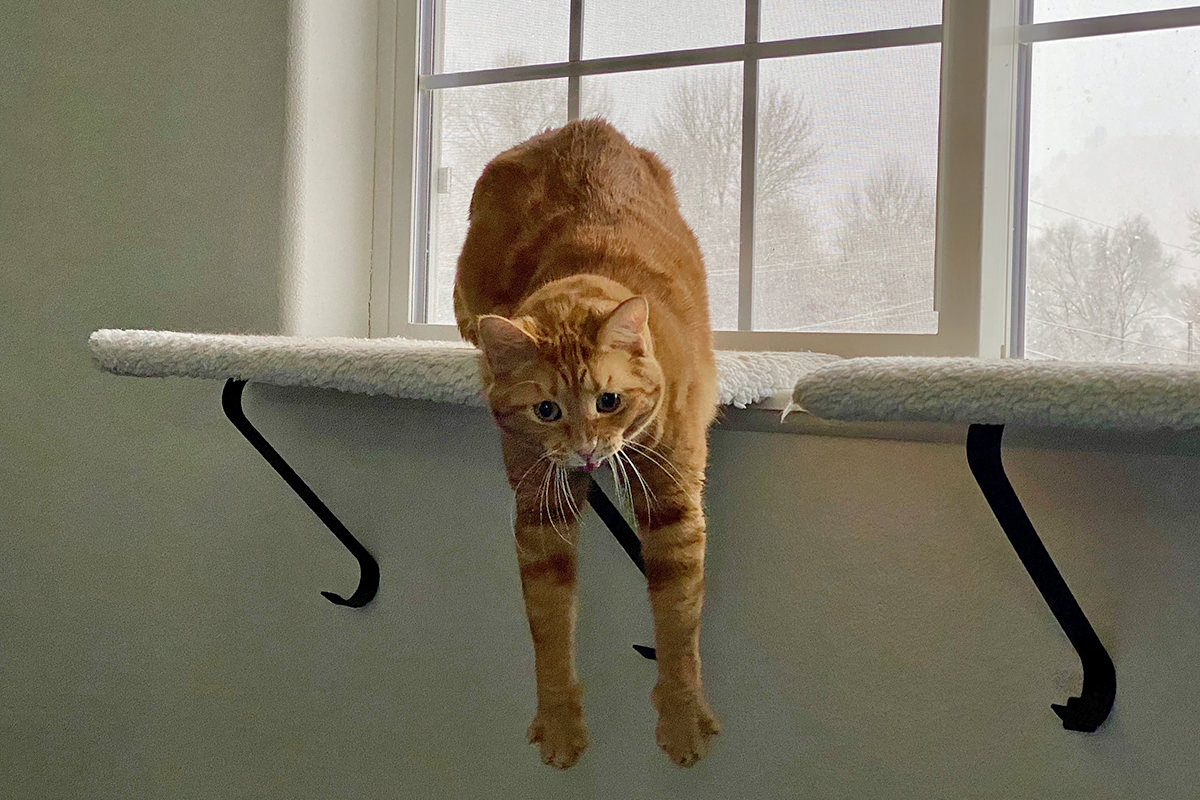 THAT'S the pose that really gets me. Especially because she usually hangs her tongue out...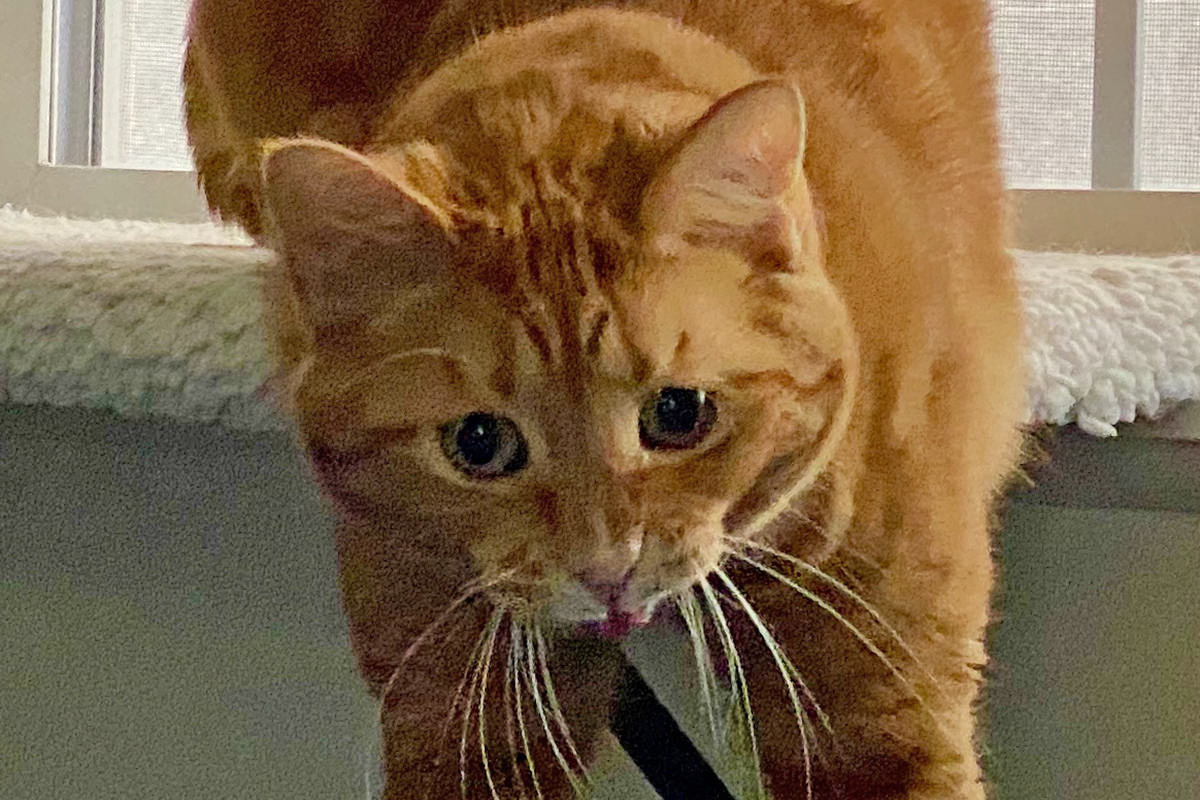 Jenny is such a remarkably smart, funny, sweet cat. And her personality makes my heart melt. But I can't help but wonder if in four more years I'll be spoon-feeding her all her meals or something.
Because apparently I can't resist her, no matter what she wants.
And apparently she knows this.