Posted on May 28th, 2022

It's a Caturday kinda day.
Yesterday morning after my Zoom meeting, I went to check on my cats. I do not know what it is about my awesome "Jungalow by Justina Blakeney" bed cover... but my cats love it. A lot. They would fight over getting to lay on it after I fold it up at night, so finally I just started folding it in two sections so they can both lay on it...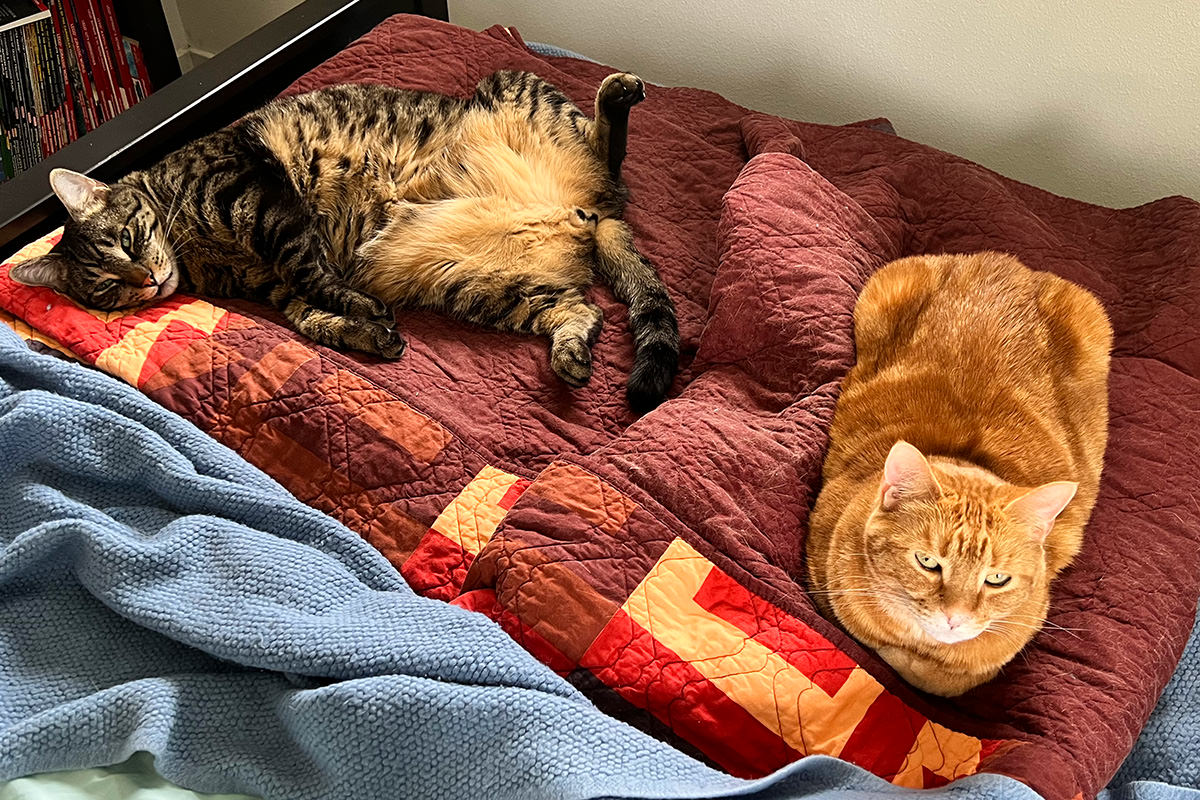 Though sometimes they do like to snuggle on it together...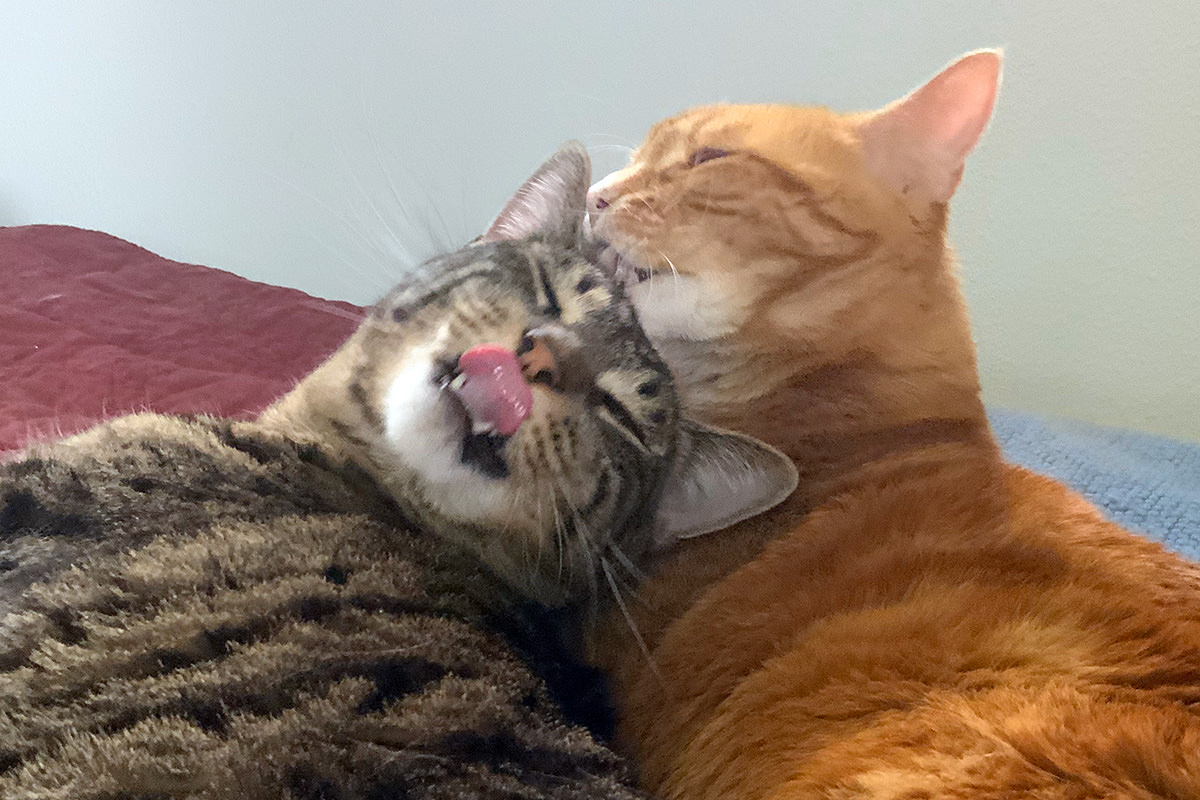 The other day I dropped some papers on the floor. Jake comes sprinting up and sat on them before I could pick them up. Which meant I ended up having to sit and wait for him to move before I was able to finish my work for the day...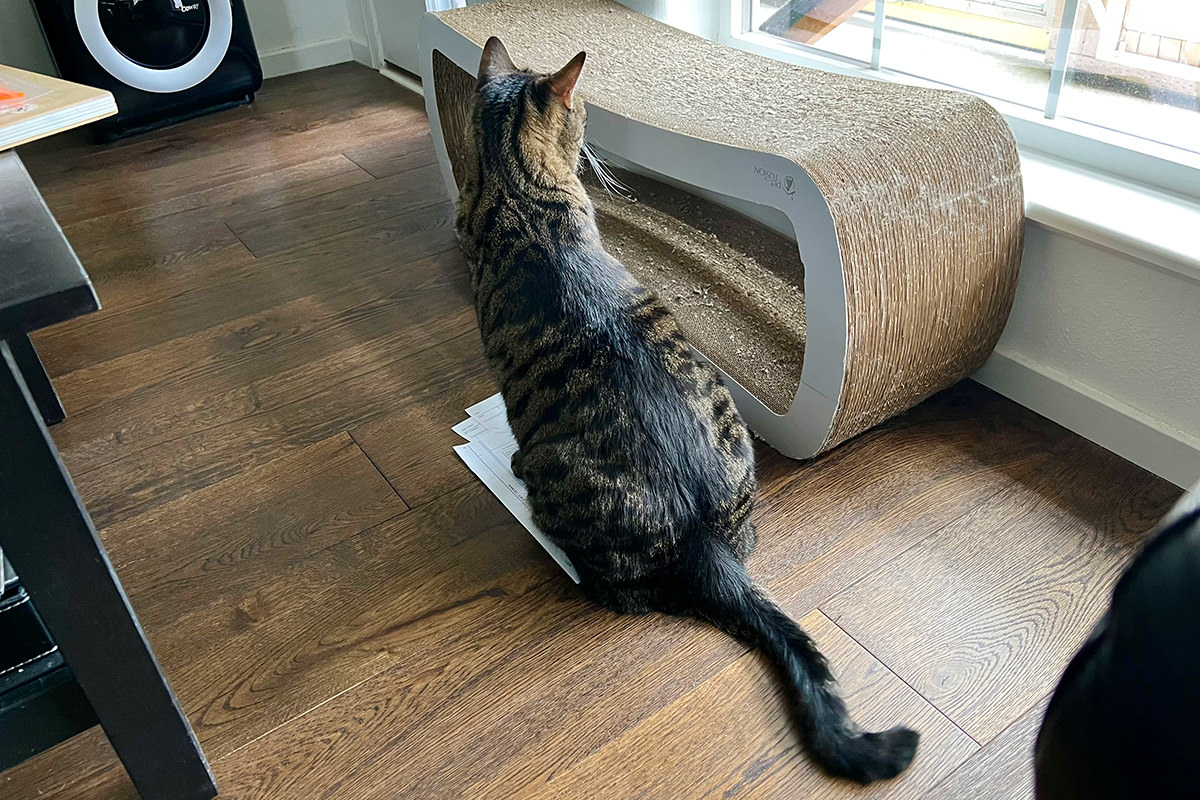 Apparently this is Jake's way of "helping."
I've mentioned how Jenny can never decide what she wants, but now it's happening with increasing regularity. RUB MY BELLY!!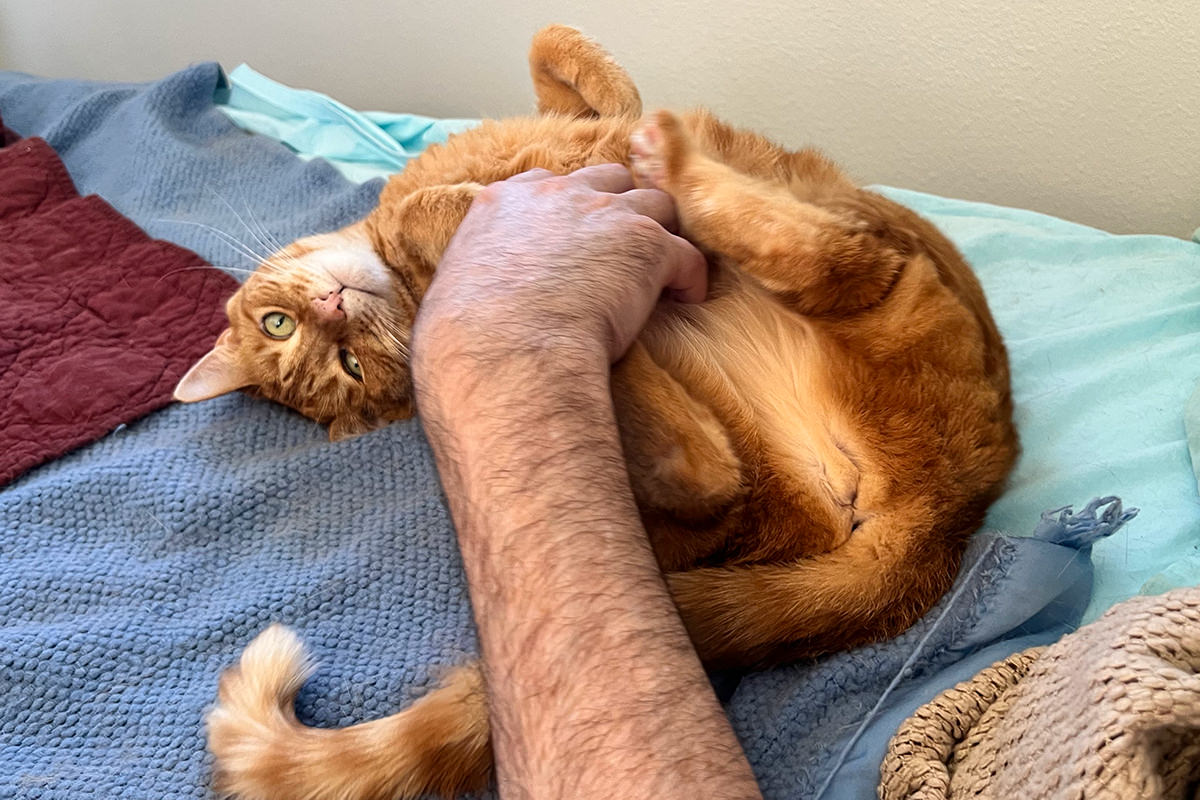 10 seconds later... WHAT ARE YOU DOING?? NO! NO! NO! NO!!!!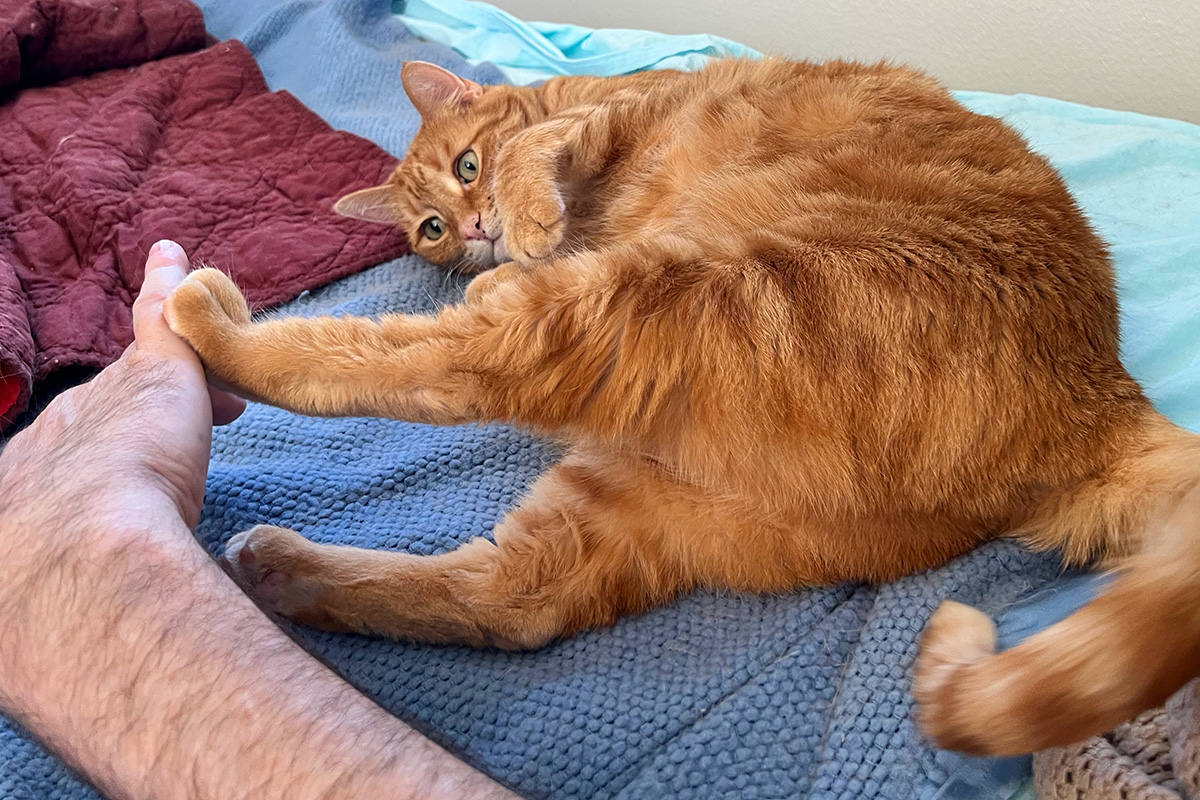 But if I don't rub her belly on demand, she gets even more upset.
Cats.
Posted on May 21st, 2022

Wow... my Friday yesterday was like Monday.
I forgot my glasses downstairs (easy to do when I'm starting with contact lenses again) so OF COURSE this is the day that Jake decided to puke up a hairball in the hall. Fortunately, he was like a seeing eye cat who walked around it when I was heading down to make them breakfast, and I followed him because I couldn't see it.
BUT IT GETS WORSE!
When Jenny doesn't have a clean litter box, she will hold it for as long as she can, then find a spot when she can't hold it any more. Little did I know that both Litter-Robots didn't cycle for some reason, so when I saw the blurry blob on the floor while making the cats their breakfast, I assumed that it was a mouse.
I get my glasses and... NOPE! Jenny took a dump on the kitchen floor.
This is only the second time she's done this, and I feel so bad for her that I can't be even a little upset. She likes a clean place to do her business, and I failed her. Albeit unintentionally.
I am upset for me, because this meant I had to haul out the Pine-Sol and steam cleaner to make sure the floor was fully disinfected!
I looked up the security footage, and poor Jenny looked so ashamed afterwards...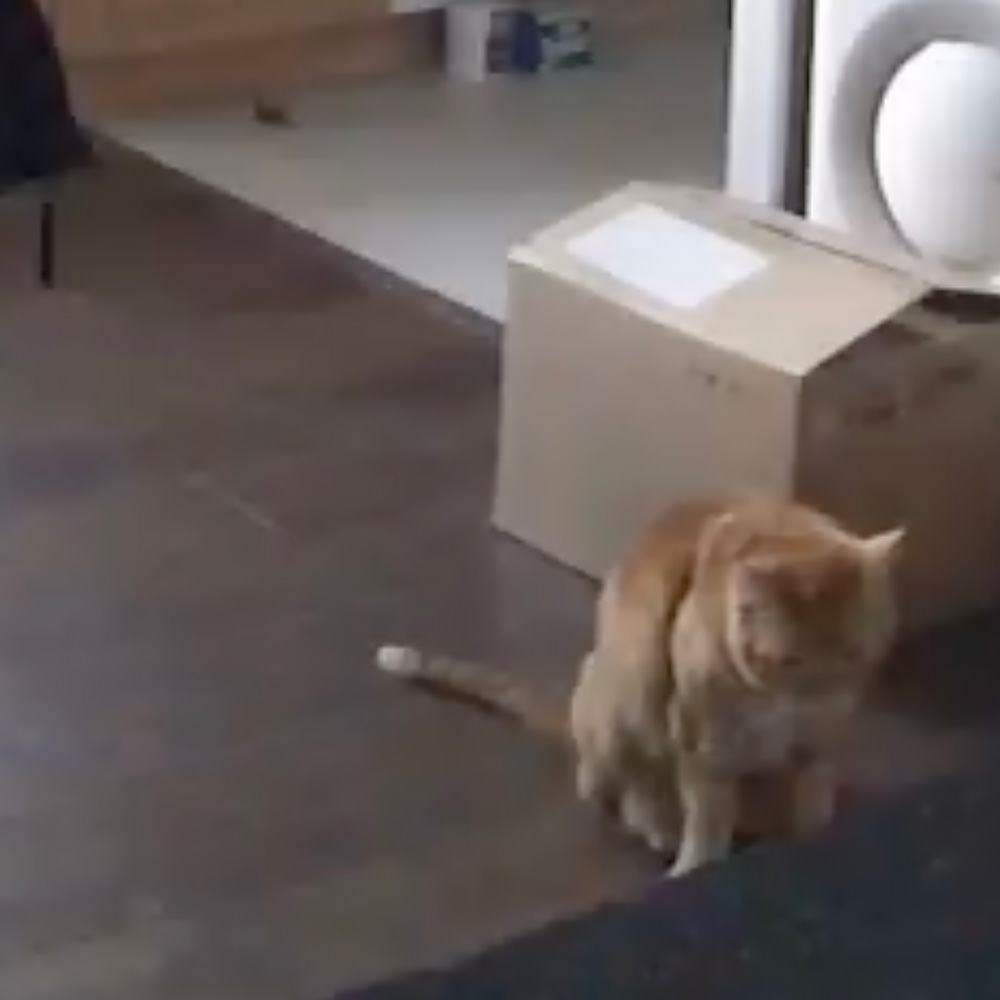 My poor little girl. I promise to check the Litter-Robots each night to make sure they're emptied and clean!
Posted on May 14th, 2022

I have been working minimum 15 hour days, 7 days a week, for at least three months.
Jenny looks how I feel this morning...

And now I'm off to work for a few hours before meeting up with a friend to go on a drive. Finally something to look forward to!
Posted on April 30th, 2022

For some reason, Jenny has regressed to when she was a kitten and was terrified of me. If I walk into a room she's in, she runs away. If I approach her, she scampers and hides. And even when she comes in to hop on the bed with me, the slightest move will send her running. Any interaction has to happen very much on her terms.
I guess this is revenge for my working late?
But once she's actually on the bed, everything is back to normal. Kinda. She's a bit reserved at first... looking like a little loaf of bread, and if I touch her at this point, she will run off...
Eventually, she'll turn around and allow some butt scratches...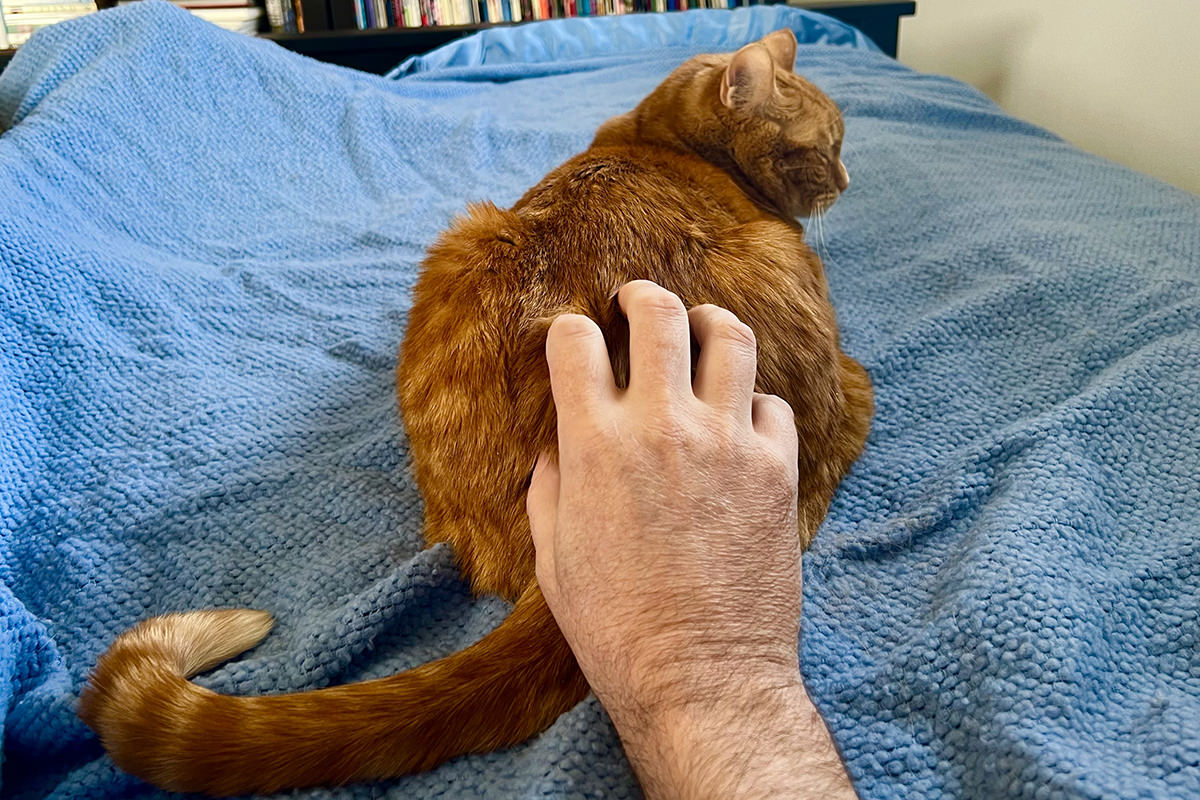 Then, if she deems it acceptable, she'll allow you to scratch her face, but she doesn't look all that happy about it...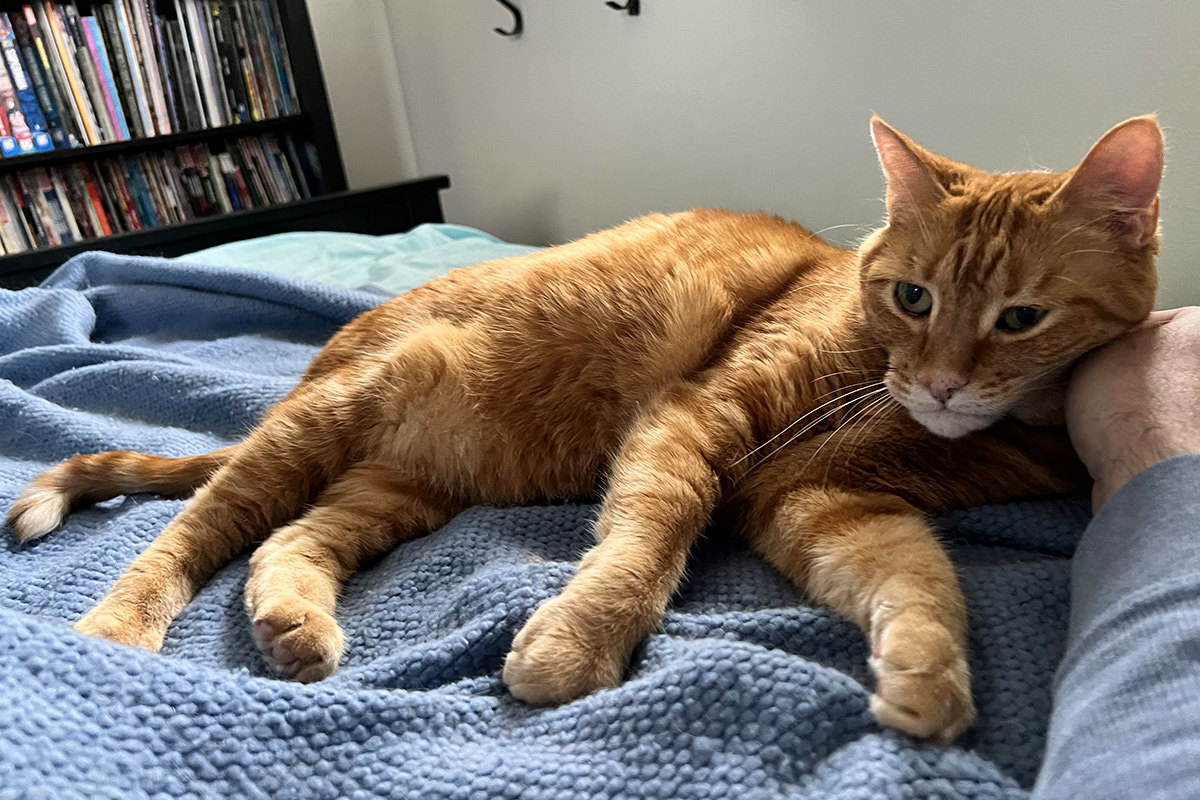 But then, if I'm patient, she'll be all "RUB MY BELLY! RUB MY BELLLLLYYYYY!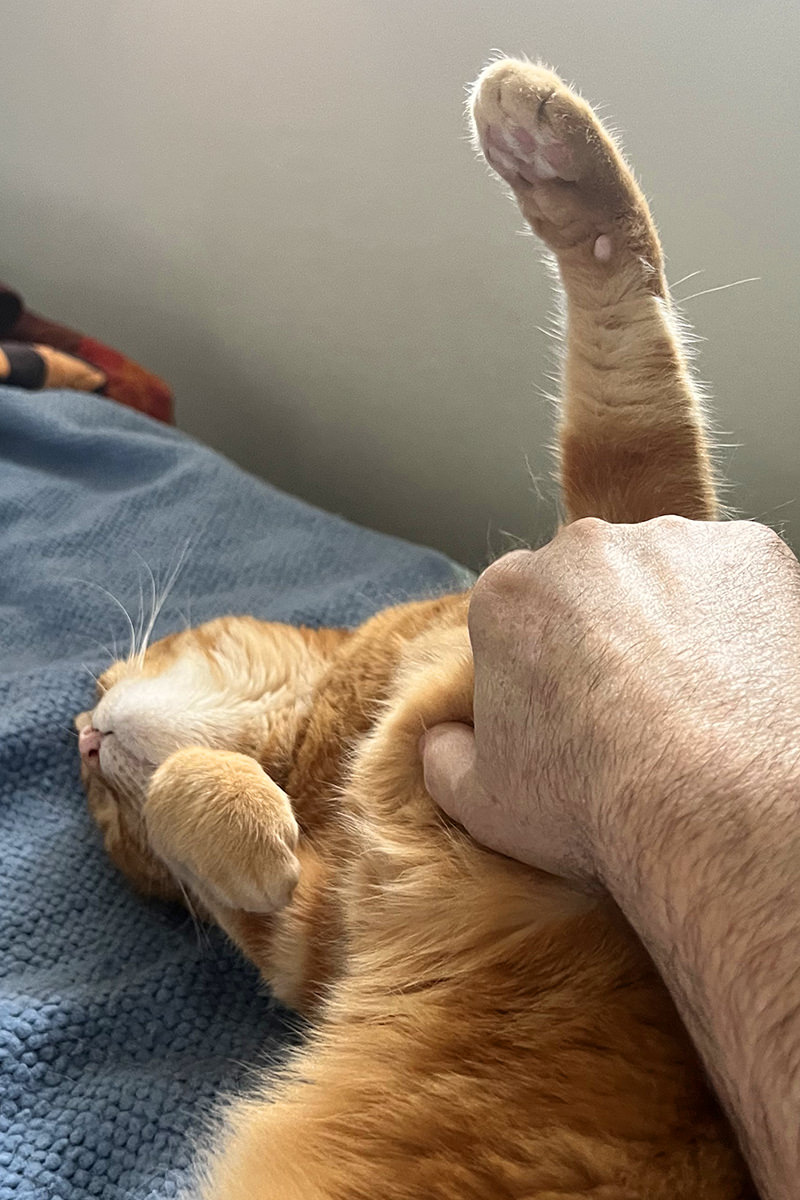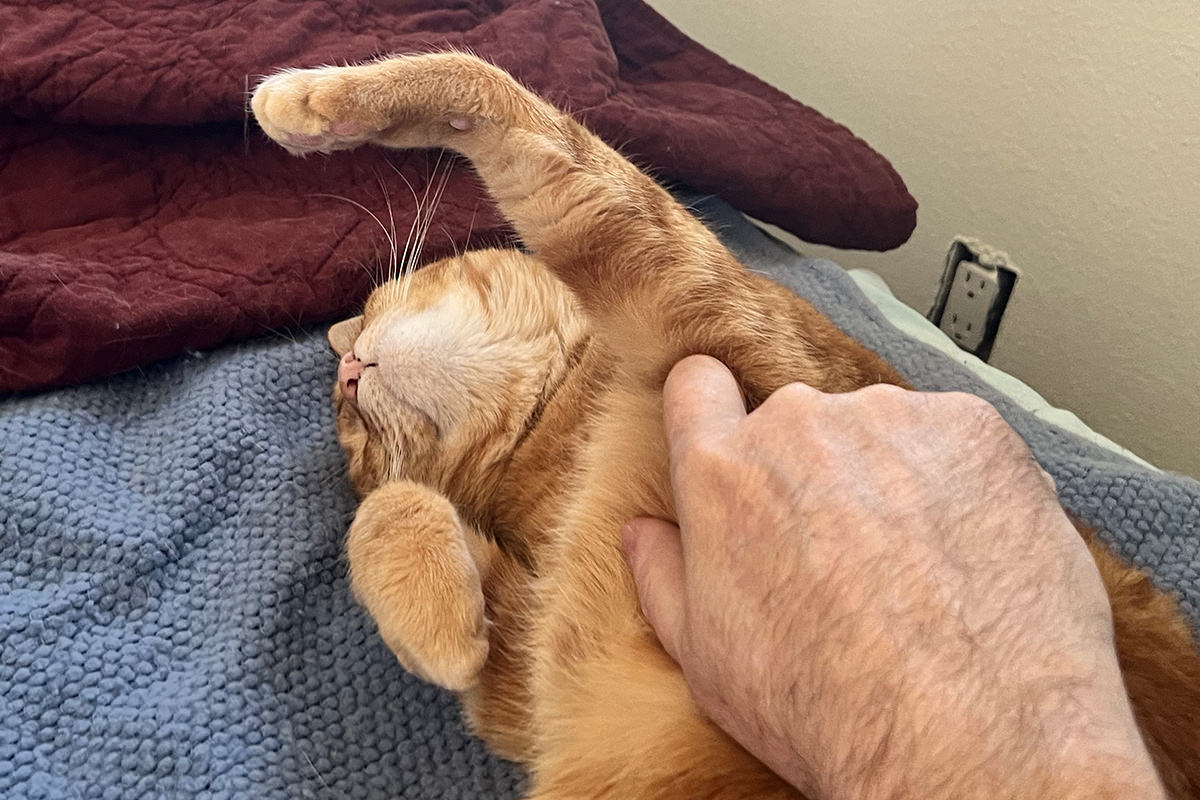 The little goofball.
Jake, on the other hand, is just Jake. Though he is getting to the point where he wants to smoosh his face up against something when he sleeps. Like my legs...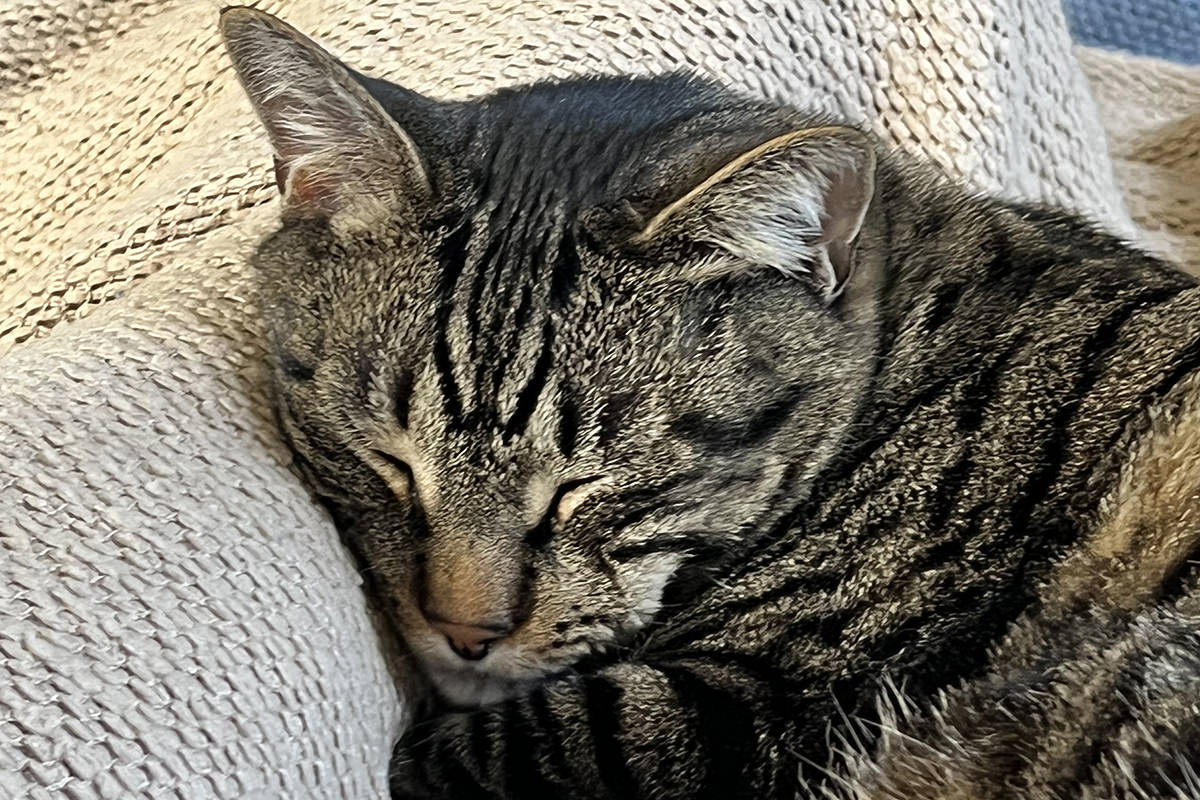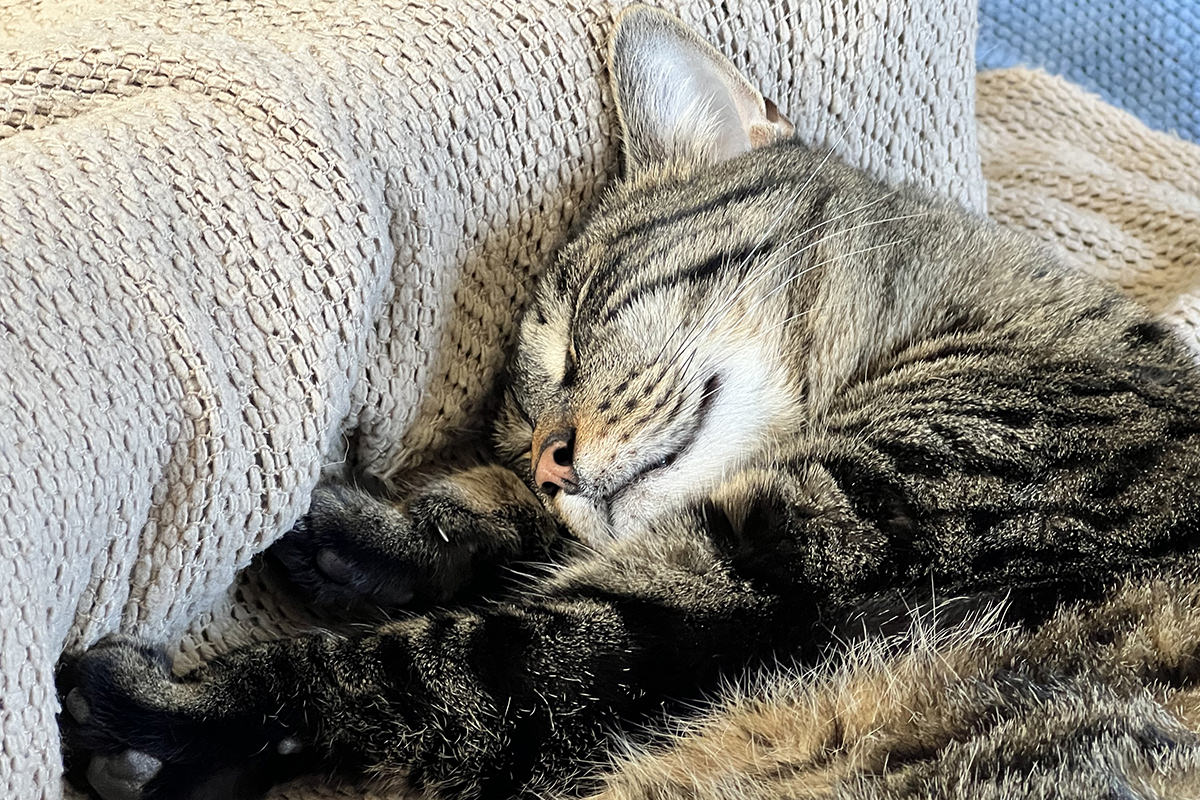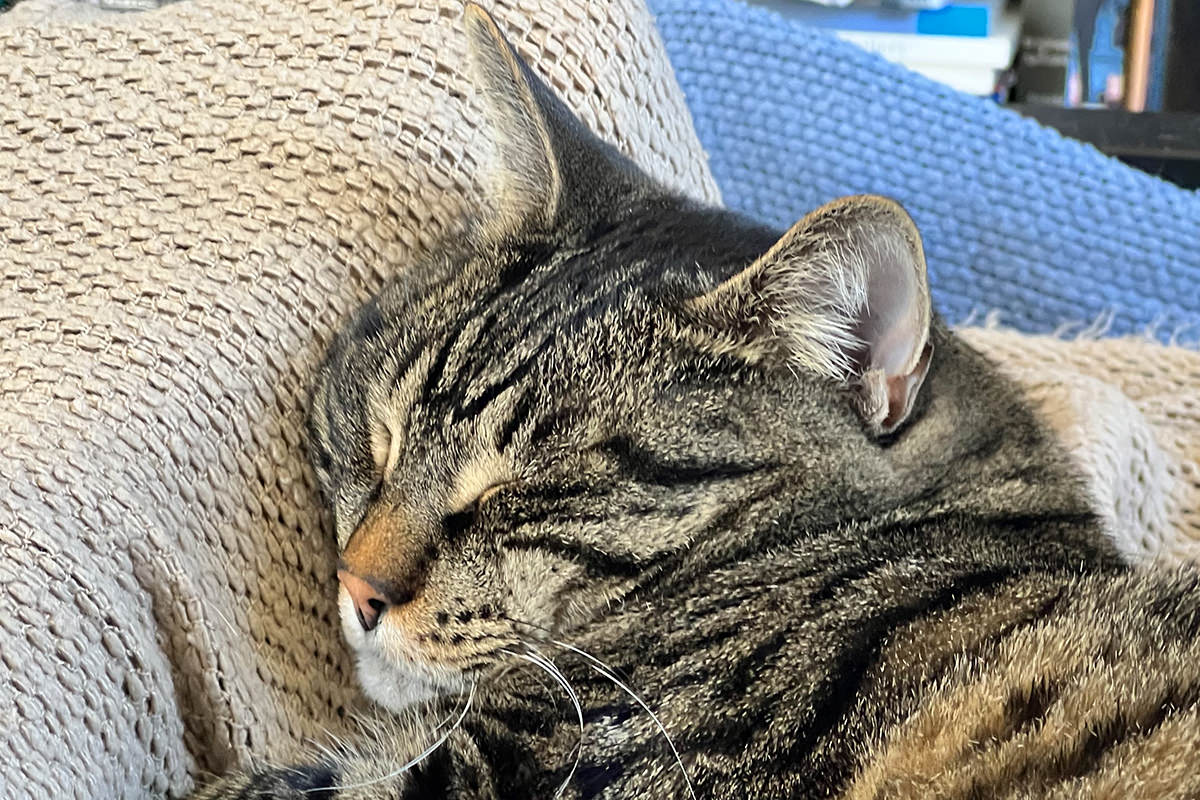 Though he is happy to sleep absolutely anywhere...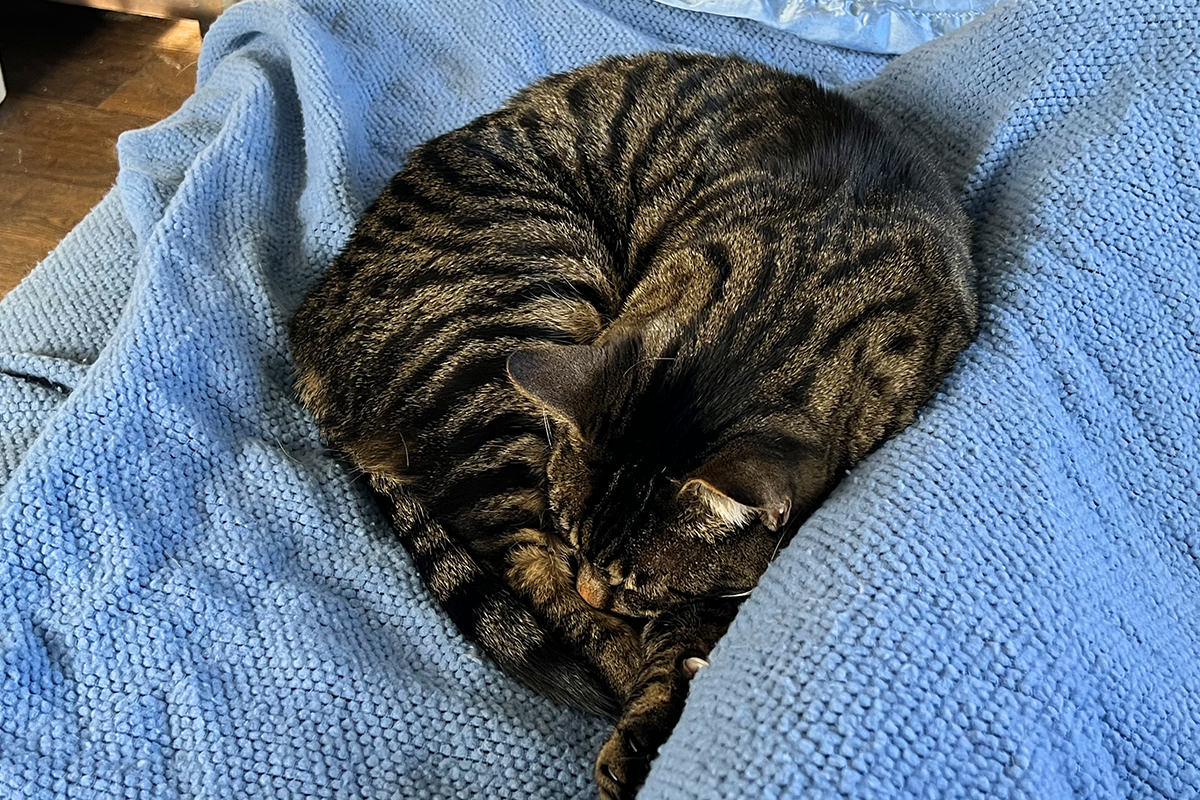 Though right now the both of them are more interested in checking out the new quilt I got for my bed. I think that Jenny is scared of it (though I see her sleeping on it when I'm not home), but Jake doesn't know what to make of things...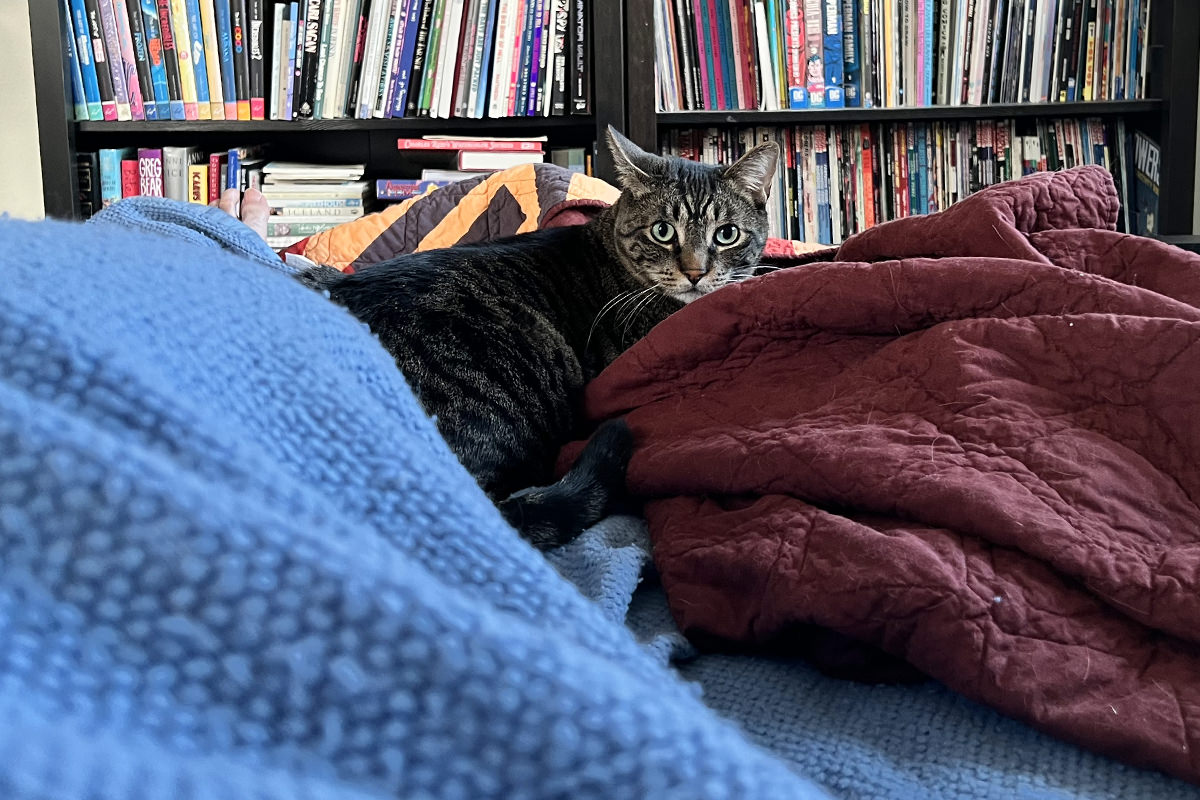 Cats. What can you do?
Posted on April 23rd, 2022

Nothing quite like really needing to go to the bathroom when your cats have fallen asleep on (or around) you.
This has been happening a lot with both Jake and Jenny lately, because I've turned the heater off for the season to save money. They've got fur coats and I can put on a hoodie, so it should be all good.
Except it really isn't, because my body heat is a big draw. This past week Jake was intent on warming up his ass against me...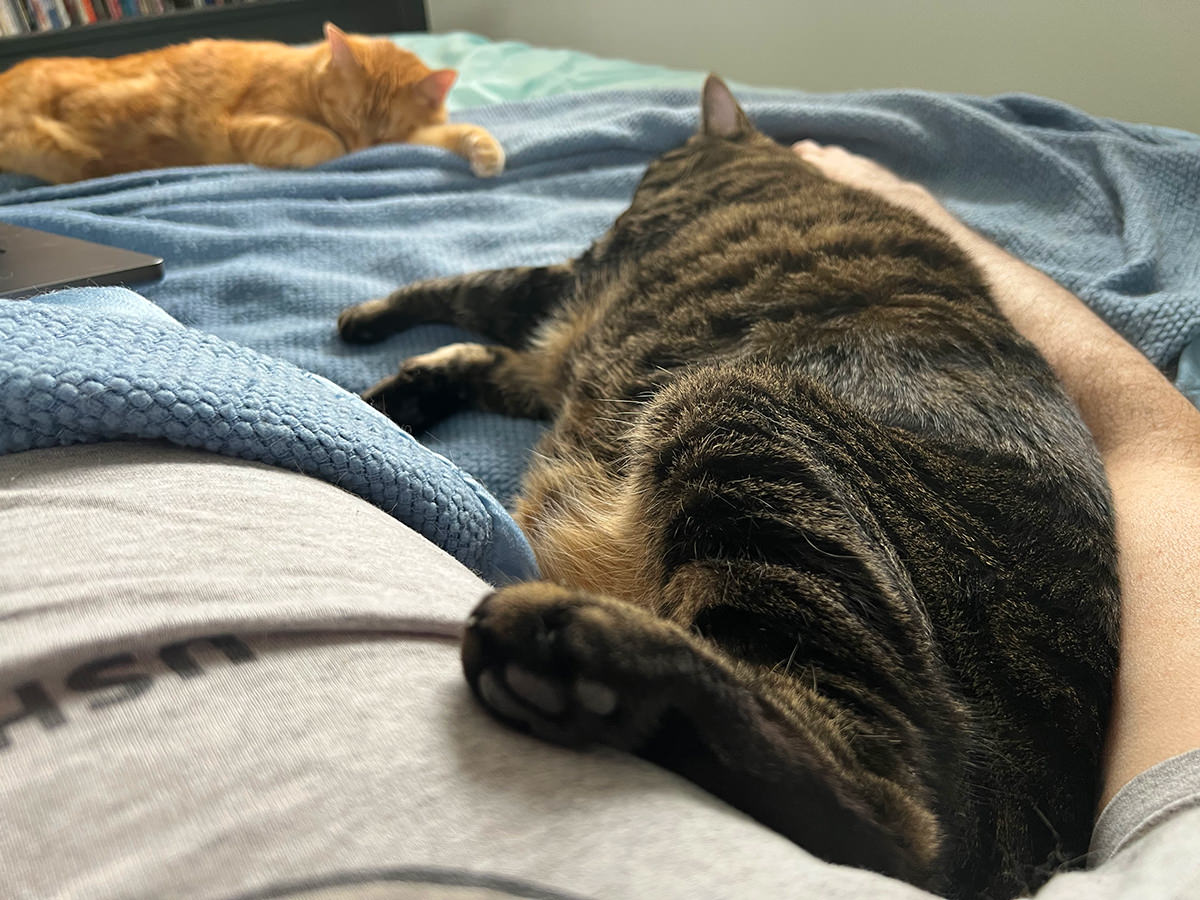 I thought that I was getting a break when Jake got up to leave, but he decided to trade me in for his sister...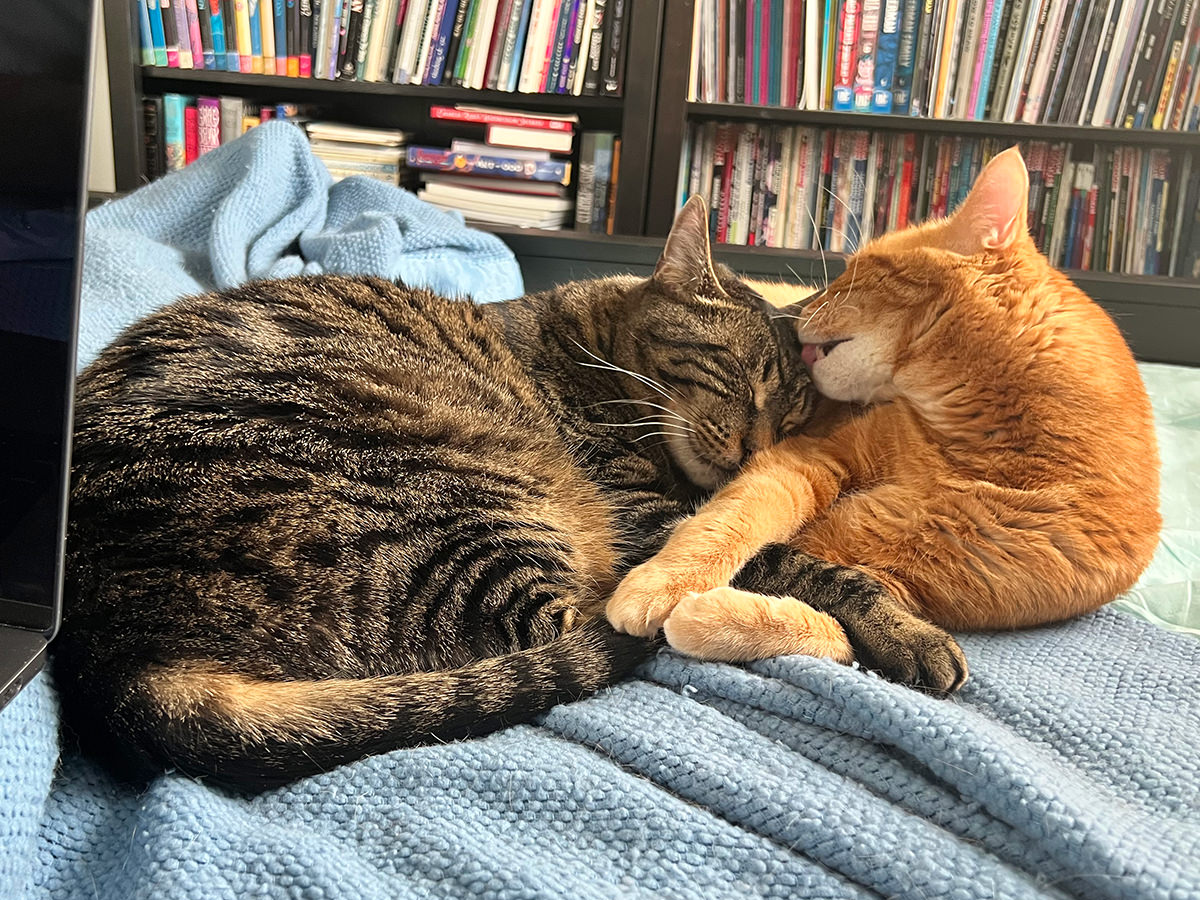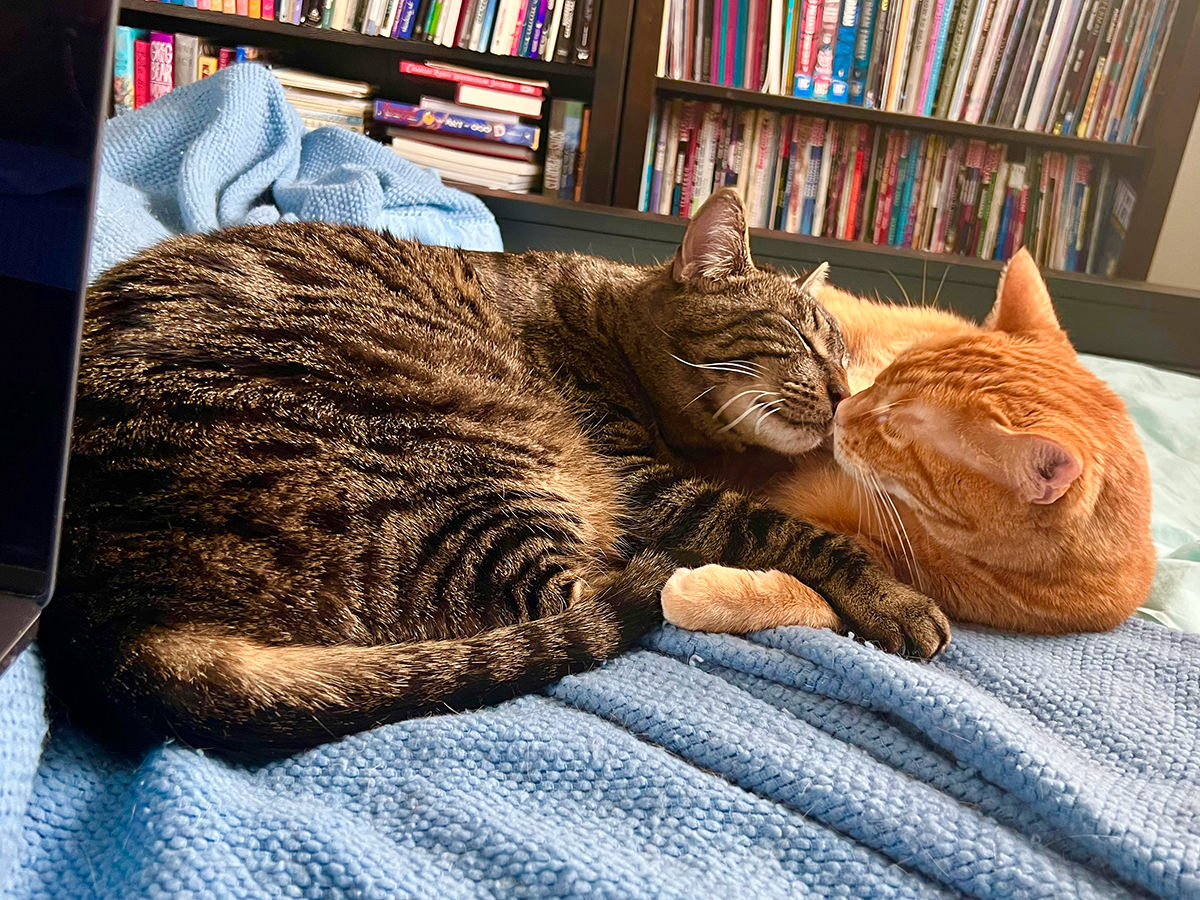 And of course I can't disturb that cuteness, and so I had to hold it a while longer.
Posted on April 16th, 2022

Jenny just keeps getting more finicky.
It took a very long time... months... before she allowed me to touch her. Then months more before she was comfortable being touched. Then months after that before anything but petting her back were on the table. After a couple years, she started liking belly rubs.
And belly rubs are a big deal, yo.
You must start with her back. Then give her butt scratches for a while. Then maybe some chin scratches. Then she will flop over on her back, at which time you're then allowed to rub her belly.
At least that's how it was.
Now, there are times that she flops down on her back... but changes her mind for some reason. At which point she will use her back foot to force your hand out of the way...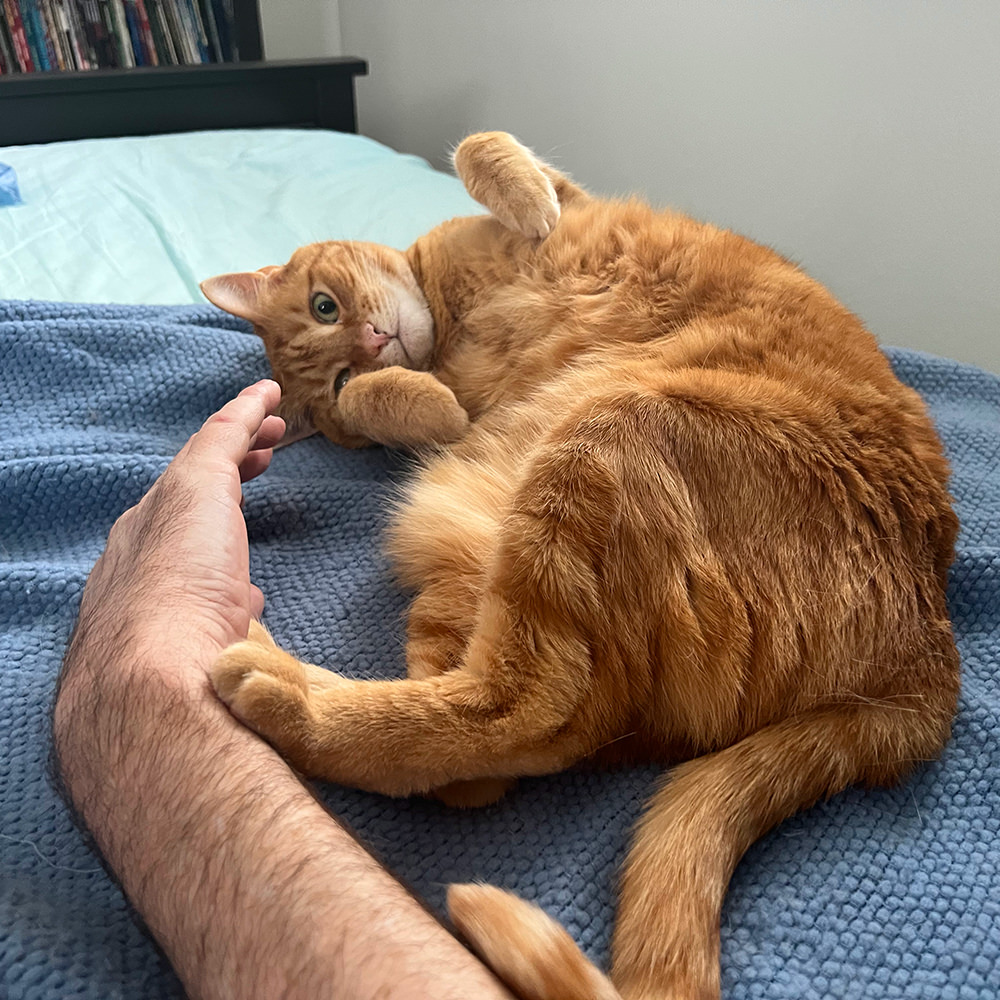 And if you try to continue on after being denied? She will switch to pushing my hand away with both back feet...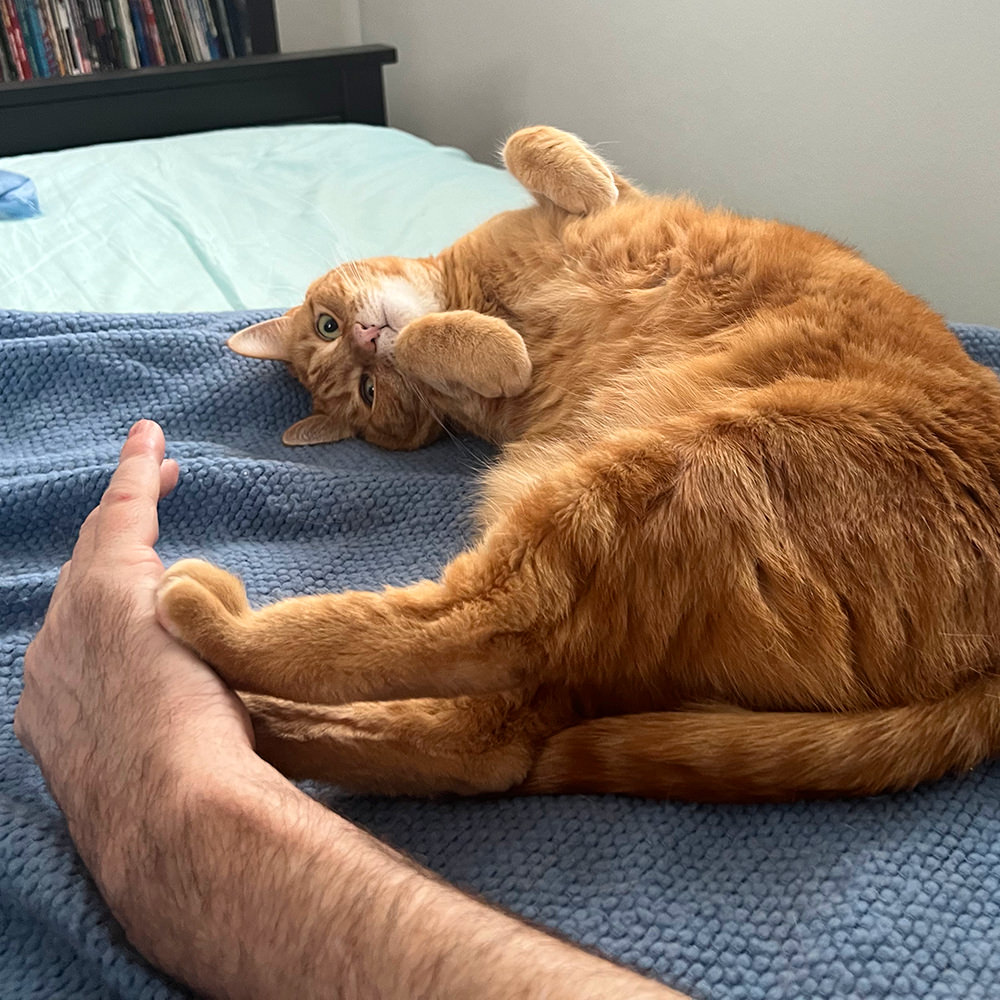 And if you dare to press onward. Things get very serious. That belly closes off real quick...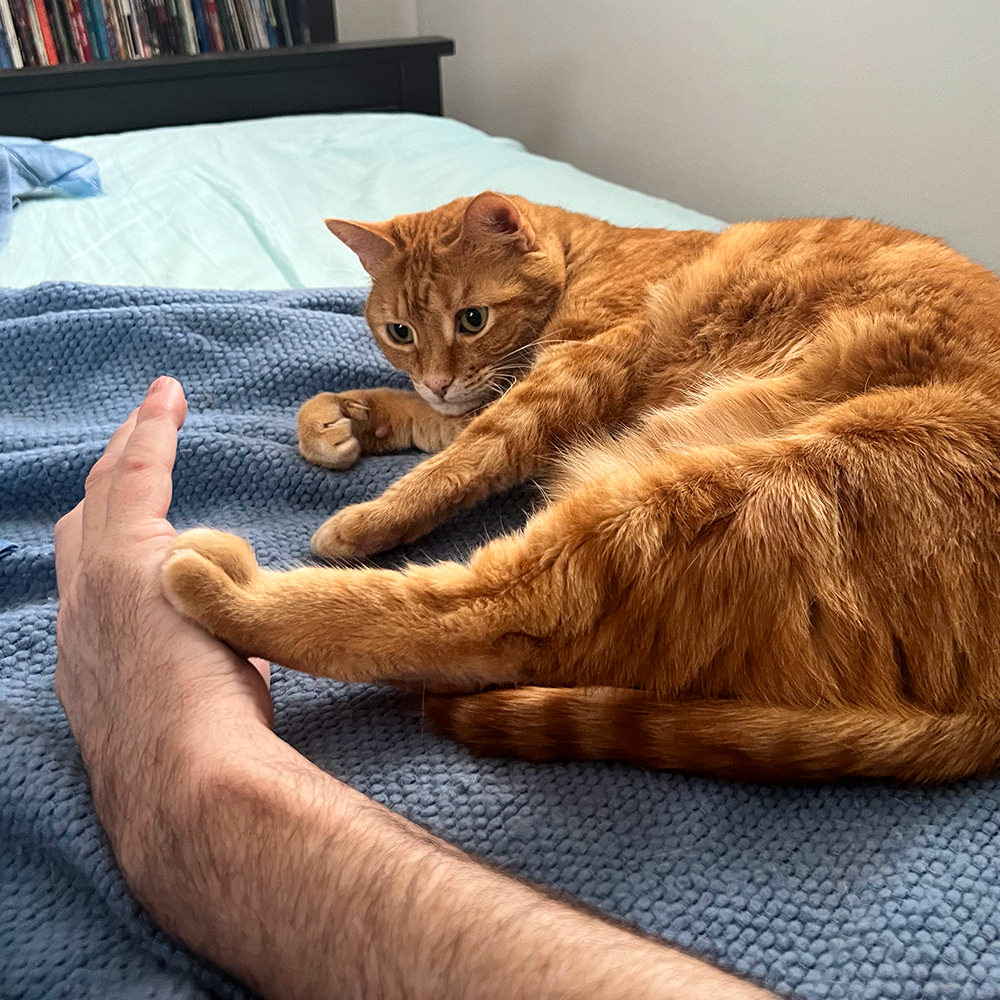 So... lesson learned. I will be sure that what Jenny thinks she wants is what she actually want.
And I'll try to not be offended if she changes her mind.
Posted on April 9th, 2022

People continue to be surprised that Jake is still obsessed with Mufasa, his stuffed lion toy. And, yep, he really is. Six years strong now.
Most times, he is dragging him around the house, dropping Mufasa somewhere or another. And he's less and less inclined to freak out when he can't find him. And yet... every once in a while...
Thursday night Jake woke me up at 2:00am. And the only reason that happens...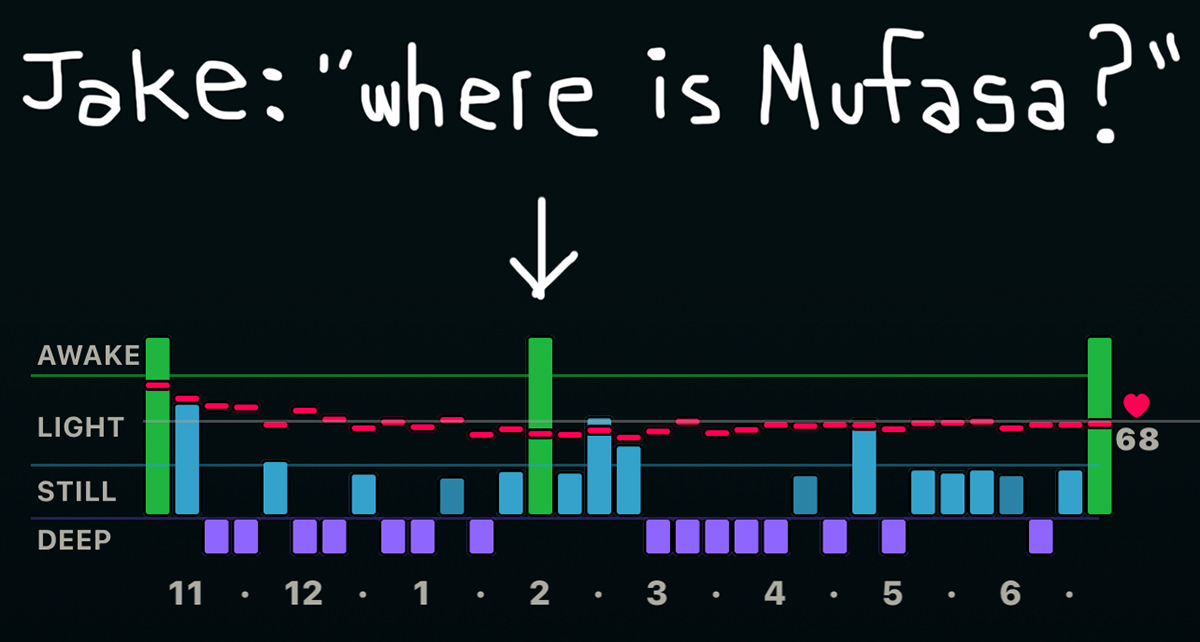 And so... off we went for a game of hide-and-seek. Though it wasn't much of a game. It took two minutes to find Mufasa sitting on the couch.
After throwing Mufasa around for a while, he picked him up and ran upstairs where we went back to bed...
At which point I fell asleep watching him give Mufasa a bath.
Posted on April 2nd, 2022

I got this new "Fancy Feast Broth with Chunks" cat food because Jake's prescription food has been out of stock (THANKS, COVID!). I opened up the little pouch and immediately started gagging. I seriously thought I was going to puke. But I managed to get it into the bowl... and of course the rank smell compelled Jake and Jenny to IMMEDIATELY start scarfing it down like maniacs. Licking the bowl and everything...
Why is it that the worse something smells, the more my cats yum it up? So gross.
AND CAN YOU IMAGINE WHAT THEIR POOPS ARE GOING TO SMELL LIKE?!?
=shudder=
Coming home from work this past Monday after I had been gone for three nights has Jake acting as if I've been gone for six months. Much petting has to ensue before he will let me go. And he's smarter about it now. Lays on my feet to pin me down so he doesn't have to walk after me squawking as I move around the house. And what I said to him as he's rolling around on me? "Gee Jake, your butt looks particularly clean today!" Cats...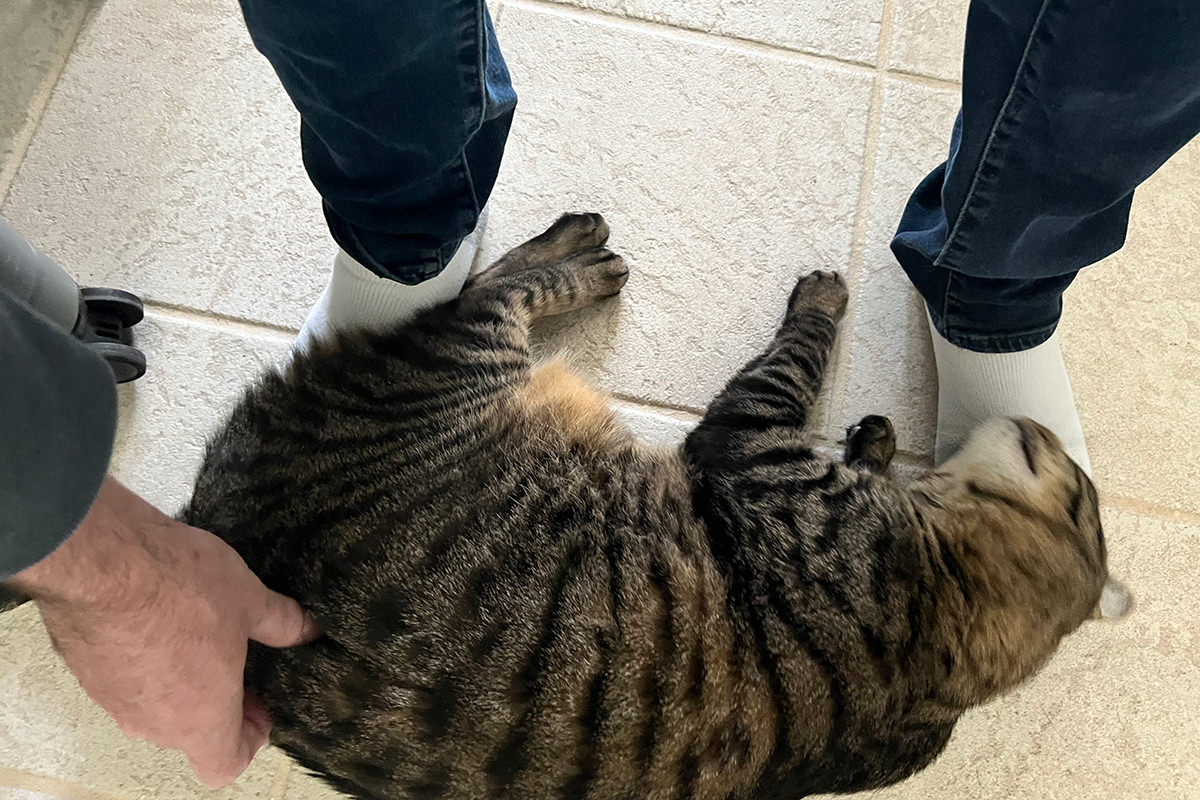 Last Caturday I remarked how nice it was that my knucklehead cats got along so well while I was gone. Well, now that I'm home, that's apparently over. When I got home on Friday, Jake came running down the stairs all "WAaAAaAAaAH!!" And I was like, what's up buddy? What's wrong? And so I went back through the camera feeds to see. Turns out I left my bed a mess, and Jake had nested in the blankets. But then Jenny came up and wanted to lay there. So she started beating him up so he would move!
RUDE!
Fortunately, when I'm home they're happy to make peace again...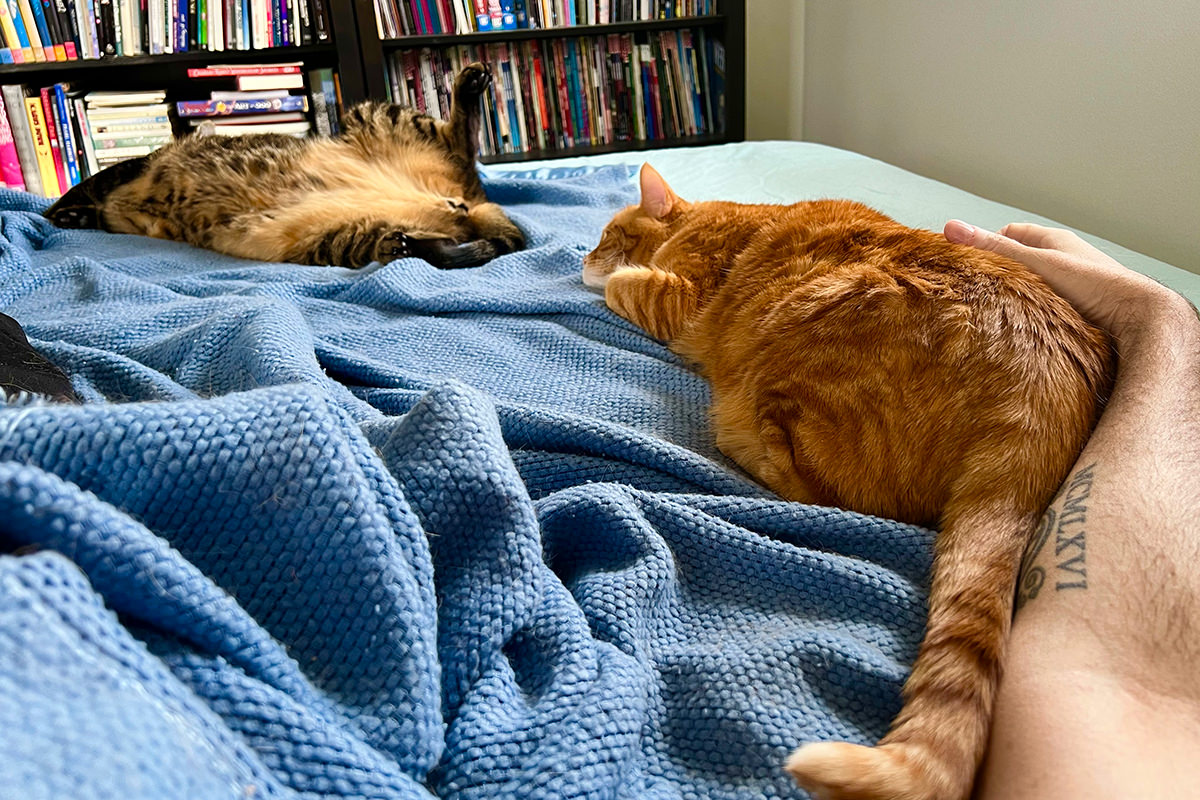 Makes it worth putting up with stinky food and even stinkier poops.
Posted on March 26th, 2022

I'm away from home this Caturday.
Which is really sad, because I know that if I check in on Jake at night when he expects me to be home I'll see him wandering around the house crying because he can't find me. And it's even worse now that I rarely leave home (thanks, COVID!).
But when I checked in on the knuckleheads this afternoon, I found that they are consoling each other in my absence...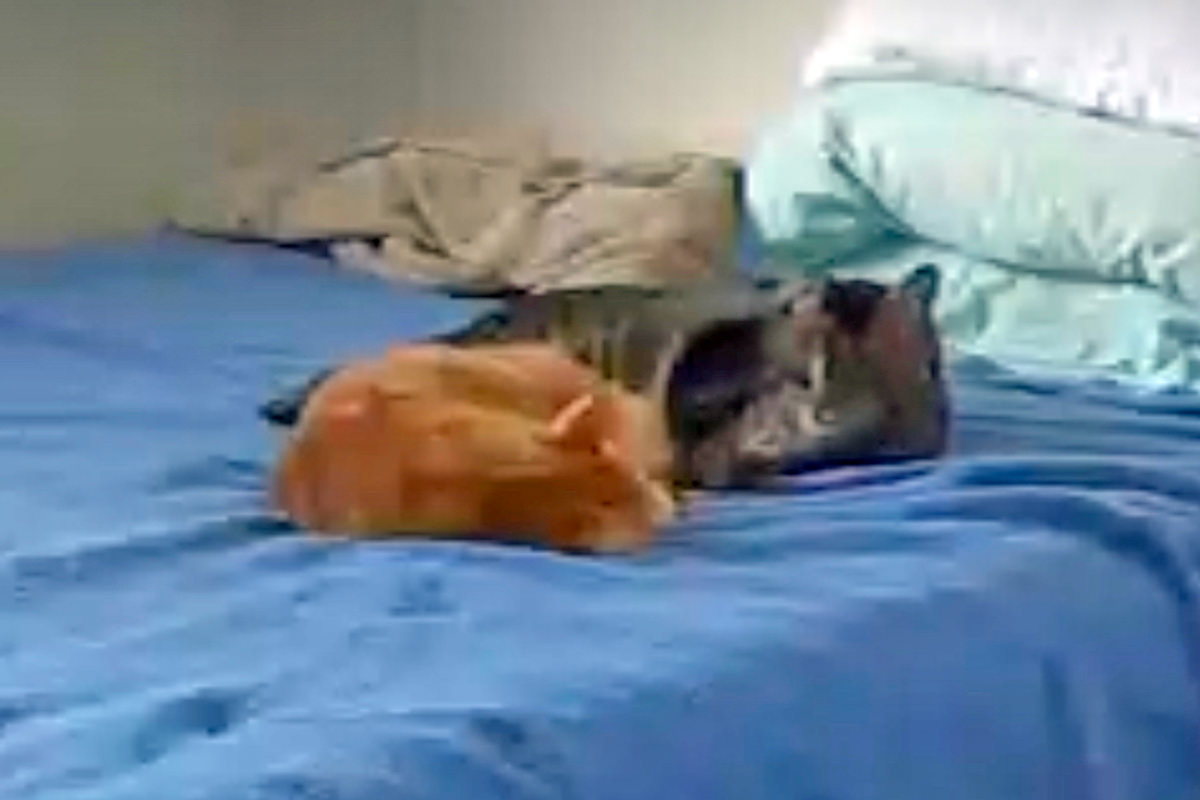 DON'T WORRY, KITTIES! I'LL BE HOME TOMORROW MORNING!
Posted on March 19th, 2022

My cats live for the Alexa alarm that tells them that it's breakfast or dinner time. They come running up to me and are hopping around all excited that their favorite time of day has arrived. Every once in a while, I try to out-excite them. I freak out and be all "DINNER TIME! ZOMG! IT'S DINNER TIME! CAN YOU BELIEVE IT?!? YOU GUYS... IT'S DINNNNNNER TIIIIIIIME! WOO HOO!"
The first couple times I did that, they stopped in their tracks and were all "Wow. You're nuts, man." But now? It just makes them even more excited. They're running around... clawing the scratching post... hopping on and off the furniture... just going bonkers. It's hilarious. I cannot imagine my life without these two knuckleheads. They made a crappy day somehow bearable.
But it's not all peaches and cream.
Jake is not above bullying Jenny to get what he wants. And usually it's her spot on the couch or the cat tree. If she has it, he wants it.
Even a year ago, Jenny would immediately bail. She has no interest in confrontation. But now-a-days? It's a mixed bag. Sometimes she will just stay in place defiantly... especially if Jake starts licking her head...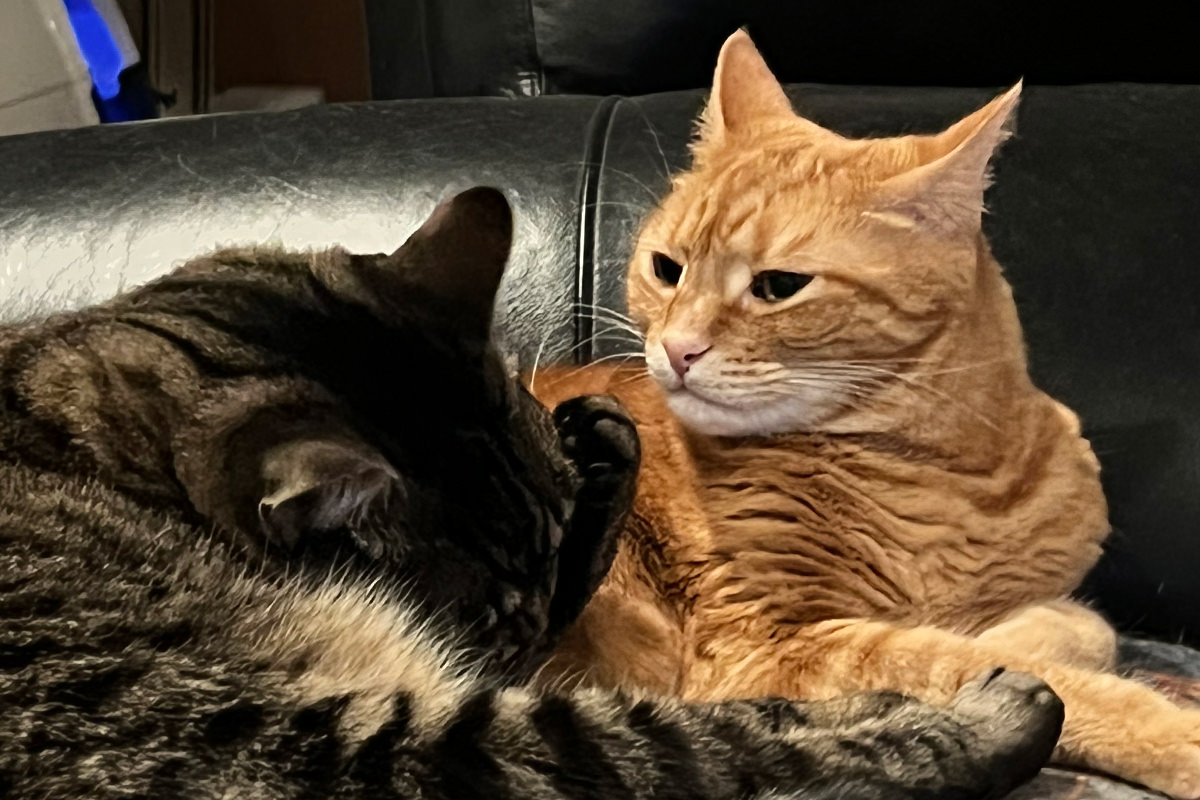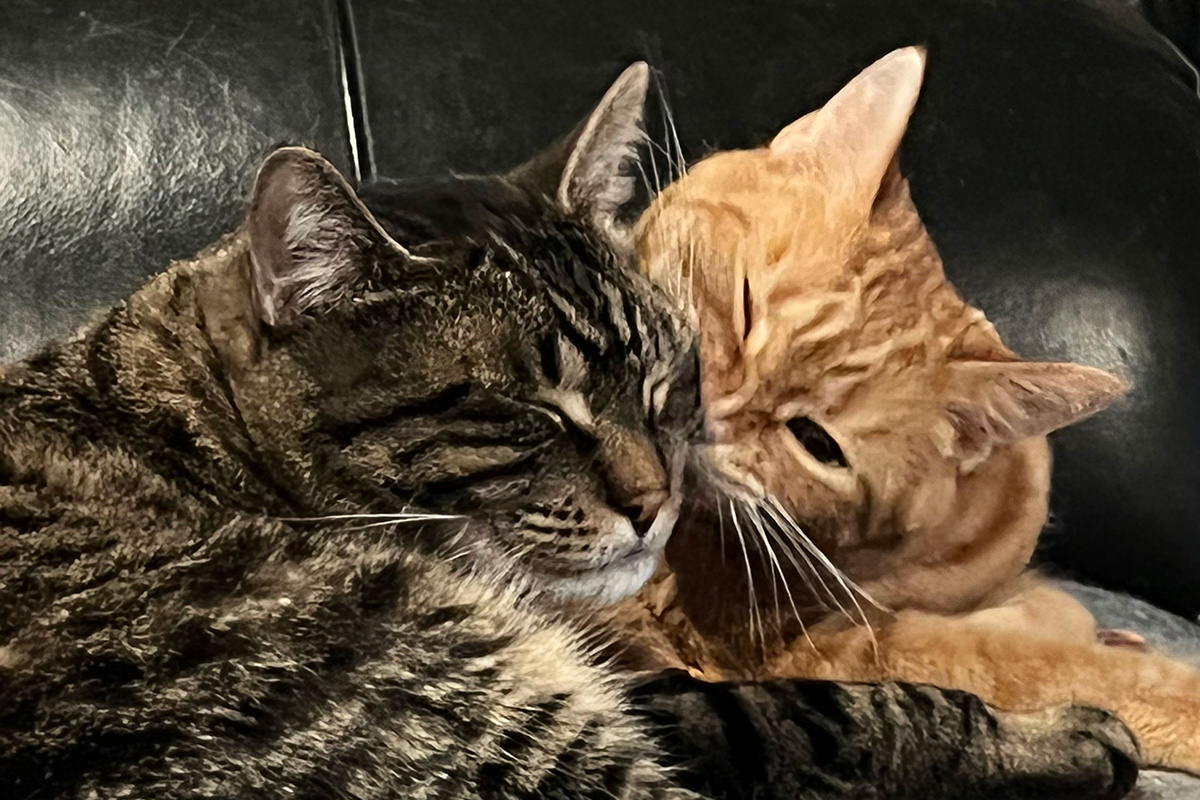 And sometimes she will absolutely fight back if she's not in the mood for Jake's bullshit...
More than a couple times I see her chasing him around the house because he's done something to piss her off. And I'm always like "Good for you!" Because I am also to the point in my life where I don't want to tolerate people's bullshit.
Role models pop up where you least expect them to.