So televangelist and so-called "Man of God" Pat Robertson has gone and said something bat-shit insane.
Again.
Apparently he feels that the Haitian people made a pact with the devil in order to end French colonization. He doesn't mention anything about who the Haitians made a pact with to end the United States occupation in 1934, but I'm assuming it's somebody pretty high up on the Evil Scale. Perhaps Bert from Sesame Street, myself, or Dick Cheney...
Never mind that none of us existed back in 1934, when you're talking about Pat Robertson, words like "logic" and "sanity" go right out the window. This is nothing new. I put Pat at the top of the Insanity Scale back in 2006...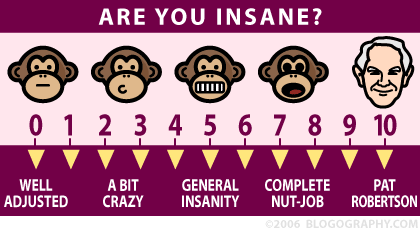 Because here's the thing... when it comes to crazy shit, Pat Robertson is top of the heap. It doesn't get more crazy than this. He's so nuts that Wikipedia has to keep a separate page devoted to all the insanity.
Don't get me wrong, the fruitcake has the right to say whatever fucked up shit he wants to say (this being America and all), but the problem I have is that people buy into the stuff he puts out there. People actually give their hard-earned money to Pat Robertson so he can keep his crazy on the air. I understand that there are individuals out there who are just looking for a way to keep faith in their lives, and think that Pat Robertson fills this need... but how much ridiculous bullshit does it take before you go shopping for a new religious leader? Anyone? Anyone?
It's not just that Pat Robertson is a stupid, hypocritical, uncaring, opportunistic, lying piece of shit, it's that he's just plain evil. It doesn't matter if he actually believes that God is such an asshole that He would slaughter innocent children and animals who get in the way of His divine vengeance... it's that Pat is so lacking in compassion that he would actually SAY that to a devastated people. Couldn't he just say "I'm so sorry to hear about the tragedy in Haiti. It's sometimes difficult to see God's plan for us when things like this happen, but we have to trust in His wisdom. I pray that the people of Haiti let the Lord into their hearts so that He can help get them through this. God bless you all." — SEE?!? That's a COMPASSIONATE and TACTFUL way to tell people that you think God hates them and it's their fault that God had to smite their asses. But Pat Robertson doesn't have a compassionate or tactful bone in his body because he's just fucking evil. Tragedy strikes, and there's Pat to pass judgement (which is supposed to be God's territory, but maybe Pat Robertson has never read The Bible to know this). Just like Nancy Grace and Ann Coulter, "Reverend" Pat is a whore who just loves to turn other people's tragedies into a money-making opportunity. It's the very definition of evil...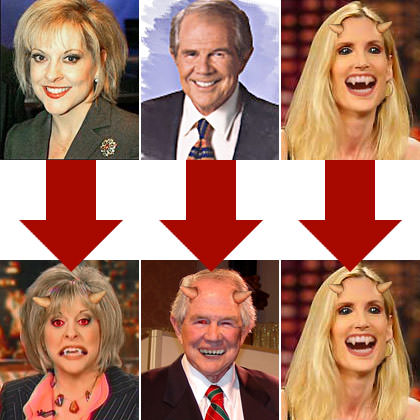 If there is any justice, Pat Robertson's god will judge him using the same compassion and logic that Pat Robertson uses to judge everybody else.
Which basically means he's fucked.
And it couldn't happen to a nicer person.

More crazy Pat Robertson crap on Blogography...
August 23, 2005. I try to figure out why Pat Robertson is such a fucking moron.
January 6, 2006. I tell Pat Robertson to shut the fuck up.
June 25, 2007. I surmise that it's actually Pat Robertson who is a tool of the devil.

And now, on a more serious note...
I've written many times about my love, admiration, and respect for Doctors Without Borders and the incredible work they do. Often going where angels fear to tread, DWB is an international medical humanitarian organization working in more than 60 countries to assist people whose survival is threatened by violence, neglect, or catastrophe. They are in Haiti right now, doing everything they can to tend to the victims of the earthquake. If you can help them to help others, please visit their website and make a donation...