Posted on Sunday, April 1st, 2007

Bullet Sunday on April 1st? Hmmm... since Blogography is foolish 365 days a year, there doesn't seem to be much point in an April Fool's Day here.
• Happy Baker... As I sit here after a long day of work, my bread-making machine has just kicked into "baking" mode after having spent the past three hours mixing, rising, and blending the dough. As it bakes, the bread is smelling like paradise wrapped in an orgasm. I hope I can restrain the urge to stick my head in the machine before it's done.
• Super-Less... As I wrote back in December, the Superman Movie Ultimate Collector Set I bought arrived with one duplicate DVD and one missing DVD. As I also wrote, the bastards at Warner Home Video wouldn't just let me swap the duplicate... I had to return the entire set and re-order it. Well, guess what? The set has entirely sold out, and there doesn't seem to be plans to produce more of them. So now I can't order it unless I pay huge money for a second-market copy. Great. I should have just kept the bad set and purchased the one movie I was missing, which would have been infinitely cheaper than buying it now. Warner Home Video fuckers. Your customer service sucks ass, and thanks for screwing me for something that was your mistake.
• Contract-Free... Based on the rumors that Apple was coming out with a mobile phone, I didn't renew my contract with Verizon when it came due last summer. Back in January, I was rewarded when the iPhone was unveiled at MacWorld for a June release. While I wait for iPhone, Verizon is doing their best to get me to sign a new contract. At first it was just reminders. Then it was an analysis of my calling plan and offers to save money if I signed a new contract. Then it was special offers for high-end phone rebates if I signed. Now I've received an offer for a free month of service and a sweet new phone... if I sign a 2-year contract. It seems the longer I wait, the better the offers get. Well, since Verizon stupidly passed on the iPhone when they had the chance, none of this is enough to win me back. I guess the moral of the story is... unless you are needing a new phone immediately after your contract ends, you might want to wait a few months before re-signing to see what extras your carrier will offer to keep you.
• Suffer Well... I don't normally add outside content to my blog, preferring to make everything here myself. But last week I discovered something so amazing, that I just can't resist. As a side-promotion for their album Playing the Angel, Depeche Mode recreated one of their songs, Suffer Well, for a video game extension to The Sims 2 called "Open for Business." Believe it or not, the track is sung in "Simlish," which is the official nonsensical "language" of the game's characters. That alone would be great, but the video that goes along with the song is just amazing. This is an embedded YouTube movie, which may require you to click out of a feed-reader, if you are using one. To download the video direct from Depeche Mode's site, here's that link.
• Vista Activation... Unlike Apple, Microsoft does not make the hardware on which their Windows Vista OS runs. Because of this, it is understandable that they would want to stop piracy of their software, because that's all they have to make their money. But I am here to tell you... if you ever run into a problem with your Vista installation and end up needing a new activation key, you're f#@%ed. Friday morning I booted into Vista to check a website error, and received a nasty black screen telling me that a critical component of the OS was missing. Nothing I did could solve the problem, so I ended up reformatting the partition and completely reinstalling Vista. This resulted in me not being able to "activate" Vista again, because it was telling me the activation key was already in use. I couldn't use telephone re-activation for some reason, so I ended up calling support. After three telephone transfers, numerous conversations, and being put on hold a half-dozen times, I finally got my new key. Total time: FIFTY-EIGHT MINUTES! That's right, an HOUR gone from my life. In the meanwhile, Vista activation has been cracked, so the only people suffering here are NOT software pirates, but legal Microsoft customers. Shouldn't it be the other way around? As if I didn't hate Windows Vista enough already... sheesh.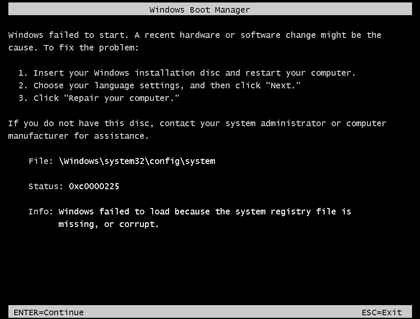 • You Can Dance... Courtesy of Frances Danger, I've put a music-type meme in an extended entry...
→ Click here to continue reading this entry...
Posted on Sunday, April 8th, 2007

Make a joyful noise for Bullet Sunday has risen!
• Easter... I gave up celebrating Easter around the same time I gave up being Catholic (almost 20 years ago now!) but still love the holiday for one very good reason: the candy. I absolutely love Easter candy. From having my teeth shiver as I bite into the sweetness that is a Cadbury Chocolate Cream Egg... to getting some of my favorite candies in egg shapes and pastel colors... Easter is a candy-lover's dream come true. In many ways, I'm thinking it even eclipses Halloween in terms of confectionary importance to me now...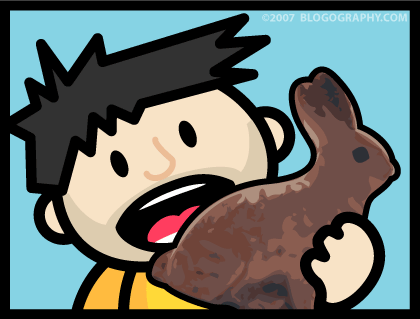 Nothing wrong with getting a little tail on Easter.
Which is probably why I'm choosing to celebrate the holiday by lapsing into a chocolate coma.
• Voicemail... ABC Television has an amazing new video player on their site which, get this, IS MACINTOSH COMPATIBLE!! As if that weren't cool enough, you can watch full episodes of sweet ABC shows like Ugly Betty and Grey's Anatomy. But here's the best thing... they have an original online series called Voicemail that's priceless...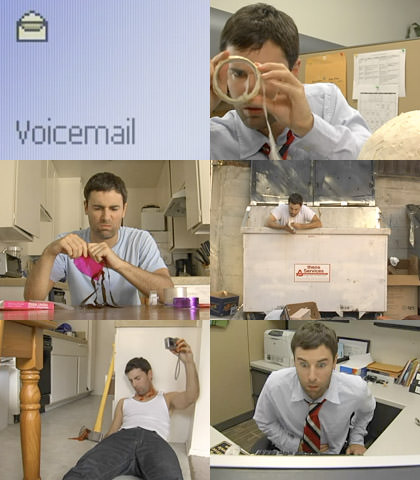 Mike is a character that just about any guy can relate to at some point in their lives.
For best effect, you'll want to go to ABC.com and choose their New Video Player. But you can also access the webisodes in the old Flash player format from the Voicemail web site (which is also funny). This is one of those rare online series that is actually worth your valuable time. I hope they sell the episodes at iTunes after the first "season" is over, because I would gladly pay money to have this show saved on iTunes for a rainy day when I need a laugh.
Of course, this being ABC, they will undoubtedly cancel it half-way through the current season and we'll never see it again. It's what they do.
• Three... There is no bullet point three. Move along.
• Flash!... Ever since seeing Blades of Glory, I've had Queen's brilliant Flash Gordon Theme playing in my head. Depiste the poor reviews, I always liked the 1980 Flash Gordon film... largely due to the funky visuals, excellent film score by Queen, and the sweet hotness of Melody Anderson. I bought the soundtrack album long ago on vinyl (long since lost) but lucky for me it's available at the iTunes Music store. Sweet! I also note that one of my favorite videos, Radio Ga Ga, is also available. The song has never been one of my favorites, but the epic dream-like quality of the video is a winner...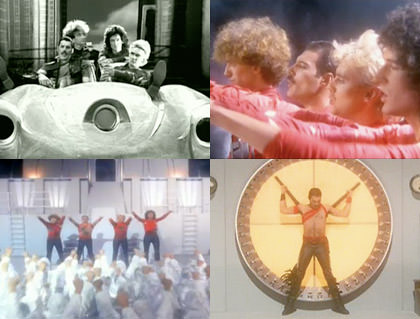 Freddie looking fierce, fabulous, and very gay wearing leather pants, feathers, and a sash.
• Extracurricular... Why is it that every time I turn around, there's another teacher being busted for sleeping with their under-aged students? And, even more importantly, why wasn't this part of the educational curriculum when I was in school? Granted, there were very few of my teachers I would have wanted to sleep with, but I can think of one or two that I'd have gladly let tutor me in some after-school sessions. Just think of the embarrassment that could have been avoided in fumbling to remove that first bra had a teacher been kind enough to show me how it's done! That being said, you would think that the penalty for violating the trust of parents who put their kids in a teacher's care like this would be death. Of course, I'm still trying to wrap my head around the idea that somebody finds underage girls and boys to be sexually attractive, so maybe I'm just biased.
And, on that note, I must now have jellybeans. JELLYBEANS I SAY!!
Posted on Friday, July 13th, 2007

During the height of Garth Brook's popularity throughout the 1990's, I was nearly suicidal. I 100% loathed his "music" and, since it was absolutely everywhere all the time, there was no escape from it. When he dropped off the face of the earth in 2002, nobody was more thrilled than I. To this day, one of my greatest fears is that Garth Brooks will come out of retirement and stage a massive comeback, dooming me to once again be inundated with his crap.
In the meanwhile, I continue to be haunted...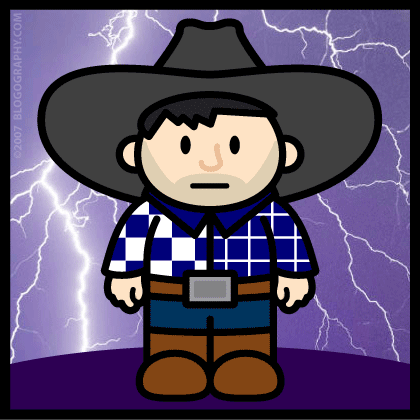 After a week of 100° heat and clear skies, the valley was unexpectedly overcast this morning. Then, around 10:30, booming thunder filled the skies and we were in the middle of a downpour. As I was working away at my desk, two women walked by my window screaming the lyrics to The Thunder Rolls by Garth Brooks. And, while I did take some small satisfaction in that they were getting drenched by the rain, this horrifying ordeal has me wanting to drink copious amounts of alcohol until I pass out.
Alas, I can't get drunk because I have too much work to do and, unfortunately, it's all rather complex and cannot be tended to while wasted.
Or can it?
I am pretty amazing at my job... perhaps I can do it while drunk?
I dunno. I suppose it depends on whether or not every Garth Brooks fan on the planet decides to send me fun hatemail and leave insightful comments like "GARTH BROOKS IS THE BESTEST SINGER EVER, SO GO F#@% YOURSELF, A$$HOLE!!" just because I dare use my blog to state my opinion on musical talent (or lack thereof).
Hey. The rain has stopped. Must be time to listen to some Chris Gaines!
Bwah ha ha haaaa!