During the height of Garth Brook's popularity throughout the 1990's, I was nearly suicidal. I 100% loathed his "music" and, since it was absolutely everywhere all the time, there was no escape from it. When he dropped off the face of the earth in 2002, nobody was more thrilled than I. To this day, one of my greatest fears is that Garth Brooks will come out of retirement and stage a massive comeback, dooming me to once again be inundated with his crap.
In the meanwhile, I continue to be haunted...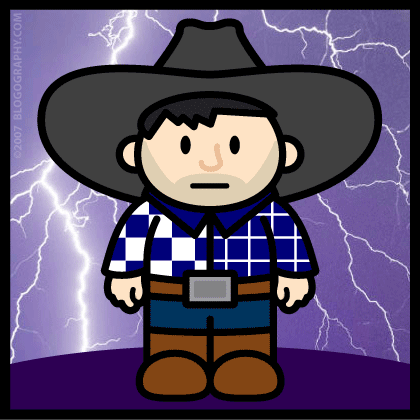 After a week of 100° heat and clear skies, the valley was unexpectedly overcast this morning. Then, around 10:30, booming thunder filled the skies and we were in the middle of a downpour. As I was working away at my desk, two women walked by my window screaming the lyrics to The Thunder Rolls by Garth Brooks. And, while I did take some small satisfaction in that they were getting drenched by the rain, this horrifying ordeal has me wanting to drink copious amounts of alcohol until I pass out.
Alas, I can't get drunk because I have too much work to do and, unfortunately, it's all rather complex and cannot be tended to while wasted.
Or can it?
I am pretty amazing at my job... perhaps I can do it while drunk?
I dunno. I suppose it depends on whether or not every Garth Brooks fan on the planet decides to send me fun hatemail and leave insightful comments like "GARTH BROOKS IS THE BESTEST SINGER EVER, SO GO F#@% YOURSELF, A$$HOLE!!" just because I dare use my blog to state my opinion on musical talent (or lack thereof).
Hey. The rain has stopped. Must be time to listen to some Chris Gaines!
Bwah ha ha haaaa!