Posted on Wednesday, April 2nd, 2008

Wow. The reaction to my April Fool's condom ad was so favorable that I almost wish I was able to manufacture them! I should start experimenting with latex, chocolate pudding, and banana molds... how difficult can it be to make a condom?
And speaking of experimentation...
Ever since I found out that I'm 20% gay, I've been trying to find a way to put it to good use. I was going to find a pride parade to march in so that I could show support for my 100% gay brothers and sisters, but I just can't pull off the dress code...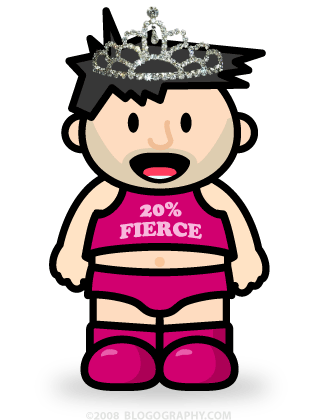 Fortunately, Jestertunes has come to the rescue and is having me on as Very Special guest-host for a Very Special episode of The Jester Show tonight (Wednesday) at 7:00 Pacific (10:00 Eastern)...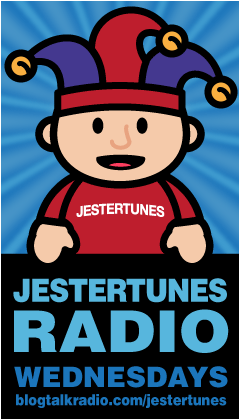 The topic for the last half of the show is going to be "Your Favorite Television Shows of The 80's" so it ought to be big fun!
As for the first half of the program, heaven only knows what trouble we'll get into. Since his show description says that we'll be "waxing hysterical on gay sex," perhaps I'll have a chance to ask him about those burning gay questions that have come up over the years...
So tune into The Jester Show tonight for "Long time friends and blog acquaintances waxing hysterical on gay sex, politics, tv, movies, music, and generally trashing people we come into contact with on a regular basis." I'm sure it will be fierce and fabulous!*
* Well, I'm sure Jester will be fierce and fabulous... I'm just going to embarrass myself as usual.
Posted on Tuesday, June 24th, 2008

As you are probably aware from my ceaseless whining, I live a busy and complex life.
This would explain my obsession when it comes to finding ways of making common tasks easier and more efficient. Because the more time I'm able to save throughout the day, the more time I'm able to set aside for luxury activities like sleeping and going to the bathroom.
A couple weeks ago, I happened upon something new to me in the freezer case at my local grocery store: UNCRUSTABLES!!
These are tiny frozen sandwiches from Smuckers that you thaw out and eat without all that mucking about with a loaf of bread and making a mess. I tried the peanut butter and jellies first... both strawberry and grape were yummy. I then found grilled cheese... totally delicious. Sure they are horrible for your health, but they are just so darn convenient that I can't get enough of them...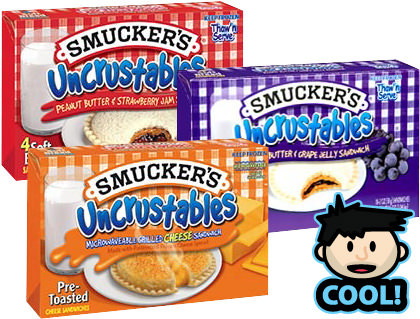 Then the other day I ran across a NEW Uncrustables variety... peanut butter and honey. I like honey, so I bought a box to try.
Holy crap! I believe that this is what "suck" would taste like if you could distill the essence of suckage to a food product. On top of tasting horrible, I was shocked to discover that the "honey spread" contained any honey, because it tasted more like toxic waste. Sandwich FAIL!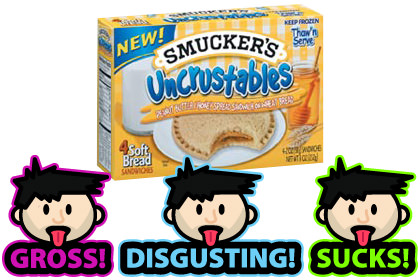 Oh well. I guess you can't win them all... but did anybody at Smuckers bother to TASTE these things before selling them? When your motto is "With a name like Smuckers, it's got to be good," you'd think that they'd have to be a little more careful with the crap they actually put their name on.
And in other, more expected news...
I keep hoping my pet Webkinz monkey will calm down after having been ripped off by the Webkinz eStore, but it just hasn't happened. If anything, the little psychopath has escalated his game... getting more creative with his senseless killings. I think he's always resented the cat who works at the employment office, and saw him heading that way...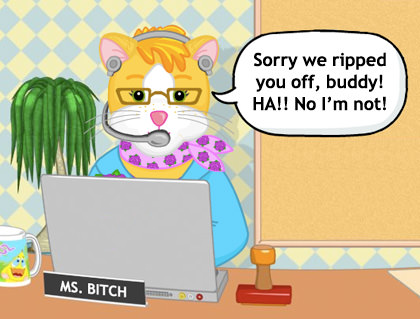 The remainder of this entry NOT appropriate for children or those who are traumatized by cartoon violence!
→ Click here to continue reading this entry...