Welp, you know what time it is... my annual wrap-up of my favorite films of the year! Or, to be more accurate, my favorite films that I actually saw. Which is still not as many as usual, thanks to COVID, but here we are.
THE EIGHTEEN BEST...
These are my favorite movies from this year that I actually saw.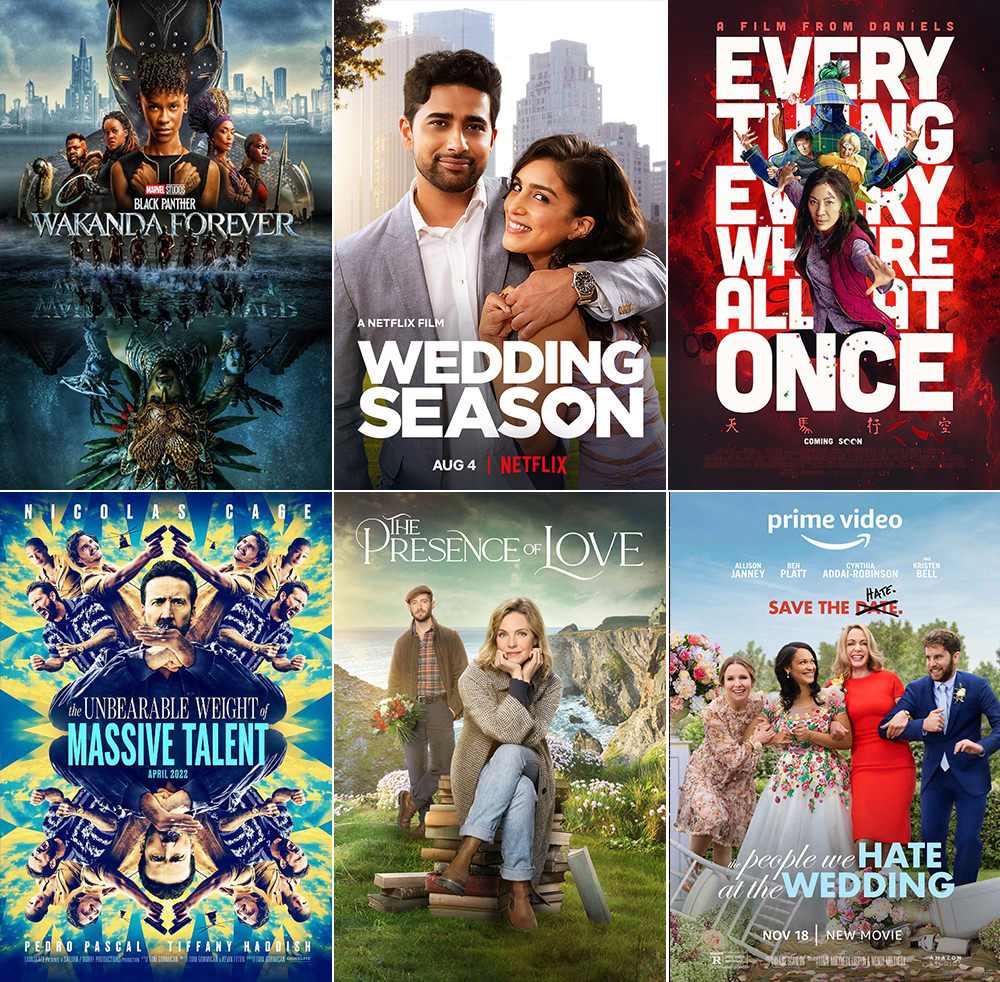 #1 Black Panther: Wakanda Forever (Marvel Studios)
Well this is kinda a no-brainer for me, isn't it? And that wasn't always a given when you consider that Black Panther himself... Chadwick Boseman... tragically passed before filming began. In lesser hands, this would have been a disaster. But Ryan Cooler channeled that loss into something that was far better than it had a right to be. Oddly enough, that's largely thanks to Marvel finally bringing Namor to the screen... brilliantly realized by Tenoch Huerta. The story is a bit meandering for a while, but once it finds its footing, everything just... works. It helps that the entire cast is fire, from Angela Basset on down. To say anything about the story is to spoil the story. Suffice to say that I hope Ryan Cooler isn't done with Wakanda yet... and they can give M'Baku his own Disney+ series any day now. Just back up a truck filled with money to Winston Duke's front door and get it done.
#2 Wedding Season (Netflix)
Yeah, it's a rom-com on Netflix... but it's an incredibly good rom-com. With a Bollywood ending that is absolutely everything. Funny, charming, sweet, and a good story to boot... this is all you could ask for in a movie. Mothers set up their kids on an on-line dating site, and they both get so tired of it that they decide to fake-date. And then...
#3 Everything Everywhere All At Once (A24)
Whereas Doctor Strange in the Multiverse of Madness has the multiverse hammered into it with a mallet, Everything Everywhere All At Once has the concept baked into the core of the movie and shows how a "multiverse" can be more than just a gimmick to introduce more characters and tease fans with "what-if" casting. On top of that you have Michelle Yeoh unleashing her full potential heading up a fantastic cast, and this movie was poised for greatness. And great it is. A woman whose life is in crisis from all angles gets sucked into an inter-dimensional plot to take over the multiverse... and has to battle her way out of it all to find herself. And the result couldn't have been more wacky, interesting, and wonderful.
4 The Unbearable weight of Massive Talent (Lionsgate)
"You're right, that is how you spook a bear. I apologize." I knew this would make my list half-way through watching the trailer, because the whole concept of Nicholas Cage playing Nicholas Cage and skewering his life is the kind of role that every Nicholas Cage fan dreams of. And, as a one-two follow-up to last year's brilliant Pig, I was ready for more Cage. But I didn't really have a handle on just how brilliant Cage's performance... and this entire film... was going to be. "Nick Cage" gets tangled up with a wealthy super-fan and the CIA, and the result is both hilarious and so very, very smart. Along the way we also get Pedro Pascal in a role so good that it makes me almost forget his part in the horrific Wonder Woman 2 debacle (seriously, I had to rewatch him smooth out the pillow over and over because he was so committed to it). I was tempted to put this movie in my #1 spot just because it was so much better than I thought it was going to be, but... Wakanda Forever.
#5 The Presence of Love (Hallmark)
I've decided to stop discounting Hallmark movies just because they're Hallmark movies when it comes to my yearly wrap-up (last year's The Baker's Son deserved more than an honorable mention). I had this movie playing as background noise many, many times... and ended up getting wrapped up in the story every time. This an achingly beautiful film featuring wonderful performances from everybody involved (including the little girl, who is fantastic), and features cinematography that could be set against major studio feature films. So much care was put into every scene to make sure moments are touching and honest without feeling artificial. Not an easy feat for Hallmark... or any studio, really.
#6 The People We Hate at the Wedding (Amazon Prime)
I think I laughed the harder at this movie than any other this year. A woman who's having an affair with a married man heads to England with family for a half-sister's wedding. The result is hilarious in all the right ways... but doesn't sacrifice a good story just for laughs. Where the movie really shines is the cast, which is perfectly realized for every role. Comedic chops for days, but with enough heart to go beyond superficial meandering, this movie was better than it had a right to be.
#7 Doctor Strange and the Multiverse of Madness (Marvel Studios)
Doctor Strange comics at their best are when they take the character into weird and bizarre directions. Places other super-heroes can't traverse. In that respect, the second movie (Doctor Strange in the Multiverse of Madness) is more like the comics I love. He's just made so imaginative and cool... using his powers in really creative ways to keep things interesting. The problem is that the story itself is a bit weak. By forcing the whole "multiverse" plotline on the film, they kinda undermined the character. I really hope that they put an end to the multiverse thing soon so more movies don't have to suffer through it.
#8 Top Gun: Maverick (Paramount)
Given the fact that this is pro-military enrollment propaganda, it's surprisingly smart. Tom Cruise is back to train a team of Naval aviators for an impossible mission... but also has to deal with the ghosts of his past when Goose's son is one of the pilots in the mix. Sure, there's a lot of wacky-ass impossible stuff going on, but the film is incredibly entertaining, which trumps the problems that pop up.
#9 Thor: Love and Thunder (Marvel Studios)
My favorite Marvel Studios movie is Thor: Ragnarok, because it's just such an incredible triumph. Funny, but with real stakes. Entertaining, but whip-smart. I was expecting Taika Waititi to dish up more of the same... and to a certain extent he does... but the smart edge from Ragnarok is completely abandoned this time around, and it's very noticeable. It's almost a parody at points. But still... the characters are great, the story has a point to make, and finally getting a resolution to Jane Foster's story adds up to a good movie.
#10 Confess Fletch (Miramax/Paramount)
I have watched the two Chevy Chase Fletch films more times than I can count. Because despite the fact that they deviate from the books in numerous ways, they were still darn entertaining. Confess Fletch strays back towards the character of the book and ditches the corny disguises that defined Chevy's take. What John Hamm does with the material is, in so many ways, just as funny... but also feels much smarter. This time around Fletch is framed for murder and has to find the real murderer while staying one step ahead of the police (and his new girlfriend). Doesn't hurt that the mystery is pretty good (even though the solution isn't that surprising).
#11 Cha Cha Real Smooth (Apple Studios)
Two years ago Cooper Raiff unleashed Shithouse and I became an instant fan. Now he's back with a movie that is better in just about every way. And how he manages to not take the easy or expected route in his films... but still manages to create such satisfying movies... is beyond me. All this and he's actually a really good actor on top of of being an exceptional writer and director. The setup for Cha Cha Real Smooth is like films you've seen dozens of times before... and yet the payoff is so much better because it's not like films you've seen dozens of times before. You end up feeling completely different about some characters at the end than you did in the beginning, and that takes true talent to accomplish because most times when this is attempted it just feels so fake and unearned. I'm not going to say anything about the story, because the less prepared you are the more you'll like it.
#12 Marcel the Shell with Shoes On (A24)
Marcel is a shell and he has shoes on. He lives with his grandmother and he's trying to find his family. The result is heartwarming and brilliant. There's a part of me who wanted to put this movie at #1 just to get people to watch it... it's that good and that deserving... and if I were a little smarter, I would have. Even so, just give it a shot.
#13 Bullet Train (Columbia)
It's an assassin free-for all and the stakes couldn't be higher. What's surprising about this balls-out action flick is that it wasn't dumbed down, as it's fairly complex and has plots within plots. The entire cast was amazing... but Brad Pitt was just beyond. He has a way of making casual characters be capable of carrying an entire movie, which is a rare talent. Bloody fun!
#14 Prey (Hulu)
The sequels which followed the awesome original Predator range from bad to awful, so I wasn't holding out much hope for a direct-to-Hulu fifth film. Much to my surprise, it's easily my favorite since the original… and actually surpasses it in a number of ways. A prequel to Predator taking place in the early 1700's, Prey follows a young Comanche healer who wants to prove herself as a hunter... and stumbles upon the ultimate prey... a Predator. What follows is a very clever reimagining of the original concept that feels completely fresh. Violent and brutal from the start, it's not for the week at heart, but an entertaining ride despite it all.
#15 Chip 'n Dale: Rescue Rangers (Disney)
This masterpiece of mockery is hilariously depraved. From ruthlessly skewering Hollywood (including everything Disney) to making fun of more franchises than I can count, everything about this film seems impossible (it's got E.T. vs. Batman, for heaven's sake!). How in the heck Disney ever allowed it to be made is a mystery. When their old colleague Monterey Jack is abducted, Chip n' Dale have to put their contentious past behind them so they can team up and save him. John Mulaney and Andy Samburg were odd choices to voice Disney's famous chipmunks, but in the context of this film it's gold. Anything I say past that is a potential spoiler, and that reason alone guaranteed it would land in my Best Of list. If you've got Disney+ and can appreciate self-referential humor in high doses, this is essential viewing.
#16 RRR (DVV)
Look, either you will be able to buy into this movie 1000% and enjoy every minute that it is blowing your mind with unreal absurdity... or you won't. If you can buy into it, you're in for a Tollywood treat of epic proportions. If you can't? Well, there's no hope for you. I've watched many a Bollywood and Tollywood movie, so it was easy for me to buy into the men-as-gods theming and a bromance that is about as good as it gets.
#17 The Gray Man (Netflix)
Ryan Gosling has gone from an actor whose films I've avoided... to being an actor which will get me to watch a movie I might have otherwise not bothered with. As "The Gray Man" he's a CIA top operative who comes across information that will blow the lid off of the agency that he's devoted his life to. That's not going to please people in power, so they send assassins after him to make sure that the information never sees the light of day. While I didn't exactly love this movie, I did find its action to be endlessly entertaining with a terrific cast. I don't think that it did as well as expected for Netflix, which is a real shame. This has "franchise potential" written all over it, and I would love to see the character come back for another round.
#18 Glass Onion (Netflix)
Rian Johnson completely reinvigorated the Agatha-Christie-style-murder-mystery with Knives Out, and now he and Daniel Craig are back with a new murder mystery. I'm just going to come out and say it... the mystery itself is not that great. But the cast is frickin' fantastic, and their characters are so mind-bogglingly entertaining as to make the movie worth your valuable time. I will give them credit for literally saying that the murder is "stupid"... within the actual film, and that goes a long way towards me appreciating what was done. Because, yeah, people are stupid.
HONORABLE MENTION...
The Adam Project (Netflix)
Yeah, Ryan Reynolds coasts through this one with only a minimal commitment to his character, but that still makes him more entertaining than 95% of Hollywood. This time around he is a guy from the future who has to go back in time to fix a problem... with the help of his younger self. And while not in any way groundbreaking, it was darn fun to watch. It also had a story that wasn't terrible, assuming you don't think about it too hard. If you're a fan of Ryan Reynolds and sci-fi fun, this is the movie for you.
Nope (Universal)
It's Jordan Peele doing what Jordan Peele does in a way that only Jordan Peele can. And while this doesn't reach the heights of Get Out or Us, it does have enough smart unease to make it a great watch. Basically a UFO is stalking a horse ranch, and the past proves important to understanding what's happening and how to survive.
Strange World (Disney)
This is an action-packed 3D animated feature from Disney that has some of the most incredible visuals in a film you'll ever see. Unfortunately, that alone can't save it from a mediocre story that has its heart in the right place when it comes to environmentalism and inclusivity, but lacks any kind of subtlety or tact in presenting its ideas. Everything's just so painfully basic that the imaginative locations and creatures are dragged down.
Lightyear (Disney)
This was a pretty darn good movie. But there was a serious problem… they made the supporting cast incredibly stupid and incompetent way too often. It kind of sabotaged things for me, because it's just so unnecessary. But still... exciting stuff. And Sox is one of my new favorite animated characters.
Bros (Warner Bros.)
The fact that Hollywood bankrolled a boy-meets-boy love story is enough to make me interested in the film. Alas Billy Eichner is so roundly annoying at the start that I was ready to tune out in the first ten minutes. But then everything kinda gels together when Billy stops building his entire character on being horrible and the story sets in. Ultimately it's a film that's more entertaining than not, though not so much that you'll feel the need to ever watch it again.
Dog (MGM)
Channing Tatum is a former Army Ranger suffering from PTSD but trying to get his job back so he has purpose in his life again. An opportunity presents itself when he is charged with delivering his friend's Military Working Dog to his friend's funeral. Unfortunately, the dog is traumatized and acts out in ways that makes the task easier said than done. The result is a movie that's funny, heartwarming, and sweet in equal measure.
DIDN'T SEE, MIGHT HAVE MADE MY LIST...
The Woman King
Wendell & Wild
Ambulance
Emancipation
Pinocchio (Guillermo del Toro version)
Triangle of Sadness
Something in the Dirt
Three Thousand Years of Longing
Barbarian
Avatar: The Way of Water
OVERRATED BUT STILL GOOD...
Hustle
Sandler is very, very hit or miss for me. There are films like 50 First Dates that convince me he has actual charm and talent to carry a movie... then he goes and makes five other films that completely blow. This time he's a scout for the NBA and really leans into his "everyman" persona to tell a good story. But it's ultimately pretty basic and doesn't deliver on what I'm expecting from a movie with 90% Fresh on Rotten Tomatoes.
The Northman
I was seriously expecting this Viking movie to completely blow me away given the amount of critical acclaim that was unloaded upon it. I was underwhelmed. Not that it was bad... it just kind of mindless and lacking in heart, which left me more uninvested than I should have been. Even so, it was a pretty good watch.
DISAPPOINTING...
The Batman
Lord. Where do I start? The Batman had a lot of hype that gave me hope, but it doesn't get anywhere near touching the terrific Nolan trilogy. Heck, it doesn't even get close to the two Michael Keaton films. It's probably on-par with the Joel Schumacher movies for their idiocy, but The Batman at least tried to respect the character. Unfortunately it's a boring, morose, joyless slog of a film that made me long for Ben Affleck's take on the character. My favorite Batman is the detective who's good in a fight. But here we get an emo goth take that just didn't work for me. Zoë Kravitz made a darn good Catwoman, but I spent all her scenes wishing that she was doing something better (like her great canceled show, High Fidelity) than wasting her time with this. And, alas, the sexual tension with Batman was non-existent. And don't get me started with The Riddler, who was badly handled from the start and spent his pivotal scenes yelling to no effect.
Uncharted
I'm just going to say it... Tom Holland was woefully miscast as Nathan Drake, so even he couldn't save this movie for me. As great as he is in the Spider-Man films playing a young Peter Parker, he's bland and charmless stepping into the iconic video game character. It's like they tried so hard to start a new Indiana Jones franchise... but missed by a country mile. The story is awful and lacks any kind of excitement despite the writer's best efforts. They added some potentially interesting action (including a wacky green-screen ship to ship battle in mid-air), but none of it is enough to get your heart racing. I was uninvested and bored throughout.
Black Adam
Look, nobody is rooting for DC to finally make good super-hero movies again more than me. I long for the excellence of Nolan's Batman trilogy to be the rule rather than the exception. And I had exceedingly high hopes for Black Adam to work. Except... it really doesn't. The first 20 minutes is exposition of the most boring kind laid over a story nobody gives a shit about, which is a mind-boggling choice. From there on out you get entertaining action beats that try to be stylish (if aping Zack Snyder's slo-mo stylings count) interspersed between even more idiotic exposition (the constant need to run through everybody's powers is godawful), and then... a pathetic, annoying kid skateboarder sidekick? Christ. I dunno. I guess seeing the Justice Society was kinda cool (Doctor Fate is the best part of the movie)... but everything is so badly written, has stupid fucking music choices, and all attempts at humor fall completely flat. This is a terrible flick, and I sincerely hope that James Gunn can fix everything that's been going wrong with the DCU for far too long.
TOTALLY SHIT THE BED...
Morbius
Horrific from start to finish with a story that sucked harder than the vampires in it.
Jurassic World: Domination
This franchise just keeps getting worse and worse. They tried shoe-horning in some characters from the original to make people like it better. And it doesn't work. I hope they let these movies rest for a while before coming back with an entirely fresh take on the concept, because... yikes.
Blonde
An absolute fucking travesty. I had to stop watching a couple times just because I was so disgusted in how they went for full-on exploitation of Marilyn and her life. Doesn't matter that Ana de Armas is darn good in the lead, because the story is just a slog through depression and a complete mess.
Moonfall
Just goes to show you that even Halle Berry can be in a total turd of a film. This was an emotionally bankrupt story with no redeeming qualities. And, as if that wasn't bad enough, it wasn't enjoyable or entertaining due to just how damn stupid it is. I hope to God that the planned sequel is canceled so that the money wasted on it can be better spent.