This morning I screamed at a toaster. Well, not a toaster... the Amazon Alexa Echo Dot in my bathroom... but it's essentially like a smarter toaster, isn't it? Here's how it went before I hopped in the shower...
ME: Alexa play Overpass Graffiti by Ed Sheeran.
ALEXA: Playing Overpass Graffiti by Ed Sheeran on Living Room SONOS.
ME: Alexa, STOP! Why play it in the living room when I'm here in the bathroom with you? ALEXA! PLAY OVERPASS GRAFFITI ON THIS DEVICE!
ALEXA: Playing Overpass Graffiti by Ed Sheeran on Living Room SONOS.
ME: "ALEXA STOP!!! WHAT THE FUCK?!? ALEXA! PLAY OVERPASS GRAFFITI ON ECHO DOT!
ALEXA: I am reading The Autobiography of Martin Luthor King Junior. I have eleven hours and 20 minutes remaining...
ME: ALEXA, FUCKING STOP YOU INSANE ASSHOLE! WHAT THE BLOODY FUCK IS WRONG WITH YOU?!?
You think I'm joking, but...
My home is ridiculously automated. Lights turn on as the sun goes down. Every switch can be voice controlled via Alexa. The thermostat uses less heat when I'm not at home. Gutter heat tapes turn on when the temperature drops below freezing. The garage door opens when I round the corner on my street. And so-on. And so-on. If I can automate it, it's been automated.
But all is not perfect in my home automation paradise.
Few of my devices can "talk" to each other because I bought each device based on which was the best device... not whether it worked with other devices. For the most part this has been fine. I have Alexa, Google Hub, and Siri all running at the same time, so all I have to do is address my commands to whichever ecosystem I'm needing to control. It ain't perfect, but it works. And I hardly even realize I'm doing it.
The problem is that when something goes wrong it completely fucks everything up.
And things go wrong a lot.
Right now, for example, Alexa refuses to control my "Philips Hue" lighting (in addition to not wanting to play Ed Sheehan while I shower). Every time I ask, she comes back with "Hmmm... that light is not responding." And yet when I open the Alexa app and control it from there, it works perfectly fine. So what the fuck? Alexa can control it manually, but forgets how when I ask the damn thing? I have uninstalled and reinstalled the Alexa service a dozen times. I have reset the Hue Hub. I've deleted and reinstalled the app. I'm at my wits' end here.
So what do I do? Throw out my Hue lights? I don't own many of them so I guess it wouldn't be a big loss. It's just frustrating that the whole reason I bought them is to control them via Alexa and that's the one thing I can't do. I've tried getting it set up with Google Hub, but that's such a convoluted pile of shit that I've given up.* I've tried setting them up with Siri, but Apple's HomeShit... oops... I mean HomeKit doesn't seem to want to work with it.
And then along comes Matter.
"Matter" is a new allegiance between smart home device makers which will be a common platform to control all your home automation stuff. No more having to do crazy configuration crap, your gateways will just know how to work with Matter gear the minute you plug it in. And since Apple, Microsoft, Google, and Amazon are all in the Matter group, eventually if I buy a Hue light and install it, they're all be able to control it automatically from their gateways. No more having to remember which gateway to use.
Sounds great.
But there's an XCD cartoon which flawlessly depicts why we shouldn't get our hopes up...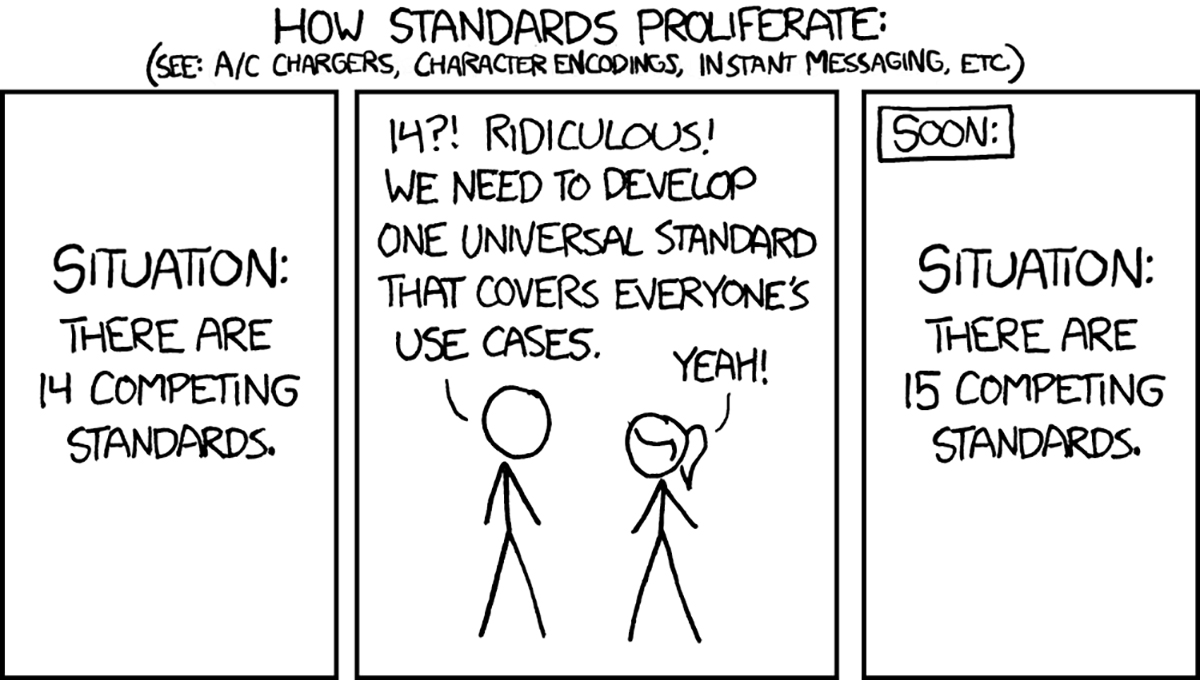 The cartoon was attached to an article over at The Verge which discusses "Matter" and why it may not fail like everybody expects it to.
I am not holding my breath. But I am hopeful.
Having to manually turn on a light switch is so last decade.
*UPDATE:
Finally got Google Hub working with my Hue Lights! No idea what went wrong the first time I tried it, but this time it linked to my Hue Hub no problem, and now I can use
"Hey, Google"
to control them. Assuming I remember to stop saying
Alexa...
to control them.