I know that there are people out there who adore February. Maybe it's their birth month. Maybe their wedding anniversary is in February. Maybe they started their dream job in the second month of the year. Heck, Valentine's Day is in February, so I get it. Honestly I do.
But February means something entirely different to me.
And it's not even like Valentine's Day can save it because I'm not in a relationship. And, at this point, don't want to be in a relationship.
Consistently, without fail, all the worst things in my life seem to land within those 28 days. Or, if it's a Leap Year like 2020, 29 days. Heck, February 2020 is where things started going all wrong, am I right? My life of travel for volunteer work ended. The pandemic was blowing up globally. And, just a reminder here, the first death in the USA due to COVID-19 happened on February 29th, 2020.
I do try to make February a better month though.
I moved into my new home on Groundhog Day February 2nd five years ago. Then I also got my adorable kittens Jake and Jenny on February 16th. Two of the best things to ever happen to me. So that's awesome, right? Way to go, February 2016!
Except not really. My mom had to be rushed in for an MRI on the 12th of that same year. She then dropped several plateaus in her health and ended up back in the hospital on, you guessed it, Leap Day February 29th, 2016. It was the beginning of the end and it's all February.
So many deaths, tragedies, disappointments, and setbacks in my life end up in February that now I just brace myself whenever I turn the page on my calendar. At this point it's pretty much self-fulfilling prophecy, but the psychological analytics are tough to parse when I've been conditioned to expect only the worse... from having the worst actually happen to me.
This February was just a continuation of the pandemic horror show, so I didn't need to have anything new and terrible happen, but of course it did. Got my first blog death threat in a while (somebody late to the party over my posting a photo of two men dancing together back in December). Went through a horrific personal ordeal with somebody I thought cared about me. And, of course, had the usual reminders of all my friends and family that died in the worst month of the year.
Fortunately February was only 28 days this time, because Lord only know what new terrors awaited me if today was February 29th instead of March 1st.
I've been ready for March all month. I've been ready for Spring and the promise of something new. I've been waiting for Coming 2 America and The Falcon and The Winter Soldier. I've also been waiting to get vaccinated... but apparently my group's date has been moved again. I've also been waiting for my potato masher to arrive... AND HERE IT IS!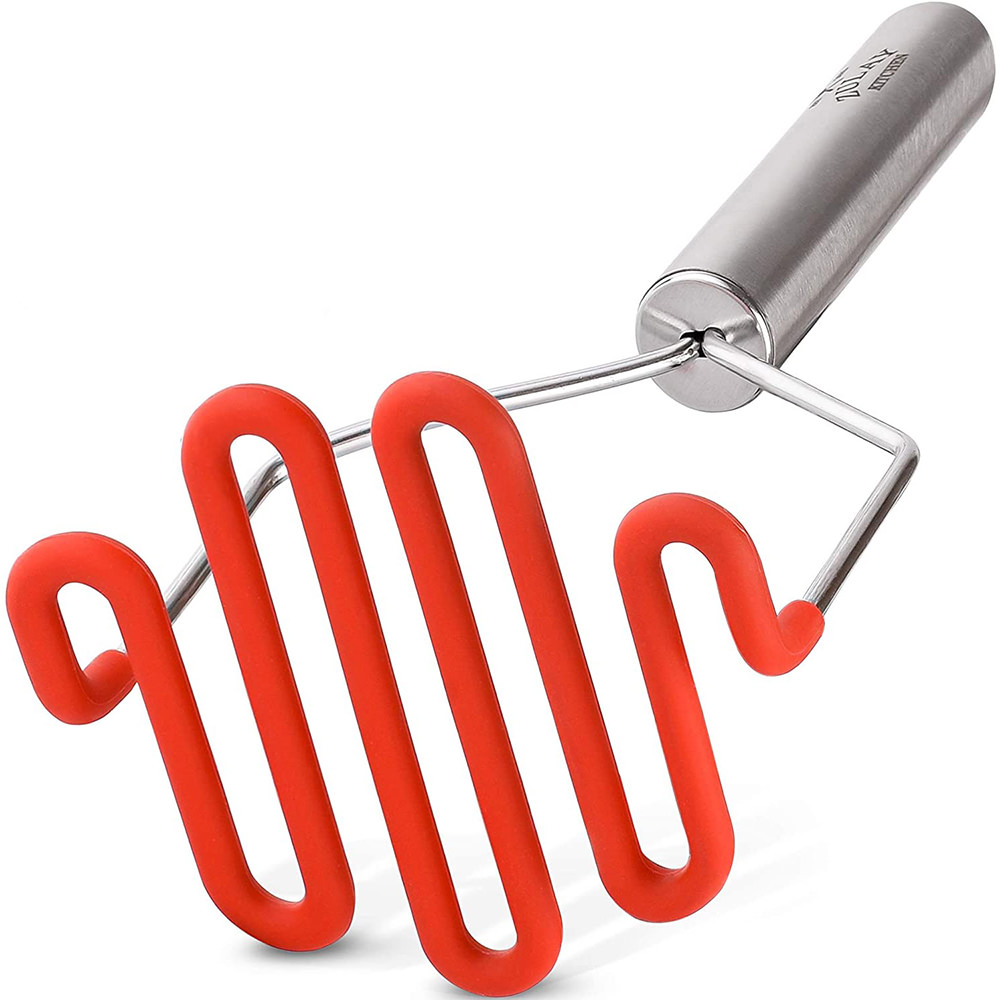 I've never had one before, but I keep running into recipes where they say "mash to a creamy consistency with a potato masher or fork"... usually for black beans or chickpeas. I've always just used a fork, which is a lot of effort. A potato masher looked like it would be even more effort since a fork had tines that were close together for more efficient mashing, so I never bothered. Then I had a friend laugh at me when I mentioned this, and said I really need to buy one. "And make sure it's dishwasher safe and can be used on non-stick pans!" And that's what I ended up ordering.
Holy crap.
It is no small difference. It's a monumental difference. I can mash up a can of chickpeas with minimal effort in a fraction of the time! I can't believe I've been suffering with a stupid fork all this time!
Kinda makes me wonder what other kitchen gadgets I've been avoiding as "superfluous and unnecessary" that are actually critical and brilliant. Thanks, March!