"So... what knife are you using?"
After 30 years of eating crap, I decided I wanted more out of life than frozen food reheated in a microwave so I signed up for Martha Stewart's meal service via Marley Spoon. It changed everything. I don't necessarily enjoy cooking, but I do love what comes from it. I am eating better now than I have in decades, and it would be tough to ever go back. And once I realized this truth, I started buying new stuff for my kitchen to make my cooking experience better. New tools. New cookware. New gadgets. New ingredients. New knives.
Again and again I heard THE ONE THING EVERY COOK NEEDS BEFORE ANYTHING ELSE IS A GOOD KNIFE! I was told that I could scrimp on a lot of things, but a cook's knife was not one of them. "Spend the $200 it takes to get the very best knife you can afford... it will last a lifetime and be an essential part of every meal you cook!" After I got done changing my underwear at the thought of spending TWO HUNDRED DOLLARS ON ONE FRICKIN' KNIFE I calmed down and scrolled past entire knife sets costing $50, and started researching what the best "fit" for me might be.
I was more accustomed to German-style knives which are total workhorses. They have heft and power to cleave through anything, and I came very close to purchasing a $195 Wüsthof that was most similar to the cheap-ass $18 plastic-handled chef's knife I had been using forever. But then I took another look at Japanese knives. They were harder, thinner, sharper, and seemed more suited to my vegetarian diet. If I wasn't hacking apart cuts of meat, what did I need with a heavier knife?
The rabbit hole you fall into when knife shopping is really, really tough to escape from.
I waffled between various brands for quite a while until I decided on a MAC Professional 8" Chef's Knife. Many, many professionals swore by it, the reviews were stellar, the price wasn't as bad ($150 at discount), and the more I read about it, the more it seemed like it was exactly what I needed.
Then it arrived.
I've always had a knife sharpener which easily and inexpensively keeps my cheap knives at peak sharpness. But it turns out my knives were never sharp at all. Not really. Compared to the MAC Chef's Knife I bought, I might as well have been using a frickin' spoon to slice tomatoes all these years...
I honestly don't know how to adequately describe how sharp this thing it. I really don't. It's razor sharp. It's X-ACTO blade sharp. After I opened it I touched the tip to see how sharp it was... and proceeded to prick my finger. This was no knife... it was a scalpel. For the first time in my life when holding a knife I thought Holy shit! I could straight up murder somebody with this thing! And I immediately had visions of dropping it on my foot and cutting it off... slicing through my fingers before I realized it... or reaching across the counter for something and impaling myself.
This knife scared the shit out of me.
The first thing I did was order a pair of cut-resistant gloves to wear when I cut tough, larger vegetables (like squash). The second thing I did was make a mental note to never use it barefoot. The third thing I did was decide to not toss out my old chef's knife. When I have company cooking with me, the last thing I would want is for them to seriously injure themselves... which is a frightening (but entirely realistic) scenario...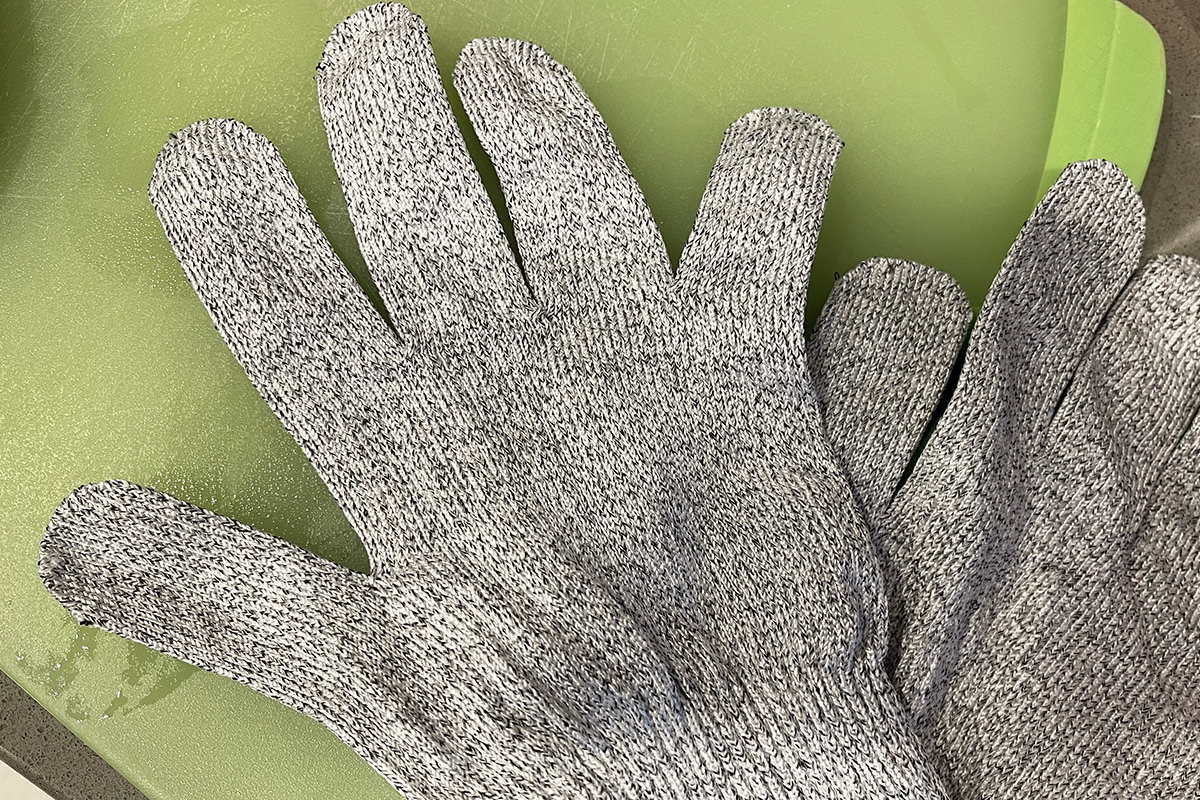 The MAC itself is a work of art.
Yeah, it's ridiculously sharp, but it's also extremely well-balanced. It has some heft, but doesn't get in your way. The bolster is enough to be comfortable, but not too much to keep me from holding it properly. And once I trained myself to cut with such a thin, sharp tool, I felt more in control than I ever did with previous knives. After the fear factor wore off, I grew to love it.
And yet...
So damn sharp. For softer veggies (like tomatoes) you can just set the knife on it and the thing will practically cut itself. You can shave a sheet of paper with it. After a year of using it, the thing can still scare the shit out of me. Since the steel used can rust easily, you have to clean and dry it immediately after use. No leaving it in the sink until morning. If you're cutting citrus, you have to occasionally rinse it while you're working with it. I learned how to clean knives from a food stylist. You hold the blade edge away from you and wipe from the spine edge only. If you were to foolishly wipe from the blade edge, you'd slice clean through your sponge and your entire hand. That's a doctor visit I definitely do not want, so I am beyond cautious whenever I have this thing in my hands.
To explain just how cautious... I never use it when I've been drinking.
Once you've used a good knife, you kinda get addicted to really great steel. I've since bought a few other quality knives that cost a fortune but are ultimately worth the investment. What I will not be buying is a pointed paring knife. I ended up getting a round-tip paring knife because it seemed safer to me, and that will do just fine, thank you very much!
Unless I actually do need to murder somebody. Seems like the compact size of a paring knife would be a lot easier to conceal than an 8" Chef's Knife!