It was a day where so many things went wrong. Which is no surprise, because this has been the year where so many things went wrong.
12:30am — I have been trying to get more sleep, so I went to bed at half-past midnight. I fell asleep around 1:00am, which is very good for somebody who usually goes to bed around 3:30am. Any sleep I was going to get was short-lived, however.
1:10am — Remember how I paid extra for a kitchen faucet with the sensor under the neck where my cats couldn't turn it on?
My cats rarely jump up on my kitchen counters, but apparently Jake not only did that... but he accidentally found out the hard way how to turn the faucet on. It would automatically turn off after four minutes, but I didn't know what was going on, so I ran downstairs to see if anybody was hurt.
3:30am — I finally fell back asleep at 3:30am which, ironically, is my usual bedtime.
6:30am — I was awakened three hours later when the alarm went off to feed my cats breakfast (I'm easing them into the end of Daylight Saving Time).
7:00am — After taking a quick shower I plugged my shiny new 14 Terabyte backup drive into my NAS. Just try telling my 1986 self that a 14 TB drive would fit in my hand, be available to the public, and cost under $200. Incredible...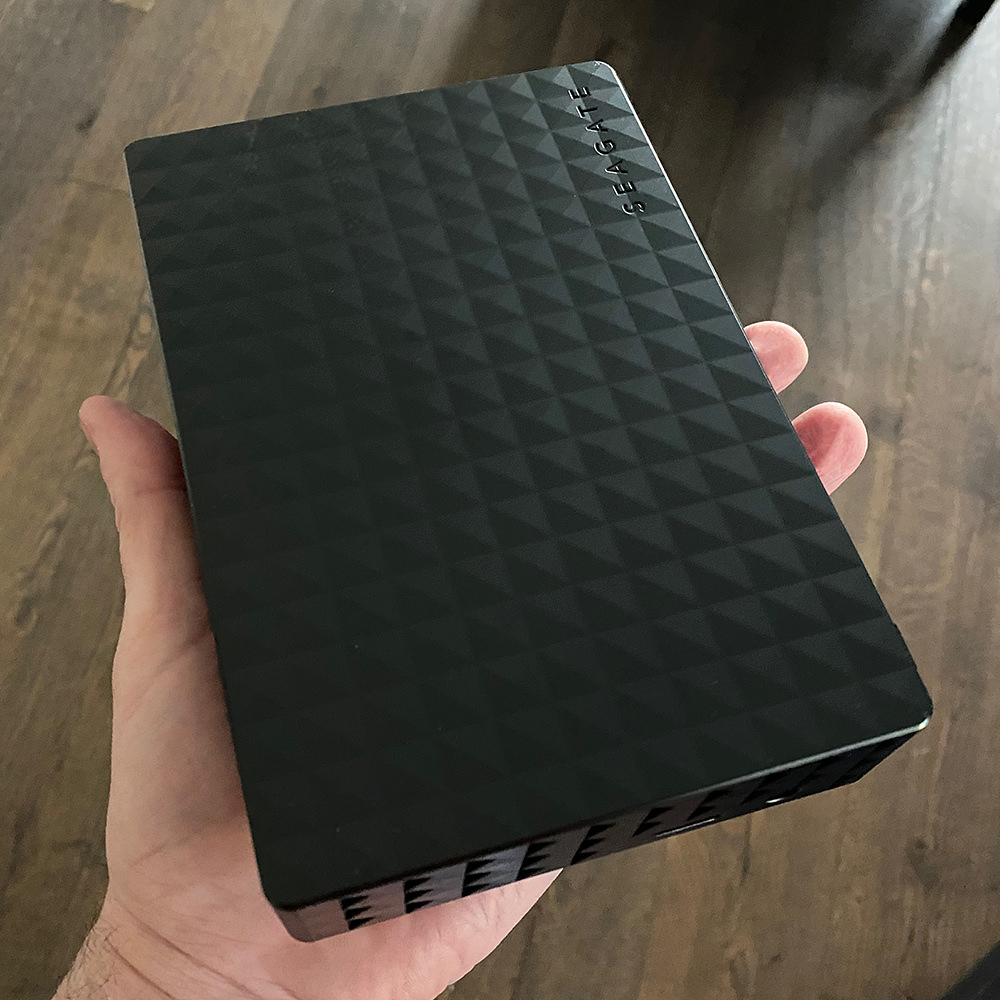 9:00am — After getting everything set up, starting my backup, and working for a bit while making sure everything was backing up, I headed off to work. The first thing I did was call up my NAS back home so I could grab the files I was working on... ONLY TO FIND OUT THAT EVERYTHING WAS DISPLAYED IN ITALIAN! And I could not find a way to change it back to English! My filenames were still as I made them, but all the commands and such are Italian now for some reason. I studied conversational Italian when I ended up going to Italy so often... but that's not at all helpful to me when trying to read technical stuff. I ended up using my memory, best guesses, and Google Translate to get my work done.
10:30am — I learned of another friend-of-a-friend who took their own life after being furloughed from their job due to the pandemic. That makes two. I did not know either of these people, but they were important to people I care about, so that makes them important to me. I honestly don't know what the final straw was which led to something so tragic. If I had to guess, it would be the end of the month being right around the corner and having no money to pay the bills. After not being able to find a job despite months of looking, their only hope was a stimulus check, but Mitch McConnell shut down Congress after shoving an inexperienced bigot into that vacant Supreme Court seat. So here we are.
11:40am — The sun started coming out, so I decided to take the rest of the day off to install some de-icing heat cables on my roof. With temperatures falling day-after-day and rain in the forecast, this might be my last chance to run cables in relative comfort...
12:35pm — Well, I didn't fall off the roof, so there's that. But, alas, the cable ended up being too short to reach the outlet, so I had to run into The Big City to get an all-weather extension cord. On my way out of town, I was reminded of the horrible news I had gotten just two hours earlier. BECAUSE HA HA HA HA! SUICIDE IS HILARIOUS!
12:45pm — And... I get pulled over by the State Patrol. I was not speeding, so I had no idea what the fuck I did to deserve that. Turns out my tabs were expired. Fortunately I had my receipt showing that I bought them online back in August... I just never got them in the mail. Weirdly enough, the officer told me that they were showing in the system as "unpaid." He said he wouldn't give me a ticket if I promised to look into it with the DOL. Nice guy. Even though he was unmasked the whole time.
1:25pm — I stopped at Petco so I could refill all my kitty litter buckets to get my cats through the winter. Alas, they only had enough to fill two of my four buckets... so I ended up having to buy two new ones. There's $6 I'll never get back.
1:40pm — I pick up the extension cable I needed. Whee.
1:55pm — Since I was in the neighborhood, I decided to stop by Burger King for an Impossible Whopper. There wasn't a special going on, so I had to pay full price. Full price! Thanks, 2020! I got my order to-go, but still had to wait for it in a restaurant with a couple of unmasked pieces of shit who were served even though a sign on the door said they had to be masked... and letting them know that if they didn't want to wear a mask they could use the drive-thru.
2:30pm — Before pulling back into town, I make a detour to a licensing office to pick up my tabs. Since they too have no record of the payment going through despite my receipt, I end up having to pay the $68.00 + $2.25 credit card fee. This is turning out to be an expensive day.
2:45pm — I sit down for a minute. My plan was to figure out why my NAS is speaking Italian, but instead this happens...
3:00pm — After wrapping and taping the extension cord connection to keep water out, I zip=tied everything to the gutter struts to keep it out of the trough. Then I plugged the gutter cable and the roof cable into a "smart" outlet switch so my house can turn them on when it snows and the temperature is below freezing. Looks like I'm good to go for winter.
4:00pm — Before it gets dark, I install cameras in the cat shelters I set up last week, then change batteries on the WiFi temperature sensors. This way I can keep track of Fake Jake to make sure he's doing okay as the temperatures drop below freezing. Then I cut back my hydrangeas, loaded the dishwasher, and figured out how to get my NAS speaking English again.
5:15pm — I am tired. My back hurts. My feet are cold. So I grab a sandwich for dinner and put my feet up on my heating pad. I have it to myself for all of ten minutes. Despite having his own heating pad, Jake takes over mine every time...
9:15pm — Fake Jake calls it a night and is all comfy in his shelter. Tomorrow I'll shorten the berms so he'll be a little more sheltered from any wind...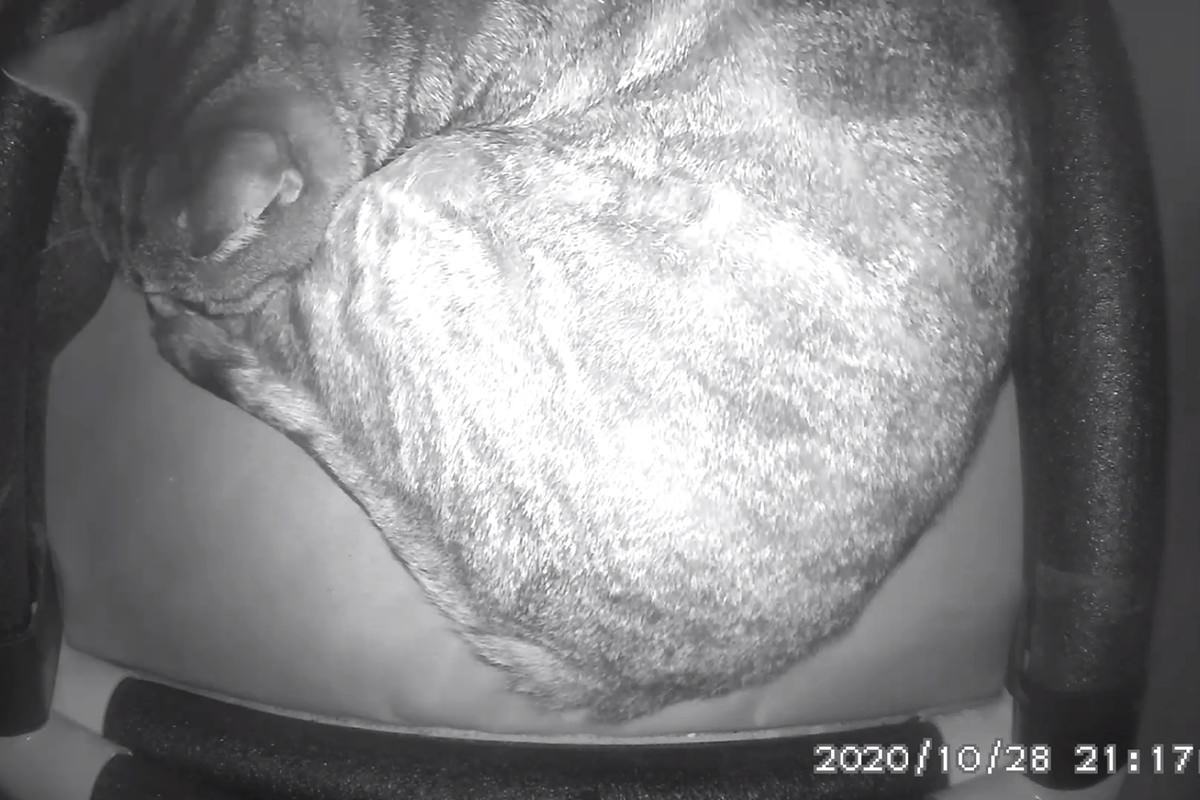 9:30pm — Bloggity blog blog blog. Let's hope I can get to bed before 3:30am tonight.