I've always thought that this world was a strange place. Especially lately. There are times when I wake up, run through the news, then legitimately feel like I'm going insane. This morning's dose of crazy was this: The congressional candidates who have engaged with the QAnon conspiracy theory.
Holy shit.
Abbie Richards has created a "Conspiracy Chart" which maps out common conspiracy theories based on how detatched they are from reality. It's a fascinating look at things that some people actually believe which she prefaces thusly: "Shaming people who believe illogical things just pushes them further into their radicalization networks. Disinformation is everywhere. We need to teach people how to spot it early. This is my Conspiracy Chart. I think it helps."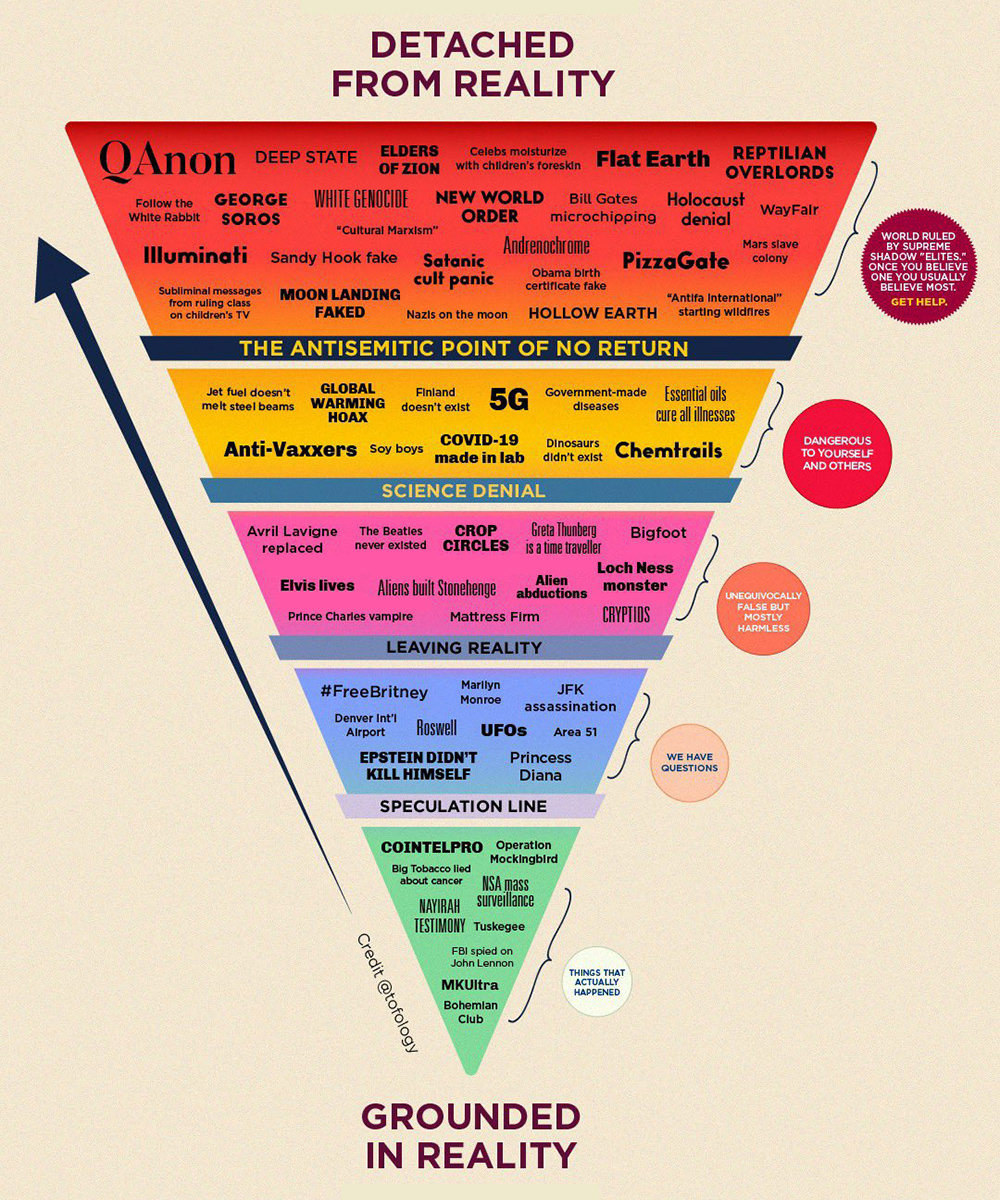 by Abbie Richards • Click the Chart to Embiggen
It's that top category that's the most troubling... World ruled by supreme shadow "elites." Once you believe one, you usually believe most.
The level of denial required to literally believe this kind of stuff boggles the mind. Some of them, like "Bill Gates Microchipping," are just gross misrepresentations taken to illogical conclusions. Gates was worried that medical records are often difficult to find for persons in so-called "third-world countries" (if they are kept at all), and it might be beneficial if such records could be encoded on embedded chips so that people always had them always available in the case of an emergency. Somehow that evolved into him wanting to chip and track people, which is insane. Why would he? Whose stupid life is worth that kind of effort? But there are people who believe it despite it not making a lick of sense. Other conspiracy theories require willful ignorance. Simple observation will prove that the world is not flat, but it's an actual thing that people believe just the same.
So what to do? The believers appear to be so deeply mired in conspiracies that presenting them with facts seems woefully inadequate. Take flat earthers... flerfers... as an example. They seem to have excuses to explain away observable fact and simple logic, so what would do the trick? Assuming you could fly them off the surface of the earth into space and show them irrevocably that the earth is a sphere, they'd probably just think you're using NASA-funded mind-control to lie to them or something. I haven't a clue how to combat that.
Reading about conspiracy theories makes me wish I could be so detatched from reality.
At least until we have a reality that's better than this one.