I became a vegetarian because the girlfriend I had at the time didn't want to kiss me because she said I smelled like meat. That was on Earth Day 1986. We broke up after that, but I stuck with the diet because the horrific allergies I had been plagued with all my life evaporated. It also fit in with my newly acquired Buddhist philosophies, so it was good all the way around.
Back then, vegetarian versions of my favorite foods were not easy to find. And most of them you could find tasted like ass. But all that changed when I walked into a Johnny Rockets diner in Santa Monica, California where they offered "Boca Burgers" for sale. I ordered one (no grilled onions or mustard), tasted it, then had to call the waitress over because I was convinced I was accidentally served a meat burger. But nope! It was just that good.
Eventually I found them at my grocery store and was eating them at least once a week for decades.
But then my world came crashing down when Kraft bought out Boca Burger and "new and improved it." They claim that they updated the texture and taste to serve modern consumers. But to me? It tasted like liquid smoke and burning hair smeared on pencil erasers. It was fucking disgusting. But no big deal... I could still eat the "Vegan Original" which had the original taste. Until Kraft discontinued it and replaced it with a fake turkey burger. When people complained, they said that when their customers wanted a vegan burger, what they really wanted was turkey. Which is a load of fucking horseshit... which, coincidentally, is what I'd rather eat than one of their fucked-up "turkey" burgers.
And so I stopped buying their horrific "food" products.
A lot of other people probably stopped as well, because when I was at the grocery store yesterday I was shocked to see that the "Vegan Original" had returned! SWEET! I looked very carefully at the box. The photo indeed showed the light color of the original instead of the dark brown plastic look of the "new and improved" model. I bought two boxes and couldn't wait to have one for dinner.
Then I opened the box...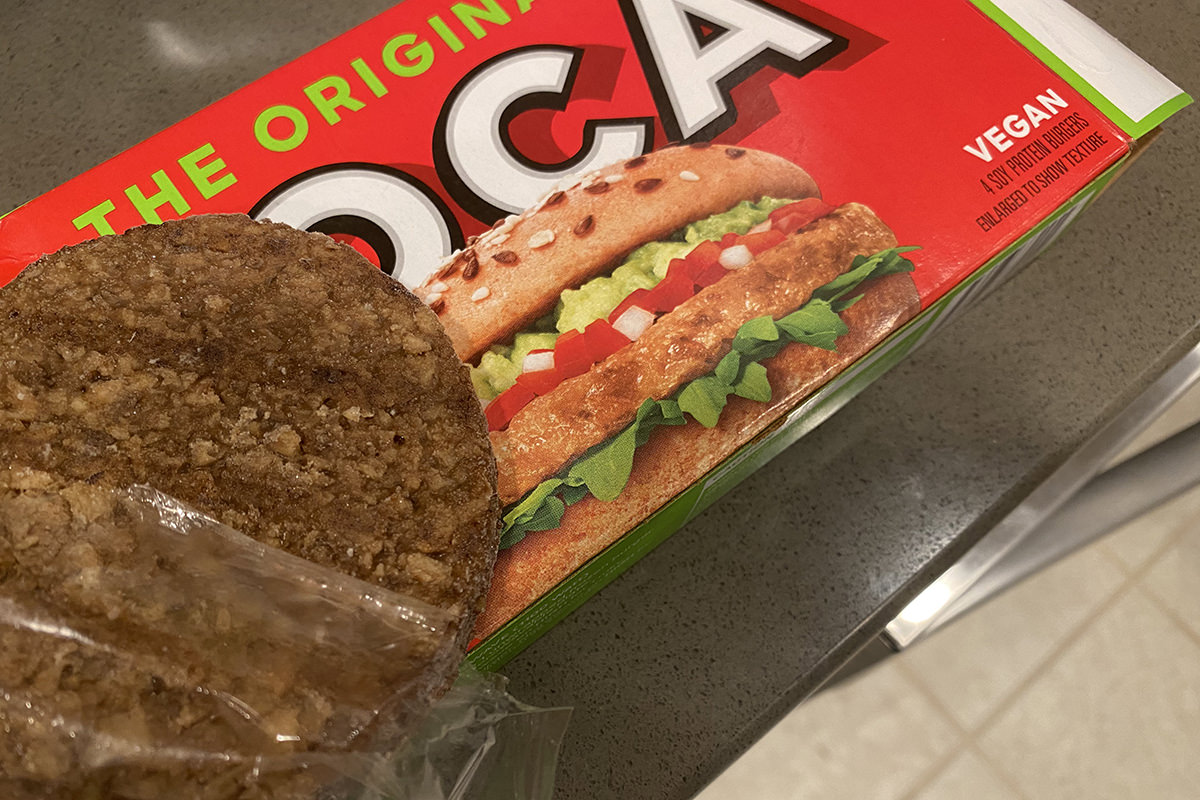 LIARS!!!
These are NOT the original recipe. Not by a fucking longshot. And now I'm stuck with two boxes of this gortesque shit. So as not to waste my hard-earned money, I did cook one up to give it a shot. It's not as horribly over-flavored as the non-vegan option, BUT IT'S STILL NOT THE ORIGINAL THAT THEY PROMISE YOU RIGHT ON THE FUCKING BOX!
100% false advertising. I'm writing to Kraft and insisting on a refund based on their fucked-up lies. I mean, why in the hell not put the ACTUAL product's picture on the damn box? Had I seen it was this new brown plastic crap, I would have never bought it!
And so I guess I'm finally done with Boca Burger now. After clinging to the memory of that amazing burger I ate in a Santa Monic Johnny Rockets so very many years ago, this was the last straw. I'll cook up Impossible Burgers or whatever else isn't going to taste like the physical manifestation of fucking disappointment.
Red Robin, Johnny Rockets, and everybody else has already moved on from Kraft's Boca bullshit, I guess I can as well.