I worked extra hours over the weekend and through Wednesday so I could take the rest of the week off. It's time for my seasonal cleaning ordeal to prepare for Spring houseguests. This year, thanks to COVID-19 quarantining, I won't be having any houseguests until June or July, at earliest, but I still want to get a jump on my filthy home.
Well... it's filthy to me. It's not like I ever let my house get overrun with dirt and grime. It's just the little things that bug me. Walls need to be wiped down... rooms need to be torn apart so I can scrub the floors... books and furniture needs to be pulled out and cleaned... windows need to be washed... that kind of thing. I decided today I would jump on the kitchen when I fed the cats at 7:00am, then work my way to the living room.
I went back to bed after feeding Jake and Jenny, then slept and lounged aroud until 10:00am. Then ate a late breakfast. Then read a book on world mythology.
I wanted to beat myself up over wasting half my day, but I so rarely get time to do what I want that I decided to congratulate myself instead. Cleaning can commence tomorrow.
Originally I was going to have my Quarantino Double Feature be Tarantino's Grindhouse: Death Proof with Robert Rodriguez's Grindhouse: Planet Terror (since they were originally released that way), but I was anxious to get to Inglourious Basterds, so I resisted...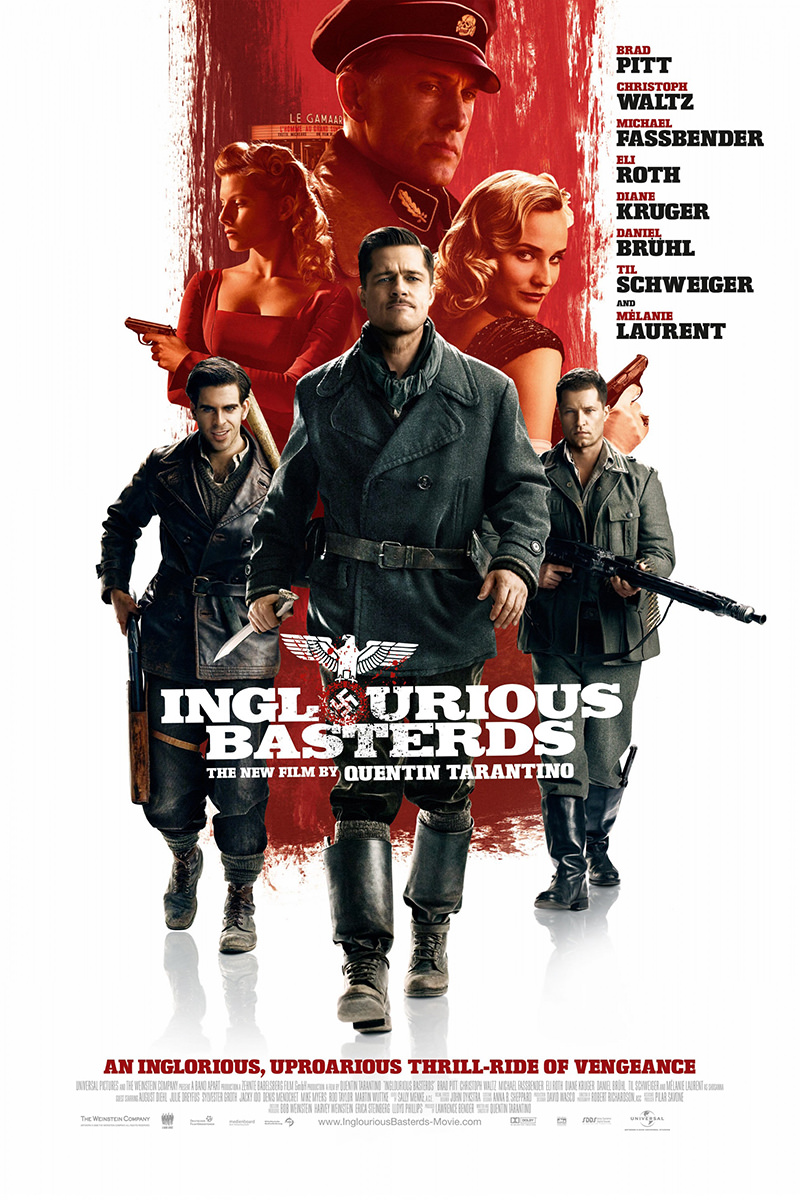 Now, Death Proof is just an excuse to have a car chase with tons of stunts worked into it. There's not a lot of brainpower that the viewer has to summon. Kurt Russell is a sadistic bastard who picks a fight with the wrong women. Zoë Bell, cars, and violence ensue. Surprisingly, as is the case with most of Tarantino's films, dickhead reviewers based their critiques on what the film WAS NOT instead of WHAT IT IS. Go in with the proper mindset, and it's just a fun thrill ride that's a terrific movie experience to have. Go in expecting Shakespeare and you're just an idiot. Not my favorite Tarantino flick, but I do like it a lot.
Inglourious Basterds, on the other hand, is escapist revisionist history cinematic genius. I love this film to an unhealthy degree. I've seen it at least twenty times. After Pulp Fiction and Kill Bill, it's likely my favorite Quentin film. But there are days I like Basterds better than both of them. From the gorgeous cinematography and brilliant performances to the fantastical story and crackling dialogue. It's the complete Tarantino package all wrapped up in a war movie, and an experience I never get tired of. God bless Christof Waltz for giving Quentin his movie.
And God bless us all as the Coronavirus death toll keeps climbing. Due to our complete lack of preparation and our government completely ignoring and denying what was happening, the deaths here in the USA yesterday were double the worst daily death toll from the flu. And we're just getting started. The highly contagious nature of COVID-19 along with extended incubation period and overall lethalness... not to mention dumbass governors who are still not quarantining the public at large to prevent spreading... are all going to make sure of it.