I have enough groceries to last another two or three weeks. Probably longer. I may be eating pasta with frozen vegetables and cheese for breakfast, lunch, and dinner, but I will survive just fine. My cats have enough prescription food for another month. I also have two bags of "regular" dry food with a year left on the expiration date (which I keep on-hand for emergencies), so Jake and Jenny are good.
Because I've got food for a while I hadn't planned on a grocery store run... until I got a call from a friend in Seattle. They were wondering if I was headed to the store any time soon and, if I was, could I please pick up some things for their elderly mother who can't risk going to the store due to health concerns in our new COVID-19 Reality. I could drop them on her back porch and they would happily Venmo me money to cover the cost.
And so... off to the grocery store for me.
I figured that since I was going, I might as well cash in a bunch of Safeway Monopoly Instant Winner Free Product Tickets and Instant Winner Discount Coupons I won before they expire. I would also pick up ingredients I need to make more of my mom's Applesauce Bread...
Flour
Sugar
Applesauce
Walnuts
Well, silly me, the four things I needed were all out of stock. They did have applesauce and walnuts, but they were the tiny containers which cost a fortune, so I passed.
The lack of flour had me concerned about not being able to bake bread for much longer, so I ended up buying a loaf that I could freeze. I also bought Coke Zero, Lay's Potato Chips, and Quaker Brand Chocolate Rice Cakes. They are not things I need, but they are things I want. Surprisingly, produce was in good supply so I picked up some onion, garlic, cilantro, scallions, tomatoes, and tomatillos to add some nice variety to my meal planning.
Plus I bought two apples, just because it would be nice to have a fresh fruit treat in the face of armageddon.
The store had everything on my friend's mom's list except paper towels and toilet paper, of course, but I had some extra rolls to stick in with her groceries so it was all good. Most of the things she wanted were prepared foods like soups and boxed/frozen meals, all of which were in good supply.
Atmosphere at the store was generally cheery. People didn't seem overly-angsty or angry. A few people with facemasks and gloves and everybody trying to keep their distance... but otherwise it was just like any other shopping day.
Except I won free AAA batteries, free cooking spray, and a free sesame bagel playing Safeway Monopoly, so that was a bonus. And these days I'll take as many bonuses as I can get, thanks.
Tonight I continued my Quentin Tarantino movie marathon, but I watched only one Tarantino film, Jackie Brown. That way I can have Kill Bill parts 1 and 2 as a double feature tomorrow night...
Jackie Brown is an adaptation of the Elmore Leonard novel Rum Punch, a book I ran out and bought immediately after finding out it was the basis for this amazing movie. Surprisingly, the movie follows the book fairly closely. There's some elements jettisoned from the secondary characters out of necessity, but Jackie's story is pretty much left intact. She's an airline flight attendant running drugs for the wrong people and just trying to get by in life and get out of a life of crime. It's really smart and surprisingly funny in spots. What's nice about reading the book after seeing the movie is that you can imagine Tarantino's version of the characters while you read plus get additional details as to everybody's back-story and motivations. Rum Punch is a sequel to another Elmore Leonard novel called The Switch, which is also very much worth reading (which could be said of most everything Leonard ever wrote).
And because the prequel to Jackie Brown was The Switch and because that book had been adapted into a movie called Life of Crime (starring Jennifer Aniston and Tim Robbins), I decided to watch it to complete my double feature since I hadn't seen it before (iTunes $7.99)...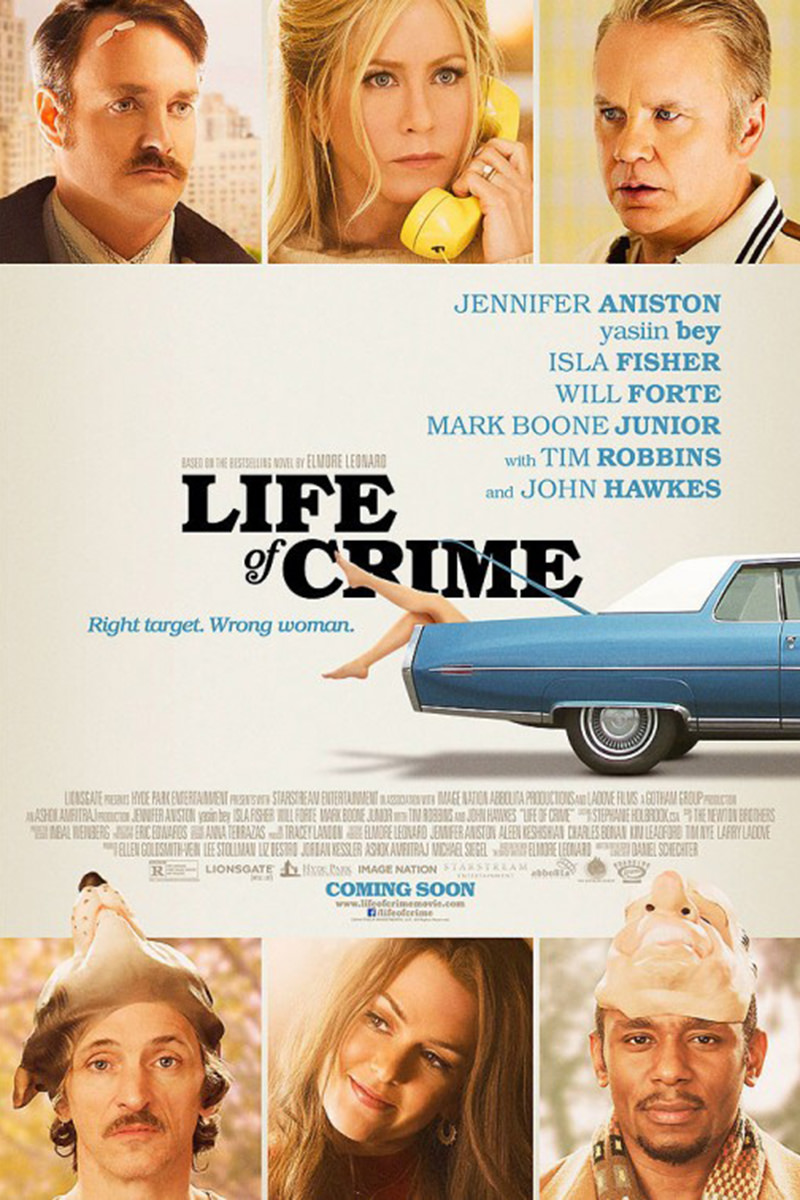 Surprisingly, it's a decent movie! I mean, not Jackie-Brown-level-great, but still worth a look. The plot is the same as Ruthless People in that a wealthy woman is kidnapped and held for ransom only to have an adulterer husband who wants her dead anyway and refuses to pay. Ordell Robie is played by Mos Def instead of Samuel L. Jackson... and Louis Gara is played by John Hawkes instead of Robert DeNiro... so there's a considerable adjustment you have to make mentally, and yet there are certainly worse actors you could have cast as younger versions of the originals! The movie is definitely worth a watch if you're a fan of Elmore Leonard and Jackie Brown (though I thought Ruthless People was more entertaining).
And now I think it's time for a crisp apple and a Quaker Brand Chocolate Rice Cake to top off my evening's events. Good thing I ended up at the grocery store today.