I have always resisted the "Instant Pot" pressure cooker craze because it seemed as if it would be a waste of money for me. There's simply not a lot of things I would use it for. I don't make many soups, my sauces don't call for one, I already have a rice cooker and, since I don't eat meat, all those recipes for "the moistest, most succulent meat you'll ever eat" are lost on me. It's not worth the $120 they cost when I'll barely use it.
But then I got one of those bargain shopper emails which had an 8-quart Instant Pot imitator on sale for $35 and I thought "why not?"
For one reason and one reason only... hard boiled eggs! I am tired of buying a carton of eggs, having to wait weeks and weeks so they'll be "old enough" to peel easily, then inevitably be disappointed because one or two of them still don't peel that great. And every time I've complained... EVERY TIME... a dozen people perk up with "You should get an Instant Pot! The shell practically falls off the egg!"
And so... I ponied up the $35 to see what all the fuss was about. At best I had the most amazing egg cooker money could buy. At worst I blew $35 on something I'd use twice a year...
After I got it, I was shocked at how huge this thing is. It's massive! I was not expecting something this gigantic for $35! So I went back to the site and found out why... somebody made a boo boo. The 6-quart was supposed to be $35, the 8-quart was supposed to be $70. At first I was wishing that I would have gotten the 6-quart so I had space to store it in the kitchen... but after thinking about it, I was happy to have the larger capacity in case I have to cook for a crowd. I'll just have to find a spot in the garage to store it.
Seriously, this thing is huge!
And intimidating.
The manual, which they insist you read from cover to cover before operation, is pretty serious. You can get burned. You can release the pressure wrong. You can die. That kind of thing. And so... I was sure to read everything. Twice.
And then? Bring on the eggs!
Except... first of all, THERE'S A CAKE BUTTON?!? And, second of all, where was the hard boiled eggs button on this thing?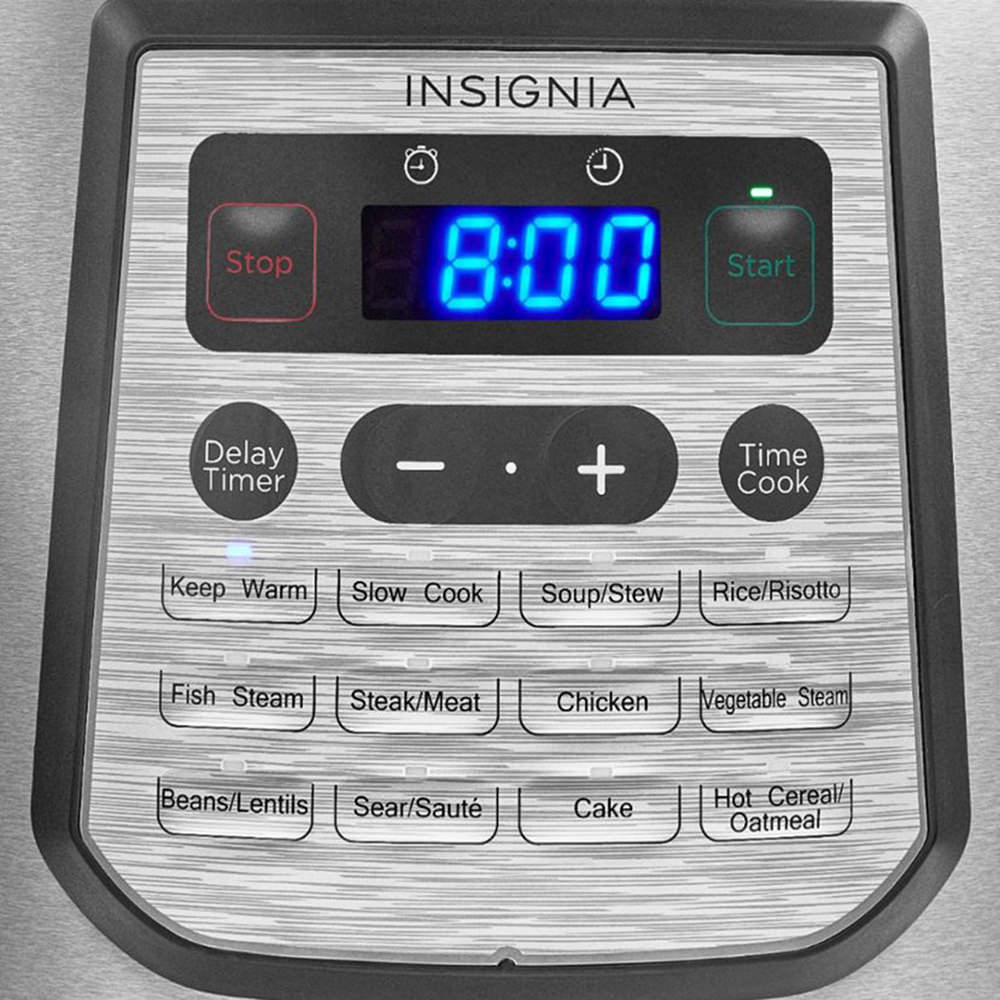 Umm... there wasn't one. And so I went online to look up at how to do this. The instructions were not rocket science. Dump in one cup of water, let cook for 5 or 6 minutes on low pressure, then drop the cooked eggs in an ice water bath. Simple. Except... where is my "low pressure" button? Apparently you have to use low pressure or else your eggs will crack open. So I read the manual again and... unlike a pricey Instant Pot, my knock-off doesn't allow you to set the pressure.
Well, shit.
Apparently with my pressure cooker you are forced to select a "recipe button" and adjust it. I went with "Vegetable Steam" and reduced the timer from 8 minutes to 5 minutes. Then I pressed the start button. Much to my dismay, the timer didn't start. Instead lights were chasing each other on the display. Back to the manual. Apparently this is what happens when the cooker comes up to pressure... then the timer starts. Okay then.
Once the cooker beeped I clicked it off and unplugged it so it wouldn't stay on "Keep Warm" forever. Then I turned the release valve to let the steam blow out and waited for the little pressure valve to drop. At which point I opened the lid and expected to find a bunch of crushed eggshells stuck in a giant egg pie. But the eggs were intact and looked perfect. So into the ice water bath they went! Ten minutes later it was time to peel them.
THE SHELL REALLY DOES FALL OFF THE FRICKIN' EGG... EVEN FRESH EGGS!
Alrighty then! $35 well-spent! So happy I didn't throw that money down the drain. And then I cut one open and... BOOOOOOO! It wasn't cooked all the way! The yolk wasn't runny, but they weren't done. This made me mad because eggs aren't free, and I was having to throw out a half-dozen of them. Except... they're still edible, right? Back to Google, where I found out that what I had were medium-cooked eggs. Cooked, but with a soft center instead of a firm center. Something I have never had before. So I sprinkled on some freshly-ground salt and pepper and...
HOLY CRAP! THESE ARE AMAZING!!!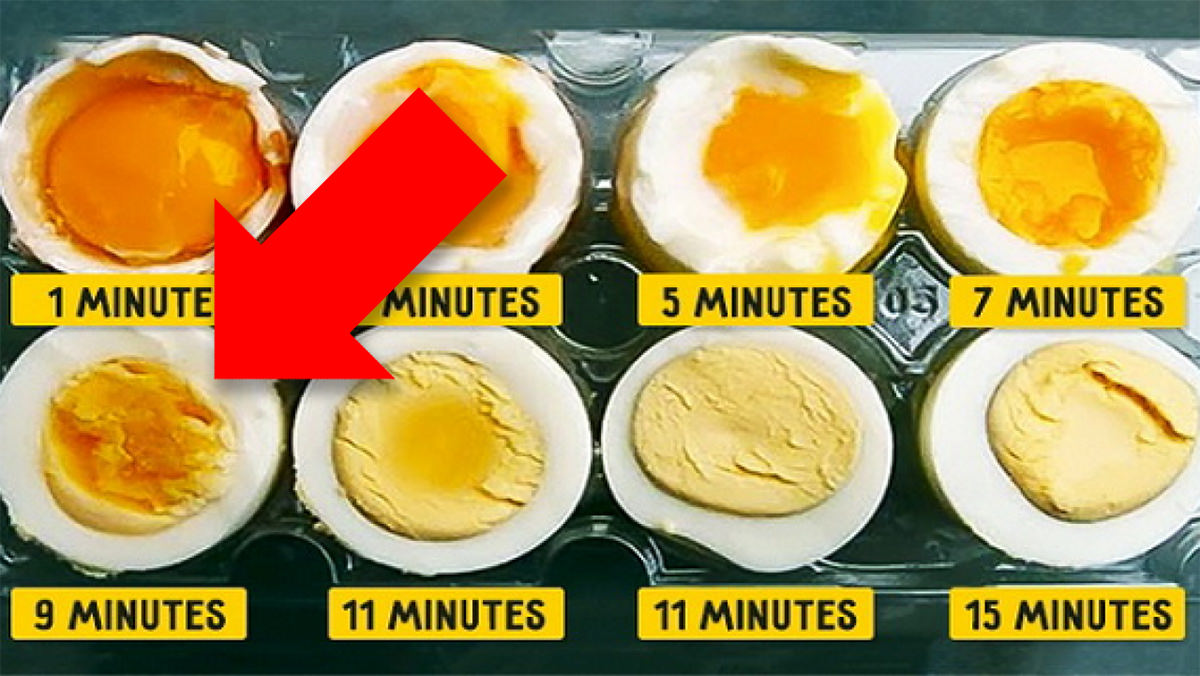 Egg chart taken from Mamabee... the arrow is pointing to what my eggs look like.
I HAVE BEEN EATING BOILED EGGS WRONG MY ENTIRE LIFE!!!
Medium-cooked eggs have creamy yolks... not dry and pasty. Medium-cooked eggs have whites that are soft... not firm and rubbery. And I could not stop eating them... I downed four of them for dinner right then and there. Then I sliced a fifth one to put on an English muffin for dessert.
I've since found out that I should have let them sit for five minutes in the cooker after releasing pressure before dumping them in the ice bath so the yolk finishes cooking. Then I'll get the firmer hard-boiled eggs I need for potato salad and stuff. I'll figure it out eventually. In the meanwhile... I would not be opposed to more "failures" like my first batch. Delicious!
I'm excited to try mashed taters next. Apparently mashed potatoes are amazing when pressure-cooked, and I do love me a good mashed tater.
And chili. Vegetarian chili would be great!
Oooh... and what about risotto?
And... CAKE(!?!) of course.