And it's officially Catio Season!
Jake and Jenny are out in the catio almost every day, regardless of weather. Freezing temperatures, snow or rain, they love being outdoors. But now is the time of year where they spend more time out in the catio than inside. The sun has changed position, so they can bask in its glory while enjoying fresh air as well...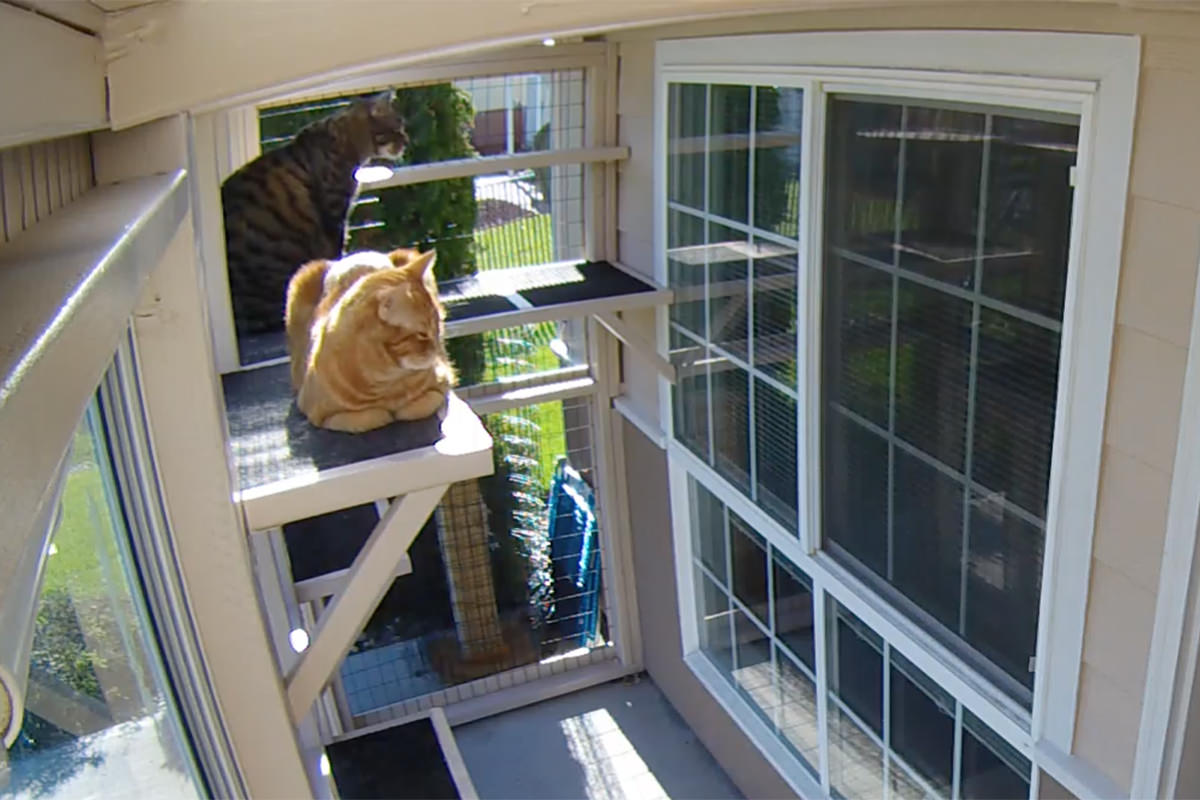 Jenny especially loves it. Jake is happy to lay on top of the cat tree in the window to get his sunlight fix. Jenny will always choose the catio...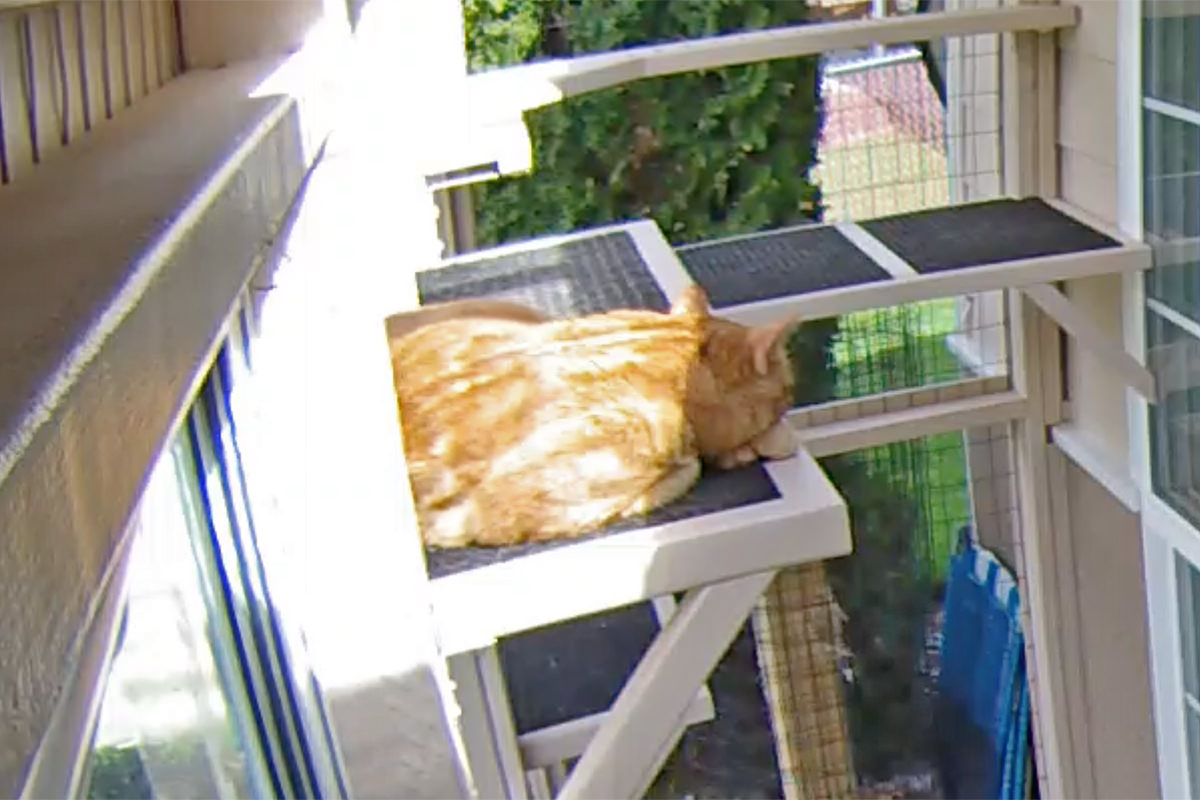 Not that Jake doesn't have his moments. While I was in Europe, he spent the night out in the catio, which I've never seen happen before. And... he still loves keeping a look out for Fake Jake, where confrontations are ramping up as the weather improves...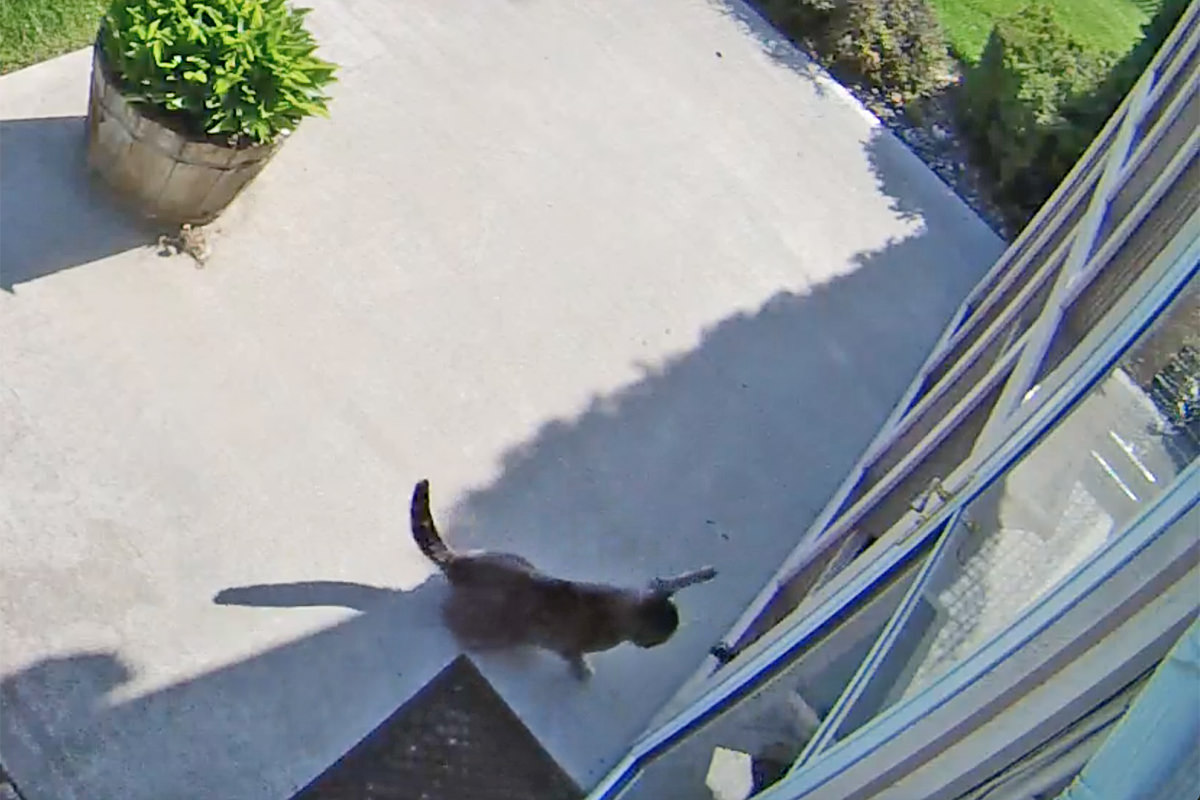 Trying to get a jump on packing for my next trip later this week, I've run into the usual obstacle...

I was expecting that as my cats got older they would become more independent and want nothing to do with me. If anything, the opposite is happening. No matter where Jenny is in the house, if she hears me turn on the television in my bedroom, she dashes up right away. She can sit there watching television for hours...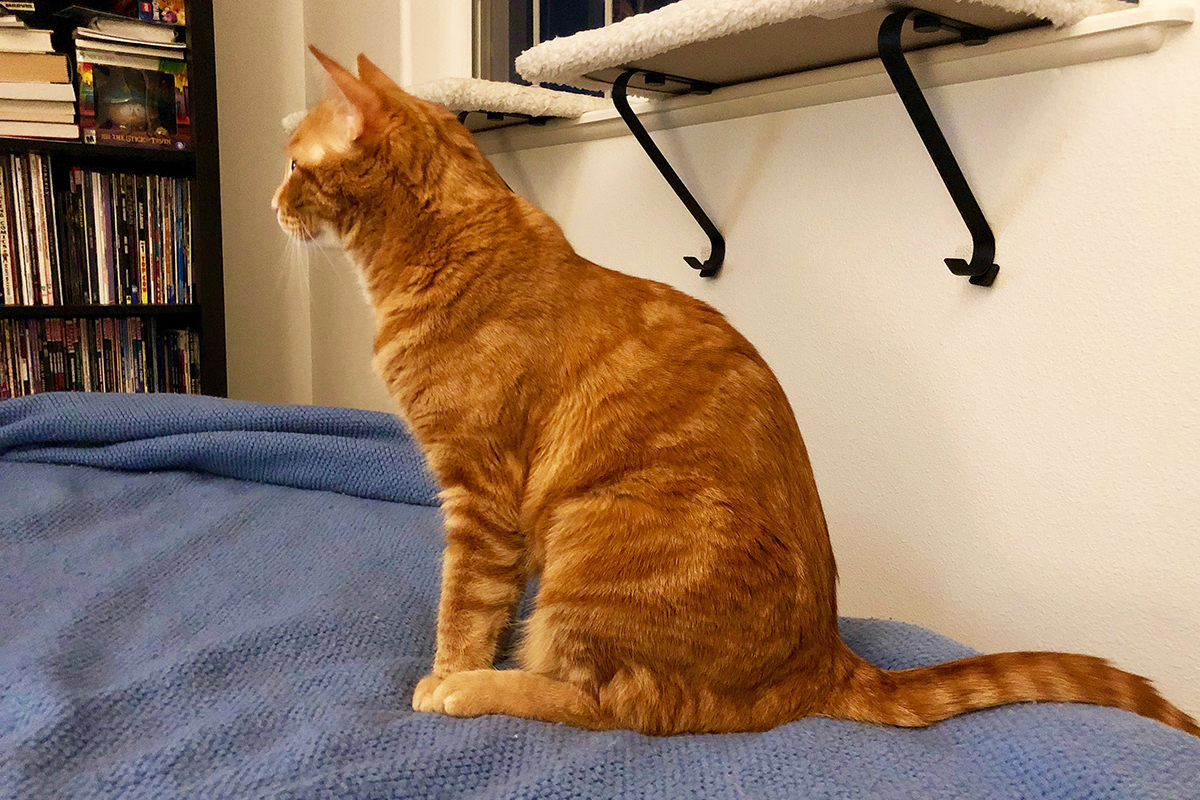 Jake has no interest in television, but he does have a huge interest in sleeping. Last night he spent the night on my bed, which has never happened before. I dozed off and was surprised to find him still around when I woke up...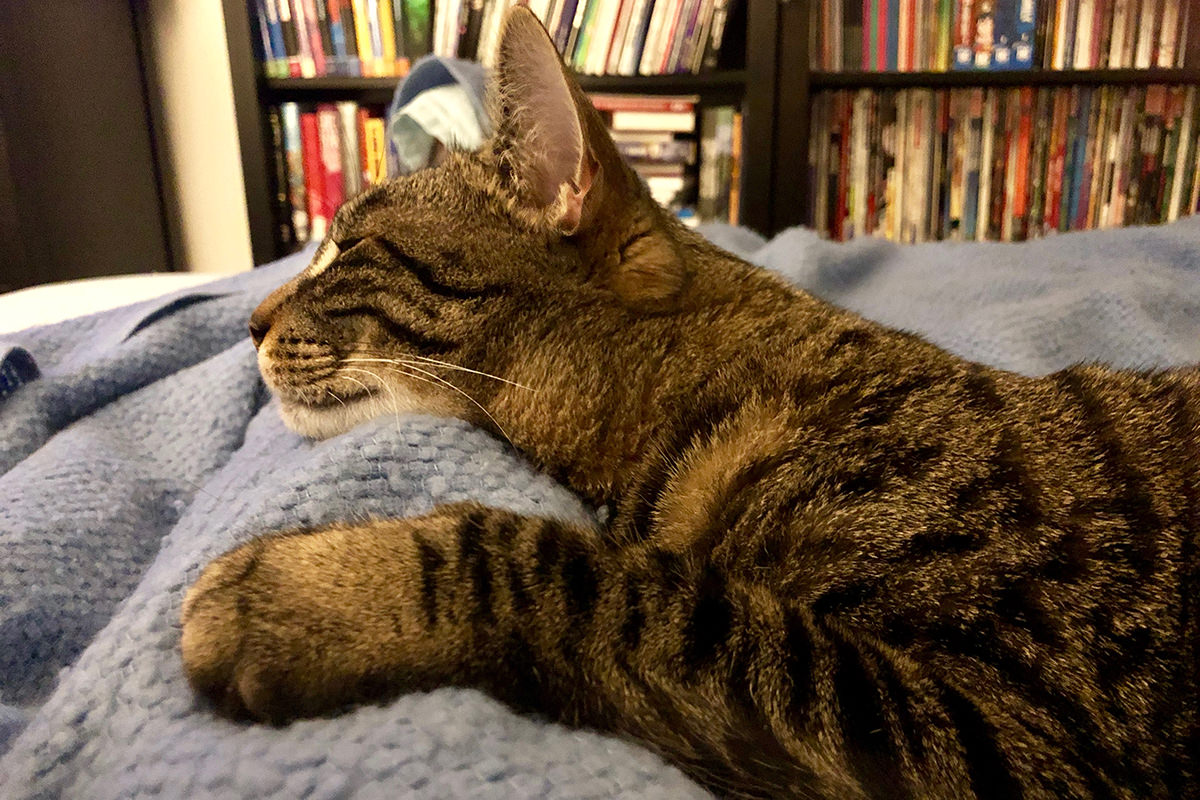 As I turned off the lights and was falling back asleep, Jake started purring like a motorboat. I couldn't see what he was so happy about, so I used the flash on my iPhone...
Apparently he's liking the ceiling fan drying off his undercarriage.
This morning he was still there...

And speaking of things still being around... Jake dragged Mufasa in this morning. I hadn't seen his prized lion since I got back from Europe, so I thought he had been lost or destroyed. Nope...
He probably hid it. Forgot where he hid it. Then found it again.
Why he hides Mufasa was apparent just minutes after Jake ran downstairs for a drink of water. Jenny started tearing into him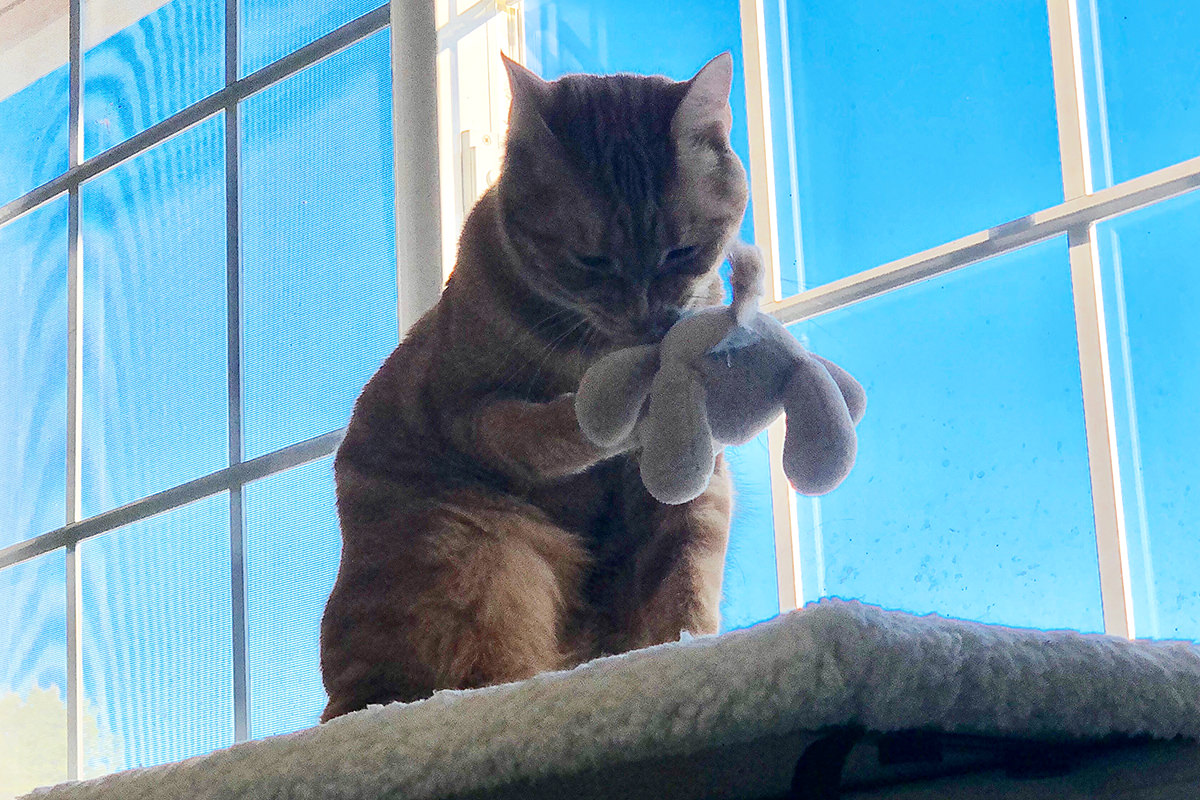 I'm shocked that she hasn't shredded Mufasa to bits by now. Really hoping that one of my friends passing through Johannesburg O. R. Tambo International Airport can pick up some more Mufasas because I'm not sure how upset Jake will be if he ever loses the one he has.
And... so much for the last Caturday in April.