Welcome to the place where the kisses are hers are his and hers and Bullet Sunday starts... now...

• Rescue! Poachers are the lowest of the low. Especially when they kill a mother while she is caring for her young. After she's gone, the babies will die alone, scared, and confused. Fortunately, there are people who step up and fill the gap...
Just look at how this baby from another rescue looks at his surogate mom...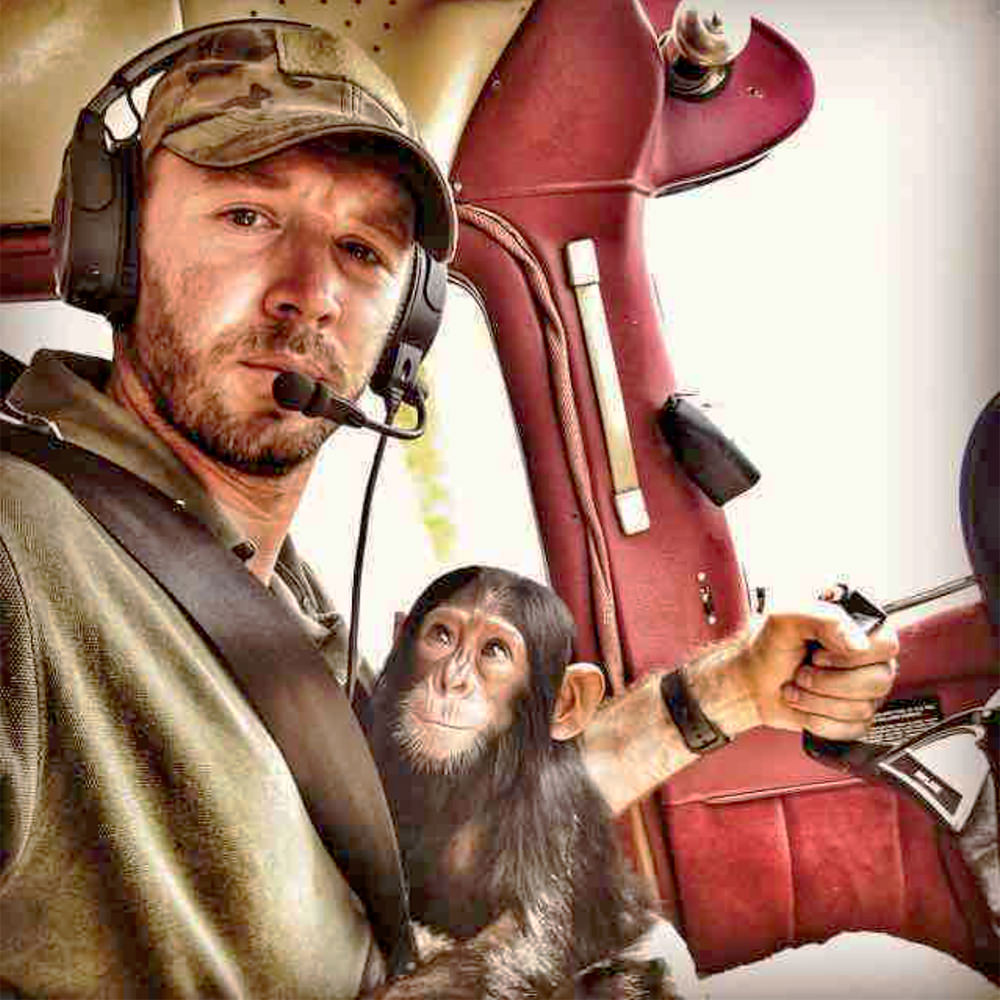 Photo from Anthony Caere's Instagram.
The pilot in this video, Anthony Caere, is frickin' Superman. Not only does he shuttle doctors and save animals, but he survived a horrific plane crash where he intentionally landed in trees so he wouldn't hurt anybody! This interview video is in Dutch, but is still riveting because they show footage of him getting titanium plates to hold together his crushed skull. And after he healed up? He went right back to flying so he could help more animals and people. What an amazing guy.

• The Big Picture! One of my favorite movies of all time is Creator with Peter O'Toole from 1985. It's a sublimely funny and moving film that was pretty much ignored by everybody. I've owned it on VHS, LaserDisc, DVD, and Digital because there's never a time I don't want to see it, and I'm always keeping up so I can watch it easily. There are a number of great performances in it (including O'Toole, Vincent Spano, Virginia Madsen, and Mariel Hemingway)... but it's David Ogden Stiers and his antagonistic "Sid" who had some of the funniest bits. It's easily my favorite role he's had (even more than M*A*S*H), and how I'll always remember him...
Well, that and as the mayor in "Doc Hollywood," another amazing role...
Thank you for sharing your talent, Mr. Stiers. You will be missed.

• Lucas! These animated shorts about a baby spider are gold...
You can see more of Lucas at his YouTube channel.

• Panther! Amber Ruffin, a writer for Late Night with Seth Meyers reviews Black Panther... in the most hilarious way possible...
I really need to start watching Seth. I don't have time to add another late night show to my DVR, but he's always got some great stuff on.

• Authoritay! As the smartest whore you know, I have no trouble laughing over the idea that I'm supposed to believe that this dumb whore is capable of writing a grocery list, let alone a book... even with two people helping her. Kim Davis' level of hypocrisy actually makes her lower than a dumb whore. Dumb whores are at least respectable enough to do their job. Kim Davis is just a piece of shit hypocrite who refused to do hers. Then blamed it on God instead of accepting responsibility for taking a job where she had no intent of following any laws she didn't like. So fuck her. Fuck her sideways, the hypocritical pile of bigoted garbage...
Kim Davis may claim "Glory be unto God"... but her every action says "Glory be unto Kim Davis."

• Pathetic! When senile old pedophiles try to wage war on social media against young people who were literally born into social media, I find it charming.

We've a lovable space that needs your face next Bullet Sunday!