Time won't give me time, because an all new Bullet Sunday starts... now...

• Discovery! I can honestly say that the new Star Trek: Discovery is shaping up to be my favorite television Trek since the original series. Rather than recycle the same old thing, they seem to be intent on taking the show in entirely new directions. Some for the better (ditching the "one big happy family" concept is refreshing), some for the worse (why in the hell re-imagine the Klingons yet AGAIN?). Tonight's episode introduces us to Captain Lorca (brilliantly played by Jason Isaacs) and the USS Discovery (with a gorgeous saucer section married to a butt-ugly triangle body) along with a rather unique premise for the show involving "space spores" which is just bizarre enough to work...
Given the exceedingly high production values, I'm not going to bitch about the $6.00 a month fee to watch the show on "CBS All Access." But, if what I'm hearing is true, CBS plans on airing the first half of the season now, then waiting until 2018 to air the rest. Thus dragging out the length of time their subscribers have to be subscribed (assuming they aren't smart enough to cancel Access until Discovery starts airing again). This is just shitty as all get out (if true) and I have to wonder if CBS realizes how pissed off people already are that they have to pay a premium in the first place?

• So Sick! I've been wanting to see The Big Sick since it debuted. I finally got my chance...
Such a good film. The fact that it's based on a true story is just icing on the cake. Other than playing Dinesh in Silicon Valley, I haven't seen Kumail Nanjiani in anything but bit parts previously (including his hilarious spot in an otherwise awful movie Mike and Dave Need Wedding Dates). He's pretty fantastic, and this movie just goes to show how somebody's real life can be every bit as entertaining as fiction. If you're looking for a movie to rent, it's worth a look.

• So Sicker! Apparently co-writing and starring in "The Big Sick" is not Kumail Nanjiani's only brush with brilliance...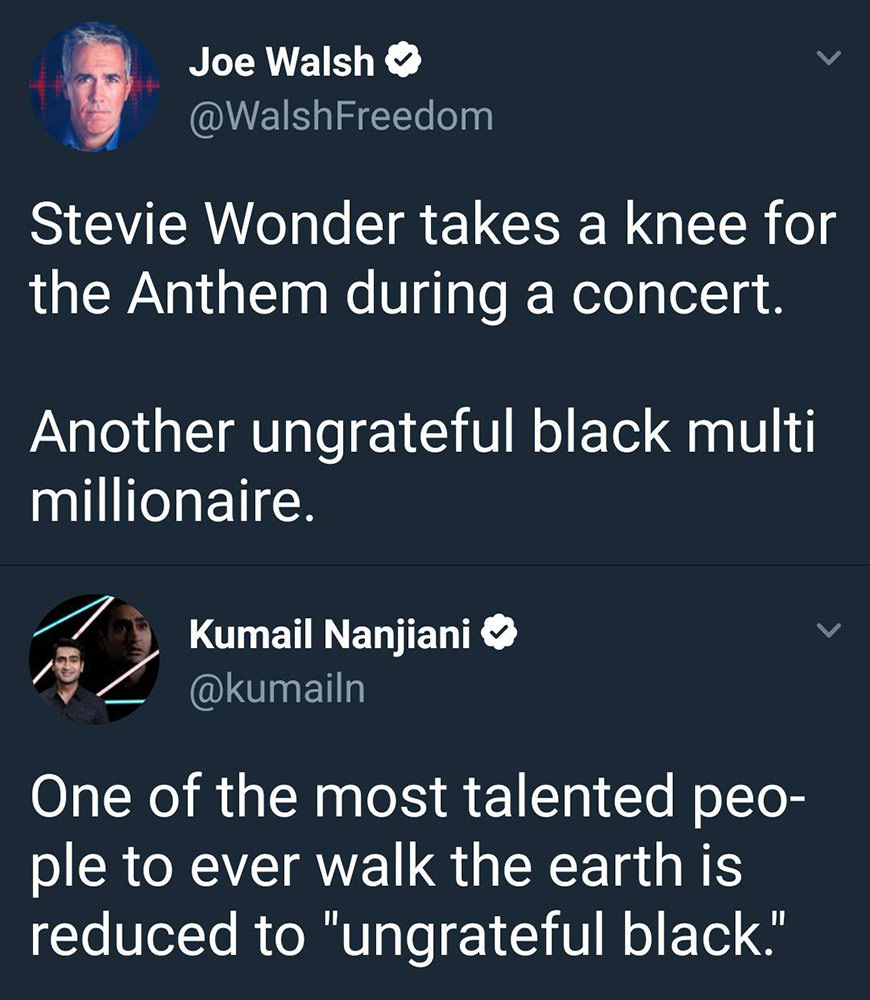 Joe Walsh is fucking garbage.

• Gag! And speaking of fucking garbage... Megyn Kelly is fucking garbage. For years she was a divisive shill for the far right masquerading as a "journalist," and now she's decided to reimagine herself as a non-political talk show host...
I cannot fathom why NBC hired her. Did they really think they were going to attract FOX "News" viewers?

• Tweeter! If you mine President Trump's Twitter feed there's a dose of hypocrisy to be found for everything he does...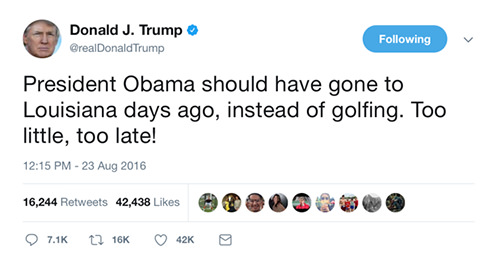 But the Toxic Cheeto Dumbass dedicated his golf trophy to Puerto Rico, so I guess that makes all the difference?

• Just Jack Plus One! I love British comedian travel shows. As if having funny moments isn't enough, they always visit interesting places. Jack Whitehall and his father are in Thailand, Cambodia, and Vietnam in this first season and it's great. If you enjoy travel shows... it's worth a look!
Jack Whitehall: Travels with My Father is available on Netflix now. And, while you're at Netflix, be sure to check out Master of None and Hasan Minhaj: Homecoming King.

See you next week