When I was at the early stages of planning my trip to Antarctica, I ran across something...
strange
.
It was an article talking about how Antarctica is a fraud. It's not a "continent" at all... instead it's just a wall of ice around the edge of a FLAT EARTH DISC to keep the oceans from spilling off the side. The sun and moon are much, much smaller than the earth and rotate above the "disc" like yo...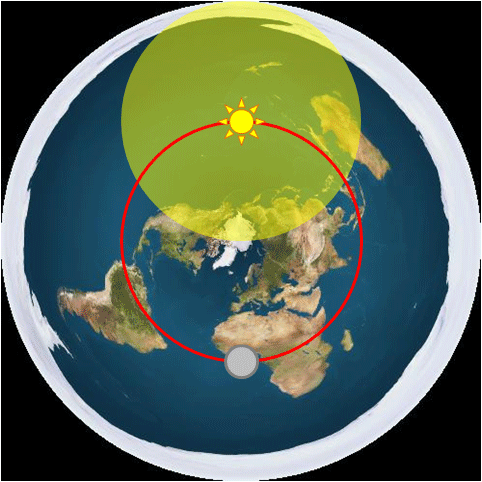 Image attributed to The Flat Earth Society. Really. It exists.
This is not the first time I had heard of such a thing, but I always thought that stuff like "The Flat Earth Society" was a joke. I mean, how could it be anything except a joke? We have visible, reproducible evidence that the earth is a globe which can be witnessed with our own eyes! Astronauts have been off the planet and have seen the earth is a globe! We have actual science that proves how the earth globe works! We have frickin' satellites orbiting the planet to give us technology magic like GPS and shit!
And yet... it's no joke. An increasing number of people are tossing reason right out the window and actually believe this crap.
Then I started seeing flat earth dumbfuckery pop up again for the eclipse yesterday. To some people, the eclipse was seen as "irrefutable proof" that the earth is flat. They don't take time to understand how reality works, so they come up with stuff like "THE SHADOW IS MOVING IN THE WRONG DIRECTION!" and "NASA IS TELLING YOU TO WEAR SPECIAL GLASSES SO YOU CAN'T SEE THE TRUTH!" as their "evidence."
What's most fascinating to me is the flat-earther's blinding hatred of NASA.
Over and over and over again I read how NASA is lying to us and everything they produce has been faked and photoshopped. Of course they think the moon landing was a complete hoax. How could they not? The reason they think NASA is faking everything is that they get tons of money from the government to explore stuff in space, and if they told the truth... that there is no stuff in space to explore... they would be defunded and shut down. No explanation as to how NASA manages to keep their thousands of employees on a leash... or why Russia, Japan, China, and other countries are cooperating with the NASA 'lie" when there's no reason for them to. But it's not like reasonable thinking is going to get you anywhere with somebody who thinks the earth is flat.
Aside from the common sense of a globe-shaped earth given all we know, observe, and study, I have yet to figure out how flat-earthers think that eclipses can be predicted by science if they reject all the science that allows eclipses to be predicted. I mean, seriously... how can NASA tell you in advance when and where an eclipse is going to occur if they are faking the science that gives them the information?
Here's a segment of a list maintained by Time and Date that lays out eclipses for all of 2019...
Scientists are able to release stuff like this because our solar system has been modeled. It's not some wild guess that they're making... if you go to the places they say there will be an eclipse at the time they say there will be an eclipse, you will see an eclipse. It's that simple.
I have scoured the internet trying to find an eclipse schedule as released by a flat-earther, but it doesn't look like there is anything. You're just supposed to take their word that the earth is flat even though they can't explain how astronomers are dead-accurate about the science of eclipses... and offer no explanation or "predictions" as to when eclipses on their pancake earth are going to occur.
Riiiiiight.
Oh well. When I set sail towards Antarctica this December, I'll be sure to take photos of the giant ice wall.
And if you never hear from me again, you can assume that the flat-earthers are right and I've fallen off the edge.