And so I'm dead now.
When I went upstairs to watch Netflix in bed at 9pm last night, Jenny was still out in the catio. When I finally decided to go to sleep at around 11pm, I checked the cameras and saw she was still out there. This is not unusual, as she loves chasing bugs in the catio at night. Jake, I assumed, was off asleep somewhere.
When I woke up at 2am, I checked the cameras and saw that Jenny was still out in the catio. No Jake. I activated all the internal cameras. Still no Jake. I assumed that he was still off sleeping somewhere. So I started scrubbing backwards through the internal cameras so I could figure out where.
Jake was nowhere to be found. The last time he showed up was 7:15pm, when he was climbing down the cat tree.
Holy crap! Did I lock him in the laundry room?
No.
I can't find him anywhere.
No big deal, I grab the cat treats and shake the bag. Jenny comes running in from the catio immediately.
No Jake.
This is unprecedented. For Jake to not show up for kitty snacks is inconceivable. He loves those things. Loves them. The only reason he wouldn't show up is because he's trapped somewhere. Or dead.
And thus begins 20 minutes of total panic as I proceed to tear my house apart.
Still no Jake. He's vanished.
Either he has wedged himself somewhere I haven't thought of or... he got outside somehow?
Total panic becomes a complete meltdown as I start checking outside cameras. And there he is. Wandering around the back yard. At least he was at 1:28am, which was almost an hour previous...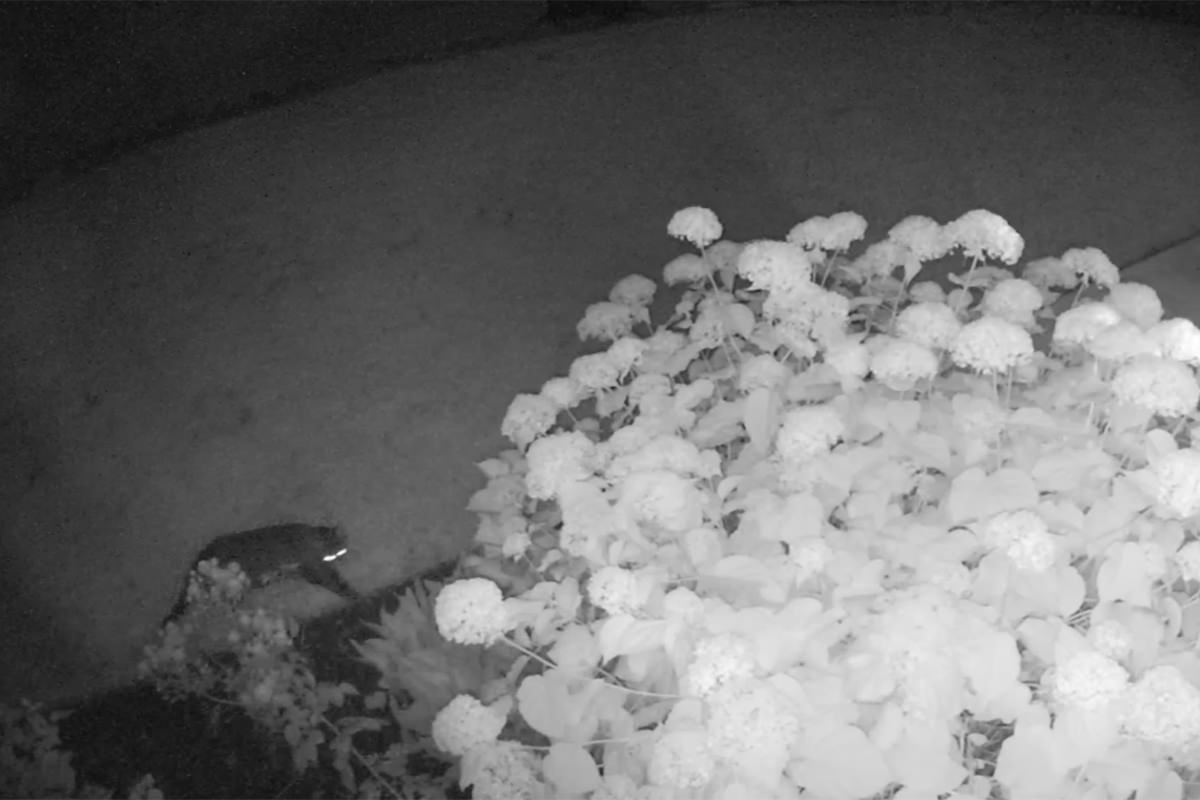 What. The. Hell?
At first I thought it might be Fake Jake, but the more I watch the video, the more I'm convinced it really is Jake, and he managed to escape. Some way. Some how.
I am trying to think if I have ever been at the panic level I was at that moment.
I honestly don't think I have.
And so there I am, out in the catio with the door wide open, shaking a bag of treats. He shows up minutes later...
But... how? How did he get out? He was around when I got home from work, I'm sure of it. Did he escape when I took out the garbage? Did I leave a window open somewhere and he pushed out the screen? Is there a hole in the fencing on the catio?
Back to the cameras. And... turns out he pushed off the roof of the catio (video at 8x speed)...
A couple things to note:
Jake paces back and forth, pushing on the roof at different spots. It's like he knows he can push through somewhere if he can get the leverage.
I can't see where he drops to the ground. I'm guessing he jumps over to the shrub, and climbs down that way?
Jenny totally watches him escape.
Eventually Jenny pushes through the roof as well, but chooses not to leave. Thank heavens.
The catio is now closed, pending my securing the roof panels.
From what I can tell, Jake was never too far away from the catio. He appears on the back porch several times throughout the night (video at 8x speed)...
Though he did circle the entire building once. He appears in the front yard at 11:45pm... goes out of frame at the bottom near midnight... then reappears at the top of the frame exactly 30 minutes later. Heaven only knows what he did along the way (video at 8x speed)...
More than once he tries to find a way back into the catio, and most times his sister is on the other side watching him...
So there you have it... Jake's big adventure.
And my nervous breakdown. Because all I can think about is how this could have happened tomorrow when I'm traveling and Jake would have been stuck outside.
Needless to say, I won't be getting any sleep tonight. If ever.
Maybe if I would stop checking the video cameras every 15 minutes to make sure the cats are still inside and safe...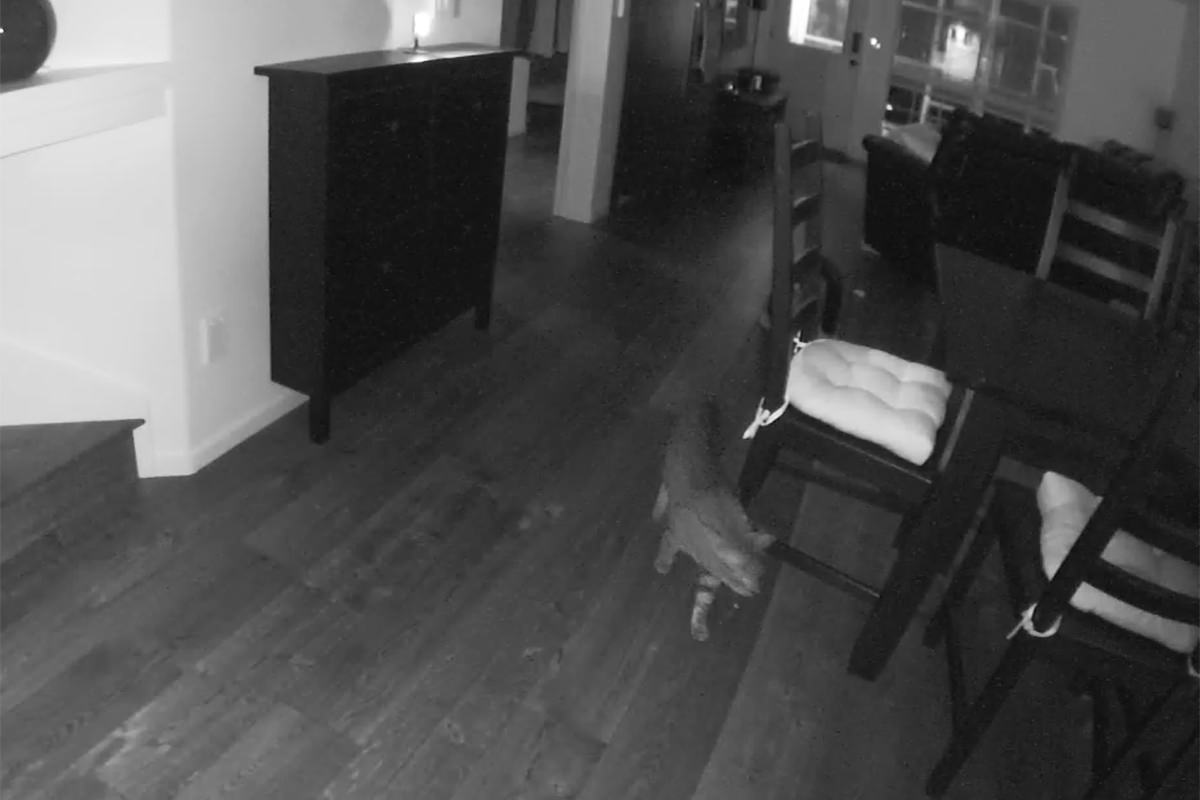 Cats. What can you do?

UPDATE: Turns out my framing contractor (who also made the roof for the catio) used screws that were way too short. They were barely grabbing into the wood. So when Jake was walking back and forth pushing on the ceiling, the screws were popping out like rivets...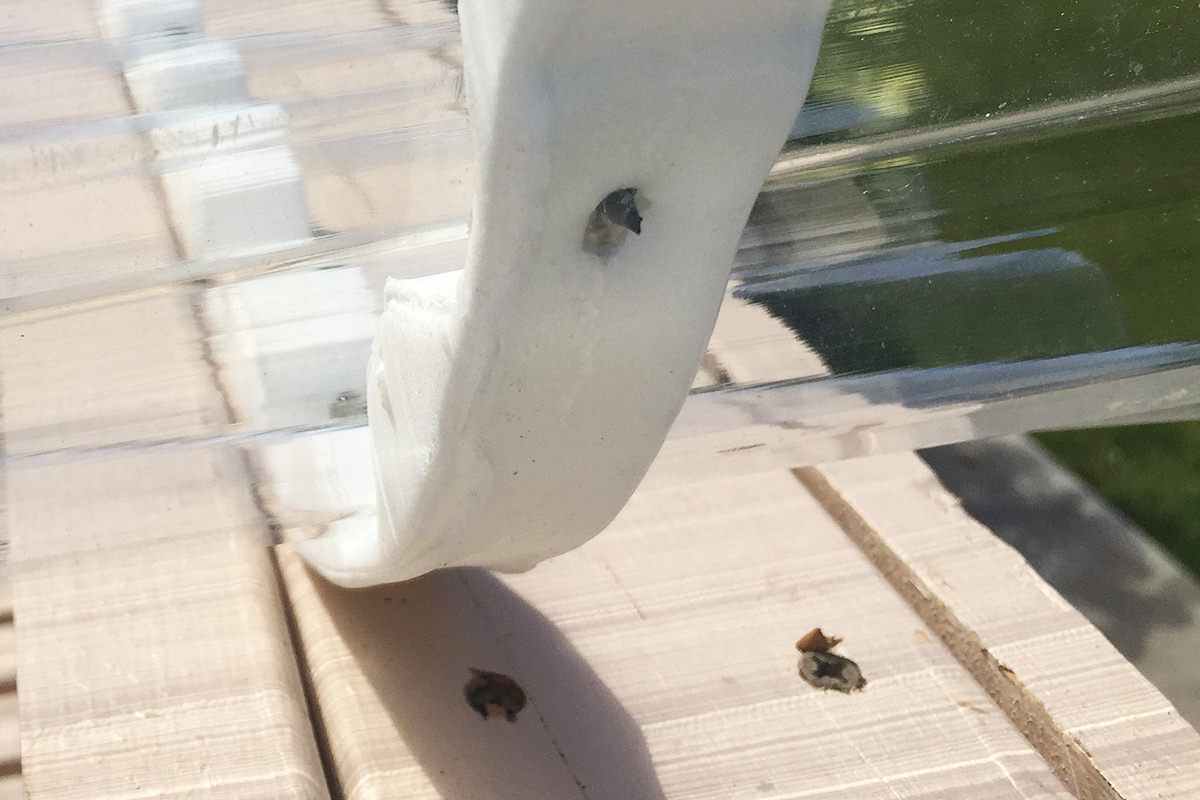 I'm replacing them all with screws that are 2-1/2" times longer.
And... Jake and Jenny can enjoy their catio once again.
And... I can have the peace of mind that the cats can't get out.
Until the next time.