Life with cats is never boring. Well, actually it's mostly boring. Cats sleep... like... an insane amount of time. But the bits where they are awake is interesting. Mostly because my cats do not exhibit consistent behavior. Just when you think you have a handle on them, they mix it up, and start doing something entirely different.
Jenny, for example, did not "meow" the first 8 months I had her. Unlike Jake, who seems physically unable to "meow," apparently it was because she just didn't feel like it. Then... it started. Just weak little meows from time to time when she wanted attention. That transitioned into this kind of forlorner meow (that was bordering on a wail) when she wanted attention, which breaks your heart. And now? When Jenny really wants your attention, the meows are unleashed. They still sound a bit "sad," but they are numerous and loud.
At first I went running whenever she exhibited this behavior, because I was worried something was seriously wrong. More than once I've gone tearing down the stairs worried that she's sick or trapped under a rogue meteorite that crashed through the ceiling. Nope. She just wanted to be petted, and didn't feel like climbing up the stairs for it.
Most mornings now she will patiently wait for me outside the shower. Apparently she loves rubbing against you when you're damp. Once the water turns off, the clock is ticking. If I take too long drying off, she will start meowing for me to hurry up.
That pussy ain't gonna pet itself, so it would seem.
As I've mentioned many times, Jenny brings me a morning "tribute" in exchange for me getting out of bed and serving her breakfast. She'll waltz in with a toy (or several) and drop them on the floor by my bed anywhere from 30 minutes to 2 hours before she's due to be fed. Here, for example, she's just dropped off Tan Mouse and is looking up at me in expectation of food...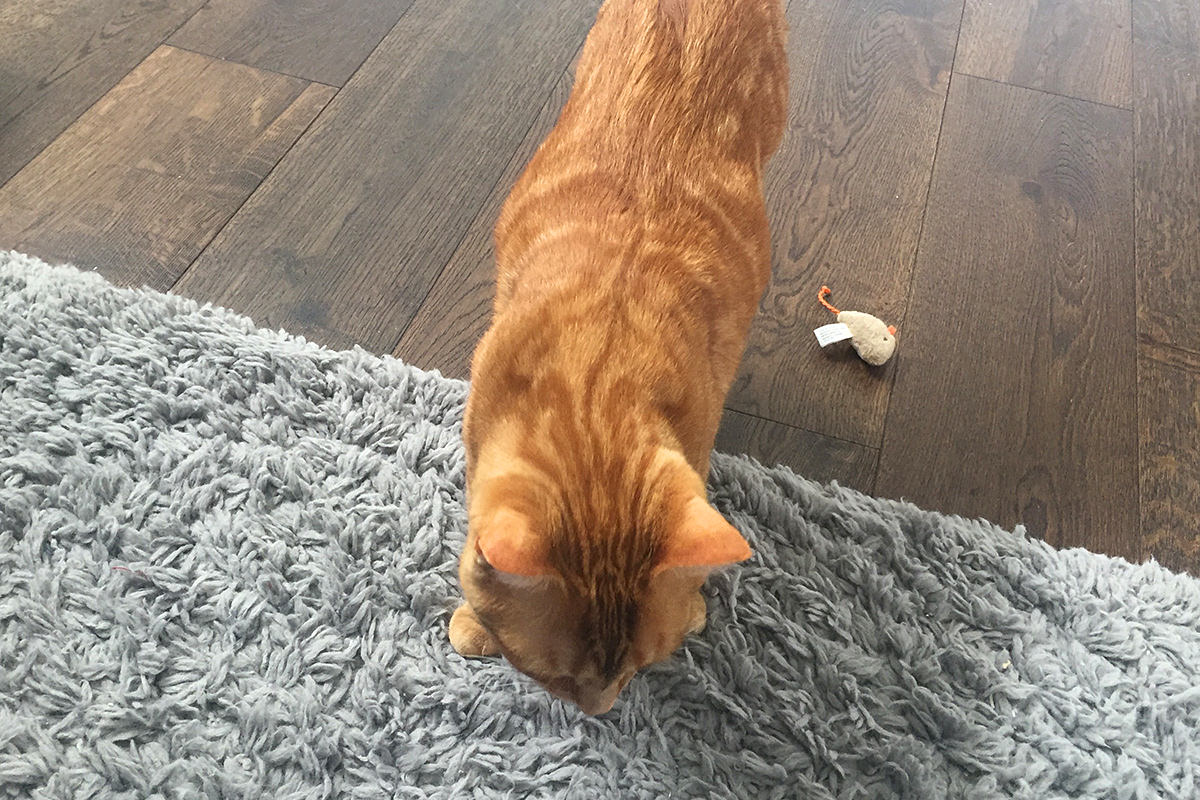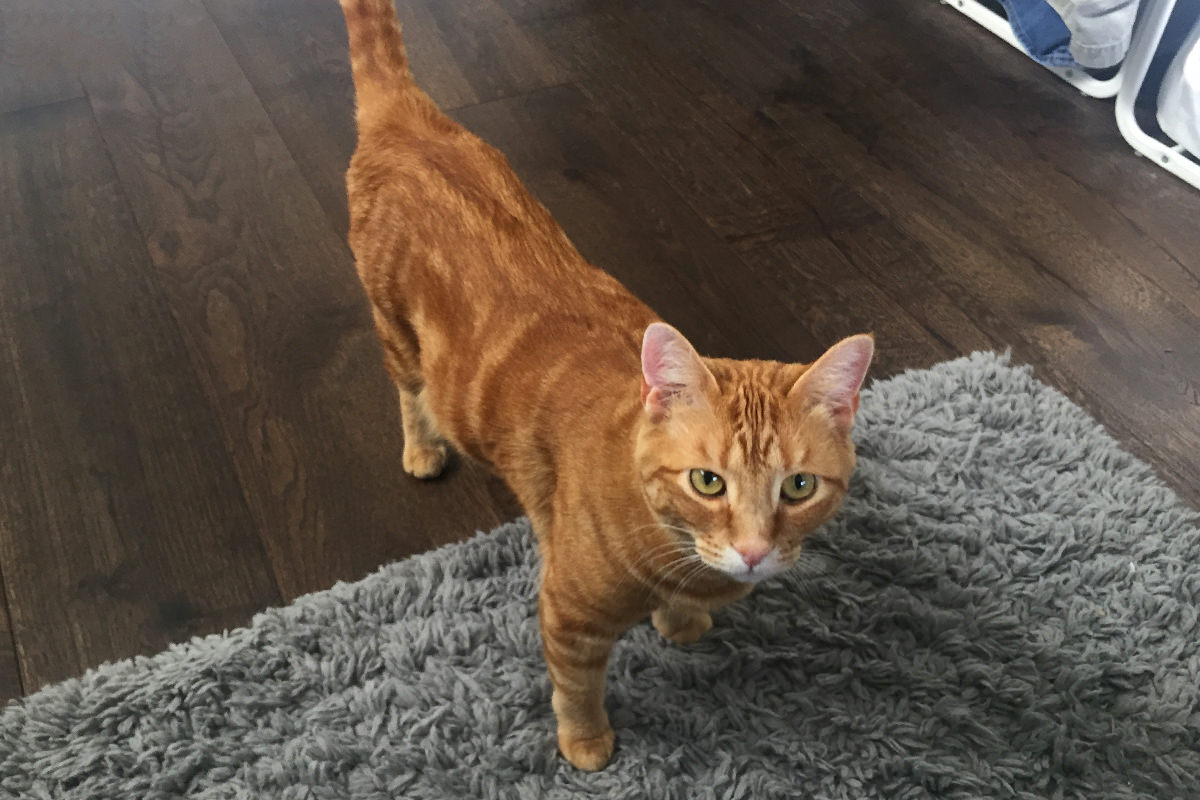 Some mornings she will haul a tribute toy all the way upstairs, but discard it before she gets to my bedroom in favor of a different toy...
There are times this results in a kind of interesting art installation on my stairs...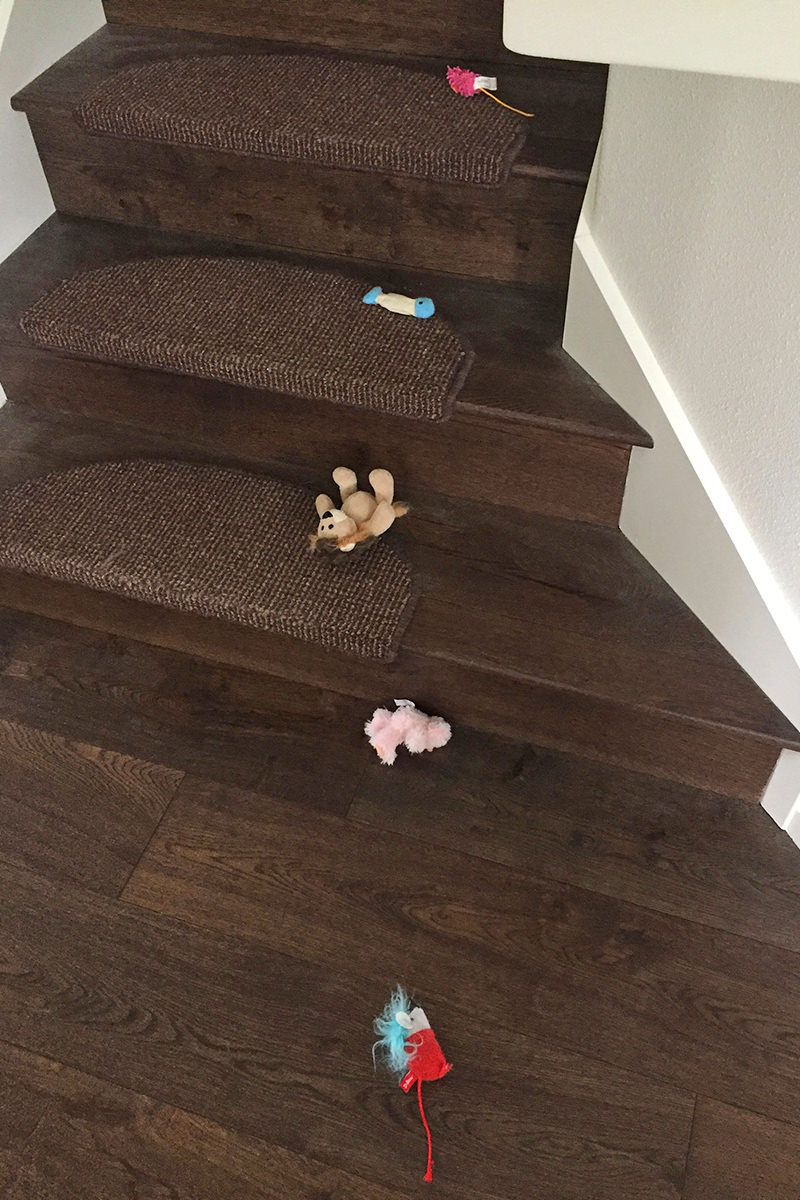 Her favorite toys, these crinkle-fish that have catnip in them, are rarely offered as tribute. She prefers to keep them with her so Jake can't take them, especially when she's ready for a nap. She'll hunt one or two of them down, then crawl into bed. Like she did here with Blue Fish...
You can't tell in this photo (because I was too slow) but she's hugging Green Fish in her little paws...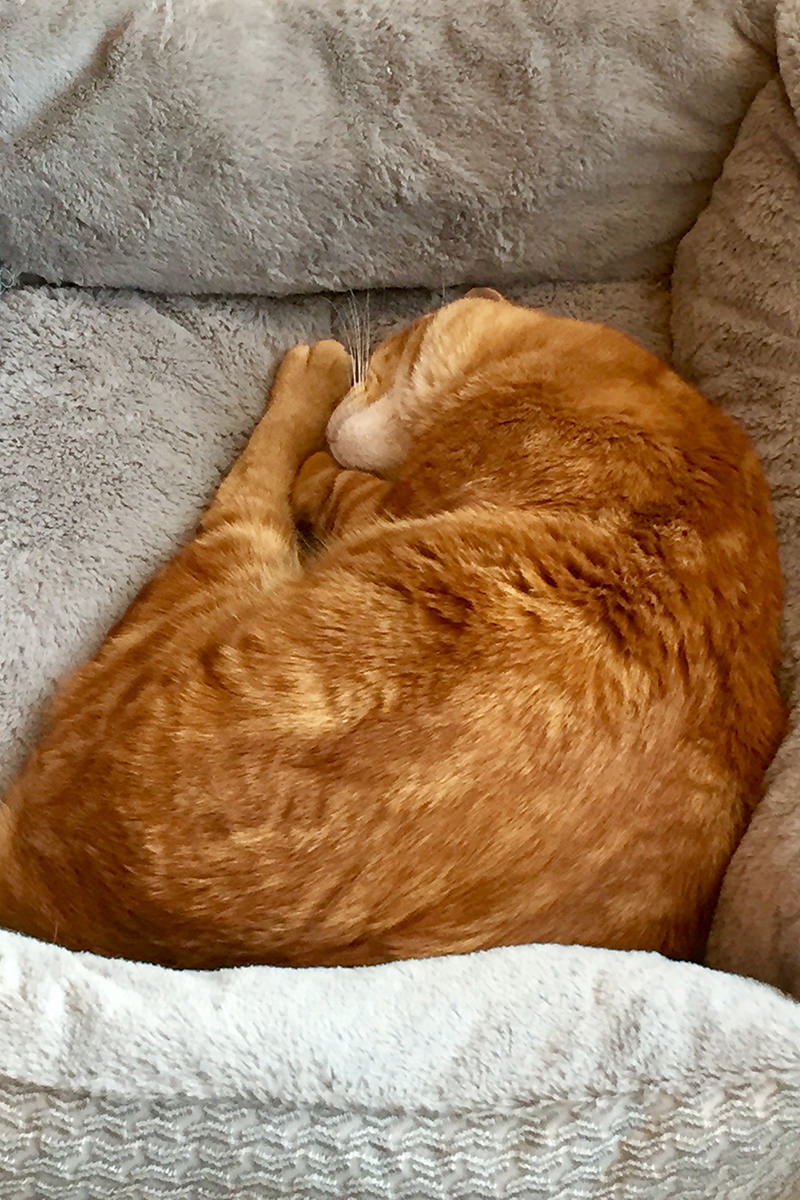 Also new? Jenny has started moving furniture in the mornings while waiting for breakfast to be served. She starts by dragging all the couch pillows onto the floor then moving them around. Then she goes after anything she can physically move. Like the box I've been using for garbage while cleaning out my filing cabinet. Or the brush loop. Or her little scratcher lounge...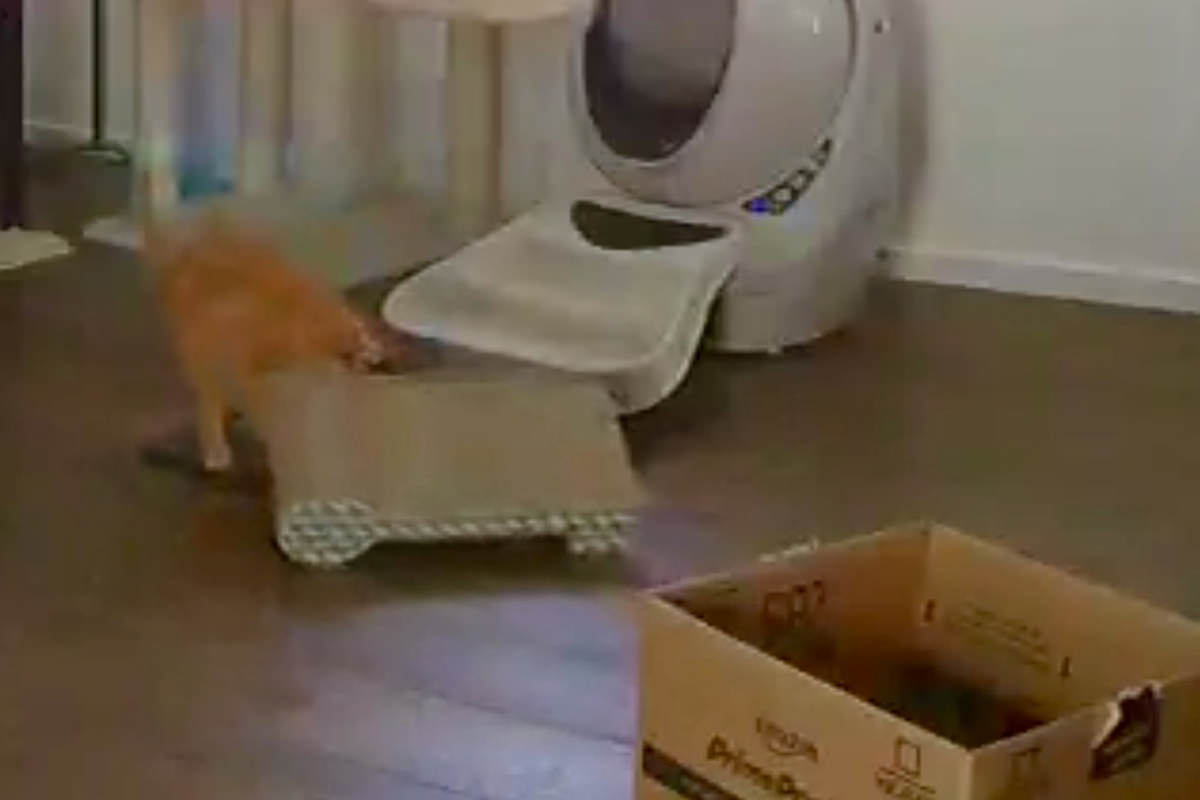 If I hadn't heard it going on and seen it on security camera footage, I would never have believed it. She will drag/push that thing across the entire house. And it's almost as big as she is! I have no idea why she's decided to become an interior decorator, but here we are.
As for Jake?
Still being Jake. Though a little bit grumpier because I've had him on a veterinarian-dictated diet. And since he's a fairly active cat, he's been losing weight quite nicely. His pronounced belly is almost gone...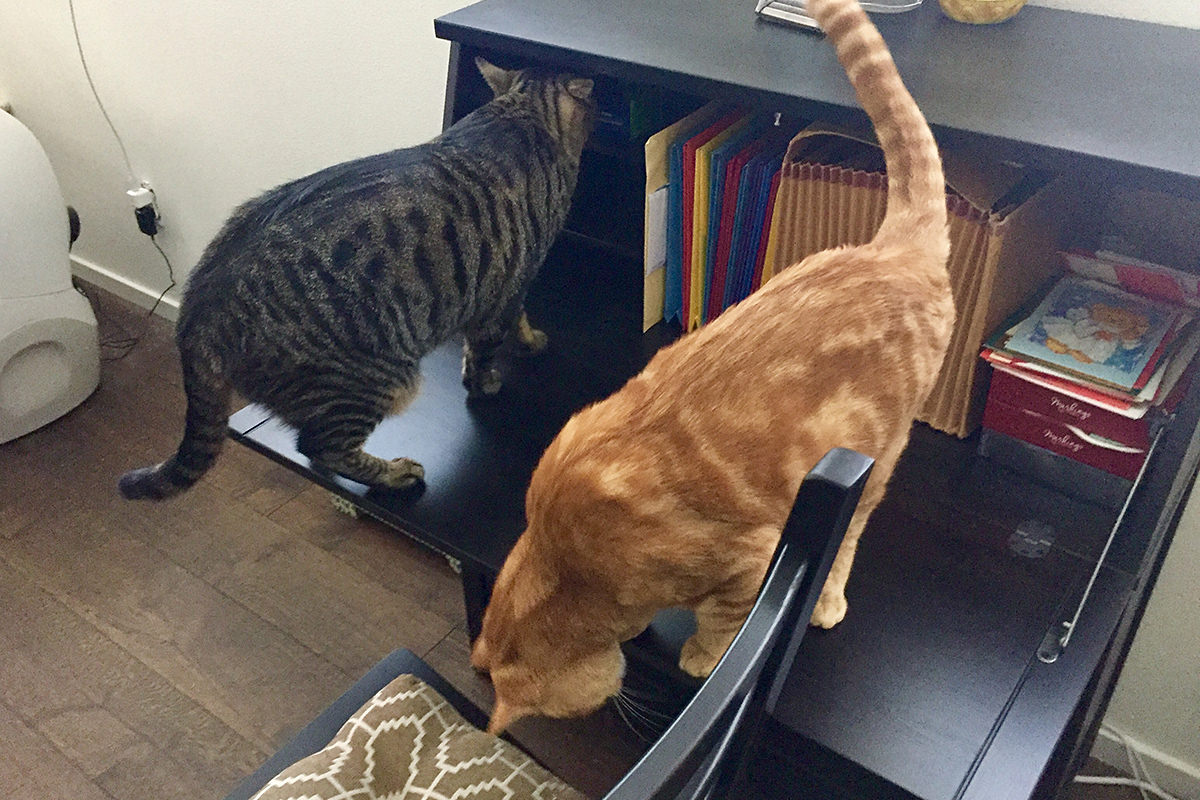 Jake and Jenny's favorite place remains the catio. Now that it's warmer, they are out there all day long. Jenny will even stay out all night, because that's the best time for catching and eating bugs, apparently. Earlier this week they were both out there while I was working on the couch. All of a sudden they come dashing in the house, then take up residence on the loveseat so they can observe the catio from afar. Turns out the giant dopey black lab was back for a visit, which they do not like at all...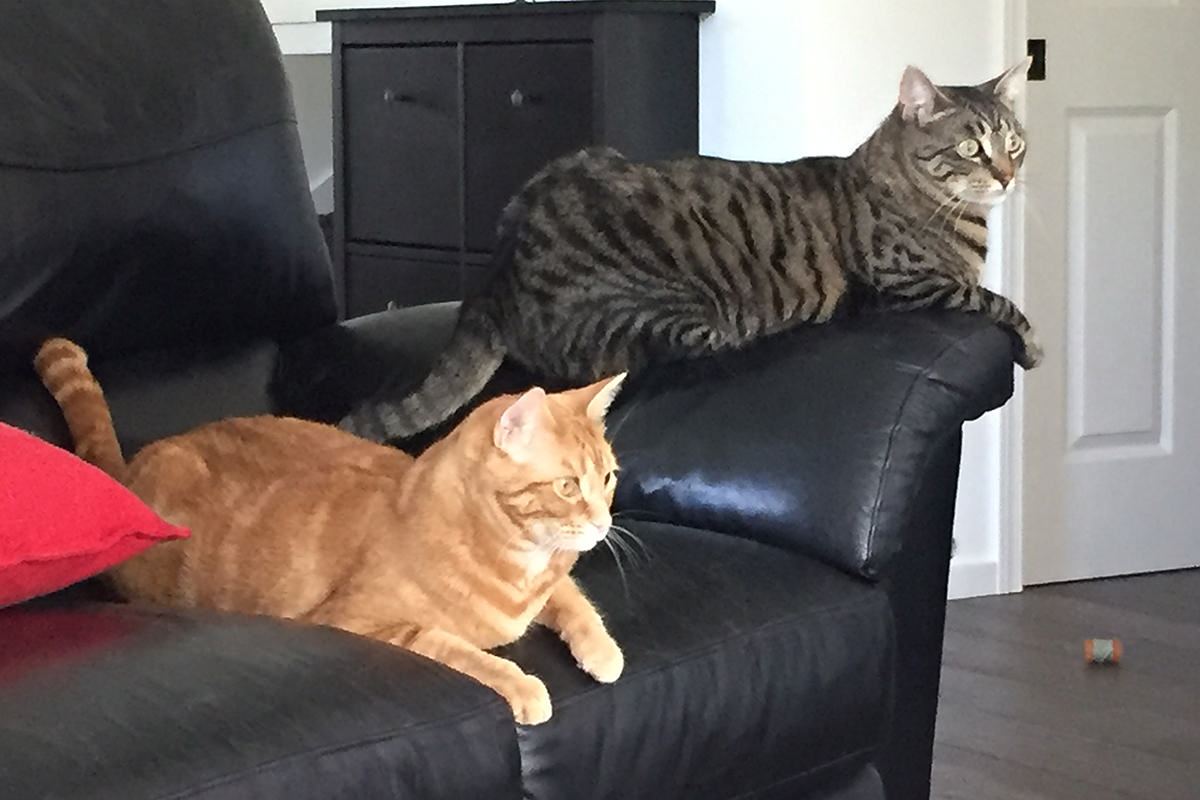 Though Jenny tried to make the best of a bad situation, as always...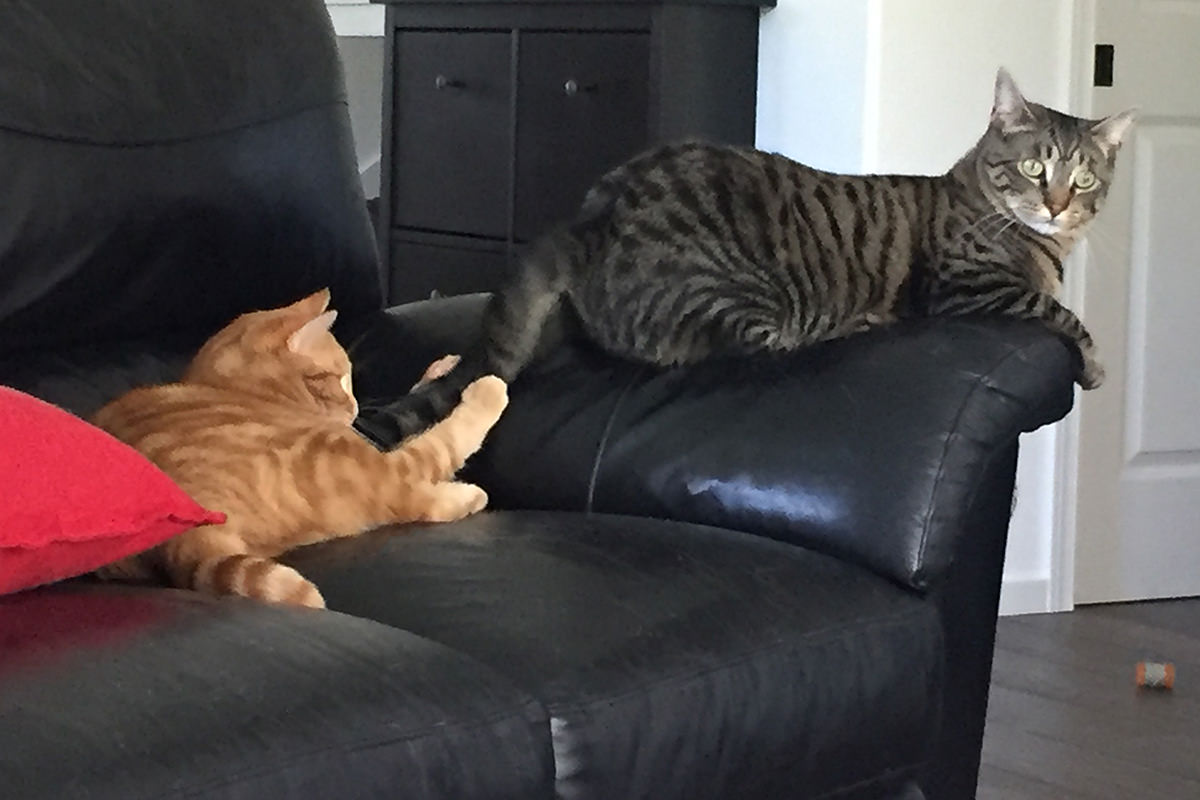 More excitement was to be had this week because they are repairing the stucco on the condos. This included the stucco in the catio, which meant I had to finally use the pet door blocker to keep them from running out...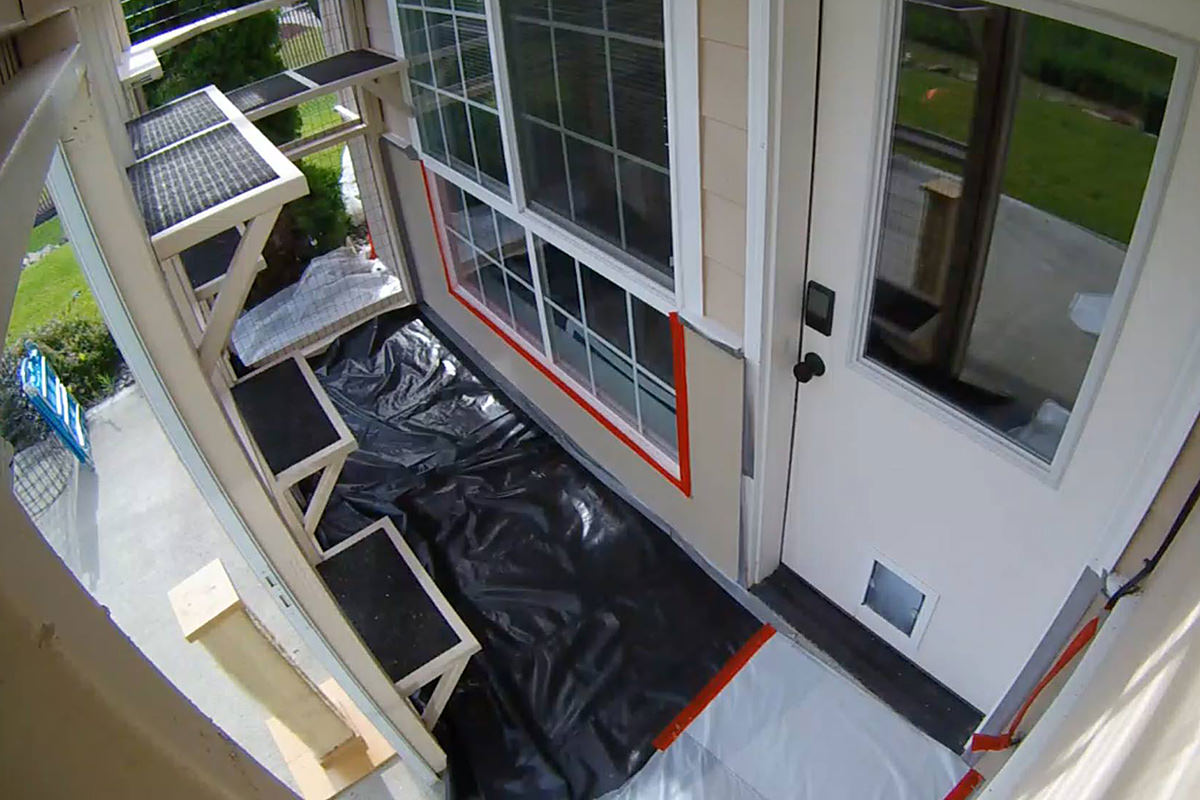 Jake was most definitely not okay with having his catio privileges revoked, because the catio is his favorite place to be. He decided to compensate for his disappointment by being a BAD, BAD KITTY and crawling on the kitchen counters, regardless of how many times I told him to GET OFF OF THERE...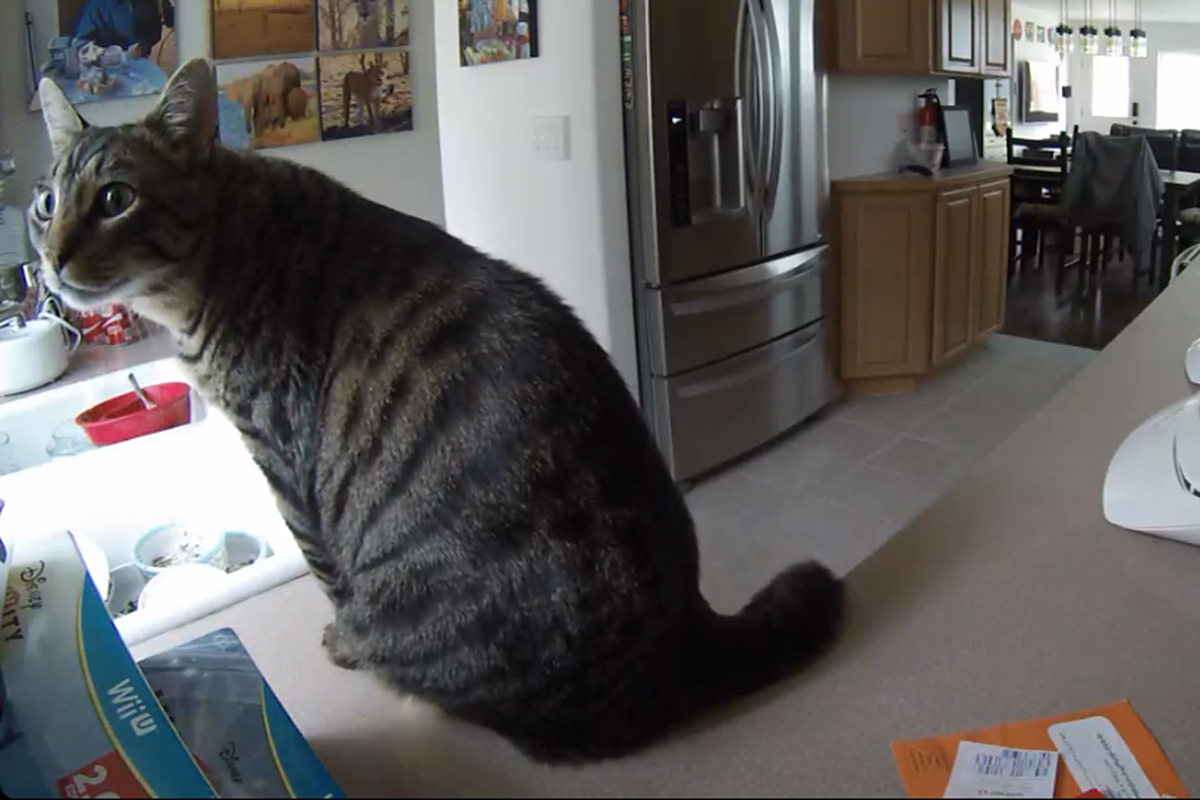 Time for the Clorox Wipes. Again.
Why can't he stay out of the kitchen like his sister?
Oh well. Jake wouldn't be Jake if he wasn't thumbing his paw at authority.