I've long been fascinated with home automation... even before I had a home of my own where I could implement it. Once I actually got started with the stuff I became even more fascinated, because you just don't know what you can do until you're hip-deep in the culture. Depending on how clever you are (and how much money you're willing to spend), home automation is the ultimate lifestyle hobby.
Most people think that simple tasks... like turning lights on-and-off automatically or locking and unlocking a door remotely... is what home automation is all about. And they would be right. Except it can go so much deeper than that.
Take for example my morning routine.
I am usually up and working in bed around 5:00-5:30am. But my first task of the day... feeding my cats... doesn't happen until 7:00am. Once that time comes, here's what happens...
At 6:30am, the furnace/air conditioning comes on, as needed, depending on the temperature in the house.
If 7:00am happens before sunrise + 15 minutes, my bedside light, staircase light, dining room light, and kitchen light all come on.
I receive a text alert that it's time to feed the cats.
If a motion sensor isn't triggered in 15 minutes, I get another alert.
Once the cats are fed, I head back upstairs to get ready for work. A motion sensor sees this then turns off my bedside light and kitchen light, then dims the dining room light to 50%, if it was on (cats see better in low light than I do!). It also turns on the upstairs bathroom light and the shower fan.
After I'm finished in the bathroom, I say "Alexa, turn off morning bathroom," and everything shuts off there. If it's sunrise + 15 minutes or later, the stairway light goes off as well (if it were turned on).
When I leave the house, I tell Alexa and she shuts off any lights that happen to be on. The thermostat goes into "Away Mode" to save energy. Security cameras in private places (like my bedroom) turn on (they are off when I'm home).
It sounds kinda complicated, but it's actually dead simple to set up once your home is wired for it.
Take, for another example, garbage day.
I keep forgetting to put the garbage out on Wednesdays when I get home so it will be picked up Thursday morning. Thinking like a home automation hobbyist, I wonder how I can have my home assist me in remembering. The program to do that is pretty simple...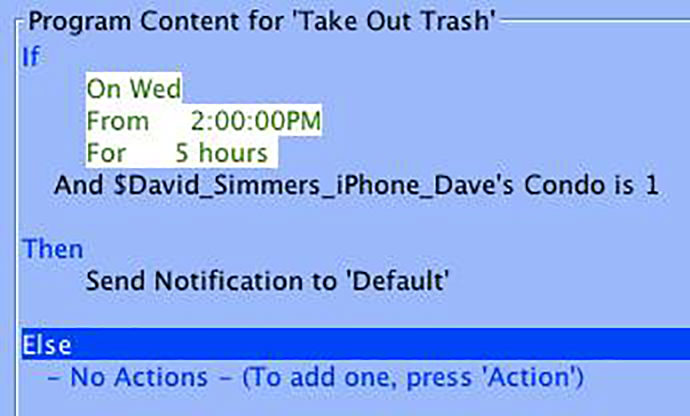 On Wednesdays after 2:00pm, my house is alerted to start looking for me to arrive home. It's able to do this because my iPhone (which is always with me) will trigger an alert whenever I am within 50 feet of my house. Once I arrive, a notification is sent to my iPhone which reminds me to take out the garbage. You can see it in my iPhones alert screen (which you have to read from the bottom up)...
The first message I get is that I've entered my "home zone"... then I get a reminder to "Take Out The Trash"... then the garage door opens (while the sensor in there lets me know there is now motion in my garage).
It worked perfectly, but I was worried I'd miss the alert if my phone were in my pocket. So I added a line of code to turn on the light outside my garage. It's easy to notice because it's green (for the Green Light a Vet project)...
So now, even if my phone is in my backpack or on silent or whatever, I still have a reminder that I need to take out the garbage can.
What I really need to do is get a bulb that can change color. Then, on alternating weeks, I could have it turn blue to remind me that the recycle bin also needs to be set out.
Ooh... then I could put a sensor on my garbage can and recycle bin so that the garage light is turned off once the task has been completed. That way I'll be saving energy until it gets dark and it comes back on automatically!
And then I could set up a security camera alert to let me know when the trash can and recycle bin have been emptied!
And then I could...
Yeah. Probably best to leave it at that. Home automation can get expensive, yo.