I've never given much thought to being "a morning person." Since I am constantly battling insomnia and am already awake well before it's time to get up, there's nothing much to think about. Would I like to stay in bed all day watching TV and surfing the internet? Sure. Is it sometimes difficult to get motivated to face the day? Of course. But getting up at the ass-crack of dawn is no big deal to me. Which, I'm told, makes me a "morning person."
And I suppose that's even more true now that I have cats.
Kittens are supposed to be fed 3 or 4 times a day so that they have all the food and energy they need to grow up healthy and strong. I settled on 3 times a day out of necessity (I only get one lunch hour!) and that seems to be working just fine because Jake and Jenny are growing up alarmingly fast.
The trick to making a feeding schedule work is to stick to it like glue. Which means feeding the little monsters promptly at 7:00am, 12:30pm, and 6:00pm. Which, for me, is Before Work, Lunch Hour, and After Work.
That first feeding is a routine that the cats are very much accustomed to, and deviating from it is tantamount to The Apocalypse. It goes something like this:
6:50am — iPhone Alarm Goes Off. This is not to wake me up... I've been up since 4:00-4:30... but to remind me that the kitties need to be fed, and I should put away my work and get moving.
6:52am — Bathroom Break. Everybody poops. Even me.
6:57am — Open the Bathroom Door. Once Jake and Jenny hear the toilet flush, they haul their fuzzy little asses up the stairs as fast as they can so they are waiting for me as I open the door. Then I usually get them all hyped up by saying "Who's ready for breakfast? Should we get some breakfast? Come on, let's go get breakfast!" And we'll all go tearing back down the stairs so I can dish out their wet food.
7:00am — Breakfast! Jake devours his bowl. Jenny licks hers... maybe taking a bite or three if she's really hungry. At this point, I usually go back to my bedroom so I can finish up whatever I was working on when the alarm went off.
7:20am — FEED US! Since Jenny doesn't like wet food very much, I always serve her up some dry food a half hour later. Jake, being Jake, will join in eating her dry food and polish off the wet food she didn't eat. Because of that, he's just as excited for 7:30 to come around as she is. Which means they start hanging out on my bed around 7:20 waiting for me to come back down and give them dessert. Many times I've looked up from my computer to see them just laying there staring at me...
7:30am — Crunchy Time! As soon as I notice that 7:30-ish has rolled around, I start getting the cats hyped up... "What time is it? Is it crunchy time? It is! It's crunchy time!" Which has them going out of their minds as they hop around the room and tear downstairs at top speed.
Then I get ready for work and am out the door.
On those rare mornings where I am slow to get out of bed... usually because I'm in the middle of composing an email or something... the cats will come get me if it strays too far past 7:00am. Usually they'll make their food demands known in as passive-aggressive way possible... like flopping themselves on the floor and staring at me...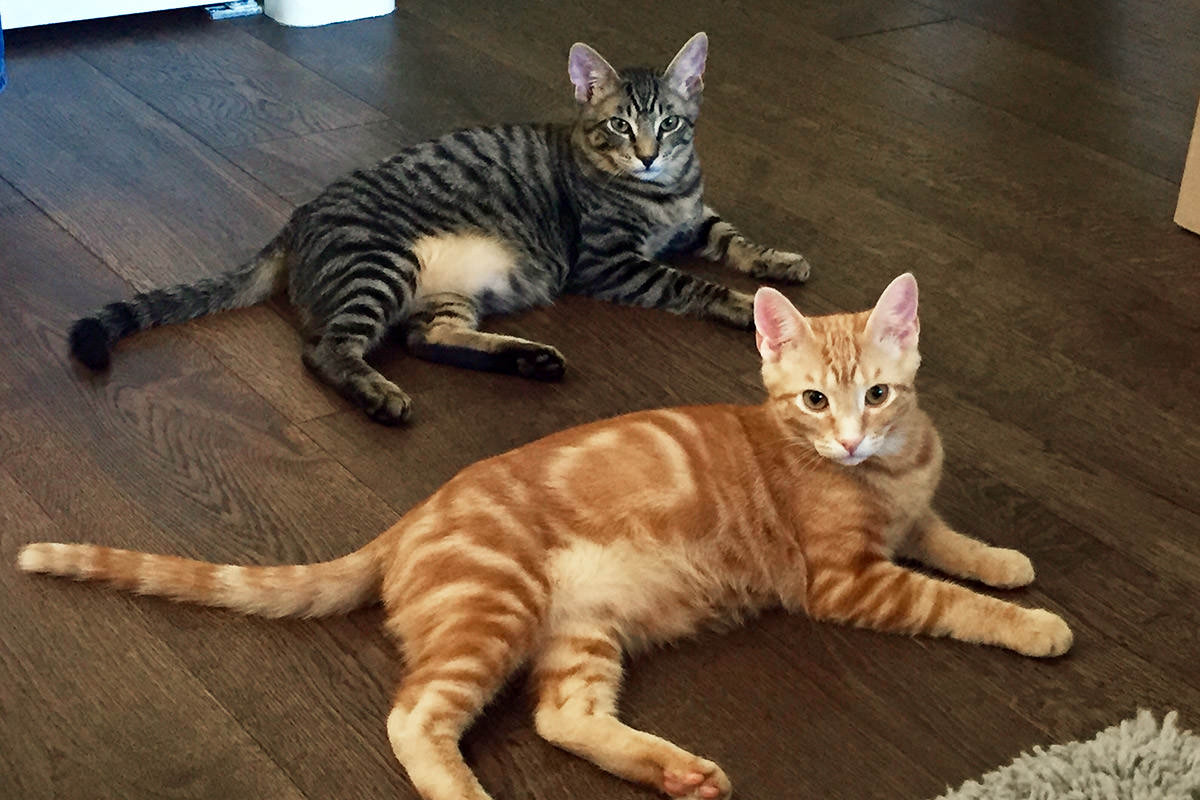 If that doesn't work, they'll climb up on the bed and start chewing on my toes or something.
Which is fine. I deserve that if I'm getting off schedule.
I'm a morning person after all.