Okay... my new Blu-Ray player can play 3D movies... and my TV can display 3D movies... but I've never bothered to watch a 3D movie because I don't like them much in the theater. They're dark. They're blurry. They're most-often not filmed in actual 3D so the separation sucks. All told, it's just a miserable experience. The sole exception being Avatar, which was something I could really plug my hair into because the 3D was so well done. And because it featured giant blue kitty people...
Anyway... I bought the Blu-Ray 3D version of Avatar when it was on sale a while back, and I finally decided to dig out the 3D glasses this weekend and take a look. The 3D was absolutely spectacular... better even than the movie theater! Sure, it looked like a video game, but it was... different. So now I'm anxious to try more 3D films at home, but I don't want the 2D to 3D conversion crap that looks terrible. So I'm trying to track down films that were actually filmed in 3D with 3D cameras. And there just so happens to be a terrific website for that called Real 3D or Fake 3D!
Now it's just a matter of which movie to watch next. A lot of Pixar movies look promising. And I'm happy to see that Dredd was shot in actual 3D... so I guess that's a start.
And now for a quick look at my Samsung UBD-K8500 Ultra-HD 4K HDR Blu-Ray Player...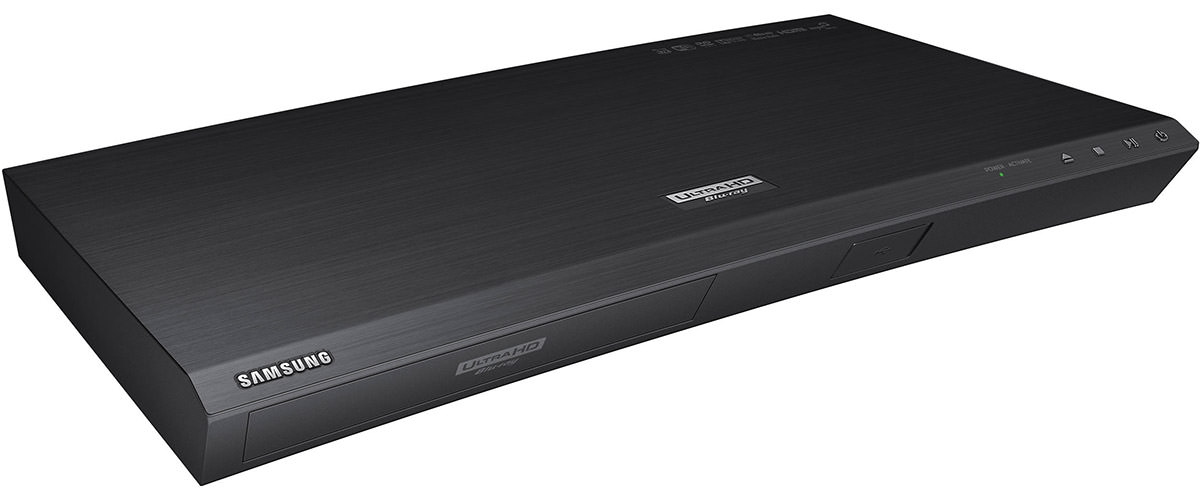 I bought this player not for the 3D... there are plenty of cheaper options for that... I bought it for the HDR Ultra-HD picture to match up with my HDR-capable Ultra-HD television. To anybody familiar with this blog, the fact that I would buy into another shitty DRM-infested physical format may come as a surprise, but there's really no other way to get this kind of picture digitally, so I bit the bullet.
The UBD-K8500 player itself buys into the dopey "curve" aesthetic that has been plaguing Samsung as of late (I still don't understand the appeal of their curved TVs), which looks silly in your media center, but oh well. It's what the thing can do that I cared about, and there's actually two parts to that...
4K Picture.
With four times the resolution of 1080p, the new 4K format is a sight to behold... if you have a television that can display it! If you don't, this player is good for future-proofing and not much else. Otherwise? Well, it depends. First of all, you need a big TV. Second of all, you need to sit close enough to the television that you can actually appreciate the picture quality. Have too small a display or sit too far back, and you might as well stick with the much cheaper 1080p options out there. I have a 65-inch screen and sit approximately 9 feet away. This is the outer fringe of what's recommended to get any benefit out of the increased resolution but, when running a comparison between 1080p and 4K there is a definite difference you will notice. I sure did. It's not vastly huge since my television upscales the lower resolution quite nicely, but enough to make me want to purchase Movies That Matter in the Ultra-HD 4K format. To truly get the best bang for my buck, I move some furniture and sit 6 feet away from the screen. That's when the Ultra-HD really shines, and the extra money suddenly becomes worth the cost.
HDR.
If there were a "killer feature" to the UBD-K8500, it's the ability to send a High Dynamic Range picture to a compatible television. I have such a television, and can say with no hyperbole whatsoever that it's stunning. The expanded color gamut looks great when viewed alone... but it looks jaw-dropping stupendous when compared to a standard HD source. As I switched from 1080p to 4K HDR sources for The Martian and Kingsmen: The Secret Service it was like a hazy veil was being pulled from in front of my eyes, even though the image didn't look as bright. The color fidelity was just fantastic. Everything looks deep, rich, defined, and saturated... all without looking fake and bleeding all over the place. In a dark room on a high-quality display, I dare say that the image you get from the Samsung UBD-K8500 is better than any theater.
So... great picture quality. But what about the many, many, many pitfalls that plague Blu-Ray players of the past? Especially when it comes to speed? Blu-Ray players have historically been absurdly slow to respond... especially through the klutzy menu systems. Is the UBD-K8500 any different? Yes. And no. Yes, it's much faster than my previous 1st generation and 3rd generation Blu-Ray players, but it can still be infuriating when attempting to navigate through long menus or while attempting to jump around the disc. A lot of this undoubtedly has to do with the shitty DRM encoding (which punishes paying customers instead of the criminals seeking to steal content), but it's not like you can expect movie studios to give a shit.
The only real down-sides to my purchase were A] The price ($350!), B] The remote (once again Samsung shows that they have no clue what they're doing), and C] The lack of Ultra-HD HDR titles (no Star Wars: The Force Awakens yet, alas). Other than that, I'd recommend the thing if you've got the television/set-up to take advantage of it.