Jake is usually a very mellow cat. But if there's ONE THING that will set him off... it's Jenny trying to take his toys. Especially his lion or his monkey, both of which he refuses to share. If he sees her with one, he'll come tearing into the room and take it away. And if she tries to take it while he's playing with it? It's go time.
For quite a while, Jake was hiding his stuffed toys on top of the dining room table because Jenny couldn't figure out how to get up there...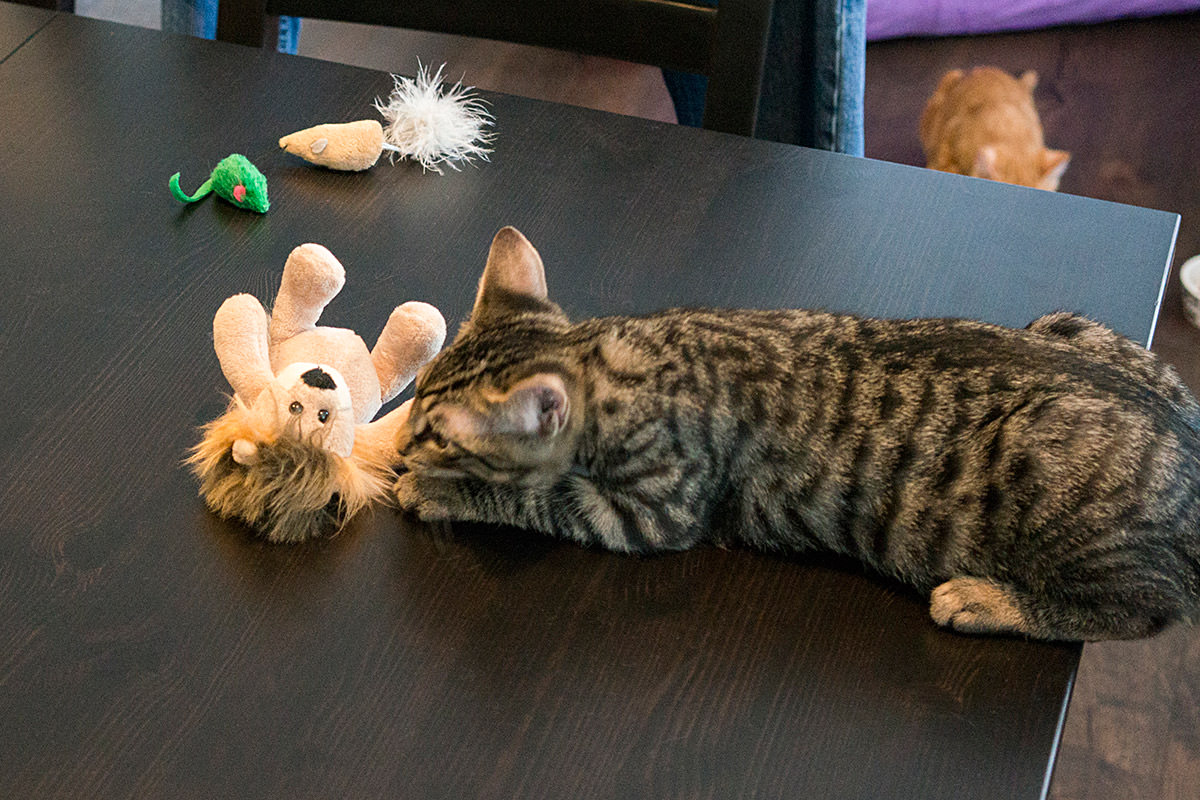 That lasted for two days when Jenny managed to figure it out.
Recently Jenny was playing with Jake's monkey. As expected, he ran up and took it from her as soon as he saw her with it. She chased him around for a while, but eventually gave up and found a blue mouse to play with...
Jake charged up and teased her with the monkey... then ran away. I'm guessing he was wanting her to chase her, because he did it four or five times...
Jenny was having none of it, so Jake gave up and left her to her blue mouse.
There's also an orange mouse and a green mouse. Jenny loves all of them...
Jenny's favorite toy is a "cat dancer"... which is a fabric streamer attached to a plastic wand. She'll chase anything string-like, so this is right up her alley. Jake doesn't get the concept. He grabs ahold of the streamer and tries to take it away with him, not seeming to realize it's attached to a stick...
I tried getting them interested in cat games on an iPad, which was a lot of fun for them... but ultimately a bit frustrating, I think...
Of course, the toy that cats love best is the toy they can't have. Like my camera strap. If I take something like that away from Jenny, she'll just move on to something new. If I take it away from Jake though? He will scowl and glare at me for what seems like an eternity...
Still adorable.