I did a lot of research on what foods are best for cats and was surprised to see how passionate people get. After weighing all the opinions out there, I decided to formulate my own plan. I am focusing primarily on birds... chicken, duck, turkey... as it seems like that's closer to what cats actually eat when left to their own devices. I've never seen a cat take down a cow or lamb, so I'm avoiding those. Fish worries me because of all the mercury that's in seafood, so I'm feeding them fish sparingly. I am, of course, going grain-free... at least while I can afford to. I am also trying to minimize vegetables, since I've never seen a cat dig up a carrot and eat it. But an argument could be made that the animals they eat in "the wild" have vegetables in their stomaches, so I'm not militant about it. Purchasing food with minimum ingredients and carrageenan-free is pricier than I thought... and can be more difficult than I thought... but will hopefully be worth it in the end.
The wet vs. dry debate is insanely intense with vets landing on both sides of the fence. Wet is apparently better in some respects while dry is better for others (like keeping their teeth clean). I wanted to focus mainly on wet food and offer dry as a dessert but, as you'll see, that's not working out as planned.
The next step is trying to introduce some raw food into their diet. I really like the idea of making my own, but it seems to require a lot of trial and error (and an expensive grinder) to work... so I'll probably wait until they're older. Apparently going raw helps keep them out of the doctor's office to fix expensive health problems, which is always a goal.
Anyway...
I have the kittens on a strict feeding schedule (7:00, 12:30, 6:00) and they both know it. As breakfast approaches, they've taken to coming in my room each morning to act all starving...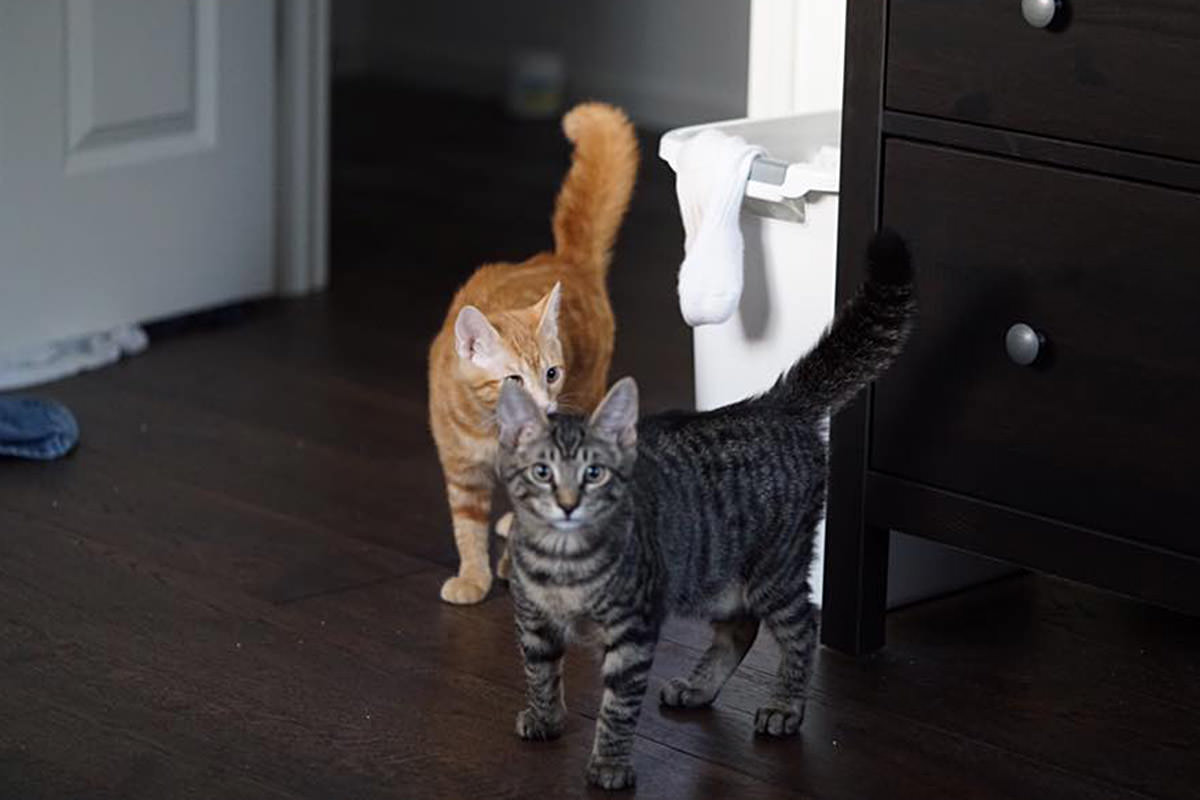 The first thing they get is a bowl of wet food. Which Jake attacks right away...
I was told to feed kittens as much food as they will eat because they need lots of food for their growing bodies and will regulate their food intake on their own. But Jake doesn't seem to be doing that, even though he's as active as Jenny is. He LOVES to eat. And any invitation to eat guarantees he'll stick his face in the bowl for a chow-down. Guess he's the exception. Jake is growing noticeably bigger than Jenny, and I'm guessing it's because of his voracious appetite.
Jenny hems and haws about the wet food, but eventually relents and eats some because she knows after she eats some of it, I'll break out a plate of the dry food she loves so much.
At least she used to eat it.
Lately I noticed how her bowl would still be full after devouring the wet food.
After watching her for a while, I realized that she's not devouring it after all. She's just licking it to make me think she's eaten it so I'll bring out the dry food for dessert. The trickster!
She loves dry kibble so much that she often purrs while eating it!
Fortunately, Jenny drinks plenty of water throughout the day to compensate for her diet of mostly dry food...
Though sometimes how she drinks it is a bit... odd...?
You have to be careful any time Jake's around, as he'll chow down on any food that he can get his paws on. The scavenger!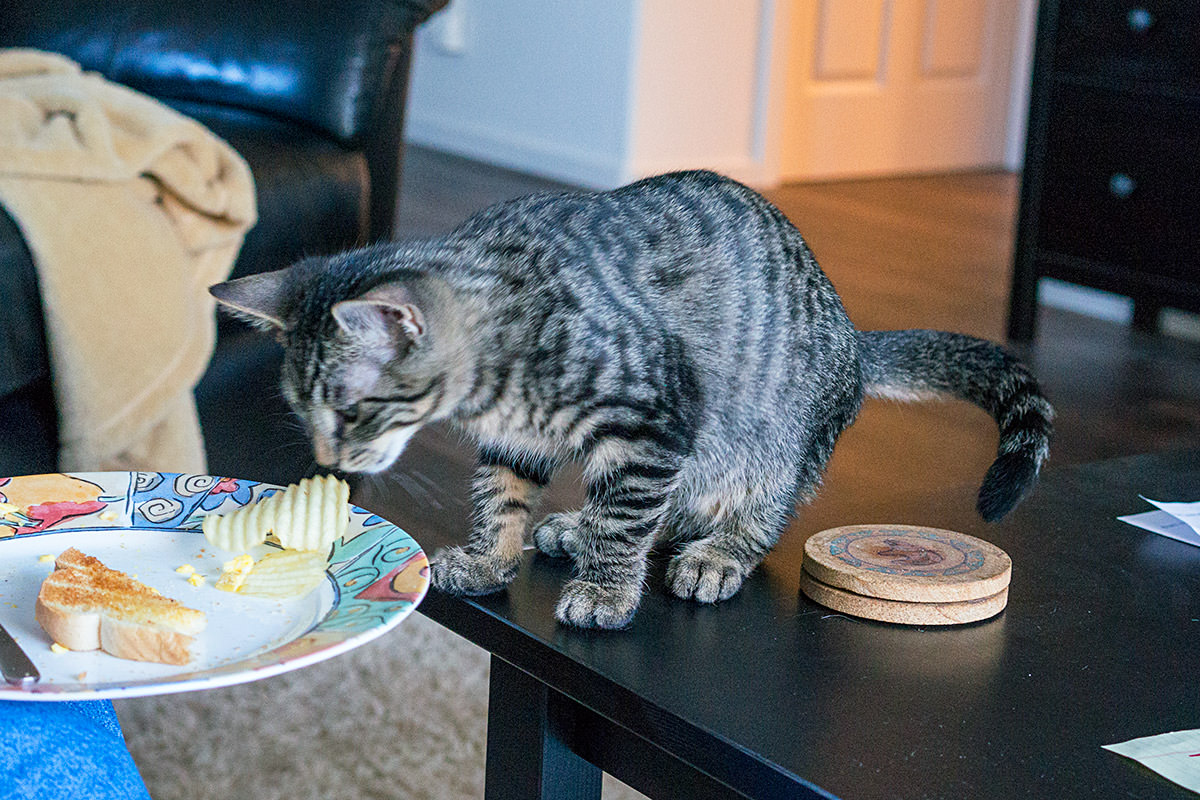 In an attempt to offer a healthy snacking alternative, I grew some cat grass!
They both like nibbling on it throughout the day... though I don't know how much they're actually eating. Most of the time it looks like they're just playing with it.
Next step? Going to continue researching raw food. Not only is it supposed to be the healthiest way for cats to eat... it's supposed to cut down on the heinous smell of their poops, which would be a nice bonus.