FURNITURE, ASSEMBLE! Because a Very Special IKEA Review Edition of Bullet Sunday starts... now...

• IKEA! IKEA furniture has a lot of fans. IKEA furniture has a lot of detractors. I'm kinda in the middle. What I love most about IKEA is the prices. And the Swedish Fish. And those Illeana Douglas shorts, of course. But mostly the prices. When I moved into my new place, I needed to buy pretty much everything, as my old furniture was trashed. I couldn't afford real furniture, thus... IKEA. I figure I'll buy IKEA for now and get new furniture as I can afford it. And, mission accomplished... I bought stuff for practically every room in the house for a grand total that was about the cost of just a frickin' dining room table I liked at another furniture store. By Grabthar's hammer... what a savings! Even if I did have to buy it all sight-unseen.
All images stolen from IKEA's website...

• LACK SHELVES! The thing about wall shelves is that they are supported by ugly-ass shelving supports. But LACK shelves are different. They're FLOATING shelves. Which means there's no supports. Which also means they look awesome, but you can't put heavy stuff on them...
Installing the shelves is no easy task. Mostly because they don't come with anything to attach the shelf to the wall. I ended up having to go to Home Depot for a combination of "lag bolts" (where I had wall studs) and "drywall anchors" (where I had none). Since I bought 43" shelves, it was easy to find a couple wall studs to bolt them to, but they didn't always end up in places I felt would secure the shelf very well, so sometimes the drywall anchors were added on the ends as well. Installation involves fixing a metal frame to the wall, then sliding the shelf on it, then screwing it in place. Easy. Mostly. Unless you are trying to line up a bunch of shelves like me, because they inexplicably don't always line up... even when you've been very careful to align the frames to each other. Still, they do look very nice and, so long as you're not putting anything heavy on them, work well.
PRICE: $6.99-$19.00 (depending on size) • DAVEKEA SCORE: B

• HEMNES BOOKSHELVES AND GLASS DOOR CABINET! Most cheap furniture is made from sawdust that has been mixed with glue then pressed into boards. I hate that crap, so I was happy to learn that IKEA has a line of furniture called HEMNES that's made (mostly) of real wood. Sure it costs a little more, but at least it has a chance of holding together for a while. I needed a couple of bookshelves for my bedroom and a cabinet for my dining room (preferably with drawers for placemats and stuff). Luckily, there are many variations of the HEMNES bookcases when it comes to doors and drawers, so I was able to find exactly what I needed...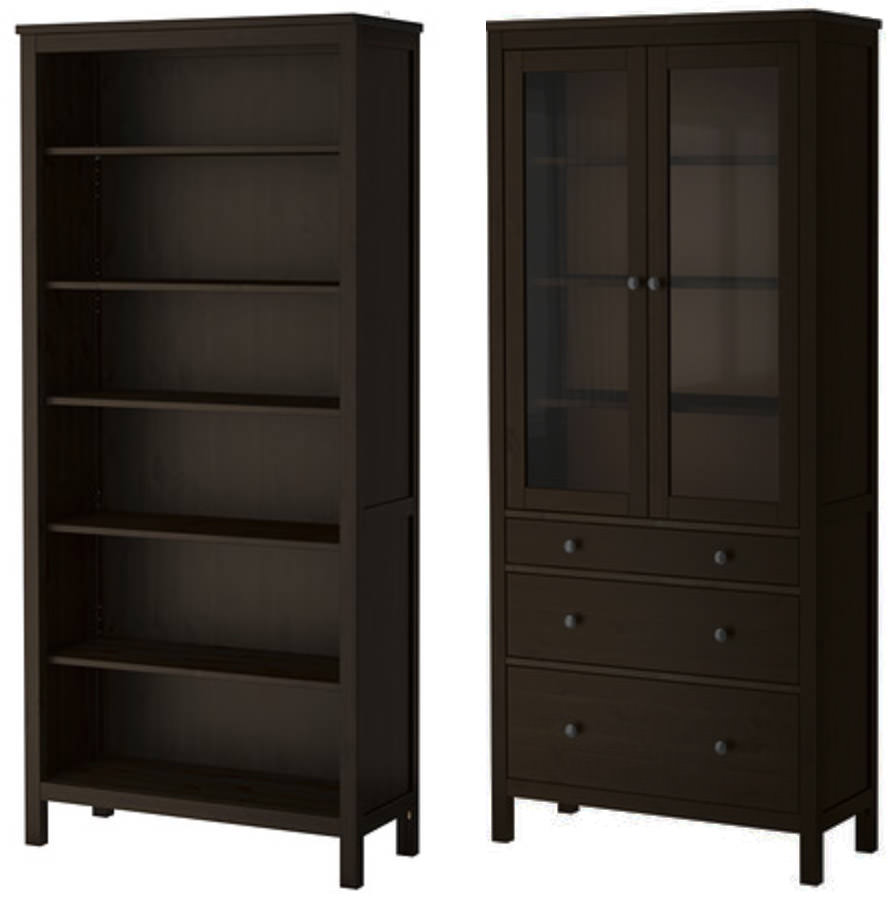 The bookshelves were fairly simple to assemble, even if the top board didn't line up properly on one of them and had to be hammered into place. Surprisingly, they were very easy to level and match up side-by-side thanks to the screw-adjust feet. I did have a quality control problem where one of the backing board pieces had a dinged corner that made an obvious divot in the back of my shelves, but I colored it with some stain and put books in front of it, so you'd never know. They seem fairly sturdy and are currently holding a lot of books without issue, but I admit to hammering nails through the sides to make sure the shelves wouldn't fall off the support knobs once I determined where they should go (recommended, as I hear the shelves can pop out easily). The cabinet version adds glass-panel doors and three drawers to the bookshelf for an additional $230, which doesn't seem like a lot... but really is when you consider the bookshelves alone are just $330. Like all IKEA drawers, these are cheap as hell, and won't support much weight. I will probably end up reinforcing them with another board, eventually, as it seems the sawdust board they use will eventually warp and fall out. I glued everything in place, so hopefully that will buy me some time? The glass-panel doors are cheap and clunky and have weird-ass hinges that were a pain in the ass to install, but boy do they look nice. Actually, both the bookshelves and the cabinet look very nice. They certainly don't look cheap... until you open a drawer or door. HINT:You absolutely want to follow IKEA's advice and affix these to a wall so they don't fall over.
PRICE: $160 (bookshelf) or $330 (cabinet) • DAVEKEA SCORE: B+
UPDATE 5/14/16: DAVEKEA SCORE: F Just as other people have experienced, my shelves collapsed because they're not deep enough and somehow work their way loose from the pegs (which are too short, I guess). Looks like I'll be screwing all the shelves directly to the unit so they're not falling out and scaring the shit out of me in the middle of the night. EPIC FAIL!

• HEMNES COFFEE TABLE! There are two different coffee tables in the HEMNES line, and I went for the rectangular one over the square one. It assembled very easily, seems sturdy, and is nice enough to look at...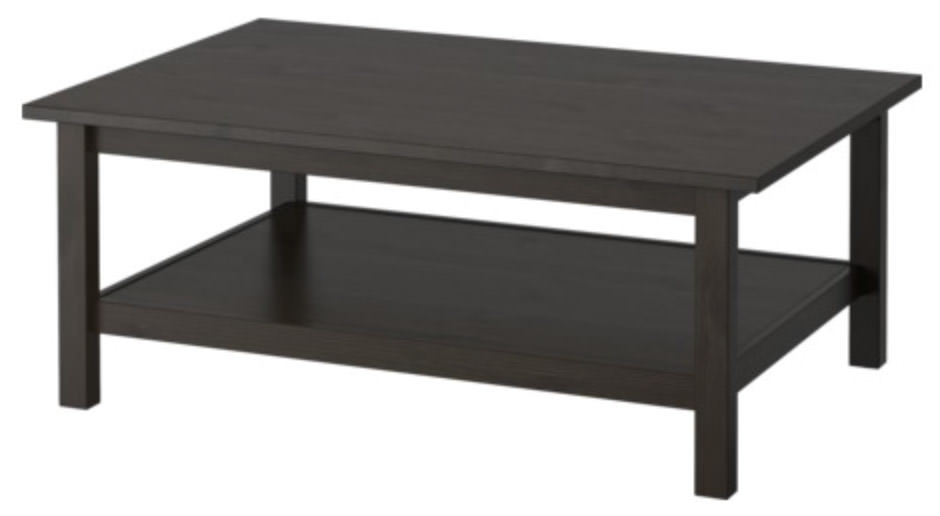 The only problem is that the table-top finish is uneven. It's dull in some spots, glossy in others (usually over the knots in the wood) and doesn't look that great. Given how cheap it was, it's tough to complain too hard... but it does look like I've spilt something on it or damaged it somehow, which is a bit of a bummer.
PRICE: $140 • DAVEKEA SCORE: C

• HEMNES BENCH! My living room is rather modest in size, which means my furniture arrangement has to be fairly rigid to make any use of the space I've got. This meant that the HEMNES end-table was out of the question, and I ended up buying "benches" to use as end-tables. They work perfectly... coming in at the right shape and height...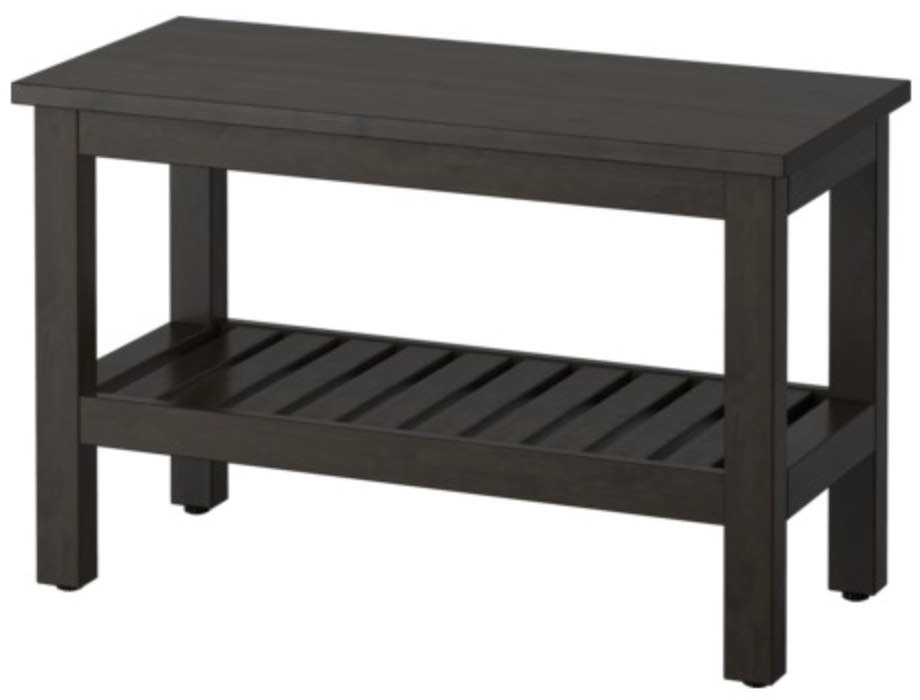 For all I know, they make great benches as well. Probably the easiest assembly of all the stuff I bought, which was icing on the cake.
PRICE: $80 • DAVEKEA SCORE: A

• HEMNES TV UNIT! If there was one thing I regret purchasing, this would be it. The HEMNES TV Unit is complete shit anyway you look at it. It's meant to act as a media center, and yet basic stereo components don't fit in it (my mid-size receiver has to sit on top). It was a complete bitch to assemble (NOTHING lined up properly, the shitty little screw-discs kept breaking, and the first shelf-bay has a shelf that doesn't match the support holes... no matter which of the three shelves I put there)...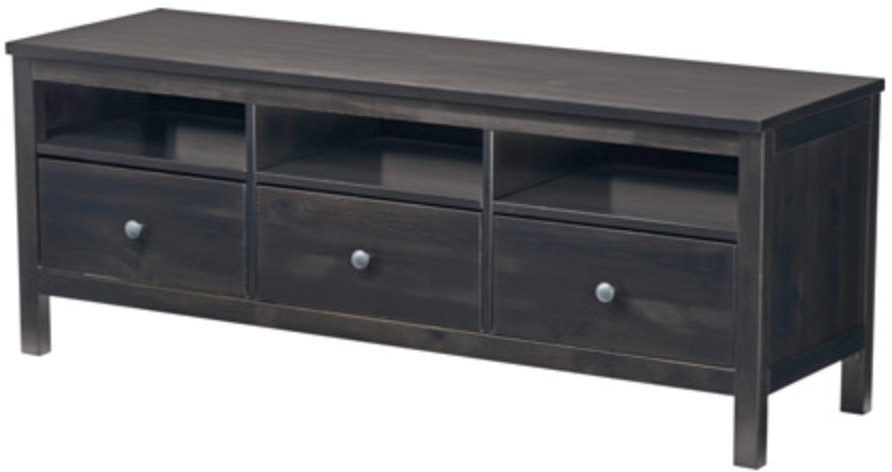 This is a complete disaster, and I pretty much hate it. Will probably be the first thing I replace when I can afford it. Helpful hint to IKEA... I dunno if stereo components are smaller in Europe, and I really don't give a crap. If you're selling a media center here in the USA, you'd better make something that our shit can fit into. Having all the shelves fit properly into the holes you drilled would also be a big help.
PRICE: $200 • DAVEKEA SCORE: D

• HEMNES DRAWERS! As I mentioned above, IKEA drawers are pretty cheap and, apparently, people have problems with the drawer bottoms warping and falling out all the time. Even so, I needed cheap drawers for my bedrooms, so this is where I landed. I did glue all the drawer parts together in the hopes that will keep them from falling apart. And I'm trying my best not to overload them, so hopefully that will help. But, eventually, if I don't end up replacing these soon, I know I'll have to reinforce the drawer bottoms with some kind of actual wood, which kind of sucks...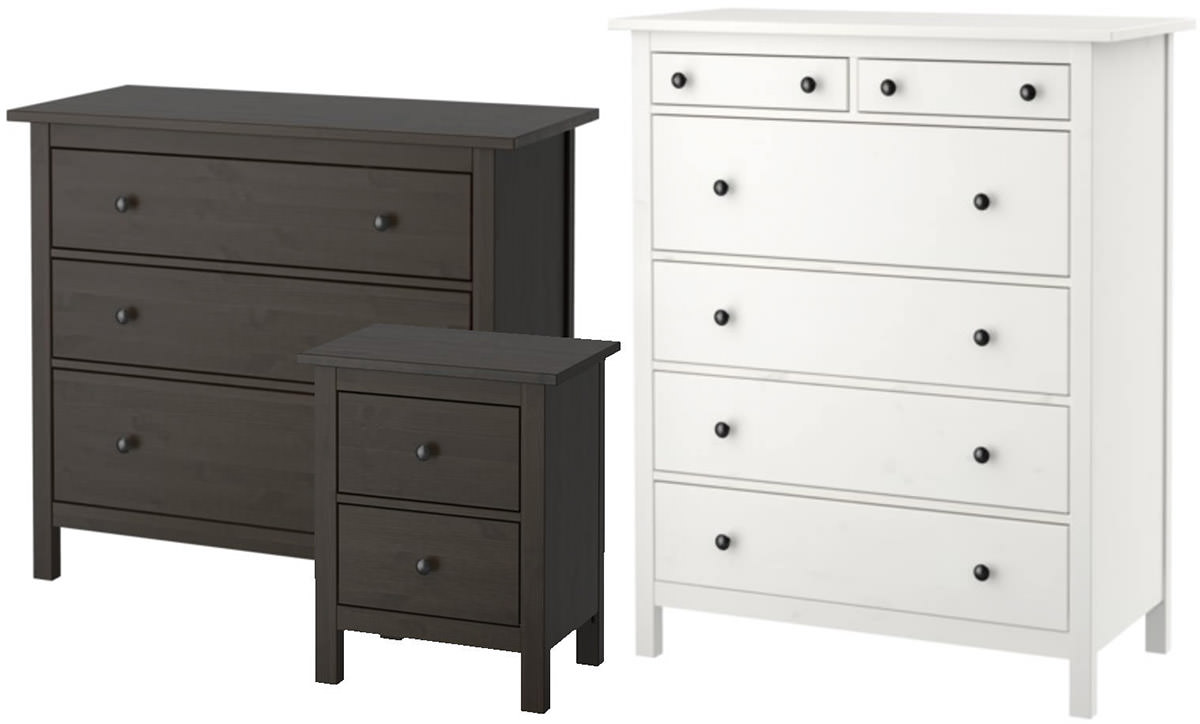 For my bedroom, I bought the three-drawer version and a 2-drawer unit to use as a nightstand. For the guest room, I bought the six-drawer version and a couple 2-drawers for nightstands... but the guest room stuff is in "white stain" instead of the brown-black I bought for everything else. Since the wood is a cheap pine, the whitewash effect is less attractive than it would be with a prettier wood, but I guess it's okay. I probably would have stuck with the brown-black if I had seen it first. Ultimately, these drawer units look okay... but they "feel" cheap, were not so easy to assemble, and don't seem built to last.
PRICE: $100 (2-Drawer), $150 (3-Drawer), $200 (6-Drawer) • DAVEKEA SCORE: C

• STORNÄS TABLE! Easily my favorite IKEA purchase from the bunch. It's a beautiful, sturdy table that doesn't look or feel cheap at all. Yes, it arrived with a small damage mark in the table-top, but it's still a wonderful purchase at a shockingly low price. I bought the version with one extra leaf, but there's also a version with two extra leaves if you have room for a long table in your dining room...
Assembly was easy as pie and I couldn't be happier with its elegant simplicity. I wish that IKEA made other items in the STORNÄS series, as it's clearly top-of-the line at a bargain cost...
Recommended!
PRICE: $330 • DAVEKEA SCORE: A

• KAUSTBY CHAIRS! There were a few options for chairs to go with my STORNÄS table, and I waffled between the KAUSTBY and INGOLF models, as they both looked like they'd accompany it perfectly. Ultimately I thought the KAUSTBY slot-back chairs looked a bit more contemporary, and decided to go that route... even if they were $10 more a piece...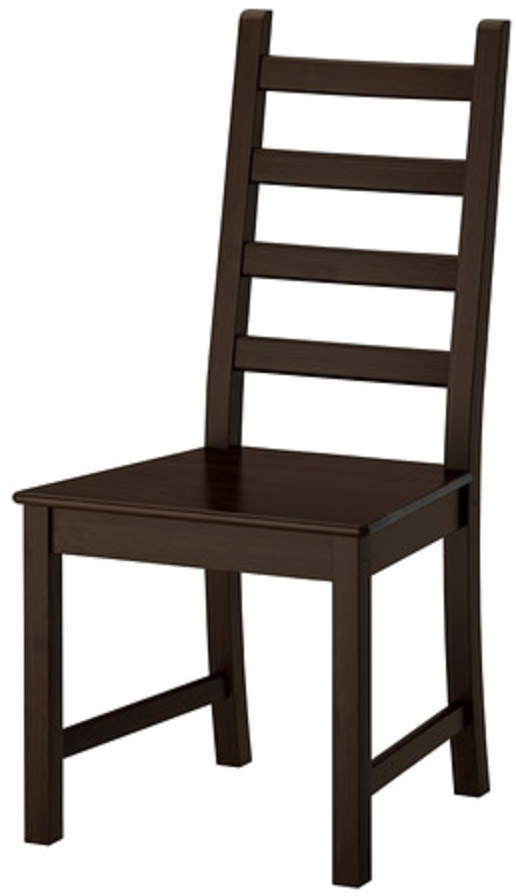 Overall, they are quite nice chairs for the price. Plenty wide. Maybe a little too wide, as the standard cushions I bought don't seem big enough to cover them. Assembly is not overly difficult, but could have been better. For one thing, they don't pre-drill the holes that attach the seat to the frame (with small, cheap, plastic fixtures), so it's up to you to make sure you've got it centered. But the worst part is that the chairs are not perfectly level, and I didn't know how to adjust them so they'd sit flat. Adding FIXA felt floor protectors helped a little bit... and it's by no means a massive problem, as the legs are off by only a small amount... but it is a bit frustrating. Then again, you get what you pay for, and I'm willing to bet this could be a problem with chairs costing a lot more.
PRICE: $50 • DAVEKEA SCORE: B-

And there you have it. All in all, I'm happy with my IKEA purchases. Less than $3000 to fill my living room, dining room, bedroom, and guest room is pretty nifty. And shipping was a cheap $165 for the 26 pieces of furniture I bought, which is awesome. What's not awesome is that there's no way to track your order progress, so any updates have to be requested via email to customer service. But, then again, IKEA ended up delivering everything on exactly the day they said they would when I checked out, so I really have no cause to complain. If you're on a budget and looking for furniture... IKEA is worth a look. And I do mean look, as buying sight-unseen like I did is a little crazy.