And it's time once again for my annual wrap-up of movies that came out this year.
Or, more accurately, a "wrap-up of movies I saw that came out this year." As always, there's a bunch of movies I never saw that would have probably ended up on my list (we'll get to that later). And here we go...

THE TWELVE BEST...
These are my favorite movies from this year that I actually saw.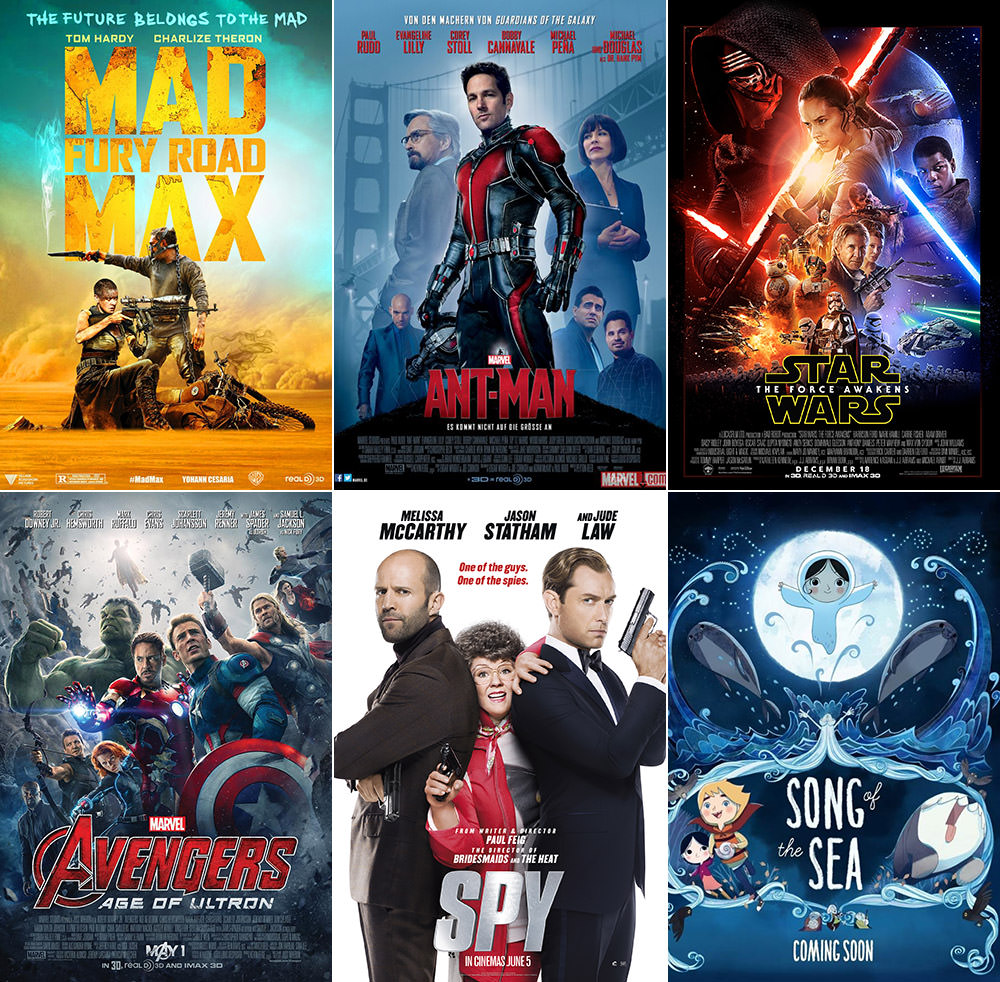 #1 Mad Max: Fury Road
I don't know what I could possibly add to the praise that's been heaped on this film from just about everybody. It was pure entertainment from start to finish, impeccably cast, beautifully shot... and took me completely by surprise given that I was never impressed by the original films. And then there's Charlize Theron's Imperator Furiosa... INTERESTING ASIDE: This is the first time a Marvel movie hasn't topped my list since I started making the list.
#2 Ant-Man
When Edgar Wright left this movie, I thought for sure that Marvel's run of amazing super-hero films was over. Instead of letting Wright make something interesting and shake things up a bit, Marvel was going to go the safe and stale route. What a bummer. Except it all somehow ended up working out. Mostly due to the impeccable casting of Paul Rudd and Michael Douglas... and a story that put a lot of fun into the genre. The result was a terrific caper film that hit all the right notes for me.
#3 Star Wars, Episode VII: The Force Awakens
Groundbreaking? Probably not. Entertaining? Absolutely. And that was pretty much the long and short of it, wasn't it? After a crappy third act with Return of the Jedi and a trio of prequels so horrendous that I lost all faith in the franchise, JJ Abrams finally gave us Star Wars back. As a massive, massive fan of things a long time ago in a galaxy far, far away, that's all I could ask for.
#4 Avengers: Age of Ultron
I know. I know. The story was weak, fragmented, and featured a villain that wasn't the least bit scary or threatening... but it had super-hero action scenes that were mind-blowingly on-point, and proved more than entertaining (even on multiple viewings). The trick is to let go of all the things this movie could have been and just appreciate it for what it is.
#5 Spy
Melissa McCartney is hit and miss for me. I loved her in The Heat and St. Vincent, didn't care for her at all in Tammy and Identity Theif. Then along comes Spy which is her best effort yet. Rather than slapping spy thriller elements onto a comedy, Paul Feig started with a good spy thriller then made it funny. It's a difference you can bank on, and features flawless supporting cast of Jude Law, Jason Statham, and Rose Byrne. My biggest surprise of the year.
#6 Song of the Sea
As a massive fan of animation, I was fully expecting the latest Studio Ghibli release, The Tale of Princess Kaguya, would be making this list. But I never got to see it. I did, however, see another animated film that was genius... Song of the Sea. Stylistically charming and wholly magical, this came out of nowhere to take my breath away
#7 Mission: Impossible – Rogue Nation
I don't know why I was surprised the latest M:I made my list... they've been increasingly entertaining films with quality directors behind the camera. This time it's Christopher McQuarrie, and he hit it out of the park. A strong story, a good villain, and an entertaining mission... just what the doctor ordered.
#8 Selma
You only think you know the story behind Dr. Martin Luther King, Jr.'s march from Selma, a critical point in the civil rights movement. At least I thought I did. Then I saw Selma and realized that history had a few surprises in store for me. This is an important film, beautifully realized.
#9 The Martian
Having read the book, I was surprised when I learned there was a movie being made of The Martian. The story is a little technical in nature, and I didn't see it translating to the screen in a compelling way. But it turns out if you shift focus to the actual action in the book, it makes for a really good movie. Surprisingly, they didn't shy away from the technical bits that made the book so good, AND found a way to keep it from bogging down the film. Somebody deserves a screenplay Oscar.
#10 It Follows
I don't want to say anything about this movie that could give something away. Suffice to say that it's a stylish horror flick that lives up to... perhaps even surpasses... the hype. If you are even a little bit of a fan of the horror genre, here's you're film.
#11 Spectre
I honestly expected that this James Bond outing would rank much higher on my list. But while it was a good and entertaining film, it wasn't a great one. And yet, if nothing else, it is beautiful to look at, just like Skyfall before it. I just wish that A) Christoph Waltz was better utilized as the villain and, B) the story actually ended up in a place that was worth the journey. Still, new James Bond.
#12 The Man from U.N.C.L.E.
I bought this on sale from the iTunes Store so I had something to watch on a business trip. I knew practically nothing about it except it was cheap entertainment and didn't have entirely bad reviews. Turns out it was actually a darn good Cold War thriller that was worth my valuable time. It was nice to see Henry Cavill and Armie Hammer in a film which didn't totally suck (=cough= Man of Steel =cough= The Lone Ranger =cough=). Really hoping for a sequel.

HONORABLE MENTIONS...

Shaun the Sheep
Aardman does it again. To the surprise of nobody. Hilarious movie version of the funny television series. Wish I would have seen it in a theater.
Inside Out
Pixar does it again. Beautifully-animated feature film with flawless voice talent and a unique concept.

DIDN'T SEE, MIGHT HAVE MADE MY LIST...

The Hateful Eight
Quentin. Tarantino.
The Tale of Princess Kaguya
Studio. Ghibli.
Brooklyn
All it took was one viewing of the commercial and I really wanted to see this film. Didn't hurt that the reviews were stellar. I'm not one for period romance films, but this looks like something really special.
Mr. Holmes
I actually purchased this the day it was available on the iTunes Music Store, but haven't gotten around to watching it for some reason. Ian McKellen playing an elderly Sherlock Holmes that tries to solve his last case before dying? Yes please.
Creed
I'm just going to come out and say it... I was never a fan of the Rocky films. Probably because I'm not a fan of boxing. But Creed looks to be something a bit more.
Amy
I was always a big fan of Amy Winehouse's music, but not her antics. But apparently they are somethign worth watching, because everybody is raving about this film.
Straight Outta Compton
I'm a fan of the album. I expect I'd be a fan of the film telling the story of the album.

THE WORST...
Terminator Genisys
I didn't hold out much hope for yet another bad Terminator sequel... but then James Cameron chimed in with how great Genysis was, and I was intrigued. Not enough to go see it in the theater, of course, but enough to buy it from the iTunes Store. I was not impressed. This reboot/reimagining had a few good special effect sequences and it was good to see Arnold again... but everything else was kinda crap. Jai Courtney was an awful Kyle Reese, but that was eclipsed by the mind-bogglingly stupid storyline which involves Sarah Connor using a 1984 time machine(?) to go FORWARD in time to stop Skynet. Yes, FORWARD. Please. For the love of God... just stop with the Terminator movies.
Minions
I thought my favorite part of the Despicable Me movies would make for a fun ride on their own. Apparently not. Too. Much. Minions.