And now is that special entry where I wrap up MY FAVORITE TV SHOWS OF 2015!
Which has a lot of new faces... eight of my top-twelve are new... to keep my television obsession interesting this year.

THE TWELVE BEST...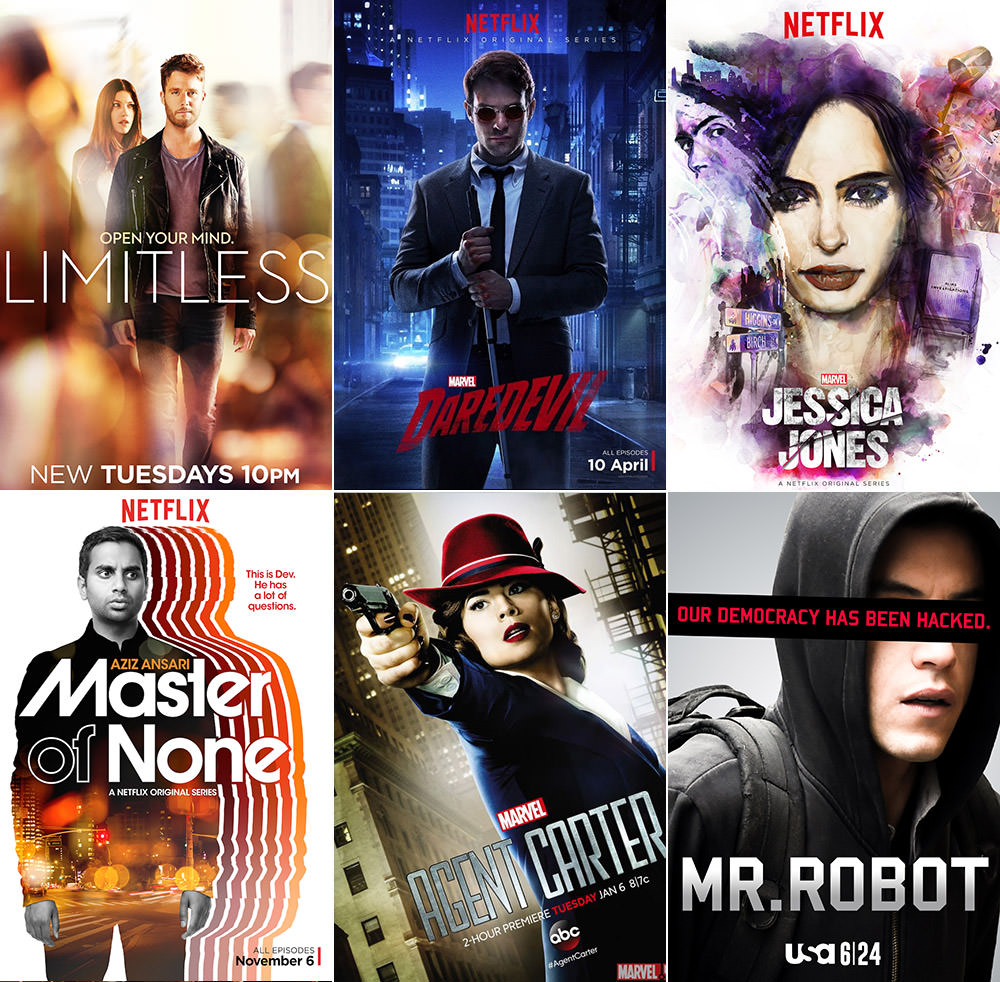 #1 Limitless
I was completely blindsided by this series, as I felt the movie from which it spawned was mediocre at best. Most of what makes the show so great is the awesome cast, lead by Jake McDorman, who is absolute magic in every scene. If you aren't watching Limitless, you need to get on that... starting with the first episode. It's smart, funny, and gets better with every episode.
#2 Daredevil
Marvel is firing on all cylinders, producing one jaw-dropping film after another... and then burning up the small screen with fascinating renditions of their second tier roster of heroes. Daredevil's first season was a brutal take on super-heroics that managed to get just about everything right when it came to The Man Without Fear.
#3 Jessica Jones
As if Daredevil wasn't enough of a gift, Marvel also gave us an utterly fascinating adaptation of the Alias comics with Jessica Jones. Kristen Ritter so faithfully nailed the character that it's hard to believe the original comic wasn't written with her in mind. Dark, disturbing, unmissable television. Even better? We got a look at the next Netflix series with an appearance by Luke Cage!
#4 Master of None
As a huge fan of Aziz Ansar's stand-up, I was expecting good things with his new show. Totally blew past all expectations. Consistently smart and funny in a way television comedies should be, but usually aren't.
#5 Agent Carter
I loathe ABC Television's Marvel's Agents of S.H.I.E.L.D., which is why I expected an absolute disaster when the network announced a new Peggy Carter show. Fortunately, the two series couldn't be more different. Lush visuals, exciting stories, and amazing casting make this the show to watch.
#6 Mr. Robot
I don't even know how to explain this one. Defines compelling television.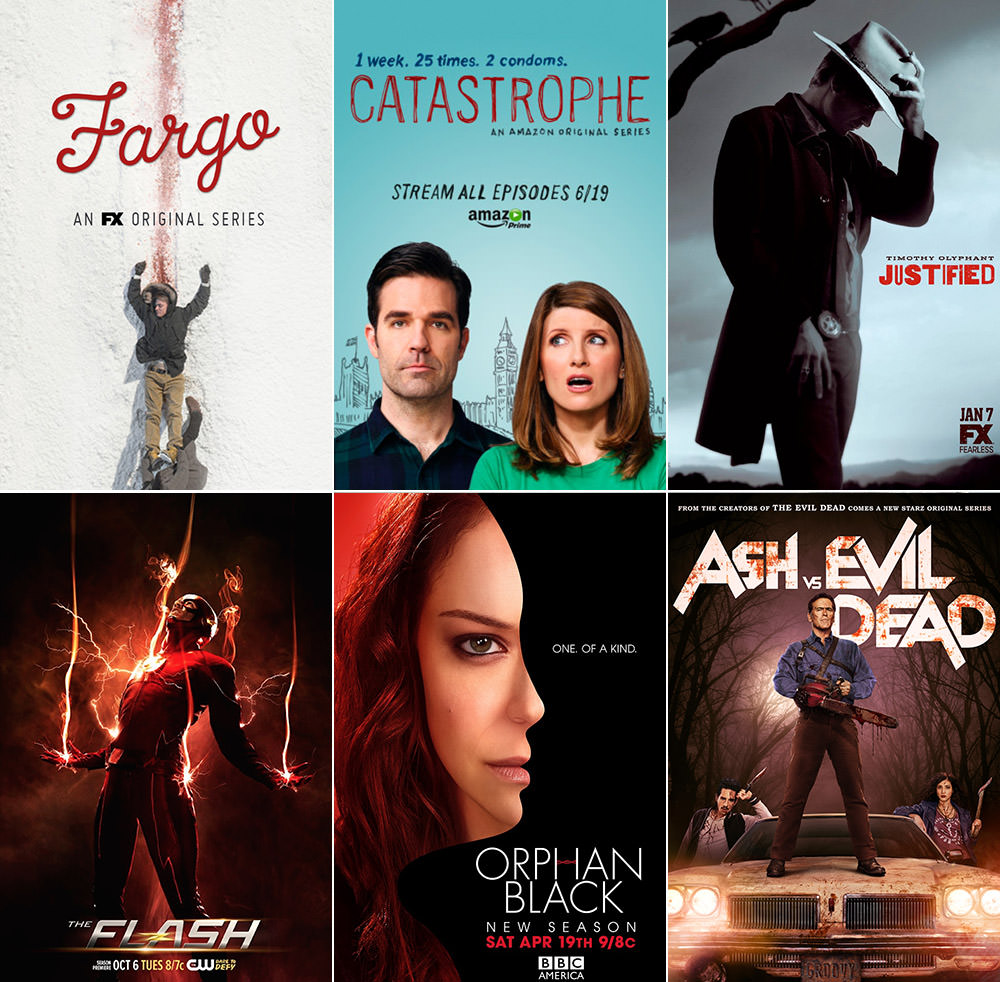 #7 Fargo
I don't know how they managed to hang on to everything that made me enjoy the first season so much... yet turn in something quite different... but I am ever so glad they did.
#8 Catastrophe
The premise of this show... wacky American gets a woman pregnant while visiting London... didn't have me expecting much, but boy did it deliver. Beautifully-crafted dialogue keeps every episode entertaining from beginning to end. Kudos to Rob Delaney and Sharon Horgan for unleashing the show I didn't know I needed all along.
#9 Justified
One of the best shows on television came to a close this year with Season 6. I thought it was plotted out for seven seasons, so I'm not sure what happened, but I am really going to miss this series.
#10 The Flash
I am exceedingly tired of super-hero shows being built around a team of supporting characters... but it's kind of working here, unlike Arrow and Supergirl. The one part that falls flat every damn time is the show-runners insisting that everybody have a love interest (especially for Barry, which is ten shades of annoying and awkward as hell), but whatever. Fantastic special effects, nifty villains, and pretty good stories keep me watching.
#11 Orphan Black
What I said last year (and probably the year before still holds true: "Easily one of the most intelligent series on TV, it just keeps getting better and better. Where it's all leading to I have no idea, but it's a journey I'm definitely going to keep taking.".
#12 Ash vs. Evil Dead
Fun! It's just fun, escapist television that's faithful to the original films while striking out in new directions. Bruce Campbell has lost nothing over the years, and is able to deliver his brand of humor in a way most actors could only dream of. If you're a fan of Sam Raimi's The Evil Dead films, this will not disappoint.

SIX MORE WORTH WATCHING...
The Mysteries of Laura
This is a great show with a fantastic cast and entertaining stories. Really, really hope it gets a third season.
Last Week Tonight with John Oliver
While I am very much enjoying The Daily Show with Trever Noah, John Oliver has risen beyond his humble origins on that show and become a major force in TV news programs. His every episode is fascinating, and I can't wait to see what he'll tackle next. If only we could get more episodes per season I'd be very happy. You just can't get enough of this show.
Game of Thrones
Again, it's fantastic television. There's not much more I can say than that.
Transparent
I am kind of late to the Transparent bandwagon. I had seen the show before, but didn't really get into it for some reason. Then I caught some episodes while on a business trip and had to start over from the beginning because I enjoyed it so much.
Orange Is the New Black
Yes, there are episodes that drive me batshit crazy, but overall this is a show that makes for some compelling television. The diverse set of characters just work, and it's magic on the small screen to behold.

ANIMATION WORTH YOUR TIME...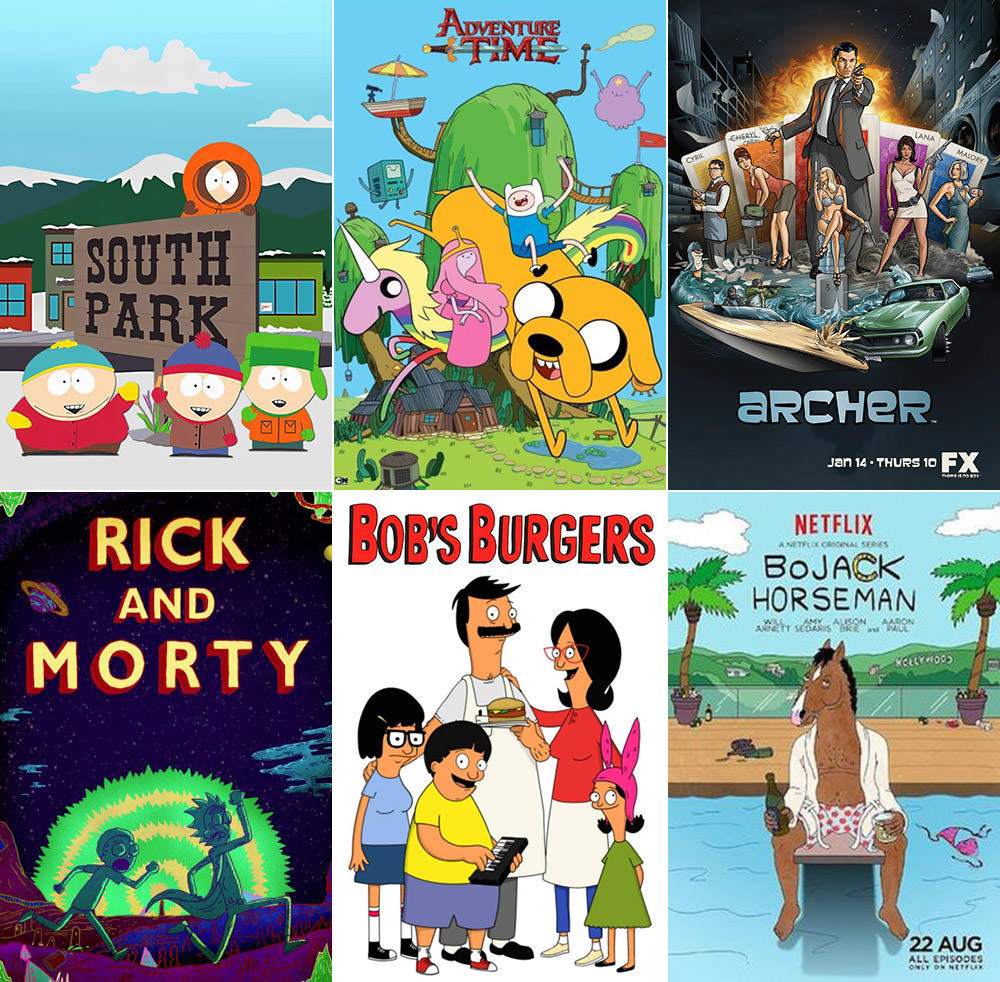 Still a lot of good shows out there...
South Park
Still brilliant. Still relevant. Still must-see-television for me.
Adventure Time
Imaginative entertainment unlike anything else on television. Still going strong.
Archer
Couldn't possibly love this show more than I do. They just kill it each and every episode.
Plus three more...
Rick & Morty
Dan Harmon toon series that came out of nowhere to dominate Adult Swim. Back to the Future gone sideways.
Bob's Burgers
Hasn't jumped the shark yet, thank heavens.
Bojack Horseman
This show is absolute genius in the most bizarre way possible. If Ash vs. The Evil Dead didn't exist, Bojack would be my #12 show. Will Arnett is amazing as the voice of the lead character, and he's backed up by a fantastic cast (including Amy Sedaris!). Suffice to say you owe it to yourself to take a look at this show, because I have no idea how else to sell it to you.

IN WITH A BANG, DROPPED WITH A WHIMPER...
Blindspot
The first six episodes had me completely hooked. Then it just kept going in directions that lost my interest and the overall premise grew stale.
Quantico
Quantico's earliest episodes were great, but in the back of my head I was wondering how they would sustain all the mysteries and intrigue that made the series so good. Turns out they couldn't. Eventually it all kinda collapsed, leaving me bored and frustrated.
How to Get Away with Murder
This show was my obsession last season. This time around it's just such a mess I can't find the energy to be interested.

PURE DISAPOINTMENT...
Supergirl
The special effects are great. The stories aren't bad at all. But I hate the whole "Team Supergirl" bullshit. How much more interesting would this show have been if she was just Linda Danvers trying to figure out life as a teenager while secretly balancing out being one of the most powerful heroes on earth. But no. It's just so idiotic and forced that I can't watch. And I HATE how they keep taking good guys and making them bad guys. Vartox, one of my favorite comic book heroes was made a villain in episode one! No thanks.