A couple months ago, my corner of Redneckistan got a roundabout... better known as a rotary (if you live in New England) or perhaps a traffic circle (if you live in other places). Basically, it's an intersection without stops. Everybody yields to traffic within the circle, and enters once it's clear to do so... exiting at the point they need to be.
Ours is a three-way and looks like this...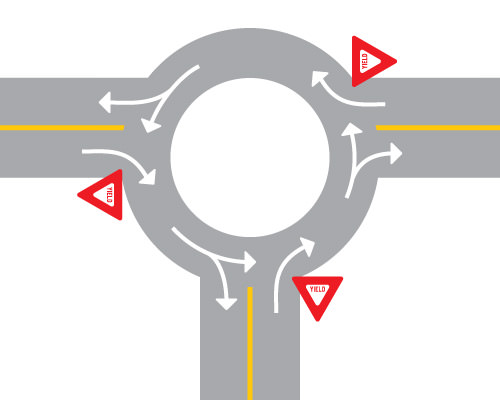 Which actually makes it seem more complicated than it really is. The concept itself is quite simple. All you have to do is yield to the traffic already in the circle, then enter when it's safe to do so.
I actually rather like roundabouts. I've used them quite a lot back East and they're everywhere in Europe. Once you get used to them, they're pretty awesome... keeping traffic moving efficiently without the need for stopping when you don't have to.
Except...
Roundabouts are most effective when you keep two things in mind...
1) They can only be used where pedestrian traffic is at a minimum or non-existent. They idea is to keep traffic moving, and you can't do that when cars are constantly having to stop for people wanting to cross the street.
2) They need to be kept clear of obstructing traffic. Again, you can't keep traffic moving if there's a cross-street nearby... or a train crossing... or a turnout... or a place traffic is entering... or anything else that's going to cause drivers to have to stop, thus blocking traffic.
And can you guess what we have at our roundabout?
That's right, both of those things.
1) It's inarguably the first (maybe second) busiest pedestrian intersection in the entire city. At the top of the circle is the only bank in town where most everybody does their banking. To the south is downtown (or what's left of it) which is where everybody shops. That means you get pretty heavy pedestrian traffic as people are wanting to cross at all three exit points on the circle on a fairly regular basis, thus trapping drivers inside and backing things up.
2) As if that weren't a good enough reason to not put a roundabout in the middle of town, the fact that there's a fucking RAILROAD CROSSING 350 ft. to the left of the circle would do it. There's also the exit from the bank parking lot on the left... not to mention the entrance to the bank's drive-through on the right side.
So, essentially, traffic gets a little fucked up all day long because of pedestrians wanting to cross.
And traffic gets totally fucked up several times a day when a train blows through town. I can't tell you how many times things have been backed up so badly that I've actually reversed course and went out on the highway to get home because it's faster than trying to wade through the utter disaster going on at the roundabout.
But fucking traffic armageddon is not even the worst of it.
People here simply don't know how a roundabout even works.
They either come to a full stop when they shouldn't because the circle is completely clear or... much worse... don't fucking yield when you're in the circle trying to get through it. I've been nearly-nailed more times than I can count. And the people who almost ran into me as I'm slamming on the brakes don't even understand that they were in the wrong.
The whole situation is a testament to idiocy, and there's not a day that I'm in the vicinity of the damn thing that I don't get pissed off all over again.
I'd run for mayor and make the stupid stop, but it would be entirely too much work to deal with the stupid that's already been done.
And the last thing I need is more work.
Or more stupid.